It gives me no end of pleasure to bring you Kris Kennedy today as my Workspace Wednesday guest. Kris is a fellow Rock*It Reads author. I'm looking forward to meeting her in person one of these days, but even electronically, Kris's personality shines through. She's smart, insightful, energetic – just the kind of person you want to be around. And she's extremely talented too! You may have read recently that her book DECEPTION just won Romantic Times' K.I.S.S. Award for Best Historical Hero earlier this month. Without further ado, here's Kris…
KRIS KENNEDY   When I think about my workspace, I feel ambivalent. I feel happy, for me. I have lots of workspaces, and can move around as the mood strikes me. I also feel sad, for my husband. Because I can move around as the mood strikes me.
I'm what you call a 'spreader.' I spread out. These pictures will not capture my utter spreadability. I'm like butter.
I'm also a researcher. A mad researcher. Writing medievals and Elizabethans requires a lot of research, and not all can happen online. I need big, heavy, beautiful books, and they too must spread. All over the house.
Then I must write notes, and mark up the big heavy books, so I can capture the information and be able to find it again. All this paper must move too.
We tried to set me up in an office in our extra bedroom. Bought a nice, big desk, set it front of a window, cleared out all the exercise equipment (at which point I bought a treadmill. My poor husband.) As an office, it totally works. See? I'm all set up.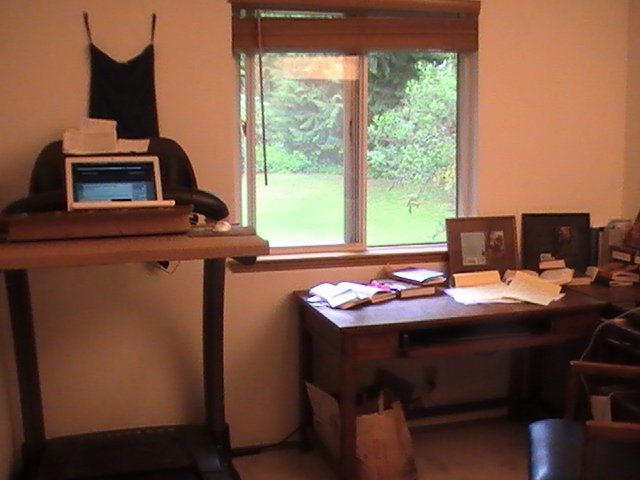 Except, I rarely use the desk. I think it's the chair. What I do use, without a doubt, is the treadmill desk.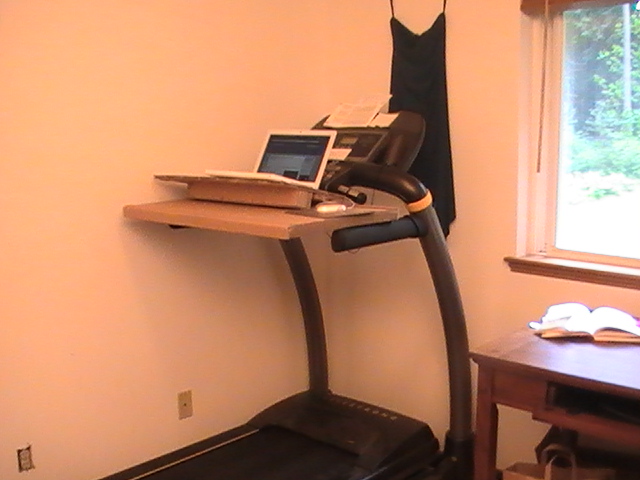 Note my high-tech approach to 'desk'–I laid the cardboard packing materials that came with the treadmill across its arms. It works fabulously! I can't write fiction on it, but I can do all my online stuff, and burn 500-1000 calories, depending on how long I'm on Twitt— I mean, how long I'm on the treadmill.
Oh, that black splotch on the wall at the head of the treadmill? It's a dress I WILL fit into again—it's motivation. Or shame. Which is highly motivating.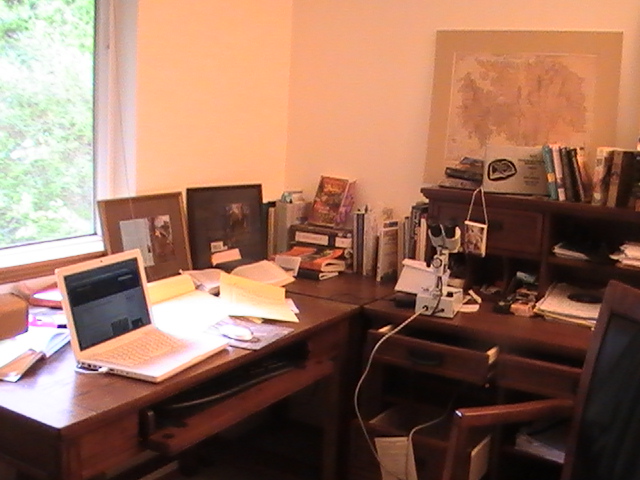 Here you can get a peek-a-boo view of the approximately 6,549 research books (only a few are showing here), maps, folders, and scribbled sheets of paper I metabolize. Usually about 298 books are open and in use at any one point (if you look close, you'll see copious post-it notes.) I write a lot of thoughts down by hand—I'm far too spatial to have everything be online or on the computer. I have old maps on England and Ireland on the walls, my husband got my covers framed, and index cards are taped to another wall, plotting out various plot timelines for stories. (Which I never use. Silly plotting.) I also have my son's microscope there, as he sometimes brings in fun and exciting items to examine more closely.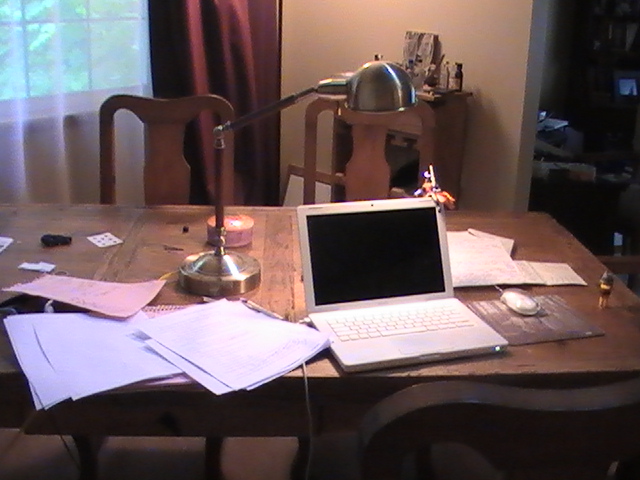 Downstairs, we see the real nerve center—the dining room table. My husband loves this.
I have to admit, this picture reflects a false reality—there's usually a lot more books and papers piled up. Over the last weekend, I cleaned up and moved a lot of stuff off the table, since we're having about 30 people come to a potluck next weekend, and my husband was getting pale at the sight of mountains of research books and paper. "And so…are we gonna get this…when? Were you thinking, what was that? Today?"
Yes, sweetie, today.  :)
I love writing in the dining room, really. Way more than upstairs. And it only takes about 5 minutes every night to shift all the books and papers to the far end of the table so we can eat dinner, so why the heck not use it??  :)
But the sunlight is great (when we get sun), the kitchen is right behind me (probably a bad thing), I can let the dog in and out whenever needed, and when school & work are over and everyone's home, I'm still part of us. Although seriously, I should probably rethink this approach, because it's not the most work-conducive. But it is family-conducive, and I guess that's more important right now.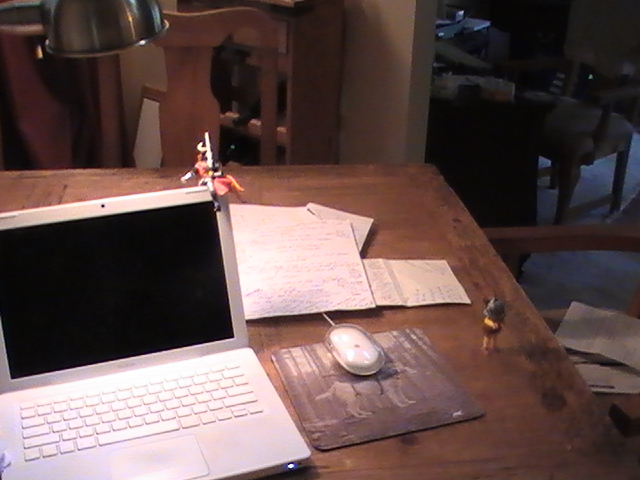 Note the accoutrements I get rained down upon me if I stay connected in this way—Playmobil and Legos characters appear in random places at random times, scattered across my keyboard and research papers.
I see I haven't taken any shots of the living room couch & table in front of it, which is my other workspace. (Refrain: My poor husband.) I sit there and write while they play splash-ball hockey around me, or toss balls over my head.
So if you read any of my books, know that as I try to transport you to another world in the story, I'm probably also transporting you around my house. My family seeps in. My dog, the Lego characters, my son's laughter as he plays out back with friends, my husband calling to my son to come have a catch, the scent of dinner cooking and the touch of my husband's hand on my back as he walks by. All because I'm sitting in the dining room aka: nerve center, not in my 'office.'  :)
Silly offices.
I've got TWO books to give away to two commentors! Either THE IRISH WARRIOR or DECEPTION (your choice)! THE IRISH WARRIOR won RWA's Golden Heart Award just before it was published, and DECEPTION just won Romantic Times' K.I.S.S. Award for Best Historical Hero just last week!
So, fire away!  Do you think I'm nuts with this set-up? What does your husband/co-workers think of your work environment? Are they properly horrified, or are you the one they wish they could emulate? Is your workspace important to you, or could you write in a box?
Kris's Website   |   Kris's Twitter   |   Kris's Facebook   |   Kris on Goodreads   |   Kris's Amazon Author Page
Thank you, Kris. Silly offices, indeed. And great questions. I'm looking forward to reading the comments. Of which I'm sure there will be lots. Here are the two books up for grabs.
As his men are slaughtered around him, legendary Irish warrior Finian O'Melaghlin is held captive by the despised English Lord Rardove. Struggling to break free, Finian finds aid from an unlikely source: the beautiful Senna de Valery, who is also trying to escape Rardove's bloodthirsty grasp. Risking both their lives, Senna releases Finian from his shackles so they can both flee, but their plight has just begun…Seeking safe refuge, Finian and Senna have only each other to depend on for survival. Neither can deny their immediate attraction, but indulging their desires will put them both in grave danger. Finian vows to protect the woman who saved his life, but he soon learns she is a pawn in a much larger battle. For Senna has an unbreakable link to a priceless treasure many centuries old. It is the stuff from which dreams are made and for which men will kill – and not even Finian may be strong enough to save her.

Award-winning author Kris Kennedy brings the treacherous world of thirteenth-century England to life in this scorching romantic adventure!

A dashing con man

Breaking and entering to reclaim her corrupt late father's ledger comes surprisingly easily to Sophia Darnly. But is it mere coincidence that her misdeed unexpectedly reunites her with Kier, the outlaw lover who abandoned her years ago?

A lady skilled in trickery

Time has not erased Sophia from Kier's heart, nor tamed her fiery spirit. She boldly insinuates herself into his plans. But Kier is on a mission of revenge, and can't allow even the woman he once loved to stop him.

A game that could get them both killed

The danger mounts as they lure the leader of a powerful consortium who needs the fabled Darnly ledger—and all its damning details about the wealthiest merchants of England— to execute his nefarious plan. Their rekindled passion burns hot, but when they discover they too are the targets of a deadly deception, the fate of their love, and of England itself, lies in the balance.
Next week (May 13-18), my writing partner Heather Doherty and I will doing a AToMR blog tour in support of our newest Young Adult title, "Comes the Night".  It's the first book in our Casters series, and has racked up some nice reviews already. I hope you'll find us on one of the blog tour stops and leave us a comment. There will be author interviews, guest blogs, reviews, and most importantly, giveaways! Woot! Click on the image below to see the schedule.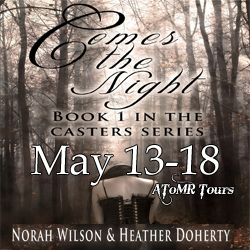 I'm totally tickled to bring you Zoe Dawson for this installment of Workspace Wednesday. Zoe is the alter ego of Karen Anders, award winning, multi-published author. Her writing journey started with poetry and branched out into fiction. With a couple of college English courses under her belt, she penned a historical, then moved on to contemporary romance fiction.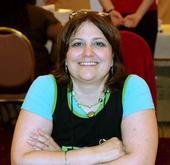 She is the author of the very cool Going to the Dogs Series (Leashed, Groomed for Murder). She also has a six-book police procedural series (The Misfit Squad Series) featuring a group of troubled homicide detectives who have landed in the "last chance" squad. Watch for it from Entangled Publishing in 2013.
Zoe is a woman after my own heart. Not only does she write romantic suspense and romantic mystery, she'll soon be publishing paranormal and urban fantasy novels. I love all those genres, and as a writer, I totally get the urge (need?) to be spinning stories in multiple genres.
Okay, Zoe, take it away!
ZOE DAWSON:   Thank you, Norah, for having me on your blog and sharing my workspace with you.  When I first started writing seriously, I lived in Virginia and my workspace was literally in a walk in closet.  Great cosmic writing power/itty bitty writing space.  The bedroom had two walk in closets so I could fit both my clothes and my writing passion into one room.  It was a tight confined space that only accommodated my desk and chair.  But it was perfect.  I could close my bedroom door, then the door to my small space and cut out all the noise from the household.  I loved that space.
When I moved to North Carolina, I lived in a two bedroom apartment with my daughter and I wrote in my bedroom again.  But this time I had to put the clothes in the only walk in closet.  Not as conducive to writing, but then I was developing ideas and had no contracts at the time.
I then moved to a three bedroom single family home where I had a dedicated office to work out of and it was huge, but with the change in the economy, I moved into a townhouse where I now currently write.  As you can see, the view is simply wonderful at all times of the year.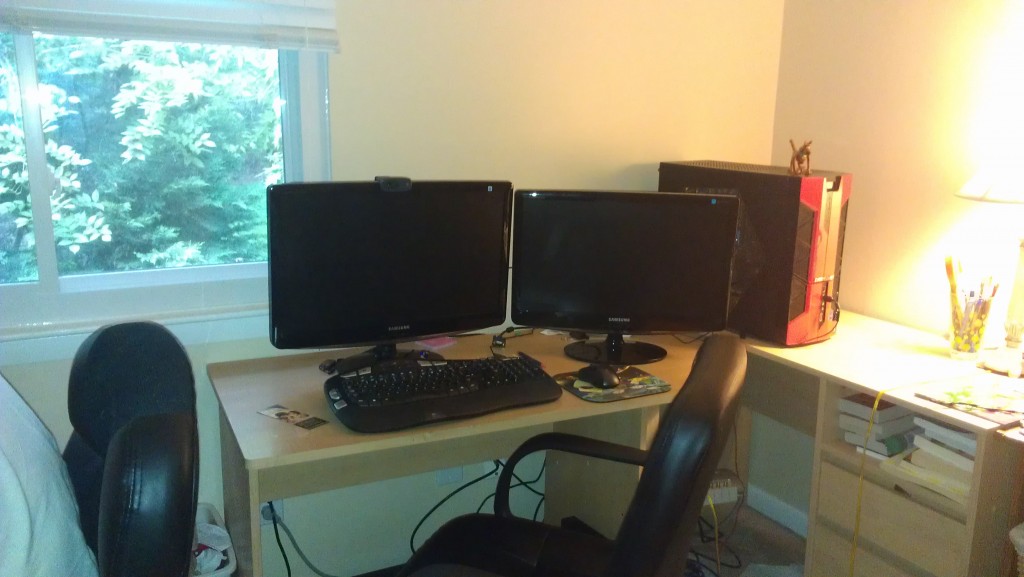 Even though we live right off a busy road, you wouldn't know it by looking out the window.  Looks like we live out in the country.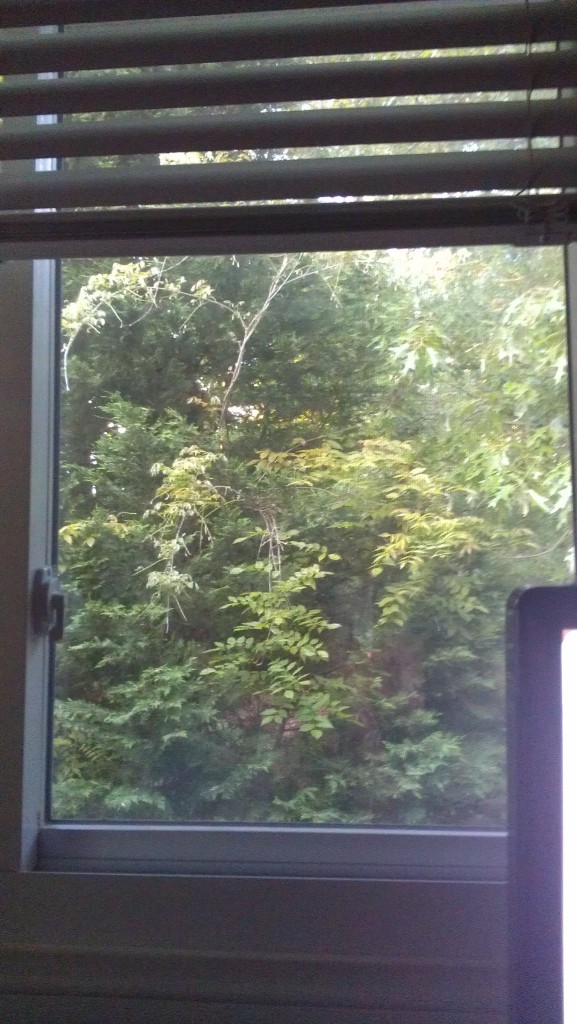 I share the room with my daughter and when I need some quiet time, I take my laptop into my bedroom and produce away.
I have written seven books in this space and expect to produce a lot more as I have now diversified into self-publishing.
Thank you for that tour, Zoe. I'm so impressed by how clean your desktop is! And don't you love having dual monitors? And is that a dog on top of your CPU?  :)
Okay folks, it's your turn. Leave us a comment for a chance to win one of two electronic copies of Leashed.
And they call it puppy love!

When Jack falls head-over-paws for cute and cuddly Jill next door — that creamy coat, those soft brown eyes, and, yowza, those long legs, he simply cannot help himself.  Bing, bang, boom, a few weeks later, Jack has some 'splaining to do when that cute female is with puppies.  Jack's going to be a father, trouble is his lady love's owner and his owner need a little shove into love.  Being a large and in-charge Great Dane, that's no problem for Jack.  With a little cooperation and a little matchmaking, some nudging, whining and puppy dog eyes, hopefully, everyone will live happily ever after together.

Can a dog have a bad hair day?

Brooke Palmer owns Pawlish, an exclusive doggie spa and grooming business in upper Manhattan, but when a client's champion poodle gets a bad poodle cut and has to undergo therapy to recover, the client sues.  The lawyer they send is drop dead gorgeous, but Brooke won't be wooed by a corporate shark in a sharp suit.

Corporate lawyer Drew Hudson has better things to do then take on this ridiculous lawsuit, but since he works for the client's husband, he has no choice.  After meeting the beautiful, sweet-tempered owner, he can't keep his mind on the silly case.  But when the client turns up dog gone dead, Brooke may be a conflict of interest when she's charged with the murder.  All Drew wants to do is prove that this sexy entrepreneur is not dangerous, except to his heart.

Can she take a chance on him?
I am so pleased to have one of my local buddies, Gail MacMillan, join me today for Workspace Wednesday. And when I say "local", that's relative. Gail lives on New Brunswick's north shore, while I'm way down here in Fredericton. But we're fellow NBers, fellow romantic suspense authors and fellow dog lovers.
Gail's Bio:  A three-time recipient of the prestigious Maxwell Medal, Gail MacMillan is author of twenty-two books. A graduate of Queen's University with post graduate work in Expository and Narrative Writing at the University of Western Ontario, Gail has had numerous short stories and articles published in Canada, the United States, and Europe, several of which have won awards. Her three books about Nova Scotia Duck Tolling Retrievers (the first co-authored with Alison Strang) have met with excellent reviews and are selling well worldwide. Two of her canine books, Biography of a Beagle and Ceilidh's Quest have won Maxwell Medals from the Dog Writers' Association of America in NYC as the Best Dog Books in their category in 2002 and 2007 respectively. Gail also writes romantic suspense.
Welcome, Gail! Take it away!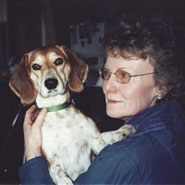 GAIL MacMILLAN: Thank you, Norah!
When Norah invited me to be her guest on one of her Workplace Wednesday's spots I was delighted.  Then, as I read more and more about her celebrated guests' workplaces and saw more and more of their well-appointed and even glamorous writing areas, I began to panic.  I have no such designated place. In fact, I'm more than slightly nomadic in the locations where I choose to write. So, after giving the matter consideration, I decided that honesty is the best policy.  This is my workplace story.
I've always written from the time I could first form letters into words so I'd have to say my first workspace was my bed where I sat huddled against my pillows in the glow of a small lamp scribbling in secret long after lights out.  These tales I hid under my bed, afraid to admit to anyone that I dared to attempt to emulate actual authors.  Authors, I believed, were next to the gods on Mount Olympus with their gifts of conjuring stories out of thin air in an absolutely enthralling fashion. I had no right to try to attempt to enter their exalted realm.
But I continued to be a closet (or under the bed one) writer for years.  When I married my husband Ron he discovered my secret addiction and insisted I join a writer's group.  That did it.  Spurred on by that enthusiastic gathering, I wrote at every possible moment, my favorite spot being the front steps of the two room shack we called our camp in Tabusintac.   I filled notebooks and every scrap of available paper with stories and even short novels.   I bought a second hand manual typewriter and began to write boldly, openly at the kitchen table where any passing neighbor might come upon me.  Third page headlines in the Moncton Times after my first book was published dubbed me the kitchen table novelist.
Later, in attempt to find a quiet place to write, I set up shop on a wobbly-legged card table in a corner of our unfinished basement.  When the kids were finally all in school, I moved my shaky writing centre upstairs to our bedroom.  There I wrote two more books and a bunch of short stories for religious (now called Christian, I believe) magazines.  And just before I moved again, I began to write the dog stories that would take me in a whole new direction.
Two years later we finished our basement.   This remodeling included a small office for me behind the furnace and the room where we were to store our winter's supply of fire wood.  Thus isolated, I felt I'd be undisturbed to write and write and write.  My husband, bless him, in support of my elusive dream, even built me a beautiful roll top desk that took him an entire winter to complete.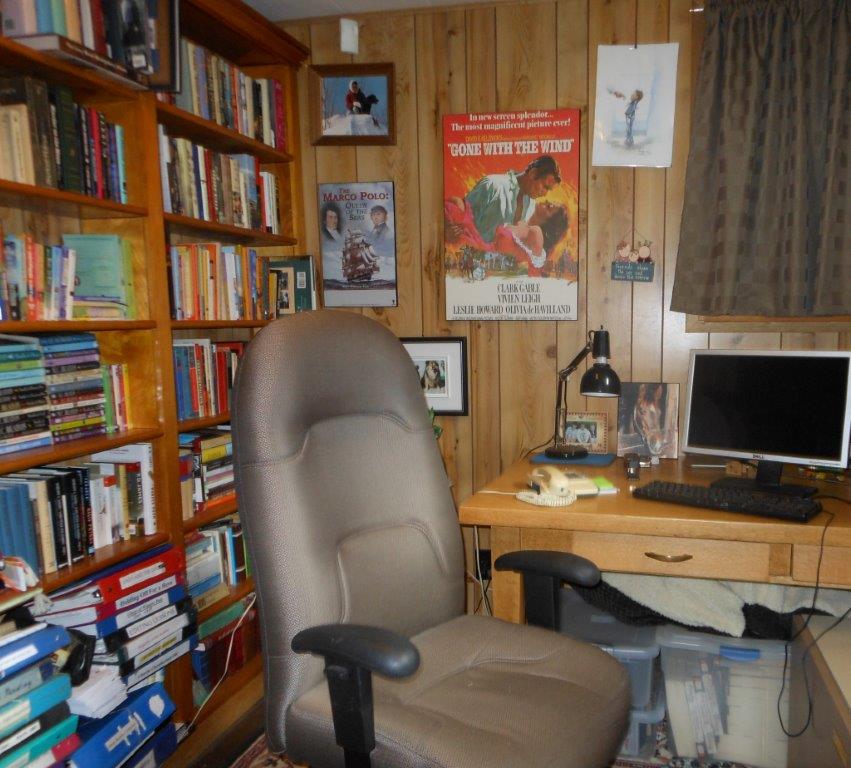 It didn't work out.  I soon discovered my imagination couldn't flare locked away below ground level behind several cords of hardwood with only one small window.  I found myself holding a tablet or notebook on my knee in various brighter, more convivial locations.  Later I'd force myself into that cube in the basement where, thanks to a modest inheritance, I now had a miracle machine…a self correcting typewriter…to transcribe my stories.
These days, a laptop accommodates my moods and fancies.  Summers at our cottage in Tabusintac, I set up in the gazebo out back where I have a lovely view of fields and trees, birds and squirrels, and the occasional fox.  When the chill of late October drives me indoors, I once again become a kitchen table novelist.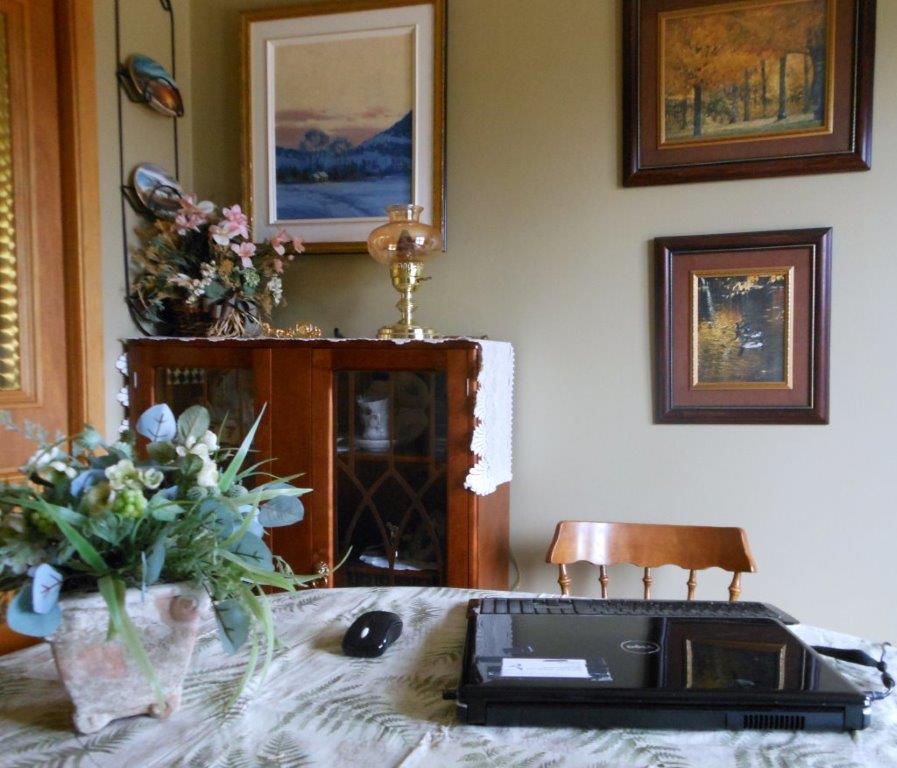 Winters in Bathurst I mostly write at the dining room table (apparently you can take the table away from the girl but you can't get the girl away from the table).  From my vantage point I have a lovely view of both my backyard and the street in front of the house.  My dogs are my associate editors, always ready to tell me when it's break time, waiting patiently when it isn't.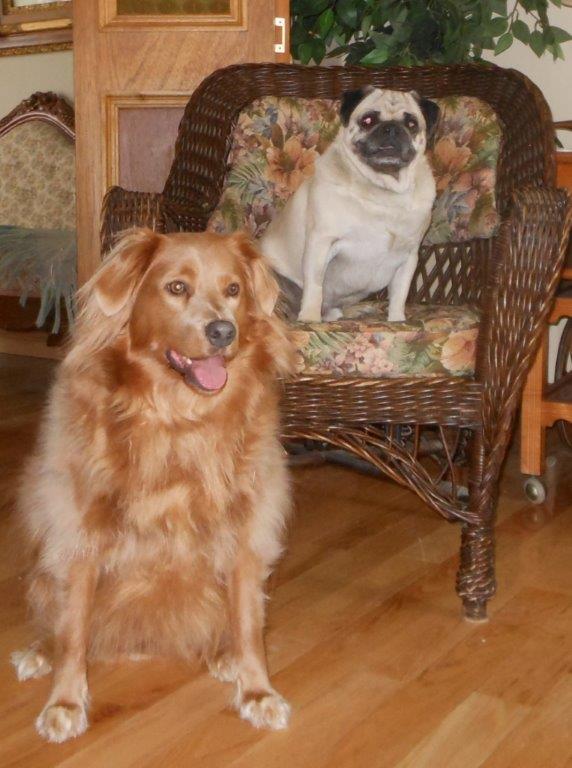 My office sits alone and uninhabited except for floor-to-ceiling, well-filled book shelves, filing cabinets, and bulletin boards.  We've moved the beautiful roll top desk upstairs to Ron's office.  The expensive typing chair my doctor insisted I needed to keep arms and shoulders pain-free sits gathering dust in front of my old desk top (which still comes into play whenever the laptop is ailing).  I really should be sitting in that chair, in the book-lined office, isolated from the rest of the house and neighborhood, working like a rented mule, but I just can't seem to get the hang of it.  Instead, I sit at the dining room table, then sometimes in my grandmother's rocking chair in the living room and dream up handsome heroes and unstoppable heroines, often in pj's and slippers.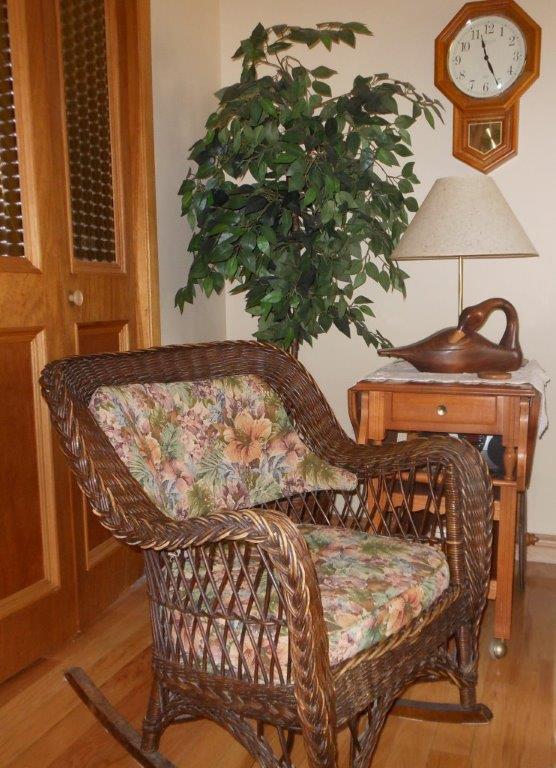 I admire the other authors who have been Norah's guests.  How organized, how professional, how in control they all are.  Maybe someday when we finally build that sunroom we've been talking about for years, I, too, will settle down in a single location.  But until then, like the Littlest Hobo, I'll just keep movin' on.
Thank you, Gail! My favorite thing? That sweet pug. Is he the star on the cover of Holding Off for a Hero by any chance?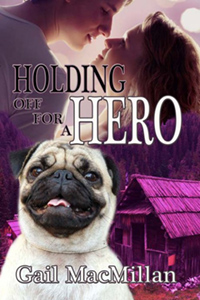 Here's another of Gail's romances, set in the wilds of northern New Brunswick.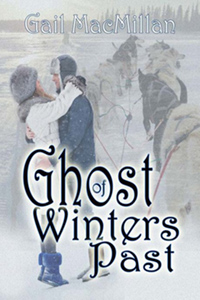 She also has some wonderful, award-winning non-fiction books about dogs, like this one: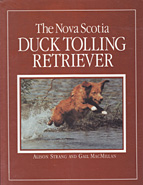 Okay, now it's your turn. Please leave us a comment for a chance to win an ebook copy of Holding Off for a Hero.
I am excited today to introduce you to award-winning author Deborah MacGillivray, whom I have known online since the days of my publication with Dorchester Romance a decade ago. I well remember the fire she speaks of which destroyed her home a few years ago. The other thing that has always stuck in my mind about Deborah is her selfless service to a now deceased friend and fellow-writer, Dawn Thompson, who faced a number of daunting physical challenges.  Even now, if you visit Deborah's website, you'll see that she keeps Dawn's legacy alive, not just as a memorial but for the benefit of Dawn's heirs. Quite apart from her considerable and recognized talent as a writer, that makes Deborah a winner in my books. Deborah is now a fellow Montlake author, after Amazon acquired a number of her back list books from the now defunct Dorchester Publishing. Welcome, Deborah!
Deborah:  Thank you to Norah for asking me to drop by and share my corner of the world. Had she asked me that in 2009, my pictures would have been much different. I had a wonderful, handmade cherry desk, oak file cabinets and built in bookshelves, with knotty pine paneling on the walls. Today, my office is completely different, and not just a decorating choice. My home burnt to the ground at the start of 2010, and I very nearly died in the fire. Once healing was begun, I had to find a new home. From there, I knew I wanted to make my office a haven, something special. So what you are viewing is still a work-in-progress.
To start, I had to have a knock-out desk, something fit for an author (LOL). And boy did I get one! I found a Powell Hunt Desk. A beautiful carved mahogany, semi-circle desk, with glass inlays.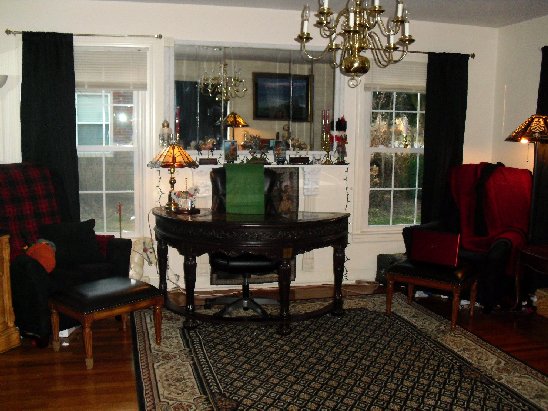 Once I had that focal point, then I set out to make the room a reflection of my tastes, my loves, and see it provided a tranquil place to create. The room is 18' x 17' so plenty of space to fill with items to speak to what I love. In two corners, flanking the desk, I placed two, matching black suede chairs, with wood and leather footstools.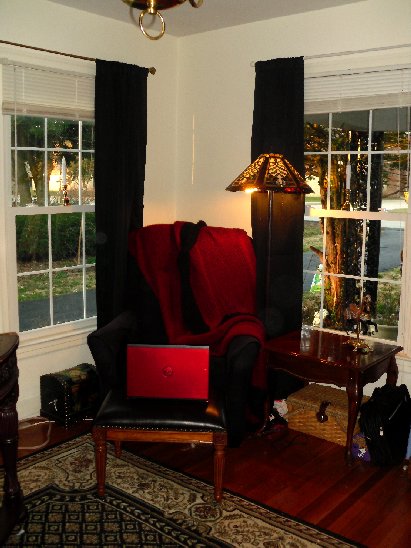 I learnt long ago, I cannot write on a PC for long. It caused tendonitis of my neck and right wrist. In my agony, I discovered I could work all day on a laptop and not suffer these problems. So while I had my desk to work at when I need space, generally I am found with my legs up and me oh so comfortable in one of the black chairs.
I also have a lovely Victorian settee, which I share with my dolly, made by Candy Thompson (sister of the late author Dawn Thompson). Candy, as well, crocheted me a huge red and black afghan (seen in the second picture)― perfect for my black and dark red office theme.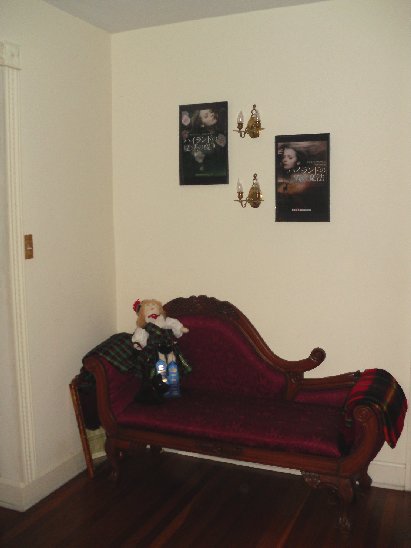 I also have a constant companion with my new kitty, Miss Mouthy― "Mouse" for short. She mostly sits on the small table by my chair, or on the arm of the chair while I work. I have a gorgeous Tudor birdbath outside one window, so we take breaks to watch the "pool parties".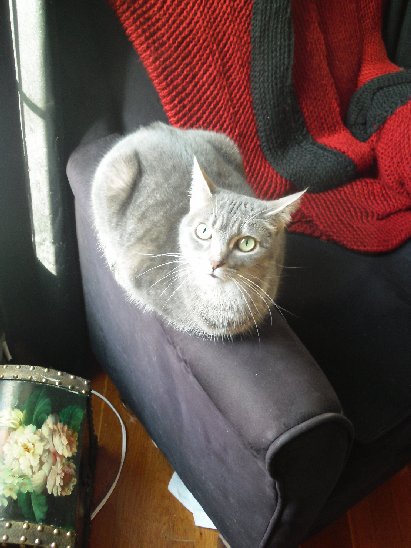 I love going antiquing, and we have a marvelous store just down the road. I have found some great items there. A new acquisition ― a second desk ― a roll-top oak is in one corner. I am not sure it's going to stay in the room permanently. I am considering putting a full-size carousel horse there. All about the room, I have several glass carousel horses with medieval style. On one wall behind my desk, I designed a wonderful display with a tapestry of Edmund Blair Leighton's "The Accolade", that my marvelous contractor Joe Crabtree brought into being.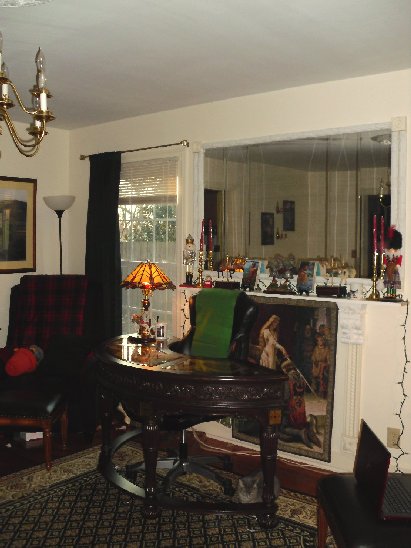 He also helped me hang a wall frieze of two knights battling on a small space between two windows. It's not quite finished yet, but coming along nicely. I have large framed posters of Scotland ― Kilchurn Castle and Duncarloway Broch. I am far from done, but I think my study is beginning to reflect my new beginning in a new home, and speak of my love for medieval times and Scotland.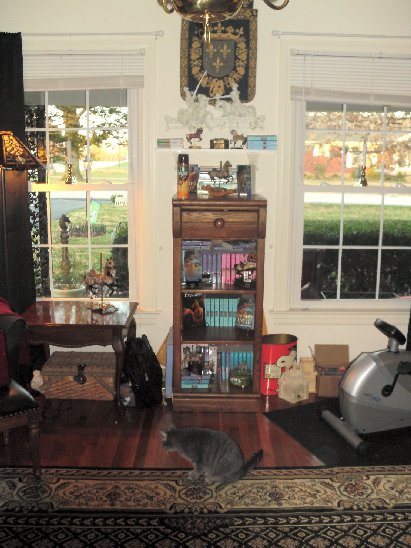 Mouse and I must be able to see out into the world. Plenty of light comes into the room as we have a large door way to the living room, and two very large windows on two walls. We get some bird-watching (and squirrel-watching) in on our breaks.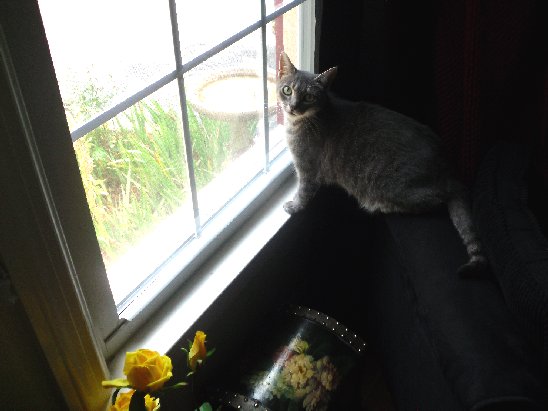 In one corner I have a recumbent bike. I think it vital for an author to get up and move around. It's good for the body and mind to get the blood pumping. I can take a break and do twenty minutes of pedaling, and suddenly I am awake and refreshed. I also have near perfect blood pressure now. Thank you, bike! All phone calls can be answered on my Vintage Snoopy Phone!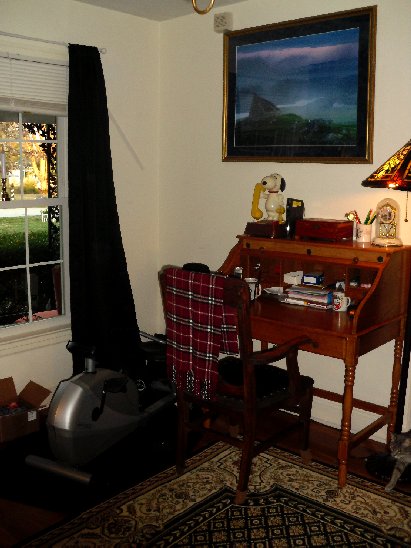 It's eclectic style, a bit functional, a dash of whimsy and a wee dram of Scottish Medieval― perfect for me to get lost in tales of dashing Challon lads!
My latest addition is the carousel horse. Not sure where I will put him permanently, but I absolutely had to have him!!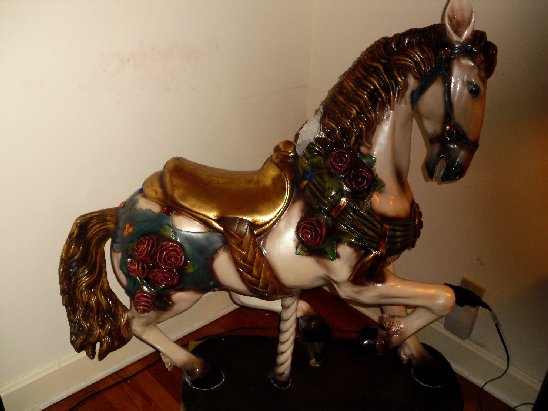 However, there are days, that the outside calls. I have a veranda that covers the whole front of my home. I decorated with rockers and loveseats, so I will take my laptop out there and often work. I rock in the glider, while using my Next Up Text Aloud to read back my writing to me. I find the Text Aloud a grand way to hear my words, feel the flow of the prose. So I can keep working, yet enjoy the outdoors as well.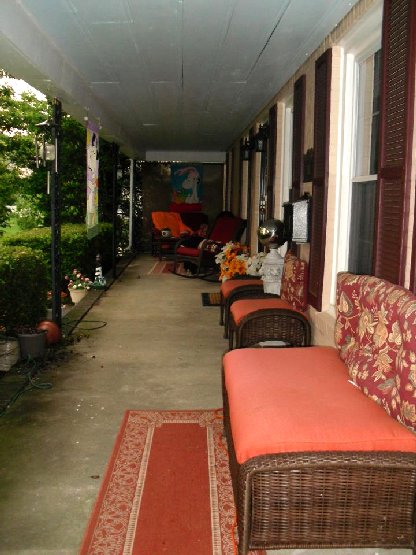 Thank you, Deborah! That was a fascinating tour! I love your study! What an extraordinary home you've created for yourself after the devastation of the fire. In fact, I think this might be one of the most unique spaces I've profiled thus far here on Workspace Wednesday.
Folks, Deborah has two fantastic giveaways. As always, winners will be drawn randomly from among the comments on this post.
Giveaway#1 – A set of The Dragons of Challon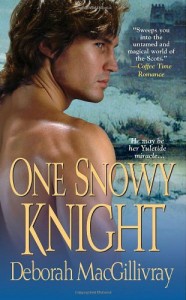 One Last Hope. . .
Lady Skena MacIain has seen much hardship this year, and she fears worse is to come. For a bloody battle in Dunbar has left her a young widow, and her Scottish fortress without protectors. She wishes she could be as hopeful as her babes, who believe the Cailleach, the Lady of Winter, will send them a miracle in time for Christmas. But life has taught her that things can never be so easy. . .
One True Love?
Until a mysterious warrior is found amid a blinding snowstorm, sick with fever. As Skena nurses the handsome knight back to health, even she begins to believe he might bring salvation to her little keep–and passion to her life, as his body awakens a long sleeping desire within her. . .a desire her touch stirs in him as well. But his wounds speak of danger, and Skena will soon learn, his past carries a secret that could shake her home–and her heart–to their very core. . .
Look Inside at Amazon
Giveaway #2 – 1 set of The Sisters of Colford Hall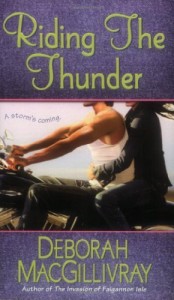 It was all part of the plan. While his brother was in Scotland dethroning the Lady of Falgannon, Jago Mershan was headed to Kentucky. There he would do his share in avenging his father on the Montgomeries. Only, there was a monkey wrench in the works
Just looking at his alleged enemy's granddaughter made Jago think of his classic black '67 Harley Electra Glide, a motorcycle with clean lines and sleek curves that promised the ride of a man's life. Asha was all woman― and the only woman for him. He'd bet she could go from zero to one hundred in the blink of an eye…and not even her claims of paranormal happenings in the diner she ran could put him off. He knew magic: He had a special name for the sights, the sounds, the tastes and smells of that perfect ride. There might be a storm coming, but it was one of passion, and together he and Asha would be… RIDING THE THUNDER
Look Inside at Amazon
Through the end of March, three romance authors are combining to not only bring readers an easy opportunity for a chance to win a 7" Kindle Fire HD, but also the chance to discover a new and exciting way to read books!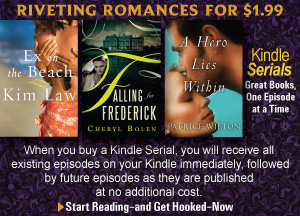 Have you heard of Kindle Serials? It's a blast from the past, where books are released in episodes in the same vein as in Charles Dickens' day. Only, instead of getting each episode in a magazine or newspaper, you'll get them on your Kindle or Kindle app. It's kind of like your favorite television shows. The ones that leave you hanging each week, anxious to get to the next episode and know more!
Cheryl Bolen, Kim Law, and Patrice Wilton each have a Kindle serial releasing, and are hoping you'll give them a try! In return, they're giving away a 7" Kindle Fire HD on April 1st, and will give away three $20 Amazon gift cards along the way. All you have to do to enter is go to one of their websites and answer a simple question about their serial. Want to enter three times? Go to each website and answer a question about each serial.
Additionally, after reading each episode, join the fun by chatting with other readers on the Kindle forums, and discussing how you think the next episode will play out! Links to the forums are found on each book's Amazon page.
Falling for Frederick, by Cheryl Bolen – Laden with mystery and suspense, Falling for Frederick is a fast-paced romance that takes place in contemporary England. Aided by the lord of the manor, a lovely doctoral student seeks a priceless medieval artifact – just a step ahead of those who've already murdered to get it.
Ex on the Beach, by Kim Law – Andie Shayne is getting ready to host the wedding of the summer at her resort on Turtle Island. As the guests arrive she's taken aback to learn that her ex–who left her at the altar–is the best man. What he did was unforgiveable, and now he's back with an agenda for her affection.
A Hero Lies Within, by Patrice Wilton – Old secrets linger and two reunited lovers are faced with more deception and mistrust. Can their love survive a second time around? Jake Harrington left her once when her life was falling apart, and now he's back, and so are all the emotions she fought hard to expel. Can she forget his bitter betrayal, and will he forgive hers when to save her career she must betray his trust?
$20 Amazon Gift Card giveaways:
February 28th – Winner pulled from all entries from Cheryl's contest page.
March 14th – Winner pulled from all entries from Kim's contest page.
March 28th – Winner pulled from all entries from Patrice's contest page.
7" Kindle Fire HD giveaway:
April 1 – Kindle Fire HD winner will be drawn from all entries gathered from the contest pages of Cheryl, Kim and Patrice. Enter up to 3 times to win!
Subscribe to the Montlake Delivers newsletter
CONTEST FINE PRINT:
By submitting your entry you agree to share your information with and sign up for Cheryl, Kim and Patrice's newsletters. They agree not to share your information with anyone else. You may unsubscribe at any time.
One entry per person per contest page. (Up to three entries possible, one at each contest page.)
You must be 18 years old to enter.
You must be a US resident to enter.
Giveaway ends at midnight EST, Sunday, March 31, 2013.
One winner will be chosen at random from all entrants for the 7" Kindle Fire HD.
One winner will be chosen at random for each of the Amazon gift cards.
Winner selections are at the sole discretion of Cheryl Bolen, Kim Law and Patrice Wilton. All decisions are final.
Winner will be notified via email.
Winner agrees for their name to be used in newsletters, on websites, twitter, and on the Facebook pages of Cheryl Bolen, Kim Law, and Patrice Wilton.
Giveaway is sponsored by Cheryl Bolen, Kim Law, and Patrice Wilton. No purchase necessary. Cheryl Bolen, Kim Law, and Patrice Wilton are not responsible for transmission failures, computer glitches or lost, late, damaged or returned mail.
I'm delighted to welcome fellow Canadian Cindy Procter-King to Workspace Wednesday. Cindy is a dynamo and one of those personalities you gravitate to. I could write a lovely bio telling you how funny she is, but I think posting this little excerpt from her website bio will tell you more than I possibly could!
A Kindle Contemporary Romance bestseller and Romance Writers of America Golden Heart® nominee, Cindy's mission in life is to see her surname spelled properly—with an E. So take heed. That's P-r-o-c-t-E-r. Not, no, never, under any flippin' circumstances should you spell it with two O's. Cindy lives in Canada with her husband, their two amazing sons, a tortoiseshell cat obsessed with dripping tap water, and Allie McBeagle.
Welcome, Cindy!
CINDY PROCTER-KING: Thanks to Norah for welcoming me to her blog! I'm excited to be here.
I love my office. It's a huge space, a 10×14 room that used to be our bedroom. Even so, I've managed to fill it up!
We live in a circa-1960 house, and the location of my office has changed three times over the 22 years since we moved in. I searched for a photo of the bedroom before we renovated to show you what my office used to look like, but I accidentally gave birth a week after we moved in (the baby came 6 weeks early) so I didn't get around to taking pictures of the interior. I was too busy corralling a 2-year-old and our huge dog at the time, a Malamute, and unpacking boxes, and then caring for a newborn preemie.
That's my excuse, and I think it's decent.
While my children were little, my "office" was a corner of the living room. My husband gave me a roll-top desk for our first anniversary, and it sat in one corner of the living room. The computer desk sat in the opposite corner. I have always had two desks because I use the computer to draft but the roll-top to hand-edit and revise. When our oldest child turned 13, we put on an addition, which meant there were two empty bedrooms for a couple of years. I moved my office into one of the old bedrooms, but it was very crowded and super-hot. My ankles would swell in there (this was before we had air-conditioning).
A couple of years after the major addition of two bedrooms and a bathroom for the kids, we remodeled the "master wing," creating one bedroom out of the two kids' rooms, turning the tiny bathroom into an en suite bathroom for the new master bedroom, changing the old hallway to the bathroom into a walk-in closet, and the icing on the cake—turning our old master bedroom into my office!! First, I'll show you a photo of what the office looks like now, and then I'm going to tell a little story….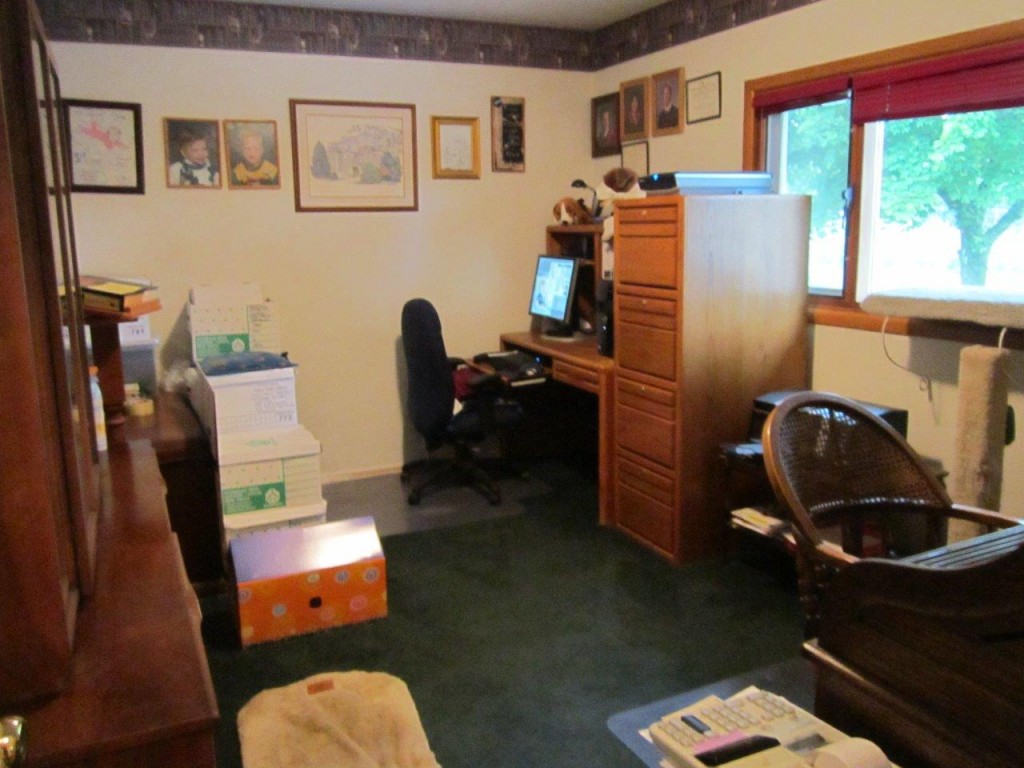 You can see the computer desk in one corner, my roll-top desk in the lower right, and a view outside the window (which looks onto an orchard). I took this picture a few months ago after thoroughly cleaning the house, so you'll have to excuse me if it looks a little tidy…aside from the numerous file boxes stacked up near the far wall.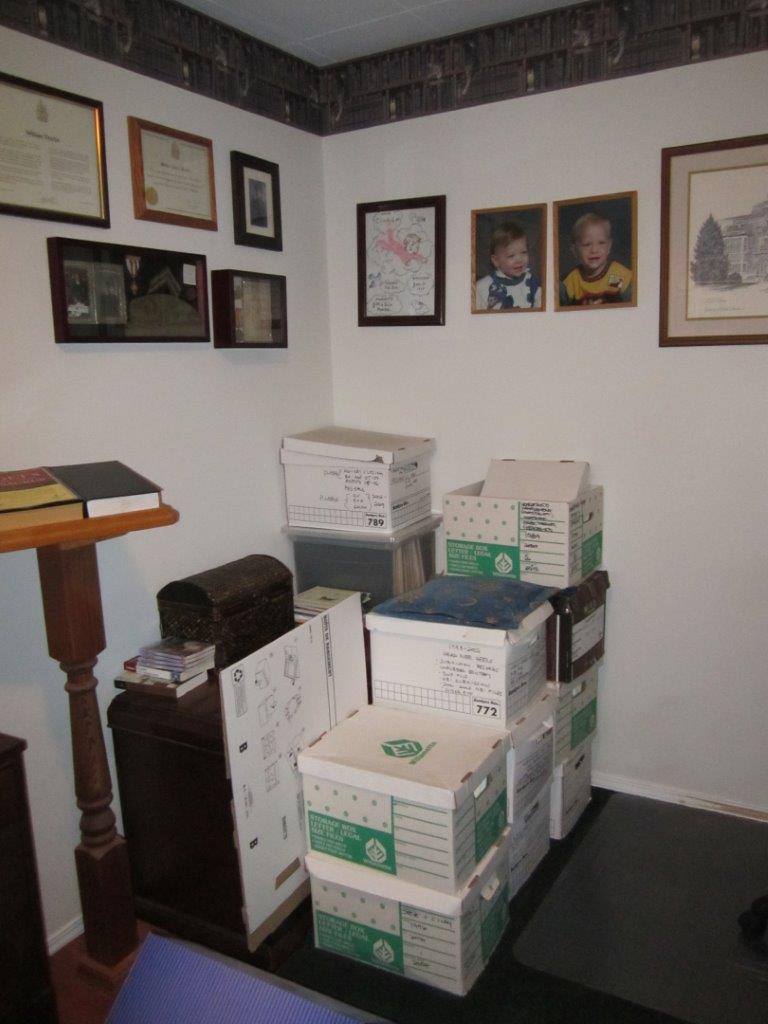 This isn't my promised story; this is a sideline explanation of the file boxes. Two years ago, I needed to find a file box in the crawlspace, and I discovered all these other file boxes that needed to be sorted and shredded. There were originally 11 boxes. I shredded two before the shredder died. There are now 7 files boxes remaining. I went through two more at Xmas. At this rate, I'll be finished my sorting/shredding in 2019. Oh, well.
Behind the file boxes is a memory trunk that my husband gave me for a milestone birthday. You can see a dictionary and a thesaurus (which I rarely use now thanks to website dictionaries) on a stand that he built me one Christmas. The framed certificates and shadow boxes are in honor of my grandfather, who lived to 106 and was the last British Columbian to have served Canada in The Great War (he was the third last Great War vet to die in Canada overall). Pictures of my sons (now adults) are also on the walls. I love being surrounded by memories of family as I craft my novels.
Here's my roll-top desk, where I do my editing and revising by hand (and a bunch of "biz of writing" stuff):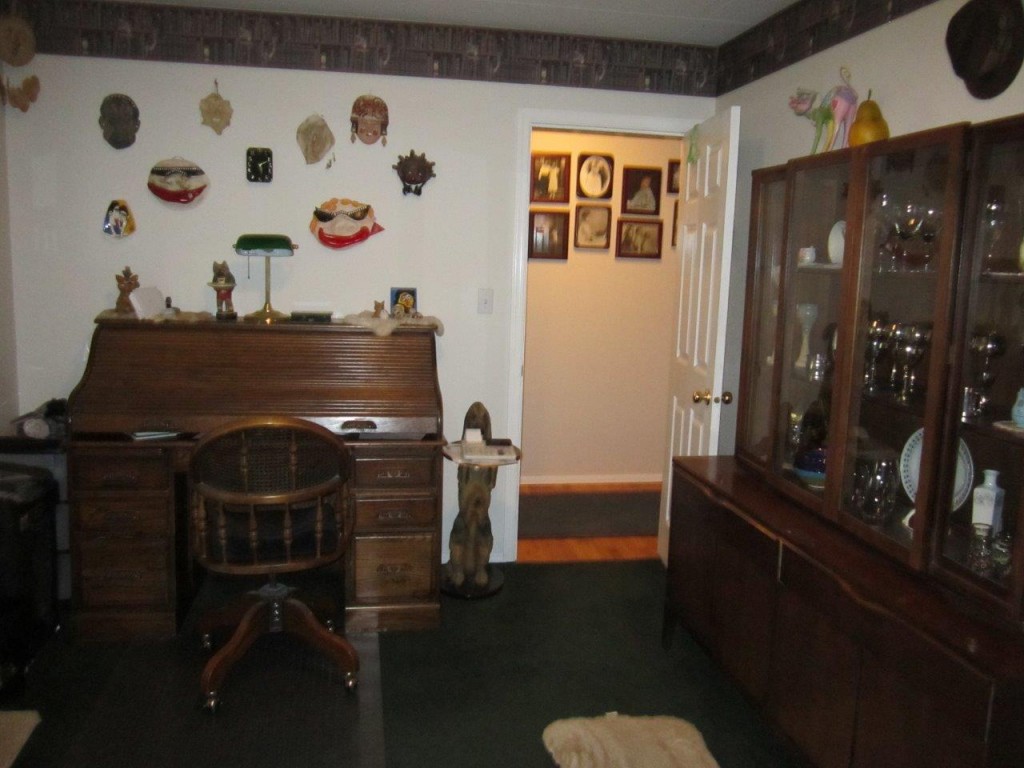 I collect face masks, and the china cabinet to the right belonged to my grandmother. This china cabinet remained in my office until recently, when we rearranged the living room and could finally put it close to the 'dining table' (which is in the country kitchen). Now, in place of the china cabinet, is my husband's grandmother's buffet. I don't have a picture of that right now, because we are in the midst of getting some repainting done.
My roll-top looks very tidy with the cover down. In reality, it usually looks more like this (but messier – I did some cleaning and filing while the painter was here last week):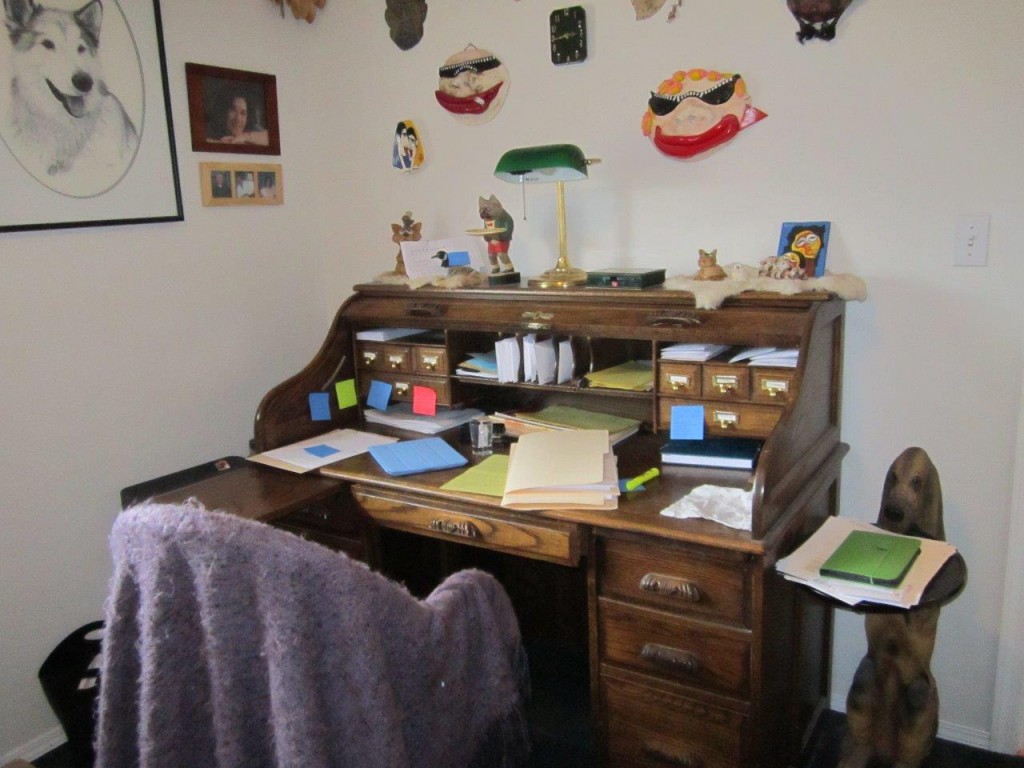 All those sticky notes are my to-do lists. Hawthorne (the dog statue) holds my mail. The blanket is for cold March days. The drawing of the dog is our old (dead) Malamute. We now have a beagle and a cat, but neither would move off the bed in the other room to cooperate with photographs.
As you can see, the walls are drywall now. When we first moved into the house, the then-bedroom had a lino floor and pine on the walls. When we took the pictures off the walls ten years later during our first set of renovations, the pine behind the pictures had faded to the point that we had to take off all the pine. Underneath was ugly stuff with ridges in it that I call wallboard. So we decided to remove the wallboard and put up drywall in this room. Now, here comes the story I mentioned earlier. The big surprise was that we discovered, on those old wallboards, dozens, and I mean dozens, of hearts with the initials of the old couple from whom we'd bought the house over a decade earlier. When we bought, they were moving because she had Alzheimer's and he could not keep up the massive yard without her help. We think he put up the pine paneling to help sell the place because it looked very new when we moved in. However, first this kindhearted gentleman drew his love for his wife all over their bedroom walls! That were then our bedroom walls.
Ever since we moved into the house, I had felt a ("woo-woo") sort of presence. I usually felt it in the old hallway. The wife had passed away shortly after they moved. I don't know if I was sensing her or something else, but when we discovered the dozens of hearts drawn all over the walls (I must have taken a picture but I've looked and can't find it), I felt like it was her presence or their love somehow remaining in our house…in our master bedroom, which is now my office and where I write about undying love. The last time I felt her presence, after the wallboard was off and only studs remained, I thanked her for allowing us to raise our family in her house. I have not felt the presence since.
We have done more renovations over the years, and every time we do we put something in the walls or ceilings for someone else to find in the future, just like we found the hearts. There are Batman figurines in the hallway walls from my sons, and a ping-pong table used for sub-floor under where our dining table currently resides. I could go on, but you get the idea.
And that's my office!
Have you ever done renovations and discovered "gifts" or "memories" from the previous occupants?
She never wants to go home again.

For Jess Morgan, Destiny Falls holds too many painful memories. Nine years ago, a logging accident near the remote timber town killed her dad and her high school sweetheart. To make matters worse, her mother quickly sought comfort with another man. That choice tore Jess apart and drove her to seek a life far away. But now fate steps in, and family obligations force her return home. Before long, she's convinced that persuading her mom to live with her in Toronto will repair their shattered bond. However, she doesn't count on a long-ago friend re-entering her life and challenging her convictions.

Rugged forester Adam Wright believes in family, roots, and not running from heartache. Now, all he wants is to help Jess break down the walls of the lonely sanctuary she's built for herself and heal her past hurts. It's not until she rejects his plans for their future that he realizes his persistence has pushed her away—not at all what he intended.

Has he lost his chance? Or can he convince Jess that where she truly belongs is with him…forever?

 

One tiny lie can cause a whole lot of trouble…

Magee Sinclair has had it up to her sassy short hairdo with the recent blunders pushing her family's advertising agency to the brink. How can she accept the promotion her father plans when she keeps making costly mistakes? She needs to bring in more business however she can. So when new client Justin Kane asks her to role-play as his girlfriend for a weekend in exchange for a lucrative campaign, she jumps at the chance.

Justin's goal to expand his chain of bike stores hinges on a distribution deal with a manufacturer. First, he needs to impress the man at a mountain resort while they bike trails with their significant others. But Justin's girlfriend dumps him, forcing him to find a quick replacement. Magee—pretty, clever, and a skilled cyclist—is the perfect choice to masquerade as his "lover."

Or so Justin thinks.

Because Magee is in major trouble. She knows no more about mountain biking than Justin does about demi-bras. Before long, an irate ex pops up, fake identities abound, and a whole lot of doors slam in the middle of the night. Yet, through the chaos, Magee and Justin discover what it really means to fall head over heels….
Thanks for that great tour, Cindy. I loved your story about the hidden hearts. I can well imagine the wonderful echo that room must retain! 
Okay, folks, Cindy is giving away two prizes:
An electronic copy of her book

Where She Belongs

(MOBI format); and
An electronic copy of her book

Head Over Heels

(MOBI or EPUB format).
All you have to do to qualify is comment below, answering Cindy's question. I'm going to love reading these answers! I know I've seen some interesting things that came out of old walls!
Some days I just have to marvel at what a great job I have. I get to create stories for a living! And if that's not enough, I also get to talk to lots of wonderful authors and persuade them to open up their homes to us so we can peer around their work spaces. Today's guest is Roxy Boroughs, a fellow Canadian whom I "met" through social media. Some people just shine in that milieu for the genuine, smart and likable people they are. Roxy is one of those people. I am also a fan of her books. But it wasn't until I researched her bio for this introduction that I realized she is also an accomplished actress! In addition to her appearances on stage and in commercials, she also appeared in the beloved Canadian-produced Degrassi Junior High. I'm so impressed!
Okay, Roxy, over to you!
ROXY BOROUGHS:  Thanks so much, Norah, for inviting me to share my workspace. It's in the second bedroom of the condo I share with my husband. Since the walls are a coffee color, I picked off-white furniture, to brighten things up.
Like many writers, I have a lot of books. And my husband is a university professor, so he has a lot of books. Together, we have a TON of books. We also like movies and music, and own quite a few CDs. I'll often put on a movie soundtrack when I'm writing to set the mood.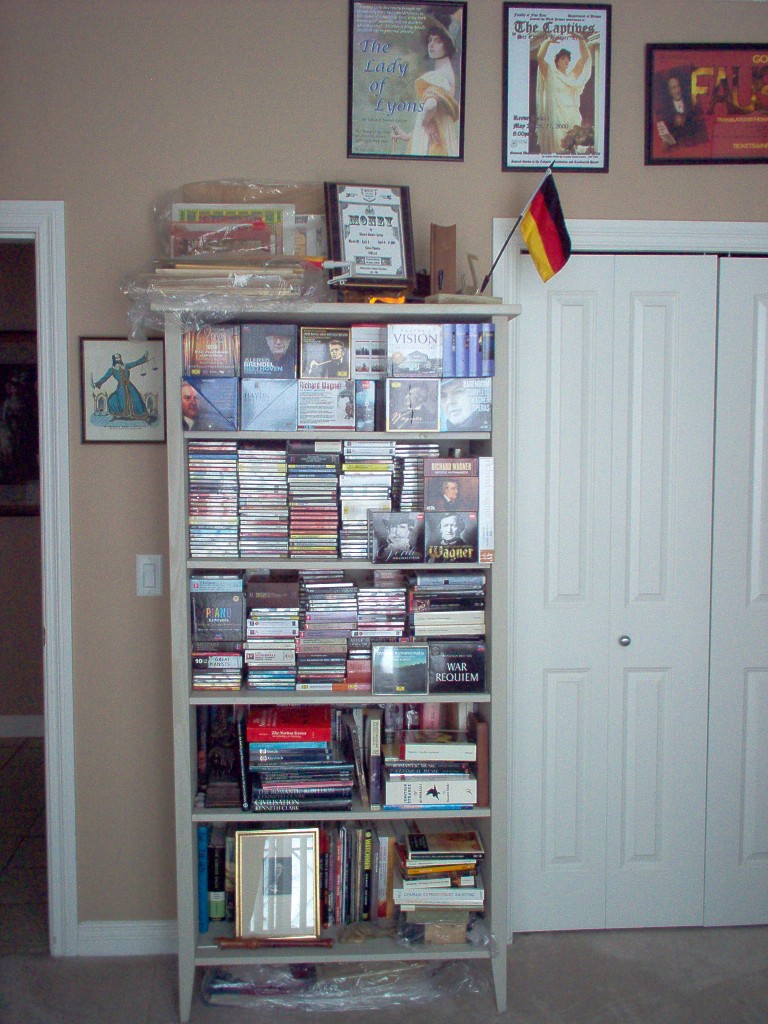 I store DVDs in the closet to the right, along with my scrapbooking materials. You might be able to spy some operas by Richard Wagner on the bookshelf to your left. Those are my husband's. We went to Seattle a few years ago to see Wagner's Ring Cycle and I became a convert. Hubby jokes to his students that, after 30-odd years together, I finally understand what he's talking about.
Above the door are some posters for shows my husband has directed. We met at theater school when we were struggling actors. Now he teaches and I write—both novels and plays.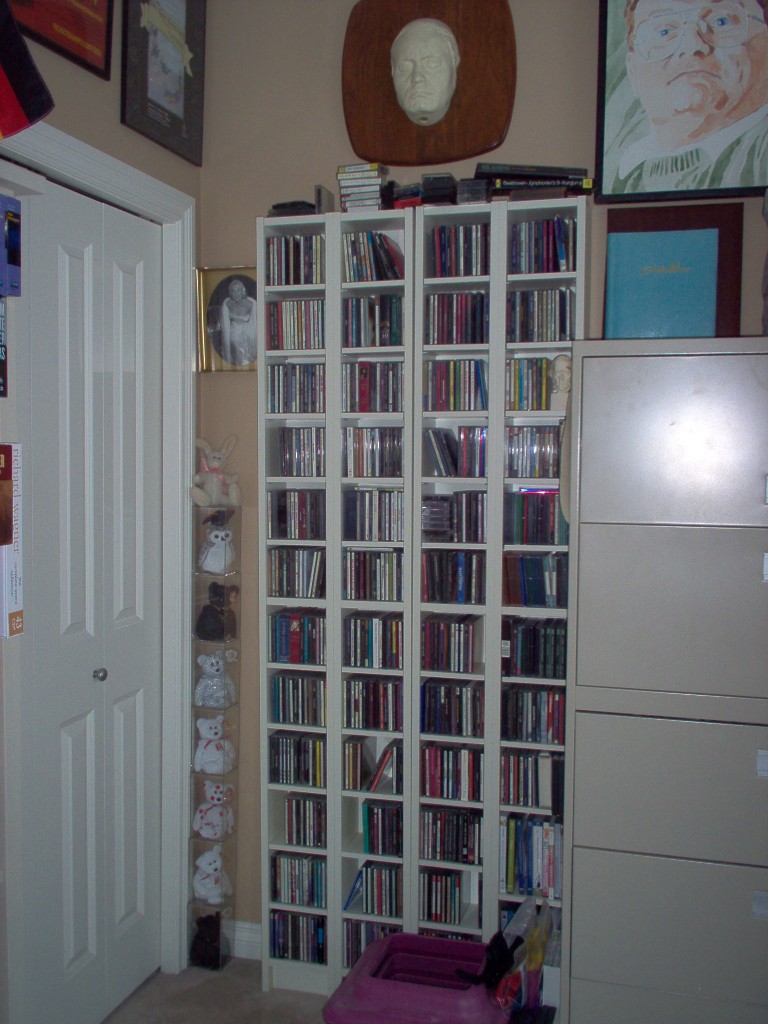 Here's the corner by the closet. And more CDs! Those pink squares on the floor are part of my step exercise equipment. I have a variety of workout tapes and do them in my office when the mood strikes. Though it hasn't struck recently, I must confess. Lately, I've been a fitness slug.
Do you see the stack of plush animals in the corner? I used to have what I call a job-ette, working in a teddy bear shop. We sold tons of Beanie Babies and I collected a few. Mostly white ones. Above those hangs a photo of Marilyn Monroe, who fascinates me. She came so far so fast and then was consumed by fame. In spite of her star quality, she had such vulnerability on the screen. Those opposites make her an intriguing personality to me.
Above the CDs is a life mask of Beethoven, my husband's #1 hero. Beside him is my filing cabinet, where I keep receipts, articles on writing, and notes for my novels. Above that, and beside Beethoven is a painting of my husband. It was done several years ago when he still had hair! (I often tease him, saying I only married him for his locks.) Here, hubby is striking a melodramatic pose, but I like to think he's pointing at my chair and telling me to settle my butt in it and get typing.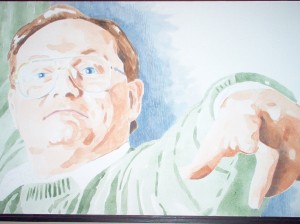 I've got three other bookcases in the room. Here's one that holds many of the resources I use. Also quite a few cookbooks. (More are in the closet.) I developed an interest in cooking in the last ten years, after I bought a slow cooker. Until then, I pretty much made spaghetti or pork chops. Now, I'm much more diverse.
A couple of my awards sit on top of this shelf, along with busts of Beethoven, Wagner and Mozart. Behind the door to the room, I keep a calendar with my writing schedule and due dates.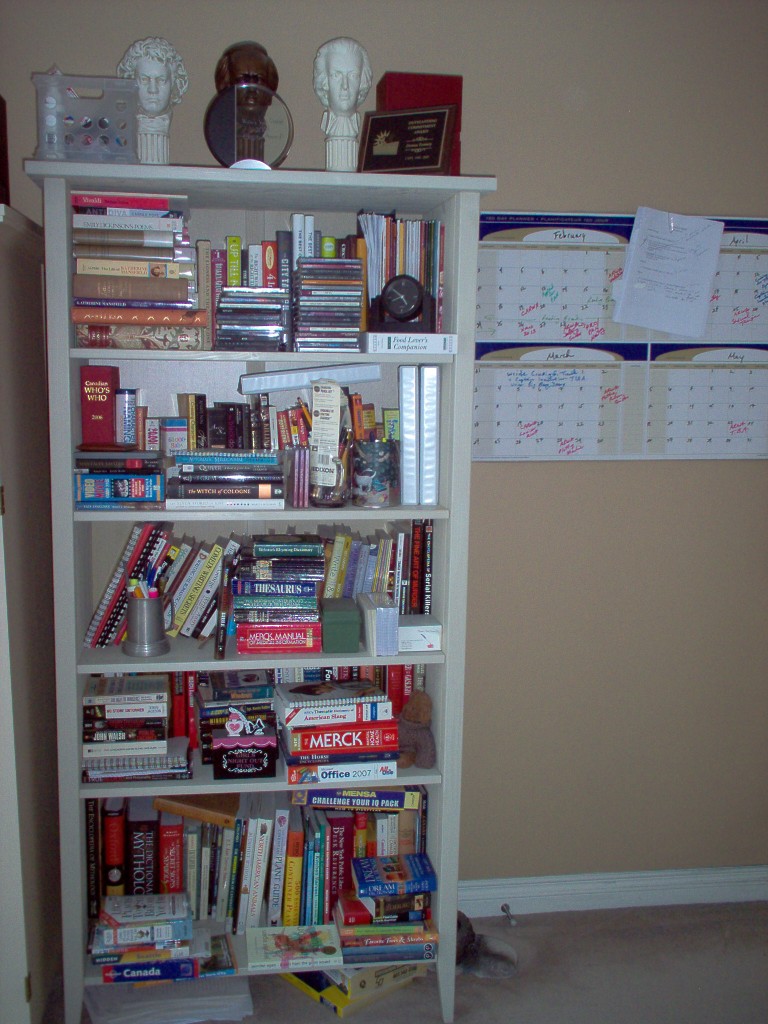 One of the things I particularly like about my office is that the fourth wall is a sliding glass door and I can walk out to a terrace.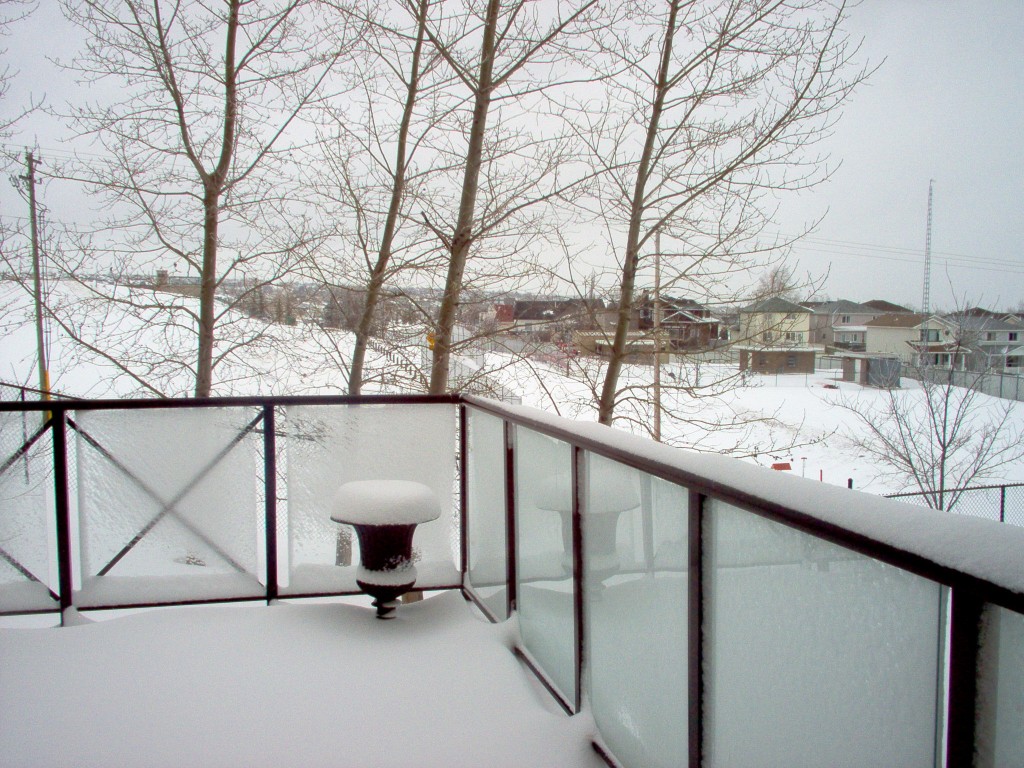 Though not today. I live in Calgary, Alberta and we just got a big dump of snow. But don't worry. We'll soon have a Chinook. It'll be balmy and all the snow will melt. In the summer, I'll plant my container garden here, with flowers and a few herbs. On nice days, I pull out my little patio set and take my laptop outside to type. For a backdrop, I've got a wonderful view of the city center and the Rocky Mountains.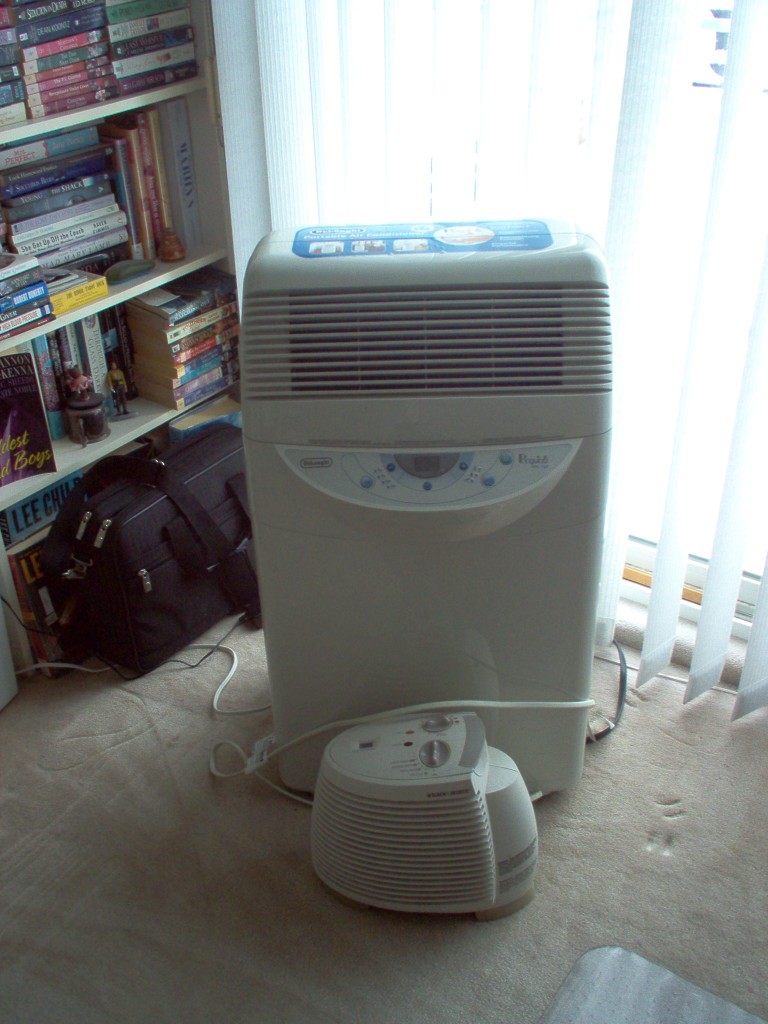 And because the weather is so changeable in Calgary, I have both an air conditioner and a space heater. (Note another bookcase in behind.)
But where, oh where is my desk in all this? Could it be here?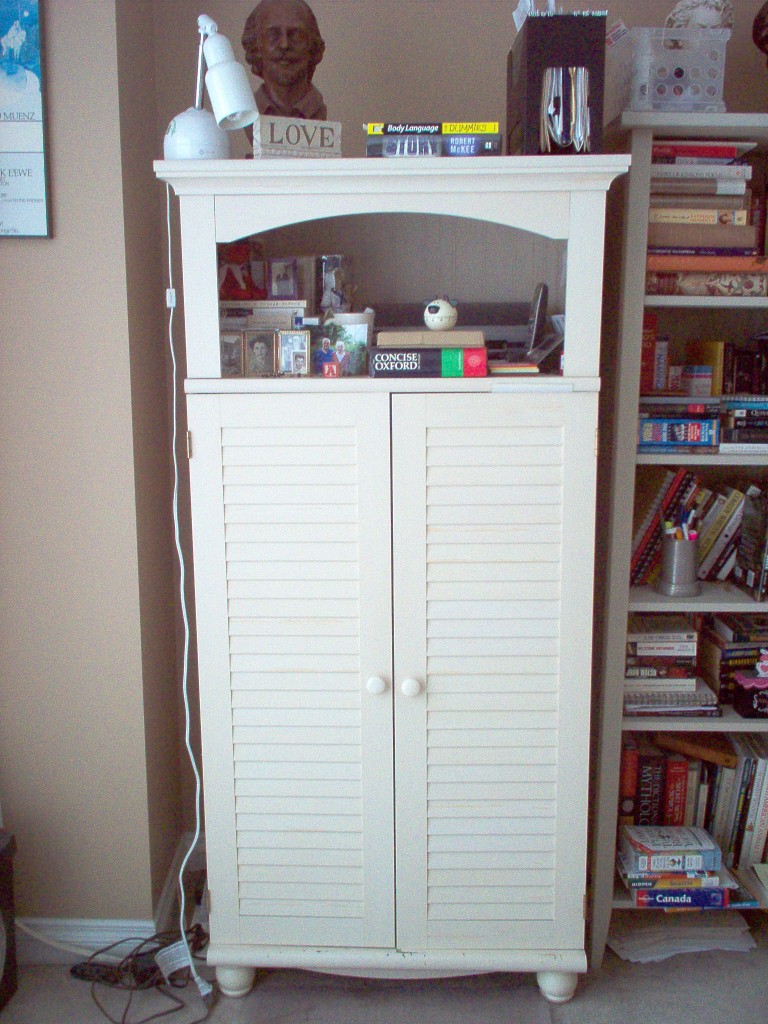 I'll just open one of the doors and…
May I have a drum roll, please?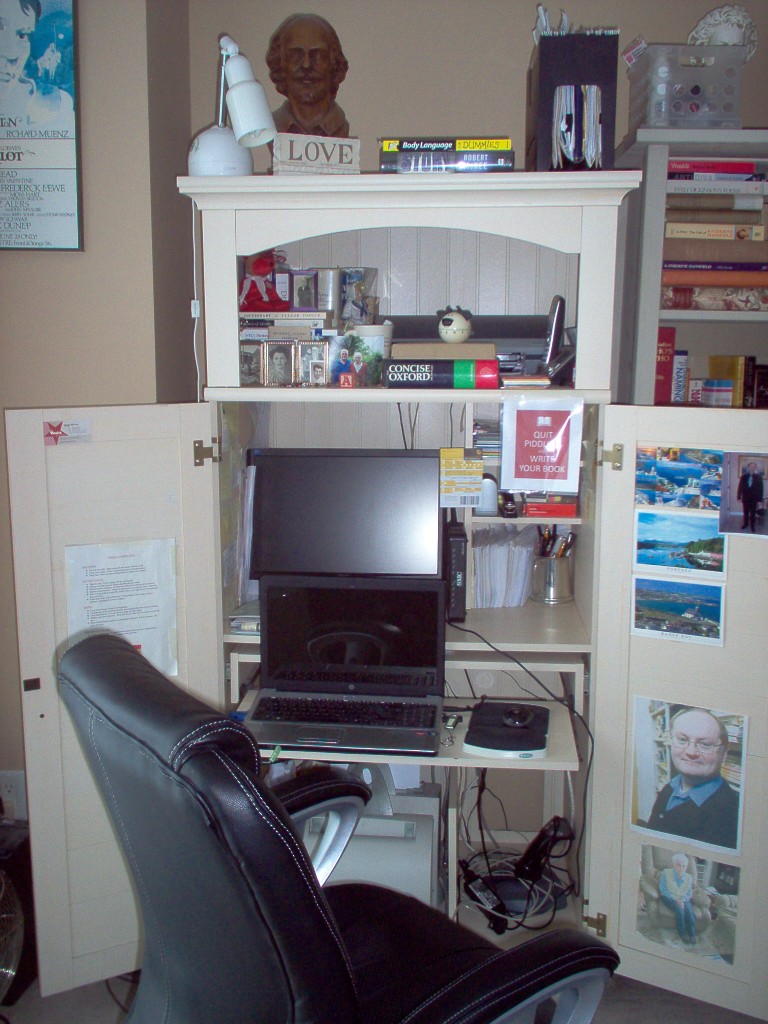 Voila!
I used to have a huge, squat desk that took up the whole wall. When I decided I needed another bookshelf, a tall, thin desk seemed the way to go. And, when my desktop computer died, I purchased a laptop to replace it, so that I'm portable. I just plug it into a large screen.
Around my work area, I have photos of my parents, my big brother and my wonderful husband. There's a sign that says "Love" to remind me of my theme, a bust of Shakespeare for inspiration, and a little sign to the right that says, "Quit Piddling and Write Your Book."
Exactly what I'm off to do now.
* * *
Links:
When her seven-year-old son is kidnapped without a trace, a by-the-book policewoman must put her doubts aside and learn to trust the only man who can help her pick up the trail—a handsome but troubled psychic.

61,000-word Romantic Suspense. Adult language, some violence, sexual situations.

She's through with cowboys. But this one's the 'reel' deal.

Equine veterinarian, Emily Grant, has had her share of cowboys, and they always break her heart. After vowing to give them up forever, Brandon Hollister strides into her life.

He's a different kind of cowboy, one that works on the silver screen. But is he just playing the part when it comes to love? Or can this gorgeous hunk get past a case of mistaken identity, and escape from the "Houston" character he's portraying, to become the man to win Emily's heart.

A 50,000-word sweeter romantic comedy.
Thank you, Roxy! That was a lovely tour. So many very cool things! But I have to say I adore your hideaway workstation. What a great way to tidy up in a hurry. And what a view from the terrace. I'd love to see it in summer with the container garden.
Okay, on to the giveaway! Roxy has generously offered two prizes:
A $10 electronic gift card from the online bookstore of your choice (e.g., Amazon, B&N, iTunes) PLUS your choice of either A Stranger's Touch or Crazy for Cowboy in the electronic format of your choice;
Your choice of either A Stranger's Touch or Crazy for Cowboy in the electronic format of your choice;
As always, all you have to do to qualify for this contest is leave us a comment below. Tell us what you love best about Roxy's writing workspace. Alternatively, tell us what you think of Roxy's awesome 80′s perm in that Degrassi clip!  :-)

I have to confess I am not a basketball fan, so that's not what my March Madness blog is about. What I am is stuck up here in the Great White North where March Madness has totally different connotations. For me, March signifies that winter's back has been broken. Oh, it'll probably take one or two more swipes at us before the vernal equinox on March 20—St. Patrick's Day snow storm, anyone?—but we're almost there!
For the second year in a row, I am preparing to take a two-week April holiday in the Caribbean.  As I prepare to slough off the winter clothes in favor of beachwear, the "madness" part of March takes over. Must lose weight! Must try to tone up a little bit! Must start using that artificial tanner so I don't gleam fish-belly white under my 30 SPF sunscreen!
Then there's the search for just the right books to read on holiday. I probably have 400 books on my Kindle that I have yet to read, but I'll need to acquire that special one or maybe two titles that I've been dying to read but somehow summoned enough discipline not to buy and devour.
What about you? What does "March Madness" mean for you? Is it all about the basketball? Is it about indulging in something just for you while your spouse is absorbed with basketball? Something else? Please tell me in the comment section below, and your name will be entered in a draw to win one of two prizes:
$10 gift certificate from the online bookstore of your choice (e.g., Amazon, B&N, iTunes);
Your choice of either Guarding Suzannah (the first book in my Serve and Protect romantic suspense series) or The Merzetti Effect (the first book in my Vampire Romance series), in the electronic version of your choice.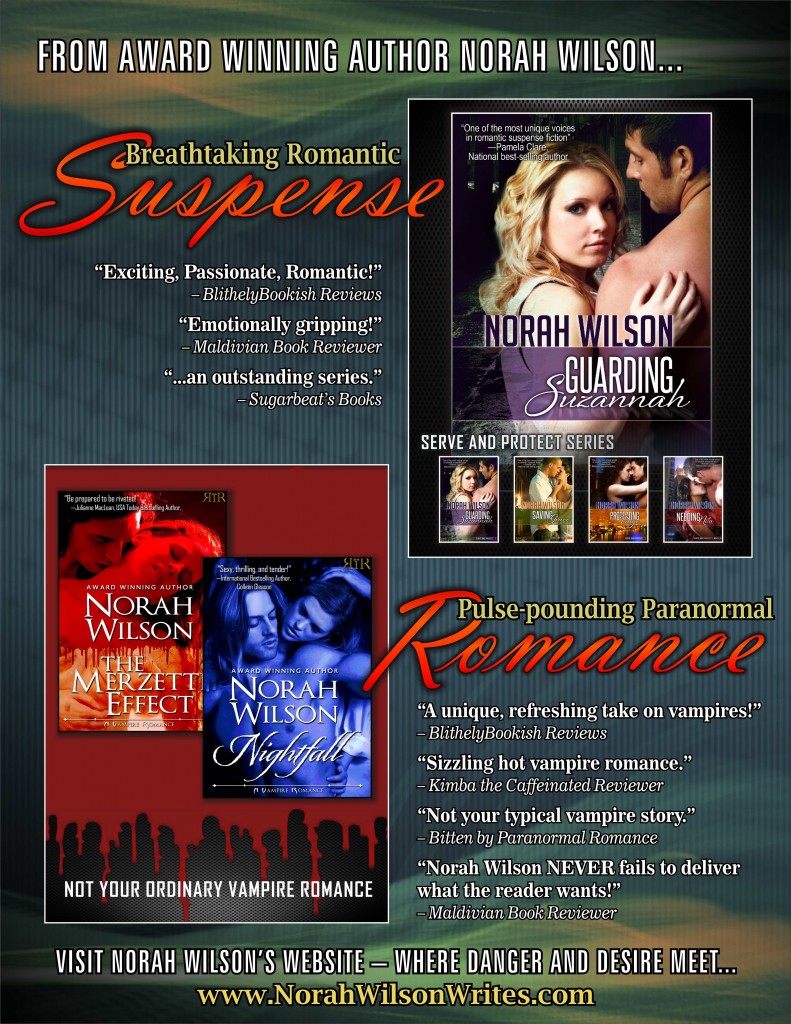 Thanks for stopping by. When you've commented to enter my draw, please make your way back to the Linky List on the March Madness Hop host site to keep hopping, and also to enter the fabulous grand prizes.
Good luck to you!