Archive for the 'Author Interviews' Category
Next week (May 13-18), my writing partner Heather Doherty and I will doing a AToMR blog tour in support of our newest Young Adult title, "Comes the Night".  It's the first book in our Casters series, and has racked up some nice reviews already. I hope you'll find us on one of the blog tour stops and leave us a comment. There will be author interviews, guest blogs, reviews, and most importantly, giveaways! Woot! Click on the image below to see the schedule.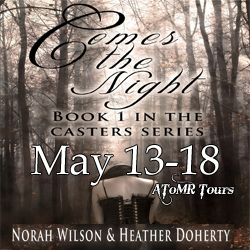 Today I'm pleased to have Aithne Jaretta as my guest, sharing her workspace. I met Aithne through Indie Romance Ink, a terrific Yahoo Groups information exchange loop for indie authors. In a group of over 1200 people, it can be easy to be invisible, but Aithne has the kind of quirkiness I gravitate to.
BIO:  Once upon a time Aithne Jarretta tripped upon a ley line. Actually it had happened before, but she didn't realize the ramifications until later. She brushed the incident aside and climbed into her car. Real life was the important factor at the moment. However, those RL moments wove into meeting new friends–the kind most people never see and definitely don't chat much about. Those friends came with persistent voices. Eventually Aithne brought them out of the closet and politely called them Muses. They became her virtual traveling companions and still journey with her today.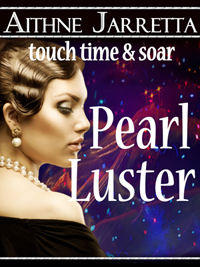 Take it away, Aithne.
AITHNE: Thank you, Norah for inviting me to post on your blog about my writing workspace.
First, I should mention that when I moved into this room last spring everything remained bare minimum for several months. That's because I wanted to grow into my new workspace and let it evolve around me.
In the beginning I was comfortable with that.
The more time that I spent here made the space mine and finally one day I brought my first extra item in and placed it on my desk.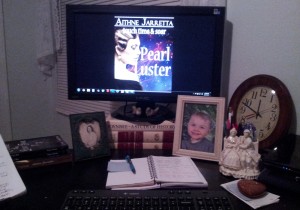 The picture of my youthful mother (small frame on left) has always fascinated my heart because it was taken before her children were born. I'm the youngest of five so it was a long time after that picture was taken before I came into this world.
Another reason that particular picture made it here is my avid interest in the lives of mothers and daughters. You could say that my mother is a 'plot bunny' because I've used the unspoken life experiences between m & d as part of my story building.
If you move attention slightly to your right and notice the books under my monitor, you'll discover two very old dictionaries and a history book by Dr. Arnold Toynbee. Perhaps all that wisdom and knowledge will seep into my computer? Lol … I can only hope. I do wonder what Dr. Toynbee, a noted historian, 1889-1975, would think about being a pedestal for a modern day computer monitor. (Less strain on the neck having it so high = better brain flow… here I come, Toynbee!)
Next, is the boss at my desk. My grandson Chace inspires my heart with his gentle face and sweet smile. I live far away from him and only see him once a year. I guess that's one of the reasons I've surrounded myself with family items.
The pencil holder was my mom's. I inherited it in 1998 and like to think it's a one of a kind artifact. (Someday it'll work its way into a story line.)
Although I've had these items for years, the computer monitor and my whole set up comes from my son Jeremy. It's only recently that I learned to make a folder of my book covers, store them on Dropbox, and attach them to my monitor so that I have a slideshow of my work. It's a cool element for those times I sit and write story ideas and lines longhand. Inspiration swishing by. (That's my latest release on the monitor.)
Last but not least you can see the small paperweight on the right. It's a heart shaped goldstone. It's there next to my keyboard and mouse because in my current wip it plays an important magical role.
Speaking of magical roles…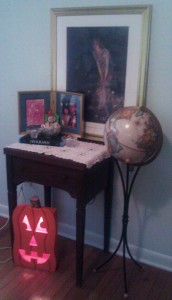 The picture Midsummer Eve (Edward Robert Hughes) has always inspired me with its faeries and youthful redheaded girl. If this workspace was meant for an author focusing on magical and paranormal elements this image had to be added. So, I took it down from the dining room and brought it in. lol There's still a bare wall in the other room.
The other gold frame is another important bit of family history. On the left is a faded picture of my Great Granny Goode and her daughter, Granny S. (Another mother & daughter connection.)
Somewhere in here we needed a father and daughter. Naturally, that's my dad and I Christmas 1983.
The great pumpkin grins with delight. My oldest son Bryan and his wife Amanda made the pumpkin last year. Do I need to admit that it doesn't live in storage the rest of the year? I didn't think so.
I've saved the sewing machine for last because it's a prime example of using what we have and writing what you know. This sewing machine (the one doing an imitation of a console table in the picture above) made an important story element come to life in Enchanted Ravensong: Charmed Evermore. When the plot line called for a special security combination several personal items came into play and the pedal that makes the machine run was the key. It was so much fun to write!
Having little bits of my family around me while I work gives my workspace a feeling of comfort that feeds the imagination. Since writers spend so much time in front of their computers, we should each focus on our individual things we believe are important.
Thank you again, Norah. Hope you have a magical week!
That was very cool, Aithne! Thank you!
If you want to learn more about Aithne, you can check her out here:
Okay, after looking at all those lovely heirlooms Aithne surrounds herself with, our contest question presented itself. Tell us what your favorite family heirloom is and you'll be entered for a chance to win Aithne's Enchanted Ravensong. But everyone's a winner today, because Aithne has also made Pearl Luster, a short story in her Touch Time & Soar mini-series, free on Amazon.com for the day.
So let the commenting begin! What is your favorite family heirloom?
Today, I am delighted to have MJ Fredrick as my guest for Workspace Wednesday. MJ is another member of my Wet Noodle Posse (writers who finaled in RWA's Golden Heart® contest in 2003, and who have hung together ever since).
Here's the thing – every time I read one of MJ's books, I think, "Damn, I wish I'd written that!" She writes the kind of fast-paced, sexy romantic suspense/adventure that really floats my boat. The kind I try to write. She can also write a straight contemporary (like Bluestone Homecoming) with the best of them, a skill I envy.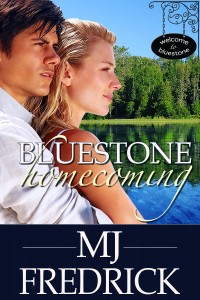 She is also one of the few bloggers I follow religiously. I think I learned everything I know about blogging/social media best practice from watching MJ. I don't do it as well as she does, but she embodies what we all should be doing. She shows us all the facets of her life, not just her writing. Besides being a damned fine writer, she's a teacher, an avid reader, a wife, a mother, a cat-lover, a talented crafter, a Supernatural fan, a TV and movie aficionado, etc. Basically, she's the kind of all around awesome person you want to feel connected to. I recommend you check out her blog and subscribe to her newsletter so you don't miss anything.
Okay, now that I've spilled all that syrupy lurve all over the place, I'll turn you over to MJ while I clean up the joint.
MJ FREDRICK:  I tried, really I did, to have an office. When I first started writing on a computer, I had one, the third bedroom in our old house, with an old XT my uncle had put together, with an amber monochromatic screen. After my son was in bed, I'd go in there and write for a couple of hours while my husband watched TV in the living room. I eventually finished my first book, but it took me months.
We replaced the XT with an old PowerBook we got for $300, with a modem that screeched. No more writing in the bedroom next to where my son was sleeping, so I started writing and surfing in the living room in front of the TV. We replaced the PowerBook with the first generation of iMacs, and it was also in the living room. So I got in the habit of writing with lots going on around me.
BUT I didn't feel guilty, because I was still a part of what was going on, if you get me.
We moved into this house, a four-bedroom, 13 years ago. I tried several spaces as my "office," the bedroom off the kitchen, the mud room area next to that, which looked out on my backyard, the middle bedroom (which has since become Craft Central). NONE of those worked for me. I'd get up a million times to go see what was going on in other parts of the house. Eventually, we parked the iMac in the living room and that was my workspace.
And then…I got a laptop. Oh, the freedom I had with a laptop! I wrote outside, I wrote in my big comfy chair, I wrote EVERYWHERE!
Now, I live in Texas, and the past two summers have been crazy hot, even early in the morning, so I don't write on the patio. But this house is blessed with a sun room, and that is my favorite room in the house, especially since my baby brother helped me rearrange it a couple of years ago.
I have a big comfy couch and a big comfy chair that we bought when we moved in. They're a little worse for wear, but did I mention comfy? (Also, excuse the cat hair. I AM the Crazy Cat Lady, but getting cat hair off chenille is a PAIN!)
In the morning, as soon as I finish eating, I unplug the laptop and curl up on the couch in the sun room. (This is what it looks like in the summer. When I'm teaching, it's dark dark dark, with only the light from the screen.) Note the Diet Coke–a staple in the early mornings.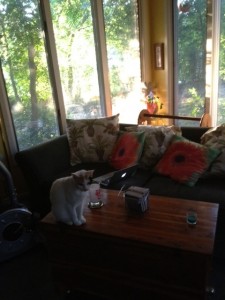 I usually get a cat or two curled up with me, no matter what time of day. Here you see YaYa beside me and Stormy on the floor.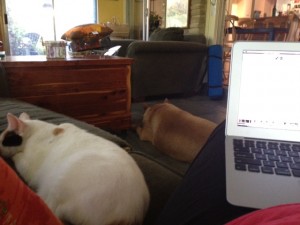 My exercise bike is right there, taunting me. This summer I've had to leave my little area when the boy wants to exercise, which would make me mad if he wasn't moving out this week.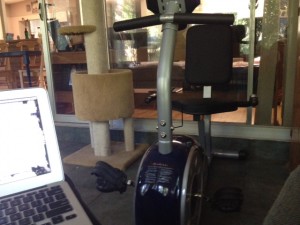 I prefer this view, though because of the drought, there's not a lot to see.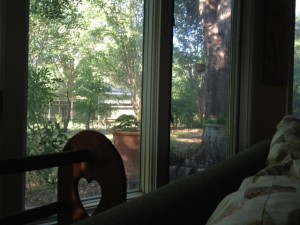 In the evenings, I join the family in front of the TV, but I'm usually still working on SOMETHING. This is my corner, complete with a blanket, because the AC works pretty well.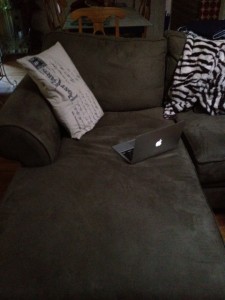 The bonus is, my baby kitty thinks it's his mama.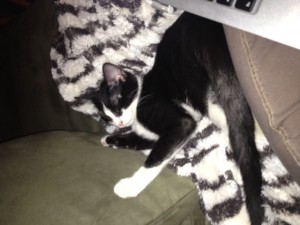 So I don't stay in one spot and I clearly like to be comfortable. Also, I like green chairs and cats.
Thank you, MJ! Loved the tour of your space! I am so in awe of anyone who can work with a laptop primarily. After all these years in admin support, I'm a desktop kind of gal.
MJ Fredrick is the author of 17 books, including this one, Guarded Hearts, published by Lyrical Press.
Now it's your turn. Do you remember modems that screeched? Did you ever have an XT? Ever meet an author who didn't even pretend to maintain an office, whilst she wrote in various spots around the house? Have you read one or more or MJ's books? You know the drill – a comment will earn you a chance to win today's prize, which you're going to want. It's a $10 gift certificate from either Amazon or B&N, at the winner's call.
Today I welcome Deborah Hale to Workspace Wednesday. Deborah was one of the first published romance authors I'd ever met, and from the beginning, she gave unstintingly of her knowledge of both writing craft and the romance publishing industry. A Golden Heart® winner herself, Deborah encouraged me to enter that prestigious contest. While I never won one of those coveted necklaces, I did final a number of times. I am grateful to this day for her encouragement.
I am also a huge fan of Deborah's writing. If you were to zoom in on my shelves (3rd shelf from top, right end of cabinets), you would see quite an extensive collection of her books. Deborah is the author of over 20 historical romances and two other-world fantasies. I am thrilled to have her here.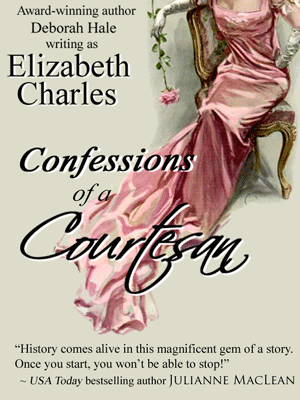 Take it away, Deborah.
DEBORAH:  The first thing visitors usually notice when they enter my writing space is Deskzilla – the monster three-sided desk with shelves and a file drawer that takes up most of my office. I've had a bit of a love/hate relationship with Deskzilla over the years. At first I loved it passionately and produced over fifteen books while nestled in its solid embrace. But over the years it became the place I checked email, updated my website, did hours of historical research, played spider solitaire…almost everything except writing. Now I often write my first drafts longhand on yellow foolscap pads in the café overlooking my local grocery store. But Deskzilla waits faithfully for me to come home, type in my day's work and revise it.
In addition to Deskzilla, my office is also home to the Closet of Author Copies. The boxes of books seem to proliferate faster than I can give them away, so take pity and enter my giveaways wherever you see them!
Beside the Closet of Author Copies are the Bookcases of International Editions. I used to have one shelf for copies of my books from all the different countries where they've been published. Then the collection grew to a whole bookcase. Now it's about to outgrow two! I think the next step is to go vertical. Whenever I stop and really look at the Bookcases of International Editions, it feels more than a little surreal that my characters have traveled to so many places I probably never will.
In the opposite corner of my office stand the Massive Shelves of Researchy Goodness. My family will tell you I write books to support my research habit. Because I've dabbled in so many different time periods, there are books here about 17th-18th century ballroom dancing, the Peninsular War, medieval life and Highland country estates. There is a whole shelf devoted to research for Confessions of a Courtesan. When I first considered self-publishing that book, it was an effort to recoup the money I'd spent on research materials. I'm happy to report I have succeeded!
No tour of my office would be complete without a picture of my writing companion, Button. She has two spots under Deskzilla where she likes to curl up while I'm working. No matter how soundly she seems to be snoozing, the moment I stir from my chair, she's up and alert, ready to follow me wherever I go.
In the interests of full disclosure, I must admit this tour of my writing space hasn't dwelt upon the piles of books and papers that seem to grow from my floor like stalagmites when I'm closing in on a deadline. I've also chosen to ignore my family's junk that migrates in here and takes up residence. What can I say? I'm a Mom and a writer and neither of those is a tidy profession!
Thank you, Deborah! I love Deskzilla! That might be the most interesting tag I've ever put on a post!
Deborah's Links:
Deborah Hale website
Elizabeth Charles page
Confessions of a Courtesan
Deborah's Author Page on Amazon
Deborah's Facebook Page
Okay, over to comments. What do you think? What's your favorite element of Deborah's space? Does the space match up with your expectations of a writer's office? What, if anything, surprised you about it? (For me, it was the closet of author copies. I know Deborah's prolific, but I never stopped to think how that would translate into so many boxes of books!)
BTW, Deborah has a number of fabulous give-aways. We'll do a random drawing to determine who the lucky winners will be. Second and third place winners will receive a digital copy of Deborah's Confessions of a Courtesan, in the e-format of their choice. The grand prize winner will receive the print set of her Gentlemen of Fortune series (Harlequin Historical).
Please help me welcome USA Today Bestselling Author Julianne MacLean to Workspace Wednesday. Julianne is a fellow Canadian, a wonderful, supportive friend, a savvy colleague, and an extremely talented author. Lest you think that's my bias talking, Julianne is a 3-time RITA finalist and has won numerous awards, including the Booksellers' Best Award, the Book Buyers Best Award, and a Reviewers' Choice Award from Romantic Times. Her newest release – Married By Midnight (A Pembroke Palace Novella) – is now available. Without further delay, I give you Julianne MacLean.
JULIANNE: That's it.  I can't hide it anymore!  I've been living a lie and it's time to come clean.
Last year when I launched my new website, I invited readers on a virtual tour of my office.  My husband videotaped a short segment where I displayed my bookcases, my tidy desktop and computer, and some lovely inspirational framed photos of Johnny Depp and Gerard Butler.
You can view it HERE.
I now confess that that video has become pure fantasy, because under normal circumstances, my office never looks like that. While endeavoring to create a glamorous image of my romance writing life for my website, I was dishonest, for in reality, it looks like this: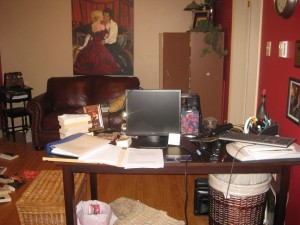 Notice there are open books strewn about, papers to be filed, a few dirty coffee mugs hanging around creating cup stains on the desk.  And here's the kicker: I don't even write down there anymore.  I used to (in fact, I believe I was still writing there when the original video was shot), but now I prefer to be on the main floor instead of down in the basement.
So the disaster area has moved up to my formal dining room where the situation is no better.  I only clean off the table for a giant family dinner when all my relatives are expected to arrive.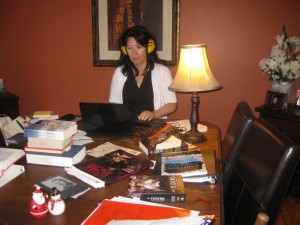 And no, I am not listening to music in this picture.  Those are sound-reduction headphones so I can shut out the world while still keeping an eye on the teenagers in my family room (I can see them through the French door).
I love my sound-reduction headphones.  When I place them over my ears, it's as if I just dunked my head under water, and it's GAME ON for writing.  Every writer should own a pair.
Notice also that I am working on a crappy laptop.  I use it only to revise or transpose new material, which I write longhand in a coiled notebook.
Here is where I often write longhand in the afternoons. That's where I wrote most of Married by Midnight.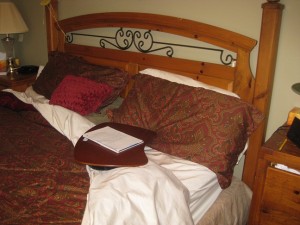 I also like to write in the big comfy chair in my living room. I have one of those lap desks, which was money well spent.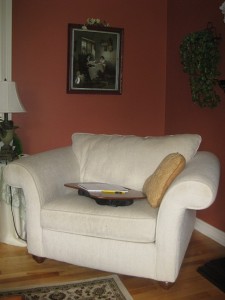 So there you have it, the truth revealed.  My office is just for storage.
Thank you for sharing that with us, Julianne! Though your basement office is lovely, I can see why you prefer that upstairs dining room. It really puts the "home" in home office. And I think I could write very happily in that comfy chair, but I'd have my laptop on that lap desk.
Okay, folks, now that Julianne has … er … come clean, so to speak, about the true state of her workspace, have you anything to say to her?
I should add that we will do a draw from among the commenters, the winner of which will receive the first three books in the Pembroke Palace series. If the winner is in North American, she may choose to receive the books in either electronic or print form. If the winner is international, however, the only option will be electronic, due to prohibitive shipping costs.
Please help me welcome award-winning author Lina Gardiner. Lina's Jess Vandemire Vampire Hunter Series have netted her both a Daphne du Maurier Award for Excellence in Mystery/Suspense and a PRISM award (best first book). She is published by Imajinn Books and The Wild Rose Press. As well, she recently published her first indie effort to very positive reviews. 
Lina has given me some fantastic photos of her workspace, and I am going to ask her to narrate them for us. Take it away, Lina!
Norah, thank you for coming up with the great idea for Workspace Wednesday. I'm really pleased to be your first guinea pig (er…) author.  In all seriousness, I can't wait to peek into other author's offices to see what motivates them and feeds their muse.
In this photo (below) you can see I've surrounded myself with things that mean something to me.  First and foremost, on the wall is a watercolor painting by my friend and artist, Rik Hall.  He actually painted two of these cemetery paintings based on a moody, spooky picture I used on my website.  The second painting sold very quickly at an open house.  I actually wanted the second one too, but was too slow making up my mind. The photo of the cemetery was taken by Troy MacLellan, a co-worker who kindly gave this picture to me for my website.  I liked it so much the picture ended up in the background of my first book, Grave Illusions.   Some of the other things I have on my desk besides my Oxford dictionary J my Prism (Crystal Pyramid) – best first book award, and my Washington, DC Globe from my friend Joyce, my fuzzy frog from my friend Amy, the skull pen from my son and his fiancée, they got it at the vampire club in Melbourne, Australia and I was totally jealous that I didn't get to go.  The skull, the mug and little red bag of stones are from my friend Cathy Boone, who just came back from Salem, Mass. where she had an honest to goodness ghost experience in her hotel.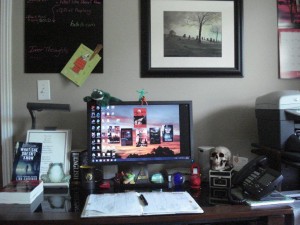 This photo is me pretending to be busy at the computer.  LOL  In reality, I don't have to watch the keys when I'm typing.  I've been typing for over thirty years.  I always liked the image of Stephen J. Cannell typing on his old typewriter and pulling the sheet of paper out of the platen at the end of each of his TV shows.  Maybe that's why I like the picture this way.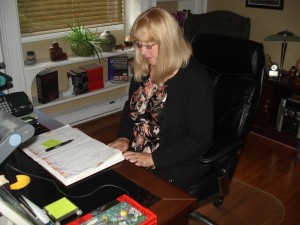 The bookshelves on the wall were built for me by my husband, Iggy.  Everyone who comes into my office raves about them.  They're gorgeous and they showcase my library of books to perfection.  And they often remind me how many books I still haven't read.  I need to carve out a little more reading time.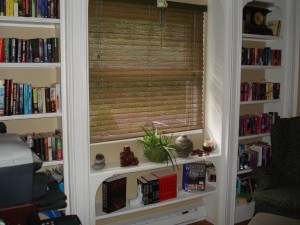 I see this wall the minute I enter my room.  You can't miss the three giant posters of my first three books in my Jess Vandermire Vampire Hunter series.  My husband had the posters made for me and I can't tell you how wonderful it is to see them as a reminder that I've actually not only published 'a' book but several books.  The beautiful carved owl in the center of the desk was done by my ex-boss and friend, Brian Dykeman.  He does the most amazing carvings and he has a website if you'd like to see more of his work – just Google his name.  The little vase came from a co-worker, Chris Maund, who went to the Galapagos Islands years ago and brought it back for me (I've always treasured it), and the Baying Wolf was a gift from my husband when my newest book, Black Moon Awakening – a werewolf/shifter story was published.  Then there is the award on the desk, on the left side — My Domino Divas award.  We decided years ago, actually it was Norah who came up with the idea, that the writers in our little group were like dominoes; after one sold the rest would follow.  How right she was and is.  The two gorgeous wing back chairs were a gift from my niece Tracy and her husband Roger.  They are very comfortable and I often sit in them to read or review and revise my WIPs in comfort.  Wow, until I started naming the things in my office that mean something to me, I'd almost forgotten how lucky I am to be surrounded by reminders of my wonderful friends and family.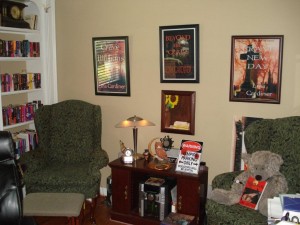 This wall to my left is my award wall (sort of).  I have the Prism Award and Daphne DuMaurier Award, as well as my RWA Conference badge.  These things remind me at all times that I want to be professional and I want to excel in my field.  They remind me that I must always work hard to improve my writing skills, and to keep moving toward my next goal.  On the filing cabinet below I've put pictures of my friends (my go-to place when doubt-devils are nipping at my heels).  Looking at the friendly, smiling faces always lifts my spirits.   I have a white board next to the filing cabinet, the place where I plot, usually after I'm well and truly into my book.  I start out as a pantser and then have to plot out the bones to keep everything cohesive.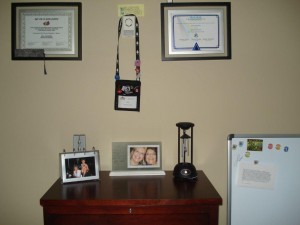 Thank you, Lina! I am officially in love with your office! It's gorgeous! And I love how you've surrounded yourself with various talismans and symbols of your journey, as well as very concrete evidence of your accomplishments! Totally inspiring! Thank you for sharing your space with us today.
You can check out Lina's newest release from The Wild Rose Press, BLACK MOON AWAKENING (my current Kindle read!) or her self-published romantic suspense WHAT SHE DOESN'T KNOW.
Okay, what's your favorite element or object in Lina's workspace? (You're not allowed to say Lina because that's a given.)
Back in December, I had the pleasure of being interviewed at Theresa Ragan's blog. I thought it would be fun to turn Theresa's own questions back on her, and she agreed.
By way of introduction, Theresa is an amazingly talented and incredibly hot-selling author in multiple genres (her tag line: 3 genres, 2 names, 1 author). She was a Legal Secretary for fifteen years before she penned her first novel and discovered her passion for writing. She is a member of The Golden Network and the Sacramento Chapter of RWA. Theresa has garnered six Golden Heart nominations in Romance Writers of America's prestigious Golden Heart Competition for her work. She lives with her husband, Joe, and the youngest of her four children in Sacramento, California.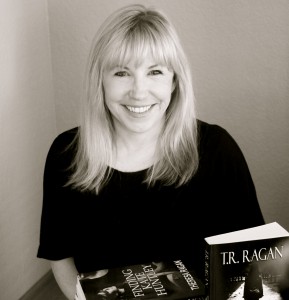 Welcome, Theresa! Please tell us about yourself and your books in 100 words or less.
It took me five years to write my first book. What a learning experience! I wrote for 19 years with the goal of selling a book to a big 6 publisher. I wrote every day and I signed with two agents. No sale. Not until 2011 after I went indie. Everything has changed since then. Now when I write, I know my story will be read. More than ever, I want to write the best book I can. I want to bring smiles to readers' faces. I want to make readers cringe, squirm, laugh, and cry. I am having the time of my life!
Did you ever want to quit writing? Why or why not?
Yes! I knew from the start that my writing journey might be a difficult one. I had read every how-to book on the planet and they all mentioned that rejection was part of the deal. Despite the warnings, never in a million years, did I think getting published would be THIS difficult. I was doing everything right: writing, learning, growing, putting my work out there. I tried to quit and I lasted six months. During that time, I felt agitated and moody. I was not happy when I wasn't writing. I also went through a bitter stage. Inside, I felt as if I knew I would publish someday and when I did I was going to shout "It's about time!" Following the bitter stage, I finally became enlightened. I believe that was in 2007. I knew that I needed to let the bitterness go and find joy in the writing and that's exactly what I did. It's all about attitude. You can train yourself to be a positive person. I let go of the negative thoughts and became grateful for everything good in my life. I've never looked back and I've never again entertained the idea of quitting.
What are your writing career goals? (i.e. to write 2 books a year? To hit the NY Bestsellers List? To sell 100 books a month?)
My goal is to write an amazing story…the kind of story that will make people laugh and cry and think. I have no idea what story that will be or what genre, but that's my goal. I want to inspire others to never give up on their dreams. I want to hit the NY Times Bestseller List. I could go on and on, but I'll stop there.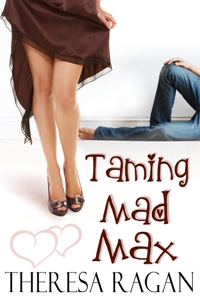 Have you truly mastered grammar and sentence structure? Do you feel 100% confident about every comma in your book?
I feel 50% confident in my abilities. I've taken so many classes, but there are too many exceptions to the rules. If I ask 20 people whether or not I need a comma, 10 say no and the other 10 say yes.
How many pages do you think you could write in one day if you had zero interruptions from 8 AM to 8 PM?
30 pages. I love getting a day with no interruptions. It happens about once a month now that my kids are grown up!
How do you think (take a guess) writers like Nora Roberts write so many books in a year?
I am guessing she wakes up, grabs her coffee and goes STRAIGHT to her laptop. She pulls up her WIP and starts writing. She doesn't look at email or Facebook. She doesn't tweet or spend time searching the internet for fun tidbits. She writes. Maybe she does some of the other stuff later once she finishes her 50 pages for the day, but I doubt it.
What would be easier for you to write, a sex scene or a murder scene?
A murder scene by far. I think it's because when I read I tend to skip sex scenes in books unless the scene is funny or really ads to the story somehow. Sex is great, but murder is just plain fun to write! Ha. Okay, now I sound sick and twisted. What a horrible question to ask!
LOL, Theresa! May I remind you that was YOUR question. Okay, if you were allowed to have only ONE book (of yours) for sale on Amazon and B&N, which book would you select? Why do you think readers might enjoy it?
I would pick Abducted because when I was writing that book, I had thrown caution to the wind. I started writing that book during the bitter stage I talked about earlier. I was angry and my characters were going to pay with their lives. And they did. That book allowed me to let go of my anger and bitterness with where my career was going at the time (or NOT going). Writing Abducted was definitely therapeutic and I am grateful for that book and for that time in my life. Readers might enjoy Abducted because it's fast-paced and entertaining.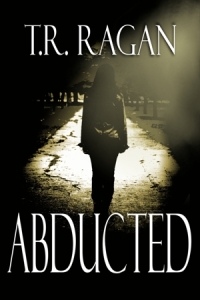 What made you decide to become a writer? 
I was pregnant and on a leave of absence from work. I was tired of watching Young and the Restless, so I read my very first romance. The escapism was exactly what I needed. I laughed and cried and I knew the minute I finished the book that I wanted to provide that same sort of escapism for women just like me.
Do you remember the first time you sat down and started writing your first novel? Did you start with notes or did you start with Chapter One and go from there?
I thought I was writing a book, but I ended up with a 50 page outline. That's why the first book I wrote took me so long. Now I write Chapter One in the heading and go from there. No outline needed.
Any advice for new writers just getting started?
Write the book that YOU want to write. Don't write the book your mother or sister wants you to write. Don't write the book that you think will sell to a publisher. Don't write a vampire book just because they're all the rage. Write the book that speaks to YOU. The sort of book you would want to read. If that means your hero is a one-legged pirate with a stutter, then go for it! Believe in yourself. Write your FIRST draft with abandon. No critiquing. Just let the story out. Have fun. Let it flow. When you get to the end, start revising. The great writing is in the revising.
Thanks for inspiring me to self-publish, Norah, and for having me on your blog!
Thank you for joining me, Theresa. It's always a pleasure. And thank you for inspiring us all with your amazing success story. You are a shining example of what can happen when talent and perseverance meet opportunity!
Theresa loves to hear from readers. Connect with her online at:
I'm very excited to have urban fantasy author Shéa MacLeod with me today. Why am I so excited? Because as you'll soon see, she is made of sheer awesomeness.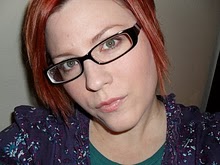 Thanks, Norah!  I've always wanted to be made of sheer awesomeness.
Okay, Shéa, since I know you're a bit of a sci-fi nerd, if you were a character in any sci-fi show, who would you be?
Aeryn Rand from Farscape.  She was such a strong character, full of depth.  She went from this tough warrior woman, blindly following orders and seemingly immune to emotion, to someone who loved deeply and protected those she loved.  Not only did that girl kick some serious ass, she also got to snog the delicious John Crichton.  And who wouldn't want to do that? 
Who indeed! What got you started writing?
Reading.  My mom started reading to me pretty much in the womb.  Some of my earliest memories involve books and reading and trips to the library.  I loved the wonderful worlds that existed between the pages of books and longed to create my own.  I was always a story teller, even before I could write.  And I don't think there's ever been a time when I didn't want to write novels.  It just took me awhile to believe I could actually do it.
You've got a brand new book out, right? Tell us about it.
Yes!  It's an urban fantasy: Kissed by Darkness, Book One of the Sunwalker Saga.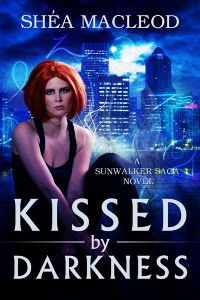 I loved Buffy the Vampire Slayer and thought it would be cool to have a more adult story that involved a private detective agency that investigated the paranormal.  That sort of rattled around in my brain for years before morphing into something resembling an actual story.  And with the morphing Morgan Bailey was born.
Morgan isn't the kind of character to sit quietly on a shelf, so her story came a bit fast and furious.  It's the story of a woman who once had a normal life, but now must face her demons.  Literally.  And she does it with a grin and a snarky comment.  Or two.
A girl after my own heart! How many other books do you have planned in the Sunwalker Saga?
There are six total books in the series (book 2 is finished and I'm writing 3 as we speak).  Each one is key both to Morgan's continuing development as a person, as well as the progression of the overall story arch which involves dragons, djinn, the sidhe and a lot more magic and mayhem. 
Okay, I'm always fascinated to know how authors view their own characters. So let's say someone is making a movie from Kissed by Darkness and you get to cast it. Who would you cast as your kick-ass heroine? Other main roles? And would a casting couch be required? 
Oh, a casting couch is most DEFINITELY required!
There are four main characters in Kissed by Darkness who remain integral throughout the series.  First is our MC, Morgan Bailey.  Played by me. 
Kidding!  She's actually the toughest one because I've never really come across an actress I thought would suit her to a "T".  Maybe Deborah Ann Woll from True Blood, but she'd have to put on about 20 pounds. :)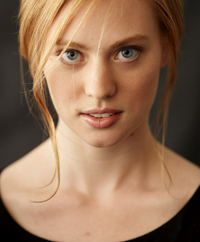 I've always seen Morgan's best friend, Kabita Jones played by Claudia Black (the aforementioned Aeryn Sun).  Very strong, very striking, a little exotic.  Plus Claudia is a pretty versatile actress.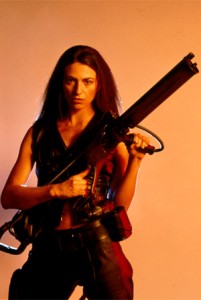 Inigo Jones was originally inspired by the Kyle Schmid from Blood Ties.  Someone cute, sweet, and just a tad geeky, but underneath pure steel.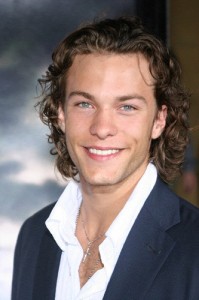 Then there's the Sunwalker, Jackson Keel, 900 year old Templar Knight.  And who else to play such a delectable role than the gorgeous Gerard Butler! (Hence the need for a casting couch.)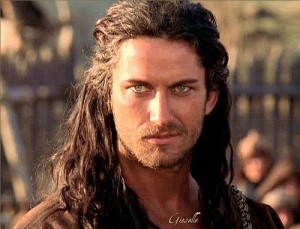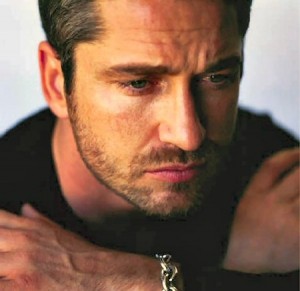 Now there's a movie I want to see! [Hear that, Hollywood? That was Kissed by Darkness.]
If you were to Twitter this book in 140 characters, what would you say?
You're getting blood on my carpet.  Again.
OMG, I love it! And how perfect.
Any other irons in the fire besides the Sunwalker books?
Yes!  I have two current WIPs.  The first is a post-apocalyptic paranormal romance with dragons.  (Everything is better with dragons.)  The second is a post-apocalyptic urban fantasy scifi paranormal romance with a twist of steampunk set in what was once China.  Oh, yeah, there are aliens.  (Everything's better with aliens.)
Favorite kind of read? Favorite author?
Hooo-boy!  That's a tough one because I'm pretty eclectic.  I guess my all-time fave is probably apocalyptic or post-apocalyptic stories.  I don't know what it is about them I like so much.  Maybe the whole idea of starting over fresh, or maybe it's the struggle for survival and the drive to rebuild.  Think Stephen King's The Stand, Justin Cronin's The Passage, Ann Aguirre's Enclave or Joss Ware's Envy Chronicles.  Next (and very close) are urban fantasy, paranormal romance, scifi romance, and steampunk romance.  They're just so much fun!  Think Nalini Singh (any of her books), Ann Aguirre's Jax series, Gail Carriger.  Of course we mustn't forget the wonder triplets: zombies, thrillers and mysteries.  For mysteries, Janet Evanovich's Stephanie Plum series is an auto buy.  An old fave: Agatha Christie.  And my new fave: N.L. Wilson!   For zombies there's Jack Wallen and Jesse Petersen. Thrillers: James Rollins (I'm a major fangirl.), Chris Kuzneski.
Told ya I was eclectic. 
What was the best piece of writing advice you got along the way?
Probably this quote from Stephen King: 
'If you don't have time to read, you don't have the time (or the tools) to write. Simple as that.'
What was the last movie you saw?
Believe it or not, The Sorcerer's Apprentice.  What can I say?  It was on cable.  But it was kind of a fun movie.  :) 
Cats or dogs?
Dogs.  I like cats, but I'm allergic.  And there's just something about a dog.  Something so loving and dopey and ridiculously loyal.  We could all learn a lot from a dog. Besides, they can be trained to carry barrels of alcohol around their necks.  How cool is that?
Sam or Dean? (And if you don't know what I'm talking about, I may have to pare back the 100% awesomeness tag to maybe 98%.)
Dean.  I mean, HELLO!  There IS no other answer.  (Also, excuse me for a moment.  I need to go wipe the drool off my face.)
A fellow-Dean girl! Okay, you might be 110% awesomeness. Any last words for readers?
I just want to say thanks to all the readers out there.  Reading is such a magical and exciting thing.  Without our readers, there wouldn't be much point in writing.  Stories are meant to be shared. 
Thank you, Shéa, for that very fun interview!
Now, go buy Shéa's book! It just as awesome as she is.
My very distinguished guest today is MIKE ANGLEY, award-winning author of the Child Finder Trilogy.  He retired from the Air Force in 2007 following a 25-year career as a Special Agent with the Office of Special Investigations (OSI). He writes thrillers with a paranormal twist.  His protagonist is a man whose deep faith guides him through his page-turning perils.  The Child Finder Trilogy is a hot thriller series with a light, somewhat edgy spiritual theme…in other words, not your typical Christian fiction.  However, this series will have appeal for fans of that genre, as well as suspense and thriller enthusiasts.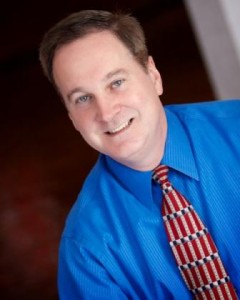 NORAH: Welcome, Mike. I'm thrilled to have you here. I'm going to start off with the question writers always ask one another: When did you know you wanted to be a writer?
MIKE: I've always had that writer bug burning in my heart. Even as a young boy I would write short stories and poetry, but my attempt at becoming the next E. E. (or is it e e?) Cummings never got off the ground. I did enjoy writing short stories during high school for my literature classes, and I dabbled in poetry some more, but that was mostly to impress girls!
NORAH: Smart! But now you've graduated to novels. How long does it typically take you to write one? And how do you approach it? What's your work schedule like when you're writing?
MIKE: That varies. My first book, Child Finder, took many years because I had drafted it while I was still in the U.S. Air Force, but my work schedule kept me from doing any serious editing. My second and third novels (written in my retirement) took about a year each. I begin with knowing the general plot I want to craft, and then I outline it into major scenes. I use the outline as a guide as I begin what I call, "throwing paint on the canvas." I will toss out words as fast as I can write them with no particular worry about how pretty they look. Once I have a rough draft, I go back and clean it up. My editing focuses first on substantive content (did I capture the outline correctly in my chapters?), and then on style (making the word, phrases, sentences pretty). My schedule varies quite a bit. I write part time, so as my regular work permits it, I try to dedicate an hour or two a day to writing.
NORAH: How many books have you written? How many have you published? Which is your favorite?
MIKE: I've written the full Child Finder Trilogy, but only the first two are published. Child Finder, the first in the series, came out in June 2009, followed by Child Finder: Resurrection, in the fall of 2010. Child Finder: Revelation is due out November 1, 2011. I am very excited about the release. I'm on a three-book contract with an independent publisher called TotalRecall Publications, Inc..
While I love them all, I am somewhat partial to the last one, Revelation. I learned a lot along the way, and I think my writing matured with it. Besides, Revelation has a mind-blowing conclusion, I like to say. After all, why would a senior Department of Defense official call it, "The most dangerous book ever written!"?
NORAH: Okay, I'm sufficiently intrigued. What is Revelation about?
MIKE: North Korean terrorists stage a brazen attack on the U.S. Ambassador to South Korea, stealing his twin daughters in the assault. Only one man can rescue them: Air Force Special Agent Patrick O'Donnell.
But there's more. There's a mystery about the twins that has the President of the United States and the Pope rattled, and no one will tell O'Donnell what that is. One thing is made clear to him in abundance: he must rescue the girls and bring them back to America with an urgency he has never experienced before.
Will Agent O'Donnell be successful in rescuing the Ambassador's daughters? Will he be able to unravel the intrigue between the Oval Office and the Vatican? Perhaps O'Donnell will receive a revelation that will explain it all…and if he does, it may be something he wishes he never knew.
NORAH: Oh, wow! Now that's a blockbuster plot! Which leads me nicely to my next question: Where do your ideas come from?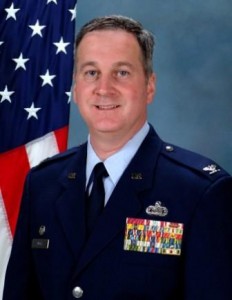 MIKE: Much of my inspiration comes from my Air Force career as a Special Agent with the Air Force Office of Special Investigations (OSI – the USAF equivalent to NCIS). I spent 25+ years chasing criminals, spies and terrorists around the world, so I decided to create a thriller series about a young OSI Special Agent who discovers he has a psychic ability to find missing children. It was one of those daydreams I had during my career – the idea that life would be a lot fairer if we had someone with such abilities to help us find children. Since I enjoy the thriller genre, I needed to insert some intrigue, danger, derring-do in the stories to twist and pull my protagonist along the way.
NORAH: Speaking of careers, your biography says that during your time at Air Force Space Command you were responsible for counterintelligence programs involving space, overseeing "entering or exiting Earth's atmosphere." Can you elaborate on that?
MIKE: Nope.
NORAH: LOL! Okay, shoulda seen that coming. Next question: Do you hear from your readers much? And what kinds of things do they say?
MIKE: I do get some fan mail and email, and most tell me they find my stories inspiring (I like that). Many also ask if I have my own psychic abilities (Sadly, no. If I did, I wouldn't get into nearly as much trouble with my wife as I do). A few want to know if I've revealed any real government secrets in my books (Of course not!).
NORAH: What do you think makes a good story?
MIKE: I like creating compelling characters that drive my stories. My protagonist is a man of deep faith and strong moral and family values. These all become challenged throughout the series as he faces life and death decisions. Patrick O'Donnell is a caring, loving man on one hand, and a tough Jack Bauer-like federal law enforcement agent on the other. Sometimes making those switches can be tough for him. The other main characters – even the bad ones – are multi-dimensional. The "bad guys" are REALLY bad, and it's this wickedness that creates such a reverse polarity with Patrick.
NORAH: Which of your own characters would you most like to invite to dinner, and why?
MIKE: I'd invite Patrick O'Donnell and his family over. They come as a package in my stories, and each plays a part in the plots. He's got a beautiful wife and two great kids, each with their own unique, endearing qualities.
NORAH: Great answer! Okay, which of your characters would you least want to dine with?
MIKE: The antagonists. Each story has its own nasty characters (no recurring nemeses for me), and because there are a few surprises in my stories, I don't want to say much more. In my third book, the main antagonist is apparent as the plot unfolds early on, so I don't mind mentioning him here. That would be Kim, Jong-il, North Korea's "Dear Leader." But what he's up to and why is the mystery in the story…that part will just have to wait for people to read it!
NORAH: What have you learned in your journey to publication that most surprised you?
MIKE: How hard the business end of writing can be. By this, I mean the process of landing a contract to doing publicity to managing marketing. I enjoy the craft end of writing much more, but I learned early on that the business aspects of getting published are so important.
NORAH: Did you have any mentors who helped you along the way?
MIKE: I have more USAF career mentors than I've had writing mentors (James Patterson, if you are reading this, call me!). My mentors' voices have helped me shape my stories, and I even patterned my protagonist's fictional mentor (Colonel John Helmsley) as a composite of some of the best bosses I've had in my career.
NORAH: Who are some of your favorite authors?
MIKE: Did I mention James Patterson? Oh, and there's also Clive Cussler, Tom Clancy, Joel Rosenberg, among many.
NORAH: What's the last book you read? The last movie you went to see?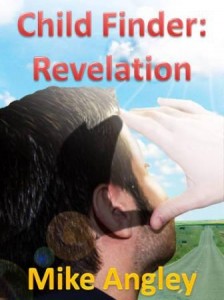 MIKE: Patterson's Don't Blink. And what I enjoyed the most was his choice of an unconventional protagonist (a journalist). The last movie I saw was Rango with my wife and daughter. It's an excellent animated western with lots of critters for characters.
NORAH: What do you like to do when you're not writing?
MIKE: I serve as the Senior Military Advisor for Henley-Putnam University in San Jose, CA. That work keeps me busy (with a fair amount of traveling). In my real downtime, I like to spend time with family. Lately we've been enjoying some of the Denver, CO sports events (Avalanche and Rockies games).
NORAH: Any last messages for readers?
MIKE: Please visit my website for more information about me and my writing. I had a fun – if not esoteric – career, so please check out my biography. Of course, when my third book comes out, read it to find out why some in the DoD are a bit apoplectic over it! www.mikeangley.com.
NORAH: Oh, my, you do know how to deploy a hook, don't you? That was a great one! Thank you, Mike, for being my guest. I'll be in line with the rest of your readers for book 3.
My guest today is Alice Duncan. One of the very best things about having published with Dorchester Publishing was meeting a passel of fellow authors on the "Lollie" loop (Lollie being a take on Ladies of Leisure, Leisure being one of Dorchester's imprints. I was actually pubbed by the Love Spell imprint, but I think I'm still a Lollie…). Anyhoo, seven of us seemed to have a lot in common, so we wandered off and created a little sub-community of our own. Alice is an integral member of that community. She's also a birthday sister (we're both Sagittarians, born on November 29), a fellow dog-lover, and a helluva writer. Welcome, Alice.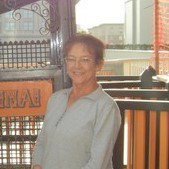 ALICE: Thanks, Norah! Happy to be here. And (ahem) believe it or not, it was I who suggested we call ourselves the Lollies. Not that I want any credit or anything <g>. Anyhow, it was another Alice (Alice Gaines/Chambers) who started the loop in the first place.
NORAH:  We also have another unusual connection, don't we, Alice?
ALICE: We certainly do! I live in Roswell, New Mexico, home of the aliens from the 1947 flying saucer crash. You, on the other hand, live in Fredericton, NB, home to Dr. Stanton Friedman, Nuclear Physicist and UFOologist, the original civilian investigator of the Roswell Incident (I didn't know that until Norah told me, by the way). Not that I have any interest in UFOs or aliens, but living in Roswell is cheaper than living in Pasadena, California, where I'm from. Roswell's also ugly and boring, but you can't have everything.
NORAH:  Alice is my hero in so many ways. She is such a champion of animal rights. And she backs it up. Alice fosters Dachshunds. That's right, wiener dogs. She belongs to the New Mexico Dachshund Rescue League, and at any given time, has as many as seven of the little beasties in her care and control.
 ALICE: Aw, thanks, Norah. Yes, it's true. I attract dachshunds kind of like a magnet attracts steel shavings. It's a curse. Or a gift. I haven't decided which. Let me tell you, walking three or four dogs at a time can be really tricky, too, although the dogs need the exercise, so I do it. Slave to duty, that's me. But truly, some of the stories of the dogs we get are truly horrifying (I'm fostering a wiener who came to us because of a murder/suicide, for instance). But we at NMDR get all our dogs shot and spayed or neutered and try to find them wonderful homes. I'm talking rabies shots, by the way. Heck, the last dog I fostered went to such a nice home, I was tempted to ask his adopter to adopt me, but I restrained myself. At the moment I'm caring for six wiener dogs and a ringer (part Chihuahua, part miniature pinscher). Sigh.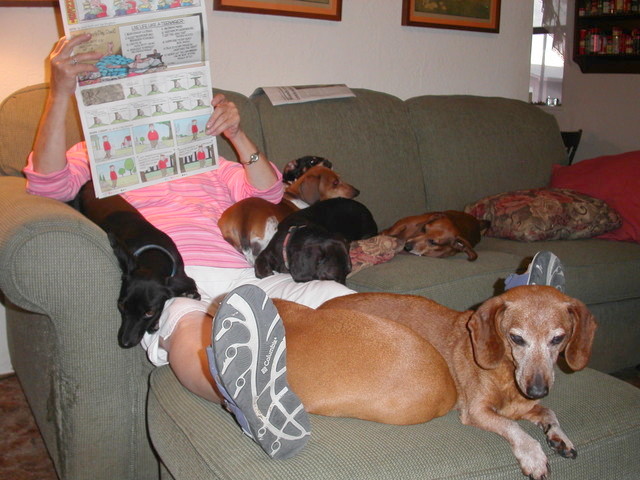 NORAH:  Okay, enough with the love-in. I've asked Alice here today because I want to bring to your attention the fact that she has a freakin' amazing backlist of terrific romance and mystery titles. They were a steal at $2.99, but Alice has some breaking news.
ALICE: Yes, I do! During the entire month of June, I'm selling every single one of my e-books for 99 cents each! These are full-length novels, folks (well, except for one short story I wrote specifically for Kindle when I got sick of the book I was writing). They're all historical novels, some mysteries and some romances. 32 of them! Heck, you can get all 32 of them for less than $32! Here's the Kindle link: http://aliceduncan.net/page5.html and here's the Smashwords link: https://www.smashwords.com/profile/view/aduncanzianet . If you have an e-reading device other than Kindle, use the Smashwords link. Smashwords provides books for NOOK, Sony, Apple, and every other e-reader known to man. Or woman.
NORAH: Did you get that? Every one of her backlist titles for 99 cents! Having read a bunch of Alice's books, I can assure you this is one of the best deals you'll ever find. I mean, 32 books for less than $32! I've spent more than that on one or two books. If you're thinking that's too much to bite off, try one for $0.99 and see what you think. No, these books weren't written yesterday, but here's the thing – Alice knows where all the volts are packed. It may be a more leisurely journey than you're accustomed to with your off-the-rack purchase, but she makes it soooo worth it.
ALICE: Thank you, Norah. It's not actually my entire backlist. There are two books that have yet to be scanned (a tedious task performed by Norah, bless her heart) and then re-formatted (a tedious task performed by me, who needs all the blessings I can get). Then there are my two "Trailsman" books, written as Jon Sharpe. I don't own the copyrights to those. And there are also three novellas I might get around to putting in e-book format. Someday. Maybe. And my current books aren't up there and won't be until at least a year after their first printing. Still, there are THIRTY-TWO books to choose from! Heck, get 'em all! Whatta deal!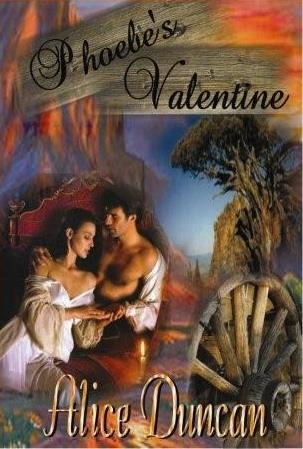 NORAH: For all my fellow Indie writers and aspiring writers out there, I'll ask you, Alice, to tell us about your freelance editing/book doctoring service (a service I plan to avail myself of before going to press with my next Dix Dodd Mystery).
ALICE: Indeed, I do have a freelance editing service. I'm also a professional editor and have been for the past six years. However, if you're interested, you can read all about my service here: http://aliceduncan.net/page2.html. I charge a cent per word, and I must say (although it's immodest to do so) that I'm pretty good at this editing thing. After all, I've had nearly 50 books published, all of which had to be edited, too. Not only that, but I've received two (count 'em) letters from copy editors complimenting me on my books! Mind you, I've also had copy editors who tried to change my footpads to foot paths and my pole beans into bean poles. But I won't do that to anybody. Promise. And I'm also (almost) always happy to negotiate.
NORAH: Holy crow! A cent a word? You're hired for my paranormal romances too! Can we talk about a birthday sister discount?
ALICE: Yeah, yeah, yeah. Actually, I'll do pretty much anything for you, Norah. You've performed so many kindnesses for me. Honestly, guys, Norah is one of the world's best people. It's true.
NORAH:  Aw, thank you, Alice! <Blushing> And thank you, too, for being here and enlivening my blog. Sags rock!
ALICE: How do you pronounce that???? Well, never mind. I know I sag, so that's not a revelation <g>. Thanks for having me, Norah!