Posts Tagged 'author workspace'
I am excited today to introduce you to award-winning author Deborah MacGillivray, whom I have known online since the days of my publication with Dorchester Romance a decade ago. I well remember the fire she speaks of which destroyed her home a few years ago. The other thing that has always stuck in my mind about Deborah is her selfless service to a now deceased friend and fellow-writer, Dawn Thompson, who faced a number of daunting physical challenges.  Even now, if you visit Deborah's website, you'll see that she keeps Dawn's legacy alive, not just as a memorial but for the benefit of Dawn's heirs. Quite apart from her considerable and recognized talent as a writer, that makes Deborah a winner in my books. Deborah is now a fellow Montlake author, after Amazon acquired a number of her back list books from the now defunct Dorchester Publishing. Welcome, Deborah!
Deborah:  Thank you to Norah for asking me to drop by and share my corner of the world. Had she asked me that in 2009, my pictures would have been much different. I had a wonderful, handmade cherry desk, oak file cabinets and built in bookshelves, with knotty pine paneling on the walls. Today, my office is completely different, and not just a decorating choice. My home burnt to the ground at the start of 2010, and I very nearly died in the fire. Once healing was begun, I had to find a new home. From there, I knew I wanted to make my office a haven, something special. So what you are viewing is still a work-in-progress.
To start, I had to have a knock-out desk, something fit for an author (LOL). And boy did I get one! I found a Powell Hunt Desk. A beautiful carved mahogany, semi-circle desk, with glass inlays.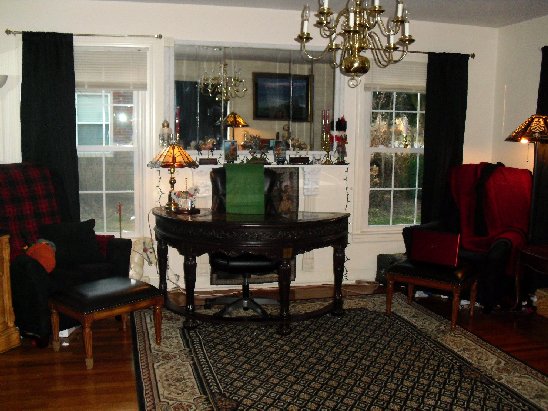 Once I had that focal point, then I set out to make the room a reflection of my tastes, my loves, and see it provided a tranquil place to create. The room is 18' x 17' so plenty of space to fill with items to speak to what I love. In two corners, flanking the desk, I placed two, matching black suede chairs, with wood and leather footstools.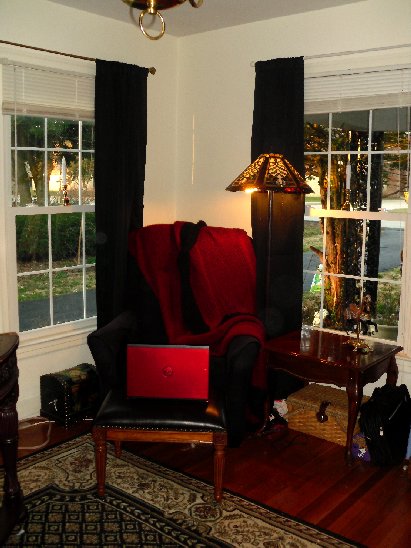 I learnt long ago, I cannot write on a PC for long. It caused tendonitis of my neck and right wrist. In my agony, I discovered I could work all day on a laptop and not suffer these problems. So while I had my desk to work at when I need space, generally I am found with my legs up and me oh so comfortable in one of the black chairs.
I also have a lovely Victorian settee, which I share with my dolly, made by Candy Thompson (sister of the late author Dawn Thompson). Candy, as well, crocheted me a huge red and black afghan (seen in the second picture)― perfect for my black and dark red office theme.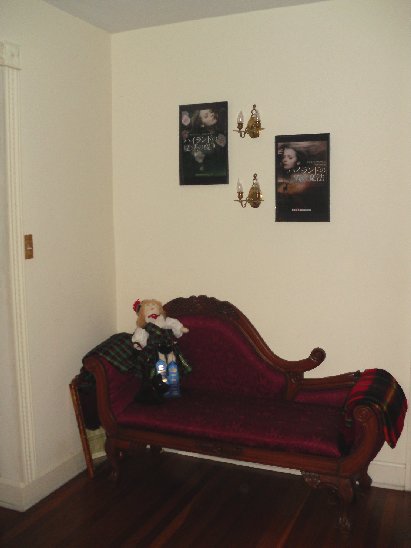 I also have a constant companion with my new kitty, Miss Mouthy― "Mouse" for short. She mostly sits on the small table by my chair, or on the arm of the chair while I work. I have a gorgeous Tudor birdbath outside one window, so we take breaks to watch the "pool parties".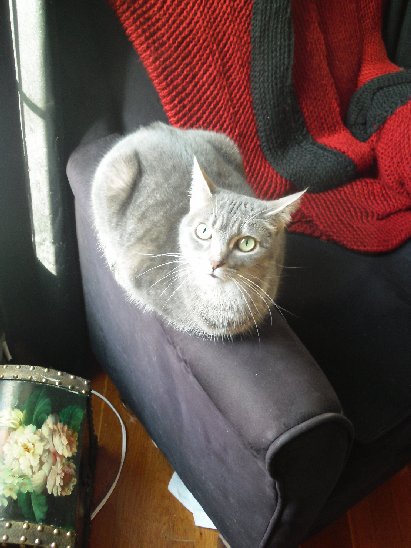 I love going antiquing, and we have a marvelous store just down the road. I have found some great items there. A new acquisition ― a second desk ― a roll-top oak is in one corner. I am not sure it's going to stay in the room permanently. I am considering putting a full-size carousel horse there. All about the room, I have several glass carousel horses with medieval style. On one wall behind my desk, I designed a wonderful display with a tapestry of Edmund Blair Leighton's "The Accolade", that my marvelous contractor Joe Crabtree brought into being.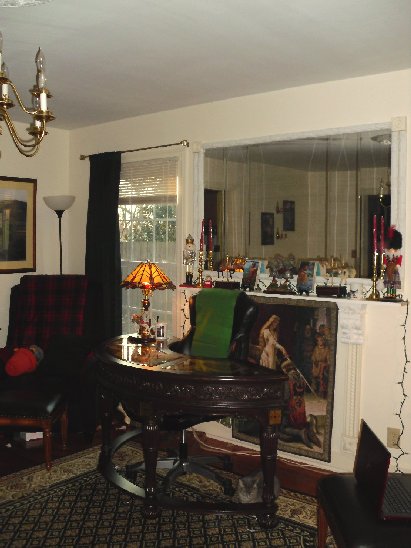 He also helped me hang a wall frieze of two knights battling on a small space between two windows. It's not quite finished yet, but coming along nicely. I have large framed posters of Scotland ― Kilchurn Castle and Duncarloway Broch. I am far from done, but I think my study is beginning to reflect my new beginning in a new home, and speak of my love for medieval times and Scotland.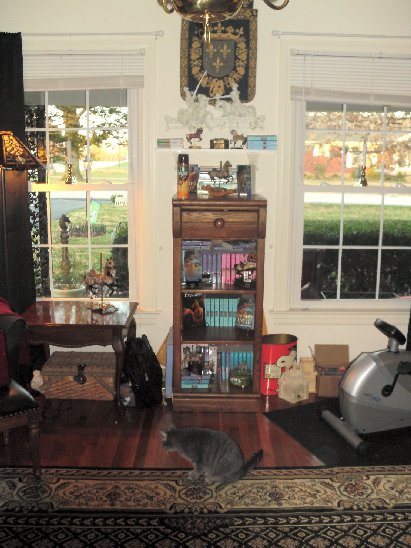 Mouse and I must be able to see out into the world. Plenty of light comes into the room as we have a large door way to the living room, and two very large windows on two walls. We get some bird-watching (and squirrel-watching) in on our breaks.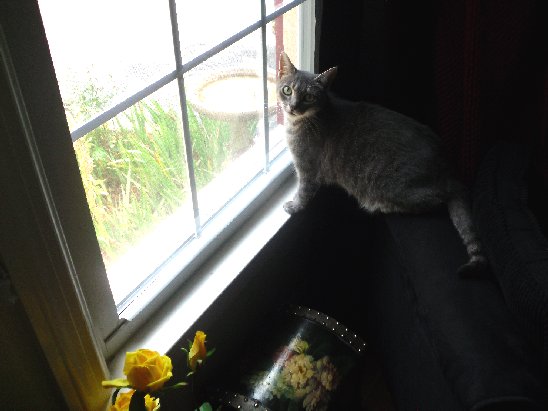 In one corner I have a recumbent bike. I think it vital for an author to get up and move around. It's good for the body and mind to get the blood pumping. I can take a break and do twenty minutes of pedaling, and suddenly I am awake and refreshed. I also have near perfect blood pressure now. Thank you, bike! All phone calls can be answered on my Vintage Snoopy Phone!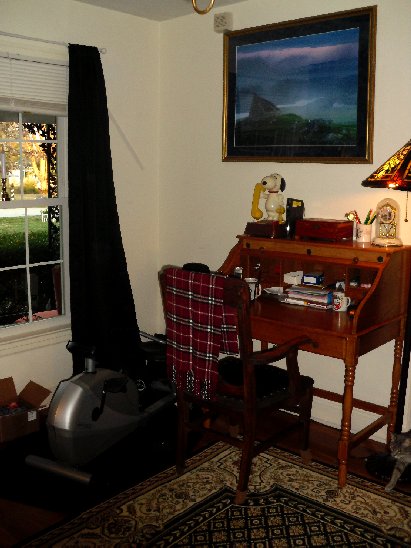 It's eclectic style, a bit functional, a dash of whimsy and a wee dram of Scottish Medieval― perfect for me to get lost in tales of dashing Challon lads!
My latest addition is the carousel horse. Not sure where I will put him permanently, but I absolutely had to have him!!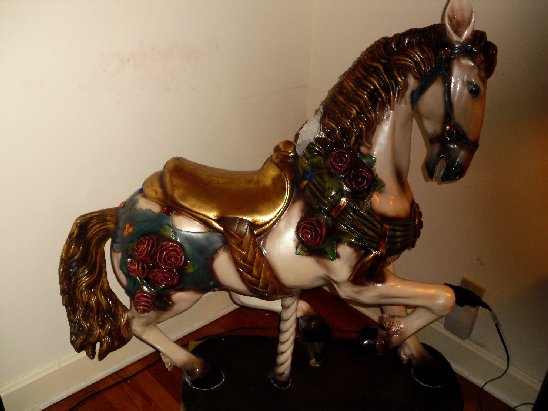 However, there are days, that the outside calls. I have a veranda that covers the whole front of my home. I decorated with rockers and loveseats, so I will take my laptop out there and often work. I rock in the glider, while using my Next Up Text Aloud to read back my writing to me. I find the Text Aloud a grand way to hear my words, feel the flow of the prose. So I can keep working, yet enjoy the outdoors as well.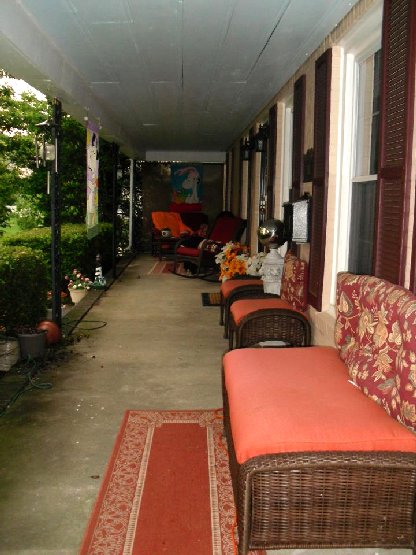 Thank you, Deborah! That was a fascinating tour! I love your study! What an extraordinary home you've created for yourself after the devastation of the fire. In fact, I think this might be one of the most unique spaces I've profiled thus far here on Workspace Wednesday.
Folks, Deborah has two fantastic giveaways. As always, winners will be drawn randomly from among the comments on this post.
Giveaway#1 – A set of The Dragons of Challon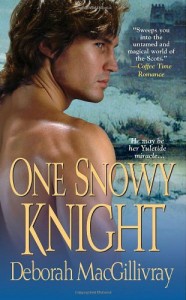 One Last Hope. . .
Lady Skena MacIain has seen much hardship this year, and she fears worse is to come. For a bloody battle in Dunbar has left her a young widow, and her Scottish fortress without protectors. She wishes she could be as hopeful as her babes, who believe the Cailleach, the Lady of Winter, will send them a miracle in time for Christmas. But life has taught her that things can never be so easy. . .
One True Love?
Until a mysterious warrior is found amid a blinding snowstorm, sick with fever. As Skena nurses the handsome knight back to health, even she begins to believe he might bring salvation to her little keep–and passion to her life, as his body awakens a long sleeping desire within her. . .a desire her touch stirs in him as well. But his wounds speak of danger, and Skena will soon learn, his past carries a secret that could shake her home–and her heart–to their very core. . .
Look Inside at Amazon
Giveaway #2 – 1 set of The Sisters of Colford Hall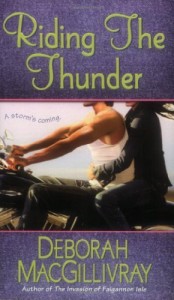 It was all part of the plan. While his brother was in Scotland dethroning the Lady of Falgannon, Jago Mershan was headed to Kentucky. There he would do his share in avenging his father on the Montgomeries. Only, there was a monkey wrench in the works
Just looking at his alleged enemy's granddaughter made Jago think of his classic black '67 Harley Electra Glide, a motorcycle with clean lines and sleek curves that promised the ride of a man's life. Asha was all woman― and the only woman for him. He'd bet she could go from zero to one hundred in the blink of an eye…and not even her claims of paranormal happenings in the diner she ran could put him off. He knew magic: He had a special name for the sights, the sounds, the tastes and smells of that perfect ride. There might be a storm coming, but it was one of passion, and together he and Asha would be… RIDING THE THUNDER
Look Inside at Amazon
I'm delighted to welcome fellow Canadian Cindy Procter-King to Workspace Wednesday. Cindy is a dynamo and one of those personalities you gravitate to. I could write a lovely bio telling you how funny she is, but I think posting this little excerpt from her website bio will tell you more than I possibly could!
A Kindle Contemporary Romance bestseller and Romance Writers of America Golden Heart® nominee, Cindy's mission in life is to see her surname spelled properly—with an E. So take heed. That's P-r-o-c-t-E-r. Not, no, never, under any flippin' circumstances should you spell it with two O's. Cindy lives in Canada with her husband, their two amazing sons, a tortoiseshell cat obsessed with dripping tap water, and Allie McBeagle.
Welcome, Cindy!
CINDY PROCTER-KING: Thanks to Norah for welcoming me to her blog! I'm excited to be here.
I love my office. It's a huge space, a 10×14 room that used to be our bedroom. Even so, I've managed to fill it up!
We live in a circa-1960 house, and the location of my office has changed three times over the 22 years since we moved in. I searched for a photo of the bedroom before we renovated to show you what my office used to look like, but I accidentally gave birth a week after we moved in (the baby came 6 weeks early) so I didn't get around to taking pictures of the interior. I was too busy corralling a 2-year-old and our huge dog at the time, a Malamute, and unpacking boxes, and then caring for a newborn preemie.
That's my excuse, and I think it's decent.
While my children were little, my "office" was a corner of the living room. My husband gave me a roll-top desk for our first anniversary, and it sat in one corner of the living room. The computer desk sat in the opposite corner. I have always had two desks because I use the computer to draft but the roll-top to hand-edit and revise. When our oldest child turned 13, we put on an addition, which meant there were two empty bedrooms for a couple of years. I moved my office into one of the old bedrooms, but it was very crowded and super-hot. My ankles would swell in there (this was before we had air-conditioning).
A couple of years after the major addition of two bedrooms and a bathroom for the kids, we remodeled the "master wing," creating one bedroom out of the two kids' rooms, turning the tiny bathroom into an en suite bathroom for the new master bedroom, changing the old hallway to the bathroom into a walk-in closet, and the icing on the cake—turning our old master bedroom into my office!! First, I'll show you a photo of what the office looks like now, and then I'm going to tell a little story….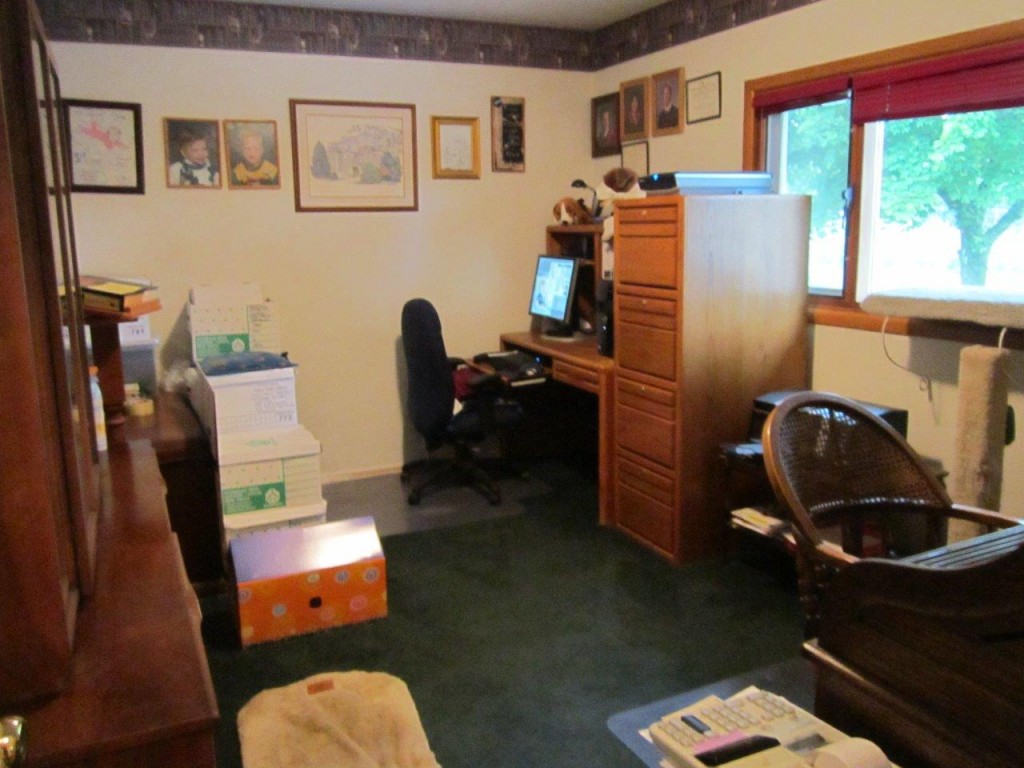 You can see the computer desk in one corner, my roll-top desk in the lower right, and a view outside the window (which looks onto an orchard). I took this picture a few months ago after thoroughly cleaning the house, so you'll have to excuse me if it looks a little tidy…aside from the numerous file boxes stacked up near the far wall.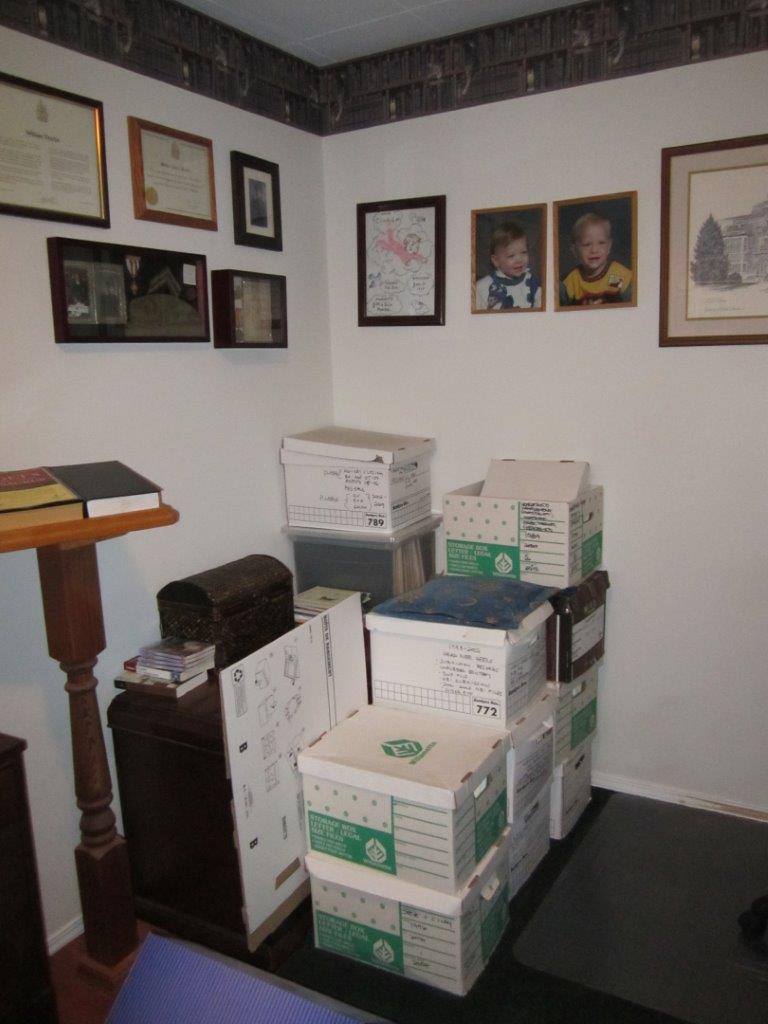 This isn't my promised story; this is a sideline explanation of the file boxes. Two years ago, I needed to find a file box in the crawlspace, and I discovered all these other file boxes that needed to be sorted and shredded. There were originally 11 boxes. I shredded two before the shredder died. There are now 7 files boxes remaining. I went through two more at Xmas. At this rate, I'll be finished my sorting/shredding in 2019. Oh, well.
Behind the file boxes is a memory trunk that my husband gave me for a milestone birthday. You can see a dictionary and a thesaurus (which I rarely use now thanks to website dictionaries) on a stand that he built me one Christmas. The framed certificates and shadow boxes are in honor of my grandfather, who lived to 106 and was the last British Columbian to have served Canada in The Great War (he was the third last Great War vet to die in Canada overall). Pictures of my sons (now adults) are also on the walls. I love being surrounded by memories of family as I craft my novels.
Here's my roll-top desk, where I do my editing and revising by hand (and a bunch of "biz of writing" stuff):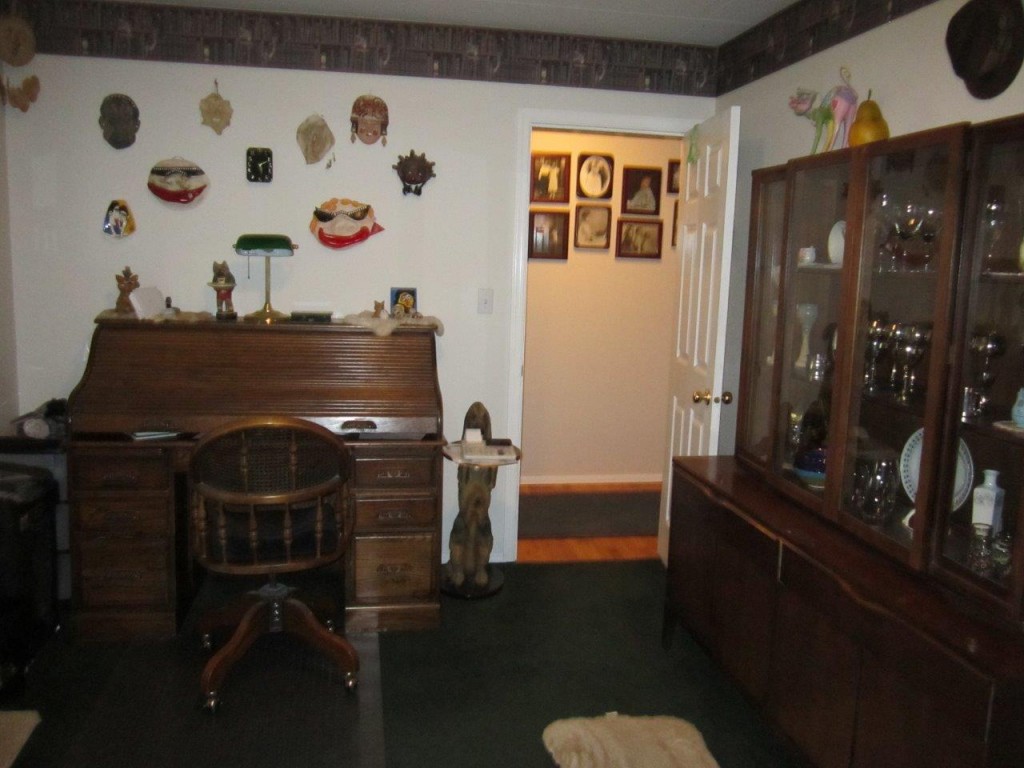 I collect face masks, and the china cabinet to the right belonged to my grandmother. This china cabinet remained in my office until recently, when we rearranged the living room and could finally put it close to the 'dining table' (which is in the country kitchen). Now, in place of the china cabinet, is my husband's grandmother's buffet. I don't have a picture of that right now, because we are in the midst of getting some repainting done.
My roll-top looks very tidy with the cover down. In reality, it usually looks more like this (but messier – I did some cleaning and filing while the painter was here last week):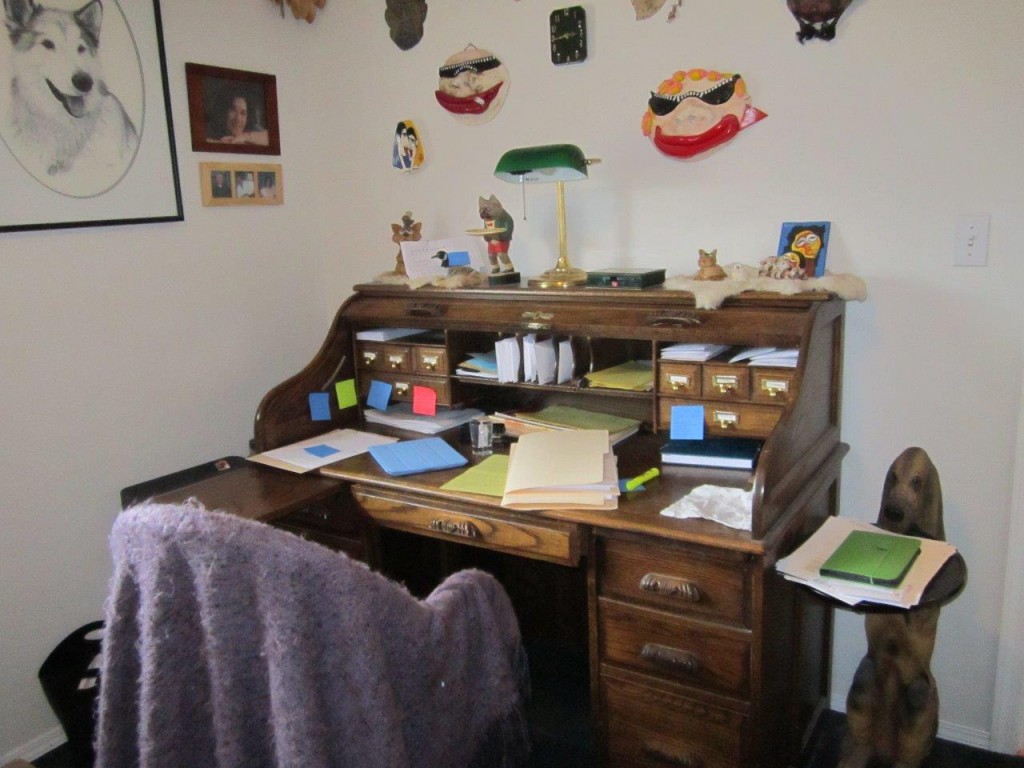 All those sticky notes are my to-do lists. Hawthorne (the dog statue) holds my mail. The blanket is for cold March days. The drawing of the dog is our old (dead) Malamute. We now have a beagle and a cat, but neither would move off the bed in the other room to cooperate with photographs.
As you can see, the walls are drywall now. When we first moved into the house, the then-bedroom had a lino floor and pine on the walls. When we took the pictures off the walls ten years later during our first set of renovations, the pine behind the pictures had faded to the point that we had to take off all the pine. Underneath was ugly stuff with ridges in it that I call wallboard. So we decided to remove the wallboard and put up drywall in this room. Now, here comes the story I mentioned earlier. The big surprise was that we discovered, on those old wallboards, dozens, and I mean dozens, of hearts with the initials of the old couple from whom we'd bought the house over a decade earlier. When we bought, they were moving because she had Alzheimer's and he could not keep up the massive yard without her help. We think he put up the pine paneling to help sell the place because it looked very new when we moved in. However, first this kindhearted gentleman drew his love for his wife all over their bedroom walls! That were then our bedroom walls.
Ever since we moved into the house, I had felt a ("woo-woo") sort of presence. I usually felt it in the old hallway. The wife had passed away shortly after they moved. I don't know if I was sensing her or something else, but when we discovered the dozens of hearts drawn all over the walls (I must have taken a picture but I've looked and can't find it), I felt like it was her presence or their love somehow remaining in our house…in our master bedroom, which is now my office and where I write about undying love. The last time I felt her presence, after the wallboard was off and only studs remained, I thanked her for allowing us to raise our family in her house. I have not felt the presence since.
We have done more renovations over the years, and every time we do we put something in the walls or ceilings for someone else to find in the future, just like we found the hearts. There are Batman figurines in the hallway walls from my sons, and a ping-pong table used for sub-floor under where our dining table currently resides. I could go on, but you get the idea.
And that's my office!
Have you ever done renovations and discovered "gifts" or "memories" from the previous occupants?
She never wants to go home again.

For Jess Morgan, Destiny Falls holds too many painful memories. Nine years ago, a logging accident near the remote timber town killed her dad and her high school sweetheart. To make matters worse, her mother quickly sought comfort with another man. That choice tore Jess apart and drove her to seek a life far away. But now fate steps in, and family obligations force her return home. Before long, she's convinced that persuading her mom to live with her in Toronto will repair their shattered bond. However, she doesn't count on a long-ago friend re-entering her life and challenging her convictions.

Rugged forester Adam Wright believes in family, roots, and not running from heartache. Now, all he wants is to help Jess break down the walls of the lonely sanctuary she's built for herself and heal her past hurts. It's not until she rejects his plans for their future that he realizes his persistence has pushed her away—not at all what he intended.

Has he lost his chance? Or can he convince Jess that where she truly belongs is with him…forever?

 

One tiny lie can cause a whole lot of trouble…

Magee Sinclair has had it up to her sassy short hairdo with the recent blunders pushing her family's advertising agency to the brink. How can she accept the promotion her father plans when she keeps making costly mistakes? She needs to bring in more business however she can. So when new client Justin Kane asks her to role-play as his girlfriend for a weekend in exchange for a lucrative campaign, she jumps at the chance.

Justin's goal to expand his chain of bike stores hinges on a distribution deal with a manufacturer. First, he needs to impress the man at a mountain resort while they bike trails with their significant others. But Justin's girlfriend dumps him, forcing him to find a quick replacement. Magee—pretty, clever, and a skilled cyclist—is the perfect choice to masquerade as his "lover."

Or so Justin thinks.

Because Magee is in major trouble. She knows no more about mountain biking than Justin does about demi-bras. Before long, an irate ex pops up, fake identities abound, and a whole lot of doors slam in the middle of the night. Yet, through the chaos, Magee and Justin discover what it really means to fall head over heels….
Thanks for that great tour, Cindy. I loved your story about the hidden hearts. I can well imagine the wonderful echo that room must retain! 
Okay, folks, Cindy is giving away two prizes:
An electronic copy of her book

Where She Belongs

(MOBI format); and
An electronic copy of her book

Head Over Heels

(MOBI or EPUB format).
All you have to do to qualify is comment below, answering Cindy's question. I'm going to love reading these answers! I know I've seen some interesting things that came out of old walls!
Some days I just have to marvel at what a great job I have. I get to create stories for a living! And if that's not enough, I also get to talk to lots of wonderful authors and persuade them to open up their homes to us so we can peer around their work spaces. Today's guest is Roxy Boroughs, a fellow Canadian whom I "met" through social media. Some people just shine in that milieu for the genuine, smart and likable people they are. Roxy is one of those people. I am also a fan of her books. But it wasn't until I researched her bio for this introduction that I realized she is also an accomplished actress! In addition to her appearances on stage and in commercials, she also appeared in the beloved Canadian-produced Degrassi Junior High. I'm so impressed!
Okay, Roxy, over to you!
ROXY BOROUGHS:  Thanks so much, Norah, for inviting me to share my workspace. It's in the second bedroom of the condo I share with my husband. Since the walls are a coffee color, I picked off-white furniture, to brighten things up.
Like many writers, I have a lot of books. And my husband is a university professor, so he has a lot of books. Together, we have a TON of books. We also like movies and music, and own quite a few CDs. I'll often put on a movie soundtrack when I'm writing to set the mood.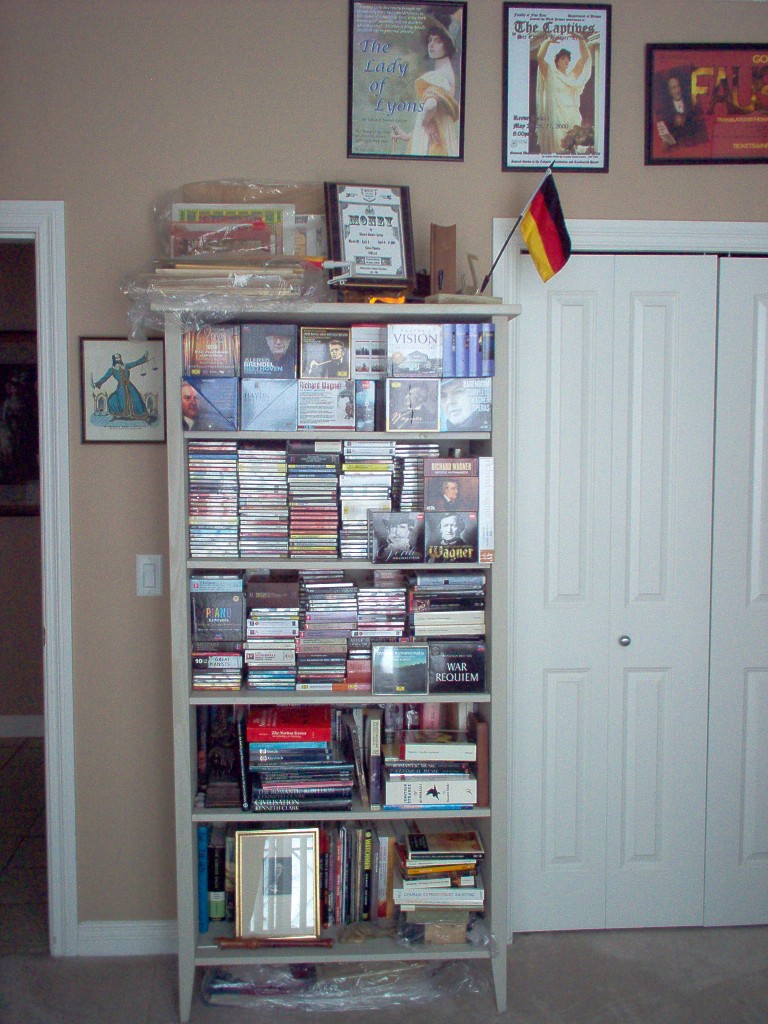 I store DVDs in the closet to the right, along with my scrapbooking materials. You might be able to spy some operas by Richard Wagner on the bookshelf to your left. Those are my husband's. We went to Seattle a few years ago to see Wagner's Ring Cycle and I became a convert. Hubby jokes to his students that, after 30-odd years together, I finally understand what he's talking about.
Above the door are some posters for shows my husband has directed. We met at theater school when we were struggling actors. Now he teaches and I write—both novels and plays.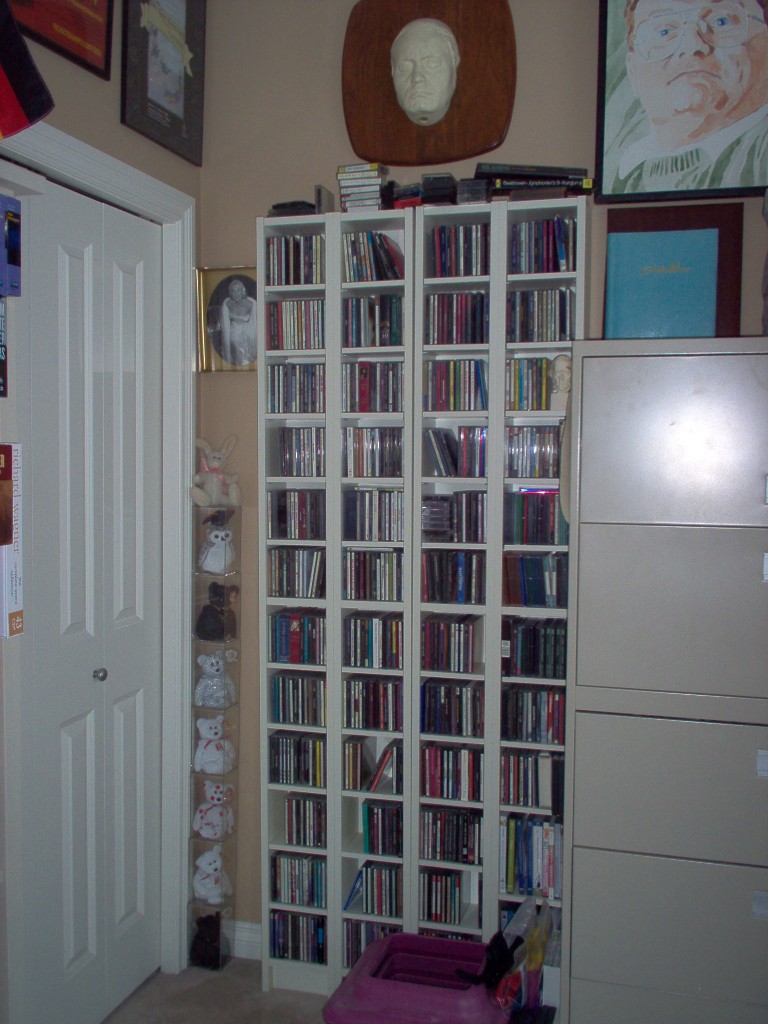 Here's the corner by the closet. And more CDs! Those pink squares on the floor are part of my step exercise equipment. I have a variety of workout tapes and do them in my office when the mood strikes. Though it hasn't struck recently, I must confess. Lately, I've been a fitness slug.
Do you see the stack of plush animals in the corner? I used to have what I call a job-ette, working in a teddy bear shop. We sold tons of Beanie Babies and I collected a few. Mostly white ones. Above those hangs a photo of Marilyn Monroe, who fascinates me. She came so far so fast and then was consumed by fame. In spite of her star quality, she had such vulnerability on the screen. Those opposites make her an intriguing personality to me.
Above the CDs is a life mask of Beethoven, my husband's #1 hero. Beside him is my filing cabinet, where I keep receipts, articles on writing, and notes for my novels. Above that, and beside Beethoven is a painting of my husband. It was done several years ago when he still had hair! (I often tease him, saying I only married him for his locks.) Here, hubby is striking a melodramatic pose, but I like to think he's pointing at my chair and telling me to settle my butt in it and get typing.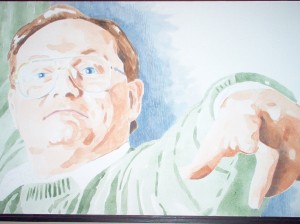 I've got three other bookcases in the room. Here's one that holds many of the resources I use. Also quite a few cookbooks. (More are in the closet.) I developed an interest in cooking in the last ten years, after I bought a slow cooker. Until then, I pretty much made spaghetti or pork chops. Now, I'm much more diverse.
A couple of my awards sit on top of this shelf, along with busts of Beethoven, Wagner and Mozart. Behind the door to the room, I keep a calendar with my writing schedule and due dates.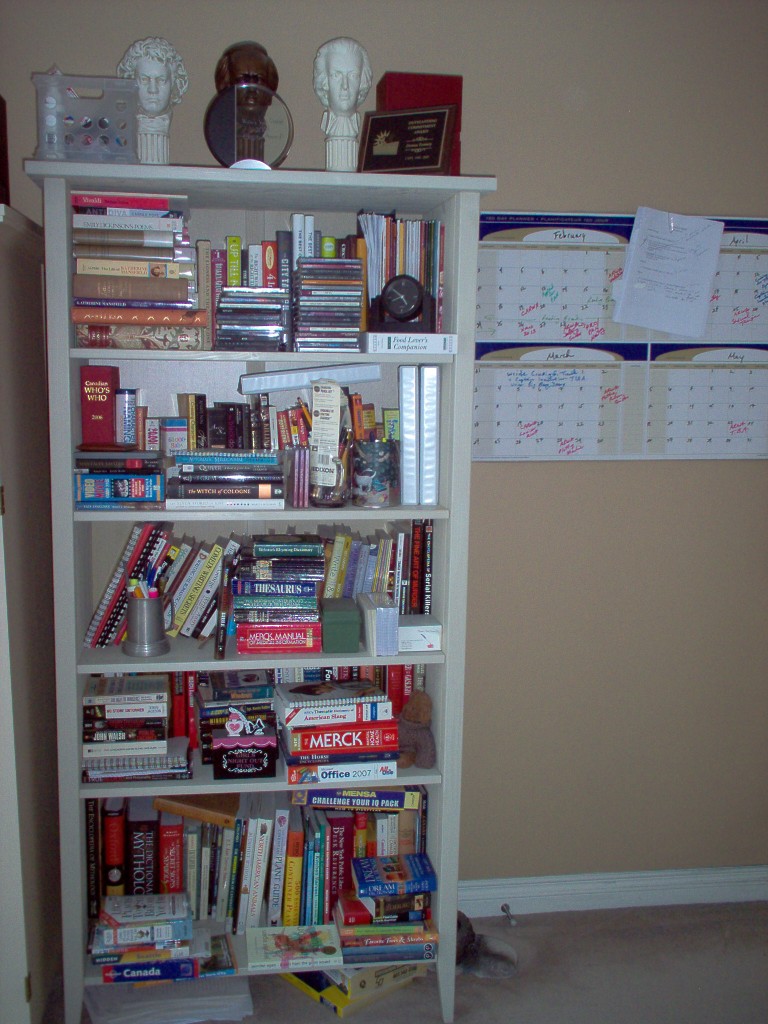 One of the things I particularly like about my office is that the fourth wall is a sliding glass door and I can walk out to a terrace.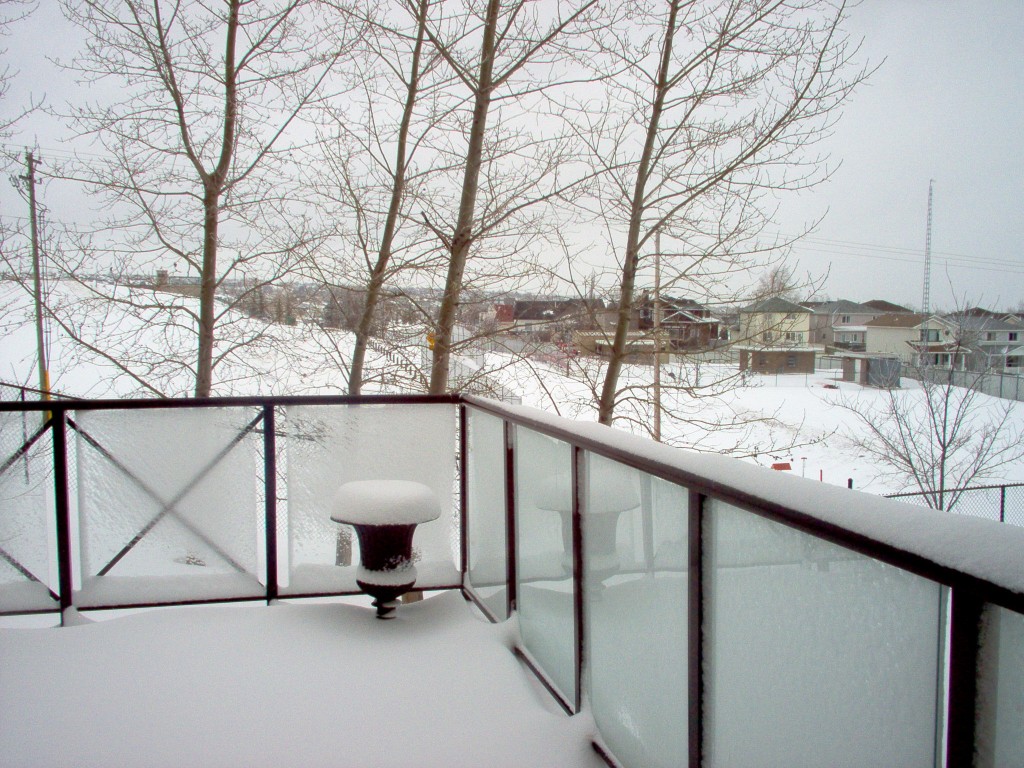 Though not today. I live in Calgary, Alberta and we just got a big dump of snow. But don't worry. We'll soon have a Chinook. It'll be balmy and all the snow will melt. In the summer, I'll plant my container garden here, with flowers and a few herbs. On nice days, I pull out my little patio set and take my laptop outside to type. For a backdrop, I've got a wonderful view of the city center and the Rocky Mountains.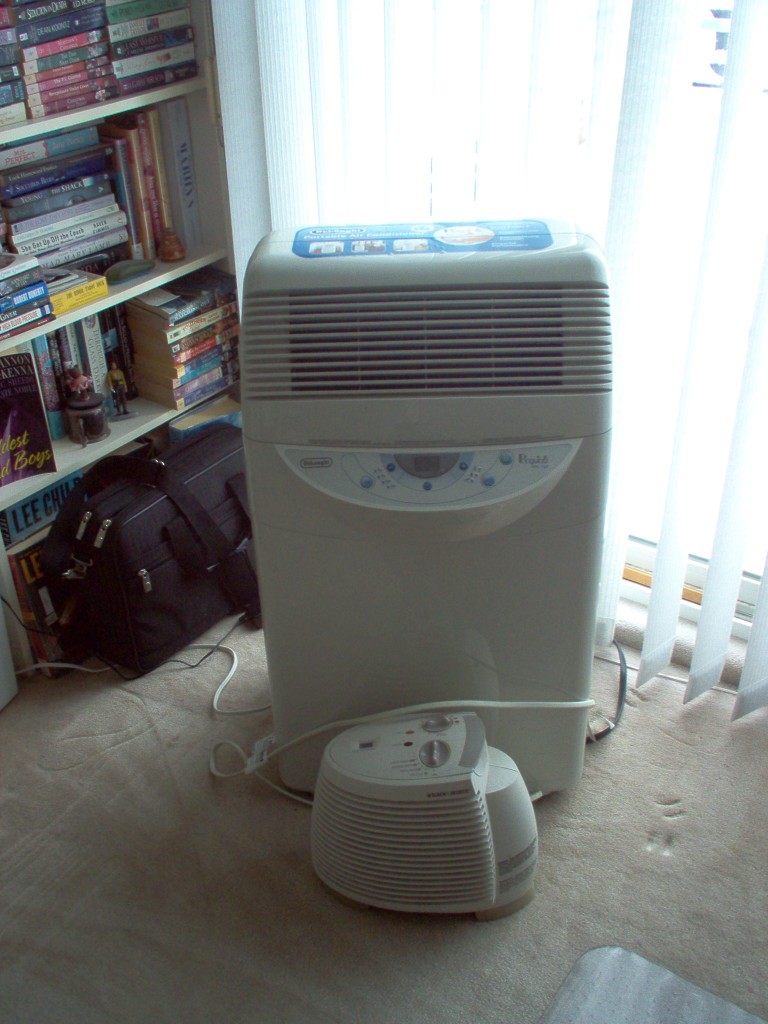 And because the weather is so changeable in Calgary, I have both an air conditioner and a space heater. (Note another bookcase in behind.)
But where, oh where is my desk in all this? Could it be here?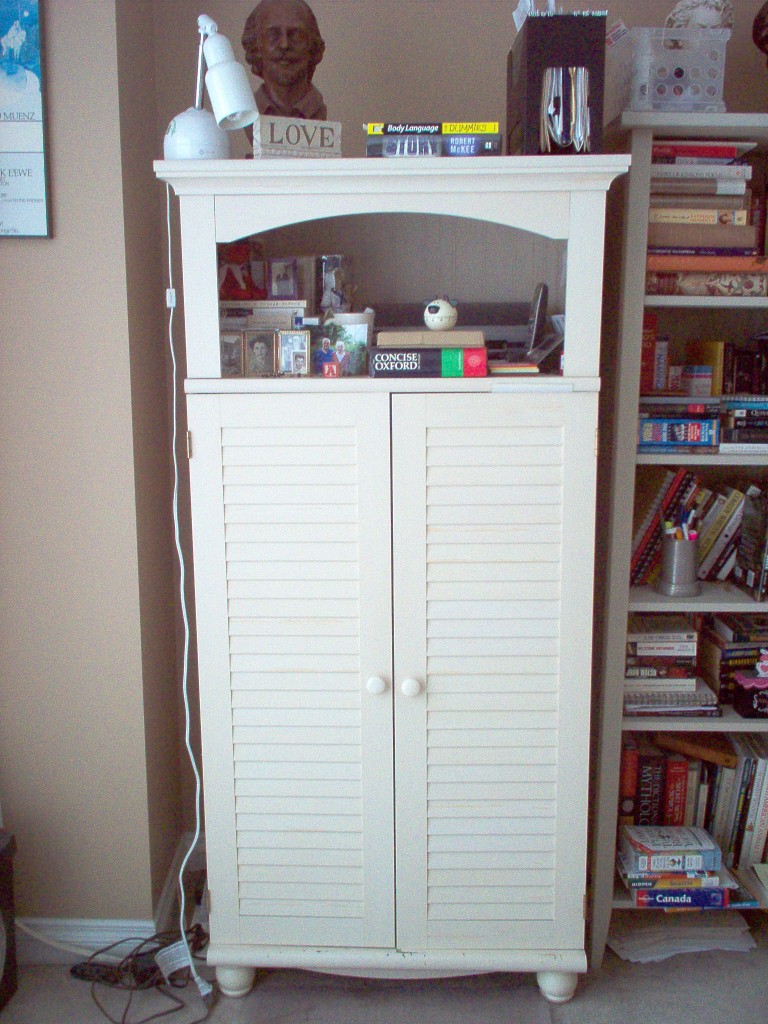 I'll just open one of the doors and…
May I have a drum roll, please?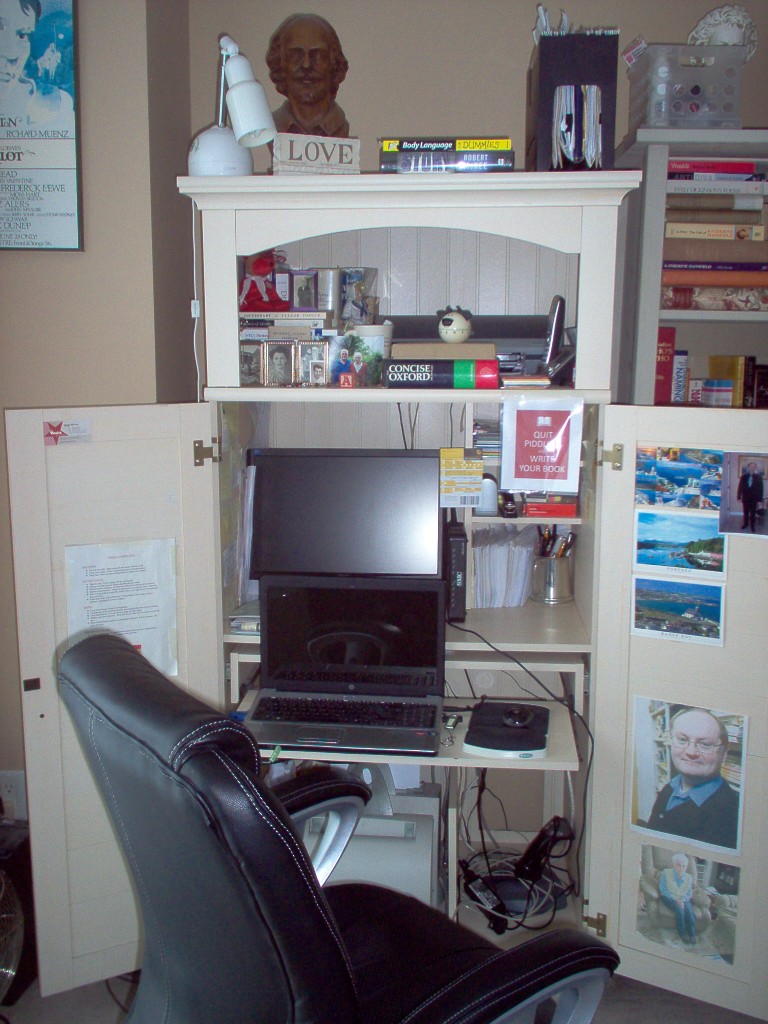 Voila!
I used to have a huge, squat desk that took up the whole wall. When I decided I needed another bookshelf, a tall, thin desk seemed the way to go. And, when my desktop computer died, I purchased a laptop to replace it, so that I'm portable. I just plug it into a large screen.
Around my work area, I have photos of my parents, my big brother and my wonderful husband. There's a sign that says "Love" to remind me of my theme, a bust of Shakespeare for inspiration, and a little sign to the right that says, "Quit Piddling and Write Your Book."
Exactly what I'm off to do now.
* * *
Links:
When her seven-year-old son is kidnapped without a trace, a by-the-book policewoman must put her doubts aside and learn to trust the only man who can help her pick up the trail—a handsome but troubled psychic.

61,000-word Romantic Suspense. Adult language, some violence, sexual situations.

She's through with cowboys. But this one's the 'reel' deal.

Equine veterinarian, Emily Grant, has had her share of cowboys, and they always break her heart. After vowing to give them up forever, Brandon Hollister strides into her life.

He's a different kind of cowboy, one that works on the silver screen. But is he just playing the part when it comes to love? Or can this gorgeous hunk get past a case of mistaken identity, and escape from the "Houston" character he's portraying, to become the man to win Emily's heart.

A 50,000-word sweeter romantic comedy.
Thank you, Roxy! That was a lovely tour. So many very cool things! But I have to say I adore your hideaway workstation. What a great way to tidy up in a hurry. And what a view from the terrace. I'd love to see it in summer with the container garden.
Okay, on to the giveaway! Roxy has generously offered two prizes:
A $10 electronic gift card from the online bookstore of your choice (e.g., Amazon, B&N, iTunes) PLUS your choice of either A Stranger's Touch or Crazy for Cowboy in the electronic format of your choice;
Your choice of either A Stranger's Touch or Crazy for Cowboy in the electronic format of your choice;
As always, all you have to do to qualify for this contest is leave us a comment below. Tell us what you love best about Roxy's writing workspace. Alternatively, tell us what you think of Roxy's awesome 80's perm in that Degrassi clip!  🙂
My guest today is the absolutely fascinating Mia Marlowe. An award-winning author who writes wonderful historical romances for multiple publishing houses, Mia is also a classically trained soprano who won the District Metropolitan Opera Auditions and has shared a stage with Placido Domingo! If that's not fascinating, I don't know what is! I have long been a fan not only of her books, but of her character. I admire Mia so much for giving back to the writing community. One way she does that is with her "Red Pencil Thursdays" on her blog. She has used the feature to  to provide fresh perspective to  many an author who volunteered to have a  piece of writing critiqued. As she describes it, it is a chance for the author to think in new directions about their work in progress, as well as to give readers a peek behind the curtain into some writerly issues. And at the end of the day, an author who helps other authors is my kind of author. 🙂
With that introduction, I'll hand you over to Mia.
MIA MARLOWE:  Thanks for having me here on Workspace Wednesday, Norah. What a fun idea! However, I don't have a fancy office to show off. You see, I'm a condo dweller here in New England. While that makes for pleasant times during the winter when we don't have to shovel and glorious springs and summers enjoying the lush landscaping around our building without pulling a single weed, it also means "itty, bitty living spaces."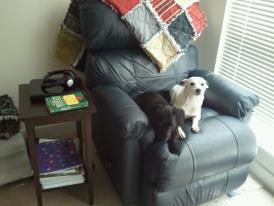 My workspace is a recliner. It sits in a corner of my bedroom. As you can see from this photo, I have writing buddies. Mack and Harry love to snuggle, one on either side of me serving as furry armrests, while I type away on my laptop. For active little dogs, they demonstrate a remarkable ability to lie perfectly still while the keys are clicking. They also give me an excuse to knock off every now and then and take a walk around the park outside our building.  Sometimes, I do my best dialogue writing in my head while Harry and Mack are making the world safe from squirrels.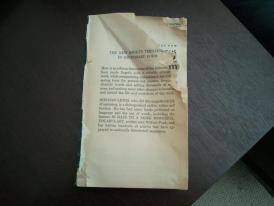 Of course, having pets means wear and tear. One recent casualty in the Harry vs Anything Chewable War was my beloved thesaurus. My friend Marcy says he chews books because he associates them with me and wants to feel closer to me.  By that reasoning, he also wants to be closer to the wood worker who shaped the spindles in my dining room chairs. Fortunately, Harry seems to be outgrowing the chewy phase.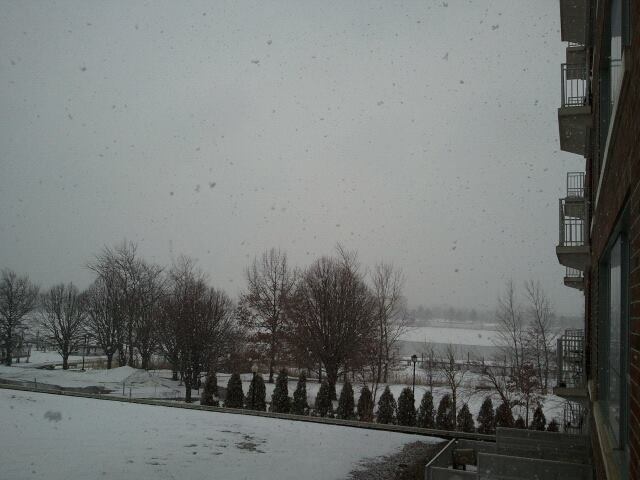 One of the best things about my writing space is the view from my window. We are situated on the Mystic River (which you can see here in semi-frozen glory). There are flocks of swans and Canada geese that eye each other warily from across the open water, like rival gangs marking out their turf. In summer, the river is alive with boat traffic and early morning scullers. When I get stuck on a scene, a few minutes of river gazing helps me center myself and dive back into my story.
Thanks for letting me share a bit of my life with your readers, Norah. In closing, I'd like to ask your readers what sort of view they have from their home? Is there anything there that comforts or inspires you? Leave a comment and you'll be entered in the random drawing for a Kindle version of my newest release, Stroke of Genius. I'll also be giving away an advance reading copy of One Night with a Rake (coming June 4, 2013) to a second lucky winner. 
CAN AN ARTISTIC GENIUS . . .

Crispin Hawke, a brilliant sculptor, is revered by the ton. His works are celebrated in every fashionable parlor. And tales of his fiery bed skills whispered behind every fashionable fan.

TRANSFORM AN AWKWARD HEIRESS . . .

Grace Makepeace is determined to wed a titled lord, but her Bostonian bluntness leaves much to be desired among the well-heeled London crowd. So to gain their acceptance, she commissions the incomparable Crispin Hawke—and asks for love lessons on the side.

INTO THE MOST SOUGHT-AFTER ORIGINAL . . .

Crispin agrees to school Grace in flirting and the delights of the flesh. But when she catches the eye of a marquess, he realizes he's done his job a little too well. And suddenly he knows Grace is the one masterpiece he cannot bear to be parted from.

WITHOUT FALLING FOR HER HIMSELF?

Claim your Genius today!
__________________________
Mia loves to connect with readers! Find her at her lively blog at http://www.miamarlowe.com, on Twitter http://twitter.com/Mia_Marlowe, and Facebook http://facebook.com/MiaMarloweFanPage .
Thank you, Mia! I'm marveling at your tiny writing space! Mainly because I would have expected someone with your limitless imagination and boundless enthusiasm would need more room to … I don't know … sprawl. That's why I love doing this feature. I'm so often surprised!
Okay, folks, it's comment time. Tell us about your favorite view from a room in your house, and what it means to you or how it inspires you.
It's a special pleasure to have Barbara Phinney here today. Barbara is one of my very first writing friends. She and I, along with a handful of other aspiring romance writers from the area, were long time critique partners and basically taught each other to write. And we're still sharing, but these days it's more industry news, indie wisdom and promotional tips.
Welcome, Barbara!
BARBARA PHINNEY: Thank you, Norah!
There's something dangerous in my office. Take a look at this picture. Yes, it's cluttered. Yes, it looks like a very normal writer's office. But in actuality there's something very dangerous in it. No, I'm not talking about the fact that I write suspense, or the fact I like to murder a few characters every once in a while.
No I'm talking about that chair. The brown one, with the blue seat and the owl cushion. The one that just invites you to sit down on it, stretch your legs out and start talking to me.
That's where the murder comes in. So many times I have been deep in a story, running with an idea and surfing on the wave of momentum, only to have my dear husband wander in, plunk himself down in that chair, and say, "I want you to  Google something for me."
Slowly, I turn and look at him, lethally. "I'm busy."
"It'll only take a minute."
That's when the murder starts.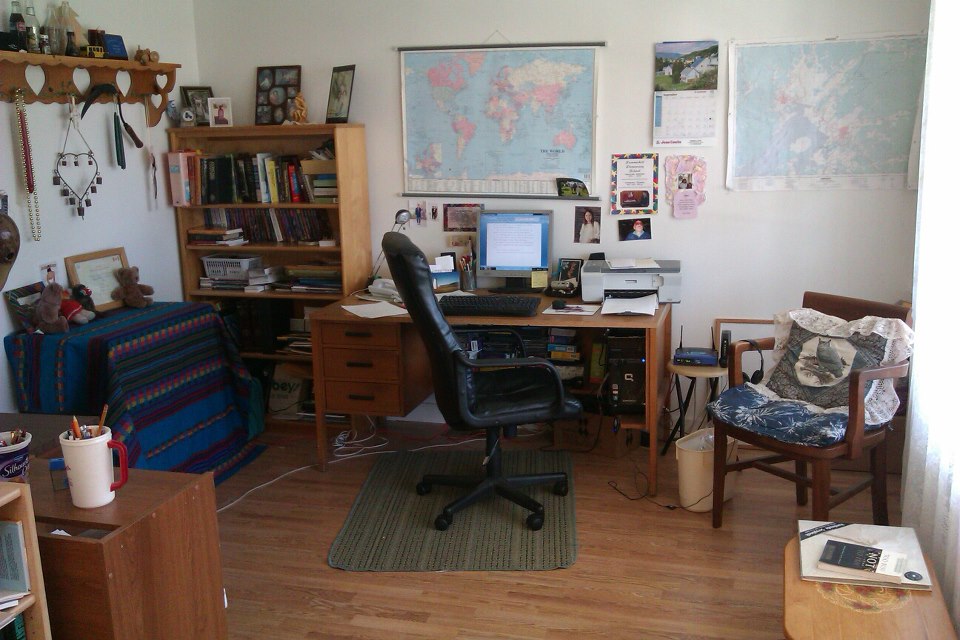 Now in reality, this man who so brazenly enters my office has his own computer as seen below.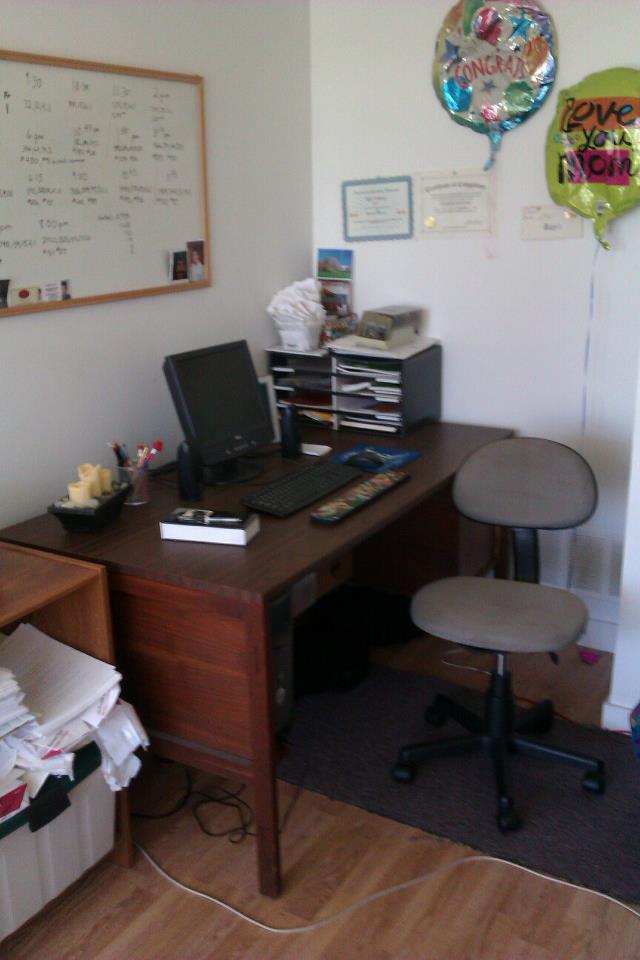 Take a look at that. Isn't that nice? A clean desk, a little water fountain and a brand-new notepad, even some fun little balloons I've received over the years. (Ignore the wire. I have a son who runs his Xbox from it.) What more could a husband, who doesn't go on the computer very much, want? (We all know it's my incredible generosity that allows him to have his own little corner of my office.)
So, no jury in the country would convict me of anything nasty when he has this nice little corner.
Moving on, I believe offices should reflect their users. They should be places filled with inspiring pictures, maps to dream over, knickknacks and collectibles that are precious only to that person, such as you see in this picture below.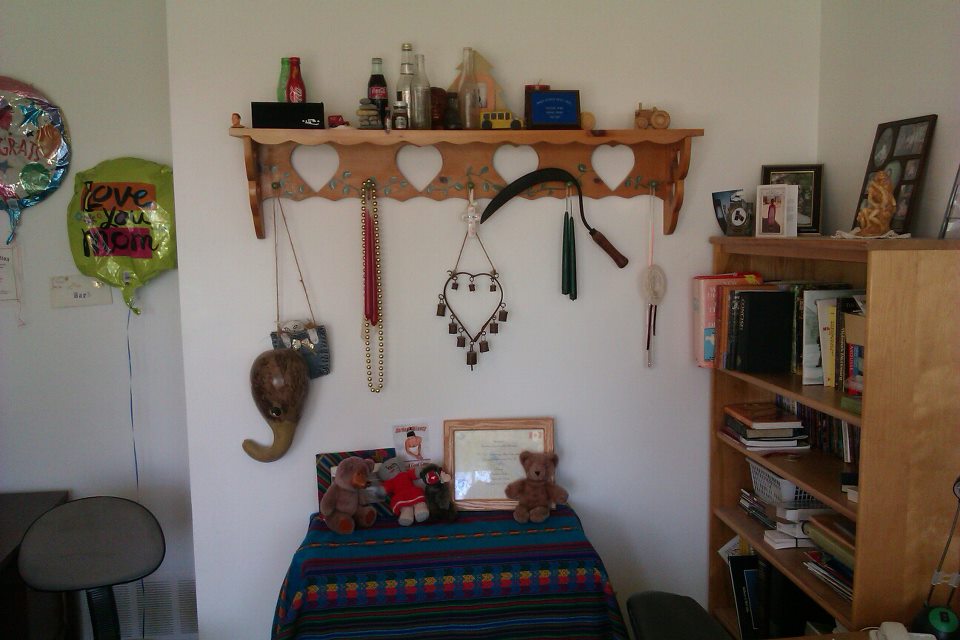 You'll find gift bells, empty and full bottles I've collected over the years, even the gourdhead birdhouse and childhood teddies. Under that Bolivian blanket is an ugly filing cabinet, frequented by my husband, hence his computer desk being so close to it.
There are very few things I would toss. Come to think of it, I would only dispose of that very dangerous chair but I won't. After all, suspense writers need little incentive now and then, don't they?
Barbara Phinney writes suspense, Christian (despite her murderous plots) romance and historicals, one of which is coming out in March, entitled Bound to the Warrior. She writes sci-fi and paranormal under the pen name of Georgina Lee, including a new Sherlock Holmes tale, Dead on her Feet.
You can find all of Barbara Phinney's books here:  Amazon | B&N
Georgina Lee's books are here:  Amazon | B&N
Her latest book is a fun and lively twist on the Sherlock Holmes novellas, found here.
Thank you, Barbara! That was such fun! I got such a kick out of you DH asking you to stop what you're doing to Google something, instead of going to his own work station. Because, you know, it would take TIME to fire up that other computer. HIS time. LOL! I think you're right — no jury would convict! Not if there were any authors on it.
Okay, it's comment time. And as an incentive, Barbara will give away a copy of her awesomely atmospheric romantic suspense, Hard Target, to one lucky winner, in the electronic format of their choice. So bring it with the comments!
Hard Target

Sgt. Dawna Atkinson has worked hard for her South American embassy posting. She'd also taken the blame for a shared indiscretion with her instructor, Tay Hastings. But when her embassy is bombed, she comes under the microscope all the more. Worse still, her unit sends Tay to search for any mistakes she's making.

Things go from bad to worse when a sniper tries to eliminate both Dawna and Tay within hours of Tay's arrival. As the investigation heats up, and danger lurks around every crowded corner, Dawna and Tay find their relationship is also heating up. And with a killer who can create bombs, use a sniper rifle, and poison the embassy staff, Dawna must set aside her hurt or risk many lives. And Tay must set aside the distrust deep within him.

What Dawna and Tay can't set aside is their growing attraction. And that may just get them both killed.
My run of awesome Montlake Romance authors continues! This week it is my pleasure to welcome Barbara Longley. Barbara writes contemporary and paranormal romance. Her latest Montlake book, a contemporary romance titled Far From Perfect, sounded so delicious, I snagged it for my Kindle. I hoped to have read it by now, but life sort of got in the way.   Welcome, Barbara!
Barbara Longley: First of all, I have to apologize because I'm a lousy photographer. I did try several shots, and this is the best. Sad. I know. This is where I work. I don't own a desk. I have a laptop and an ottoman. Everything I need is close by, including my reference books.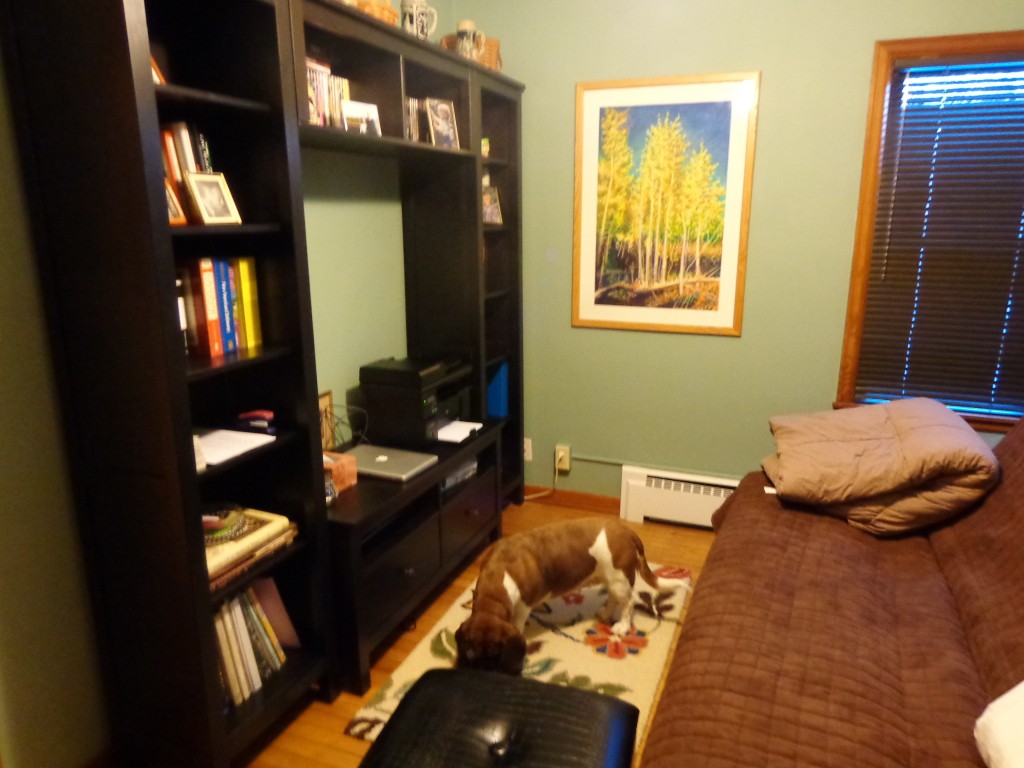 Having an office is a relatively recent development for me, and all of the furniture is new except the futon. Yep. My office does occasionally turn back into a guest bedroom, which is what it has  been since my two children flew the coop. Now that I'm writing under contract, and I have deadlines, I figured I'd better get more professional about my writing. It is really nice to have everything in once place. I feel so much more organized. I work a full time day job, so I really need to be organized. That's my challenge this year—learning to manage the demands of my day job with the demands of my writing career. I've made my deadlines for both, so I'm getting it down. I do run into the occasional wall of overwhelmedness, though. And that's when I take my little dog for a long walk, or watch a cheesy movie on the Hallmark channel.  
I've included a picture of my writing buddy, Sophie, a basset hound/cocker spaniel mix. If she's not snuggled up on the couch next to me, she's gazing up at me as I write. I also have a cat named Fred. He also likes to keep my lap warm, which is tricky when I'm trying to write.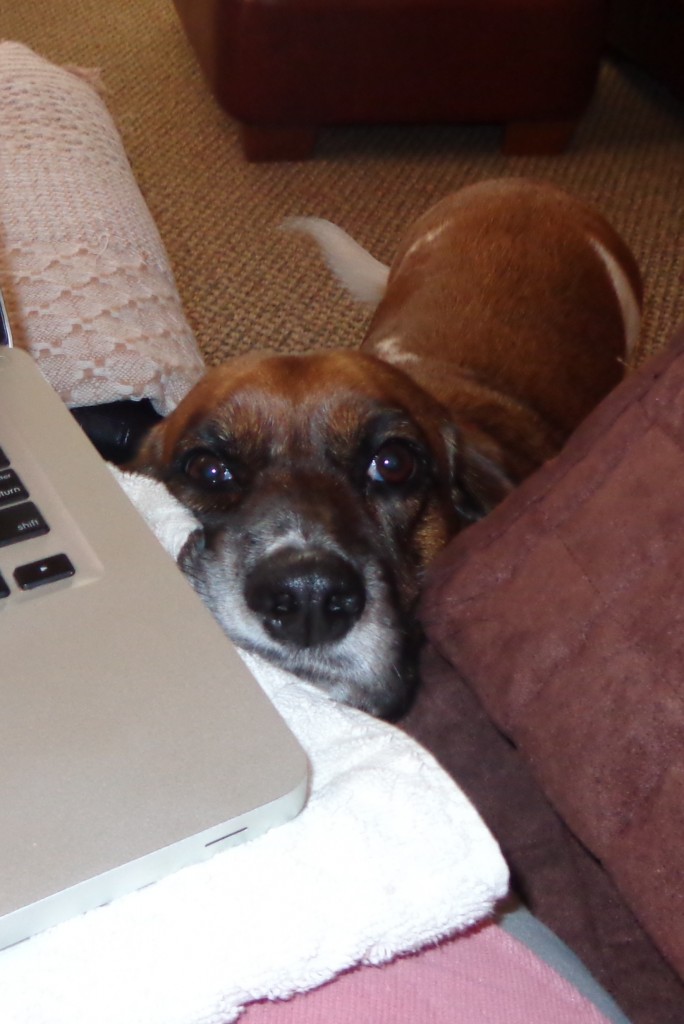 My October release with Montlake is a small town contemporary romance with military elements. Here's the blurb:
FAR FROM PERFECT  – Noah Langford narrowly survived the roadside bombing in Iraq that killed five of his men and took his leg, leaving him haunted by flashbacks and riddled with guilt. When his stepbrother Matt dies in a car accident, the loss feels like the final blow to Noah's shattered soul. But then he learns about the girlfriend and baby Matt abandoned years earlier, and suddenly Noah has a new mission… Ceejay Lovejoy was nineteen and pregnant when her boyfriend walked out, disappearing from her life just like her parents did. Since that day, Ceejay has devoted herself to giving her daughter a better life, avoiding any man who could threaten that security—until the day Noah Langford shows up on her doorstep. His gentle spirit has an unexpected effect on Ceejay's guarded heart, tempting her to take one last chance on love. But when a painful secret comes to light, it threatens to break the fragile bond growing between them…and to destroy a love powerful enough to heal them both.
The second book in the trilogy, THE DIFFERENCE A DAY MAKES, is coming out April 23rd.   Once lucky commenter will win a $10 gift card for Amazon, which will be delivered electronically. Thank you so much for stopping by.
Thank you, Barbara. That is one sweet dog. Sophie, I mean! The one on your cover is a different matter. That's a whole lotta dog! Can't wait to read the book. I love dogs in books.
Readers, you can learn more about Barbara at her website. You can also follow her on Twitter and friend her on Facebook.
Now, let the commenting begin!
I have the pleasure today of welcoming Coreene Callahan, a fellow Montlake author, to my blog for Workspace Wednesday. Coreene is one of the many people I hope to meet in person when I go to the RWA National conference in Atlanta this summer, after getting to know her on line. She's just so incredibly poised and charming and cute on any video interview she's ever done. And her books are awesome. (Hello? Dragons!)
Take it away, Coreene!
COREENE CALLAHAN: Hi Norah! Thanks so much for inviting me to visit your blog for Workplace Wednesday! It's a great topic, one I never would have thought to talk about, because…heck, I spend every day here. It never occurred to me that people might be curious about where I create alternative worlds and write about the characters that make my stories come alive.
You might be surprised to find out that my office is not only the smallest room in the house (a tiny 9 by 10 foot room), but also nestled under the curve of my basement stairs. Literally. I'm not kidding. It doesn't have a window. Isn't fancy or light-filled. It's only claim to fame is that houses the sump pump in one corner of the room and the water heater in the other (both hidden behind closet doors, thank goodness!).
Although, it doesn't sound like much, I love it here. Humble meets homey, it's like a beautifully appointed cave. And when I turn the corner into my office each morning, my imagination takes flight and stories come alive in the space.
I surround myself with the things I love. Books. Candles. Framed postcards that remind me of home. The picture behind my desk is a water scape. I grew up in a small town right on the water and spent a lot time on boats as a child. So the picture of the all boats in the harbor and pulled up on the beach is one of my favorites scenes.
I couldn't resist including a picture of Carmen. He's my parrot. All right, so he isn't real, but…hey, he keeps me company every day. And for that I am hopelessly devoted to him!
As you've probably guessed by now, my favorite color is turquoise. No matter the hue (bold and beautiful or soft and sophisticated) I surround myself with it. Maybe because it reminds me of the water and the place grew up. I'm not sure of the why exactly, but I can't get enough of it. No room feels right to me unless there is turquoise in it.
Here's the view I see every morning while sitting at my desk. As you can see, my love of all things dragons is never far. I have a myriad of books about dragons and dragon myth. The wooden dragon box was a gift from my publisher upon releasing my debut novel, Fury of Fire (Dragonfury series, book 1). And beyond the edge of my desk? My plotting board. Each colorful Post-it represents a character and each square on the grid a chapter in the book I'm currently working on. It's vague way to outline. One that affords me the luxury of allowing the story to evolve organically while giving me just enough direction to make sure I stay on track.
So there you have it…my humble, but pretty little office.
Thanks again for inviting me to be here today. I had a blast and hope you enjoyed a glimpse into my writing space. For more about the Dragonfury novels and Circle of Seven series, please visit my website www.CoreeneCallahan.com or visit me on my Facebook Author Page to keep up with all the latest news. I'm always glad to here from you!
Thanks for the tour, Coreene! Your space may be small, but it's fabulous! And clearly it is blessed by the muse!
In addition to the Facebook and website contacts, you can also follow Coreene on Twitter and on Goodreads.
Okay, Coreene has a great giveaway for us today. She has two prizes, so we'll award them to two different winners. They are: 1) a signed copy of Fury of Fire (Dragonfury Series, #1) and 2) a signed copy of Knight Awakened (Circle of Seven series). All you have to do to qualify for the draw is comment on this post. Say hey to Coreene. Let us know if you've read and loved one of her books, or just comment on her cozy writing space. Good luck to you all!
A clandestine race of half-dragon, half-humans known as dragon-shifters lives among us. Bastian, leader of the Nightfury dragon clan, is sworn to protect humankind at all costs. For him, honor and duty always come first. When the clan dictates he take a human mate to sire a son, he falters, aware that for a human to birth a dragon-shifter she must die. Myst, the woman given into his care, is the most extraordinary he's ever met, and though he can't bear the thought of harming her he is bound by duty.

Myst loves her life in the human world, but Bastian has captured her heart in an instant of electric connection. But Bastian and his warriors are in the middle of a deadly battle with the Razorback dragon-shifters, intent on killing every Nightfury clan member—and the humans they protect—the fate of their world and ours hangs in the balance.

An extraordinary blend of action, fantasy, and steamy romance, Fury of Fire brings to life a dangerous new world intertwined with the survival of humanity, all while exploring the meaning of honor and the nature of true love.

 _________________

In AD 1331, warlord Vladimir Barbu seizes control of Transylvania. But in spite of his bloody triumph, his claim to the throne remains out of reach. The king of Hungary opposes his rule, the Transylvanian people despise his brutal ways, and the high priestess needed to crown him has vanished without a trace. But Barbu hasn't come this far only to be thwarted by a woman. He unleashes his best hunters to track her down and bring her to him—dead or alive.

For Xavian Ramir, killing is the only life he has ever known. Torn from his family when he was a child, he was trained from an early age to be an elite assassin. But now he longs for something more, vowing to start anew after one last job. The bounty on his target's head is enough to set him up for good—if he can resist the long-dead conscience that stirs to life when he meets his beautiful mark.

Afina Lazar never wanted to become high priestess, but the brutal murders of her beloved mother and sister leave her no choice. Now she is running for her life, desperate to protect the magical amulet entrusted to her care. But when Barbu's assassin comes for her, she realizes her only chance of stopping the warlord's rise to power is to convince this enigmatic—and handsome—hunter that she is more valuable alive than dead.

Dramatic and fast-paced, Knight Awakened is a stirring love story between two people searching for a second chance in a magical world of assassins, warlords, unearthly beasts, and nonstop adventure.
I am honored to welcome Leigh Michaels on this edition of Workspace Wednesday. Leigh is the best-selling author of more than 100 books, including historical romance, contemporary romance, non-fiction about writing, and local history. A fellow Montlake Romance author, her new Montlake release is The Birthday Scandal, a historical set in the Regency period and featuring the intertwining romances of two sisters and a brother. She's also just released a self-published sweet contemporary romance, Return to Amberley.
Take it away, Leigh!
LEIGH: Thank you for inviting me to Workplace Wednesday, Norah. I've enjoyed (and envied) seeing all the various offices, and the photos have given me all kinds of ideas for whenever I get around to working on mine again. My working space has gone through a whole lot of changes in the 29 years since I was first published, so I've had a bit of a trip down memory lane!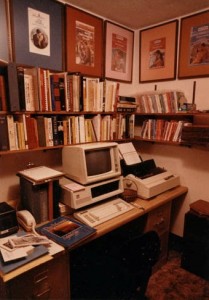 In 1988, my office was located in the smallest bedroom of our American Foursquare house – a space that was hardly big enough for a twin bed and a dresser. Here's a photo I saved for nostalgia's sake – and also to prove that yes, I really did write more than a dozen books in this room. That's an IBM PC with a 10-megabyte hard drive and a 14-inch green-screen monitor – and believe me, that was a big step up from my first computer! Off to the right is the state-of-the-art printer which tapped out each letter with a rotating ball, just like those old electric typewriters. I'd start a chapter printing and have to leave the room because of the echo.
The photos at ceiling level are the covers of my first few Harlequin Romances and Presents, and the two shelves at the right of the photo hold what I grandly called the Collected Works – one copy of each edition.
My office was right at the top of the stairs, so all the household sounds resonated and I was much too easy to find. If I closed the door so I could concentrate, I soon ran out of oxygen. 🙂
Those are only some of the reasons that we moved into a new house not long after the photo was taken.
This is my office today.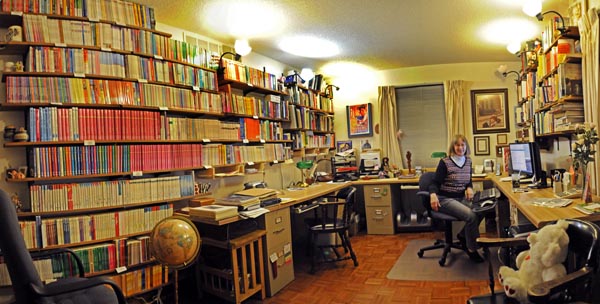 The Collected Works (one copy of each of the editions of my 83 romance novels and 20 non-fiction books) now occupy the shelves at left – that's 62 feet of bookshelves, if you're counting. The framed photos have moved to the hallway which leads to my office, where they're limited to one cover from each language – though we had to stop doing even that when we ran out of wall. A few years ago my husband and I ripped up the carpet and laid the parquet floor. (That's the sort of job which makes you eager go to back to writing.) And as time has gone on, I've added the extra filing cabinets and counters so I can spread out with my various projects.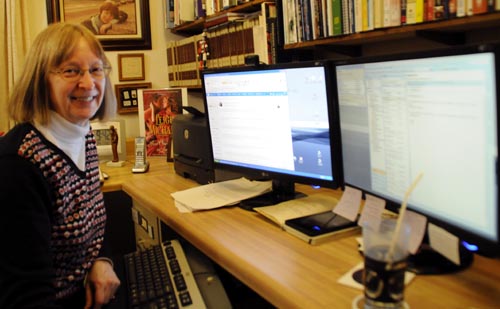 I now rely on dual 24-inch monitors and a laser printer. I think some of those same reference books are still hanging around, though.
Because I also teach (at Gotham Writers Workshop where I offer online classes in romance writing) and I edit books for our small publishing firm (PBL Limited which specializes in local history books and niche-market non-fiction), I use every inch of the practical desk space. Those piles on the counter are non-fiction book projects and source material, waiting to come together so they're ready to publish.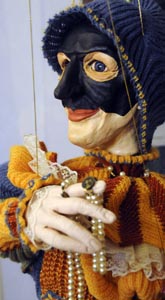 Though I've moved on from my original publisher – as well as switching from contemporary romance to historical, and from sweet stories to spicy ones – I'm grateful to Harlequin Books for a lengthy and rewarding career. That's why the one-of-a-kind Harlequin marionette is still a prized feature in my office. He watches over me as I work.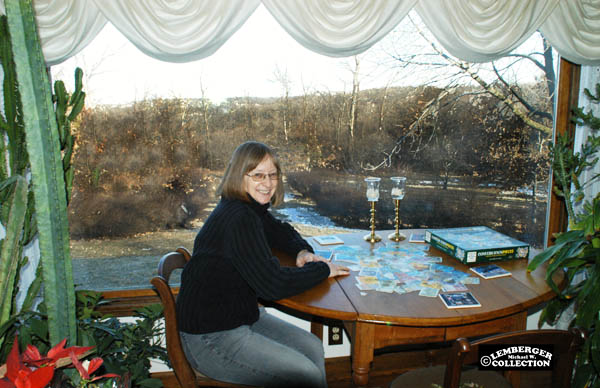 I haven't included a photo of my sitting room, where I leave my laptop set up – it's another book-lined room, and I retreat there when I need to fall into a story and not be bothered by phone calls or email. I do better at knocking out words when it's not so easy to page back to edit and fix and continually revise – and that's made much less tempting when I'm working on a smaller screen.
Sometimes I write in other spots – like the bay window in my living room, where I can watch the white-tailed deer and wild turkeys wandering across the acre of back yard that we refer to as The Garden of Weedin'.
Thanks go to my husband, photographer Michael W. Lemberger, for providing all the photos.
The Birthday Scandal – The wealthy Duke of Weybridge knows that everyone loves a good surprise…and a good scandal. He has bounteous amounts of both for the guests—particularly for his nieces and nephew, Emily, Isabel, and Lucien—at his extravagant seventieth birthday ball. They think his promise to improve their lives means a generous stipend. But he's got different gifts in mind: finding them the perfect matches. His task won't be easy, because the Arden siblings have given up on love.

Bachelor Lucien spends more time merrymaking than looking for a proper wife. His sister Emily, broken-hearted when her betrothal ended in disgrace, committed herself to an early spinsterhood. And Isabel's marriage has been troubled from the moment it began—with a terrible betrayal on her wedding night.

Though witty and strong-willed, the siblings are no match for their uncle's wily machinations. And as the celebration approaches, his romantic scheming ignites illicit liaisons and irresistible temptations, sparking enough rumors to keep the ton abuzz until his next birthday.

Return to Amberley – When her girlhood crush blossomed into marriage, Andie believed in a rosy future with the man of her dreams – until Todd's betrayal sent her from the beauty of Minnesota's winters to Atlanta to begin anew. But just a few months later, Todd walks back into Andie's life – asking for her help. The stone quarry they jointly inherited is for sale, and a good price would secure the future for both of them, paying Andie's tuition and buying freedom for Todd to concentrate on his sculpture. They need to sell now, but the prospective buyer believes he can pick up the quarry at a discount while Todd and Andie fight through a divorce. Todd wants Andie to rejoin him at the family home, Amberley, and put a false face on their failing marriage to convince the buyer and sell the quarry. But is Andie risking her heart if she returns to Amberley?
To learn more about Leigh, you can check her out here:
Thank you for that tour, Leigh! I loved the shot of your old office. I can remember learning to use my first computer which had a whopping 10 mg hard drive. I felt so sophisticated when I graduated to one with a 40 mg drive. LOL!
Okay, folks, Leigh has a nice giveaway for us today. She  is offering an autographed copy of the ARC of The Birthday Scandal or a print copy of Return to Amberley, reader's choice. All you need do is leave us a comment. I'm anticipating there might be a few about the 62 running feet of bookshelves. Holy cow!
I'm very happy to welcome fellow-Noodler (aka RWA Golden Heart® finalist, class of 2003) Lee McKenzie. Lee is a fellow Canadian and a truly strong and fascinating woman. She lives with her artist/teacher husband on an island in the Pacific Northwest, and writes smart, wonderful, heartwarming stories for Harlequin American. Lee has lots of pictures for us, so let's get right to it!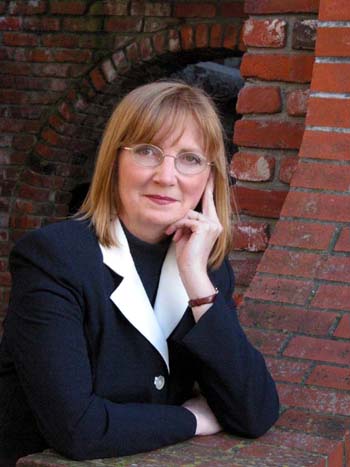 Thank you, Norah, for hosting me on Workspace Wednesday, and welcome everyone to my office. Yes, I tidied up for you. I always tidy up before guests arrive, and you are no exception. When I'm on deadline or busy with other things, my space tends to get a bit disorganized. Okay, a lot. But every once in a while I need to spend a day getting reorganized because the mess drives me crazy.
My office hasn't always looked like this, but I'm too embarrassed to show the "before" photos. Trust me, though, it was bad, because five years ago I had surgery for recurrent melanoma followed by a year of chemo. Pretty much everything, including writing, was put on hold. My office became a dumping ground for all the stuff I didn't have time and energy to deal with, and that was made worse by towering floor-to-ceiling shelves, overstuffed filing cabinets, boxes of junk and…well, I'm sure you get the picture.
Last year it was still an overwhelming mess, so I bit the bullet and hired Chaos to Calm, a home organizing company owned by sisters Jess and Jen. And let me tell you, those two gals are worth their weight in gold.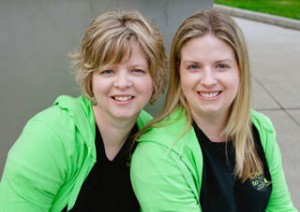 And here's what my office looks like now.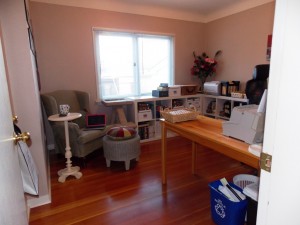 The too-tall shelves that overwhelmed the space…and me…have been replaced by nice low ones. It turns out that I'm a piler, not a filer, but I don't like piles so I've opted for labelled storage boxes instead.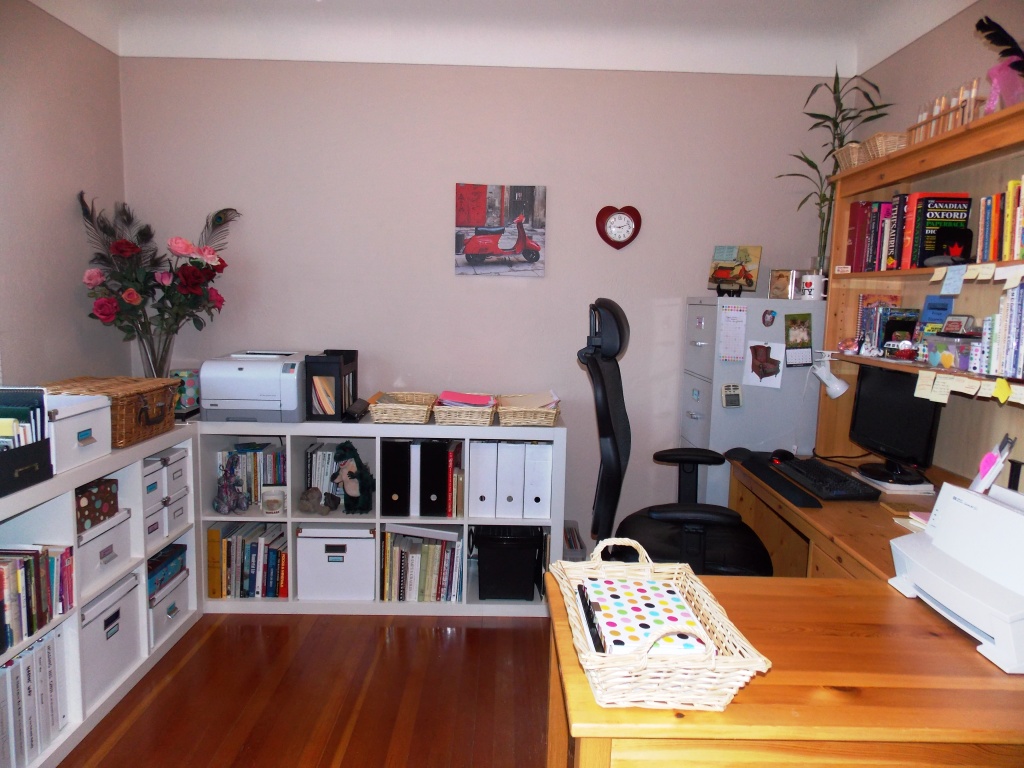 Organizing my office and trying to keep it tidy lets me enjoy the things that are really special to me. My two RWA chapters authors give a silk rose every time they sell a book, and I love my bouquet! Yes, those are dinosaurs on one of the shelves, and the red Vespa in the print on the wall is just like the one the heroine in The Wedding Bargain rode.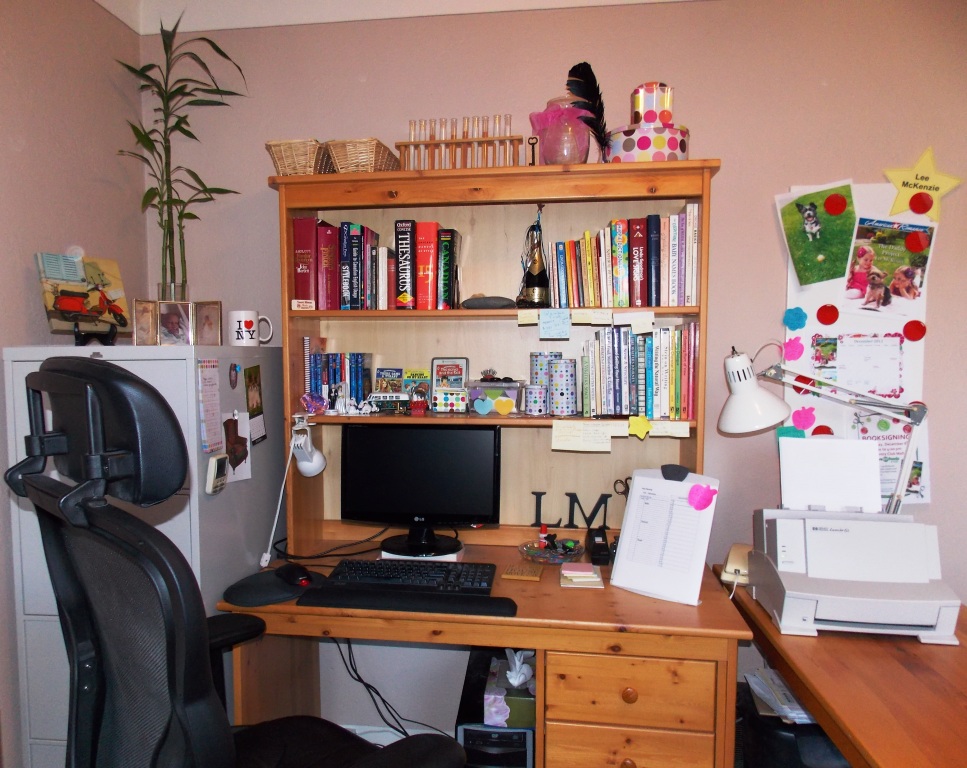 I don't write at this desk but I do use the computer for email, printing manuscripts, etc. This is also a handy place to keep other special mementos, like the little (now empty!) bottle of bubbly on the top shelf. I bought it the day I got "the call."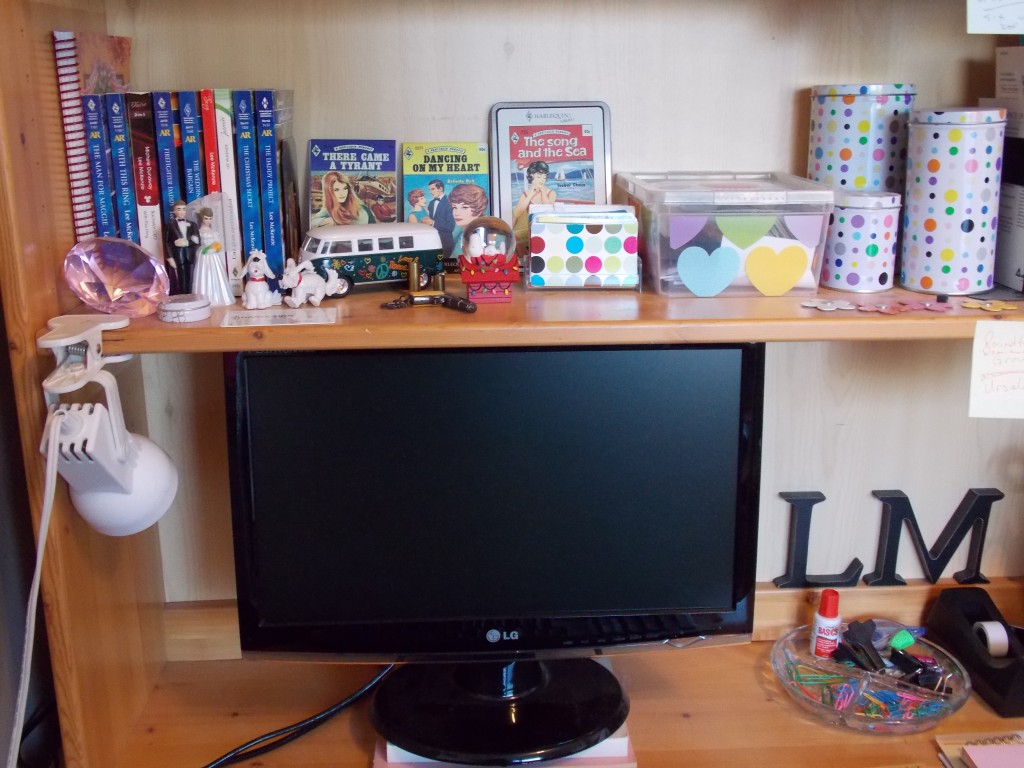 This desk is also home to my "inspiration shelf" where I keep copies of my books and other little odds and ends that tie in to the stories I've written. And of course there are polka dots. I love polka dots!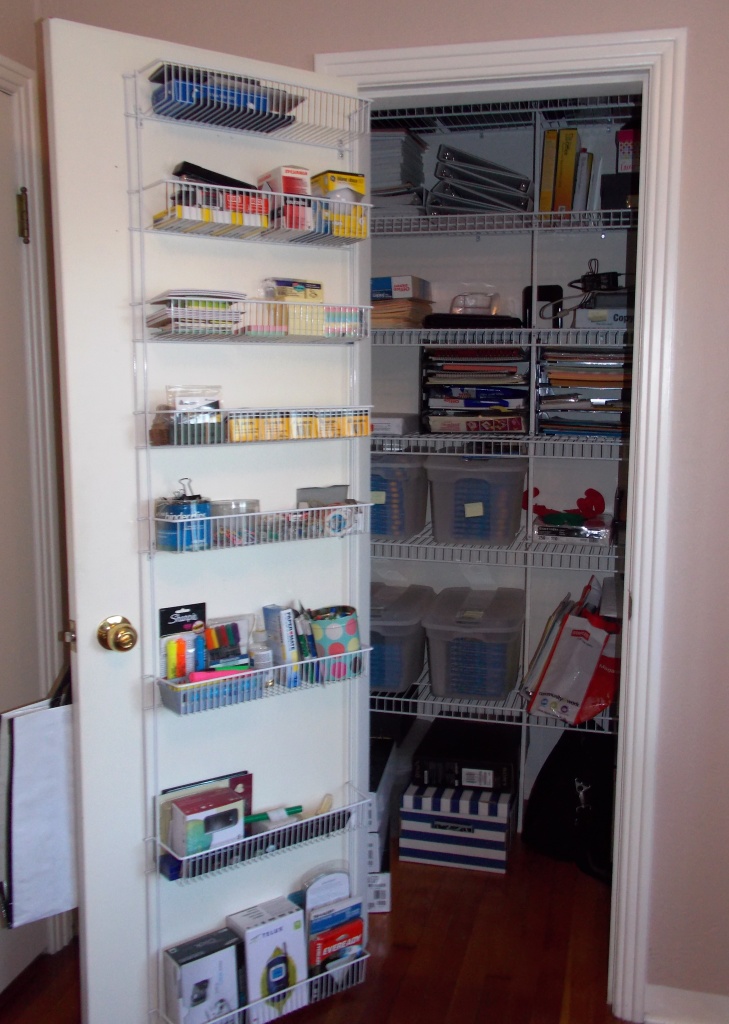 My office used to be a bedroom, so I have the luxury of a generously sized storage closet.  A very handy place to store office supplies and bins of author copies.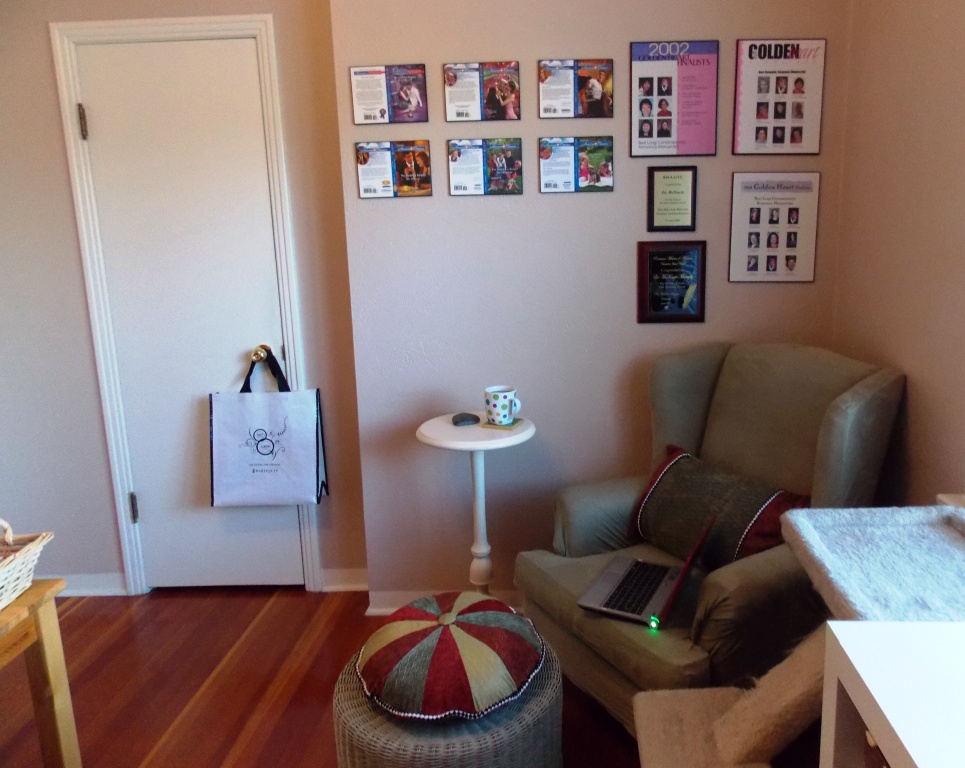 My writing corner is my favorite part of the room, and as you can see by the scratching post, I share it with my two cats. All of my writing is done on my laptop, and the armchair makes a nice cozy writing space.
My inspiration was this green Harlequin Wing Chair from McKenzie-Childs.
Sadly, it didn't fit in my budget…and trust me, I crunched the numbers!
So I created my own.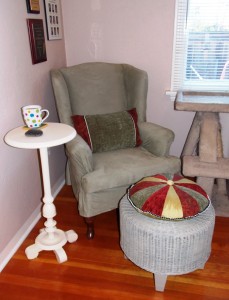 The old wingback chair was given to me and I slip-covered it in a nice, calming sage green. The ottoman and side table were thrift-store finds, and I made the cushions (McCall's 4410) from fabric remnants. It can't compete with my dream chair, but it works, and at a fraction of the cost.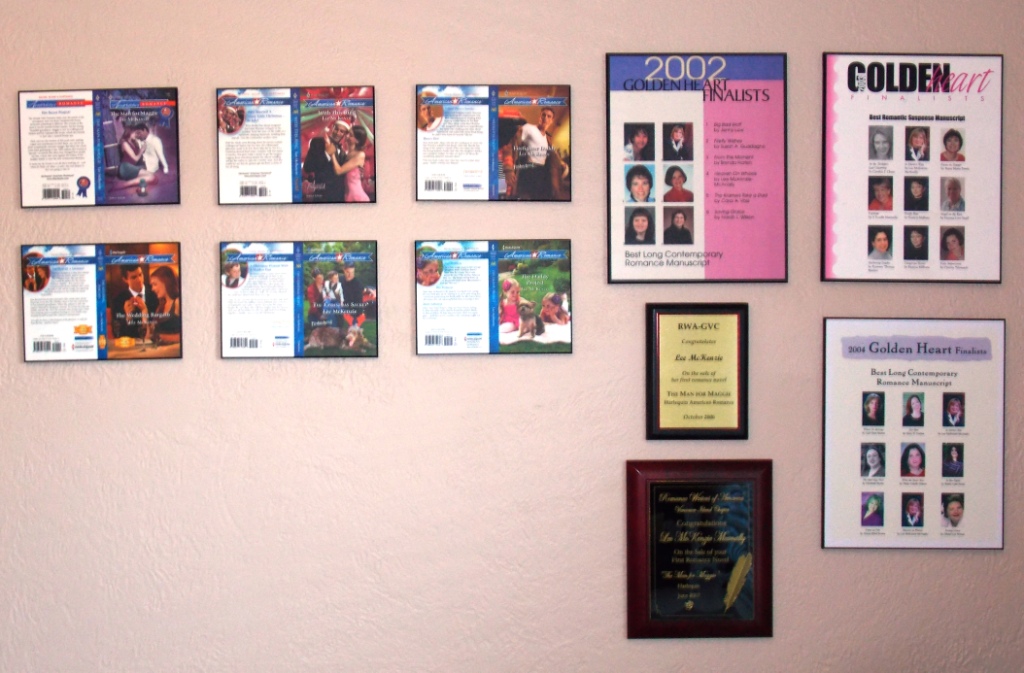 On the wall next to my writing chair I've created my own little "wall of fame." My book covers and posters from the three years when I was a Golden Heart finalist are block-mounted, and I've also added the "first sale" plaques presented to me by my two RWA chapters. Yes, I know this makes me look like a total egomaniac! But I'm usually the only person who sees it, and it inspires me.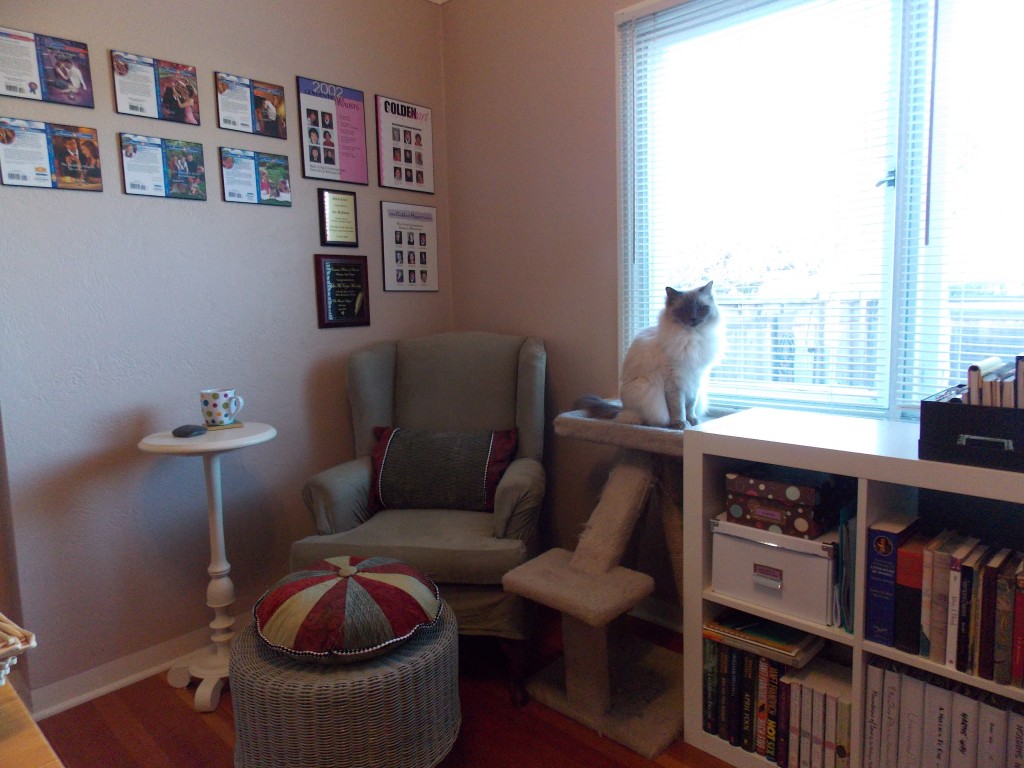 Thank you so much for stopping by to visit my workspace, which, I'm happy to say, is now a lovely place to work. I'm not sure where my other cat is, but Lucy and I hope you enjoyed the tour.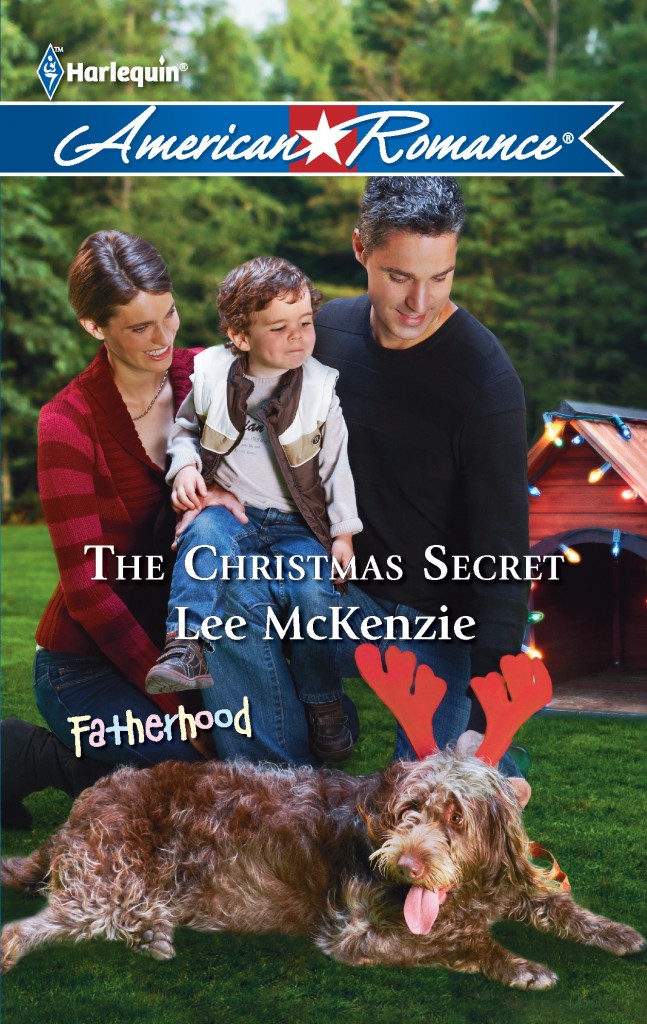 Today I'm giving away a signed copy of the first book in my Seattle-set Ready Set Sold series about three women who run a real estate business that renovates, stages and sells homes. Samantha, the company's carpenter and all-round handywoman, is the heroine in The Christmas Secret (Harlequin American Romance, November 2011).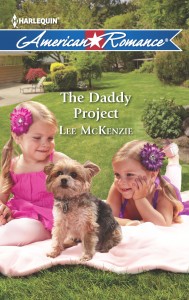 The Daddy Project is Kristi's story. She's the company's interior decorator, and this book is on shelves now!
Claire is the company's Realtor and her story, Daddy, Unexpectedly, is a May 2013 release and now available for pre-order.
I'm thrilled that Maggie's Way (Harlequin Heartwarming) will also be out in May 2013.
Leave a comment to be eligible for win a copy of The Christmas Secret, a secret baby story with a twist. And for a little extra incentive, if you go to my website and sign up for my monthly eNewsletter, your name will be entered twice!
Thank you, Norah! Merry Christmas to you all, and happy reading!
Thank you, Lee! That was an awesome tour. And as always, you are an inspiration!
If you'd like to read more about Lee, she's actually interviewed today at Get Lost in a Story.
But before you go, don't forget to leave a comment for your chance to win a signed copy of The Christmas Secret.
Some days, I can't help but think I have the best job in the world, and not just because I get to make up stories! I also get to meet some very cool people. One of those awesome people is Vanessa Kelly. I got to know Vanessa when I was invited to join Rock*It Reads, of which she is a founding member. I can't tell you how much respect and affection I have developed for her in the short time I've been with RIR. Take it away, Vanessa!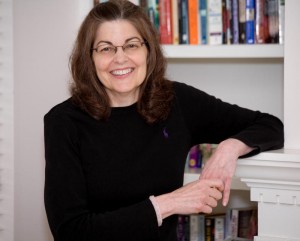 Hi, Norah!  Thanks so much for having me on Workspace Wednesday.  The first thing I did, naturally, was go on and look at some of the swell spaces you've highlighted.  Gave me some great organizing ideas!  For me, organization is critical because I work out of two offices.  Most of the year I live in a condo in Ottawa with my hubby, but I'm lucky enough to spend the winter in Florida, in a bungalow on a small but very beautiful lake.
Not surprisingly, my Ottawa office is the best supplied and holds most of my books and writing resources, because that's where I spend most of the year.  Here's a picture of the custom-designed bookcase for all my research books and materials.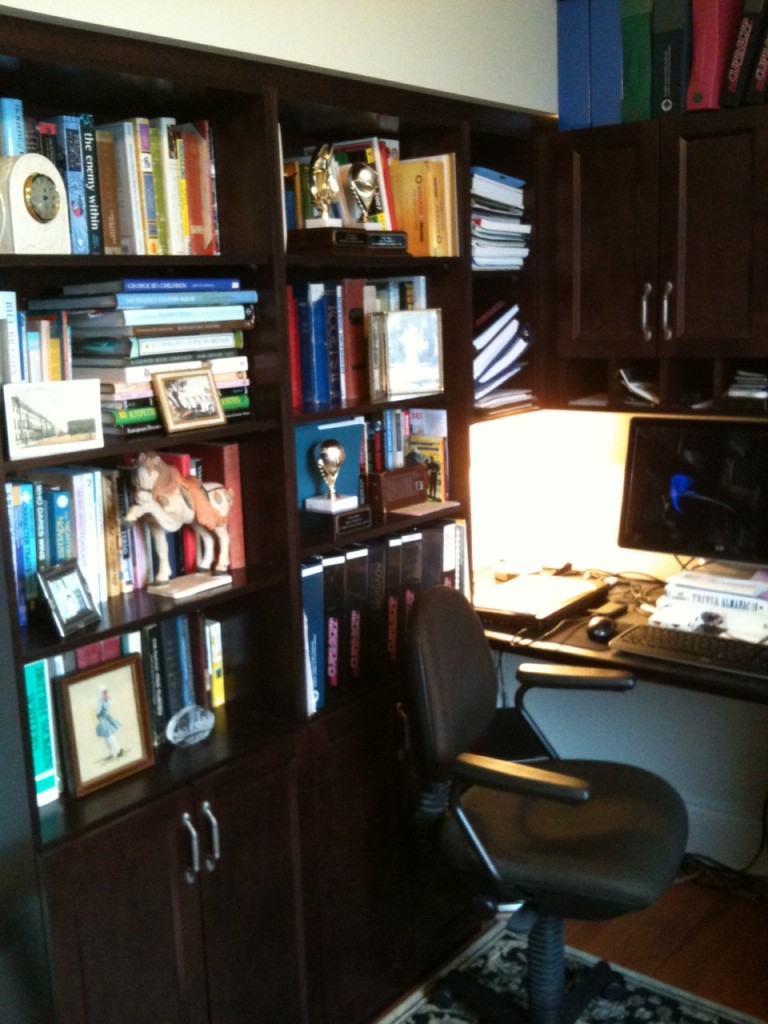 The desk that you see in that photo, however, is not mine.  It's my husband Randy's workspace.  He's my co-writer for my VK Sykes contemporary romance books.  If you want to see how closely we work together, check out this picture.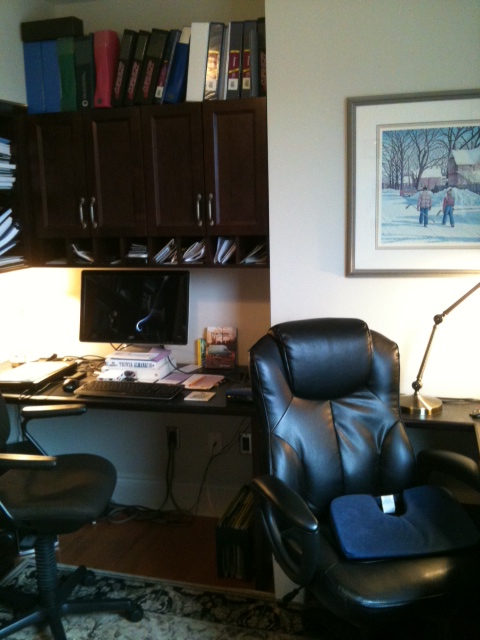 That's my desk chair on the right.  Pretty darn close, I'd say!  In fact, we bump into each other on a regular basis.  Because we live in a condo with limited space, we had to put a lot of time into thinking about how the office would work.  Now here's a picture of my desk.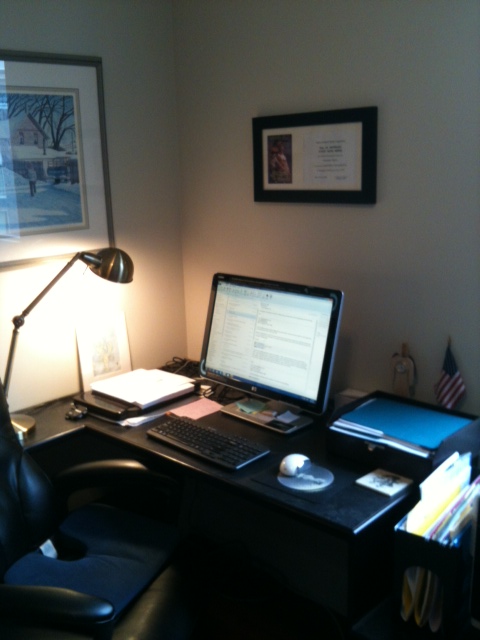 Notice the Obus form cushion on my chair—like many writers, my back can often give me problems, so a really good chair and good posture is essential.  But on bad back days I usually move out to a big leather armchair in the living room.  I plop my Alphasmart on my little lap desk and write away.  It's a good break from sitting at the desk and often seems to fuel my creativity.  It's amazing how changing one's environment, even just a little bit, can help the muse break out of her box.
Here's the final picture from my Ottawa office, showing more of our custom built cabinets and bookshelves.  I've also got some awards posted on the wall, and you can also see that this corner is where I stack author copies, manuscripts, and other supplies I need within reach.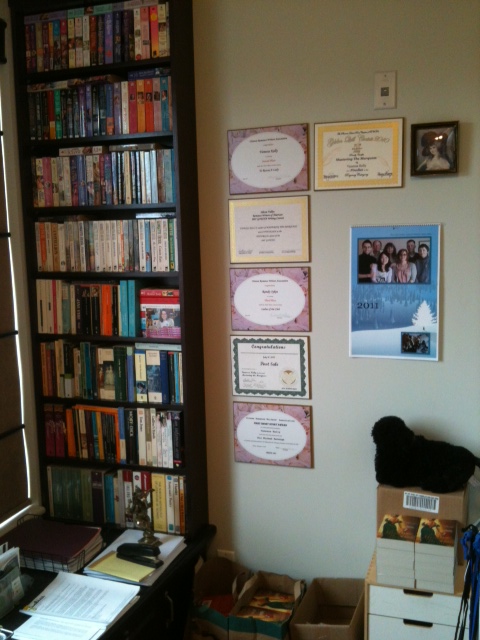 As you can see, my Ottawa office is pretty tight but I think it's well designed and very functional.  As much as I love spending winters in Florida, I do miss my office while we're gone.  But Florida has its compensations too, starting with this view out my back door.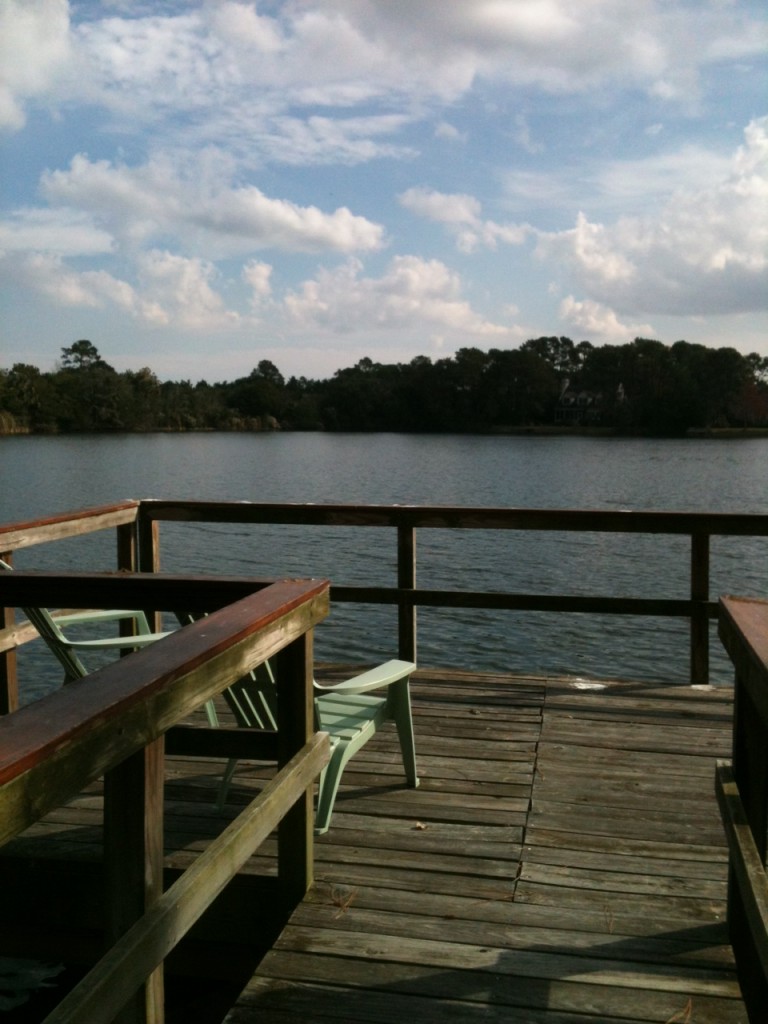 The real advantage of my Florida office space is that I have more room to spread out, which is kind of funny because I don't have nearly as much stuff here as I do in Ottawa.  But it's still a pleasure to have the extra space.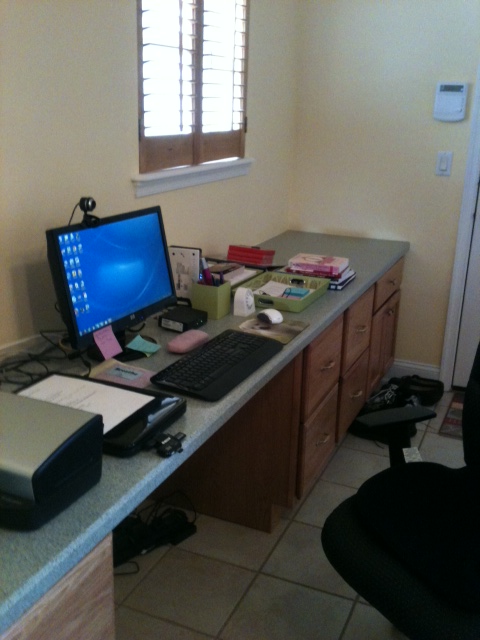 Notice the swell built-in drawers and cabinets from the previous owner of the house.  That is a very handy feature for someone who has a lot of crap to organize!
Here's a close up of my workspace.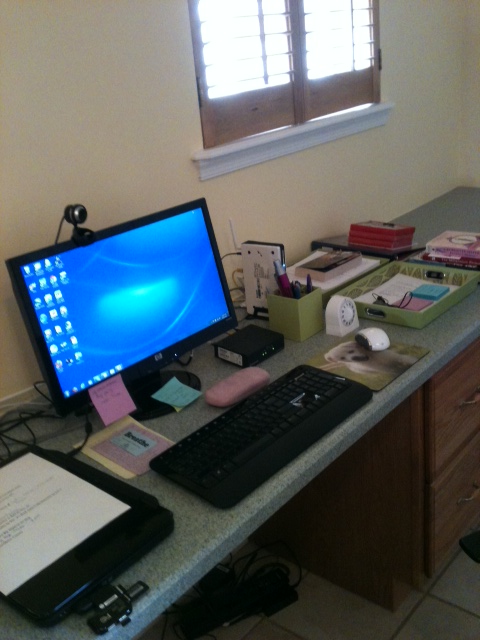 See that white kitchen timer by my keyboard?  I set that at fifteen minute intervals to remind myself to get up and walk around.  Bad back, remember?
One of the things I also appreciate about my Florida office is where it's located—the kitchen.  I love being in the kitchen.  It's warm and cozy, and it only takes a second to get up and make myself a cup of tea and coffee.  Of course, it also means I'm way too close to all the food and the fridge, so I have to exercise some much-needed restraint.
And, no, I'm not going to post a picture of my kitchen, because I still haven't done the breakfast dishes!
Vanessa Kelly was named by Booklist, the review journal of the American Library Association, as one of the "New Stars of Historical Romance."  Her Regency-set historical romances have been nominated for awards in a number of contests, and her second book, Sex and The Single Earl, won the prestigious Maggie Medallion for Best Historical Romance.  Vanessa also writes contemporary romance with her husband under the name of V.K. Sykes.  You can find her on the web at www.vanessakellyauthor.com or at www.vksykes.com.
Thank you, Vanessa. That was awesome. And I'm so jealous! I'd like to try to write on that dock. 🙂
If you want to know more about Vanessa, visit her at one of these sites:
Check out her current books: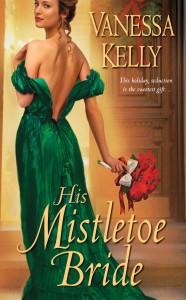 His Mistletoe Bride
When Major Lucas Stanton inherited his earldom, he never dreamed his property would include the previous earl's granddaughter. Phoebe Linville is a sparkling American beauty, yes, but with a talent for getting into trouble. Witness the compromising position that forced them into wedlock. Whisked away to Mistletoe Manor, his country estate, it isn't long before she is challenging his rules—and surprising him in and out of bed…
Phoebe has no intention of bowing to Lucas's stubbornness even though he offers all that she wants. His kisses and unexpected warmth are enticing, but Phoebe is determined to show the Earl of Merritt what real love is all about. And if that takes twelve nights of delicious seduction by a roaring fire, she's more than willing to reveal her gifts very slowly…
Buy links:  Amazon  Barnes & Noble  Books A Million
Bigger Than Beckham, by VK Sykes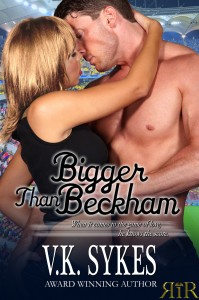 Sports journalist Martha Winston loves her career, but her life goes sideways when she inherits a pro soccer team from her father.  The team is almost bankrupt and on the skids, but Martha has vowed to save her beloved father's legacy.  But she needs to get a financial infusion fast, or else lose the team to the wolves baying at her door.
Former British soccer hero Tony Branch wants to add Martha's team to his growing sports empire.  But he wants it strictly on his terms—full control, not a partnership.   When Martha turns him down flat, he's determined to change her mind by any means necessary.  If that includes using the sexual heat flaring between them, Tony is more than willing to play a game of seduction.
Buy links:  Kindle  Nook  Kobo  Smashwords
Okay, that brings us to the fun stuff – the giveaway! Leave a comment for Vanessa for a chance to win one of two prizes. She'll be giving away a signed copy of His Mistletoe Bride to one winner, and an ebook copy of Bigger than Beckham to another.