I am completely honored to have as my guest today Pamela Clare. Pamela is both an award-winning journalist and a Rita-nominated author. These days, she writes romantic fiction full time, shifting effortlessly – or so it appears! – between her fabulous Colonial historicals and her thrilling contemporary romantic suspenses (I-Team novels). But whatever genre she's writing in, you can count on a powerful, sensual, gritty story that will put her characters through the wringer to earn their happily ever after, leaving you sighing as you close the book. Tissues are often required, which for me is pretty remarkable. As a writer reading the work of other writers, consciousness of craft can get in the way of the experience. Too often I think, "Wow, that was really well done! I could almost cry." But when I live through Pamela's characters' big black moments, I flat out cry.
With that introduction, I give you Pamela Clare.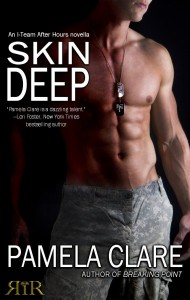 Pamela:  When I first started writing fiction, my desk was tucked away in my bedroom. I didn't get much time to write — I was newly divorced and had two boys ages 9 and 6 — so that small space, just a nook in a little apartment, worked just fine. My little Mac Centris fit perfectly, and my boxes of index cards, which held the results of my research sat off to the side.
By the time I finished that book (7 years later), revised it (1 year), found an agent and got it published (9 months), I was living in a house. I had no real office space, but I turned the kitchen table into a make-shift office. It felt like there were always four people at dinner—me, my two boys, and my computer.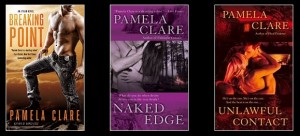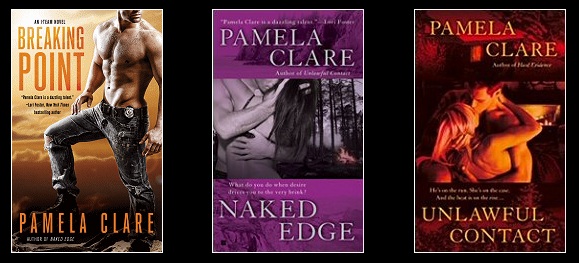 But that didn't work for long. I needed a filing cabinet for my growing body of research, as well as for contracts, and I had begun having difficulty sitting that included a strange numbness in my legs. So I did something radical.
I got rid of my living room furniture and took over that space as an office. I added bookshelves, supply shelves, a filing cabinet, inspiring art, a real desk, and a new computer. Then I went shopping for what I thought was the most important piece of office furniture — my office chair.
I've been through probably five chairs now—a $300 office chair, two zero-grav recliners, a ball, and the enormous adjustable $1,300 ergonomic chair I have now. And none of them helped. In fact, the problem grew worse, with excruciating leg pain that woke me up and made my life unbearable.
It turns out that the numbness in my legs, which I feel for some reason more when I sit, wasn't caused by the placement of my posterior or the surface upon which it sat, but rather a badly impinged cervical spine brought about by a broken neck, the result of an accident. It had degenerated over many long years to the point where my spine was completely compressed.
After having spinal surgery to remove two vertebrae and replace them with implants in 2010, the horrible pain in my legs is largely gone, and I sleep at night again. However, the numbness isn't. I have almost no normal feeling in my lower legs, and I still find sitting very uncomfortable. I go back and forth from my desk to a recliner, elevating my legs as often as I can. My neurologist has no idea why sitting provokes the neuropathy, but it does.
Moral of that story? An author's true work space is her mind/body. Anything that interferes with the functioning of her mind/body — pain, illness, stress, lack of sleep, addiction, fear — is going to make it harder to write. So taking care of one's body is paramount when one is an author.
But here in this photo of my office, you can see my desk, which has a number of personal keepsakes and good-luck charms on it. The baskets and shelves to the left of my desk hold mailing supplies — I do a lot of mailing — and the built-in filing cabinet, together with the new cabinet I got from my parents, hold my manuscripts, contracts, royalty statements, and so on.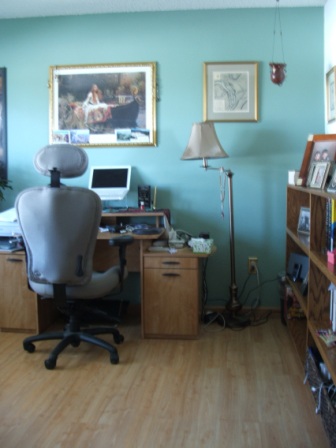 On the walls you can see my Lady of Shalott print by John William Waterhouse, a favorite. To the right of that, is a historic map of Fort Edward and Rogers Island, featured in my MacKinnon's Rangers series. To the far left on the wall perpendicular to that one, is a map of the Lake George-Lake Champlain area, also featured in the MacKinnon's Rangers series. I bought both at the Rogers Island Visitor Center on Rogers Island, which I call Ranger Island in the book. So they're almost artifacts in a way and very special to me.
Speaking of MacKinnon's Rangers, I've got two rosaries, one made of plain wood for Morgan and one of pearl and crystal for Amalie, hanging from the lamp. I held them or wrapped them around my wrist while I was writing Untamed.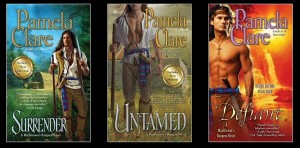 The big bookshelves were a gift from my parents. Behind them, you can see a motley collection of things that are significant to me, including the bright blue RITA finalist flag for Surrender. On that ledge I also have my National Journalism Award, sand from my recent trip to San Diego in an enamel box and from the bottom of Lake George (the large pill bottle), a vial of dirt from Rogers Island, and a dried out ear of corn from one of my many trips to the Navajo reservation.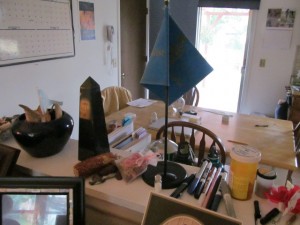 The top shelf holds my old dictionary, along with family photos. The group of shelves on the left holds my books, including the foreign translations of my titles, while the shelves to the right hold all the books I've purchased over the years for research, along with sweet gifts from readers. As you can see, the shelves are crammed!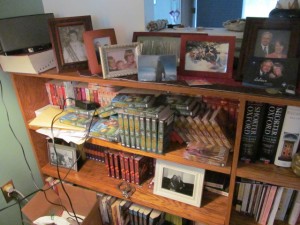 In the winter, I often take my laptop downstairs and write in front of my fireplace, where I the crackling of the wood makes for a very cozy, writerly feeling.  
Thanks for taking this little tour with me!  
Thank you for being here, Pamela! That was awesome.
Here are some places where you can learn more about Pamela or interact with her:
Pamela Author Page on Facebook
Her newest release is Defiant, the final MacKinnon brother in the MacKinnon's Ranger series. And yes, it was amazing! You can find it at Amazon, B&N, or pretty much anywhere books are sold.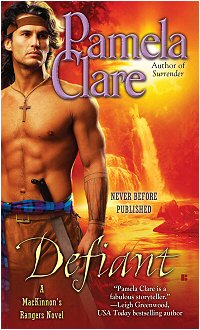 Okay, it's your turn. What did you think of Pamela's office? What's your favorite element? Or just post to say hi to Pamela (she has the BEST fans!).
And here's the thing – posting a comment will get you in on the draw to win a signed print copy of the MacKinnon's Ranger trilogy! We have a second prize, too – a coupon for the free download of an electronic copy of Skin Deep (a novella in the I-Team series).