Posts Tagged 'Elisabeth Naughton'
The authors of Rock*It Reads – of which I am one! – would like to wish you a Merry Christmas … and show you a few of the RIR books we have to offer you. Please check out our video Christmas card below.

Authors you love. Stories that rock.
I'm loving Wednesdays more and more! Today it's my privilege and pleasure to have as my Workspace Wednesday guest the lovely and talented Elisabeth Naughton. I've never met Elisabeth in person, but I've gotten to know her a bit from our cyber-paths crossing. Her online persona is just as warm, lovely and gracious as you might guess from her photo.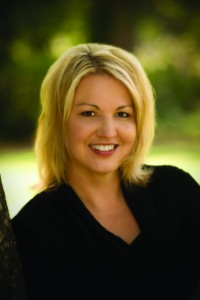 Okay, over to Elisabeth.
ELISABETH: I guess you could say I'm more concerned with how productive I am when I write than where I write.  Over the years I've discovered two things about my productivity: 1) I can't work on a desktop. I need a laptop to be productive, and 2) I can edit just about anywhere, but when it comes to new writing, I can only be productive somewhere soft.
Below is a picture of my desk. Gorgeous, huh? I love it. Love how it's built into a bay window, love the natural light from the window and the view. Unfortunately, it's not soft. Which means I can do just about everything here—answer emails, do promo, even edit—but I can't write here. Since I've developed neck issues from hunching over my laptop, my doctor (who is a D.O.) and I go around and around about this. But alas…gorgeous desk space, zero writing.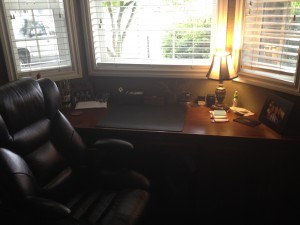 To the right is my bookshelf. Built-ins are awesome. We originally had this office designed for my hubby but I've since taken it over. I have lots of great places for my books, for my research materials, and plenty of storage space for all those office supplies so they're tucked away from view. And when I'm working in here (on promo or marketing or mail-outs or emails or general office work), I'm highly productive. But again…no writing gets done here.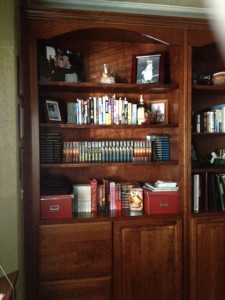 Where do I write then? Here, of course: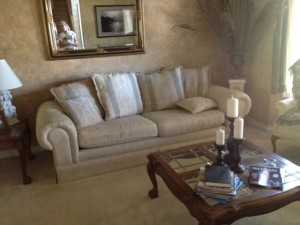 Yep, that's my living room. I usually sit cross-legged on the couch with my laptop on my lap. Hence, the neck issues as I hunch over. If I can't be productive in the living room, then I move here (yes, I'm nomadic):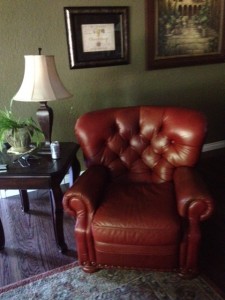 This is my Lazy Boy recliner in our great room. I can only really work here when the house is silent, otherwise people are around me watching TV and generally just being noisy. (Notice the can of Diet Coke on the end table. Can't write without that either.)
But, because I have three Gremlins (er, kids), if they're in the house, I usually have to leave, which means searching for a coffeehouse that has…yep, you guessed it…couches or comfy chairs. Easier said than done. I think I've been to every coffeehouse in my area and have found only a couple spots that will work. But because I like to get up and down when writing and can't sit for long periods of time, these aren't always great solutions either. There's also the issue of food. Why do coffeehouses ONLY serve pastries and coffee?
At the moment, I can't wait until Panera Bread opens near my house in January. I'm hoping that will become my new office. Comfy chairs, wifi, QUIET, and yummy food. We'll see how long it lasts.
If ONLY I could write at my desk!
Bio
A former junior high science teacher, Bestselling Author Elisabeth Naughton traded in her red pen and test tube set for a laptop and research books. She now writes sexy romantic adventures and hot paranormal novels full time from her home in western Oregon where she lives with her husband and three children. Her work has been nominated for numerous awards, including the prestigious RITA awards by Romance Writers of America, the Australian Romance Reader Awards, the Golden Leaf and the Golden Heart. When not writing, Elisabeth can be found running, hanging out at the ballpark, or dreaming up new and exciting adventures. Visit her on the web at www.ElisabethNaughton.com.
Thank you for that tour, Elisabeth. And oh my, I do love that red chair! But I totally fell in love with that desk in the bay window. I think I could make it work for me! LOL.
Okay, before we get to the giveaways (yes, plural!), I just want to put a plug in for Elisabeth's wonderful books.
I so need to read her Eternal Guardians series from the beginning. Here's the tagline for ENSLAVED (#5), the cover for which appears below:
GRYPHON—Honorable, loyal, dependable…tainted. He was the ultimate warrior before imprisonment in the Underworld changed him in ways he can't ignore.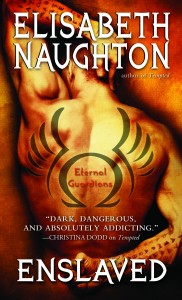 Prefer a Gladiator? All I had to read from the blurb for SLAVE TO PASSION (Firebrand #2) when it released last week was "Kill them all…", and I clicked that One Click button. I have a feeling I'm going to be picturing the amazing  and much-missed Andy Whitfield as I read this one.
Okay, we promised a giveaway. Elisabeth is offering two prizes: FIRST PRIZE – an Advance Reading Copy of ENSLAVED,  which releases on November 6, 2012; and SECOND PRIZE – an ebook copy of SLAVE TO PASSION, Book 2 in Firebrand series, which is newly released.
For a chance to win, all you have to do is comment. Tell me what you liked best about Elisabeth's workspace. Tell us your best advice for laptop-induced neck pain. Tell us what you love about Elisabeth and/or her stories. I will use Random.Org to generate the winners from the comments received.