I'm delighted to welcome fellow Canadian Cindy Procter-King to Workspace Wednesday. Cindy is a dynamo and one of those personalities you gravitate to. I could write a lovely bio telling you how funny she is, but I think posting this little excerpt from her website bio will tell you more than I possibly could!
A Kindle Contemporary Romance bestseller and Romance Writers of America Golden Heart® nominee, Cindy's mission in life is to see her surname spelled properly—with an E. So take heed. That's P-r-o-c-t-E-r. Not, no, never, under any flippin' circumstances should you spell it with two O's. Cindy lives in Canada with her husband, their two amazing sons, a tortoiseshell cat obsessed with dripping tap water, and Allie McBeagle.
Welcome, Cindy!
CINDY PROCTER-KING: Thanks to Norah for welcoming me to her blog! I'm excited to be here.
I love my office. It's a huge space, a 10×14 room that used to be our bedroom. Even so, I've managed to fill it up!
We live in a circa-1960 house, and the location of my office has changed three times over the 22 years since we moved in. I searched for a photo of the bedroom before we renovated to show you what my office used to look like, but I accidentally gave birth a week after we moved in (the baby came 6 weeks early) so I didn't get around to taking pictures of the interior. I was too busy corralling a 2-year-old and our huge dog at the time, a Malamute, and unpacking boxes, and then caring for a newborn preemie.
That's my excuse, and I think it's decent.
While my children were little, my "office" was a corner of the living room. My husband gave me a roll-top desk for our first anniversary, and it sat in one corner of the living room. The computer desk sat in the opposite corner. I have always had two desks because I use the computer to draft but the roll-top to hand-edit and revise. When our oldest child turned 13, we put on an addition, which meant there were two empty bedrooms for a couple of years. I moved my office into one of the old bedrooms, but it was very crowded and super-hot. My ankles would swell in there (this was before we had air-conditioning).
A couple of years after the major addition of two bedrooms and a bathroom for the kids, we remodeled the "master wing," creating one bedroom out of the two kids' rooms, turning the tiny bathroom into an en suite bathroom for the new master bedroom, changing the old hallway to the bathroom into a walk-in closet, and the icing on the cake—turning our old master bedroom into my office!! First, I'll show you a photo of what the office looks like now, and then I'm going to tell a little story….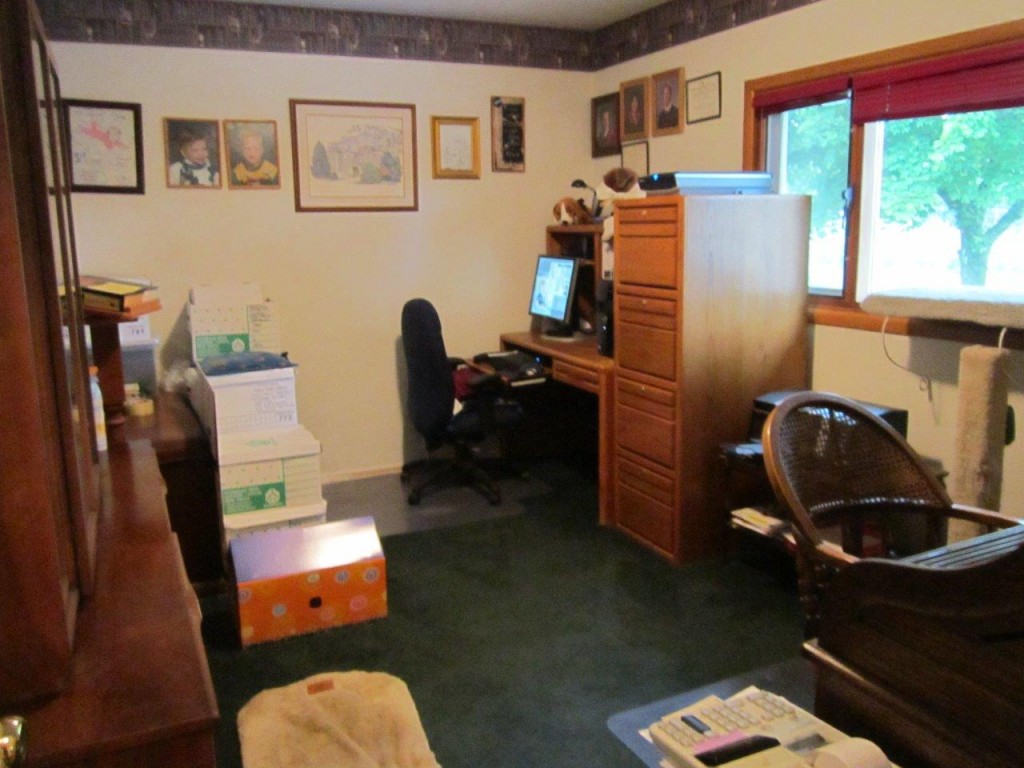 You can see the computer desk in one corner, my roll-top desk in the lower right, and a view outside the window (which looks onto an orchard). I took this picture a few months ago after thoroughly cleaning the house, so you'll have to excuse me if it looks a little tidy…aside from the numerous file boxes stacked up near the far wall.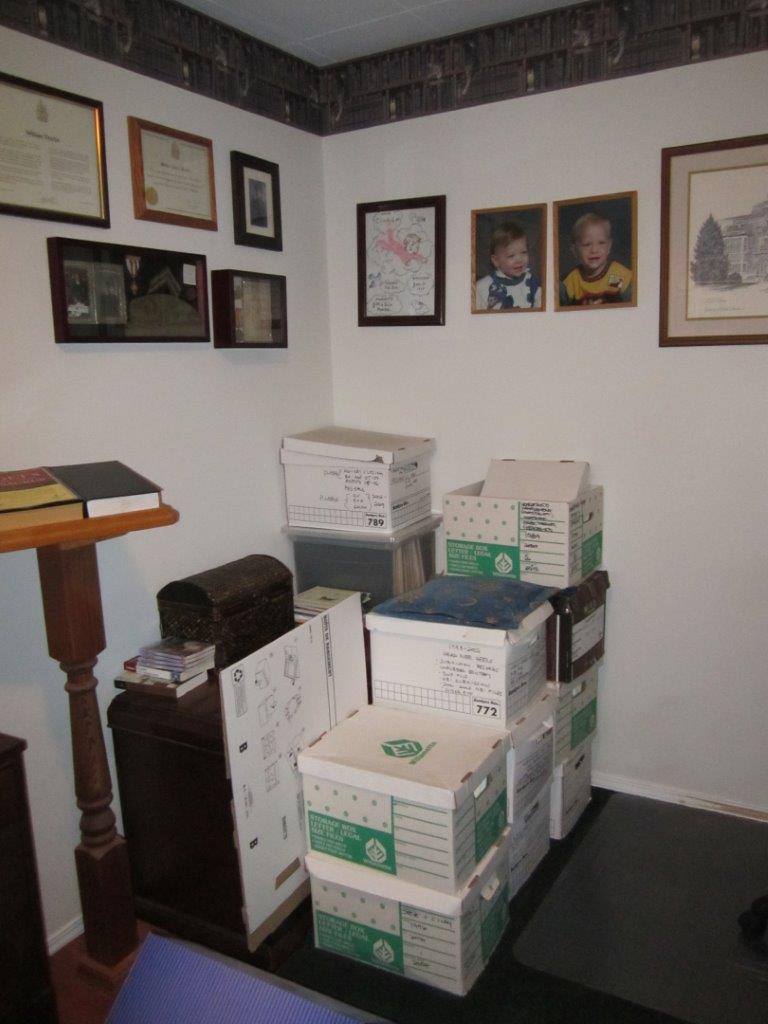 This isn't my promised story; this is a sideline explanation of the file boxes. Two years ago, I needed to find a file box in the crawlspace, and I discovered all these other file boxes that needed to be sorted and shredded. There were originally 11 boxes. I shredded two before the shredder died. There are now 7 files boxes remaining. I went through two more at Xmas. At this rate, I'll be finished my sorting/shredding in 2019. Oh, well.
Behind the file boxes is a memory trunk that my husband gave me for a milestone birthday. You can see a dictionary and a thesaurus (which I rarely use now thanks to website dictionaries) on a stand that he built me one Christmas. The framed certificates and shadow boxes are in honor of my grandfather, who lived to 106 and was the last British Columbian to have served Canada in The Great War (he was the third last Great War vet to die in Canada overall). Pictures of my sons (now adults) are also on the walls. I love being surrounded by memories of family as I craft my novels.
Here's my roll-top desk, where I do my editing and revising by hand (and a bunch of "biz of writing" stuff):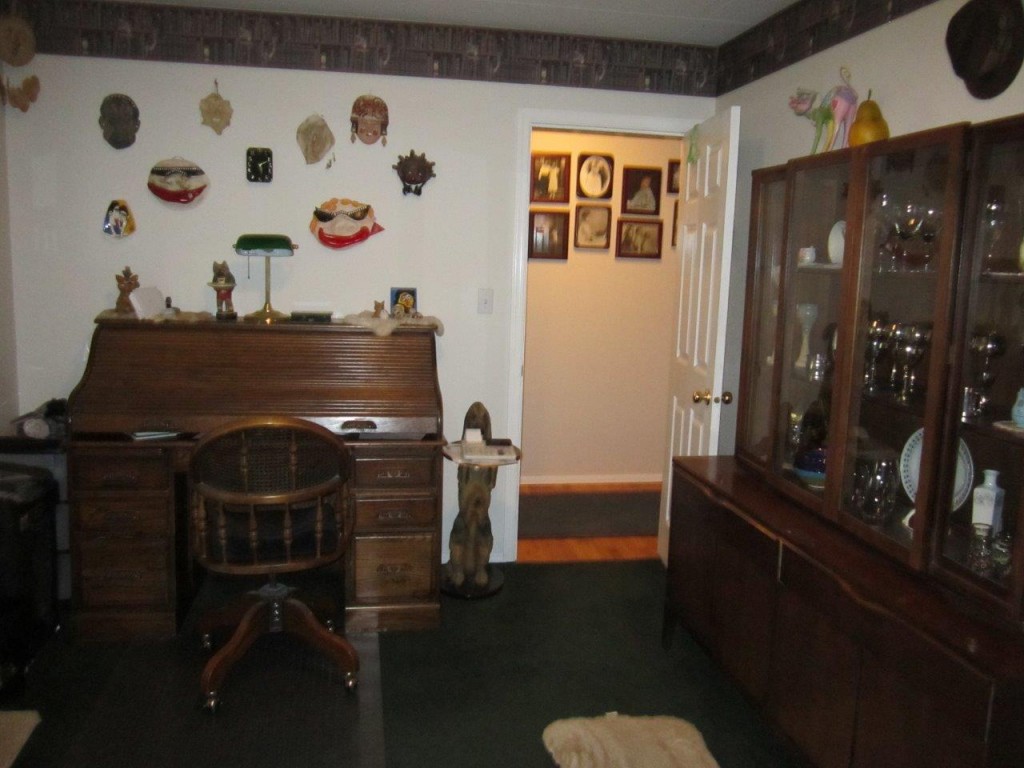 I collect face masks, and the china cabinet to the right belonged to my grandmother. This china cabinet remained in my office until recently, when we rearranged the living room and could finally put it close to the 'dining table' (which is in the country kitchen). Now, in place of the china cabinet, is my husband's grandmother's buffet. I don't have a picture of that right now, because we are in the midst of getting some repainting done.
My roll-top looks very tidy with the cover down. In reality, it usually looks more like this (but messier – I did some cleaning and filing while the painter was here last week):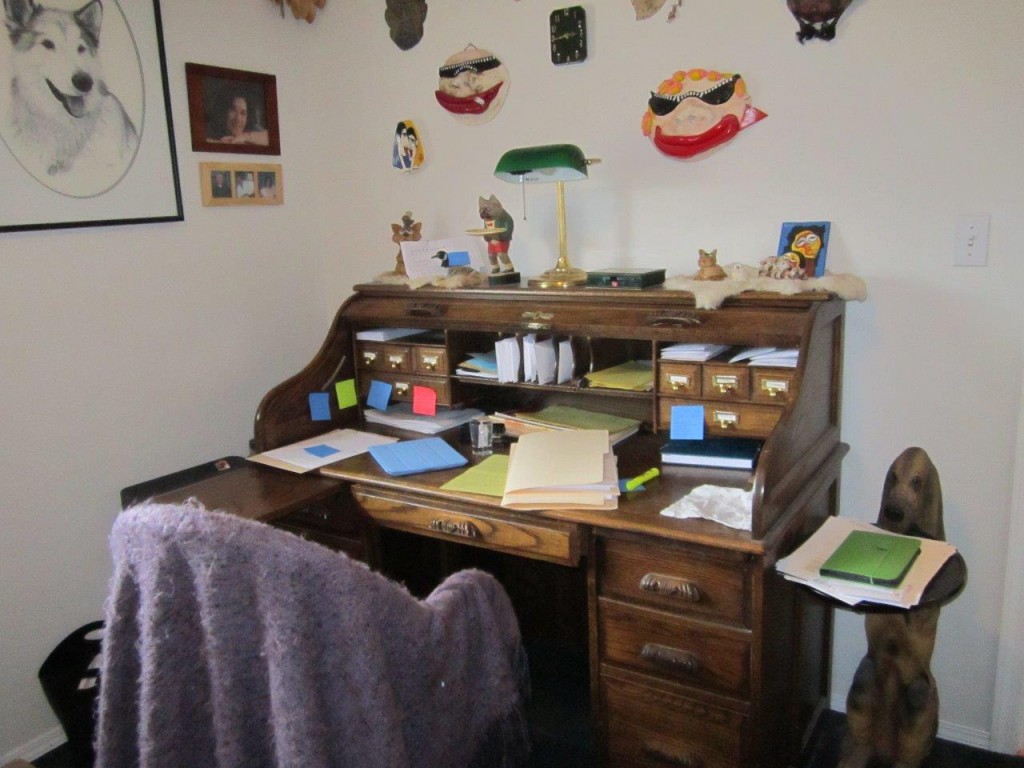 All those sticky notes are my to-do lists. Hawthorne (the dog statue) holds my mail. The blanket is for cold March days. The drawing of the dog is our old (dead) Malamute. We now have a beagle and a cat, but neither would move off the bed in the other room to cooperate with photographs.
As you can see, the walls are drywall now. When we first moved into the house, the then-bedroom had a lino floor and pine on the walls. When we took the pictures off the walls ten years later during our first set of renovations, the pine behind the pictures had faded to the point that we had to take off all the pine. Underneath was ugly stuff with ridges in it that I call wallboard. So we decided to remove the wallboard and put up drywall in this room. Now, here comes the story I mentioned earlier. The big surprise was that we discovered, on those old wallboards, dozens, and I mean dozens, of hearts with the initials of the old couple from whom we'd bought the house over a decade earlier. When we bought, they were moving because she had Alzheimer's and he could not keep up the massive yard without her help. We think he put up the pine paneling to help sell the place because it looked very new when we moved in. However, first this kindhearted gentleman drew his love for his wife all over their bedroom walls! That were then our bedroom walls.
Ever since we moved into the house, I had felt a ("woo-woo") sort of presence. I usually felt it in the old hallway. The wife had passed away shortly after they moved. I don't know if I was sensing her or something else, but when we discovered the dozens of hearts drawn all over the walls (I must have taken a picture but I've looked and can't find it), I felt like it was her presence or their love somehow remaining in our house…in our master bedroom, which is now my office and where I write about undying love. The last time I felt her presence, after the wallboard was off and only studs remained, I thanked her for allowing us to raise our family in her house. I have not felt the presence since.
We have done more renovations over the years, and every time we do we put something in the walls or ceilings for someone else to find in the future, just like we found the hearts. There are Batman figurines in the hallway walls from my sons, and a ping-pong table used for sub-floor under where our dining table currently resides. I could go on, but you get the idea.
And that's my office!
Have you ever done renovations and discovered "gifts" or "memories" from the previous occupants?
She never wants to go home again.

For Jess Morgan, Destiny Falls holds too many painful memories. Nine years ago, a logging accident near the remote timber town killed her dad and her high school sweetheart. To make matters worse, her mother quickly sought comfort with another man. That choice tore Jess apart and drove her to seek a life far away. But now fate steps in, and family obligations force her return home. Before long, she's convinced that persuading her mom to live with her in Toronto will repair their shattered bond. However, she doesn't count on a long-ago friend re-entering her life and challenging her convictions.

Rugged forester Adam Wright believes in family, roots, and not running from heartache. Now, all he wants is to help Jess break down the walls of the lonely sanctuary she's built for herself and heal her past hurts. It's not until she rejects his plans for their future that he realizes his persistence has pushed her away—not at all what he intended.

Has he lost his chance? Or can he convince Jess that where she truly belongs is with him…forever?

 

One tiny lie can cause a whole lot of trouble…

Magee Sinclair has had it up to her sassy short hairdo with the recent blunders pushing her family's advertising agency to the brink. How can she accept the promotion her father plans when she keeps making costly mistakes? She needs to bring in more business however she can. So when new client Justin Kane asks her to role-play as his girlfriend for a weekend in exchange for a lucrative campaign, she jumps at the chance.

Justin's goal to expand his chain of bike stores hinges on a distribution deal with a manufacturer. First, he needs to impress the man at a mountain resort while they bike trails with their significant others. But Justin's girlfriend dumps him, forcing him to find a quick replacement. Magee—pretty, clever, and a skilled cyclist—is the perfect choice to masquerade as his "lover."

Or so Justin thinks.

Because Magee is in major trouble. She knows no more about mountain biking than Justin does about demi-bras. Before long, an irate ex pops up, fake identities abound, and a whole lot of doors slam in the middle of the night. Yet, through the chaos, Magee and Justin discover what it really means to fall head over heels….
Thanks for that great tour, Cindy. I loved your story about the hidden hearts. I can well imagine the wonderful echo that room must retain! 
Okay, folks, Cindy is giving away two prizes:
An electronic copy of her book

Where She Belongs

(MOBI format); and
An electronic copy of her book

Head Over Heels

(MOBI or EPUB format).
All you have to do to qualify is comment below, answering Cindy's question. I'm going to love reading these answers! I know I've seen some interesting things that came out of old walls!
Some days I just have to marvel at what a great job I have. I get to create stories for a living! And if that's not enough, I also get to talk to lots of wonderful authors and persuade them to open up their homes to us so we can peer around their work spaces. Today's guest is Roxy Boroughs, a fellow Canadian whom I "met" through social media. Some people just shine in that milieu for the genuine, smart and likable people they are. Roxy is one of those people. I am also a fan of her books. But it wasn't until I researched her bio for this introduction that I realized she is also an accomplished actress! In addition to her appearances on stage and in commercials, she also appeared in the beloved Canadian-produced Degrassi Junior High. I'm so impressed!
Okay, Roxy, over to you!
ROXY BOROUGHS:  Thanks so much, Norah, for inviting me to share my workspace. It's in the second bedroom of the condo I share with my husband. Since the walls are a coffee color, I picked off-white furniture, to brighten things up.
Like many writers, I have a lot of books. And my husband is a university professor, so he has a lot of books. Together, we have a TON of books. We also like movies and music, and own quite a few CDs. I'll often put on a movie soundtrack when I'm writing to set the mood.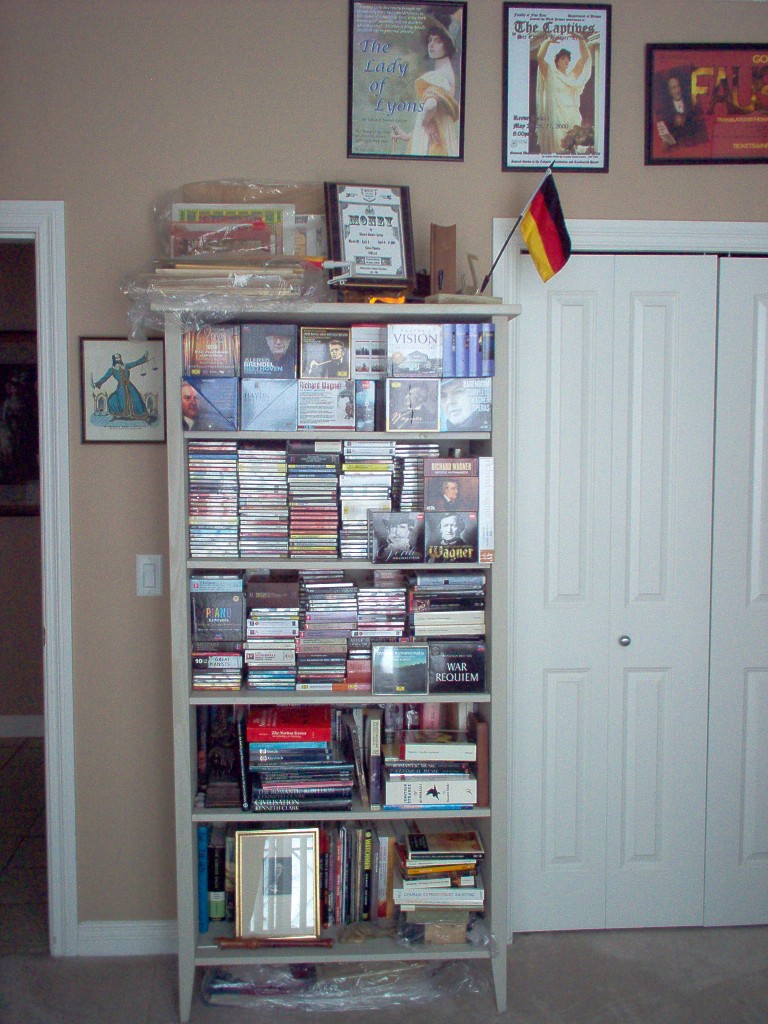 I store DVDs in the closet to the right, along with my scrapbooking materials. You might be able to spy some operas by Richard Wagner on the bookshelf to your left. Those are my husband's. We went to Seattle a few years ago to see Wagner's Ring Cycle and I became a convert. Hubby jokes to his students that, after 30-odd years together, I finally understand what he's talking about.
Above the door are some posters for shows my husband has directed. We met at theater school when we were struggling actors. Now he teaches and I write—both novels and plays.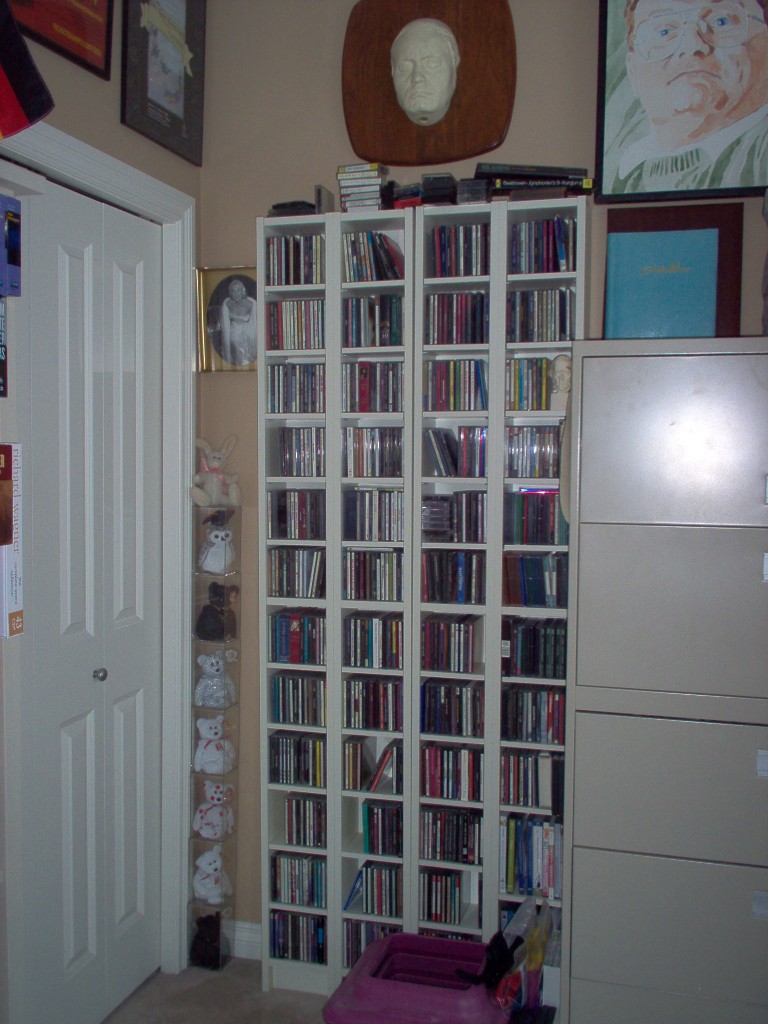 Here's the corner by the closet. And more CDs! Those pink squares on the floor are part of my step exercise equipment. I have a variety of workout tapes and do them in my office when the mood strikes. Though it hasn't struck recently, I must confess. Lately, I've been a fitness slug.
Do you see the stack of plush animals in the corner? I used to have what I call a job-ette, working in a teddy bear shop. We sold tons of Beanie Babies and I collected a few. Mostly white ones. Above those hangs a photo of Marilyn Monroe, who fascinates me. She came so far so fast and then was consumed by fame. In spite of her star quality, she had such vulnerability on the screen. Those opposites make her an intriguing personality to me.
Above the CDs is a life mask of Beethoven, my husband's #1 hero. Beside him is my filing cabinet, where I keep receipts, articles on writing, and notes for my novels. Above that, and beside Beethoven is a painting of my husband. It was done several years ago when he still had hair! (I often tease him, saying I only married him for his locks.) Here, hubby is striking a melodramatic pose, but I like to think he's pointing at my chair and telling me to settle my butt in it and get typing.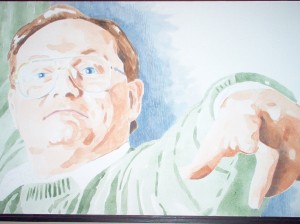 I've got three other bookcases in the room. Here's one that holds many of the resources I use. Also quite a few cookbooks. (More are in the closet.) I developed an interest in cooking in the last ten years, after I bought a slow cooker. Until then, I pretty much made spaghetti or pork chops. Now, I'm much more diverse.
A couple of my awards sit on top of this shelf, along with busts of Beethoven, Wagner and Mozart. Behind the door to the room, I keep a calendar with my writing schedule and due dates.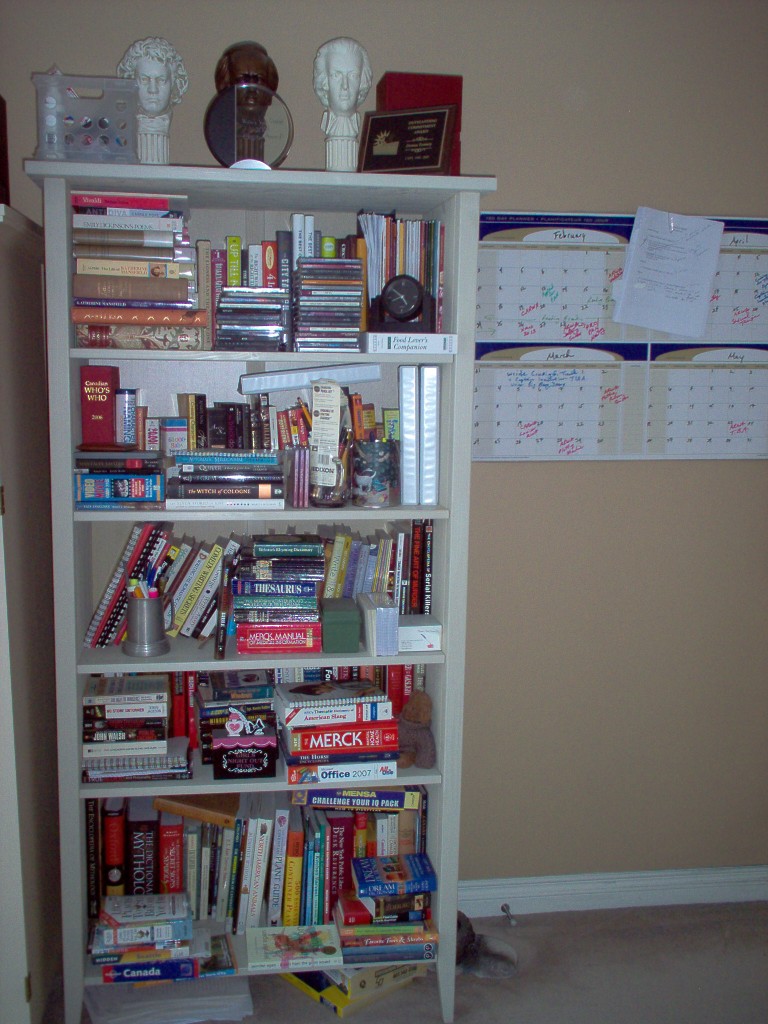 One of the things I particularly like about my office is that the fourth wall is a sliding glass door and I can walk out to a terrace.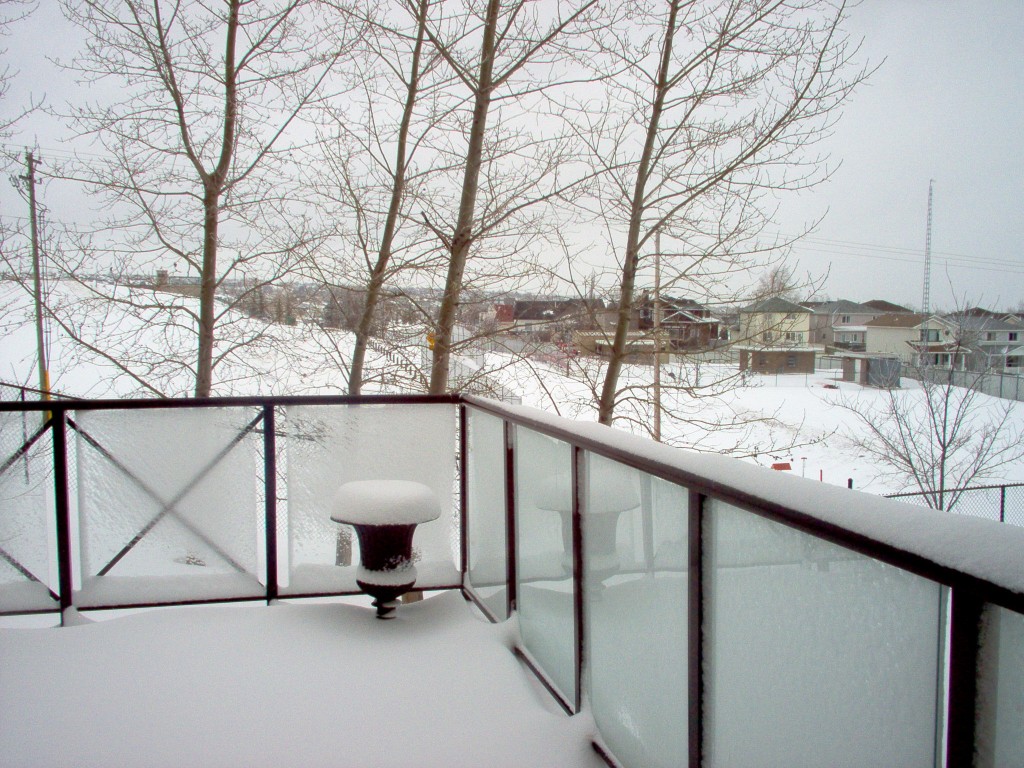 Though not today. I live in Calgary, Alberta and we just got a big dump of snow. But don't worry. We'll soon have a Chinook. It'll be balmy and all the snow will melt. In the summer, I'll plant my container garden here, with flowers and a few herbs. On nice days, I pull out my little patio set and take my laptop outside to type. For a backdrop, I've got a wonderful view of the city center and the Rocky Mountains.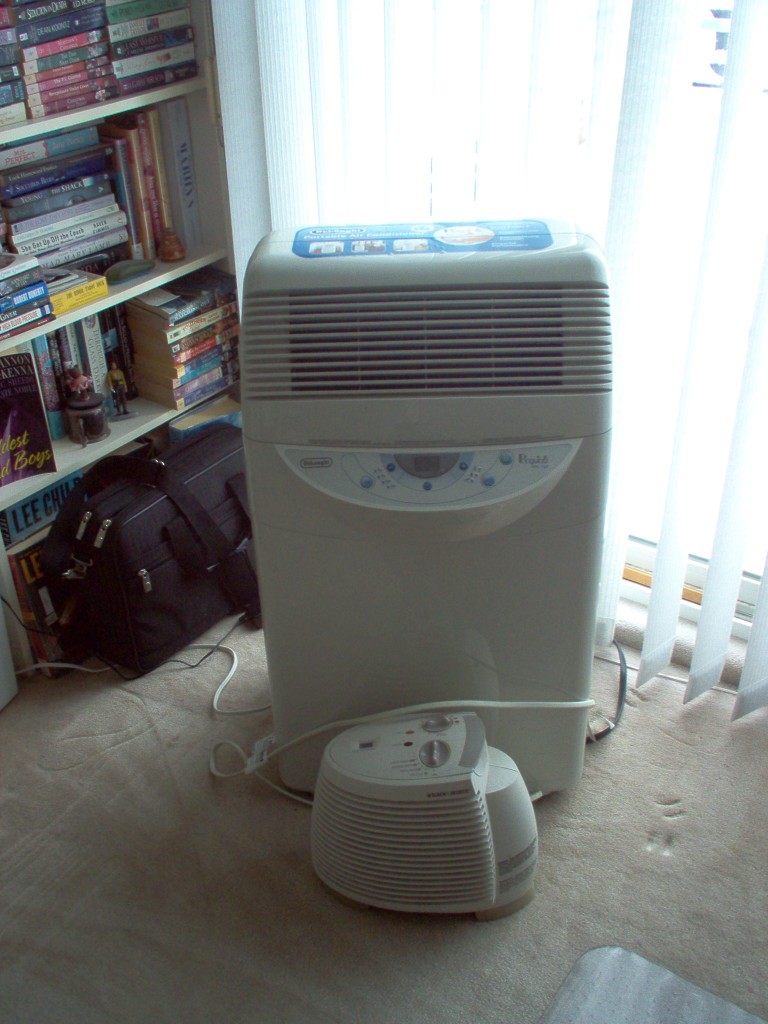 And because the weather is so changeable in Calgary, I have both an air conditioner and a space heater. (Note another bookcase in behind.)
But where, oh where is my desk in all this? Could it be here?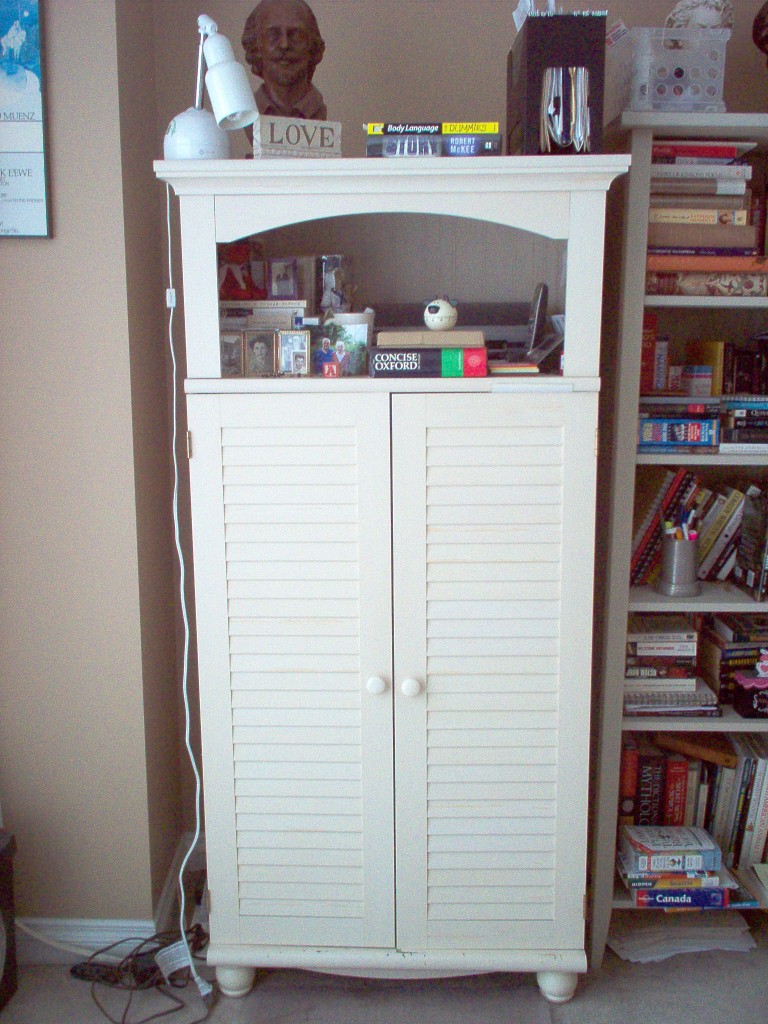 I'll just open one of the doors and…
May I have a drum roll, please?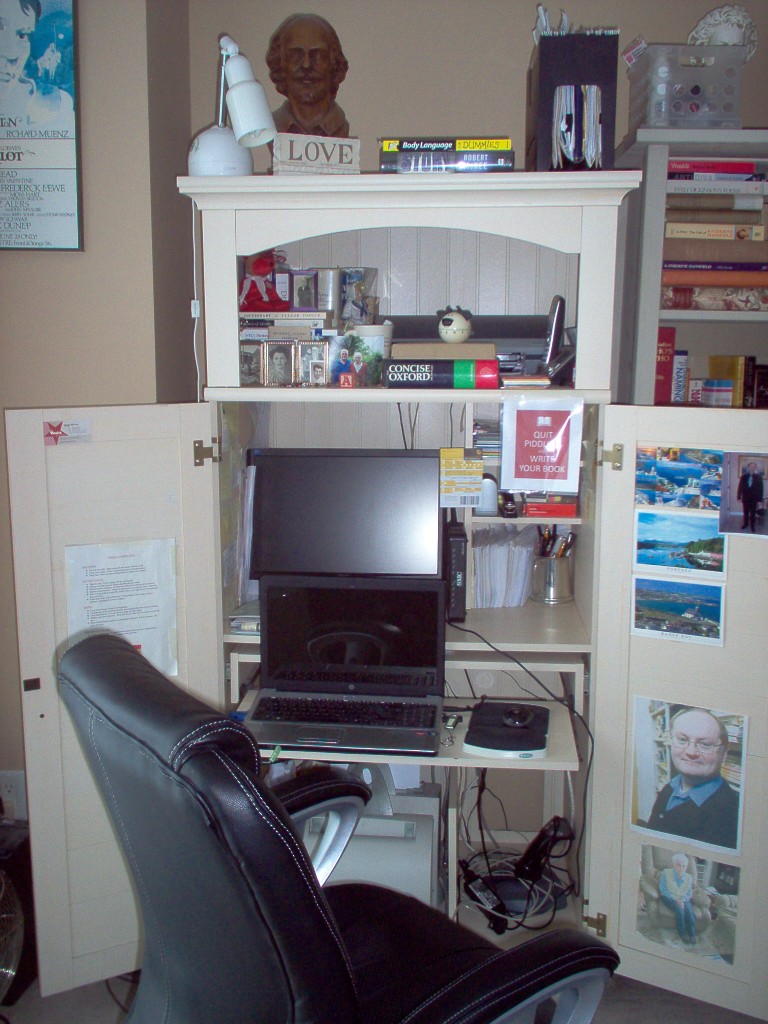 Voila!
I used to have a huge, squat desk that took up the whole wall. When I decided I needed another bookshelf, a tall, thin desk seemed the way to go. And, when my desktop computer died, I purchased a laptop to replace it, so that I'm portable. I just plug it into a large screen.
Around my work area, I have photos of my parents, my big brother and my wonderful husband. There's a sign that says "Love" to remind me of my theme, a bust of Shakespeare for inspiration, and a little sign to the right that says, "Quit Piddling and Write Your Book."
Exactly what I'm off to do now.
* * *
Links:
When her seven-year-old son is kidnapped without a trace, a by-the-book policewoman must put her doubts aside and learn to trust the only man who can help her pick up the trail—a handsome but troubled psychic.

61,000-word Romantic Suspense. Adult language, some violence, sexual situations.

She's through with cowboys. But this one's the 'reel' deal.

Equine veterinarian, Emily Grant, has had her share of cowboys, and they always break her heart. After vowing to give them up forever, Brandon Hollister strides into her life.

He's a different kind of cowboy, one that works on the silver screen. But is he just playing the part when it comes to love? Or can this gorgeous hunk get past a case of mistaken identity, and escape from the "Houston" character he's portraying, to become the man to win Emily's heart.

A 50,000-word sweeter romantic comedy.
Thank you, Roxy! That was a lovely tour. So many very cool things! But I have to say I adore your hideaway workstation. What a great way to tidy up in a hurry. And what a view from the terrace. I'd love to see it in summer with the container garden.
Okay, on to the giveaway! Roxy has generously offered two prizes:
A $10 electronic gift card from the online bookstore of your choice (e.g., Amazon, B&N, iTunes) PLUS your choice of either A Stranger's Touch or Crazy for Cowboy in the electronic format of your choice;
Your choice of either A Stranger's Touch or Crazy for Cowboy in the electronic format of your choice;
As always, all you have to do to qualify for this contest is leave us a comment below. Tell us what you love best about Roxy's writing workspace. Alternatively, tell us what you think of Roxy's awesome 80's perm in that Degrassi clip!  🙂
I first met Shéa MacLeod on an author discussion group where we were both learning the ropes of self-publishing, and have been a fan ever since. And I mean that in every way. I love her urban fantasies to death, but I'm also just a Shéa fan. Her brand of charm, sass and geekiness is irresistible. I was not at all surprised when Montlake Romance acquired Shéa's exciting Sunwalker Saga series, making her a Montlake sister. Today it gives me great pleasure to introduce her to you. Take it away, Shéa,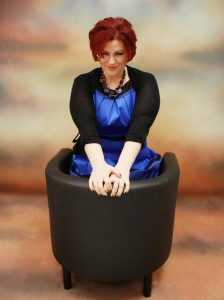 Shéa MacLeod: Hi Norah, thanks for having me! This series on workspaces has been so much fun. Mostly because I'm incredibly nosey. 🙂 Also, I'm a HUGE fangirl of some of the authors you've featured so it's been doubly awesome being able to poke about where the magic happens.
I'm afraid my space is rather dull in comparison. I only just moved back to the US at the beginning of June and into my apartment at the end of June.  So, I haven't quite "settled in" yet. But I'll tell you what, when I saw the Campaign Desk at World Market I absolutely HAD to have it! That was the first thing I bought for my office. My cousin and my uncle managed to wrangle it up three flights of stairs (It's made of real wood so it's super heavy) to the second bedroom which is now my workspace.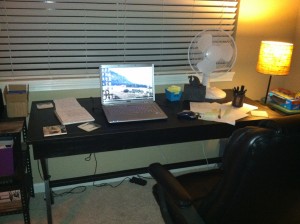 Along one wall I have the matching bookshelf. These days I mostly buy ebooks, but I have a few special paper books I keep and I like having them out where I can see. On the top shelf I've got my "plotting" notebooks where the first ideas for my novels take shape.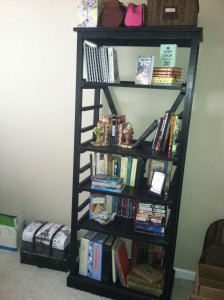 On the second shelf between the two ladies you can see my books in actual paperback. SQUEE! (PS. My cousin and I have decided those ladies are us when we're older. I'm the redhead and she's got the pink Mohawk.)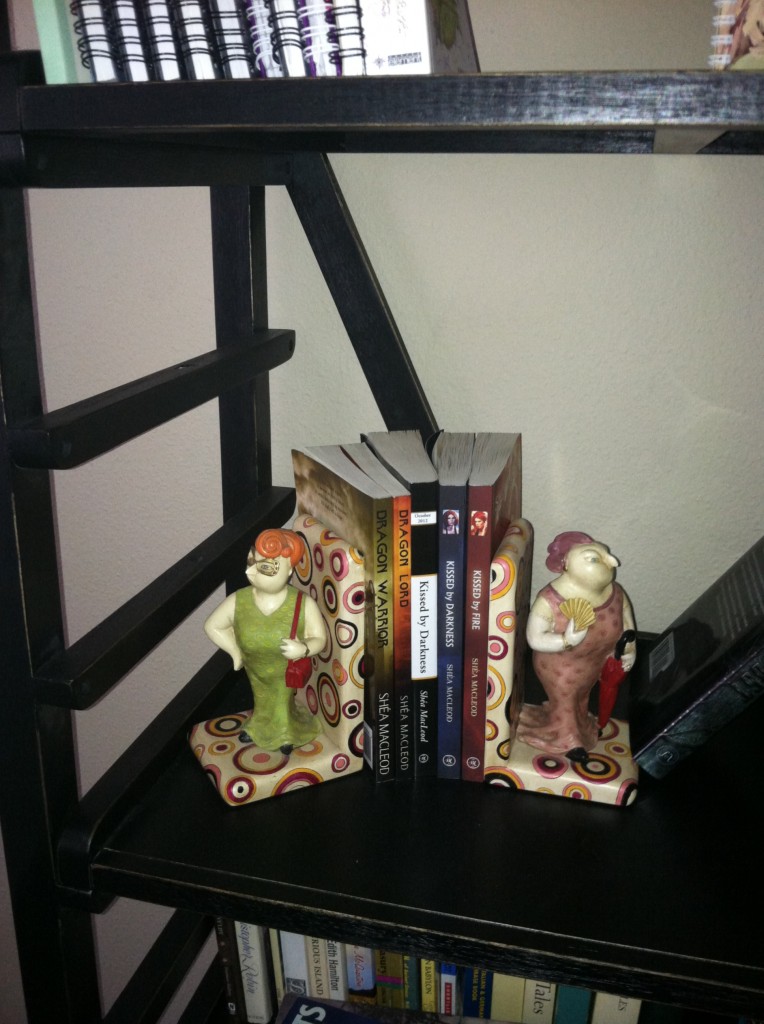 On the left side of the office I have a comfy little chair and lamp. It's a great spot for reading, editing, or just dreaming up how to torture my protagonists!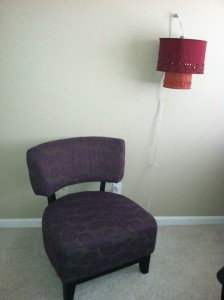 There are a few things in my office which are really special to me. For one I always have a mug handy. Usually full of coffee. This is one of my favorites.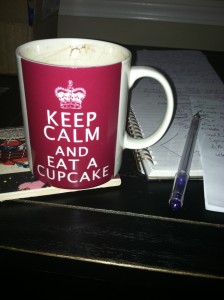 The little dragon box is a great place for storing important things like flash drives. It's from my friend and fellow author Tara West. A little housewarming present. Perfect, don't you think? It makes me smile every time I see it and it's very inspirational while I'm working on my Dragon Wars series.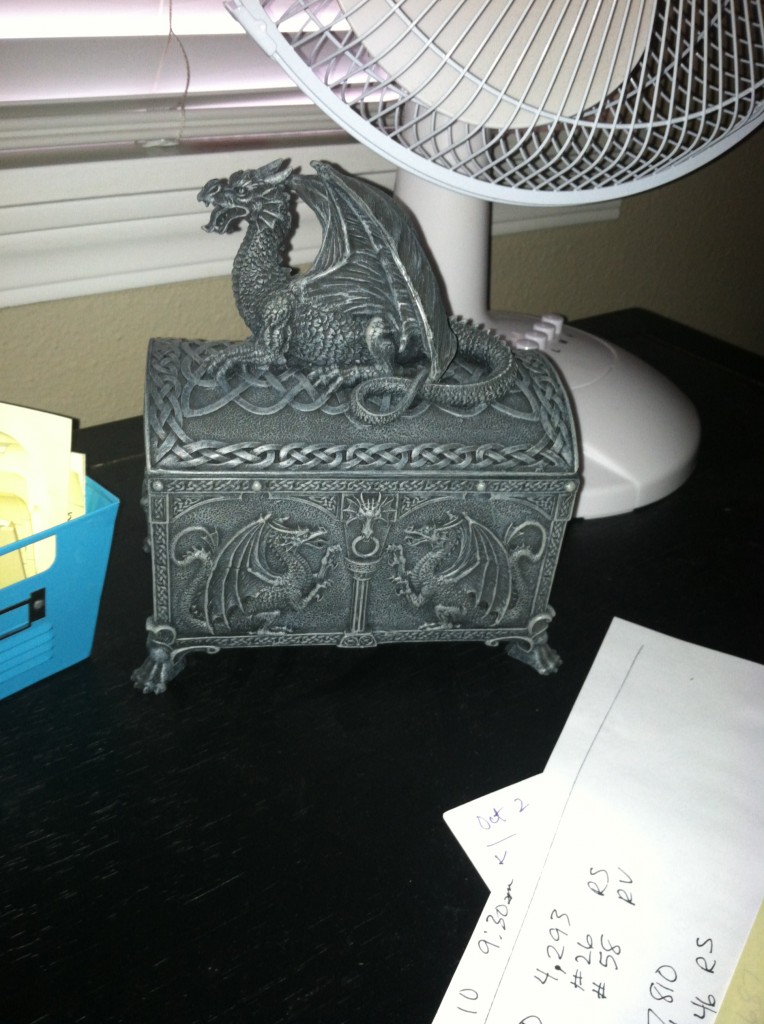 Talk about inspiration! This little knight's dagger is something I've had for AGES (Used to hit every Ren Faire I could) and it inspired Morgan Bailey's weapons in the Sunwalker Saga.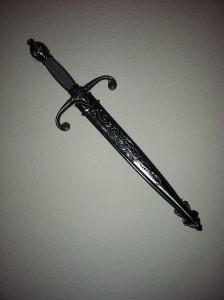 And finally, my boxes of books! I have nowhere else to keep them so they pretty much sit in boxes in the corner where I can pet my pretties whenever I want.  🙂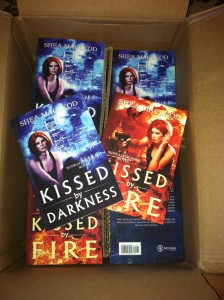 My office is pretty much a "work in progress" right now. I need more bookshelves (Who doesn't!) and I'd like to get up some cork boards where I can tack various things that inspire me. Like this guy! (Sorry, had to slip him in there.)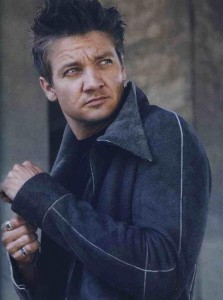 Anyway, thanks all for stopping by. And thanks, Norah, for having me! It's been fun showing you all around the Batcave.  Er, I mean office.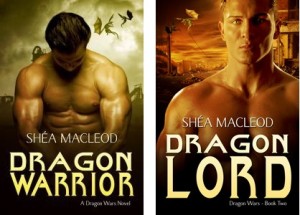 Thank you for that tour, Shéa! I don't know what I love more, those bookends or the dragon box! And I too am going to have to get a cork board. 🙂
Okay, on to the giveaway! One lucky winner will win signed print copies of the first two books in Shéa's Sunwalker Series, Kissed by Darkness and Kissed by Fire. (You'll see all three covers below, but the third book, Kissed by Smoke, is not yet out. Readers will have to wait until Christmas day for that puppy!)
NOTE that the print offer is open to winners in the US and Canada. International winners are still eligible to win, but because of the prohibitive cost of mailing, Shéa would be happy to substitute Kindle copies. Heck, if you're in the US or Canada and simply prefer to read electronically over print, I'm sure Shéa would be happy to gift you the prize in Kindle format.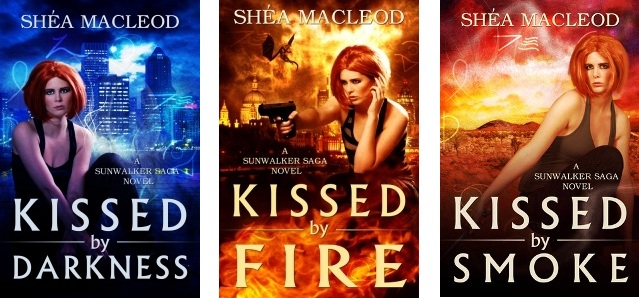 Let the commenting begin!
Trish McCallan and I recently teamed up for a really big giveaway in celebration of the September release by Montlake Romance of our respective romantic suspense novels. Our prize was a brand spanking new 64 GB Wi-Fi capable Apple iPad2! On September 29, at midnight Pacific time, we drew our winner by random number generation.
Congratulations to Julianne Keller! Enjoy that iPad! Maybe you can use it to comment on this post!
Thank you to everyone who entered our draw and helped us celebrate the release of our books.