My guest today is fellow Montlake Romance author Susannah Sandlin. Susannah is the author of dark paranormal romance set in the Deep South. I really sat up and took notice of her when I saw the cover for the first book in her Penton Vampire Legacy series. At least once a year, a gorgeous cover will hit me like a freight train. Last year it was Trish McCallan's Forged in Fire. This year, it's Susannah's Redemption. And the other covers in the series are just as delicious, as you can see for yourself.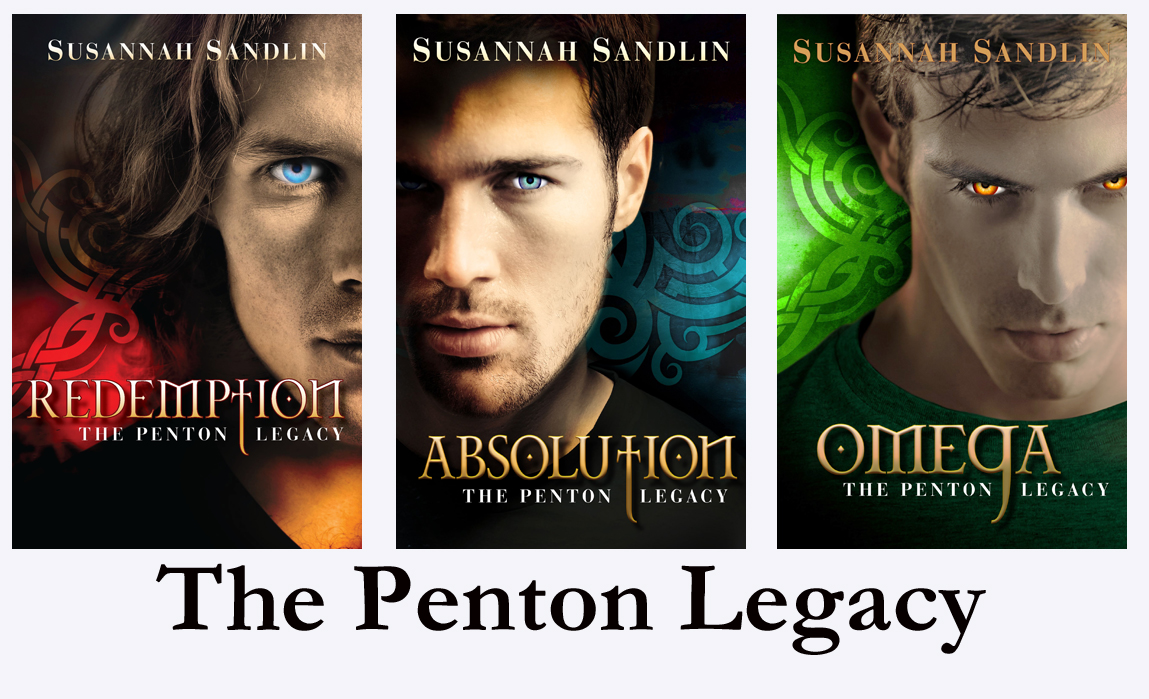 I've got Redemption cued up in my Kindle as my next read, so Susannah's appearance is very timely. Take it away, Susannah!
SUSANNAH SANDLIN: Thanks for having me here today, Norah! Or should I say "Welcome to the Bat Cave"?
After living in New Orleans for many, many years, I moved five years ago to bucolic (really!) Auburn, Alabama, to take a university job. When I was house-hunting, I came upon a property that had a lot of pros and cons. I didn't like the steep, short driveway, or the fact that the house was two stories. After living so long in a century-old Victorian cottage oozing charm, this house felt too modern and generic.
But there was a room upstairs that wouldn't leave me alone and ultimate made the decision for me. It was a large, undefined space that had hideous dark green wallpaper with honest-to-God polka dots on it, but it had a window seat and—best of all—one wall was floor-to-ceiling built-in bookshelves beautifully handmade by the former owner. It had hardwood floors. I could turn it into a guest room and have a place for all my books.
Or, as it turned out, I could make an office. At that time, I had spent my career as a feature writer and editor and had no plans to write novels. Six months later, I started writing one. I'm still not sure how that happened but the fiction-writing bug bit, and bit hard.
I wrote my first two novels sitting on the daybed using a 12-inch laptop on a wooden TV tray, surrounded by polka-dotted wallpaper. Finally, I decided this really wasn't a phase I was going through and if I were going to write seriously I needed an office. So I bought some paint, a desk, a real chair, and a bigger laptop. Slowly, my undefined space became my version of Fiction Central.
So, here's the control panel of the Mother Ship, where I write my novels, columns, and my daily book blog, Preternatura.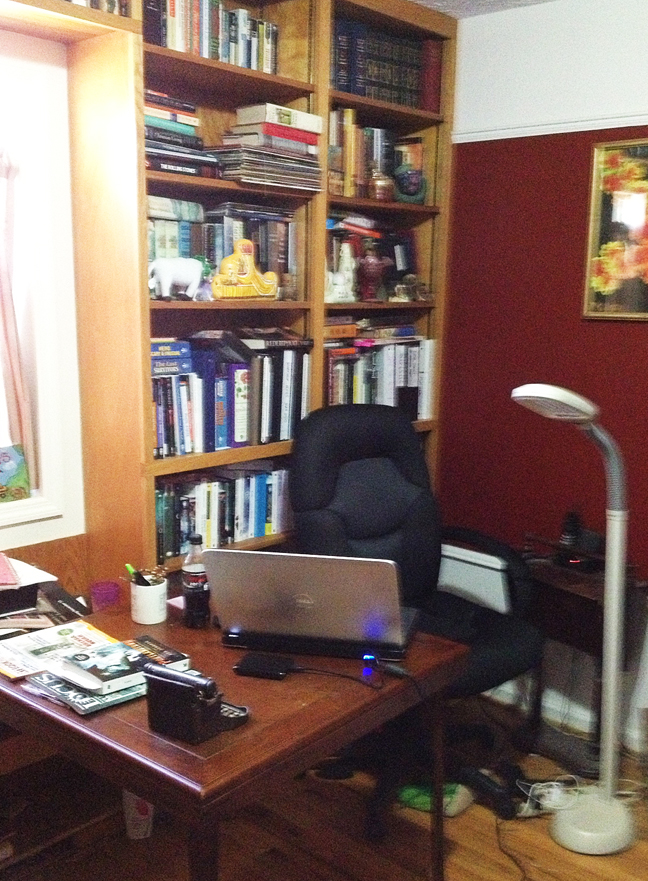 Having a daily book blog (plus being a lifelong bookworm) means I am buried under books. This is one of three "To Be Read' shelves.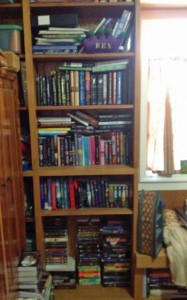 From my desk, I can swivel my chair and reach one of two shelves of reference materials I use in my novels. On this one are such titles as The Idiot's Guide to Alchemy, Encyclopedia of the Undead, The Pirates Lafitte, Voodoo in New Orleans, a Field Guide to Demons, and The Encyclopedia of Magical Herbs, Crystals and Gemstones. Um…yes, I do write paranormal. How did you guess?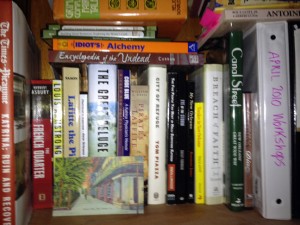 Since I do this book blog, I always have a shelf of ARCs and review copies. Here's the current collection.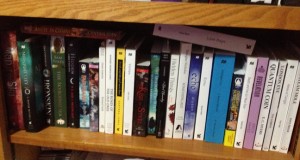 I still consider New Orleans my hometown, so I like to have lots of NOLA stuff around me. I have a bunch of Mardi Gras trinkets, but also art. Here are two of four in a series by my friend Mario Ortiz, a genuine free spirit who paints in prolific spurts, plays rock and roll, and does whatever it takes to get by. Not a 9-to-5 guy, our Mario.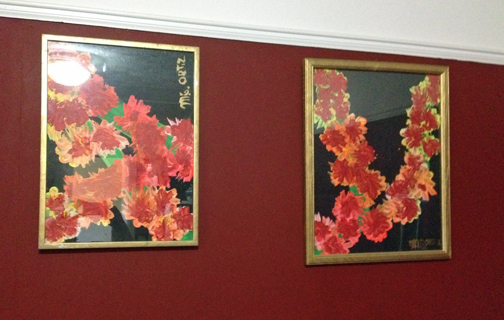 This is a painting by my friend Deborah Brooks, which she did for me as a gift just before my first book came out. It's of Pirate's Alley in New Orleans' French Quarter, and has a lovely, moody feel to it.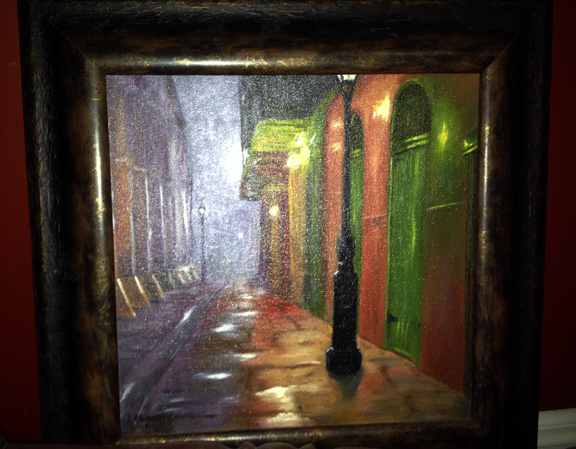 I don't know the artist's name of this small oil painting that was a gift from another friend. It shows the Lafitte Blacksmith Shop bar on Bourbon Street in New Orleans.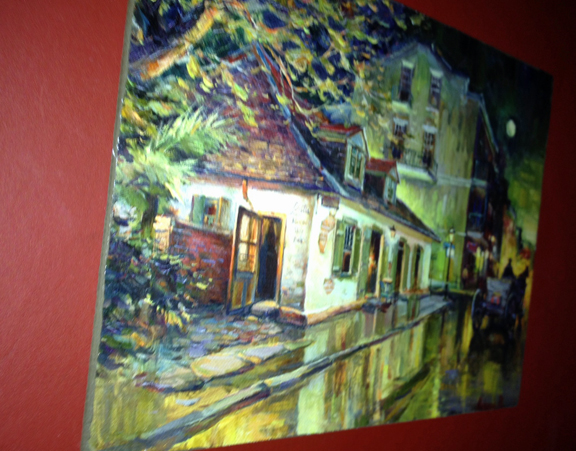 There are always the books I'm currently reading or reviewing and some magazines on the desk—plus a great typewriter "piggy bank" my friend Dianne gave me, probably in hopes I'll eventually make a living at this writing thing!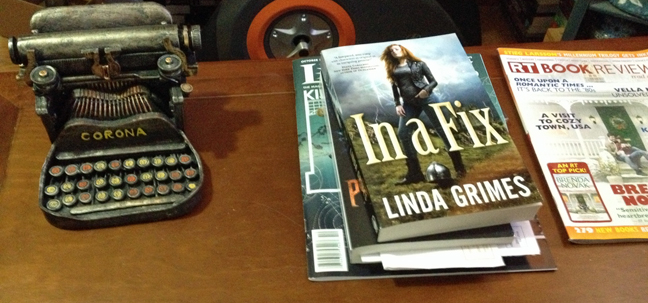 Here's my little collection of my own books, so far. I'll have a couple of new ones to add soon!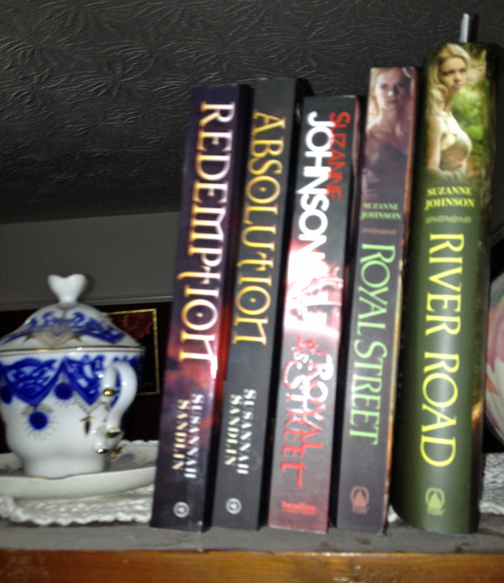 Finally, here's Author Central, where the magic occurs. Note the ever-present Coke Zero and the ever-present iTunes icon in the lower right corner of the screen (currently at 4,021 songs), I have a slide show of my book covers that plays onscreen.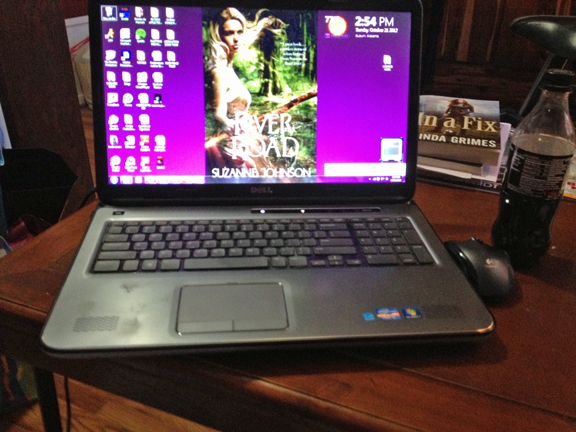 And that's my space! Thanks for visiting today!
Thank you for that tour, Susannah. I adore your art! Unless I miss my guess, we're going to get some comments on those lovely paintings.
Speaking of comments, that's what you need to do for a chance to win Susannah's great giveaway. She has generously offered two prizes — a signed copy of the first book in the Penton Legacy series, Redemption (paranormal romance/Montlake) pictured above, and the first book in the Sentinels of New Orleans series, Royal Street (urban fantasy/Tor), pictured below, by Susannah's alter ego Suzanne Johnson. On Susannah's behalf, I'll reserve the right to substitute an electronic version of the book, should one of our winners be outside the US or Canada, due to the prohibitive costs of mailing material internationally.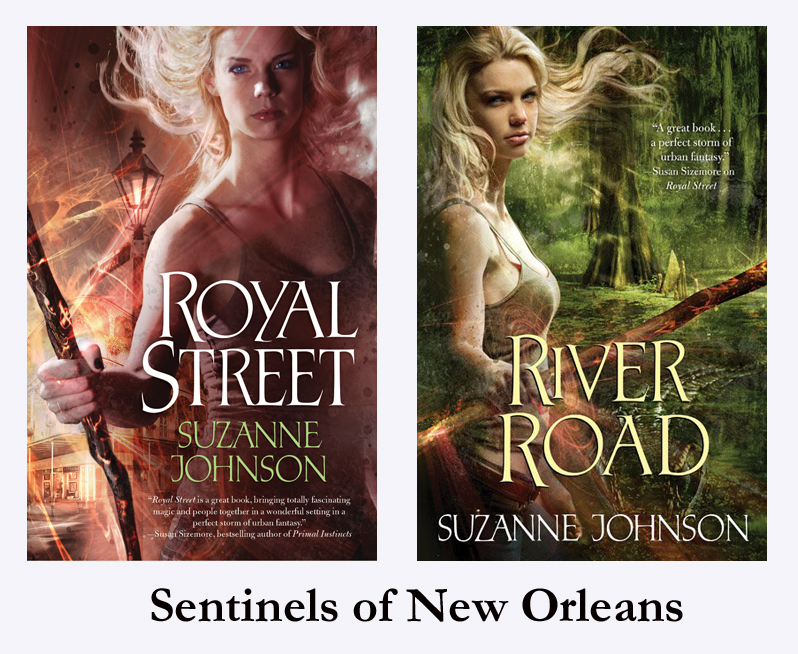 Oh, and if you're in the Christmas mood, you might want to check out Suzanne's Christmas in Dogtown. Just sayin'.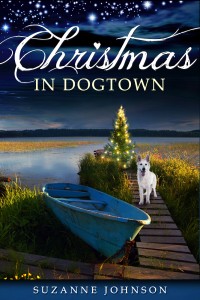 Okay, let the commenting commence!