Posts Tagged 'Romance Writers of America'
I am super pumped to have Tracy Brogan on my blog today. Tracy is a fellow-Montlake Romance author who has encountered fantastic success. Her debut romantic comedy, Crazy Little Thing, has been nominated for Best First Book by the Romance Writers of America®, and I'll be there to cheer her on at the awards ceremony in Atlanta next month. Go, Tracy!
TRACY BROGAN: Thanks for inviting me to Work Place Wednesday! If I recall, you invited me once before and I had to cancel because my desk was such a mess that even my computer stopped working! Fortunately I got that snafu worked through and here I am today. The pictures you see are ones taken at various stages. Since I'm currently under a mad-dash deadline, things around here are a little cluttered for my taste. (For those of you who have read my contemporary romantic comedy, Crazy Little Thing, it's no coincidence that the heroine is a professional organizer. I do indeed have labels on my refrigerator shelves, just like she does. And just like in the book, no one pays any attention to them except for me.)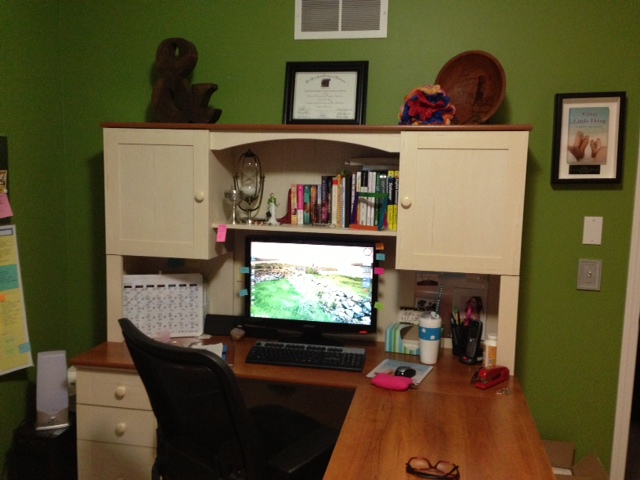 I work best with a clean space. But I'm also the post-it note queen so there you have my constant internal conflict. What I've started doing recently, thanks to a fa-fa-fabulous workshop I took with Cherry Adair, is take post-its with notes pertaining to the scene I'm working on that day, and I stick them all around the edge of my screen. Right now I have notes that say, "Spider, barefoot, and tattoo." They remind me that in this scene, I want to establish how my heroine is afraid of spiders, my hero prefers to be barefoot, and I need to explain the significance of his tattoo because its meaning plays a part later in the book. Sometimes I will also have "theme" or "ARC" notes, too, such as one saying, "She's not ready to commit," or "he's been thinking about the future," things like that. I find this helps me keep my characters on task so they don't go wandering off into the forest and fraternize with mythical creatures or something. Because I don't write about mythical creatures.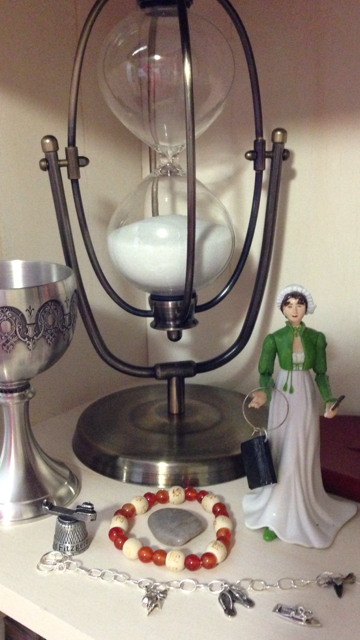 I also have dozens of trinkets. I think I'm constantly on the lookout for that secret talisman that will provide constant inspiration. So far the best I've come up with is intro-venous coffee, but that doesn't stop me from collecting other items. I have a "good karma" bracelet from a critique partner, another bracelet with charms attached to represent each book I've finished, bookends that hold up the books of my wonderful writer friends, a tiny bronze Liberty Bell because the heroine of my latest release (Hold On My Heart) is named Liberty Belle Hamilton, and last but sooo not least, I have pictures of handsome men who have served as stars in the mental casting of my books. There are a few picture of the heroines, too, but I don't pay much attention to them. And those are mostly there so I can say to my husband, "See? I'm working. Not just ogling men."  When it comes to my "casting" though, don't typically tell people who my "heroes" are because I don't want to flavor (or tarnish) a readers vision of what he looks like. I want readers to intuit a vision of their own favorites.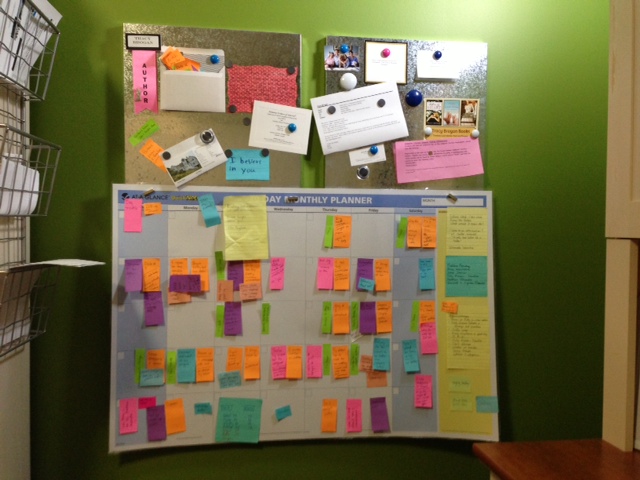 I also have a big white board with a grid. This is another trick from Cherry Adair and her color-scheming madness. I won't go into detail about how her system works but if you're remotely a plotter, you will love her method. And if you're a pantser, you would still probably benefit from seeing how she does it because you could set up your grid after you've written your first draft to see where your plot holes and pacing problems are. It's worth the time.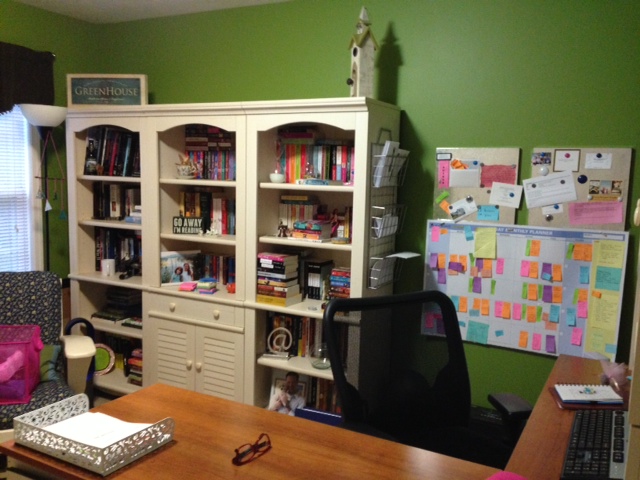 This office is far from perfect. There is no espresso machine, and I can hear every dog in my neighborhood bark all day long, but I'm incredibly grateful that since I've sold my first book, and just signed another 3-book deal, I was able to move out the guest bed, sewing cabinet, and buy some real bookshelves for this room. It's officially MY office. Now if I could just install a lock on the door, I'd be all set.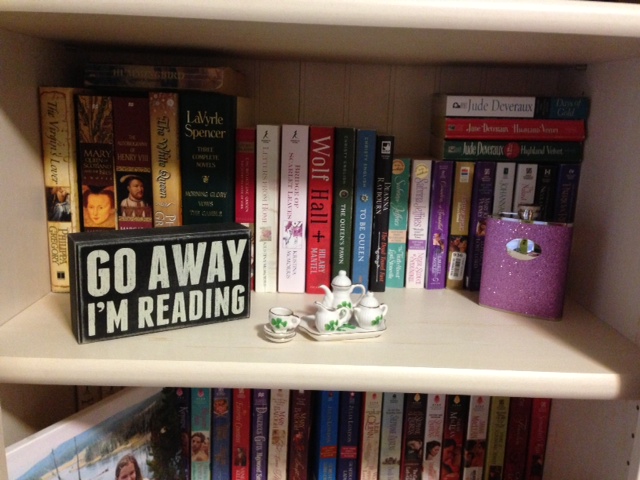 Thanks for having me, Norah. If you don't mind a shameless plug of self-promotion, I have a new book coming on June 25, 2013 called Hold On My Heart. Here is a blurb:
To build a future, sometimes you have to tear down the past…

Chicago event planner Libby Hamilton can turn any bland setting into a dramatic venue – but when she abruptly loses her job, and her fair-weather boyfriend moves to another state, Libby suddenly finds herself back in the tiny town she grew up in. Worse than that, her father wants help transforming an old schoolhouse into a vintage ice cream parlor and Libby must trade in her power suits for power tools.

Widowed restoration specialist Tom Murphy can rebuild just about anything – except the shattered relationship he shares with his teenaged daughter. Hired by Libby's father, Tom isn't interested in sharing the details of his personal life with beautiful, spunky Libby. He just wants to get the job done. But she is tenacious – and sexy – and it doesn't take long before she breaks down his walls, builds up his hope, and gets a hold on his heart that won't let go.
And for a little extra fun, here's the trailer:

I'd love to give away some copies of this book! So three lucky winners will win a free print copy! Just leave a comment on this blog, and three names will be selected at random. Or come on over to my author Facebook page and leave me a note saying Norah sent you. I'll draw another name from that list!  Four winners total!!  Thanks for playing and have a great Wednesday!
Biography:  Past or present, Tracy Brogan loves romance.  She writes funny contemporary stories about ordinary people finding extraordinary love, and stirring historical romance full of political intrigue, damsels causing distress, and the occasional man in a kilt.
She is a best-selling author, a 2013 RWA® RITA Best First Book Finalist for Crazy Little Thing, and a two-time Golden Heart Finalist in both contemporary and historical romance.
Her next contemporary romance, Hold On My Heart, releases June 25, 2013.
Tracy lives in Michigan with her husband, her children and their overly-indulged dogs. Please stop by her website at tracybrogan.com.
Thank you, Tracy! That was a fun tour. I love your space, and I feel like I learned a lot about you. I wish you'd come organize me!
Okay, folks, you heard the lady. Three of you will win her terrific new book just for commenting, and you have a bonus chance if you drop by her Facebook page. Let the commenting begin!