Posts Tagged 'romantic suspense'
I am delighted to have as my guest today Joyce Lamb, award-winning author of romantic suspense novels. Joyce is also the curator of USA Today's Happy Ever After blog, which is must-read material for romance novel lovers everywhere.
I met Joyce at the Romance Writers of America national conference in New York City in 2011. She was celebrating after just having won the prestigious Daphne du Maurier Award for her book True Vision. My first impression was that she was extremely quick-witted, funny, warm, grounded and interesting. She also seemed to be genuinely interested in the people around her. Of course, at the time I didn't realize that Joyce Lamb the author was also Joyce Lamb, intrepid reporter. She comes by that interest/curiosity naturally, I guess! I'm happy to say my initial impressions of Joyce proved true, and then some!
With that intro, here's Joyce.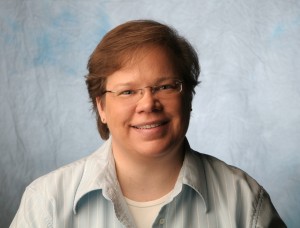 JOYCE:  Thanks for having me, Norah! I'm thrilled to be here. : )
Exploring my workspaces for this post was eye-opening. I had no idea that I actually work all over the place!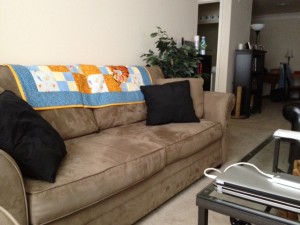 The sofa is where I do a lot of my writing, but while I am indeed sitting right in front of the TV, it's not on when I'm writing. Too distracting! Especially if a show on The Animal Planet about cute puppies or kittens comes on. Instead, I have my iPod Touch docked and cycling through four seasons' worth of Battlestar Galactica soundtracks (the version revived in 2004, not the one from the late '70s). Composer Bear McCreary is a master at creating tension, and the tone of the music is perfect for writing romantic suspense.
As you can see from the quilt draped over the back of the sofa, I'm helped along by Tigger from Winnie the Pooh. I love Tigger! The wonderful thing about Tigger …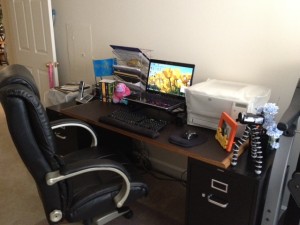 I also have a home office, for when I'm feeling the need to behave like a professional writer. Best desk chair ever! I feel very "executive" when I'm sitting in it – just not nearly as rich. And it's perfect for one of my kitties, Maddy, who likes to perch on the back. She's only fallen onto the back of my neck twice.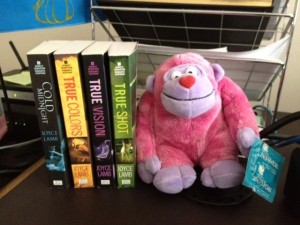 Sitting on my desk is my pink Safe Sex Monkey. (And, yes, that is indeed a shameful plug for my books sitting right next to SSM.) The story behind SSM: Fellow writer friend Diane Amos, author of the fabulously funny Getting Personal (a $2.99 e-book!), has spent much time teasing me about the "wild monkey sex" in my books. Several years ago, she sent me the pink monkey with condom in paw as a joke (which my mother quite enjoyed when I opened the package while she was visiting). Now, SSM sits on my desk to remind me to make sure my characters always have safe sex. : )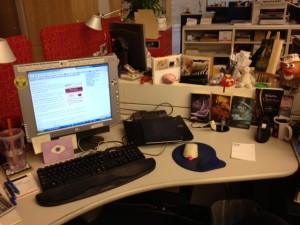 I also have workspace at USA Today, where I work on the Happy Ever After blog devoted to all things romance novels (happyeverafter.usatoday.com). As you can tell, I have some toys on my desk – I wouldn't be a real copy editor if I didn't. So I enjoy my Mr. Potato Head (at right) as well as my Tickle Me Elmo key chain, which giggles REALLY loudly, much to the consternation of some of my co-workers. What you can't see on my desk is that to the right, there's a TV. Yes, it's true. I have a TV on my desk at work. It's rarely on, but it's actually quite necessary at those times when breaking news is happening. The last time it was on was during the Super Bowl in February, because USA Today does a huge thing about the ads that play during the Big Game. So I got paid to watch TV during the Super Bowl. Kinda cool!
You might also think from what you can see of the background in this photo that the USA Today newsroom looks as though it was decorated by IKEA. And you would be right.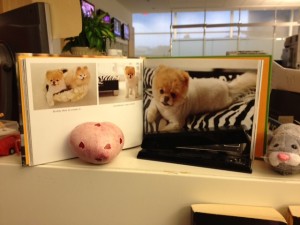 One of the favorite things on my desk at work is a book called Boo: The Life of the World's Cutest Dog. I prop the book open to different pages, but this one here is my favorite, because it looks as though Boo is lounging on a chaise lounge in a very "come hither" pose. Very romantic! When things at work get stressful – and they do often, considering it's the news business – I have Boo to turn to to make me smile. Boo never fails me!
Do you have any toys or stress relievers on your desk at home or at work?
A commenter here will win a signed collection of my True trilogy, which includes 2011 Daphne winner True Vision and 2012 RITA finalists True Colors and True Shot. (International commenters eligible, too!)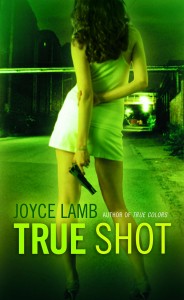 Thank you for that tour, Joyce. Why am I not surprised that I had a smile on my face all the way through it? Oh, and my stress reliever is a tiny bottle of essential oils (bergamot, grapefruit, orange and ginger) that I keep on my desk. When I think about it, I pop the cover off and and inhale.
Okay, before I turn it over to comments (and holy smokes, GREAT prize!), let me just pimp Flash Heat for you. It's my current read on my Kindle.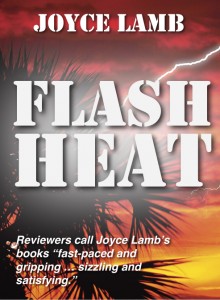 You can connect with Joyce as follows:
Okay, let the commenting begin! Joyce's question for you was, "Do you keep any toys or stress relievers on your desk at home or at work?"
Today, I am delighted to have MJ Fredrick as my guest for Workspace Wednesday. MJ is another member of my Wet Noodle Posse (writers who finaled in RWA's Golden Heart® contest in 2003, and who have hung together ever since).
Here's the thing – every time I read one of MJ's books, I think, "Damn, I wish I'd written that!" She writes the kind of fast-paced, sexy romantic suspense/adventure that really floats my boat. The kind I try to write. She can also write a straight contemporary (like Bluestone Homecoming) with the best of them, a skill I envy.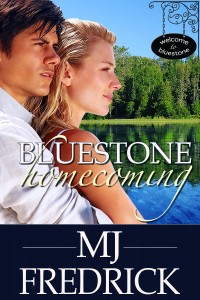 She is also one of the few bloggers I follow religiously. I think I learned everything I know about blogging/social media best practice from watching MJ. I don't do it as well as she does, but she embodies what we all should be doing. She shows us all the facets of her life, not just her writing. Besides being a damned fine writer, she's a teacher, an avid reader, a wife, a mother, a cat-lover, a talented crafter, a Supernatural fan, a TV and movie aficionado, etc. Basically, she's the kind of all around awesome person you want to feel connected to. I recommend you check out her blog and subscribe to her newsletter so you don't miss anything.
Okay, now that I've spilled all that syrupy lurve all over the place, I'll turn you over to MJ while I clean up the joint.
MJ FREDRICK:  I tried, really I did, to have an office. When I first started writing on a computer, I had one, the third bedroom in our old house, with an old XT my uncle had put together, with an amber monochromatic screen. After my son was in bed, I'd go in there and write for a couple of hours while my husband watched TV in the living room. I eventually finished my first book, but it took me months.
We replaced the XT with an old PowerBook we got for $300, with a modem that screeched. No more writing in the bedroom next to where my son was sleeping, so I started writing and surfing in the living room in front of the TV. We replaced the PowerBook with the first generation of iMacs, and it was also in the living room. So I got in the habit of writing with lots going on around me.
BUT I didn't feel guilty, because I was still a part of what was going on, if you get me.
We moved into this house, a four-bedroom, 13 years ago. I tried several spaces as my "office," the bedroom off the kitchen, the mud room area next to that, which looked out on my backyard, the middle bedroom (which has since become Craft Central). NONE of those worked for me. I'd get up a million times to go see what was going on in other parts of the house. Eventually, we parked the iMac in the living room and that was my workspace.
And then…I got a laptop. Oh, the freedom I had with a laptop! I wrote outside, I wrote in my big comfy chair, I wrote EVERYWHERE!
Now, I live in Texas, and the past two summers have been crazy hot, even early in the morning, so I don't write on the patio. But this house is blessed with a sun room, and that is my favorite room in the house, especially since my baby brother helped me rearrange it a couple of years ago.
I have a big comfy couch and a big comfy chair that we bought when we moved in. They're a little worse for wear, but did I mention comfy? (Also, excuse the cat hair. I AM the Crazy Cat Lady, but getting cat hair off chenille is a PAIN!)
In the morning, as soon as I finish eating, I unplug the laptop and curl up on the couch in the sun room. (This is what it looks like in the summer. When I'm teaching, it's dark dark dark, with only the light from the screen.) Note the Diet Coke–a staple in the early mornings.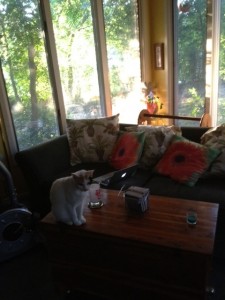 I usually get a cat or two curled up with me, no matter what time of day. Here you see YaYa beside me and Stormy on the floor.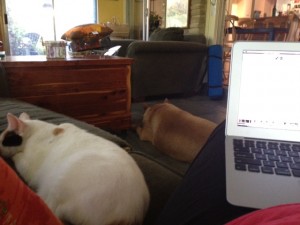 My exercise bike is right there, taunting me. This summer I've had to leave my little area when the boy wants to exercise, which would make me mad if he wasn't moving out this week.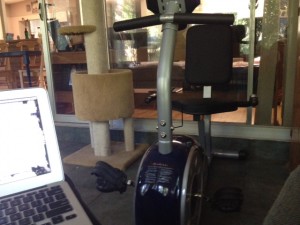 I prefer this view, though because of the drought, there's not a lot to see.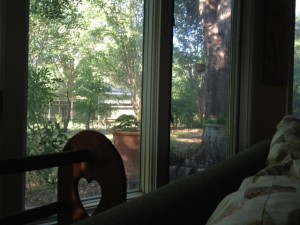 In the evenings, I join the family in front of the TV, but I'm usually still working on SOMETHING. This is my corner, complete with a blanket, because the AC works pretty well.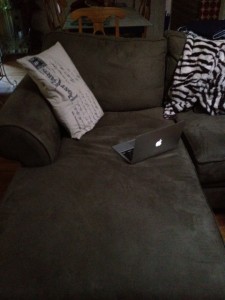 The bonus is, my baby kitty thinks it's his mama.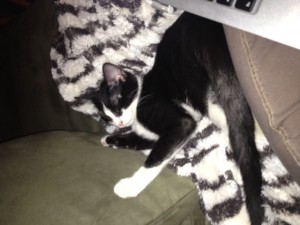 So I don't stay in one spot and I clearly like to be comfortable. Also, I like green chairs and cats.
Thank you, MJ! Loved the tour of your space! I am so in awe of anyone who can work with a laptop primarily. After all these years in admin support, I'm a desktop kind of gal.
MJ Fredrick is the author of 17 books, including this one, Guarded Hearts, published by Lyrical Press.
Now it's your turn. Do you remember modems that screeched? Did you ever have an XT? Ever meet an author who didn't even pretend to maintain an office, whilst she wrote in various spots around the house? Have you read one or more or MJ's books? You know the drill – a comment will earn you a chance to win today's prize, which you're going to want. It's a $10 gift certificate from either Amazon or B&N, at the winner's call.
My romantic suspense from Montlake Romance – Every Breath She Takes – is going to be released September 4, 2012. But if you comment below, you might win an advance reading copy (ARC) and beat everyone to the punch. ,-)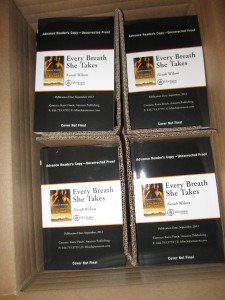 I should mention this book was previously pubished as Lauren's Eyes, the same book that won me Dorchester Publishing's New Voice in Romance award. It has been updated and revised and is ready for a whole new audience of romantic suspense lovers.
Here's the book description from Amazon:
"Ultra-sexy, heart-pumping suspense and adventure." – Julianne MacLean, USA Todaybest-selling author
"Sexy, gritty and thrilling." – Joss Ware, award-winning author of Night Forbidden
Veterinarian Lauren Townsend has good reason for hiding her psychic ability. Not only did her "freakishness" earn her pariah status in the small town where she grew up, it cost her a fiancé and her faith in love. When Lauren foresees a murder—through the killer's eyes—she traces the victim to a sprawling ranch, never guessing what waits for her…
Cal Taggart's rugged ranch life doesn't need any more complications. His stubborn determination cost him his marriage, and now may cost him his livelihood. But then beautiful Lauren enters his corral…with danger close behind. And Cal wants nothing more than to protect her. They can't deny their intense attraction. Nor do they want to. What begins as a fling with no strings becomes a fight for survival—and for true love.
For a chance to win, leave a comment about the romantic suspense genre. Tell me what themes or tropes you like in your RS (cops, bodyguards, women in jeopardy, etc.). Or tell me which romantic supense authors or stories you absolutely love.  A winner will be drawn randomly from among the comments. Good luck!
For those who want to skip the chance at the uncorrected proof in favor of ordering the official version (which, by the way, will have a different cover than the one depicted here), it's available for pre-order at Amazon.com.
Please help me welcome award-winning author Lina Gardiner. Lina's Jess Vandemire Vampire Hunter Series have netted her both a Daphne du Maurier Award for Excellence in Mystery/Suspense and a PRISM award (best first book). She is published by Imajinn Books and The Wild Rose Press. As well, she recently published her first indie effort to very positive reviews. 
Lina has given me some fantastic photos of her workspace, and I am going to ask her to narrate them for us. Take it away, Lina!
Norah, thank you for coming up with the great idea for Workspace Wednesday. I'm really pleased to be your first guinea pig (er…) author.  In all seriousness, I can't wait to peek into other author's offices to see what motivates them and feeds their muse.
In this photo (below) you can see I've surrounded myself with things that mean something to me.  First and foremost, on the wall is a watercolor painting by my friend and artist, Rik Hall.  He actually painted two of these cemetery paintings based on a moody, spooky picture I used on my website.  The second painting sold very quickly at an open house.  I actually wanted the second one too, but was too slow making up my mind. The photo of the cemetery was taken by Troy MacLellan, a co-worker who kindly gave this picture to me for my website.  I liked it so much the picture ended up in the background of my first book, Grave Illusions.   Some of the other things I have on my desk besides my Oxford dictionary J my Prism (Crystal Pyramid) – best first book award, and my Washington, DC Globe from my friend Joyce, my fuzzy frog from my friend Amy, the skull pen from my son and his fiancée, they got it at the vampire club in Melbourne, Australia and I was totally jealous that I didn't get to go.  The skull, the mug and little red bag of stones are from my friend Cathy Boone, who just came back from Salem, Mass. where she had an honest to goodness ghost experience in her hotel.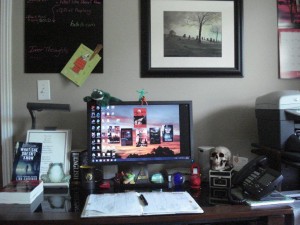 This photo is me pretending to be busy at the computer.  LOL  In reality, I don't have to watch the keys when I'm typing.  I've been typing for over thirty years.  I always liked the image of Stephen J. Cannell typing on his old typewriter and pulling the sheet of paper out of the platen at the end of each of his TV shows.  Maybe that's why I like the picture this way.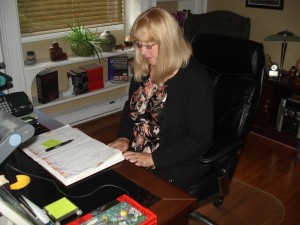 The bookshelves on the wall were built for me by my husband, Iggy.  Everyone who comes into my office raves about them.  They're gorgeous and they showcase my library of books to perfection.  And they often remind me how many books I still haven't read.  I need to carve out a little more reading time.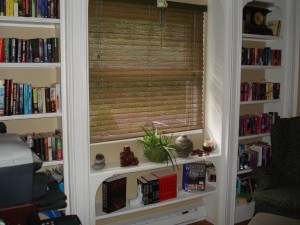 I see this wall the minute I enter my room.  You can't miss the three giant posters of my first three books in my Jess Vandermire Vampire Hunter series.  My husband had the posters made for me and I can't tell you how wonderful it is to see them as a reminder that I've actually not only published 'a' book but several books.  The beautiful carved owl in the center of the desk was done by my ex-boss and friend, Brian Dykeman.  He does the most amazing carvings and he has a website if you'd like to see more of his work – just Google his name.  The little vase came from a co-worker, Chris Maund, who went to the Galapagos Islands years ago and brought it back for me (I've always treasured it), and the Baying Wolf was a gift from my husband when my newest book, Black Moon Awakening – a werewolf/shifter story was published.  Then there is the award on the desk, on the left side — My Domino Divas award.  We decided years ago, actually it was Norah who came up with the idea, that the writers in our little group were like dominoes; after one sold the rest would follow.  How right she was and is.  The two gorgeous wing back chairs were a gift from my niece Tracy and her husband Roger.  They are very comfortable and I often sit in them to read or review and revise my WIPs in comfort.  Wow, until I started naming the things in my office that mean something to me, I'd almost forgotten how lucky I am to be surrounded by reminders of my wonderful friends and family.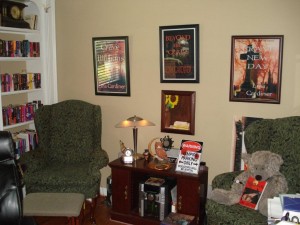 This wall to my left is my award wall (sort of).  I have the Prism Award and Daphne DuMaurier Award, as well as my RWA Conference badge.  These things remind me at all times that I want to be professional and I want to excel in my field.  They remind me that I must always work hard to improve my writing skills, and to keep moving toward my next goal.  On the filing cabinet below I've put pictures of my friends (my go-to place when doubt-devils are nipping at my heels).  Looking at the friendly, smiling faces always lifts my spirits.   I have a white board next to the filing cabinet, the place where I plot, usually after I'm well and truly into my book.  I start out as a pantser and then have to plot out the bones to keep everything cohesive.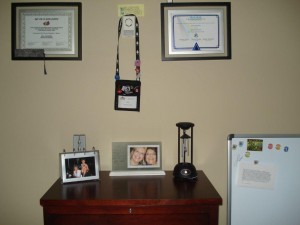 Thank you, Lina! I am officially in love with your office! It's gorgeous! And I love how you've surrounded yourself with various talismans and symbols of your journey, as well as very concrete evidence of your accomplishments! Totally inspiring! Thank you for sharing your space with us today.
You can check out Lina's newest release from The Wild Rose Press, BLACK MOON AWAKENING (my current Kindle read!) or her self-published romantic suspense WHAT SHE DOESN'T KNOW.
Okay, what's your favorite element or object in Lina's workspace? (You're not allowed to say Lina because that's a given.)
Today I'm visited by Maureen A. Miller, a talented romantic suspense author who is currently killing it as one of the top 50 highest rated Indie authors on Amazon.com.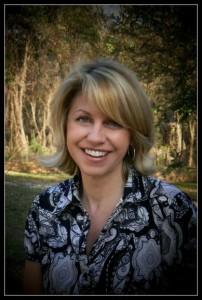 Maureen, you and I reconnected this year when we both went Indie, but we'd met before. Would you care to tell our readers how we met?
I 'met' the beautiful and talented Norah Wilson when we co-finaled in RWA's Golden Heart awards many years ago. One thing about being a Golden Heart finalist that not many people know about is the camaraderie that goes on amongst the group.
Tell me what finaling in the Golden Heart meant for you.
It was a status to get your foot in the door.  Silhouette's Intimate Moments line was courting my book, but it was too long of a word count at the time.
WIDOW'S TALE, your first book, helped you land that awesome rating on Amazon. Do you think there's a resurgence of interest in contemporary Gothics?
That's an interesting question. I believe today people associate the Gothic romance as more of a "Twilight", or vampire-series premise. To me the traditional Gothic was anything with a dark, desperate setting.  If there is resurgence, I surely would like to pioneer it!
Tell me a little bit about your decision to go Indie. What factors influenced your decision? And did you ever dream your books would be so successful?
When WIDOW'S TALE made its rounds of word-chopping to meet the requirements of different publishing lines, it was reduced to about the size of a two-word novella.  I felt that the romance was one that I wanted to share in its entirety so I released the original length on Amazon. To my amazement it started climbing up the ranking ladder and has hovered in and out of the top 100 Romantic Suspense list on Amazon for almost two years now.  I never dreamed it would be successful.  I think I might have first published it so that I had a Christmas present ready for my grandmother. 🙂
I see you are also writing for Carina, the epress imprint of romance giant Harlequin. How has that experience compared with your indie publishing efforts?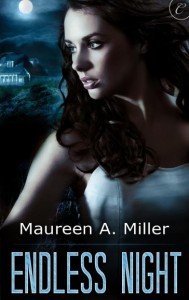 You can now officially call me a 'mutt' because I am both self and traditionally published.  There is a fraternity of self-published authors, where the support system is unlike anything you have experienced. But I was pleasantly surprised to experience the support and enthusiasm of my fellow Carina Press authors as well. One thing I have learned in this industry is that there is a lot of misconception going on. Self-publishing does not mean selfish. It means selfless. Traditional publishing does not mean aristocratic, it means heartening.
Well said, Maureen! Okay, for any fellow-writers in the audience, have you done anything special to get your books (especially the self-published ones) noticed?
I carry around a sign that says, "Will wash your car if you read my book."
LOL! That should do it! Okay, being serious for a moment, as Indie authors, it's easy for our books to get lost in the veritable ocean of self-published offerings. Is there another Indie author (or three) you'd like to give a shout-out to, whose books are worth searching for?
That is tough as there are so many talented Indie authors I know and have had the pleasure of reading their books…yourself included!
I enjoy the Red Cross of Gold series from Brendan Carroll.
I am currently reading the suspense novels of Vicky Tyley.
Maria E. Schneider's mysteries are fun and Debra L. Martin's science fiction is exciting.
But again, I could go on…
Thank you for being my guest today, Maureen. You're every bit as charming in cyber-space as you are in … well, I guess I've only known you in cyber-space! Maybe we can remedy that in New York next month, at the RWA convention. In the meantime, happy writing!
Thank you, Miss Norah, for having me. You are a gracious hostess!
You can find Maureen on the web at www.maureenamiller.com. Go visit her. And buy her books. They rock.
Breaking Point by Pamela Clare
My rating: 5 of 5 stars
Oh, where to start? This book had everything I love. A thrilling action adventure plot, an amazing larger-than-life hero in Zach (former Navy SEAL turned Deputy US Marshal), a smart, courageous heroine in journalist Natalie Benoit, and a scorching-hot romance. Pamela Clare gives both Zach and Natalie a ton of baggage – some very bad stuff has already happened to these very good people – and then she heaps more bad stuff onto them. But they come through the ordeal stronger, each helping the other to heal the grievous emotional wounds of the past.
Oh, and bromance! (Sigh) This book gives us a reunion of some of my favorite heroes from Clare's previous novels, who come together to help protect Natalie. I especially loved revisiting Julian Darcangelo and Marc Hunter. Much as I adored Zach and Gabe, I'm still hung up on Julian & Marc. The story line in BREAKING POINT could not have been tailored better for me, though I had some rough moments….
A gritty, sexy, emotionally rewarding read! I can't recommend it highly enough.