I think I've forgotten how to blog. Seriously. I think all my news, all my Aha! thoughts about writing, all my failures and triumphs, my loves and hates, I'm tweeting. Or Facebooking. What's left to blog about?
Oh, yeah. Deeper issues…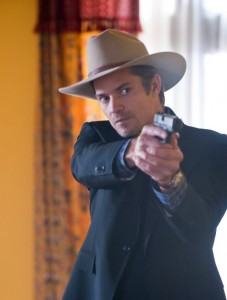 Okay, here's something that'll take longer than 140 characters to explore – my love of Justified. If you haven't seen it yet, it's a television show based on Elmore Leonard's character Raylan Givens, a US Marshall, who appears – according to Wikipedia – in Leonard's novels Pronto and Riding the Rap and his short story "Fire in the Hole"  Can I just say, frickin' brilliant writing!
Also, brilliant casting. Timothy Olyphant as Raylan was pure genius. I gather that Leonard's material has not always been successfully adapted to the screen, but this seems to be a notable exception. And the fantastic casting doesn't stop with the lead. I just finished Season 1, and there's not a soft spot anywhere. Walton Goggins as Boyd Crowder is a particular standout. He was brilliant in The Shield, where he played Shane Vendrell, the character I most loved to hate. But somehow I segued into just loving him. As one of my writer friends (MJ Frederick) said, it's hard to take your eyes off him (Goggins) when he's on the screen. But the whole cast is amazing. Raylan's boss, his disreputable father, his Aunt Helen, the whole Crowder clan. Top to bottom, it's amazing.
I also love the fact that it's set in Kentucky (and doesn't Raylan stick out like a sore thumb with that cowboy hat, cowboy boots and gunslinger swagger!).
As for the finale for Season 1 – Oh. My. God. My tastes tend toward the dark and violent when it comes to TV. I loved The Wire (I can still hear the sawed-off shotgun wielding Omar saying, "You come at the King, you best not miss" after the would-be assassin missed). I was spellbound by The Shield. Absolutely love Sons of Anarchy. I'm totally down with True Blood. I also have a lot of room for the quirky (Terriers, anyone?). But it's pretty hard to top what Justified did with Season 1. Shows like this renew my faith in television.
Now, if we could only get Firefly back….