I first met Shéa MacLeod on an author discussion group where we were both learning the ropes of self-publishing, and have been a fan ever since. And I mean that in every way. I love her urban fantasies to death, but I'm also just a Shéa fan. Her brand of charm, sass and geekiness is irresistible. I was not at all surprised when Montlake Romance acquired Shéa's exciting Sunwalker Saga series, making her a Montlake sister. Today it gives me great pleasure to introduce her to you. Take it away, Shéa,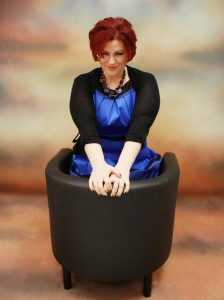 Shéa MacLeod: Hi Norah, thanks for having me! This series on workspaces has been so much fun. Mostly because I'm incredibly nosey. 🙂 Also, I'm a HUGE fangirl of some of the authors you've featured so it's been doubly awesome being able to poke about where the magic happens.
I'm afraid my space is rather dull in comparison. I only just moved back to the US at the beginning of June and into my apartment at the end of June.  So, I haven't quite "settled in" yet. But I'll tell you what, when I saw the Campaign Desk at World Market I absolutely HAD to have it! That was the first thing I bought for my office. My cousin and my uncle managed to wrangle it up three flights of stairs (It's made of real wood so it's super heavy) to the second bedroom which is now my workspace.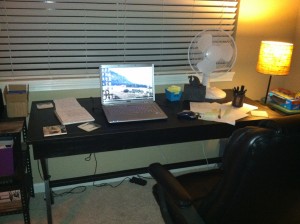 Along one wall I have the matching bookshelf. These days I mostly buy ebooks, but I have a few special paper books I keep and I like having them out where I can see. On the top shelf I've got my "plotting" notebooks where the first ideas for my novels take shape.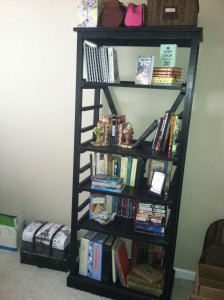 On the second shelf between the two ladies you can see my books in actual paperback. SQUEE! (PS. My cousin and I have decided those ladies are us when we're older. I'm the redhead and she's got the pink Mohawk.)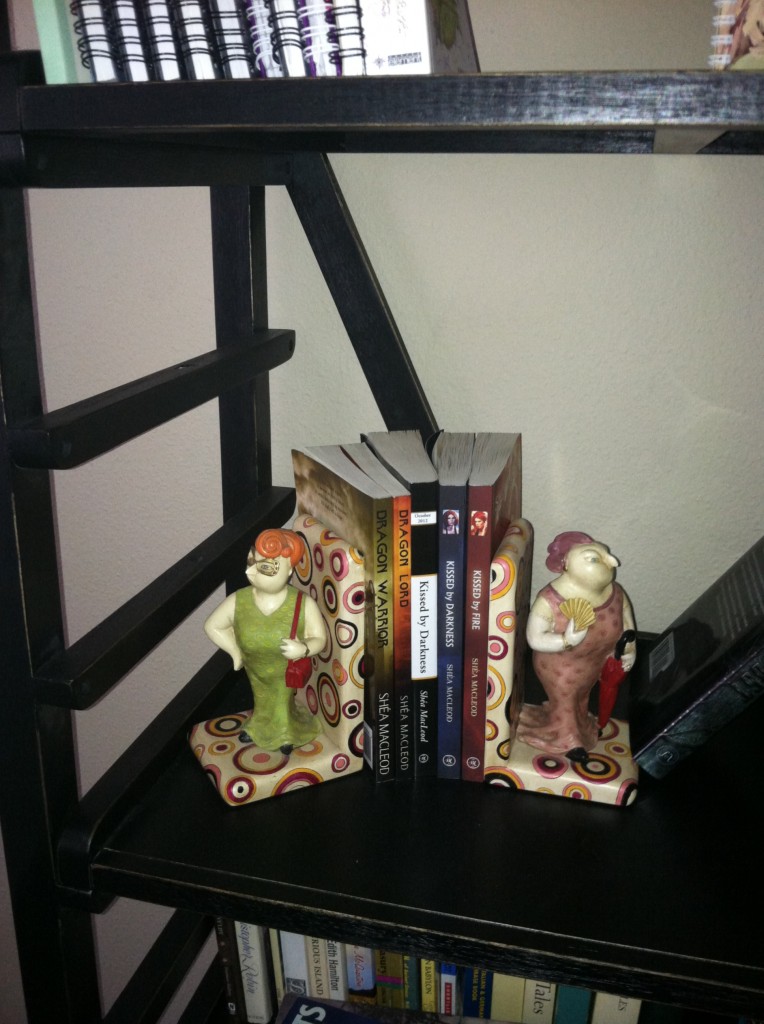 On the left side of the office I have a comfy little chair and lamp. It's a great spot for reading, editing, or just dreaming up how to torture my protagonists!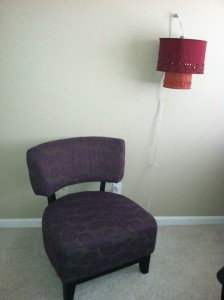 There are a few things in my office which are really special to me. For one I always have a mug handy. Usually full of coffee. This is one of my favorites.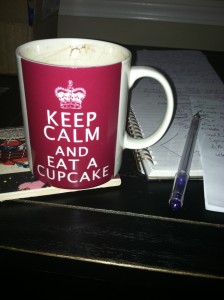 The little dragon box is a great place for storing important things like flash drives. It's from my friend and fellow author Tara West. A little housewarming present. Perfect, don't you think? It makes me smile every time I see it and it's very inspirational while I'm working on my Dragon Wars series.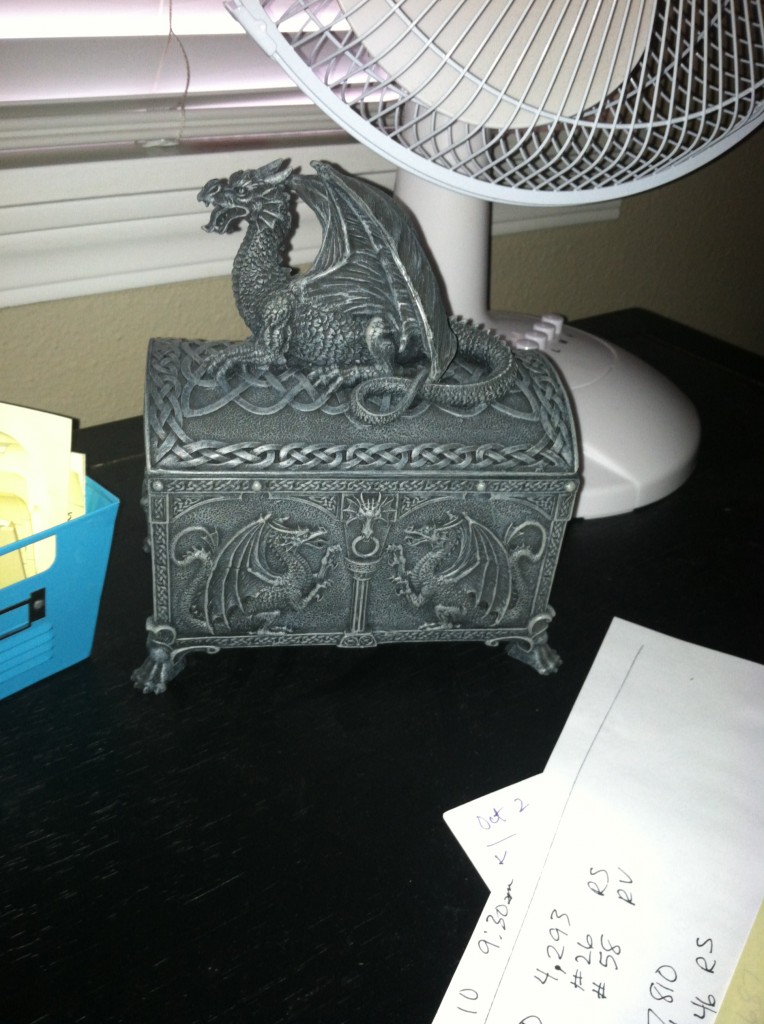 Talk about inspiration! This little knight's dagger is something I've had for AGES (Used to hit every Ren Faire I could) and it inspired Morgan Bailey's weapons in the Sunwalker Saga.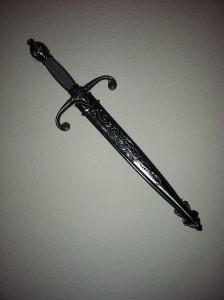 And finally, my boxes of books! I have nowhere else to keep them so they pretty much sit in boxes in the corner where I can pet my pretties whenever I want.  🙂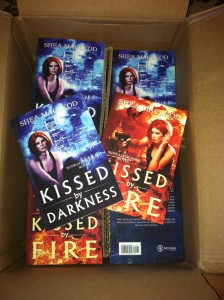 My office is pretty much a "work in progress" right now. I need more bookshelves (Who doesn't!) and I'd like to get up some cork boards where I can tack various things that inspire me. Like this guy! (Sorry, had to slip him in there.)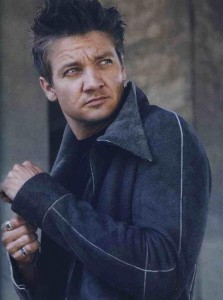 Anyway, thanks all for stopping by. And thanks, Norah, for having me! It's been fun showing you all around the Batcave.  Er, I mean office.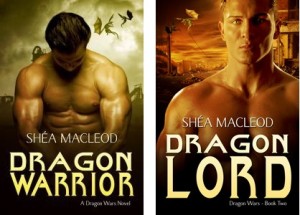 Thank you for that tour, Shéa! I don't know what I love more, those bookends or the dragon box! And I too am going to have to get a cork board. 🙂
Okay, on to the giveaway! One lucky winner will win signed print copies of the first two books in Shéa's Sunwalker Series, Kissed by Darkness and Kissed by Fire. (You'll see all three covers below, but the third book, Kissed by Smoke, is not yet out. Readers will have to wait until Christmas day for that puppy!)
NOTE that the print offer is open to winners in the US and Canada. International winners are still eligible to win, but because of the prohibitive cost of mailing, Shéa would be happy to substitute Kindle copies. Heck, if you're in the US or Canada and simply prefer to read electronically over print, I'm sure Shéa would be happy to gift you the prize in Kindle format.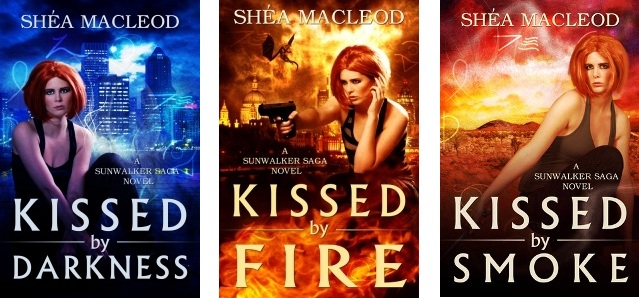 Let the commenting begin!