Archive for the 'Book Covers' Category
I'm thrilled to announce that I have a new contemporary series launching. The three books in The Standish Clan series are under the Hearts of Harkness umbrella. More series are planned.
Here are the books with links to excerpts and pre-order links:
Book 1 – A Fall from Yesterday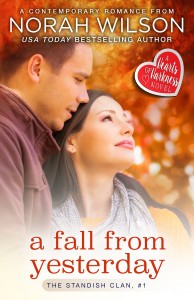 Pre-Order Now
Kindle US  |  Kindle UK  |  Kindle CA  |  iBooks  |  Nook
Read an excerpt here.
Book 2 – Ember's Fire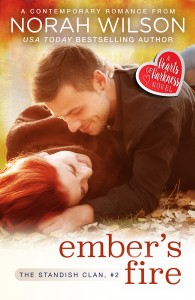 Pre-Order Now
Kindle US  |  Kindle UK  |  Kindle CA  |  iBooks  |  Nook
Read an excerpt here!
Book 3 – Promise Me the Stars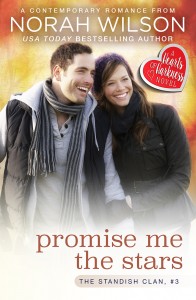 Pre-Order Now
Kindle US  |  Kindle UK  |  Kindle CA  |  iBooks  |  Nook
Read an excerpt here.
The newest Dix Dodd mystery will be out near the end of July or early August, but there's no reason we can't share the cover and blurb. What do you think? Are you excited for it?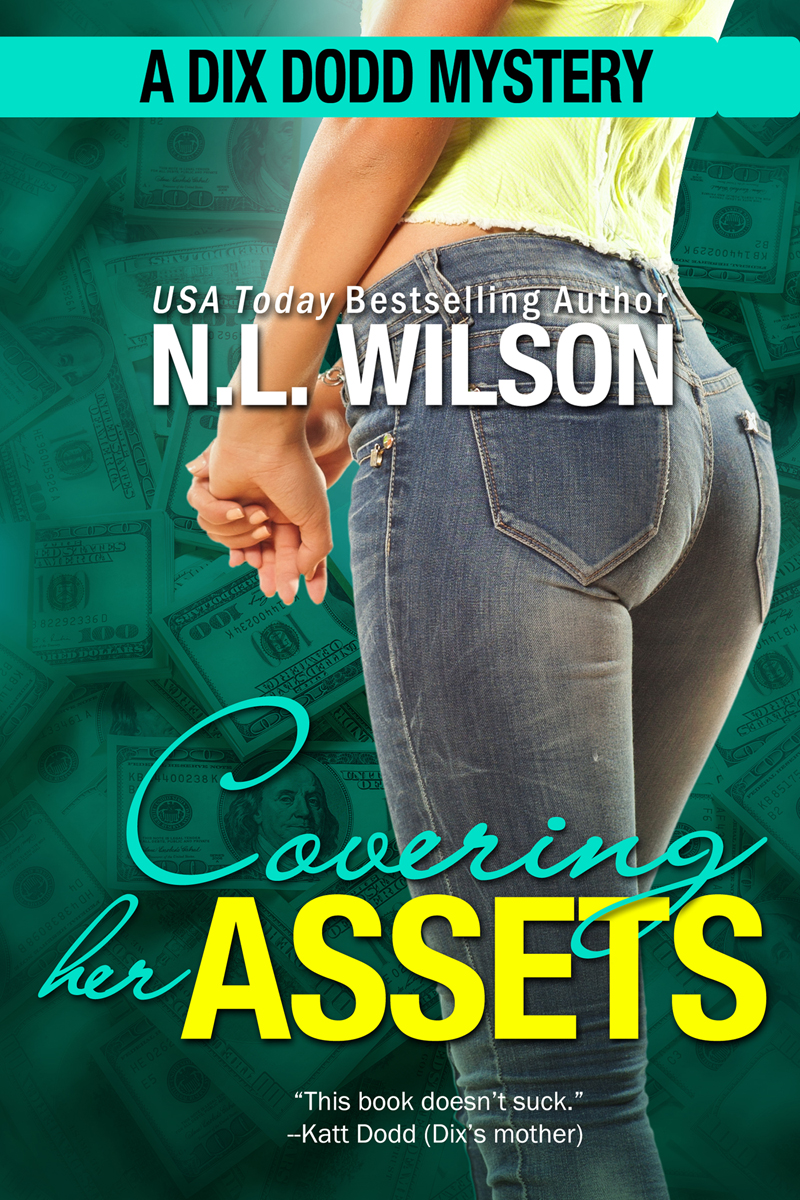 As gigs go, this is a juicy one. Getting paid to hang out in a mansion.

Okay, there's a little more to it than just hanging out. Dylan and I have been hired by the ever enterprising Elizabeth Bee. Elizabeth, who'd recently snagged herself a rich octogenarian husband in the person of motel-mogul Hugh Drammen, fears someone is trying to harm her new meal ticket … er, precious Hugh-Bear. They'll succeed over her dead body. She intends to keep her hubby alive and well for a good, long time. Or at least until the pre-nup clause kicks in two years down the road, vesting her with a cool two mil. That's where Dylan and I come in, to figure out who's out to harm Hugh, and to keep him safe until we do.

Of course, Elizabeth doesn't want any household members to know we're private investigators, so we'll be going in under cover, me as the young Miss Bee's very attractive and youthful-looking mother recently returned from abroad (I can't believe she talked me into that!) and Dylan as my boy-toy. Just to spice things up, we'll be bringing Mrs. Presley along with us, in the role of Elizabeth's "loving" nanny.

Yep, it's going to be a blast! Elizabeth can rest easy knowing we're covering her assets.
I'm happy to say I now have a cover for my upcoming (08/19/14 – Montlake Romance) romantic suspense, Fatal Hearts. What do you think?
The book is available for pre-order on Amazon.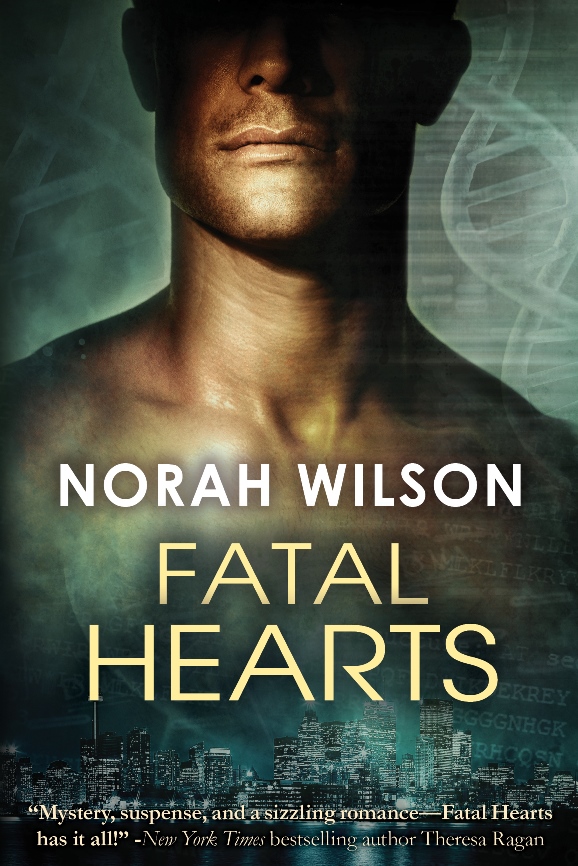 And here's the back cover copy:
The reports stated Josh McBride's death was from sudden cardiac arrest, but homicide detective Boyd McBride can't shake the idea that his identical twin brother's death was somehow connected to his search for the adopted boys' birth parents. Josh must have been close to the truth … and it cost him his life.

When Boyd comes to medical resident Hayden Walsh's ER looking for answers, she agrees to help with his investigation because Josh was a friend. As unnerved as she is by her attraction to the detective, she knows it will be impossible to avoid romantic entanglement … and the mess that comes with it.

The investigation uncovers dangerous secrets, and Boyd and Hayden's passion ignites. Only they can keep each other safe from a threat that lurks inside a life-long mystery.
Trish Milburn, MJ Fredrick and I are pleased to announce that we've collaborated to bring you three romantic suspense novels in one multi-author box set. The idea behind the collaboration was to try to achieve some cross-pollination. If you're familiar with my books, perhaps it will be an introduction to Trish and MJ, and vice versa.  Each of us is an award-winning author. Each of us has finalled multiple times in the Romance Writers of America's Golden Heart Contest. And each of us has other romantic suspense/adventure stories for you to discover, if you like what you read in this collection.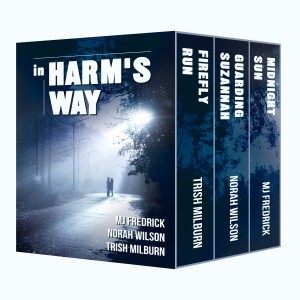 Here's a description of the three stories:
Midnight Sun by MJ Fredrick:
This wasn't the adventure she'd signed up for…
A sexy boss, a rough crossing, and pirates—all Brylie Winston wanted was a job to help her earn money to buy her own restaurant. She hopes to earn it by working as a chef on a cruise to Antarctica. But she's slept with her boss, which throws her off-balance even more than the rough seas and warnings of pirates in the area. And he's determined to have a repeat performance.Bad boy former snowboarder Marcus Devlin is running from his reputation, sent to learn the family business after decking a senator's son and making the papers. So maybe he indulged in a last-minute fling before boarding his family's cruise ship to Antarctica. Perhaps Fate is showing him that wasn't so bad—the gorgeous redhead who snuck out of his bed is on the cruise. She'll be a lovely distraction during his exile.But when modern-day pirates take over the ship, his instinct is to protect her and the other passengers. But what does a spoiled rich boy know about saving people's lives?

Guarding Suzannah by Norah Wilson:
Criminal defense attorney Suzannah Phelps is the bane of the Fredericton police department (they call her She-Rex for her habit of shredding cops in the witness box). She is currently being stalked, but is reluctant to report it to the police, whom she half suspects of being the perpetrators. But when Detective John (Quigg) Quigley learns of it, he's determined to protect her, at considerable risk to his career. They've struck sparks off each other in the courtroom, and he's burning to do the same in the bedroom. When the danger escalates, he has the perfect excuse to pose as her boyfriend, but the closer they get, the more the lines between pretense and reality blur.

Firefly Run by Trish Milburn
Shelly Myers has finally rebuilt her life two years after her new husband, a Dallas police detective, was gunned down on the church steps minutes after they'd said, "I do." She returned to her beloved Smoky Mountains in Tennessee to help her parents run their cabin rental and river rafting business — and to heal. Now, the murderer she helped send to death row has been released because of bungled evidence, and Troy's partner, Detective Reed Tanner, has arrived on her doorstep to protect her from Eddie Victor, who has sworn to kill them both. Reed is determined to protect Shelly like he didn't protect Troy. But Reed isn't prepared for the attraction he feels toward Shelly or the fact that she obviously feels the same way toward him.
For a limited time, you can buy IN HARM'S WAY for just $2.99 at these vendors:
Amazon   |   B&N   |   Apple   |   Kobo   |  Smashwords  
The authors of Rock*It Reads – of which I am one! – would like to wish you a Merry Christmas … and show you a few of the RIR books we have to offer you. Please check out our video Christmas card below.

Authors you love. Stories that rock.
Some days, I can't help but think I have the best job in the world, and not just because I get to make up stories! I also get to meet some very cool people. One of those awesome people is Vanessa Kelly. I got to know Vanessa when I was invited to join Rock*It Reads, of which she is a founding member. I can't tell you how much respect and affection I have developed for her in the short time I've been with RIR. Take it away, Vanessa!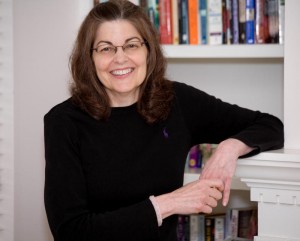 Hi, Norah!  Thanks so much for having me on Workspace Wednesday.  The first thing I did, naturally, was go on and look at some of the swell spaces you've highlighted.  Gave me some great organizing ideas!  For me, organization is critical because I work out of two offices.  Most of the year I live in a condo in Ottawa with my hubby, but I'm lucky enough to spend the winter in Florida, in a bungalow on a small but very beautiful lake.
Not surprisingly, my Ottawa office is the best supplied and holds most of my books and writing resources, because that's where I spend most of the year.  Here's a picture of the custom-designed bookcase for all my research books and materials.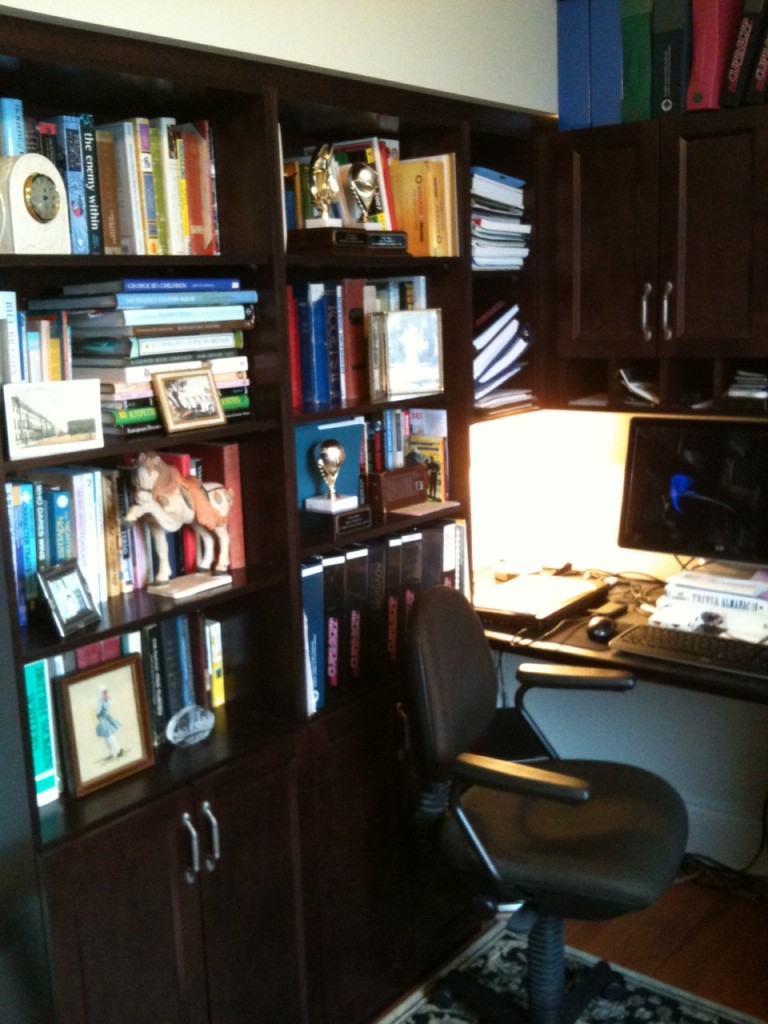 The desk that you see in that photo, however, is not mine.  It's my husband Randy's workspace.  He's my co-writer for my VK Sykes contemporary romance books.  If you want to see how closely we work together, check out this picture.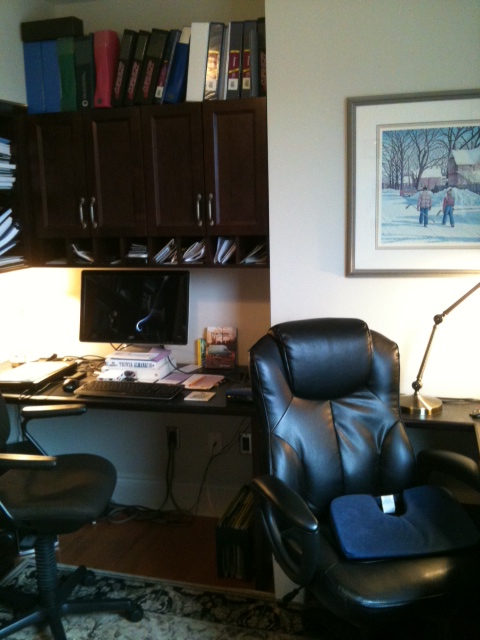 That's my desk chair on the right.  Pretty darn close, I'd say!  In fact, we bump into each other on a regular basis.  Because we live in a condo with limited space, we had to put a lot of time into thinking about how the office would work.  Now here's a picture of my desk.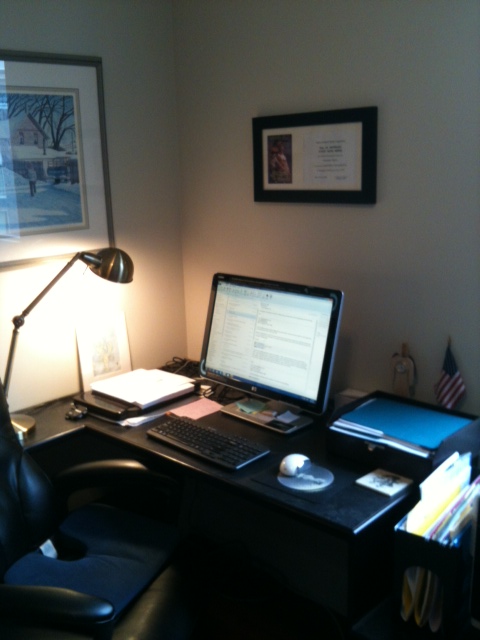 Notice the Obus form cushion on my chair—like many writers, my back can often give me problems, so a really good chair and good posture is essential.  But on bad back days I usually move out to a big leather armchair in the living room.  I plop my Alphasmart on my little lap desk and write away.  It's a good break from sitting at the desk and often seems to fuel my creativity.  It's amazing how changing one's environment, even just a little bit, can help the muse break out of her box.
Here's the final picture from my Ottawa office, showing more of our custom built cabinets and bookshelves.  I've also got some awards posted on the wall, and you can also see that this corner is where I stack author copies, manuscripts, and other supplies I need within reach.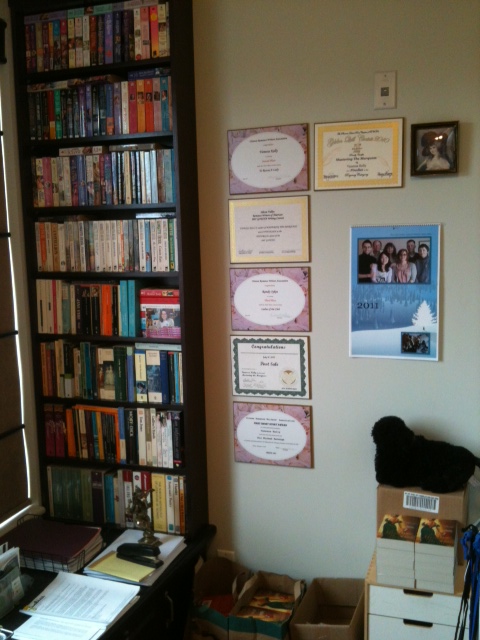 As you can see, my Ottawa office is pretty tight but I think it's well designed and very functional.  As much as I love spending winters in Florida, I do miss my office while we're gone.  But Florida has its compensations too, starting with this view out my back door.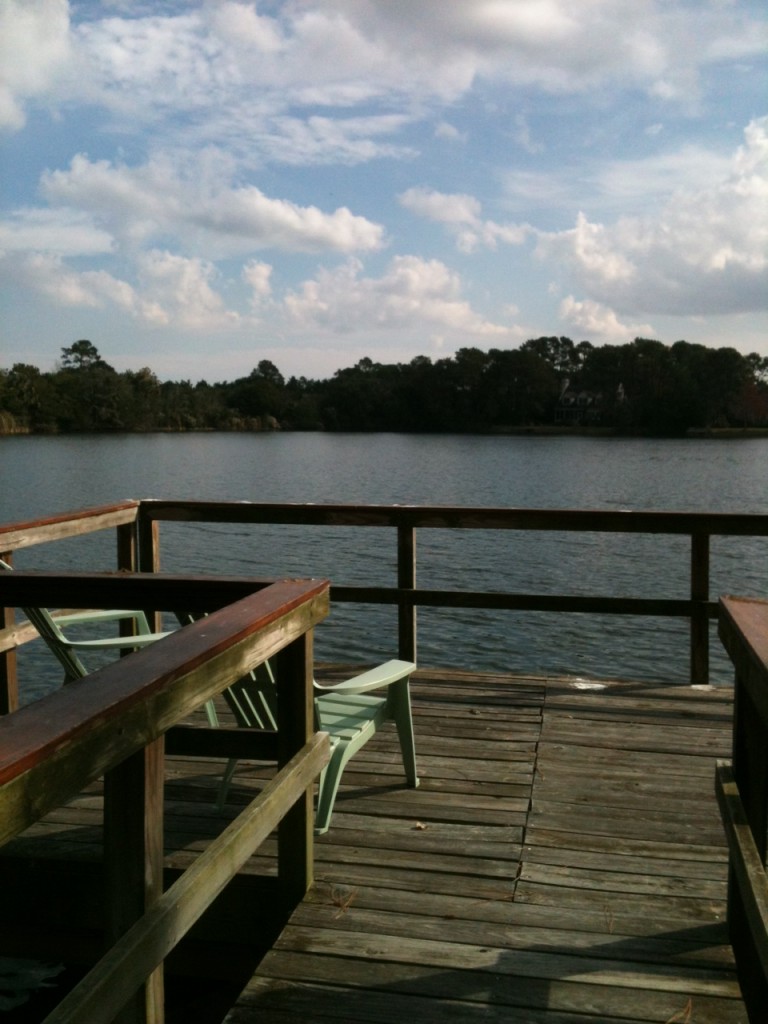 The real advantage of my Florida office space is that I have more room to spread out, which is kind of funny because I don't have nearly as much stuff here as I do in Ottawa.  But it's still a pleasure to have the extra space.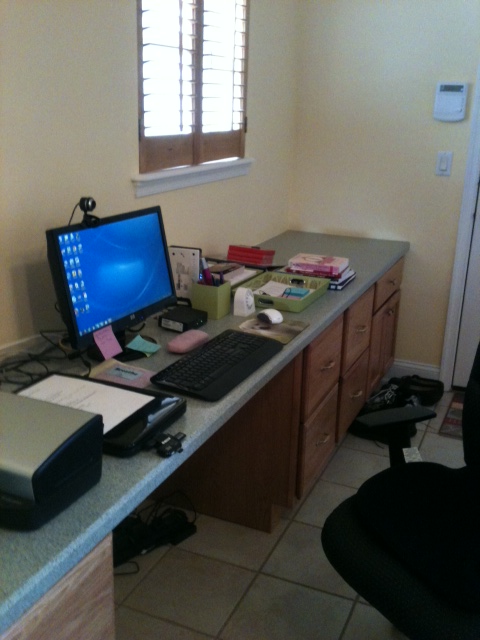 Notice the swell built-in drawers and cabinets from the previous owner of the house.  That is a very handy feature for someone who has a lot of crap to organize!
Here's a close up of my workspace.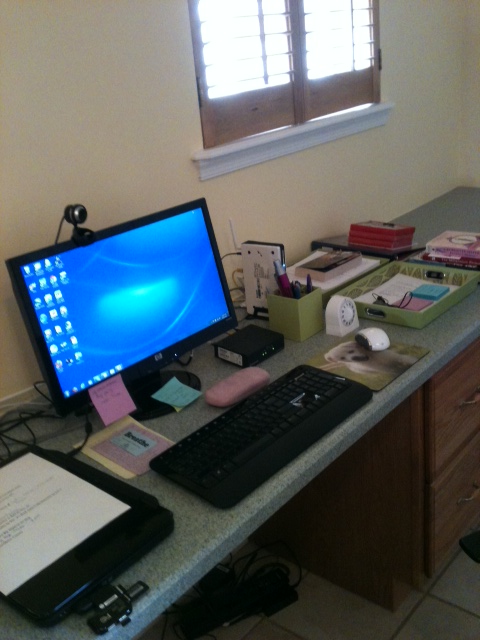 See that white kitchen timer by my keyboard?  I set that at fifteen minute intervals to remind myself to get up and walk around.  Bad back, remember?
One of the things I also appreciate about my Florida office is where it's located—the kitchen.  I love being in the kitchen.  It's warm and cozy, and it only takes a second to get up and make myself a cup of tea and coffee.  Of course, it also means I'm way too close to all the food and the fridge, so I have to exercise some much-needed restraint.
And, no, I'm not going to post a picture of my kitchen, because I still haven't done the breakfast dishes!
Vanessa Kelly was named by Booklist, the review journal of the American Library Association, as one of the "New Stars of Historical Romance."  Her Regency-set historical romances have been nominated for awards in a number of contests, and her second book, Sex and The Single Earl, won the prestigious Maggie Medallion for Best Historical Romance.  Vanessa also writes contemporary romance with her husband under the name of V.K. Sykes.  You can find her on the web at www.vanessakellyauthor.com or at www.vksykes.com.
Thank you, Vanessa. That was awesome. And I'm so jealous! I'd like to try to write on that dock. 🙂
If you want to know more about Vanessa, visit her at one of these sites:
Check out her current books: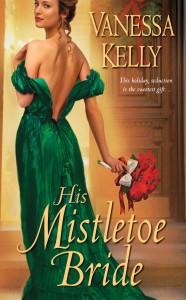 His Mistletoe Bride
When Major Lucas Stanton inherited his earldom, he never dreamed his property would include the previous earl's granddaughter. Phoebe Linville is a sparkling American beauty, yes, but with a talent for getting into trouble. Witness the compromising position that forced them into wedlock. Whisked away to Mistletoe Manor, his country estate, it isn't long before she is challenging his rules—and surprising him in and out of bed…
Phoebe has no intention of bowing to Lucas's stubbornness even though he offers all that she wants. His kisses and unexpected warmth are enticing, but Phoebe is determined to show the Earl of Merritt what real love is all about. And if that takes twelve nights of delicious seduction by a roaring fire, she's more than willing to reveal her gifts very slowly…
Buy links:  Amazon  Barnes & Noble  Books A Million
Bigger Than Beckham, by VK Sykes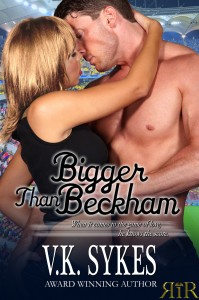 Sports journalist Martha Winston loves her career, but her life goes sideways when she inherits a pro soccer team from her father.  The team is almost bankrupt and on the skids, but Martha has vowed to save her beloved father's legacy.  But she needs to get a financial infusion fast, or else lose the team to the wolves baying at her door.
Former British soccer hero Tony Branch wants to add Martha's team to his growing sports empire.  But he wants it strictly on his terms—full control, not a partnership.   When Martha turns him down flat, he's determined to change her mind by any means necessary.  If that includes using the sexual heat flaring between them, Tony is more than willing to play a game of seduction.
Buy links:  Kindle  Nook  Kobo  Smashwords
Okay, that brings us to the fun stuff – the giveaway! Leave a comment for Vanessa for a chance to win one of two prizes. She'll be giving away a signed copy of His Mistletoe Bride to one winner, and an ebook copy of Bigger than Beckham to another.
I haven't known Nancy Naigle long; I met her when she became a fellow Montlake Romance author. But frankly,  it didn't take long, even though the "getting to know you" stuff was all electronic. She's very warm, funny and interesting. Just like her books! Since I've mentioned the Montlake connection, here's Nancy's current Montlake title, Sweet Tea and Secrets, which is charting very nicely in Romance > Series and Romance > Contemporary. Go, Nancy!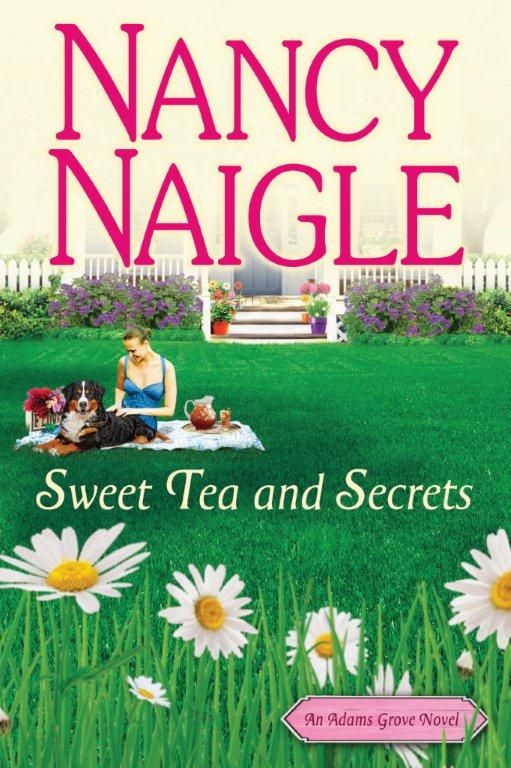 With that intro, here's Nancy!
NANCY NAIGLE:  Hey y'all, when Norah invited me to drop in and share my writing space I was so excited. Then, as I fell in love with each space Wednesday after Wednesday, I realized everyone else is way more organized (and neater) than I am!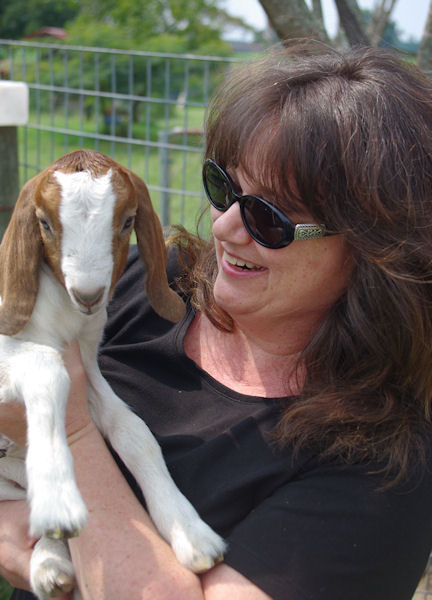 I live in southern Virginia on a goat farm with my husband and two labs, so it's probably no surprise that I write love stories from the crossroad of small town and suspense.
My office is kind of like me – all over the place, and I learned a couple funny things about myself in looking at my office through these pictures. You'll see what I mean here in a second.
For example, I never noticed until I took these pictures that it's pretty darn clear that I'm right-handed. Notice the piles of stuff on the right end of my desk? Good thing I don't work on a boat, I'd tip over for sure!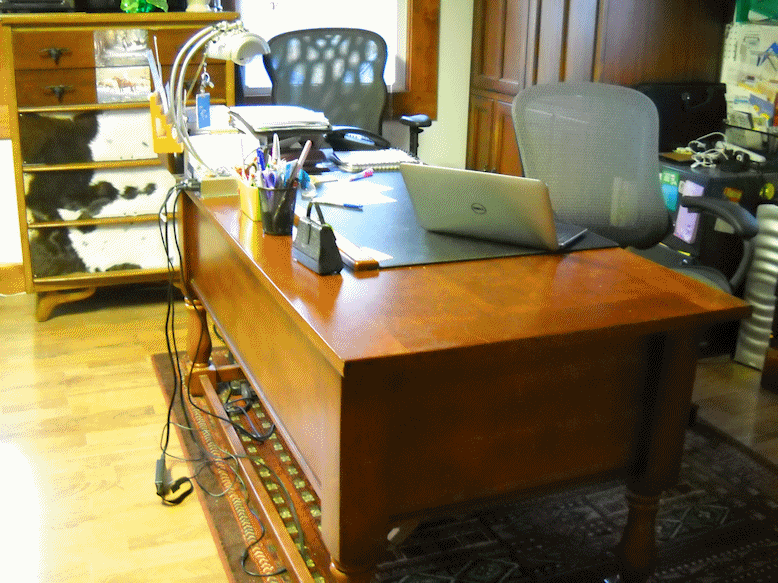 The dresser in the background is a white mahogany dresser that was my granddaddy's. I couldn't bear to part with it so I stained it to match my desk and cowboyed it up so it would fit in nicely with my décor. It's filled with marketing stuff for my books. Giveaways, and tear sheets, you name it. And YES, that is goat hide on the bottom three drawers of that chest of drawers. I also used my dremel to carve brands into the sides of it. It was a really fun project.
I treated myself to the Pottery Barn desk six years ago and I love it today as much as the day I realized I had to have it. The huge desk top gives me lot of room for stuff, and I usually have lots of notes and lists all around me.
The funny thing is I never realized how close to the edge, even hanging off my desk, I work until I took these pictures. I guess maybe that desk isn't quite as big as I'd really like it to be. And yes, the little stool under the desk is so my feet have somewhere to land. I'm a shorty-girl.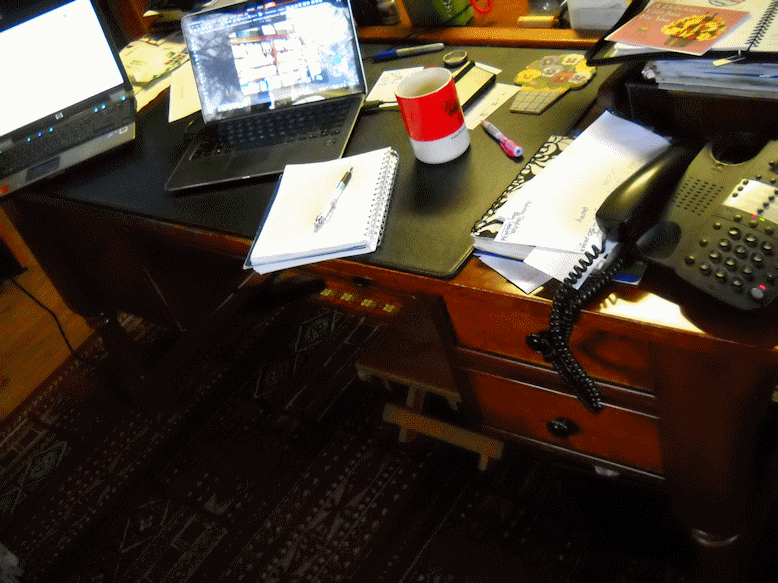 A cool tool: Earlier this year I discovered these adorable cherry bleachers at Levenger.com. It's one of my favorite websites to window shop. As you can see, it gives me a chance to scribble notes on cards and pop them into the bleachers to help keep myself on track as I work on my book.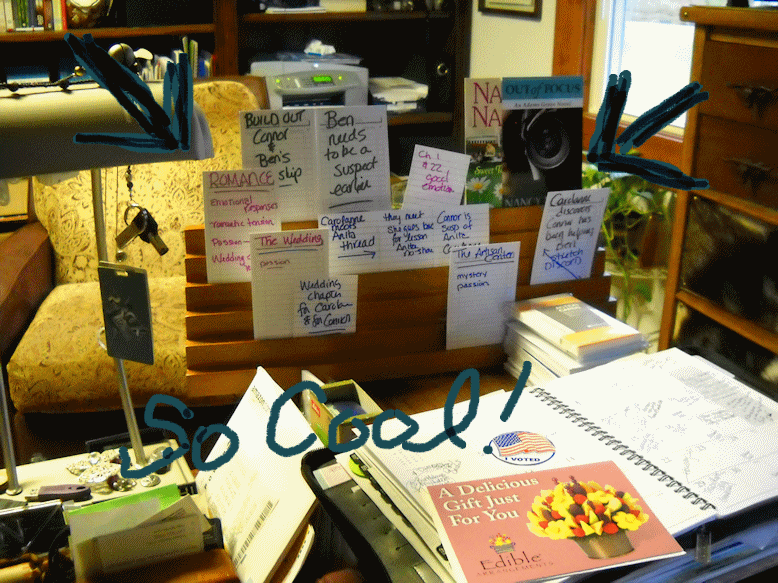 These Kathy Ireland bookshelves neatened up my act considerably earlier this year. It's been great to have twelve running feet to store all my favorites (see Mary Alice Monroe's book face out on the top left shelf) and craft books.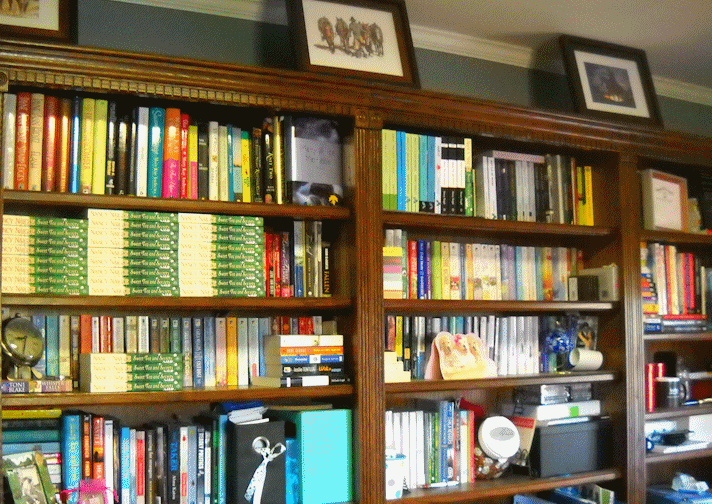 But there are some days when I really need to get down to work. When the words just aren't coming, I swivel my office chair toward the window, kick it into recline position, and write with my laptop in my lap. Those always end up being super productive days. It must be a feng-shui thing because it doesn't work unless I turn the chair toward the window.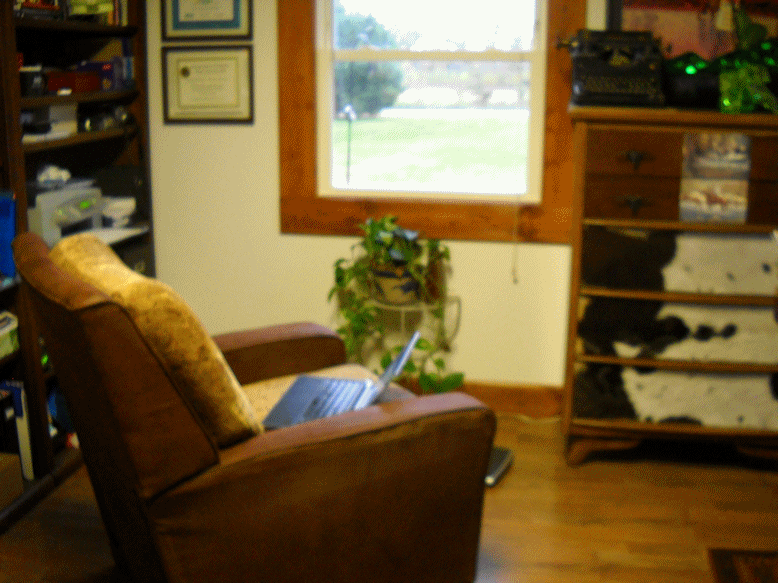 The bottom line is as long as I have my laptop I can make it happen. I really like that flexibility.
I have two giveaways for readers. Just leave a comment below for a chance to win either:
A $10 Amazon gift card; or

A set of autographed Keeper Kase™ Cards. Don't know what Keeper Kase™ cards are? Lordy goodness, check this out.

http://www.nancynaigle.com/efans.htm
Good luck! 
Thank you, Nancy, for that fun tour! I think you might win the prize for the most original piece of furniture with that "cowboyed up" dresser!
I also wanted to mention Nancy's next Adams Grove Novel Out of Focus, coming in August 2013.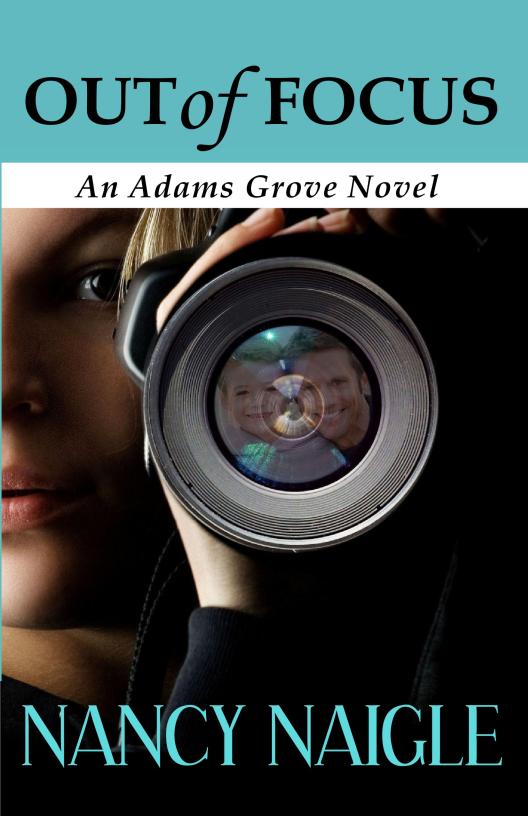 Okay, folks, you heard the lady. Let's have some comments!
I am very pleased and honored to have Cynthia Eden as my Workspace Wednesday guest. Cynthia is a USA Today best-selling author of sexy paranormal romance, dark romantic suspense and young adult paranormal. (I'm trying not to go all fan-girl here, but having just finished Bleed for Me, a novella in the Loved by Gods series, it's kinda hard!)
Take it away, Cynthia.
CYNTHIA EDEN:  Happy Wednesday, everyone! And a big thanks to the wonderful Norah for having me over—I'm excited to share my workspace with you. 😉
Some authors have truly fabulous offices. They are so well organized.  So clean and perfect.  Yes, ahem, I am not one of those authors.  Though I did try to clean up my nook a bit for the picture.  Here you go: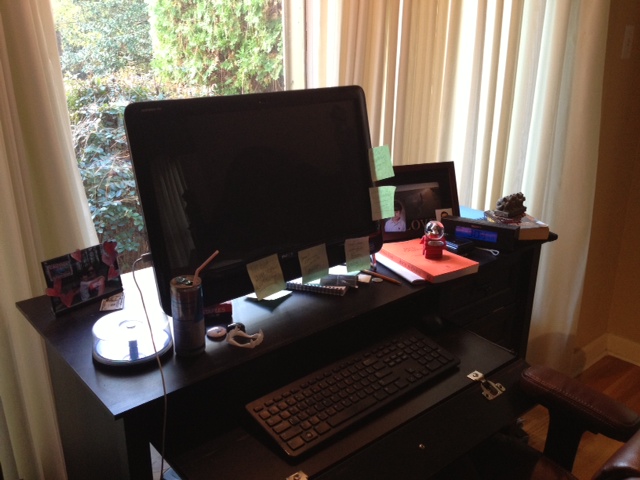 This is my main writing area.  A computer and a view—that's all I truly need. When I'm working on a tough scene, I'll pause and let my gaze drift out of the window. I can get lost staring out of that window, then, when the scene clicks, my gaze snaps back to that computer, and it's time for me to get back to work.
Do you see the lovely green decorations (AKA sticky notes) on my computer? That's my method for keeping track of things that I MUST do—like, yesterday.  Scenes that I need to add, posts that I need to write, dental appointments that I shouldn't miss. See, I told you that I wasn't one of those uber organized authors.
But I have my methods.
I like to keep things close by that make me smile—like Snoopy and my gargoyles.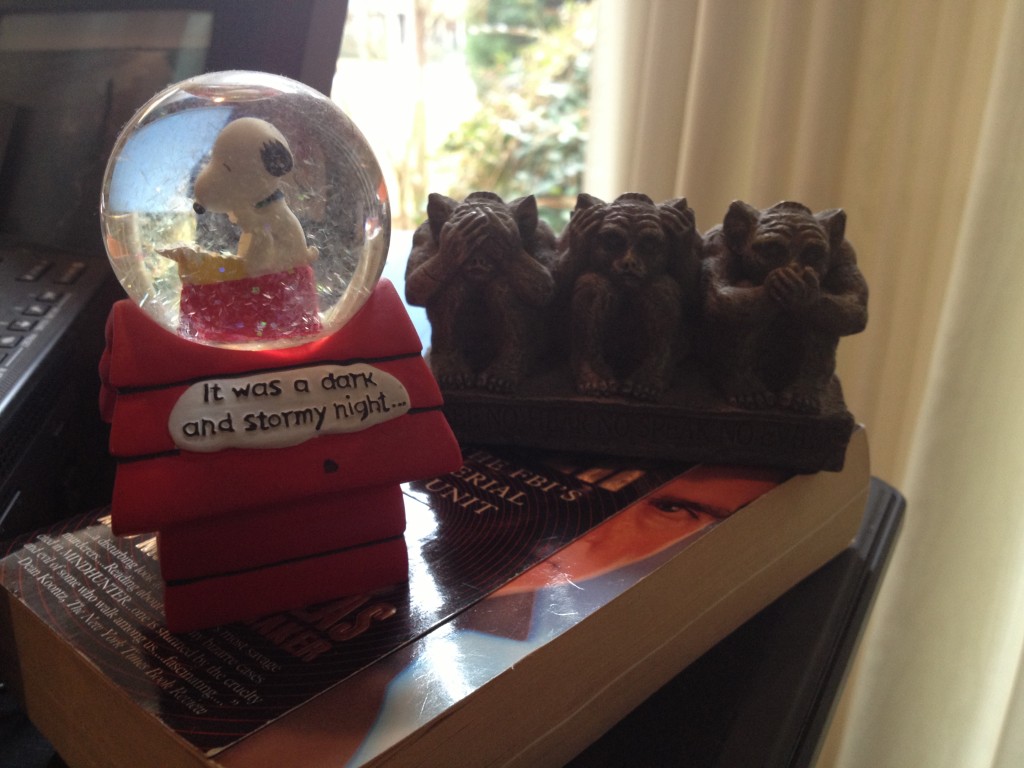 Snoopy is a writer, too, so he understands how easy it is to get stuck in a scene… "It was a dark and stormy night…" When I look at Snoopy, he makes me smile. My gargoyles (See no evil, Hear no evil, and Speak no evil) also inspire me during the day.  It's the little things that can truly make me happy—and these guys make me feel comforted as I write.
Of course, what writing space is complete without books? And I've got lots of books…lots and lots of them.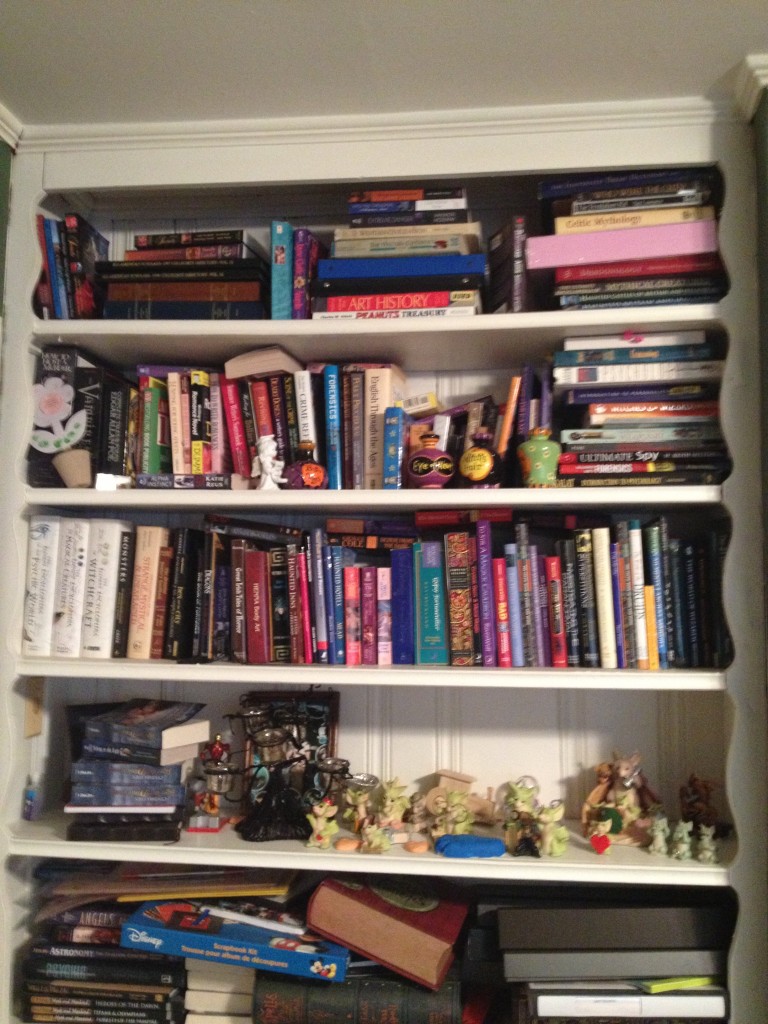 My shelves overflow, but I think that's a good thing.
I have research books, pleasure reading books, books for contests—I have all kinds of books on my shelves.  You never know when you'll need to research vampires or serial killers, so I believe in being well-stocked.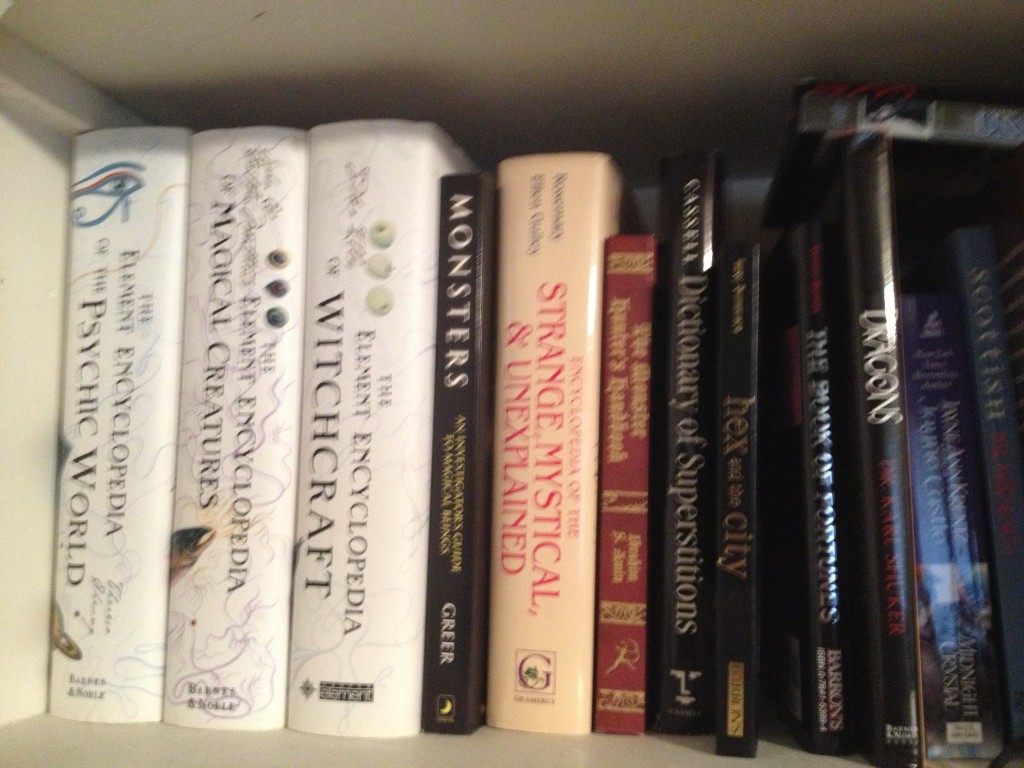 I also believe in keeping some fun adornments on my shelves.  Spooky decorations aren't just for Halloween at my house—I write about paranormal monsters and killers, so yes, those spooky decorations are on display year round.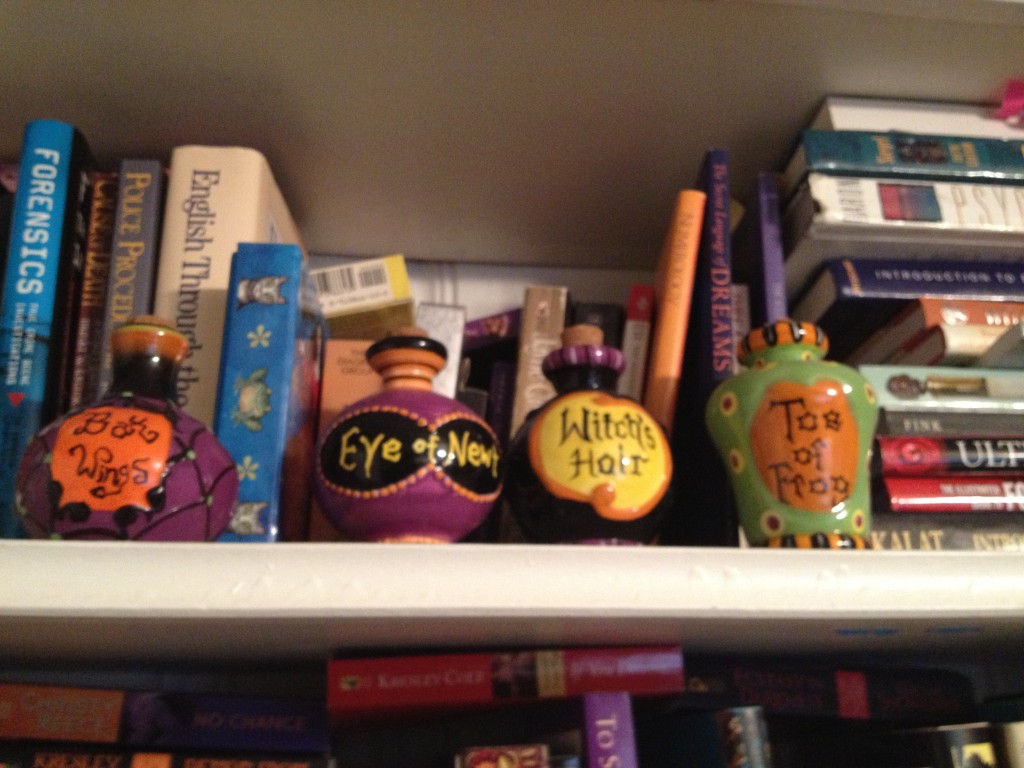 And that's it. My space. Where the writing magic happens (or at least—where I want that writing magic to happen!).  Thank you for taking a look at my space. I hope you enjoyed the photos.
And, as a thank you for coming by, I'd like to give one commenter a $10 Amazon.com gift card. Just tell me…what books are on *your* shelves?  One random commenter will be selected as the winner.
Thank you, Cynthia! I love your space, and adore that it isn't perfectly tidy. Predictably, I love the built-in bookcase. I always love the built-in bookcase. Actually, after having seen so many romance authors' writing caves, I'm beginning to think that the built in bookcase – preferably in white or antique white – is astonishingly universal. (Note to self:  Explore significance of the prevalence of white bookcases in a future blog…)
Okay, before turning it over to comments, I wanted to share some contact information for Cynthia.
Cynthia's Official Fan Page on Facebook
Cynthia's Twitter
For other social media, or to check Cynthia out more closely, visit her blog.
Cynthia has a brand new book out — her first young adult paranormal. The Better to Bite is available for Kindle for the awesome price of $2.99. (Got mine.)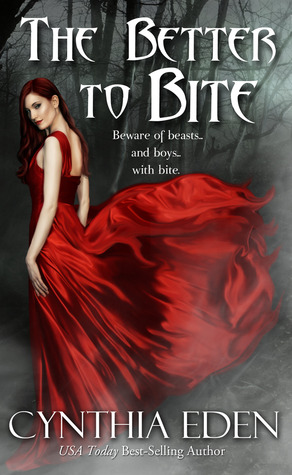 Adult paranormal more your thing? The newest installment in her Kensington Brava The Fallen series Angel in Chains is due out 11/27/12. Watch for it!
My guest today is fellow Montlake Romance author Susannah Sandlin. Susannah is the author of dark paranormal romance set in the Deep South. I really sat up and took notice of her when I saw the cover for the first book in her Penton Vampire Legacy series. At least once a year, a gorgeous cover will hit me like a freight train. Last year it was Trish McCallan's Forged in Fire. This year, it's Susannah's Redemption. And the other covers in the series are just as delicious, as you can see for yourself.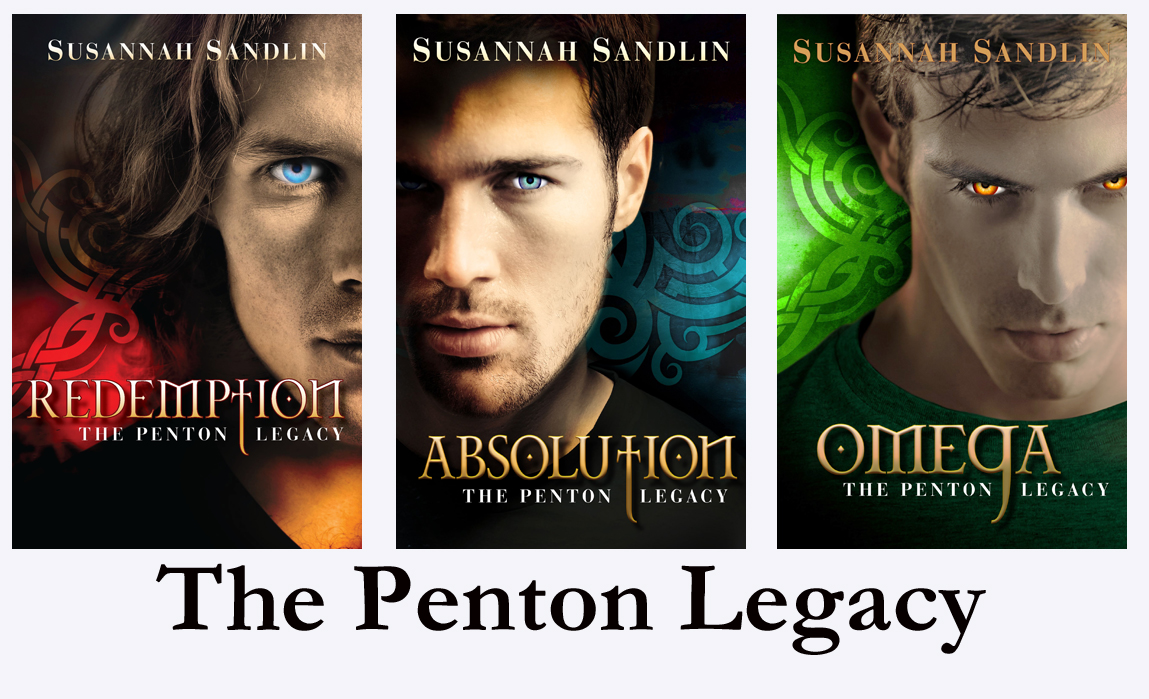 I've got Redemption cued up in my Kindle as my next read, so Susannah's appearance is very timely. Take it away, Susannah!
SUSANNAH SANDLIN: Thanks for having me here today, Norah! Or should I say "Welcome to the Bat Cave"?
After living in New Orleans for many, many years, I moved five years ago to bucolic (really!) Auburn, Alabama, to take a university job. When I was house-hunting, I came upon a property that had a lot of pros and cons. I didn't like the steep, short driveway, or the fact that the house was two stories. After living so long in a century-old Victorian cottage oozing charm, this house felt too modern and generic.
But there was a room upstairs that wouldn't leave me alone and ultimate made the decision for me. It was a large, undefined space that had hideous dark green wallpaper with honest-to-God polka dots on it, but it had a window seat and—best of all—one wall was floor-to-ceiling built-in bookshelves beautifully handmade by the former owner. It had hardwood floors. I could turn it into a guest room and have a place for all my books.
Or, as it turned out, I could make an office. At that time, I had spent my career as a feature writer and editor and had no plans to write novels. Six months later, I started writing one. I'm still not sure how that happened but the fiction-writing bug bit, and bit hard.
I wrote my first two novels sitting on the daybed using a 12-inch laptop on a wooden TV tray, surrounded by polka-dotted wallpaper. Finally, I decided this really wasn't a phase I was going through and if I were going to write seriously I needed an office. So I bought some paint, a desk, a real chair, and a bigger laptop. Slowly, my undefined space became my version of Fiction Central.
So, here's the control panel of the Mother Ship, where I write my novels, columns, and my daily book blog, Preternatura.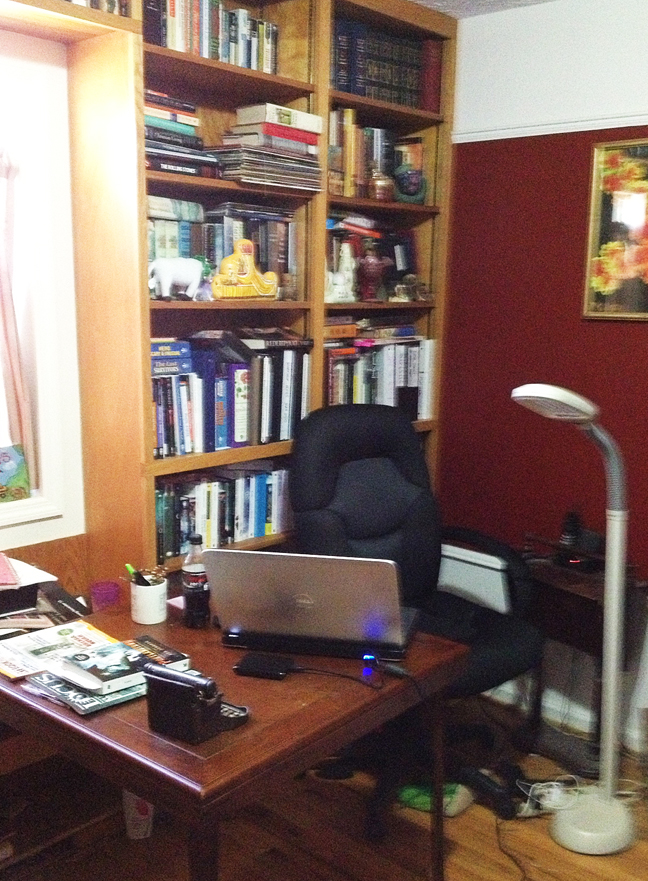 Having a daily book blog (plus being a lifelong bookworm) means I am buried under books. This is one of three "To Be Read' shelves.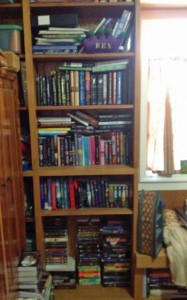 From my desk, I can swivel my chair and reach one of two shelves of reference materials I use in my novels. On this one are such titles as The Idiot's Guide to Alchemy, Encyclopedia of the Undead, The Pirates Lafitte, Voodoo in New Orleans, a Field Guide to Demons, and The Encyclopedia of Magical Herbs, Crystals and Gemstones. Um…yes, I do write paranormal. How did you guess?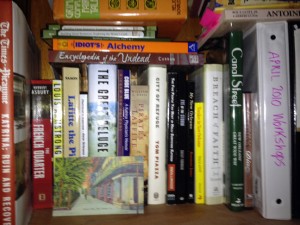 Since I do this book blog, I always have a shelf of ARCs and review copies. Here's the current collection.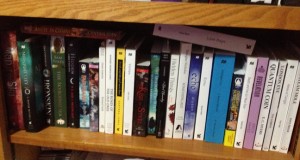 I still consider New Orleans my hometown, so I like to have lots of NOLA stuff around me. I have a bunch of Mardi Gras trinkets, but also art. Here are two of four in a series by my friend Mario Ortiz, a genuine free spirit who paints in prolific spurts, plays rock and roll, and does whatever it takes to get by. Not a 9-to-5 guy, our Mario.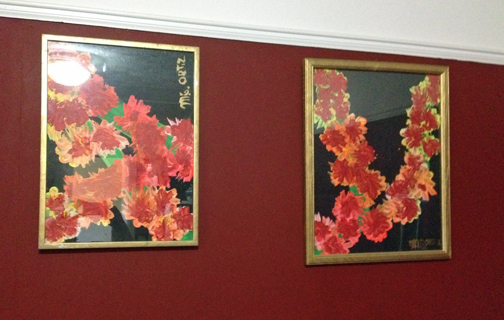 This is a painting by my friend Deborah Brooks, which she did for me as a gift just before my first book came out. It's of Pirate's Alley in New Orleans' French Quarter, and has a lovely, moody feel to it.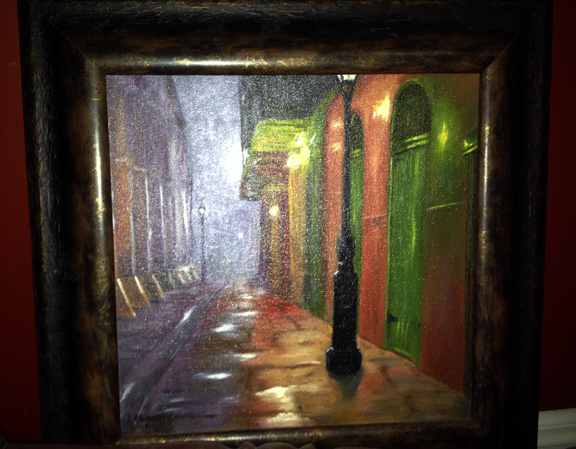 I don't know the artist's name of this small oil painting that was a gift from another friend. It shows the Lafitte Blacksmith Shop bar on Bourbon Street in New Orleans.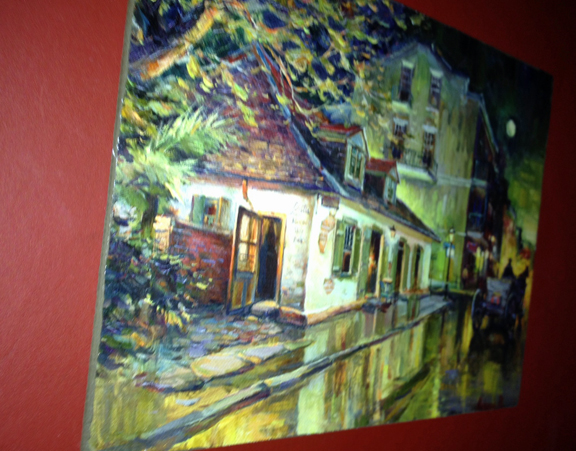 There are always the books I'm currently reading or reviewing and some magazines on the desk—plus a great typewriter "piggy bank" my friend Dianne gave me, probably in hopes I'll eventually make a living at this writing thing!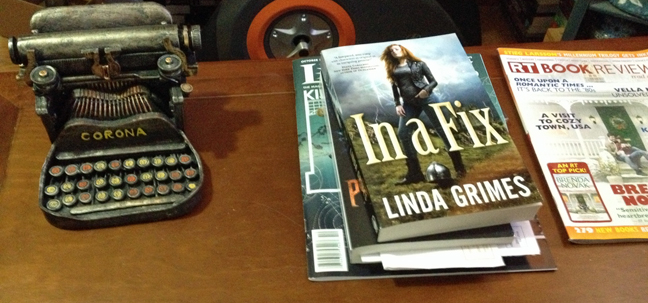 Here's my little collection of my own books, so far. I'll have a couple of new ones to add soon!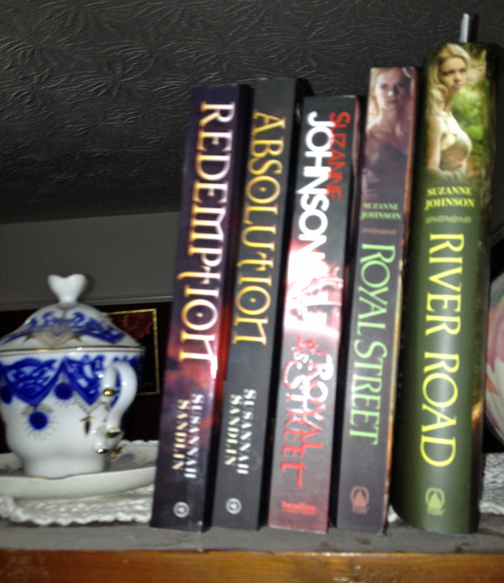 Finally, here's Author Central, where the magic occurs. Note the ever-present Coke Zero and the ever-present iTunes icon in the lower right corner of the screen (currently at 4,021 songs), I have a slide show of my book covers that plays onscreen.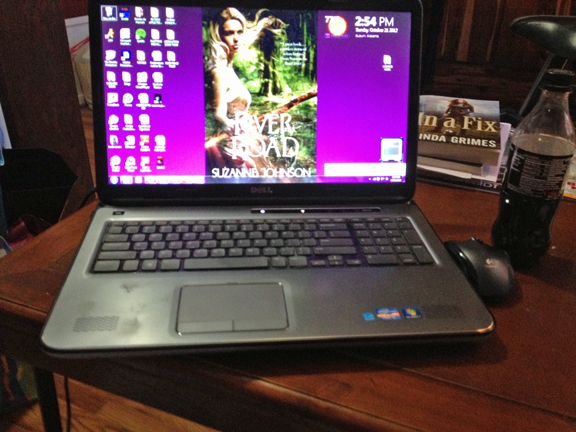 And that's my space! Thanks for visiting today!
Thank you for that tour, Susannah. I adore your art! Unless I miss my guess, we're going to get some comments on those lovely paintings.
Speaking of comments, that's what you need to do for a chance to win Susannah's great giveaway. She has generously offered two prizes — a signed copy of the first book in the Penton Legacy series, Redemption (paranormal romance/Montlake) pictured above, and the first book in the Sentinels of New Orleans series, Royal Street (urban fantasy/Tor), pictured below, by Susannah's alter ego Suzanne Johnson. On Susannah's behalf, I'll reserve the right to substitute an electronic version of the book, should one of our winners be outside the US or Canada, due to the prohibitive costs of mailing material internationally.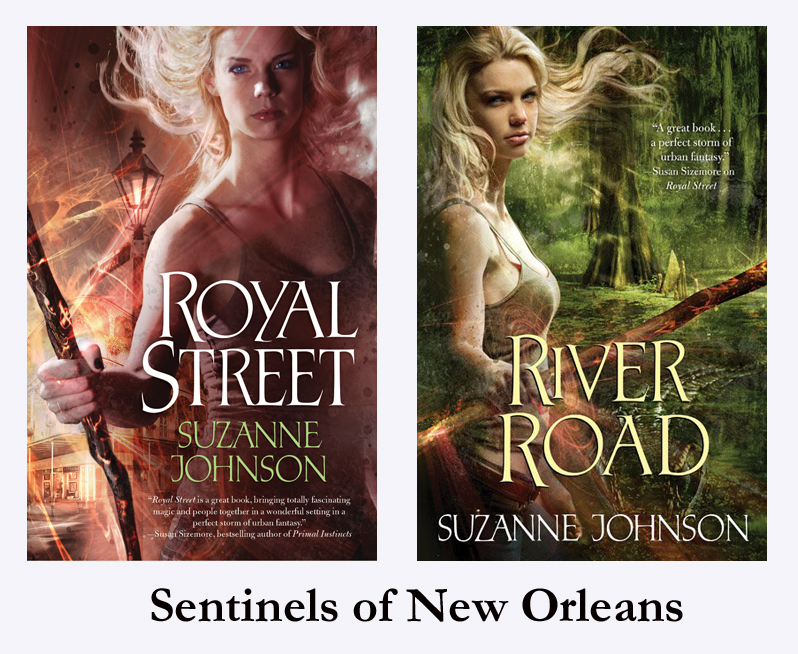 Oh, and if you're in the Christmas mood, you might want to check out Suzanne's Christmas in Dogtown. Just sayin'.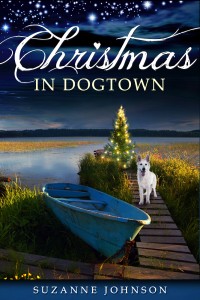 Okay, let the commenting commence!