I haven't known Nancy Naigle long; I met her when she became a fellow Montlake Romance author. But frankly,  it didn't take long, even though the "getting to know you" stuff was all electronic. She's very warm, funny and interesting. Just like her books! Since I've mentioned the Montlake connection, here's Nancy's current Montlake title, Sweet Tea and Secrets, which is charting very nicely in Romance > Series and Romance > Contemporary. Go, Nancy!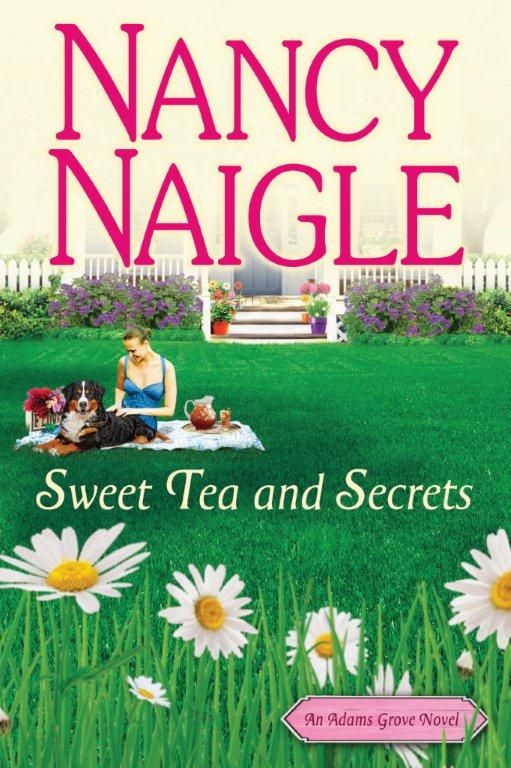 With that intro, here's Nancy!
NANCY NAIGLE:  Hey y'all, when Norah invited me to drop in and share my writing space I was so excited. Then, as I fell in love with each space Wednesday after Wednesday, I realized everyone else is way more organized (and neater) than I am!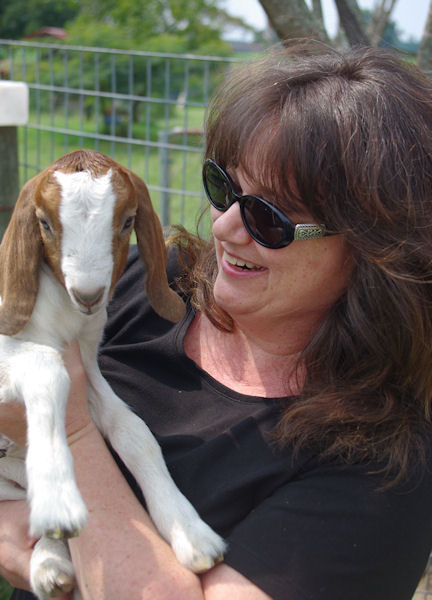 I live in southern Virginia on a goat farm with my husband and two labs, so it's probably no surprise that I write love stories from the crossroad of small town and suspense.
My office is kind of like me – all over the place, and I learned a couple funny things about myself in looking at my office through these pictures. You'll see what I mean here in a second.
For example, I never noticed until I took these pictures that it's pretty darn clear that I'm right-handed. Notice the piles of stuff on the right end of my desk? Good thing I don't work on a boat, I'd tip over for sure!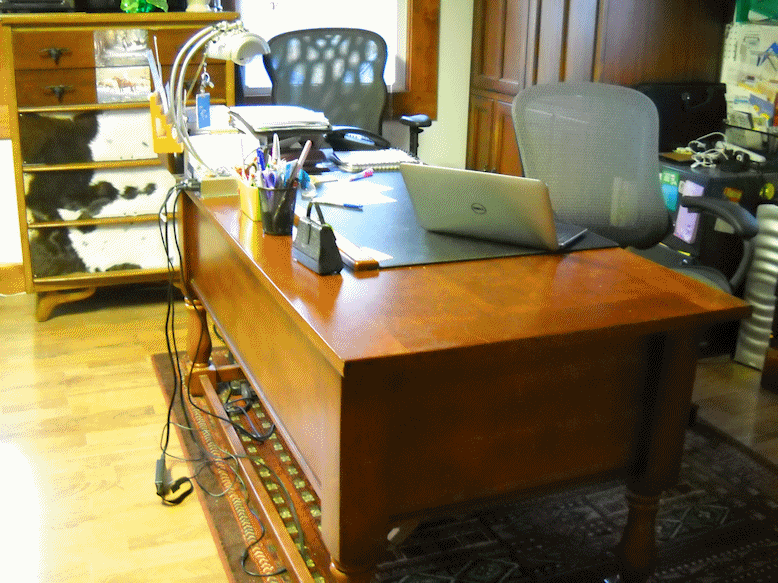 The dresser in the background is a white mahogany dresser that was my granddaddy's. I couldn't bear to part with it so I stained it to match my desk and cowboyed it up so it would fit in nicely with my décor. It's filled with marketing stuff for my books. Giveaways, and tear sheets, you name it. And YES, that is goat hide on the bottom three drawers of that chest of drawers. I also used my dremel to carve brands into the sides of it. It was a really fun project.
I treated myself to the Pottery Barn desk six years ago and I love it today as much as the day I realized I had to have it. The huge desk top gives me lot of room for stuff, and I usually have lots of notes and lists all around me.
The funny thing is I never realized how close to the edge, even hanging off my desk, I work until I took these pictures. I guess maybe that desk isn't quite as big as I'd really like it to be. And yes, the little stool under the desk is so my feet have somewhere to land. I'm a shorty-girl.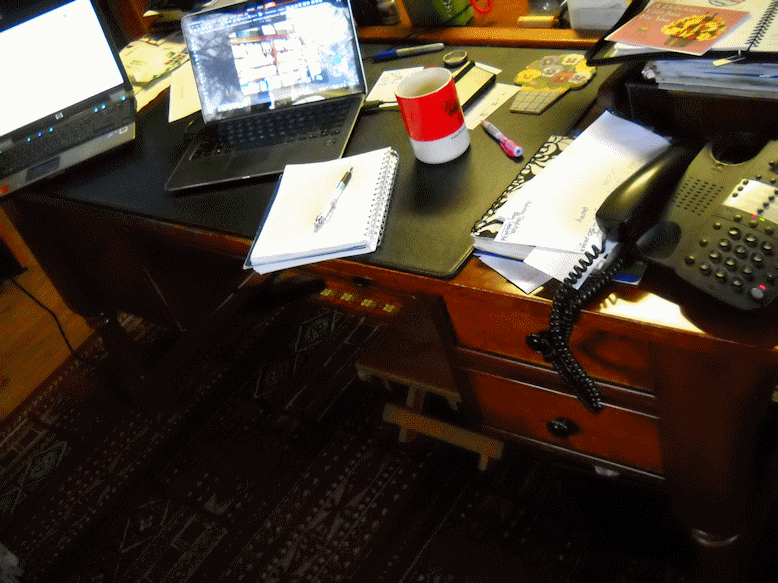 A cool tool: Earlier this year I discovered these adorable cherry bleachers at Levenger.com. It's one of my favorite websites to window shop. As you can see, it gives me a chance to scribble notes on cards and pop them into the bleachers to help keep myself on track as I work on my book.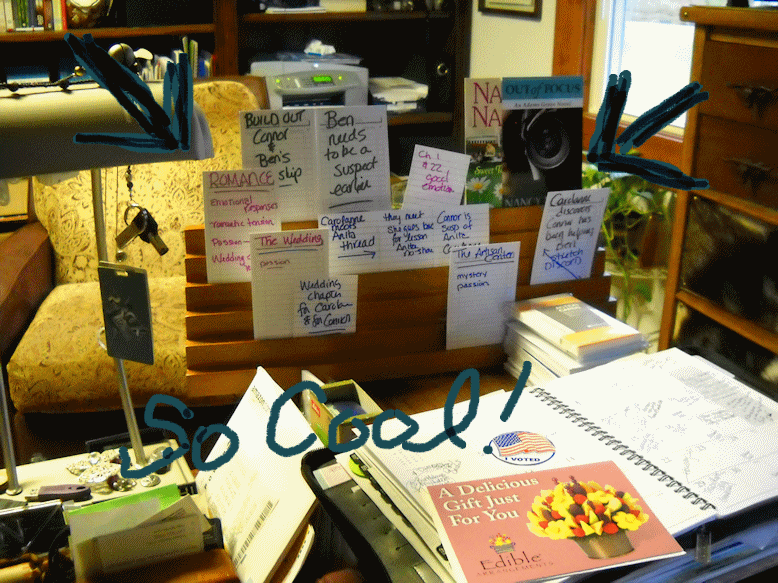 These Kathy Ireland bookshelves neatened up my act considerably earlier this year. It's been great to have twelve running feet to store all my favorites (see Mary Alice Monroe's book face out on the top left shelf) and craft books.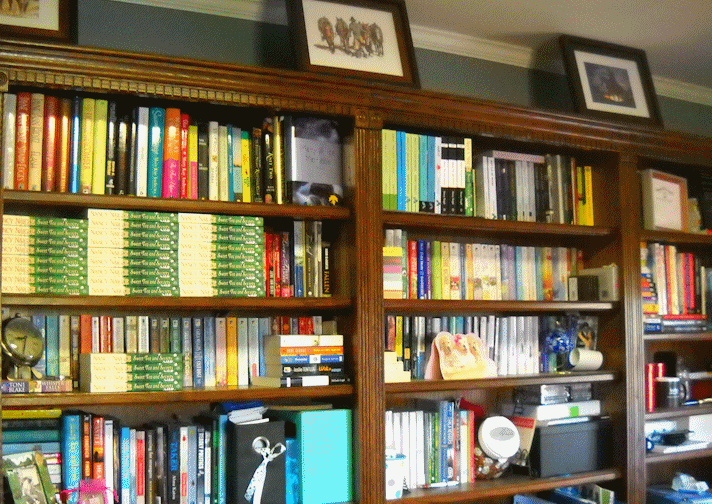 But there are some days when I really need to get down to work. When the words just aren't coming, I swivel my office chair toward the window, kick it into recline position, and write with my laptop in my lap. Those always end up being super productive days. It must be a feng-shui thing because it doesn't work unless I turn the chair toward the window.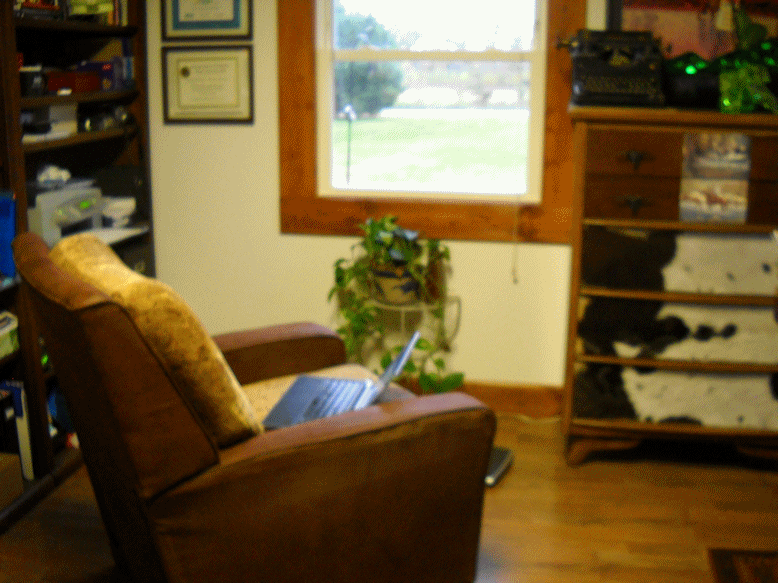 The bottom line is as long as I have my laptop I can make it happen. I really like that flexibility.
I have two giveaways for readers. Just leave a comment below for a chance to win either:
A $10 Amazon gift card; or

A set of autographed Keeper Kase™ Cards. Don't know what Keeper Kase™ cards are? Lordy goodness, check this out.

http://www.nancynaigle.com/efans.htm
Good luck! 
Thank you, Nancy, for that fun tour! I think you might win the prize for the most original piece of furniture with that "cowboyed up" dresser!
I also wanted to mention Nancy's next Adams Grove Novel Out of Focus, coming in August 2013.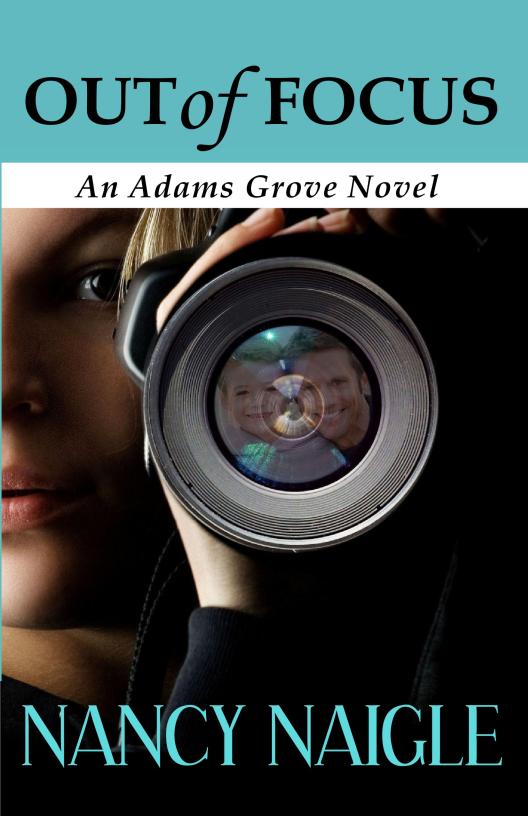 Okay, folks, you heard the lady. Let's have some comments!
43 Responses to "Workspace Wednesday welcomes Nancy Naigle"