Please help me welcome award-winning author Lina Gardiner. Lina's Jess Vandemire Vampire Hunter Series have netted her both a Daphne du Maurier Award for Excellence in Mystery/Suspense and a PRISM award (best first book). She is published by Imajinn Books and The Wild Rose Press. As well, she recently published her first indie effort to very positive reviews. 
Lina has given me some fantastic photos of her workspace, and I am going to ask her to narrate them for us. Take it away, Lina!
Norah, thank you for coming up with the great idea for Workspace Wednesday. I'm really pleased to be your first guinea pig (er…) author.  In all seriousness, I can't wait to peek into other author's offices to see what motivates them and feeds their muse.
In this photo (below) you can see I've surrounded myself with things that mean something to me.  First and foremost, on the wall is a watercolor painting by my friend and artist, Rik Hall.  He actually painted two of these cemetery paintings based on a moody, spooky picture I used on my website.  The second painting sold very quickly at an open house.  I actually wanted the second one too, but was too slow making up my mind. The photo of the cemetery was taken by Troy MacLellan, a co-worker who kindly gave this picture to me for my website.  I liked it so much the picture ended up in the background of my first book, Grave Illusions.   Some of the other things I have on my desk besides my Oxford dictionary J my Prism (Crystal Pyramid) – best first book award, and my Washington, DC Globe from my friend Joyce, my fuzzy frog from my friend Amy, the skull pen from my son and his fiancée, they got it at the vampire club in Melbourne, Australia and I was totally jealous that I didn't get to go.  The skull, the mug and little red bag of stones are from my friend Cathy Boone, who just came back from Salem, Mass. where she had an honest to goodness ghost experience in her hotel.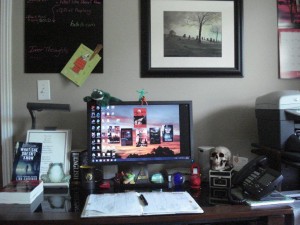 This photo is me pretending to be busy at the computer.  LOL  In reality, I don't have to watch the keys when I'm typing.  I've been typing for over thirty years.  I always liked the image of Stephen J. Cannell typing on his old typewriter and pulling the sheet of paper out of the platen at the end of each of his TV shows.  Maybe that's why I like the picture this way.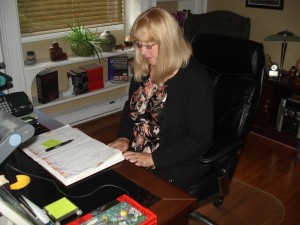 The bookshelves on the wall were built for me by my husband, Iggy.  Everyone who comes into my office raves about them.  They're gorgeous and they showcase my library of books to perfection.  And they often remind me how many books I still haven't read.  I need to carve out a little more reading time.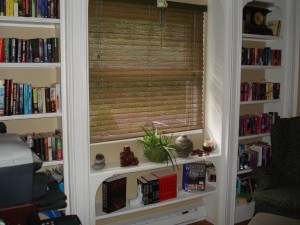 I see this wall the minute I enter my room.  You can't miss the three giant posters of my first three books in my Jess Vandermire Vampire Hunter series.  My husband had the posters made for me and I can't tell you how wonderful it is to see them as a reminder that I've actually not only published 'a' book but several books.  The beautiful carved owl in the center of the desk was done by my ex-boss and friend, Brian Dykeman.  He does the most amazing carvings and he has a website if you'd like to see more of his work – just Google his name.  The little vase came from a co-worker, Chris Maund, who went to the Galapagos Islands years ago and brought it back for me (I've always treasured it), and the Baying Wolf was a gift from my husband when my newest book, Black Moon Awakening – a werewolf/shifter story was published.  Then there is the award on the desk, on the left side — My Domino Divas award.  We decided years ago, actually it was Norah who came up with the idea, that the writers in our little group were like dominoes; after one sold the rest would follow.  How right she was and is.  The two gorgeous wing back chairs were a gift from my niece Tracy and her husband Roger.  They are very comfortable and I often sit in them to read or review and revise my WIPs in comfort.  Wow, until I started naming the things in my office that mean something to me, I'd almost forgotten how lucky I am to be surrounded by reminders of my wonderful friends and family.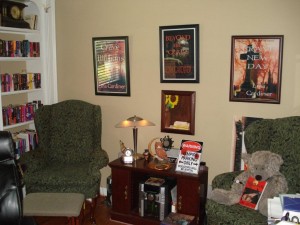 This wall to my left is my award wall (sort of).  I have the Prism Award and Daphne DuMaurier Award, as well as my RWA Conference badge.  These things remind me at all times that I want to be professional and I want to excel in my field.  They remind me that I must always work hard to improve my writing skills, and to keep moving toward my next goal.  On the filing cabinet below I've put pictures of my friends (my go-to place when doubt-devils are nipping at my heels).  Looking at the friendly, smiling faces always lifts my spirits.   I have a white board next to the filing cabinet, the place where I plot, usually after I'm well and truly into my book.  I start out as a pantser and then have to plot out the bones to keep everything cohesive.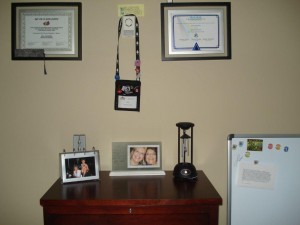 Thank you, Lina! I am officially in love with your office! It's gorgeous! And I love how you've surrounded yourself with various talismans and symbols of your journey, as well as very concrete evidence of your accomplishments! Totally inspiring! Thank you for sharing your space with us today.
You can check out Lina's newest release from The Wild Rose Press, BLACK MOON AWAKENING (my current Kindle read!) or her self-published romantic suspense WHAT SHE DOESN'T KNOW.
Okay, what's your favorite element or object in Lina's workspace? (You're not allowed to say Lina because that's a given.)
I am both a writer and a lifelong reader. In both capacities, I've always been fascinated to see writers' workspaces. (And don't get me started on notebooks and colored gel pens and…well, any kind of stationery. It's like writers' porn!)
The more I love an author's work, the more intensely interested I am in seeing the place or places where they create their art. (I also want to know if they have a pet and what kind, but that's for another post.) Some authors have self-contained, dedicated offices while others work their magic from workspaces shoehorned into other areas of their homes, while still others are nomadic types who can – and do – write anywhere.
Over the next months, I plan to feature fellow authors – some of whom are close friends and some of whom I just admire – about their workspaces. There will be pictures. Lots and lots of lovely pictures! (Tents hands like Montgomery Burns.) In fact, this feature will start tomorrow when I bring you the workspace of award-winning author Lina Gardiner. I am both a fan and a friend of Lina's, and I've actually seen her office.  
In the meantime, here's a look at my new office. To mark my transition to full time writing, I've turned my seldom-used living room into an office.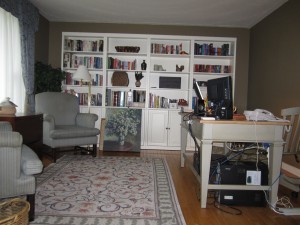 My desk is a joy. My son set up the dual monitor thing so I can keep an eye on my tweeps while I work. I'm loving it!
But the real feature piece of this room are the built-in bookshelves/cabinets. I bought four separate birch shelf units and door kits at Kent Building Supplies, and my sisters primed and painted them this lovely, creamy antique white. Of course, I couldn't have done this so cost effectively without my brother-in-law, the carpenter, who assembled the cabinets, then screwed them together, anchored them to the wall and hung the doors. This is not an easy DIY project!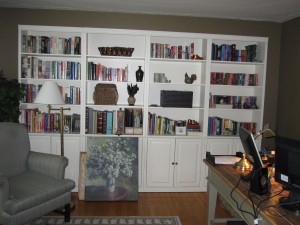 The biggest bargain during this reno is my west wall with its window treatment and the conversation area. The drapes, complete with header and sheers, as well as the two arm chairs and the two brass lamps came from a liquidation sale of furniture removed from the Delta Fredericton Hotel as it updates all its bedrooms. Discounting the labor (it's good to have sisters!), this cost me a whopping $160, of which $40 was for the extra traverse rod for the sheers. Draperies laundered and upholstery shampooed, they look great in my office, don't you think? And this gives me a great space to meet with my partner on a number of writing projects, Heather Doherty.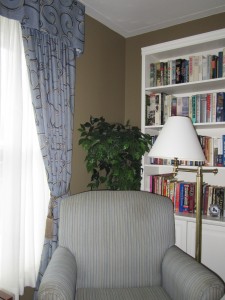 And what office would be complete without a place for the pet? Here's Chloe's Corner: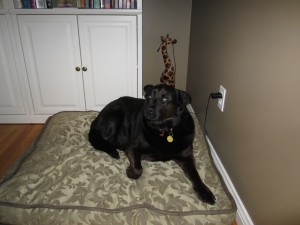 The walls are still noticeably naked, but only momentarily. As soon as my sisters are available, we'll hang the artwork. (By which I mean they will do it. We all have our talents, and mine is not decorating!)
So, what do you think? What's your favorite element?