Posts Tagged 'Daphne du Maurier Award Winner'
I am delighted to have as my guest today Joyce Lamb, award-winning author of romantic suspense novels. Joyce is also the curator of USA Today's Happy Ever After blog, which is must-read material for romance novel lovers everywhere.
I met Joyce at the Romance Writers of America national conference in New York City in 2011. She was celebrating after just having won the prestigious Daphne du Maurier Award for her book True Vision. My first impression was that she was extremely quick-witted, funny, warm, grounded and interesting. She also seemed to be genuinely interested in the people around her. Of course, at the time I didn't realize that Joyce Lamb the author was also Joyce Lamb, intrepid reporter. She comes by that interest/curiosity naturally, I guess! I'm happy to say my initial impressions of Joyce proved true, and then some!
With that intro, here's Joyce.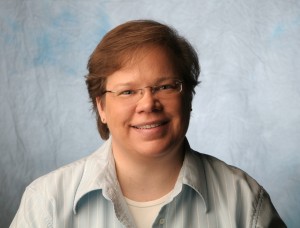 JOYCE:  Thanks for having me, Norah! I'm thrilled to be here. : )
Exploring my workspaces for this post was eye-opening. I had no idea that I actually work all over the place!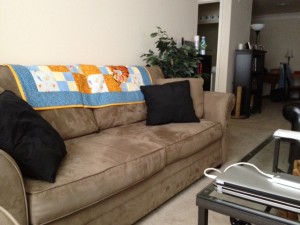 The sofa is where I do a lot of my writing, but while I am indeed sitting right in front of the TV, it's not on when I'm writing. Too distracting! Especially if a show on The Animal Planet about cute puppies or kittens comes on. Instead, I have my iPod Touch docked and cycling through four seasons' worth of Battlestar Galactica soundtracks (the version revived in 2004, not the one from the late '70s). Composer Bear McCreary is a master at creating tension, and the tone of the music is perfect for writing romantic suspense.
As you can see from the quilt draped over the back of the sofa, I'm helped along by Tigger from Winnie the Pooh. I love Tigger! The wonderful thing about Tigger …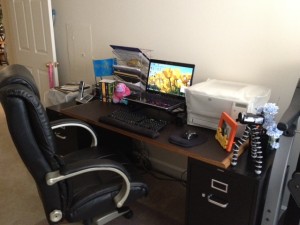 I also have a home office, for when I'm feeling the need to behave like a professional writer. Best desk chair ever! I feel very "executive" when I'm sitting in it – just not nearly as rich. And it's perfect for one of my kitties, Maddy, who likes to perch on the back. She's only fallen onto the back of my neck twice.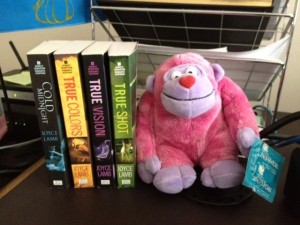 Sitting on my desk is my pink Safe Sex Monkey. (And, yes, that is indeed a shameful plug for my books sitting right next to SSM.) The story behind SSM: Fellow writer friend Diane Amos, author of the fabulously funny Getting Personal (a $2.99 e-book!), has spent much time teasing me about the "wild monkey sex" in my books. Several years ago, she sent me the pink monkey with condom in paw as a joke (which my mother quite enjoyed when I opened the package while she was visiting). Now, SSM sits on my desk to remind me to make sure my characters always have safe sex. : )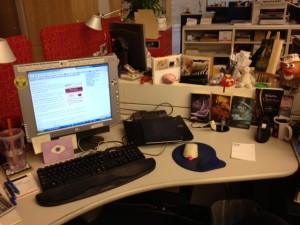 I also have workspace at USA Today, where I work on the Happy Ever After blog devoted to all things romance novels (happyeverafter.usatoday.com). As you can tell, I have some toys on my desk – I wouldn't be a real copy editor if I didn't. So I enjoy my Mr. Potato Head (at right) as well as my Tickle Me Elmo key chain, which giggles REALLY loudly, much to the consternation of some of my co-workers. What you can't see on my desk is that to the right, there's a TV. Yes, it's true. I have a TV on my desk at work. It's rarely on, but it's actually quite necessary at those times when breaking news is happening. The last time it was on was during the Super Bowl in February, because USA Today does a huge thing about the ads that play during the Big Game. So I got paid to watch TV during the Super Bowl. Kinda cool!
You might also think from what you can see of the background in this photo that the USA Today newsroom looks as though it was decorated by IKEA. And you would be right.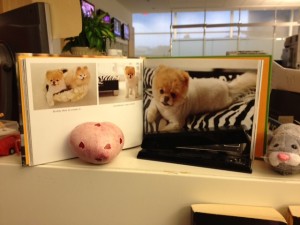 One of the favorite things on my desk at work is a book called Boo: The Life of the World's Cutest Dog. I prop the book open to different pages, but this one here is my favorite, because it looks as though Boo is lounging on a chaise lounge in a very "come hither" pose. Very romantic! When things at work get stressful – and they do often, considering it's the news business – I have Boo to turn to to make me smile. Boo never fails me!
Do you have any toys or stress relievers on your desk at home or at work?
A commenter here will win a signed collection of my True trilogy, which includes 2011 Daphne winner True Vision and 2012 RITA finalists True Colors and True Shot. (International commenters eligible, too!)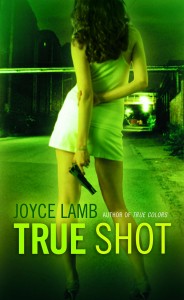 Thank you for that tour, Joyce. Why am I not surprised that I had a smile on my face all the way through it? Oh, and my stress reliever is a tiny bottle of essential oils (bergamot, grapefruit, orange and ginger) that I keep on my desk. When I think about it, I pop the cover off and and inhale.
Okay, before I turn it over to comments (and holy smokes, GREAT prize!), let me just pimp Flash Heat for you. It's my current read on my Kindle.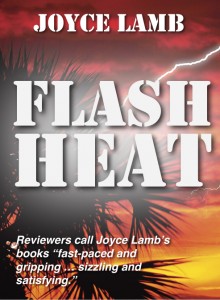 You can connect with Joyce as follows:
Okay, let the commenting begin! Joyce's question for you was, "Do you keep any toys or stress relievers on your desk at home or at work?"
Please help me welcome award-winning author Lina Gardiner. Lina's Jess Vandemire Vampire Hunter Series have netted her both a Daphne du Maurier Award for Excellence in Mystery/Suspense and a PRISM award (best first book). She is published by Imajinn Books and The Wild Rose Press. As well, she recently published her first indie effort to very positive reviews. 
Lina has given me some fantastic photos of her workspace, and I am going to ask her to narrate them for us. Take it away, Lina!
Norah, thank you for coming up with the great idea for Workspace Wednesday. I'm really pleased to be your first guinea pig (er…) author.  In all seriousness, I can't wait to peek into other author's offices to see what motivates them and feeds their muse.
In this photo (below) you can see I've surrounded myself with things that mean something to me.  First and foremost, on the wall is a watercolor painting by my friend and artist, Rik Hall.  He actually painted two of these cemetery paintings based on a moody, spooky picture I used on my website.  The second painting sold very quickly at an open house.  I actually wanted the second one too, but was too slow making up my mind. The photo of the cemetery was taken by Troy MacLellan, a co-worker who kindly gave this picture to me for my website.  I liked it so much the picture ended up in the background of my first book, Grave Illusions.   Some of the other things I have on my desk besides my Oxford dictionary J my Prism (Crystal Pyramid) – best first book award, and my Washington, DC Globe from my friend Joyce, my fuzzy frog from my friend Amy, the skull pen from my son and his fiancée, they got it at the vampire club in Melbourne, Australia and I was totally jealous that I didn't get to go.  The skull, the mug and little red bag of stones are from my friend Cathy Boone, who just came back from Salem, Mass. where she had an honest to goodness ghost experience in her hotel.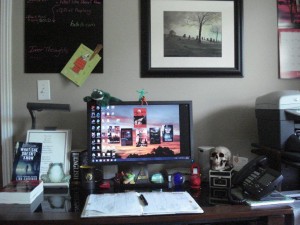 This photo is me pretending to be busy at the computer.  LOL  In reality, I don't have to watch the keys when I'm typing.  I've been typing for over thirty years.  I always liked the image of Stephen J. Cannell typing on his old typewriter and pulling the sheet of paper out of the platen at the end of each of his TV shows.  Maybe that's why I like the picture this way.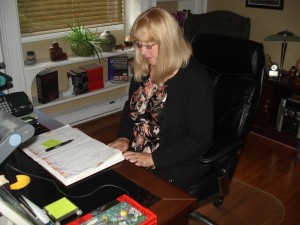 The bookshelves on the wall were built for me by my husband, Iggy.  Everyone who comes into my office raves about them.  They're gorgeous and they showcase my library of books to perfection.  And they often remind me how many books I still haven't read.  I need to carve out a little more reading time.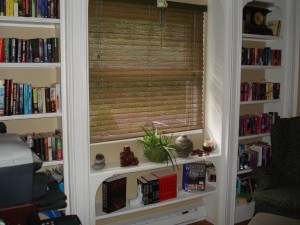 I see this wall the minute I enter my room.  You can't miss the three giant posters of my first three books in my Jess Vandermire Vampire Hunter series.  My husband had the posters made for me and I can't tell you how wonderful it is to see them as a reminder that I've actually not only published 'a' book but several books.  The beautiful carved owl in the center of the desk was done by my ex-boss and friend, Brian Dykeman.  He does the most amazing carvings and he has a website if you'd like to see more of his work – just Google his name.  The little vase came from a co-worker, Chris Maund, who went to the Galapagos Islands years ago and brought it back for me (I've always treasured it), and the Baying Wolf was a gift from my husband when my newest book, Black Moon Awakening – a werewolf/shifter story was published.  Then there is the award on the desk, on the left side — My Domino Divas award.  We decided years ago, actually it was Norah who came up with the idea, that the writers in our little group were like dominoes; after one sold the rest would follow.  How right she was and is.  The two gorgeous wing back chairs were a gift from my niece Tracy and her husband Roger.  They are very comfortable and I often sit in them to read or review and revise my WIPs in comfort.  Wow, until I started naming the things in my office that mean something to me, I'd almost forgotten how lucky I am to be surrounded by reminders of my wonderful friends and family.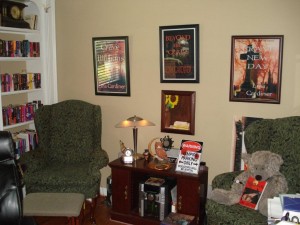 This wall to my left is my award wall (sort of).  I have the Prism Award and Daphne DuMaurier Award, as well as my RWA Conference badge.  These things remind me at all times that I want to be professional and I want to excel in my field.  They remind me that I must always work hard to improve my writing skills, and to keep moving toward my next goal.  On the filing cabinet below I've put pictures of my friends (my go-to place when doubt-devils are nipping at my heels).  Looking at the friendly, smiling faces always lifts my spirits.   I have a white board next to the filing cabinet, the place where I plot, usually after I'm well and truly into my book.  I start out as a pantser and then have to plot out the bones to keep everything cohesive.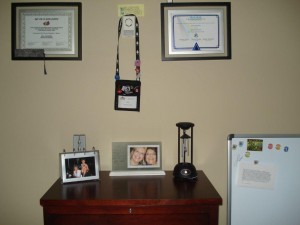 Thank you, Lina! I am officially in love with your office! It's gorgeous! And I love how you've surrounded yourself with various talismans and symbols of your journey, as well as very concrete evidence of your accomplishments! Totally inspiring! Thank you for sharing your space with us today.
You can check out Lina's newest release from The Wild Rose Press, BLACK MOON AWAKENING (my current Kindle read!) or her self-published romantic suspense WHAT SHE DOESN'T KNOW.
Okay, what's your favorite element or object in Lina's workspace? (You're not allowed to say Lina because that's a given.)