Posts Tagged 'True Vision'
I am delighted to have as my guest today Joyce Lamb, award-winning author of romantic suspense novels. Joyce is also the curator of USA Today's Happy Ever After blog, which is must-read material for romance novel lovers everywhere.
I met Joyce at the Romance Writers of America national conference in New York City in 2011. She was celebrating after just having won the prestigious Daphne du Maurier Award for her book True Vision. My first impression was that she was extremely quick-witted, funny, warm, grounded and interesting. She also seemed to be genuinely interested in the people around her. Of course, at the time I didn't realize that Joyce Lamb the author was also Joyce Lamb, intrepid reporter. She comes by that interest/curiosity naturally, I guess! I'm happy to say my initial impressions of Joyce proved true, and then some!
With that intro, here's Joyce.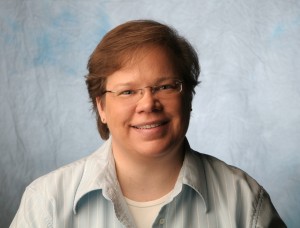 JOYCE:  Thanks for having me, Norah! I'm thrilled to be here. : )
Exploring my workspaces for this post was eye-opening. I had no idea that I actually work all over the place!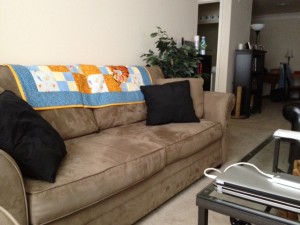 The sofa is where I do a lot of my writing, but while I am indeed sitting right in front of the TV, it's not on when I'm writing. Too distracting! Especially if a show on The Animal Planet about cute puppies or kittens comes on. Instead, I have my iPod Touch docked and cycling through four seasons' worth of Battlestar Galactica soundtracks (the version revived in 2004, not the one from the late '70s). Composer Bear McCreary is a master at creating tension, and the tone of the music is perfect for writing romantic suspense.
As you can see from the quilt draped over the back of the sofa, I'm helped along by Tigger from Winnie the Pooh. I love Tigger! The wonderful thing about Tigger …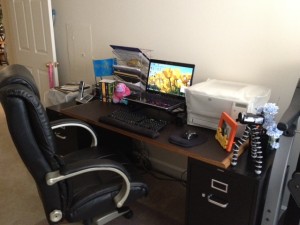 I also have a home office, for when I'm feeling the need to behave like a professional writer. Best desk chair ever! I feel very "executive" when I'm sitting in it – just not nearly as rich. And it's perfect for one of my kitties, Maddy, who likes to perch on the back. She's only fallen onto the back of my neck twice.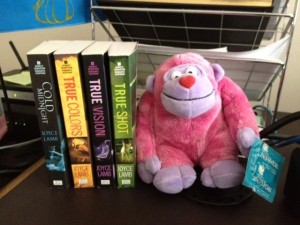 Sitting on my desk is my pink Safe Sex Monkey. (And, yes, that is indeed a shameful plug for my books sitting right next to SSM.) The story behind SSM: Fellow writer friend Diane Amos, author of the fabulously funny Getting Personal (a $2.99 e-book!), has spent much time teasing me about the "wild monkey sex" in my books. Several years ago, she sent me the pink monkey with condom in paw as a joke (which my mother quite enjoyed when I opened the package while she was visiting). Now, SSM sits on my desk to remind me to make sure my characters always have safe sex. : )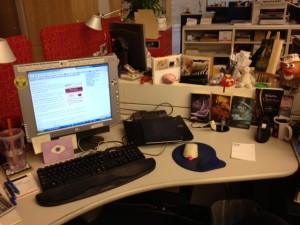 I also have workspace at USA Today, where I work on the Happy Ever After blog devoted to all things romance novels (happyeverafter.usatoday.com). As you can tell, I have some toys on my desk – I wouldn't be a real copy editor if I didn't. So I enjoy my Mr. Potato Head (at right) as well as my Tickle Me Elmo key chain, which giggles REALLY loudly, much to the consternation of some of my co-workers. What you can't see on my desk is that to the right, there's a TV. Yes, it's true. I have a TV on my desk at work. It's rarely on, but it's actually quite necessary at those times when breaking news is happening. The last time it was on was during the Super Bowl in February, because USA Today does a huge thing about the ads that play during the Big Game. So I got paid to watch TV during the Super Bowl. Kinda cool!
You might also think from what you can see of the background in this photo that the USA Today newsroom looks as though it was decorated by IKEA. And you would be right.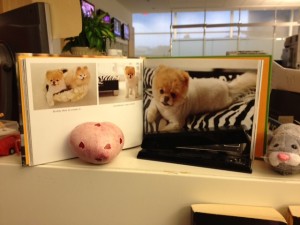 One of the favorite things on my desk at work is a book called Boo: The Life of the World's Cutest Dog. I prop the book open to different pages, but this one here is my favorite, because it looks as though Boo is lounging on a chaise lounge in a very "come hither" pose. Very romantic! When things at work get stressful – and they do often, considering it's the news business – I have Boo to turn to to make me smile. Boo never fails me!
Do you have any toys or stress relievers on your desk at home or at work?
A commenter here will win a signed collection of my True trilogy, which includes 2011 Daphne winner True Vision and 2012 RITA finalists True Colors and True Shot. (International commenters eligible, too!)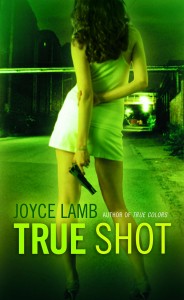 Thank you for that tour, Joyce. Why am I not surprised that I had a smile on my face all the way through it? Oh, and my stress reliever is a tiny bottle of essential oils (bergamot, grapefruit, orange and ginger) that I keep on my desk. When I think about it, I pop the cover off and and inhale.
Okay, before I turn it over to comments (and holy smokes, GREAT prize!), let me just pimp Flash Heat for you. It's my current read on my Kindle.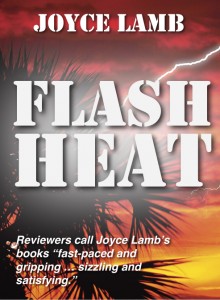 You can connect with Joyce as follows:
Okay, let the commenting begin! Joyce's question for you was, "Do you keep any toys or stress relievers on your desk at home or at work?"