Perhaps because I live in Canada where fall is already giving way to winter, the phrase "Hot Autumn Nights" conjures pictures of indoor activities for me. But before it reaches that point, I love walking in the outdoors. I'm lucky enough to live very close to a pine forest and open fields which I walk every night, although I'll have to confess that after 30 years of marriage, my companion is usually my trusty dog, Chloe, not my husband. But I do love seeing people freshly in love out walking. It warms my heart, even if my fingers are cold.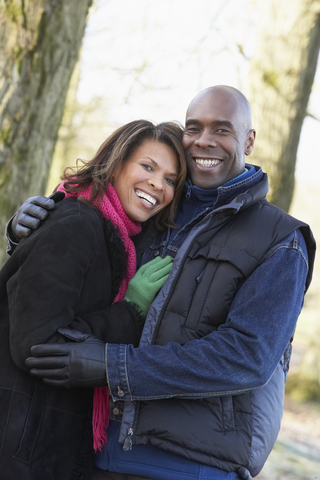 Some other things that warm up a cool fall night for me:
Sipping the season's first hot apple cider. Yum! It just feels so cozy.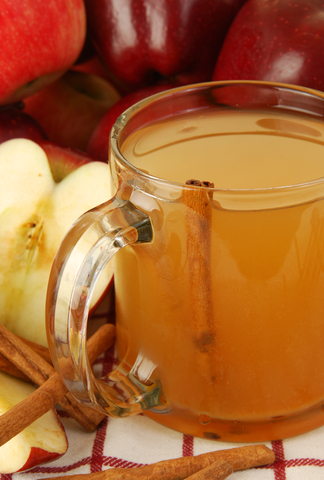 Even cozier, sipping warm red wine in front of a fire with a special someone!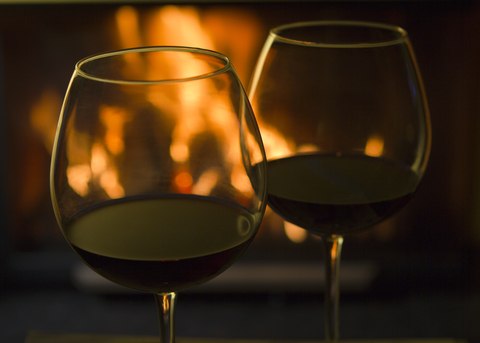 And of course, movie night with your significant other.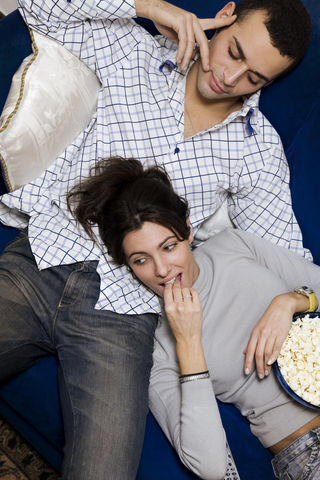 Speaking of watching TV on the couch, here's a scene from Guarding Suzannah, Book 1 in my Serve and Protect series. Quigg and Suzannah aren't as comfortable as the two pictured above. Far from it! Suzannah is attracted to Quigg, her self-appointed protector during a scary stalking situation, but she's very skittish sexually. Quigg is a patient man and determined to show her it can be different. Let's watch them get ready to get "cozy" on the couch: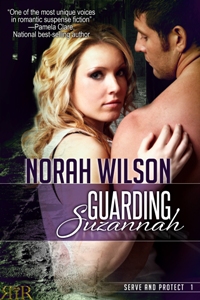 She held up a hand to stop him. "I know what I'm talking about, John. It's not like I tried it once and decided okay, I guess sex isn't for me. I do feel stirrings from time to time. I am human. And when it seemed like the right thing to do, the natural progression in a relationship, I tried it." She dropped her eyes, twisting the delicate stem of the now empty wine glass in her hand. "It never got any better."

"I don't believe that for a minute," he said. "The way you kissed me –"

"That's why I was so upset last night. For a few minutes, it felt like I could … like I might want to…."

Her voice trailed off and the room was silent for a moment. When he spoke, his voice was a disbelieving croak. "And you don't think you can get that back? Is that the trouble?"

She colored. "You don't understand."

"No, sweetheart, you don't understand." He stood and held a hand out to her. "Come here."

She took a step back. "That was last night. I've changed my mind. I don't want to go to bed with you anymore."

God, she was beautiful. And so earnest. She really believed she was frigid. "Who said anything about bed?" he asked, advancing a step closer.

"Have sex, then." Her voice was tight as she retreated another step.

"Who said anything about sex?" Something leapt in her eyes, and he didn't think it was fear, though she did take another step backward. He smiled. "Don't you want to know if you can recapture the feeling?"

The yearning and fear that chased across her face made his heart squeeze. This time when he reached for her hand, she didn't retreat, possibly because she'd backed herself up against the antique buffet and had nowhere to go.

"Come on, Suzannah, trust me this once," he said. "No pressure, no expectation, just some good old-fashioned necking on the couch." He stroked the inside of her wrist, where her pulse pounded madly, though with fear or excitement, he couldn't say. But she certainly wasn't indifferent.

She chewed the inside of her lip. "I don't know."

"What have you got to lose? If it doesn't work for you, you can tell me to take my hands off you. How's that?"

He was gratified to see her breath come faster, but still she held out.

"I don't get it. What's in it for you?"

He laughed. "Baby, if you still have to ask that when we're done, you can give me a failing grade."

"Won't it be … frustrating?"

"That's a small price, and one I'll happily pay." Especially since he'd been fantasizing about kissing that prim mouth into a flushed, swollen bloom since the first moment he'd laid eyes on her in the courtroom two years ago.

Still she hesitated.

"I won't let things get out of hand, if that's what you're worried about." Even as he offered the assurance, he prayed for the strength and patience he was going to need to call upon to keep his promise.

"I know."

With those two words and the trust implicit in them, any doubts about his self control fell away. He'd damned well die of sexual frustration before he betrayed that trust.

He stroked his thumb along the inside of her wrist again, felt the heat of her blood, the strength of her pulse. "So, what do you say?"

"Okay," she said, her voice high and thin. He felt her fingers flex around his. "Okay, let's do it."
So, what's you favorite way to heat up an autumn night? (Remember – keep it clean!) Post a comment below and you name will be entered in a draw to win one of two prizes:
A signed copy of my newest romantic suspense from Montlake Romance, Every Breath She Takes (which is currently #1 in Romantic Suspense and #1 in Fantasy, Futuristic & Ghost!); or
A USD $10 Gift Certificate from Amazon.com or another online bookstore of your choice that sells gift certificates.
Once you've commented, please continue on your way! There's lots more fun to be had and prizes to be won, culminating with the main prize, the ginormous $155 Gift Certificate giveaway! If these links don't work for you, please visit the bloghop host site, Bella Media Management, and pick up where you left off. Happy hopping!