Posts Tagged 'Workspace Wednesday'
I am so excited to have New York Times bestselling author Christy Reece in the house today! You know how you scurry around and dust and polish and fret over every little thing when someone special is coming? That's how I feel to have Christy here. (Sweeps up stuff previously swept under carpet.) Christy is a bestseller for good reason. Her Last Chance Rescue Series is the bomb! Simply put, she rocks. She also writes a completely different (but still awesome!) brand of romantic suspense as Ella Grace.
Take it away, Christy!
CHRISTY REECE: Thanks so much for inviting me over, Norah. I don't get a lot of visitors to my office–even the hubby cautiously sticks his head in and asks if it's safe. LOL It can get scary in here sometimes.
These photos were taken long after a deadline and a major office cleaning. It rarely looks like this but I couldn't bear for you to see just how bad it can get. You'll get a little taste of my disorganization when you see my stash of books. Seriously need more bookshelves!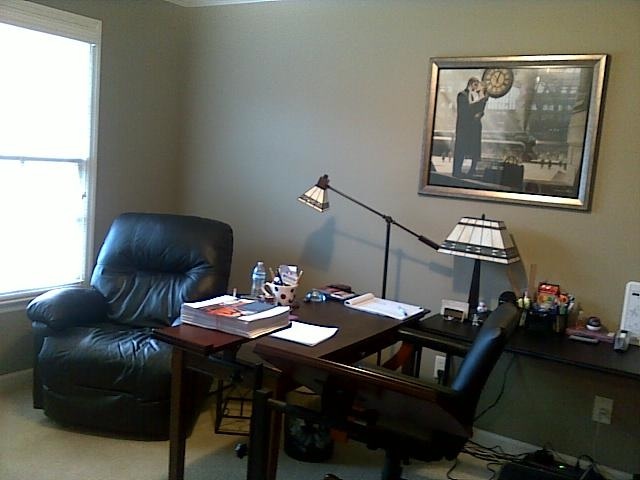 The recliner is my writing chair…I've written most of my books here. My office is on the second floor of my house and the chair sits beside the window so I get numerous squirrels playing on the roof to distract and entertain me.
Most of my close-up work, like copyedits and galleys, are done at my desk. The manuscript on the corner is Midnight Secrets and the cover flat beside it is for inspirational purposes only. 🙂 The picture on the wall above my desk is of a young couple saying goodbye at a train station. It was a gift from hubby and I love it! I've made up numerous stories in my head about this couple and why they're saying goodbye. I'd love to write a story about them someday.
Behind my chair is my printer and beside it are all of my published books, along with my Romantic Times Reviewers Choice award for Last Chance and my Daphne Award for Sweet Justice. More inspiration to help me when I'm struggling with words. The bookshelf is filled with mostly reference books, along with hardbacks of some of my favorite authors. 
Above the bookshelf is a saying so appropriate for a romance writer: 'All because two people fell in love." Isn't that a lovely saying? Below the frame, you'll see lots of different knickknacks, including a rubber chicken in a bikini named Agatha. Doesn't every writer have one of these?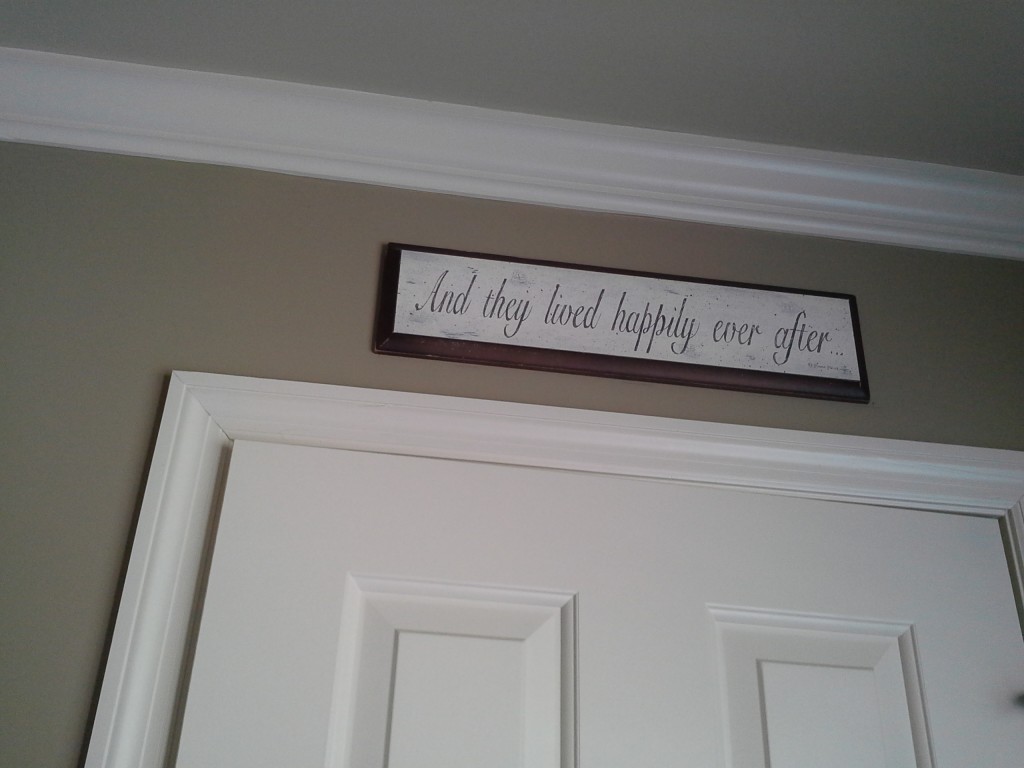 This sign hangs over my door as a reminder of my ultimate goal as I write.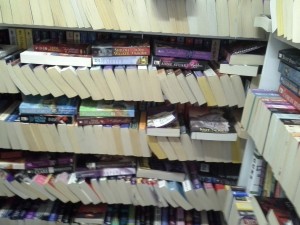 So Many Books! See how disorganized I really am? Yikes it's a mess!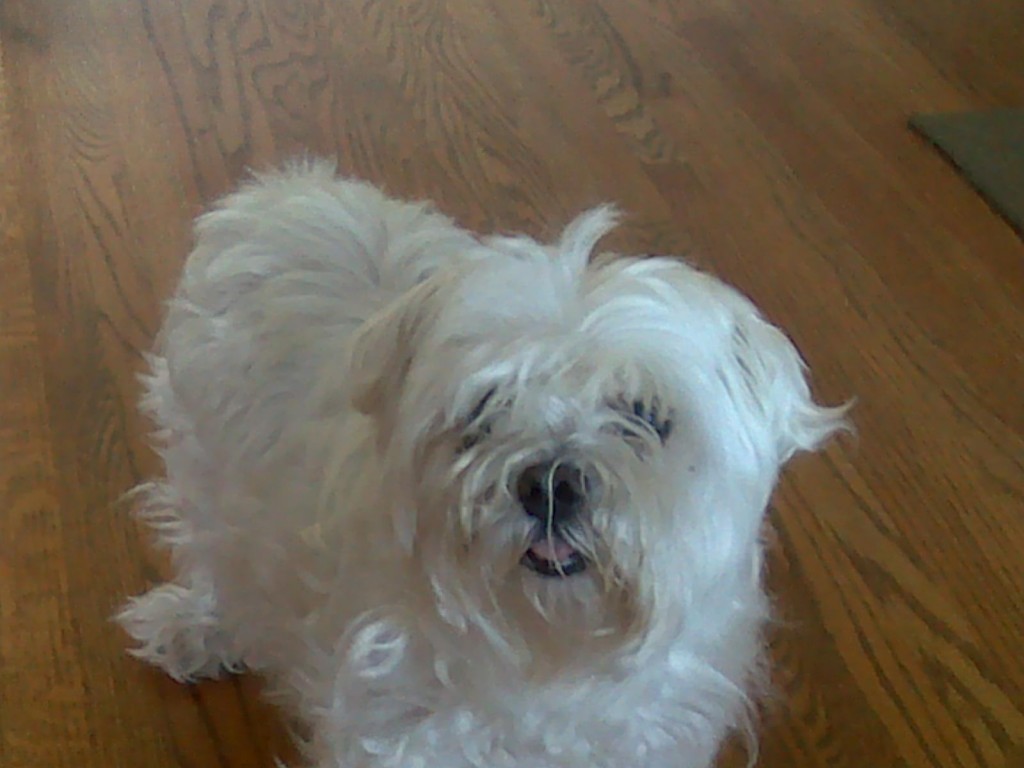 This is Blossom who for 13 1/2 years was my best friend, office manager, and muse. I lost her in December and still struggle to work without her. She was a tiny precious tyrant and the perfect writing companion.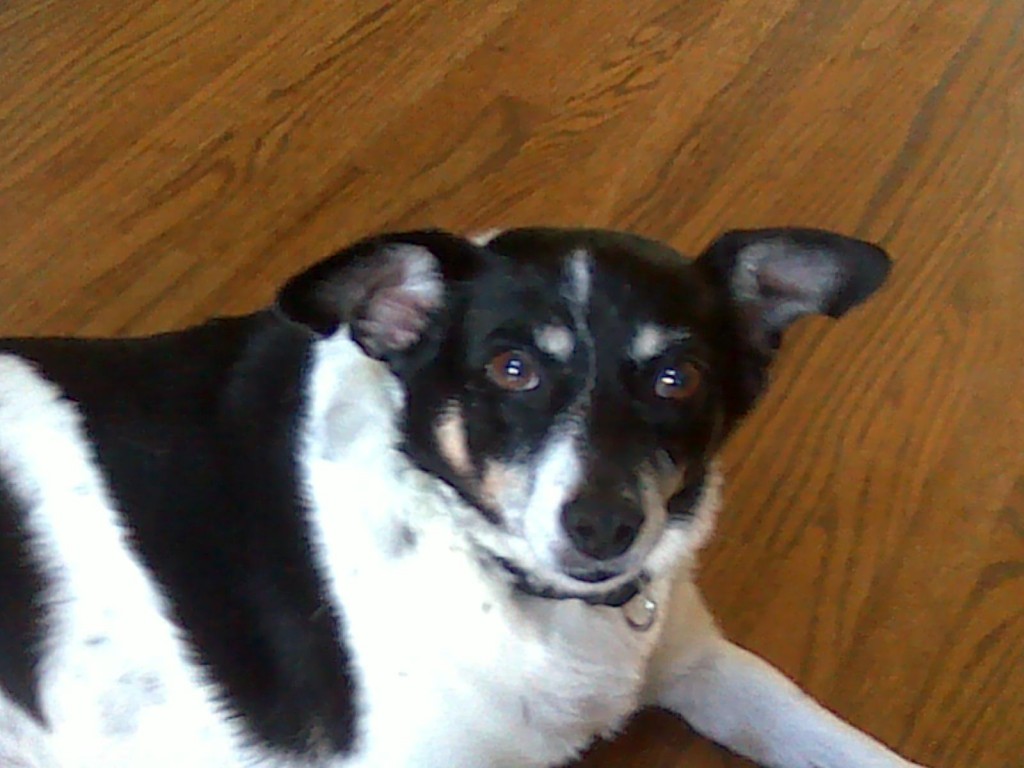 This is Prissy (Pea-Pot-Pie) who has interviewed numerous times to be my office manager. However her need for frequent breaks and a treat every few minutes earned her an indefinite suspension. She's also a drama queen. One of those in the office is quite enough. 🙂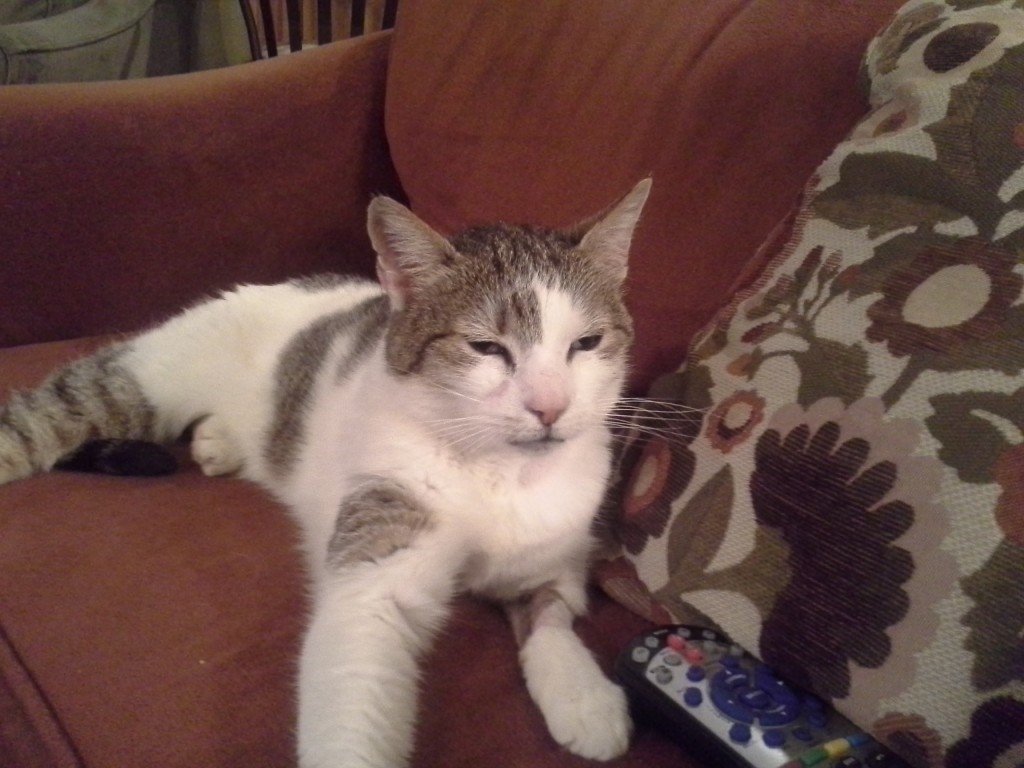 This is Boney the Cat who has interviewed several times also. She's actually a good little worker but has a tendency to walk on my keyboard and type her own words. So far I've not been able to interpret the language.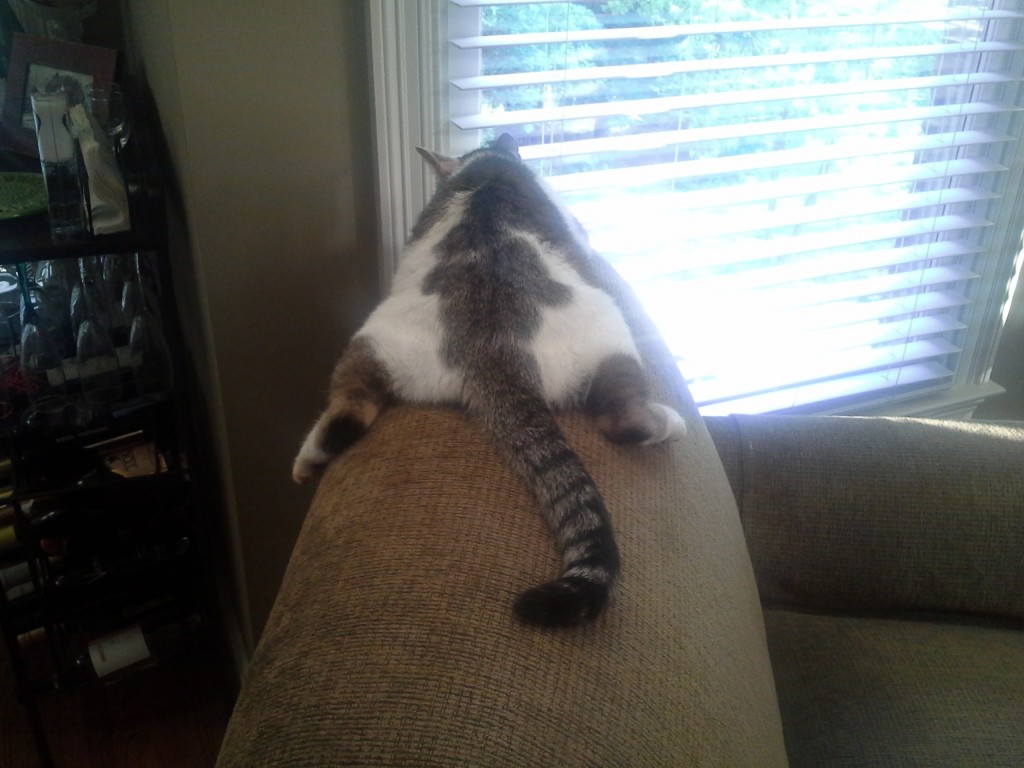 I am considering hiring her as a watch cat though.
The job position is still open but I have three more fur-kids who are anxious to interview. They declined to have their photos taken, citing privacy concerns. LOL Got a feeling I have three divas on my hands.
And that's my little corner of my writing world.
Thanks again Norah for the chance to share!
Thank you, Christy! And you had me sniffling about Blossom. Although she looks nothing like my homely mongrel Bandicoot who warmed my feet for 11.5 years, she reminds me very strongly of him. And LOL about the job applicants! That's a tough position to fill, but I'm betting on Prissy to step up. Or she'll train you, more likely. In my experience, cats are unsuited to managing authors, with our delicate egos. (My cat is looking disdainfully at me from inches away as I type this, whilst my dog is exuding approval from her cushion by my desk. Just sayin'.)
Okay, on to the winning! Christy has kindly offered the following giveways: A signed copy of MIDNIGHT SECRETS (by her equally awesome alter ego, Ella Grace) and a digital copy of CHANCES ARE. (This book has an UNHEARD OF average star review rating of 4.8 on 62 reviews at Amazon. That blows my mind!)
AT THE STROKE OF MIDNIGHT, THE HEAT BEGINS
On a hot southern night, with a storm on the horizon, a family is shattered. Three beautiful daughters—Savannah, Samantha, and Sabrina Wilde—go on with their lives, each significantly changed, as they bear the memory of the murder-suicide that killed their parents. For years, they have stayed away from Midnight, Alabama. Until Midnight calls them home.

Savannah is the first one back, when a grueling case in Nashville leads the young prosecutor to seek shelter in the quiet of the once grand Wilde mansion. But when she finds letters casting doubt on her family's dark, shameful past, she realizes that peace in Midnight is a shallow façade and sinister secrets lurk beneath the surface. Zach Tanner, once the town's bad boy, is now the new police chief and still has a wild hold over her. Zach can feel it, too, but he hurt Savannah once. As teenagers, they broke every rule together. Now it's his job to keep her safe, even though he isn't sure who her enemies are—or which ones might be his own.

  She is his dream come true. He is her nightmare.

Angela Delvecchio has always dreamed of being an LCR field operative. As LCR's main researcher, she's helped rescue victims, but always from the sidelines. Until now. Last Chance Rescue has been asked to assist the authorities in apprehending a serial killer terrorizing London. Angela knows this is her time and her mission.

After the murder of his wife, Jake Mallory stopped believing in anything good. Now, as an operative for Last Chance Rescue, he's found a new purpose but he'll never let his guard down again. The beautiful and much too vulnerable Angela is a temptation like no other—one he dare not take. Hearing that she's going to be an operative is a surprise, but Jake is stunned to learn her first assignment will be to bait and trap the Red Rose killer. Assigned to be her partner, Jake knows he wouldn't have it any other way. He failed the last woman he cared about…he won't fail Angela.

Angela thought going undercover as an exotic dancer would be the toughest part of the job, and Jake thought keeping his hands off his partner would be his biggest challenge. They were both wrong. Taught to expect the unexpected, Angela faces events she never anticipated and Jake must allow the unthinkable. Now it's a fight for survival because evil has more than one face and to stay alive, death may be the only option.
As always, all you have to do is comment for a chance to win one of these great prizes. And trust me, if you haven't read Christy Reece yet, this will be a true prize.
Let the commenting begin!
I have a treat for you today – the awesome Kathy Altman. Kathy writes contemporary romance, romantic suspense, and (in her words) "the occasional ode to chocolate". She's published by Harlequin Superromance, and contributes to USA Today's "Happy Ever After" blog. And she does this on top of her day job as a computer programmer for the Air Force. (Told you she was awesome. She's not just a Super woman, she's a superwoman!)
Take it away, Kathy!
KATHY ALTMAN:  I'm so happy to be hanging out today with the fabulous Norah Wilson! She's ultra-talented and uber-generous, and I'm hoping some of her romantic suspense savvy will rub off on me.  🙂
At the same time, I can't help but wonder why I thought it would be a good idea to invite readers into my writing space. Said space tends to be…dusty. And, shall we say, less than tidy. The disorder is usually easy for me to ignore, until the whole post-a-photo thing comes up. Although really, I should be celebrating rather than cringing, because not only do I get to visit with Norah and her peeps, but after some mad action with a dust cloth, a trashcan and the vacuum cleaner, I get a clean workspace! For a day or two, anyway…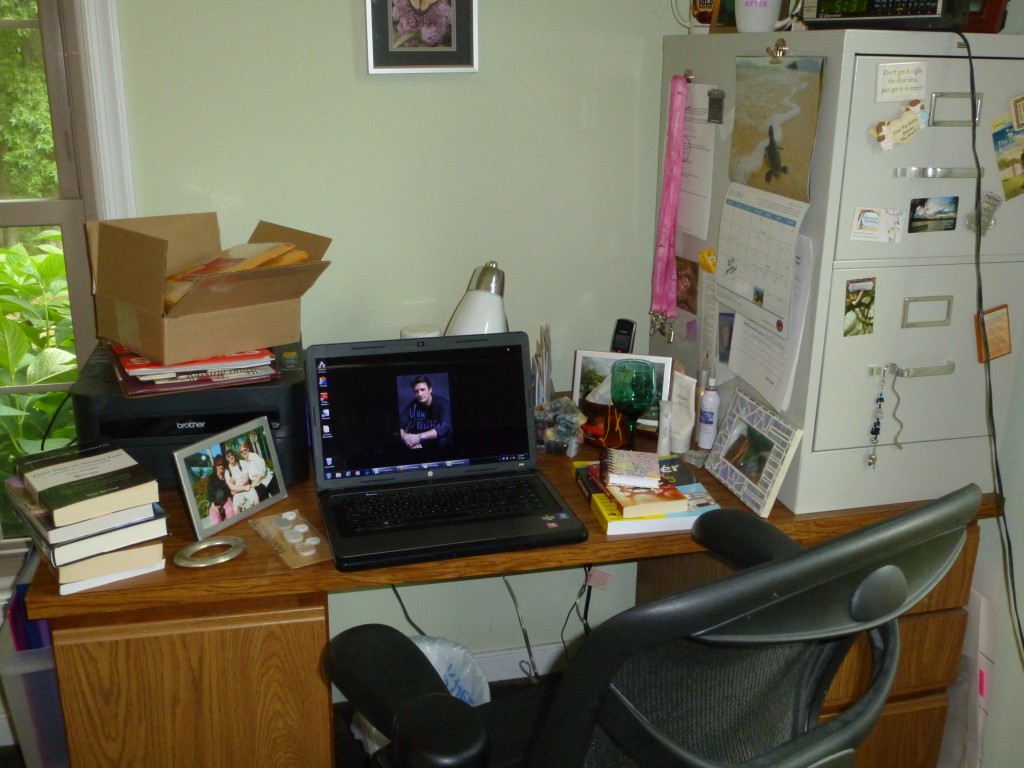 But I'll 'fess up and show you the reality first. So here's my writing space in all its dust-ridden glory, tucked into the corner of my bedroom. Note the comfy, sturdy, high-dollar office chair. Yeah, I hurt its feelings on a regular basis by choosing to kick back with my laptop in a recliner in the opposite corner.
The stack of books on the far left of the desk are releases I'm getting ready to read and review. I always feel so special when I receive an Advanced Reader's Copy! The gorgeous lavender mirror leaning up against the file cabinet (because I haven't decided where to hang it yet) was made by fellow Superromance author Jeannie Watt, and it reminds me that everyone has hidden talents. Some are better hidden than others. Like my flair for speaking Italian and scoring free trips to Venice. Still waiting for those to make an appearance. Here's a closer view of some of my favorite items: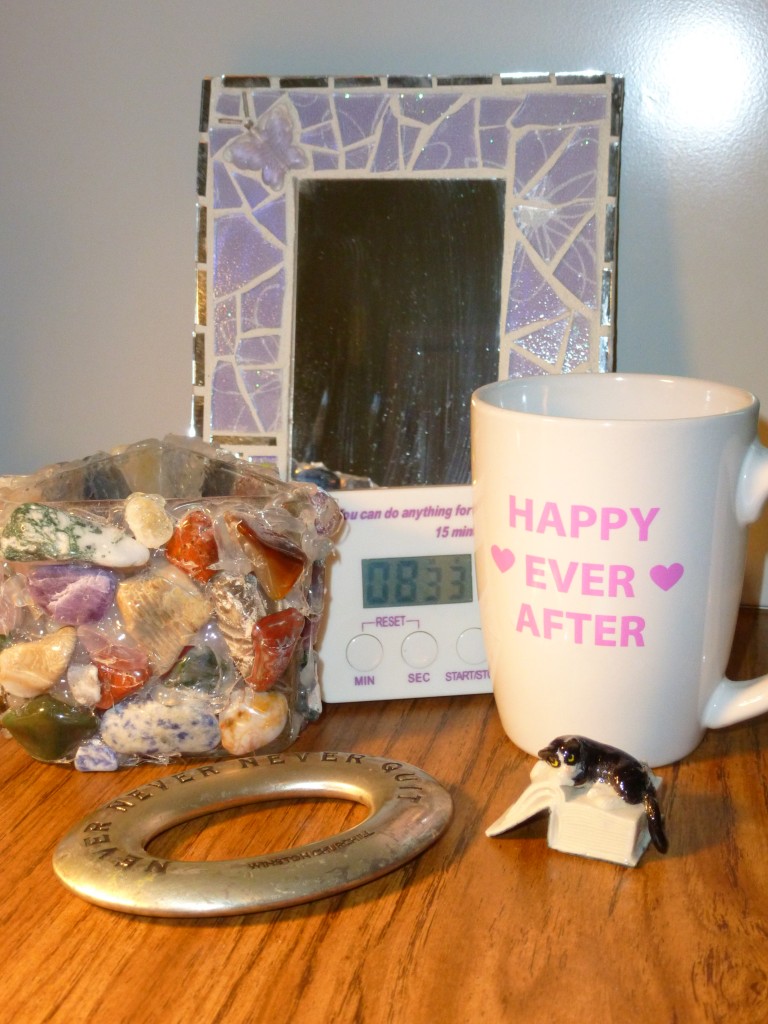 The ceramic cat sits on top of the filing cabinet. My critique partner, suspense author Toni Anderson, gave that to me for Christmas the year my sweetie and I lost two of our kitties. No way you can look at that little guy and not smile. Beside it is my special Happy Ever After mug, a gift from USA Today blog curator Joyce Lamb. The perfectly pink message reminds me why I write. The timer helps make sure that I do. The paperweight keeps me going when I want to slap the laptop closed (it reads "Never Never Never Quit"). And that magnificent, tumbled rock-encrusted candle holder prompts me to remember that it's not all about the writing—my nephew Stephen made that for me, so of course it brings to mind all the fun times we've had together, and how I'd better hurry up and have some more before he turns 13 and doesn't want anything to do with me.  🙂
When I feel the need to stand (which isn't anywhere near as often as it should be), I perch my laptop on top of the television in the den and type away. How handy, that I can watch Gilligan's Island reruns while I type! (Just kidding. I wouldn't get any work done that way, right? Although there are always exceptions. Like Castle. And Leverage. Maybe Person of Interest. And let's not forget Rizzoli & Isles or Army Wives or…well, you get the picture.)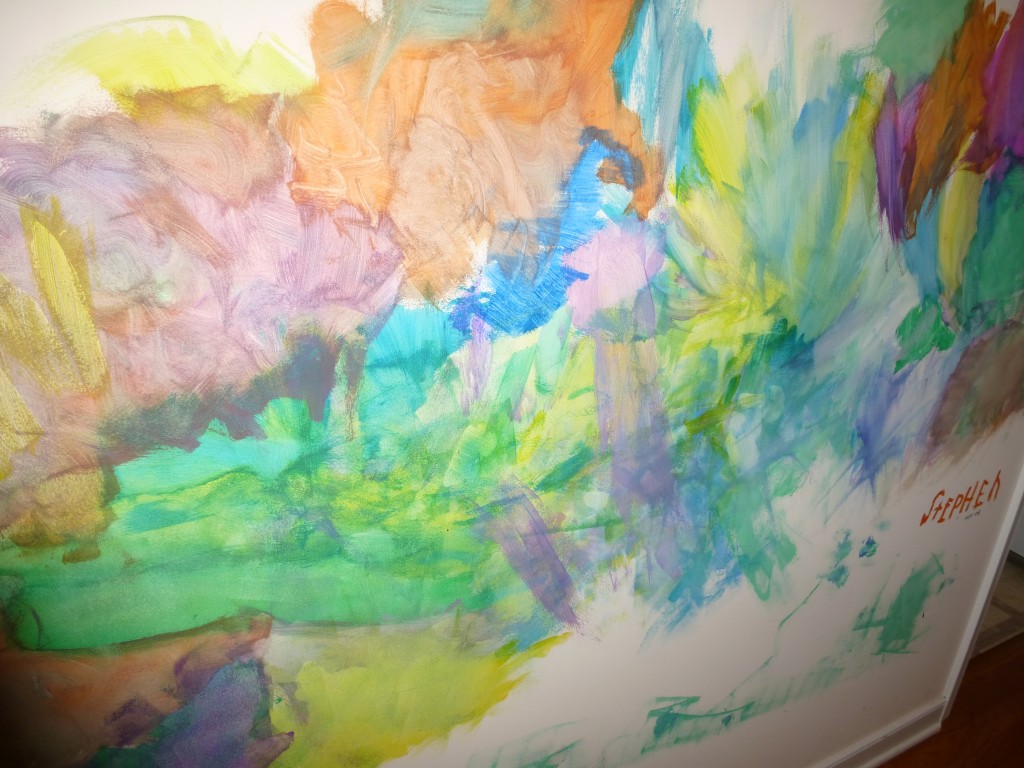 Relocating to the den means walking past my inspiration wall. Stephen painted this when he was nearly five, and when I asked him what he planned to call his masterpiece, he answered promptly, "The Promised Land." Great name, right?! Every time I walk this hallway, I admire his creativity and energy and allow myself to ponder—why isn't this kid selling paintings so I can write full-time?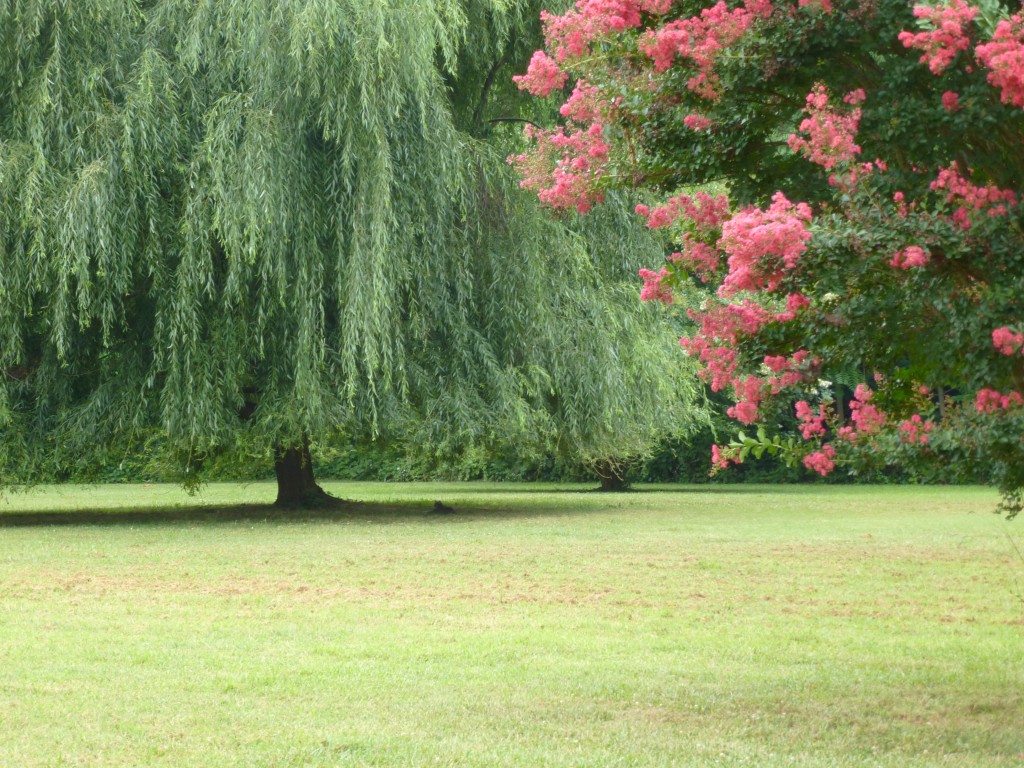 Behold the view from my bedroom window. If you look closely, you can see a kitty under the willow tree. Peaceful scene, isn't it? It's also deceptively alluring. Believe me, I've tried the whole up-against-a-tree thing. Okay, that sounds naughty but what I mean is, I've tried writing outside. Sitting at the base of a tree, bellying up to a bistro table on the deck, kicking back in a webbed lounge chair in the shade—all epic fails. Ants, mosquitoes, sunburn and moss stains on your jeans are unpleasant enough. No doubt you've already attempted to balance both a laptop and a cat in your lap? How about when the cat is longhaired and your arms and legs are bare and it's ninety degrees outside and you're sweating enough for five people? You end up looking like Sasquatch and nothing but a shower can cure that itchy feeling. Which provides the perfect excuse for going back inside.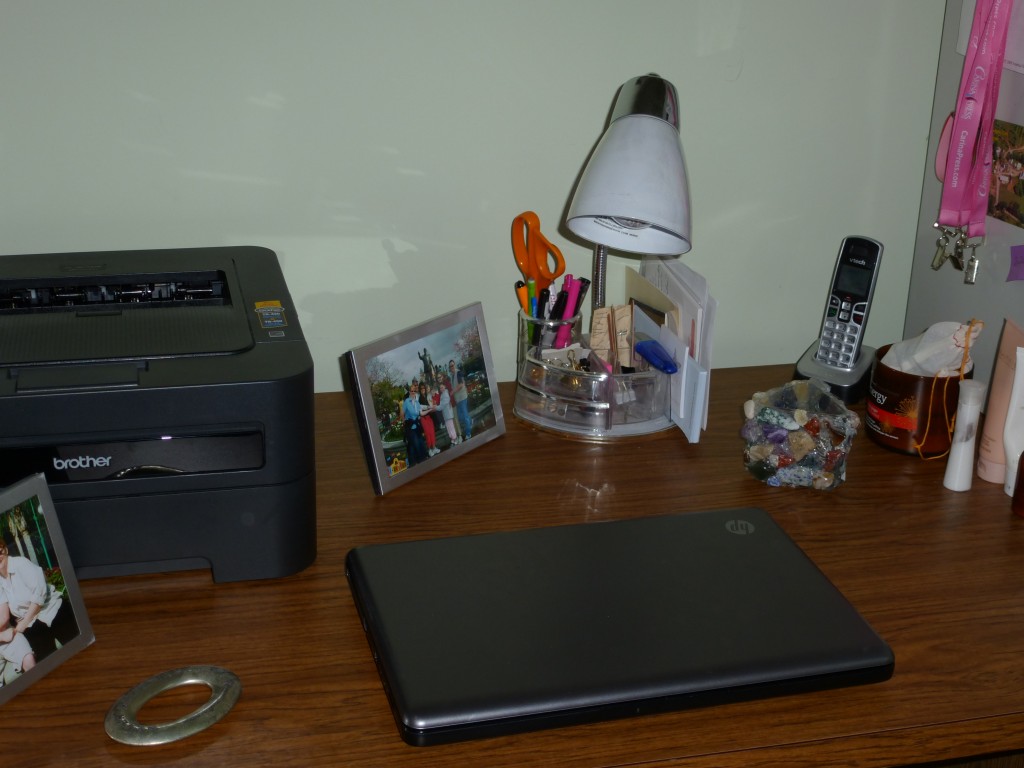 This is what my desk looked like the ninety seconds it was clean. So much for that!
Thank you so much for hosting me today, Norah! And to anyone who might like a copy of my recent release, Staying at Joe's, please leave a comment. I'll pick two names at random to receive either a digital or softcopy version. Thanks, everyone! I appreciate your being here today!
Thank you for the tour, Kathy! That was a blast. BTW, I have also tried the outdoor writing, and it was a bust for me too.
To learn more about Kathy, find her online here:
Website  |  Facebook  |  Goodreads
Okay, to the fun stuff! Giving away two copies of Kathy's book. It's hot off the press – just published yesterday! As ever, comment for your chance to win. Here's a blurb.
A deal she can't refuse!

Allison Kincaid can make a great sales pitch. But showing up at Joe Gallahan's motel asking for a favor is her toughest challenge yet. A year ago they were more than just colleagues at a big PR firm. When work came between them, Joe put the blame on Allison…and his opinion hasn't changed.

She's shocked, however, when Joe agrees to help. Even though she doesn't love his terms, she accepts them because she'll get what she needs. If striking a deal with him means donning a pair of coveralls and swinging a hammer, so be it. Working side by side with Joe again, they might be able to repair the past. They just might get a second chance, too!
Today I welcome a new-to-me author, Wendy Ely, whom I met on some of my Internet travels. Wendy has a new book coming out, so this appearance is timely!
Take it away, Wendy!
WENDY ELI:  Norah, thank you so much for letting me be part of Workplace Wednesday! I'm so excited to share this private part of my life.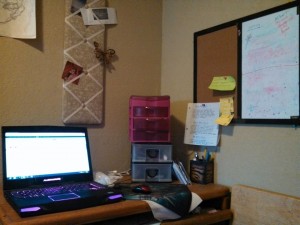 Here is where the words magically flow from my fingertips… or I bang my head on the desk. HA! My actual work area. I'm so proud of that computer. Pink is my favorite color and my honey picked this laptop out for me because the keys glow in whatever color I choose. Also in this picture is my work bulletin board that is half whiteboard (and I always find loving or silly notes added from my family). I use the other board for inspiration. We've recently moved and most of my inspirational items fell off. Right now I have a picture of me with my siblings. I won that board and the animal print pencil container from my local RWA chapter. My desk has an extra pullout shelf for a keyboard. I use a laptop so this extra part of my desk provides extra space to work… usually when I put pen to paper.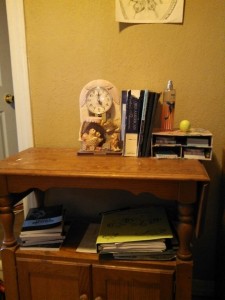 This little table sits next to my desk and adds extra storage to my workspace. My kids bought me that clock many years ago. The drawing (that really needs to be framed) hanging on the wall was done for me from a friend. On this table you'll also notice some essentials such as: Bath and Body Works body spray (Paris), EOS lip balm, and my Post-it note holder. I also keep two books that I always use: The Writer's Thesaurus and The Emotion Thesaurus. The shelf holds extra copies of my books and my cat often sleeps here. What you don't see is the double doors near the bottom. I keep stacks of notebooks here.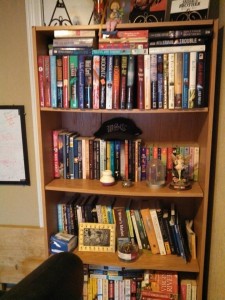 I have been reduced to 1 bookshelf at this house. Sigh. As you can see, I need a few more. My "to be read" books are here, but I keep my writing resource books and autographed books separate. You'll also see a black and white photo of my kids when they were younger.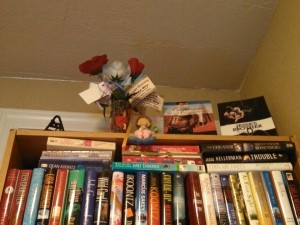 Here is the top of my shelf. My books that are in print are on display here. I also have a little figurine that a former daycare child gave me for my birthday. See that vase of roses? My RWA chapter gives a rose for every book published. I'm so proud of these.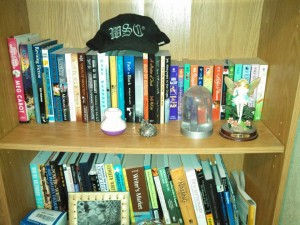 Here is my shelf of autographed books and important things. I love having books autographed by the authors and I'll keep these books forever. You'll also notice a hat sitting on top. A dear friend gave this to me. The back reads, "Thomas." The white container holds my paperclips (usually glitter pretty clips!) and the rest of the figurines were given to me by friends. Can you tell I love fairies?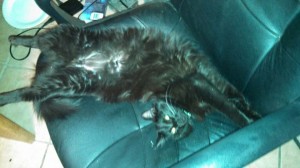 But the best part of my office is my assistant. Kujo follows me everywhere and often lounges in my office while I work. Here she is sprawled out on my chair.  Good thing I looked down before I sat, huh? She used to sleep on my desk, but she doesn't fit anymore.
Thank you for stopping by my workplace! In honor of my post, I'll be giving away an ebook copy of my brand new release Dangerous Flames.
Sometimes heroes are taught to do really bad things…

Mikolas Russo is one hit away from becoming part of the Medini crime family. But is this what he really wants?  Killing people for money is what he has been trained to do even though he'd give anything to trade the nightmares for sweet dreams of the forbidden Gabrielle. Thinking he has the chance to reveal his feelings to her, he arrives at her house to find her brandishing a loaded gun, ready to take control.

During Gabrielle's teen years, she attended a private school in Italy. This is where she learns the meaning of Mafia but believed crime families no longer existed. Now back in Las Vegas and demanding answers to the hard questions, she quickly learns that the Mafia still has a hand in controlling society and her father is the Don of the largest mob in the area.

The Mafia doesn't seem so glamorous any more after a hit is taken out on her father, especially when Gabrielle has reason to believe that her secret love's safety is in jeopardy too.

Will the truth fulfill her desires, or will Mikolas be the one to shatter everything?
You can find Wendy Ely on the Internet in these places:
Amazon (check out her current releases).
Email Wendy: authorwendyely@gmail.com
Thank you for that lovely tour, Wendy! And LOL – I keep my authographed books and special keepers on a different shelf too. They deserve it. ,-)
Okay, my lovelies, you know the drill — comment for a chance to win an ebook copy of Wendy's new release, Dangerous Flames.
This is a very special Workspace Wednesday for me. Kate Kelly is a writing buddy from way back. We basically learned to write together in a small critique group. Kate and I later went on to final in the Romance Writers of America's Golden Heart ® contest in the same year (2001), each with our own manuscript, and each story was a romantic suspense with a cowboy at its center. Kate has since self-published a number of her fabulous romantic suspense stories, and she also writes contemporary romance for Harlequin Superromance. If you haven't read a Kate Kelly novel yet, you should treat yourself. She has an amazing voice!
Take it away, Kate!
KATE KELLY:  Okay, before you come into my closet, er…office, there's something I have to tell you. Like most things in my life, it's a work-in-progress. My real life hero is building our new house around me, and I get to make choices, like do I want my custom-built desk or do I want a door on the bathroom. So, yeah, no doors on the bathroom. <kidding> 
So come on into my office.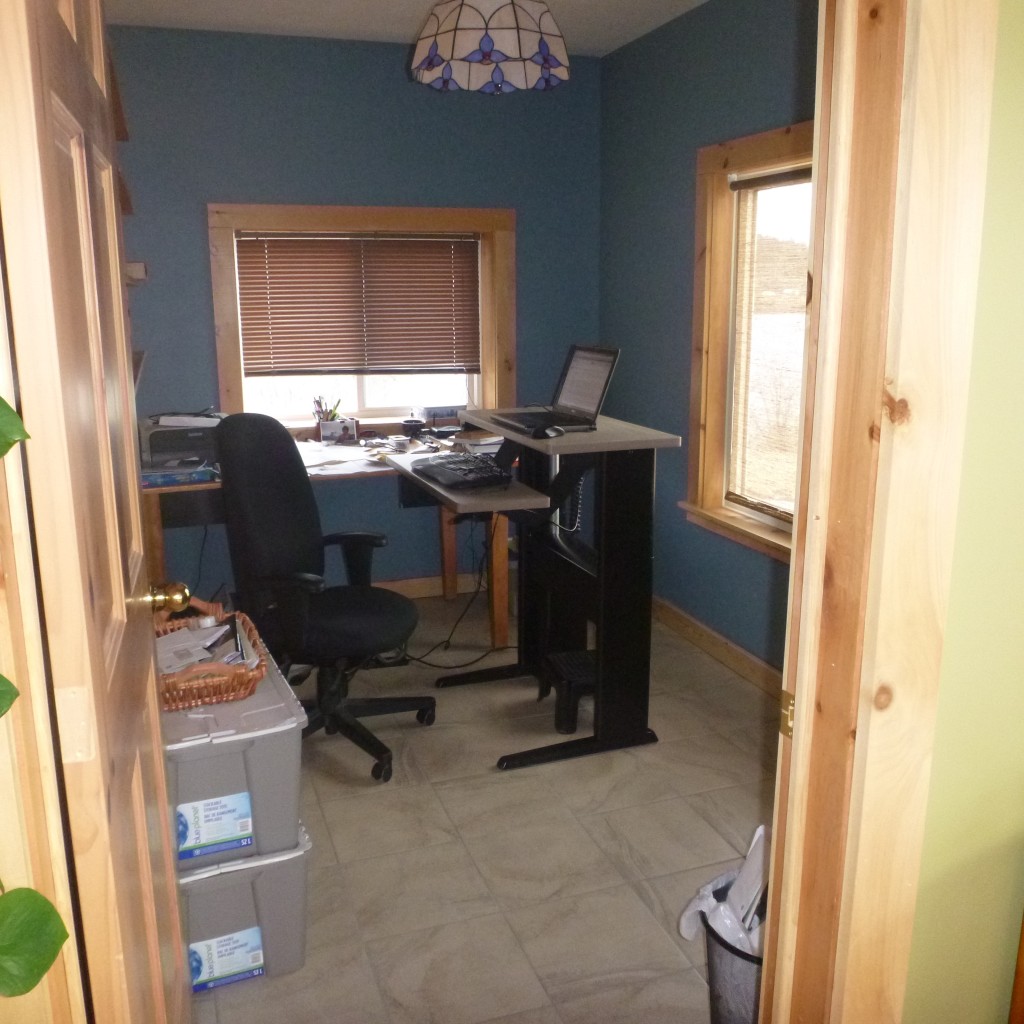 Norah said she didn't want a complete photo album of my office, so you probably can't see the cool stuff on my desk like the tiny Buddha that's no bigger than my smallest fingernail. Or the gorgeous cranberry coloured pottery bowl my daughter-in-law made for me. It's filled with cool rocks and shells. And, ahem, my Daphne du Maurier pewter bookmark I received for placing 1st once upon a time.
Check out how tall my desk is. It might not be pretty, but I love being able to stand up later in the day to work, and I'm told standing is better for you than sitting. The desk has a hydraulic lift, and with one press of the button it can go up, and down, and up, and down. I don't play with it. Much. 
There's more stuff to see in the office but because the room is so small, it's impossible to take a picture that includes everything. Unless Norah lets me send the photo album, of course.
The best feature of my office, and the reason I never feel crowded is the view out my big window. Some days the view looks like this.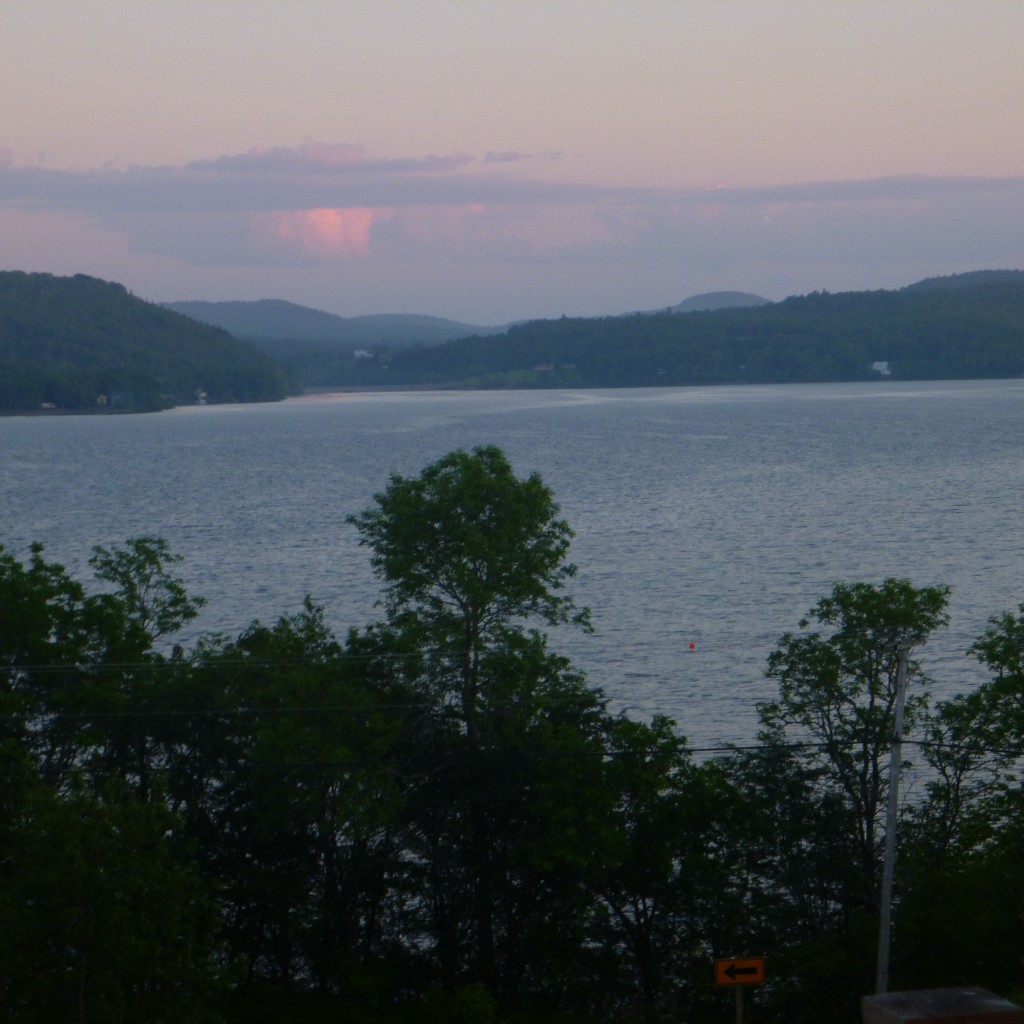 And sometimes like this.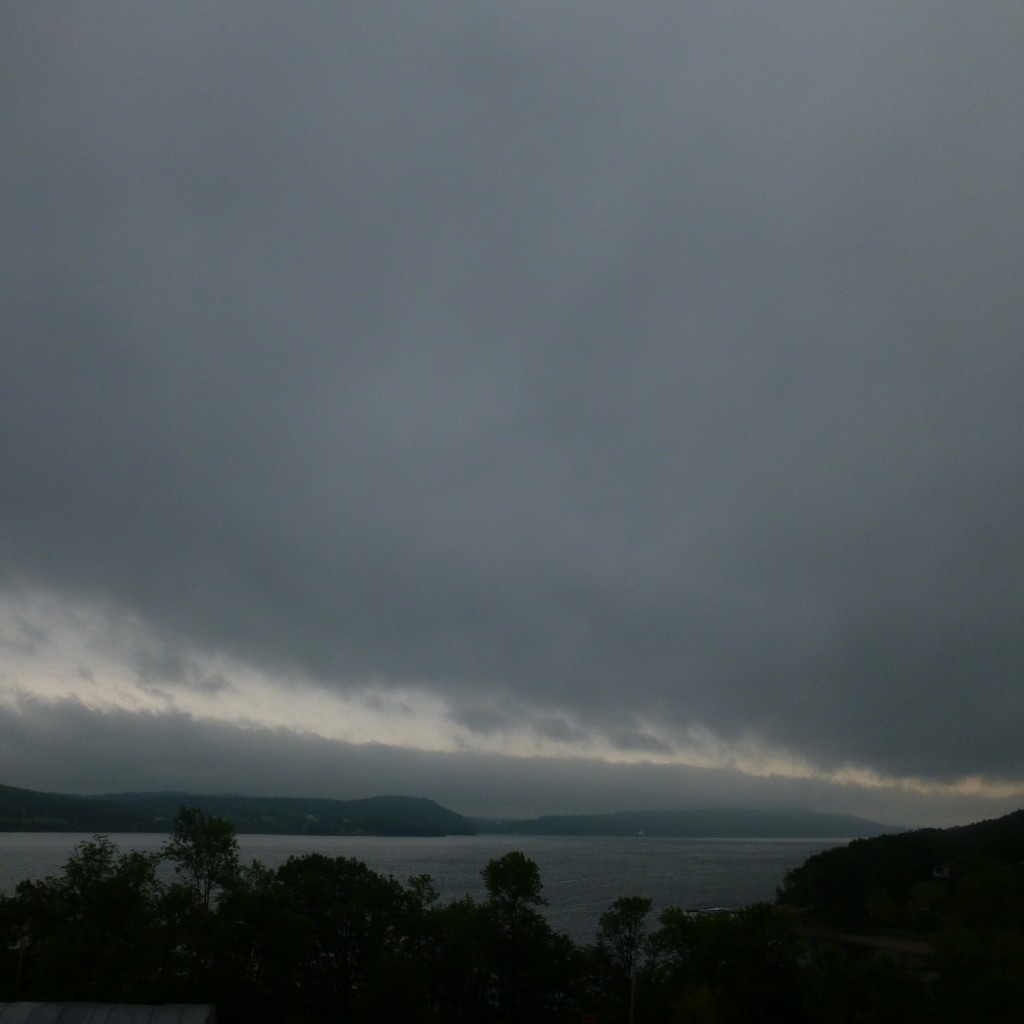 People often ask me if the view distracts me, and the answer is on occasion. But don't your best ideas come to you when you least expect them?
Currently I'm working on the third book in my series, Stolen Hearts. The first book is about an art thief, the second an art forger, and the third book, a jewelry thief. The research for these books is absolutely fascinating. Out of Control is a free novella that introduces some of the recurring characters in the series.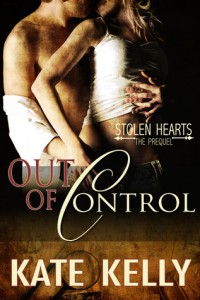 And I'm excited to have a Harlequin Super Romance coming out in September, When Adam Came To Town.
Leave a comment for a chance to win either an e-copy of Sleight of Hand, the first book in the Stolen Hearts series, or a copy of When Adam Came To Town.
Chance Spencer, doesn't steal. Not anymore.

Suddenly suspected of stealing half a million dollars of original paintings, Chance can't afford to have the FBI delve too closely into his covert past. When one agent in particular endeavors to put him behind bars, Chance coerces the real thief's daughter, Sarah O'Sullivan, into helping him flush her wily father out of hiding. Both want him found. Sarah, to warn her father of Chance's intent to turn him over to the FBI. Chance, to hopefully catch the thief red-handed. To succeed in capturing the thief Chance must keep Sarah close to him. But his plan quickly deteriorates when the stakes for his freedom soar. How can he ruthlessly use the woman with whom he's falling in love?

Sarah O'Sullivan is also looking for her father, but for different reasons. With her best friend getting married, Sarah realizes she's alone in the world and needs her family. That would be her father, who has been absent most of her boarding-school life. When Chance arrives in New York to inform her he's going after her father, Sarah follows him to Canada, hoping to warn him before Chance or the FBI find him. But living in close proximity with Chance, Sarah soon starts falling in love with him. She struggles with her divided loyalties as the FBI and the local police close in for an arrest. Someone has to be arrested for the theft. Chance or her father?

Temptation moves in next door

Sylvie Carson has no idea what she's going to do with the rest of her life! Artistically blocked, she hopes a prolonged stay in the seaside village she grew up in will help her get over this hump. But when Adam Hunter moves in next door, things only get more complicated, not less.

The artist in Sylvie is immediately intrigued by her new neighbor—the haunting lines of his face, the natural athleticism of his body. Maybe Adam is the muse she's been looking for…but his shadowed eyes suggest he's just one more person keeping secrets from her. Though Sylvie can't deny that Adam inspires passion in her, the last thing she needs is a romance…right?

 
Thanks for having me, Norah. I love reading this blog and seeing other writers' workspace.
Thank you Kate! And I can't believe I'm seeing your new office for the first time in a photograph! I really need the actual tour. But thank you for joining me and giving us this virtual tour. Your view is stunning, as I'm sure readers will agree. Also, I see When Adam Comes to Town is available for pre-order on Amazon. Woot!
Okay, let the commenting commence. One lucky commenter will receive their choice of either the ebook of Sleight of Hand or a print copy of When Adam Comes to Town, available in September. Good luck!
I am super pumped to have Tracy Brogan on my blog today. Tracy is a fellow-Montlake Romance author who has encountered fantastic success. Her debut romantic comedy, Crazy Little Thing, has been nominated for Best First Book by the Romance Writers of America®, and I'll be there to cheer her on at the awards ceremony in Atlanta next month. Go, Tracy!
TRACY BROGAN: Thanks for inviting me to Work Place Wednesday! If I recall, you invited me once before and I had to cancel because my desk was such a mess that even my computer stopped working! Fortunately I got that snafu worked through and here I am today. The pictures you see are ones taken at various stages. Since I'm currently under a mad-dash deadline, things around here are a little cluttered for my taste. (For those of you who have read my contemporary romantic comedy, Crazy Little Thing, it's no coincidence that the heroine is a professional organizer. I do indeed have labels on my refrigerator shelves, just like she does. And just like in the book, no one pays any attention to them except for me.)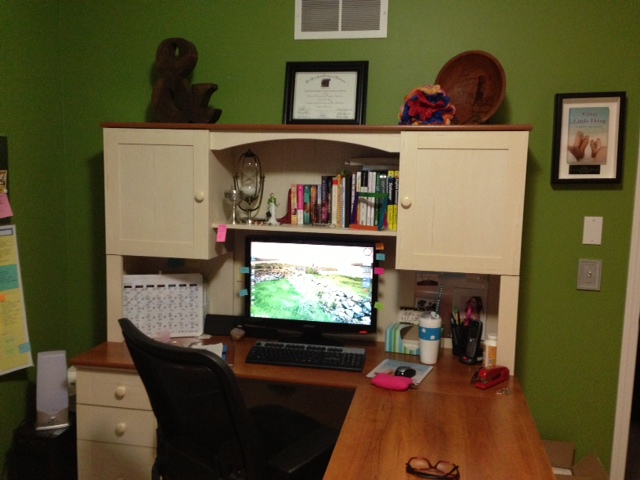 I work best with a clean space. But I'm also the post-it note queen so there you have my constant internal conflict. What I've started doing recently, thanks to a fa-fa-fabulous workshop I took with Cherry Adair, is take post-its with notes pertaining to the scene I'm working on that day, and I stick them all around the edge of my screen. Right now I have notes that say, "Spider, barefoot, and tattoo." They remind me that in this scene, I want to establish how my heroine is afraid of spiders, my hero prefers to be barefoot, and I need to explain the significance of his tattoo because its meaning plays a part later in the book. Sometimes I will also have "theme" or "ARC" notes, too, such as one saying, "She's not ready to commit," or "he's been thinking about the future," things like that. I find this helps me keep my characters on task so they don't go wandering off into the forest and fraternize with mythical creatures or something. Because I don't write about mythical creatures.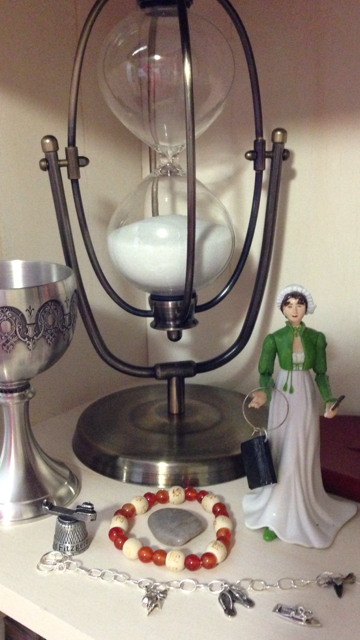 I also have dozens of trinkets. I think I'm constantly on the lookout for that secret talisman that will provide constant inspiration. So far the best I've come up with is intro-venous coffee, but that doesn't stop me from collecting other items. I have a "good karma" bracelet from a critique partner, another bracelet with charms attached to represent each book I've finished, bookends that hold up the books of my wonderful writer friends, a tiny bronze Liberty Bell because the heroine of my latest release (Hold On My Heart) is named Liberty Belle Hamilton, and last but sooo not least, I have pictures of handsome men who have served as stars in the mental casting of my books. There are a few picture of the heroines, too, but I don't pay much attention to them. And those are mostly there so I can say to my husband, "See? I'm working. Not just ogling men."  When it comes to my "casting" though, don't typically tell people who my "heroes" are because I don't want to flavor (or tarnish) a readers vision of what he looks like. I want readers to intuit a vision of their own favorites.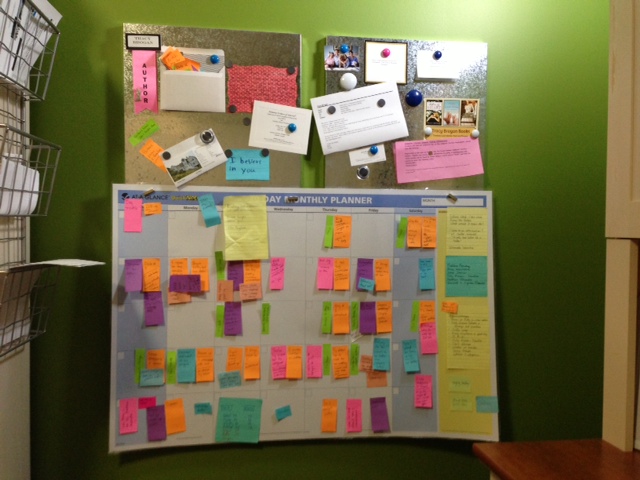 I also have a big white board with a grid. This is another trick from Cherry Adair and her color-scheming madness. I won't go into detail about how her system works but if you're remotely a plotter, you will love her method. And if you're a pantser, you would still probably benefit from seeing how she does it because you could set up your grid after you've written your first draft to see where your plot holes and pacing problems are. It's worth the time.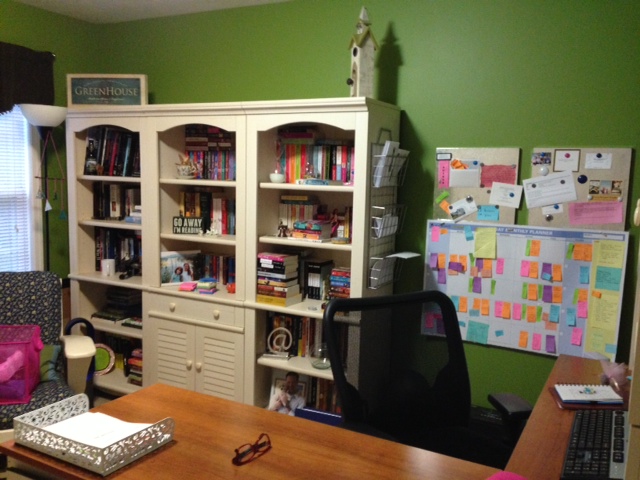 This office is far from perfect. There is no espresso machine, and I can hear every dog in my neighborhood bark all day long, but I'm incredibly grateful that since I've sold my first book, and just signed another 3-book deal, I was able to move out the guest bed, sewing cabinet, and buy some real bookshelves for this room. It's officially MY office. Now if I could just install a lock on the door, I'd be all set.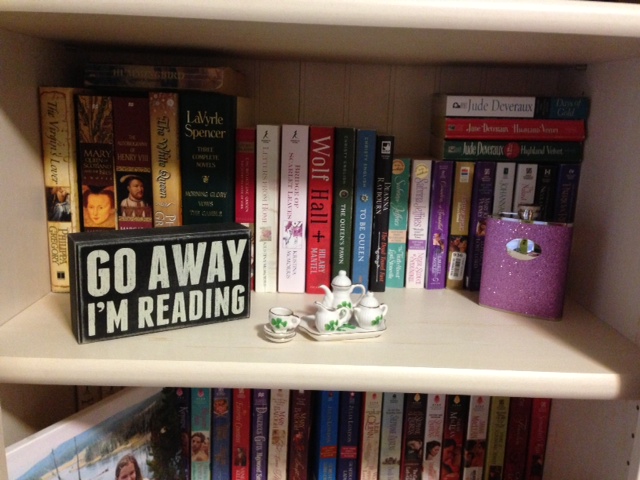 Thanks for having me, Norah. If you don't mind a shameless plug of self-promotion, I have a new book coming on June 25, 2013 called Hold On My Heart. Here is a blurb:
To build a future, sometimes you have to tear down the past…

Chicago event planner Libby Hamilton can turn any bland setting into a dramatic venue – but when she abruptly loses her job, and her fair-weather boyfriend moves to another state, Libby suddenly finds herself back in the tiny town she grew up in. Worse than that, her father wants help transforming an old schoolhouse into a vintage ice cream parlor and Libby must trade in her power suits for power tools.

Widowed restoration specialist Tom Murphy can rebuild just about anything – except the shattered relationship he shares with his teenaged daughter. Hired by Libby's father, Tom isn't interested in sharing the details of his personal life with beautiful, spunky Libby. He just wants to get the job done. But she is tenacious – and sexy – and it doesn't take long before she breaks down his walls, builds up his hope, and gets a hold on his heart that won't let go.
And for a little extra fun, here's the trailer:

I'd love to give away some copies of this book! So three lucky winners will win a free print copy! Just leave a comment on this blog, and three names will be selected at random. Or come on over to my author Facebook page and leave me a note saying Norah sent you. I'll draw another name from that list!  Four winners total!!  Thanks for playing and have a great Wednesday!
Biography:  Past or present, Tracy Brogan loves romance.  She writes funny contemporary stories about ordinary people finding extraordinary love, and stirring historical romance full of political intrigue, damsels causing distress, and the occasional man in a kilt.
She is a best-selling author, a 2013 RWA® RITA Best First Book Finalist for Crazy Little Thing, and a two-time Golden Heart Finalist in both contemporary and historical romance.
Her next contemporary romance, Hold On My Heart, releases June 25, 2013.
Tracy lives in Michigan with her husband, her children and their overly-indulged dogs. Please stop by her website at tracybrogan.com.
Thank you, Tracy! That was a fun tour. I love your space, and I feel like I learned a lot about you. I wish you'd come organize me!
Okay, folks, you heard the lady. Three of you will win her terrific new book just for commenting, and you have a bonus chance if you drop by her Facebook page. Let the commenting begin!
I am so pleased to welcome Cynthia Woolf for today's edition of Workspace Wednesday. In my view, Cynthia epitomizes the talented, hard-working indie author, and she is always producing new material. She's an active blogger who has done a ton to try to help other indie authors achieve some profile. I'm happy to have the chance to try to do the same for her. Please welcome Cynthia Woolf.
CYNTHIA WOOLF:  Thanks for having me on Workspace Wednesday.  I think it's a fun idea but I was hesitant to show pictures of my workspace.  I'm a bit of a pack rat and so my desk and wall is cluttered.  My husband has the other half of the office and his workspace is worse than mine.
We turned the smallest of our three bedrooms into an office.  Me on one side of it and him on the other.  It usually works out pretty well.  Sometimes we'll knock each others' chairs when we both try to get up at the same time but that doesn't happen too often.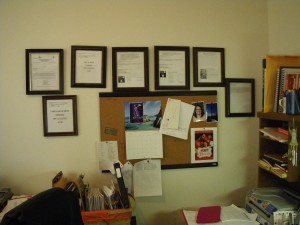 The frames on the wall are of awards and my rankings for my last three books.  They reached up to #1 in Books-Western on Amazon and I wanted to commemorate it.  I'm actually a #1 bestselling author.  In Western's anyway.  Someday I hope to be number one over all.  Which is exactly what we all hope for.
I don't have a view from my workspace, I face the wall, but if I did look out the window it would just be at the neighbor's house so we keep the curtains closed all the time.  What I'd like to do, eventually, is move my office into the breakfast nook.  The view from there is great.  It's of Longs Peak in the Rocky Mountain National Park.  For me, having grown up in the mountains, being able to see one as unique as Long's Peak, everyday from my desk would be heaven.
If you look hard at the picture of the wall you'll see the cover for my WIP, Fiery Bride.  I think the cover is beautiful.  Of course, I love all my covers.  Currently, my husband is printing them all out and we are going to frame them and then hang them around the top of the walls just below the ceiling.  When that gets full (notice I say when and not if) then we'll start on the second row.
I've got my latest release, Heiress Bride, in a frame but not on the wall yet, otherwise I'd have it prominently in the picture.  You can see part of it on my monitor, which I just bought.  My vision is bad and even with new glasses I wasn't able to see the stuff on the monitor clearly.  So we went and got me a new monitor.  A 27" monitor.  It's huge and I can see everything.  It would probably be too big for most people but for me, it's perfect.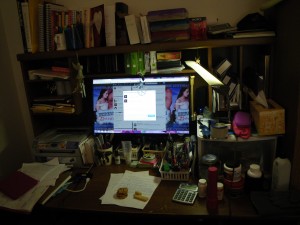 Thanks again for having me.  Hope everyone has a wonderful day.  Oh, I almost forgot.  I'm giving away two prizes today.  One lucky commenter will receive a copy of Heiress Bride, my latest release and another commenter will receive a $5 Starbucks card.  Be sure and leave a comment and put your email address in the comment to be entered into the drawing for the prizes.
Heiress Ella Davenport survived a carriage accident that killed her father. Her life saved in exchange for savage scars marring her beautiful face. Her friends, socialites, showed their true colors, casting Ella aside like damaged goods and leaving her a social pariah. Even her wealth can't buy her the kind of marriage she wants. Desperate to find a husband who can accept her despite her scars and, without knowing about her money, she seeks to become a mail order bride. Matchmaker & Co. is her one chance to start over and leave the pain and betrayal far behind her.

Nathan Ravenclaw was run out of town by the father of the girl he was courting once he discovered Nathan's Arapaho heritage. It didn't matter that Nathan was a successful rancher, businessman, and a positive member of society. The white community suddenly saw only a half-breed. Even his money couldn't buy him a wife. That was ten years ago. He moved and rebuilt everything that cold rancher once took from him. He has it all…except a wife. Matchmaker & Company promises to send him a woman willing to start a new life with him. But Nathan's battered heart lacks the ability to trust. He longs for children, not romance. His new bride, scarred and cast aside like himself, promises to be perfect for him. Until he meets his mail order bride. Fierce desire and an even more dangerous hope roar back to life within him. Two things he swore never to indulge in again.

And love? For these two battered souls, that's the biggest risk of all
Thank you, Cynthia! And OMG, i can't imagine working in such close quarters with my DH. Our workstations aren't even on the same floor! LOL. But I love that monitor. I find I need really good lighting these days. I have a giant sun-strength light on my desk, but maybe a better idea would be a giant monitor…
Before I turn it over to comments to win Cynthia's fabulous prizes, here is some contact info for her:
Okay, let's get to it! Comment for a chance to win Cynthia's latest book or the coveted $5 Starbucks card.
Today I'm pleased to introduce you to L.j. Charles. I met L.j. online early in the indie author movement, when there weren't so many of us. And no, that doesn't make us dinosaurs. That makes us early adopters. (Sounds so much nicer, huh?)
Okay, L.j., take it away!
L.j. Charles:  Thank you, Norah, for inviting me to Workspace Wednesday. It's such fun to share my office with you, but I have to preface this by saying that I rarely work there. I'm a Have Laptop—Will Travel writer, so I'll start by being right up front with it. I do a lot of my writing, and most of my revisions at the local Perkins restaurant as is shown here. I'm quite fond of the never-ending supply of Diet Coke they provide.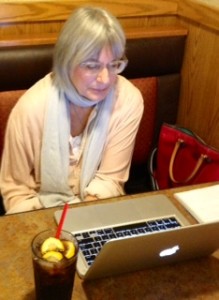 I do curl up on the sofa in my office to write on weekends, usually to avoid being interrupted by my Dear Husband.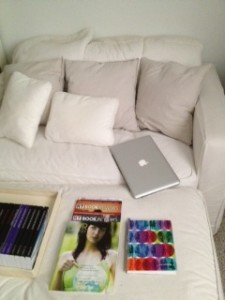 He truly understands what a distraction he can be, and purchased this reminder for the door of my study.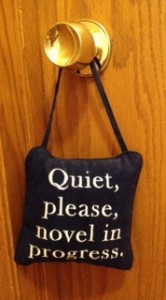 The actual office space is quite small, and is usually inhabited by a cat or two. The black feline is Oliver Biscuit, and the wide-awake little one is Harley. The Biscuit kitty likes to sleep on my arm when I'm writing—which is one of the reasons I hide at Perkins.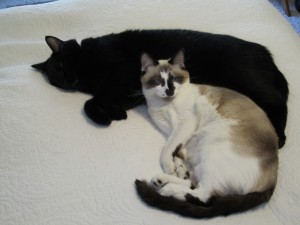 There are a few things in my office that mean a great deal to me. One of them is a certificate stating that I've kissed the Blarney Stone. I'm not comfortable with heights, and yet I stretched out on my back and leaned over the edge of the castle roof to reach the stone. To be perfectly honest, there was a strapping young man holding me down. I can only hope the experience is a positive reflection in my writing.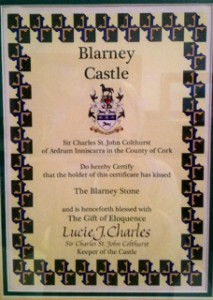 Another is my Color Outside the Lines painting. It was a Christmas gift from my husband, and I use it as a focus point whenever I'm stuck on a plot point.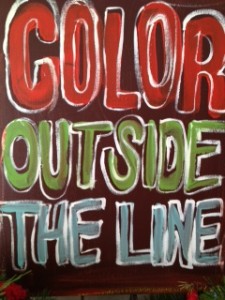 It's been a pleasure to share my workspace with you, and I'm very excited that this blog post has serendipitously coincided with another event that I'm very excited about. I've collaborated with six other authors in a boxed set of mysteries titled Mirth, Murder & Mystery, and it's going on sale today for .99! We're having a Facebook party to introduce our readers to our heroes, so please stop by if you have a chance.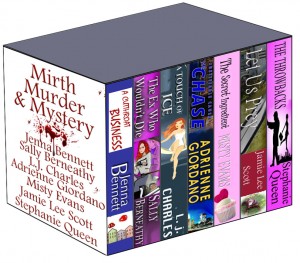 Thanks to everyone who dropped in to visit, and for those of you who leave a comment, I'm offering a print copy of A TOUCH OF ICE, and A TOUCH OF TNT to two commenters. Each winner will also receive one of my collage bookmarks.
Everly Gray's fingers are a magnet for trouble.  When she touches photographer Mitchell Hunt and sees the image of a dead body, she dives into the murder fingertips first. Life takes a turn for the dangerous when she discovers the body is related to a small-time crime family that accidentally stepped on the toes of notorious criminal, Delano West. Caught in a web of intrigue where nothing is as it seems, El discovers an aptitude for breaking and entering, the pain of an up close and personal meeting with a bullet, and the terror of facing a cold blooded killer. What she doesn't learn–to keep her fingers to herself.

Having ESP in her fingertips gives new meaning to "get the picture," and for Everly Gray it's a one-way ticket to trouble. With fear nipping at her heels, out of control curiosity, and a reluctant request from the chief of police for help with a case, she stumbles across, not one, but two dead bodies. What she knows puts her in the path of a killer. What she doesn't know—she'll be the one pulling the trigger.
Curious minds want to know. Has anyone kissed the Blarney Stone. Has it helped your writing? Do you have pets who insist on helping you write? Both of my cats are very attached to adding interesting comments to my WIP.
Thank you, L.j. Loved the tour! And how exciting about your multi-author box set! Trish Milburn, MJ Fredrick and I just had a Facebook party on Monday, May 20, to launch our romantic suspense box set, In Harm's Way. What a great way for readers to try new authors. Discoverability, right?
Okay, guys, you can check out L.j. Charles at little more closely at her website or like her on Facebook.
Now, let's open it up for comments and a chance to win books! L.j. has given us some questions above to start you off.
I'm totally tickled to bring you Zoe Dawson for this installment of Workspace Wednesday. Zoe is the alter ego of Karen Anders, award winning, multi-published author. Her writing journey started with poetry and branched out into fiction. With a couple of college English courses under her belt, she penned a historical, then moved on to contemporary romance fiction.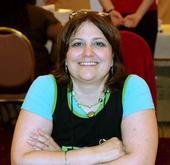 She is the author of the very cool Going to the Dogs Series (Leashed, Groomed for Murder). She also has a six-book police procedural series (The Misfit Squad Series) featuring a group of troubled homicide detectives who have landed in the "last chance" squad. Watch for it from Entangled Publishing in 2013.
Zoe is a woman after my own heart. Not only does she write romantic suspense and romantic mystery, she'll soon be publishing paranormal and urban fantasy novels. I love all those genres, and as a writer, I totally get the urge (need?) to be spinning stories in multiple genres.
Okay, Zoe, take it away!
ZOE DAWSON:   Thank you, Norah, for having me on your blog and sharing my workspace with you.  When I first started writing seriously, I lived in Virginia and my workspace was literally in a walk in closet.  Great cosmic writing power/itty bitty writing space.  The bedroom had two walk in closets so I could fit both my clothes and my writing passion into one room.  It was a tight confined space that only accommodated my desk and chair.  But it was perfect.  I could close my bedroom door, then the door to my small space and cut out all the noise from the household.  I loved that space.
When I moved to North Carolina, I lived in a two bedroom apartment with my daughter and I wrote in my bedroom again.  But this time I had to put the clothes in the only walk in closet.  Not as conducive to writing, but then I was developing ideas and had no contracts at the time.
I then moved to a three bedroom single family home where I had a dedicated office to work out of and it was huge, but with the change in the economy, I moved into a townhouse where I now currently write.  As you can see, the view is simply wonderful at all times of the year.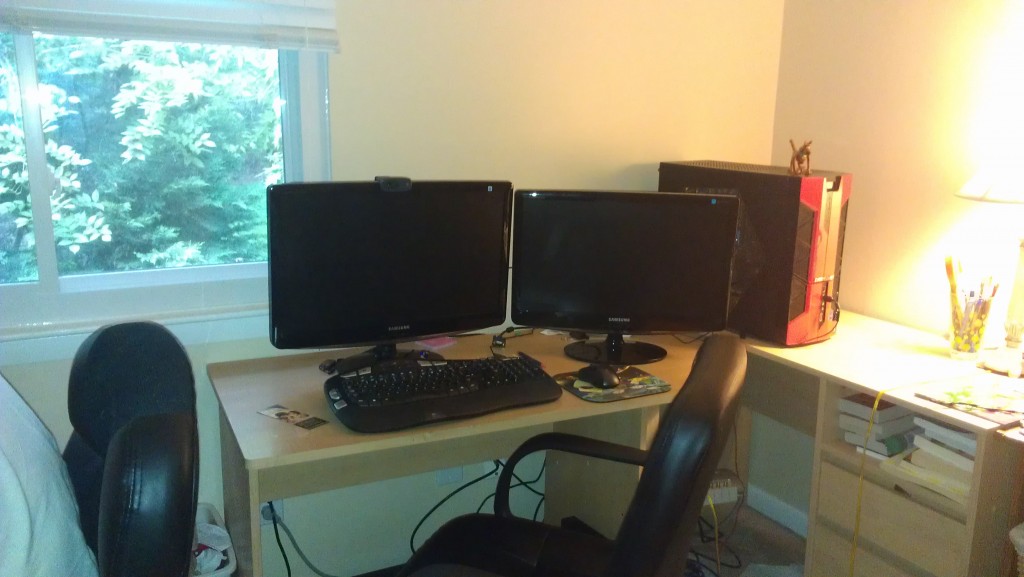 Even though we live right off a busy road, you wouldn't know it by looking out the window.  Looks like we live out in the country.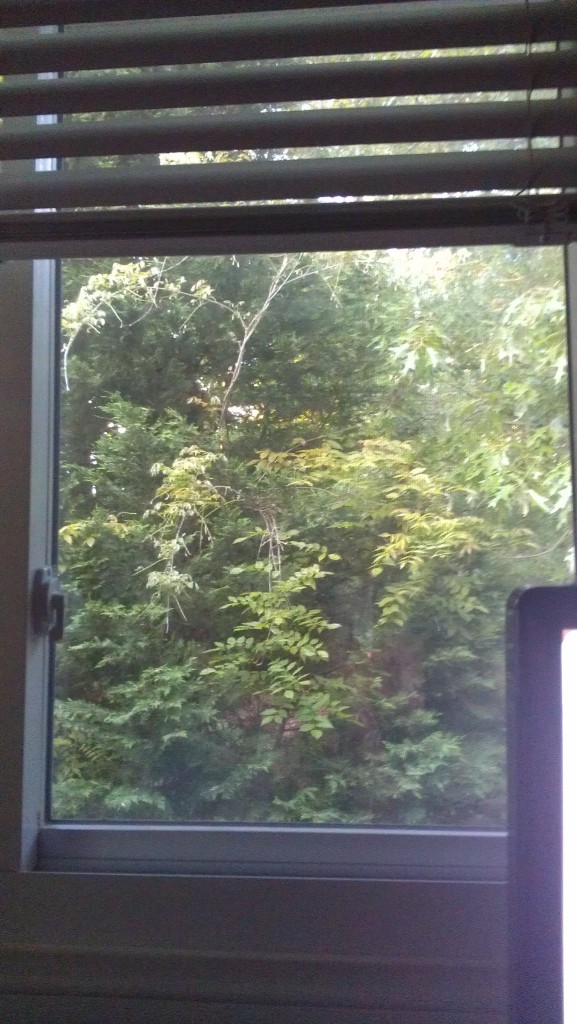 I share the room with my daughter and when I need some quiet time, I take my laptop into my bedroom and produce away.
I have written seven books in this space and expect to produce a lot more as I have now diversified into self-publishing.
Thank you for that tour, Zoe. I'm so impressed by how clean your desktop is! And don't you love having dual monitors? And is that a dog on top of your CPU?  🙂
Okay folks, it's your turn. Leave us a comment for a chance to win one of two electronic copies of Leashed.
And they call it puppy love!

When Jack falls head-over-paws for cute and cuddly Jill next door — that creamy coat, those soft brown eyes, and, yowza, those long legs, he simply cannot help himself.  Bing, bang, boom, a few weeks later, Jack has some 'splaining to do when that cute female is with puppies.  Jack's going to be a father, trouble is his lady love's owner and his owner need a little shove into love.  Being a large and in-charge Great Dane, that's no problem for Jack.  With a little cooperation and a little matchmaking, some nudging, whining and puppy dog eyes, hopefully, everyone will live happily ever after together.

Can a dog have a bad hair day?

Brooke Palmer owns Pawlish, an exclusive doggie spa and grooming business in upper Manhattan, but when a client's champion poodle gets a bad poodle cut and has to undergo therapy to recover, the client sues.  The lawyer they send is drop dead gorgeous, but Brooke won't be wooed by a corporate shark in a sharp suit.

Corporate lawyer Drew Hudson has better things to do then take on this ridiculous lawsuit, but since he works for the client's husband, he has no choice.  After meeting the beautiful, sweet-tempered owner, he can't keep his mind on the silly case.  But when the client turns up dog gone dead, Brooke may be a conflict of interest when she's charged with the murder.  All Drew wants to do is prove that this sexy entrepreneur is not dangerous, except to his heart.

Can she take a chance on him?
I am excited today to introduce you to award-winning author Deborah MacGillivray, whom I have known online since the days of my publication with Dorchester Romance a decade ago. I well remember the fire she speaks of which destroyed her home a few years ago. The other thing that has always stuck in my mind about Deborah is her selfless service to a now deceased friend and fellow-writer, Dawn Thompson, who faced a number of daunting physical challenges.  Even now, if you visit Deborah's website, you'll see that she keeps Dawn's legacy alive, not just as a memorial but for the benefit of Dawn's heirs. Quite apart from her considerable and recognized talent as a writer, that makes Deborah a winner in my books. Deborah is now a fellow Montlake author, after Amazon acquired a number of her back list books from the now defunct Dorchester Publishing. Welcome, Deborah!
Deborah:  Thank you to Norah for asking me to drop by and share my corner of the world. Had she asked me that in 2009, my pictures would have been much different. I had a wonderful, handmade cherry desk, oak file cabinets and built in bookshelves, with knotty pine paneling on the walls. Today, my office is completely different, and not just a decorating choice. My home burnt to the ground at the start of 2010, and I very nearly died in the fire. Once healing was begun, I had to find a new home. From there, I knew I wanted to make my office a haven, something special. So what you are viewing is still a work-in-progress.
To start, I had to have a knock-out desk, something fit for an author (LOL). And boy did I get one! I found a Powell Hunt Desk. A beautiful carved mahogany, semi-circle desk, with glass inlays.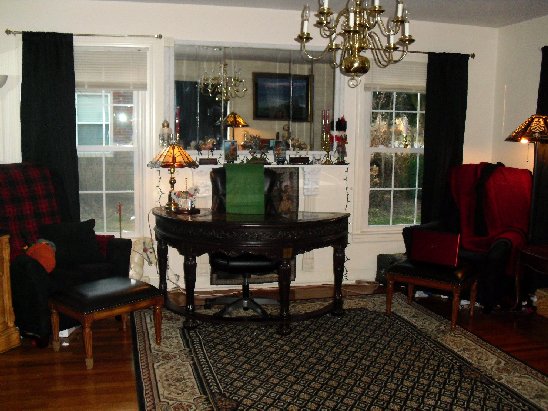 Once I had that focal point, then I set out to make the room a reflection of my tastes, my loves, and see it provided a tranquil place to create. The room is 18' x 17' so plenty of space to fill with items to speak to what I love. In two corners, flanking the desk, I placed two, matching black suede chairs, with wood and leather footstools.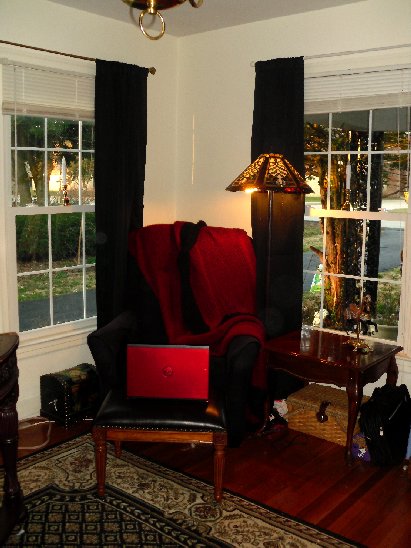 I learnt long ago, I cannot write on a PC for long. It caused tendonitis of my neck and right wrist. In my agony, I discovered I could work all day on a laptop and not suffer these problems. So while I had my desk to work at when I need space, generally I am found with my legs up and me oh so comfortable in one of the black chairs.
I also have a lovely Victorian settee, which I share with my dolly, made by Candy Thompson (sister of the late author Dawn Thompson). Candy, as well, crocheted me a huge red and black afghan (seen in the second picture)― perfect for my black and dark red office theme.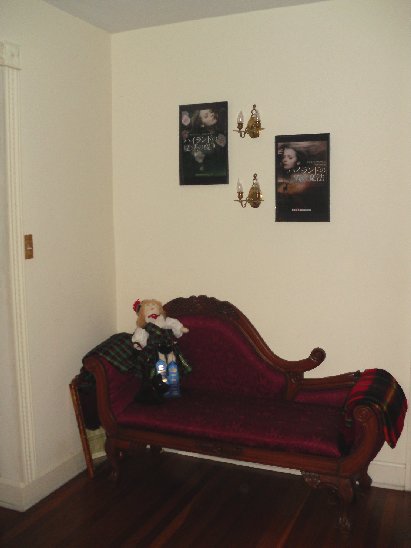 I also have a constant companion with my new kitty, Miss Mouthy― "Mouse" for short. She mostly sits on the small table by my chair, or on the arm of the chair while I work. I have a gorgeous Tudor birdbath outside one window, so we take breaks to watch the "pool parties".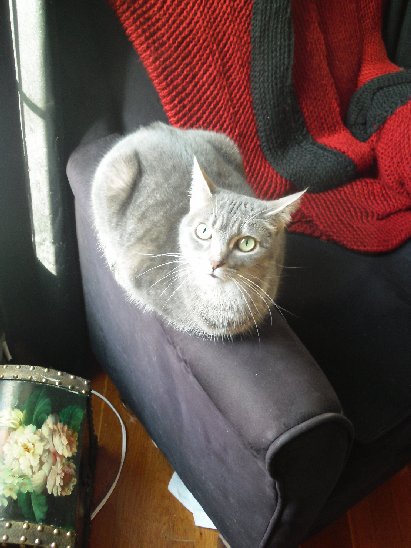 I love going antiquing, and we have a marvelous store just down the road. I have found some great items there. A new acquisition ― a second desk ― a roll-top oak is in one corner. I am not sure it's going to stay in the room permanently. I am considering putting a full-size carousel horse there. All about the room, I have several glass carousel horses with medieval style. On one wall behind my desk, I designed a wonderful display with a tapestry of Edmund Blair Leighton's "The Accolade", that my marvelous contractor Joe Crabtree brought into being.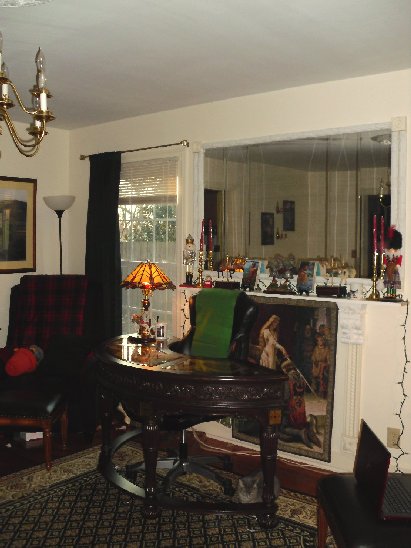 He also helped me hang a wall frieze of two knights battling on a small space between two windows. It's not quite finished yet, but coming along nicely. I have large framed posters of Scotland ― Kilchurn Castle and Duncarloway Broch. I am far from done, but I think my study is beginning to reflect my new beginning in a new home, and speak of my love for medieval times and Scotland.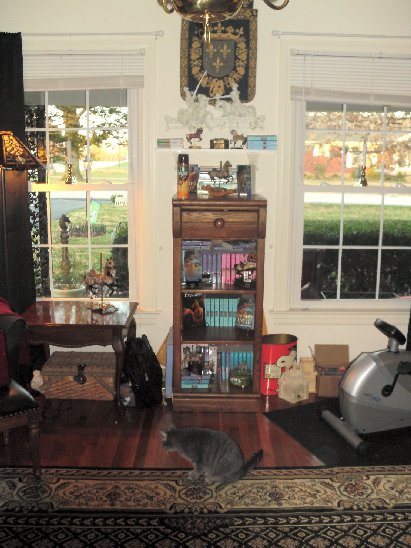 Mouse and I must be able to see out into the world. Plenty of light comes into the room as we have a large door way to the living room, and two very large windows on two walls. We get some bird-watching (and squirrel-watching) in on our breaks.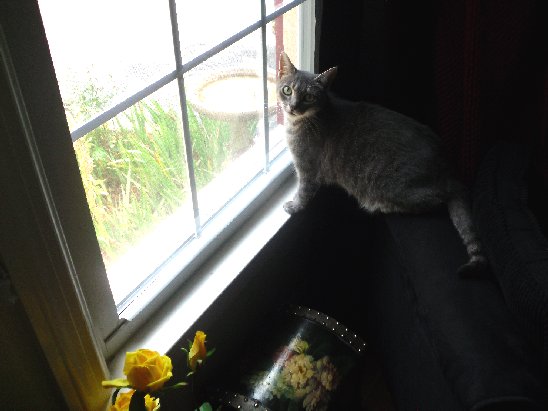 In one corner I have a recumbent bike. I think it vital for an author to get up and move around. It's good for the body and mind to get the blood pumping. I can take a break and do twenty minutes of pedaling, and suddenly I am awake and refreshed. I also have near perfect blood pressure now. Thank you, bike! All phone calls can be answered on my Vintage Snoopy Phone!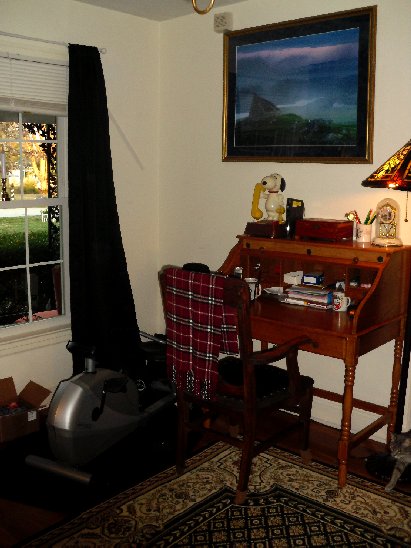 It's eclectic style, a bit functional, a dash of whimsy and a wee dram of Scottish Medieval― perfect for me to get lost in tales of dashing Challon lads!
My latest addition is the carousel horse. Not sure where I will put him permanently, but I absolutely had to have him!!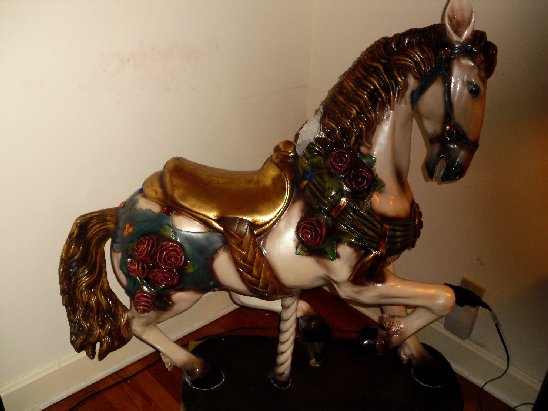 However, there are days, that the outside calls. I have a veranda that covers the whole front of my home. I decorated with rockers and loveseats, so I will take my laptop out there and often work. I rock in the glider, while using my Next Up Text Aloud to read back my writing to me. I find the Text Aloud a grand way to hear my words, feel the flow of the prose. So I can keep working, yet enjoy the outdoors as well.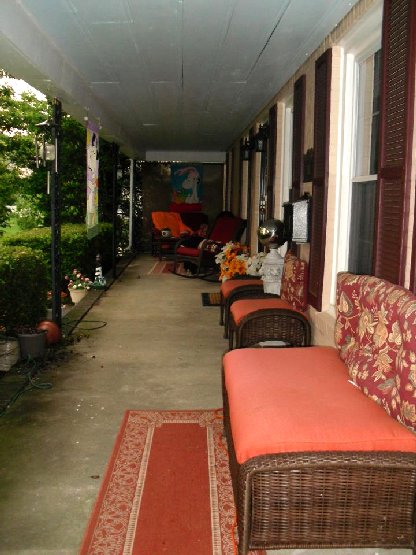 Thank you, Deborah! That was a fascinating tour! I love your study! What an extraordinary home you've created for yourself after the devastation of the fire. In fact, I think this might be one of the most unique spaces I've profiled thus far here on Workspace Wednesday.
Folks, Deborah has two fantastic giveaways. As always, winners will be drawn randomly from among the comments on this post.
Giveaway#1 – A set of The Dragons of Challon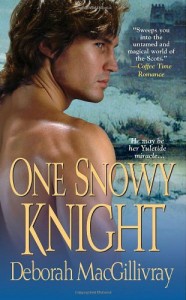 One Last Hope. . .
Lady Skena MacIain has seen much hardship this year, and she fears worse is to come. For a bloody battle in Dunbar has left her a young widow, and her Scottish fortress without protectors. She wishes she could be as hopeful as her babes, who believe the Cailleach, the Lady of Winter, will send them a miracle in time for Christmas. But life has taught her that things can never be so easy. . .
One True Love?
Until a mysterious warrior is found amid a blinding snowstorm, sick with fever. As Skena nurses the handsome knight back to health, even she begins to believe he might bring salvation to her little keep–and passion to her life, as his body awakens a long sleeping desire within her. . .a desire her touch stirs in him as well. But his wounds speak of danger, and Skena will soon learn, his past carries a secret that could shake her home–and her heart–to their very core. . .
Look Inside at Amazon
Giveaway #2 – 1 set of The Sisters of Colford Hall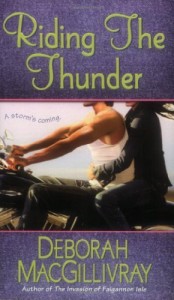 It was all part of the plan. While his brother was in Scotland dethroning the Lady of Falgannon, Jago Mershan was headed to Kentucky. There he would do his share in avenging his father on the Montgomeries. Only, there was a monkey wrench in the works
Just looking at his alleged enemy's granddaughter made Jago think of his classic black '67 Harley Electra Glide, a motorcycle with clean lines and sleek curves that promised the ride of a man's life. Asha was all woman― and the only woman for him. He'd bet she could go from zero to one hundred in the blink of an eye…and not even her claims of paranormal happenings in the diner she ran could put him off. He knew magic: He had a special name for the sights, the sounds, the tastes and smells of that perfect ride. There might be a storm coming, but it was one of passion, and together he and Asha would be… RIDING THE THUNDER
Look Inside at Amazon
I'm delighted to welcome fellow Canadian Cindy Procter-King to Workspace Wednesday. Cindy is a dynamo and one of those personalities you gravitate to. I could write a lovely bio telling you how funny she is, but I think posting this little excerpt from her website bio will tell you more than I possibly could!
A Kindle Contemporary Romance bestseller and Romance Writers of America Golden Heart® nominee, Cindy's mission in life is to see her surname spelled properly—with an E. So take heed. That's P-r-o-c-t-E-r. Not, no, never, under any flippin' circumstances should you spell it with two O's. Cindy lives in Canada with her husband, their two amazing sons, a tortoiseshell cat obsessed with dripping tap water, and Allie McBeagle.
Welcome, Cindy!
CINDY PROCTER-KING: Thanks to Norah for welcoming me to her blog! I'm excited to be here.
I love my office. It's a huge space, a 10×14 room that used to be our bedroom. Even so, I've managed to fill it up!
We live in a circa-1960 house, and the location of my office has changed three times over the 22 years since we moved in. I searched for a photo of the bedroom before we renovated to show you what my office used to look like, but I accidentally gave birth a week after we moved in (the baby came 6 weeks early) so I didn't get around to taking pictures of the interior. I was too busy corralling a 2-year-old and our huge dog at the time, a Malamute, and unpacking boxes, and then caring for a newborn preemie.
That's my excuse, and I think it's decent.
While my children were little, my "office" was a corner of the living room. My husband gave me a roll-top desk for our first anniversary, and it sat in one corner of the living room. The computer desk sat in the opposite corner. I have always had two desks because I use the computer to draft but the roll-top to hand-edit and revise. When our oldest child turned 13, we put on an addition, which meant there were two empty bedrooms for a couple of years. I moved my office into one of the old bedrooms, but it was very crowded and super-hot. My ankles would swell in there (this was before we had air-conditioning).
A couple of years after the major addition of two bedrooms and a bathroom for the kids, we remodeled the "master wing," creating one bedroom out of the two kids' rooms, turning the tiny bathroom into an en suite bathroom for the new master bedroom, changing the old hallway to the bathroom into a walk-in closet, and the icing on the cake—turning our old master bedroom into my office!! First, I'll show you a photo of what the office looks like now, and then I'm going to tell a little story….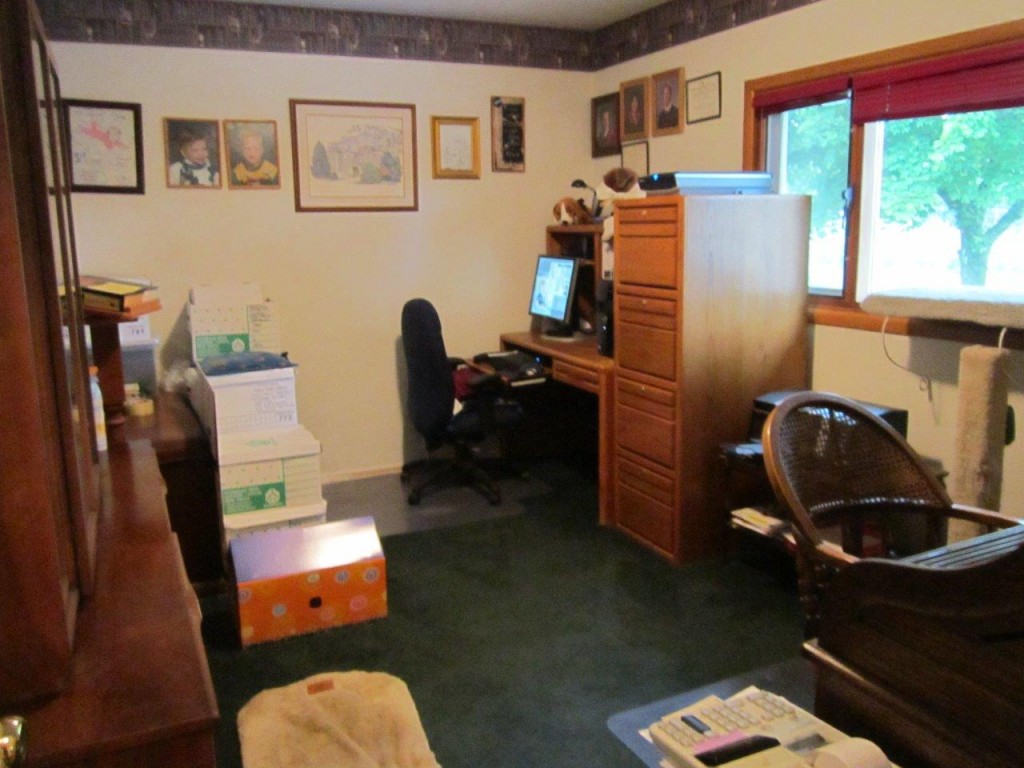 You can see the computer desk in one corner, my roll-top desk in the lower right, and a view outside the window (which looks onto an orchard). I took this picture a few months ago after thoroughly cleaning the house, so you'll have to excuse me if it looks a little tidy…aside from the numerous file boxes stacked up near the far wall.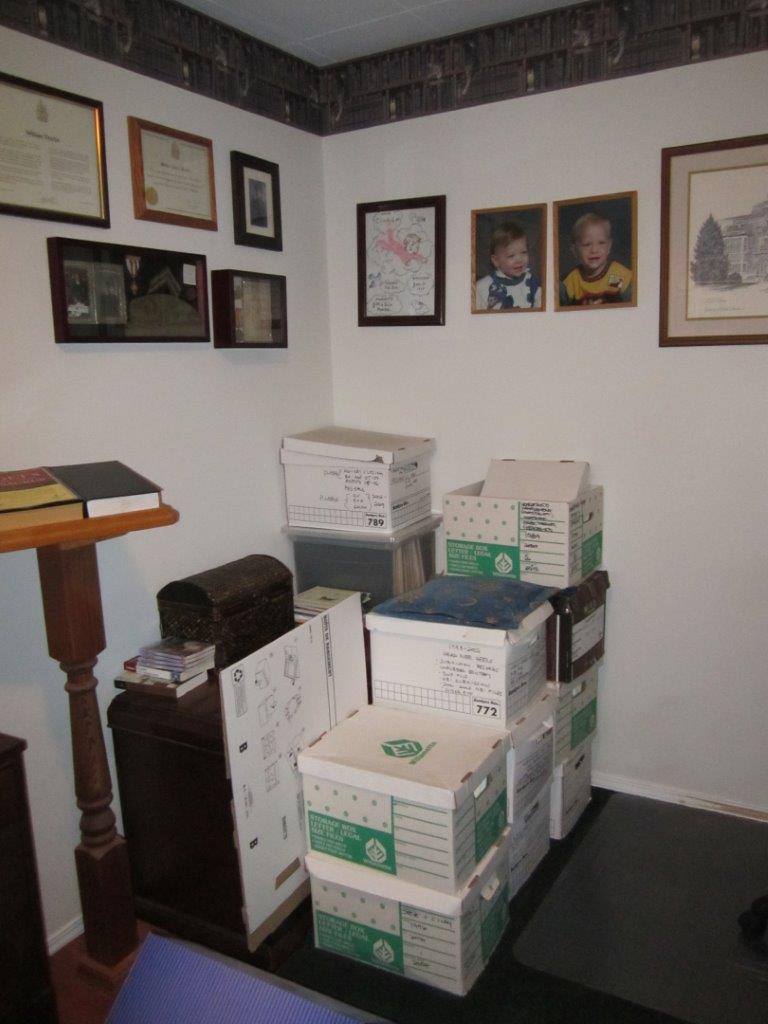 This isn't my promised story; this is a sideline explanation of the file boxes. Two years ago, I needed to find a file box in the crawlspace, and I discovered all these other file boxes that needed to be sorted and shredded. There were originally 11 boxes. I shredded two before the shredder died. There are now 7 files boxes remaining. I went through two more at Xmas. At this rate, I'll be finished my sorting/shredding in 2019. Oh, well.
Behind the file boxes is a memory trunk that my husband gave me for a milestone birthday. You can see a dictionary and a thesaurus (which I rarely use now thanks to website dictionaries) on a stand that he built me one Christmas. The framed certificates and shadow boxes are in honor of my grandfather, who lived to 106 and was the last British Columbian to have served Canada in The Great War (he was the third last Great War vet to die in Canada overall). Pictures of my sons (now adults) are also on the walls. I love being surrounded by memories of family as I craft my novels.
Here's my roll-top desk, where I do my editing and revising by hand (and a bunch of "biz of writing" stuff):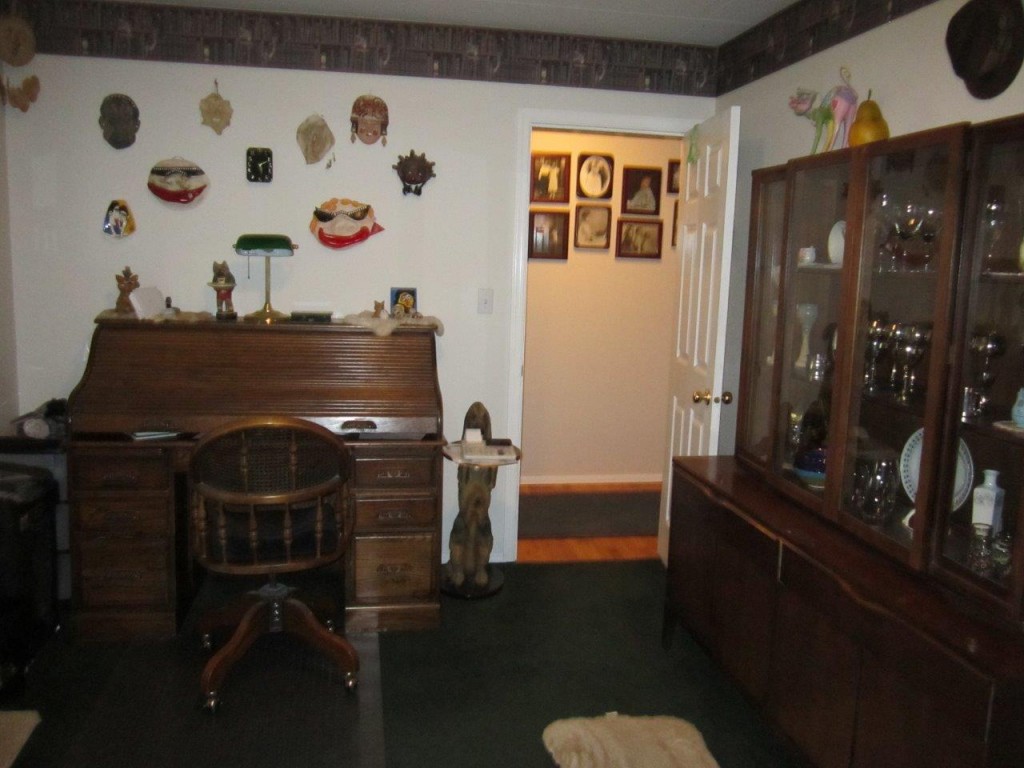 I collect face masks, and the china cabinet to the right belonged to my grandmother. This china cabinet remained in my office until recently, when we rearranged the living room and could finally put it close to the 'dining table' (which is in the country kitchen). Now, in place of the china cabinet, is my husband's grandmother's buffet. I don't have a picture of that right now, because we are in the midst of getting some repainting done.
My roll-top looks very tidy with the cover down. In reality, it usually looks more like this (but messier – I did some cleaning and filing while the painter was here last week):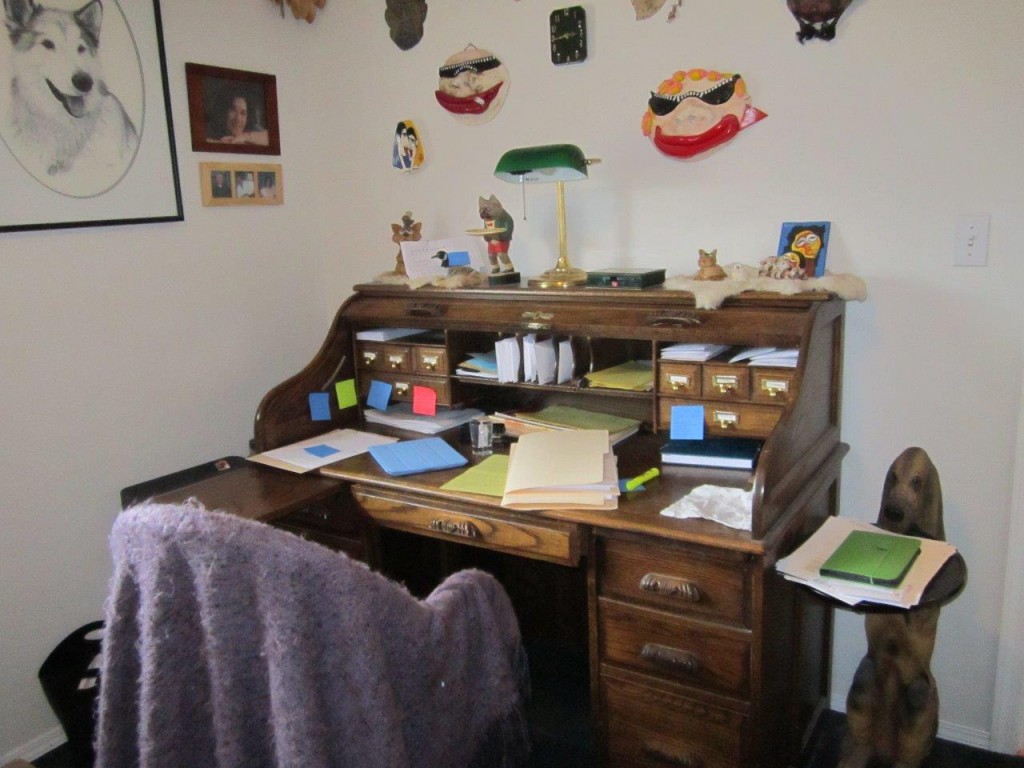 All those sticky notes are my to-do lists. Hawthorne (the dog statue) holds my mail. The blanket is for cold March days. The drawing of the dog is our old (dead) Malamute. We now have a beagle and a cat, but neither would move off the bed in the other room to cooperate with photographs.
As you can see, the walls are drywall now. When we first moved into the house, the then-bedroom had a lino floor and pine on the walls. When we took the pictures off the walls ten years later during our first set of renovations, the pine behind the pictures had faded to the point that we had to take off all the pine. Underneath was ugly stuff with ridges in it that I call wallboard. So we decided to remove the wallboard and put up drywall in this room. Now, here comes the story I mentioned earlier. The big surprise was that we discovered, on those old wallboards, dozens, and I mean dozens, of hearts with the initials of the old couple from whom we'd bought the house over a decade earlier. When we bought, they were moving because she had Alzheimer's and he could not keep up the massive yard without her help. We think he put up the pine paneling to help sell the place because it looked very new when we moved in. However, first this kindhearted gentleman drew his love for his wife all over their bedroom walls! That were then our bedroom walls.
Ever since we moved into the house, I had felt a ("woo-woo") sort of presence. I usually felt it in the old hallway. The wife had passed away shortly after they moved. I don't know if I was sensing her or something else, but when we discovered the dozens of hearts drawn all over the walls (I must have taken a picture but I've looked and can't find it), I felt like it was her presence or their love somehow remaining in our house…in our master bedroom, which is now my office and where I write about undying love. The last time I felt her presence, after the wallboard was off and only studs remained, I thanked her for allowing us to raise our family in her house. I have not felt the presence since.
We have done more renovations over the years, and every time we do we put something in the walls or ceilings for someone else to find in the future, just like we found the hearts. There are Batman figurines in the hallway walls from my sons, and a ping-pong table used for sub-floor under where our dining table currently resides. I could go on, but you get the idea.
And that's my office!
Have you ever done renovations and discovered "gifts" or "memories" from the previous occupants?
She never wants to go home again.

For Jess Morgan, Destiny Falls holds too many painful memories. Nine years ago, a logging accident near the remote timber town killed her dad and her high school sweetheart. To make matters worse, her mother quickly sought comfort with another man. That choice tore Jess apart and drove her to seek a life far away. But now fate steps in, and family obligations force her return home. Before long, she's convinced that persuading her mom to live with her in Toronto will repair their shattered bond. However, she doesn't count on a long-ago friend re-entering her life and challenging her convictions.

Rugged forester Adam Wright believes in family, roots, and not running from heartache. Now, all he wants is to help Jess break down the walls of the lonely sanctuary she's built for herself and heal her past hurts. It's not until she rejects his plans for their future that he realizes his persistence has pushed her away—not at all what he intended.

Has he lost his chance? Or can he convince Jess that where she truly belongs is with him…forever?

 

One tiny lie can cause a whole lot of trouble…

Magee Sinclair has had it up to her sassy short hairdo with the recent blunders pushing her family's advertising agency to the brink. How can she accept the promotion her father plans when she keeps making costly mistakes? She needs to bring in more business however she can. So when new client Justin Kane asks her to role-play as his girlfriend for a weekend in exchange for a lucrative campaign, she jumps at the chance.

Justin's goal to expand his chain of bike stores hinges on a distribution deal with a manufacturer. First, he needs to impress the man at a mountain resort while they bike trails with their significant others. But Justin's girlfriend dumps him, forcing him to find a quick replacement. Magee—pretty, clever, and a skilled cyclist—is the perfect choice to masquerade as his "lover."

Or so Justin thinks.

Because Magee is in major trouble. She knows no more about mountain biking than Justin does about demi-bras. Before long, an irate ex pops up, fake identities abound, and a whole lot of doors slam in the middle of the night. Yet, through the chaos, Magee and Justin discover what it really means to fall head over heels….
Thanks for that great tour, Cindy. I loved your story about the hidden hearts. I can well imagine the wonderful echo that room must retain! 
Okay, folks, Cindy is giving away two prizes:
An electronic copy of her book

Where She Belongs

(MOBI format); and
An electronic copy of her book

Head Over Heels

(MOBI or EPUB format).
All you have to do to qualify is comment below, answering Cindy's question. I'm going to love reading these answers! I know I've seen some interesting things that came out of old walls!