This is a very special Workspace Wednesday for me. Kate Kelly is a writing buddy from way back. We basically learned to write together in a small critique group. Kate and I later went on to final in the Romance Writers of America's Golden Heart ® contest in the same year (2001), each with our own manuscript, and each story was a romantic suspense with a cowboy at its center. Kate has since self-published a number of her fabulous romantic suspense stories, and she also writes contemporary romance for Harlequin Superromance. If you haven't read a Kate Kelly novel yet, you should treat yourself. She has an amazing voice!
Take it away, Kate!
KATE KELLY:  Okay, before you come into my closet, er…office, there's something I have to tell you. Like most things in my life, it's a work-in-progress. My real life hero is building our new house around me, and I get to make choices, like do I want my custom-built desk or do I want a door on the bathroom. So, yeah, no doors on the bathroom. <kidding> 
So come on into my office.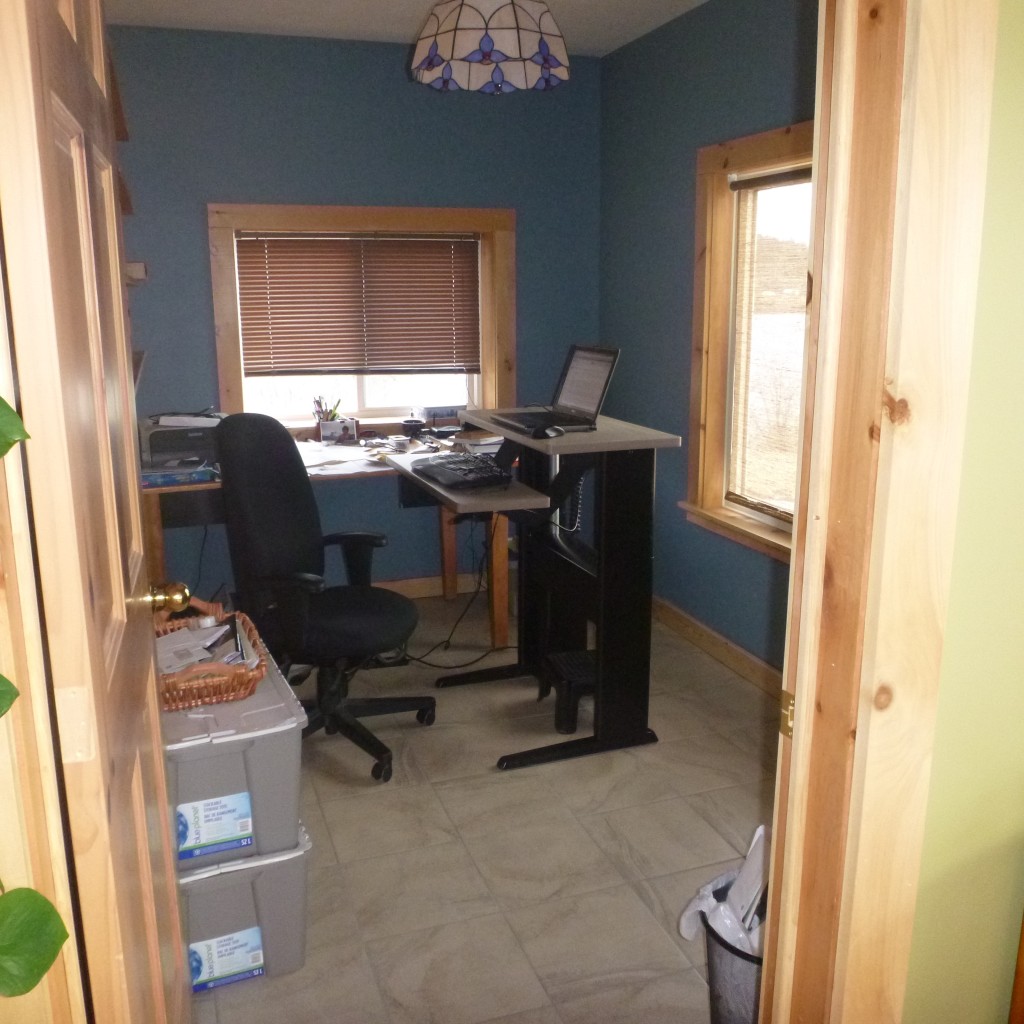 Norah said she didn't want a complete photo album of my office, so you probably can't see the cool stuff on my desk like the tiny Buddha that's no bigger than my smallest fingernail. Or the gorgeous cranberry coloured pottery bowl my daughter-in-law made for me. It's filled with cool rocks and shells. And, ahem, my Daphne du Maurier pewter bookmark I received for placing 1st once upon a time.
Check out how tall my desk is. It might not be pretty, but I love being able to stand up later in the day to work, and I'm told standing is better for you than sitting. The desk has a hydraulic lift, and with one press of the button it can go up, and down, and up, and down. I don't play with it. Much. 
There's more stuff to see in the office but because the room is so small, it's impossible to take a picture that includes everything. Unless Norah lets me send the photo album, of course.
The best feature of my office, and the reason I never feel crowded is the view out my big window. Some days the view looks like this.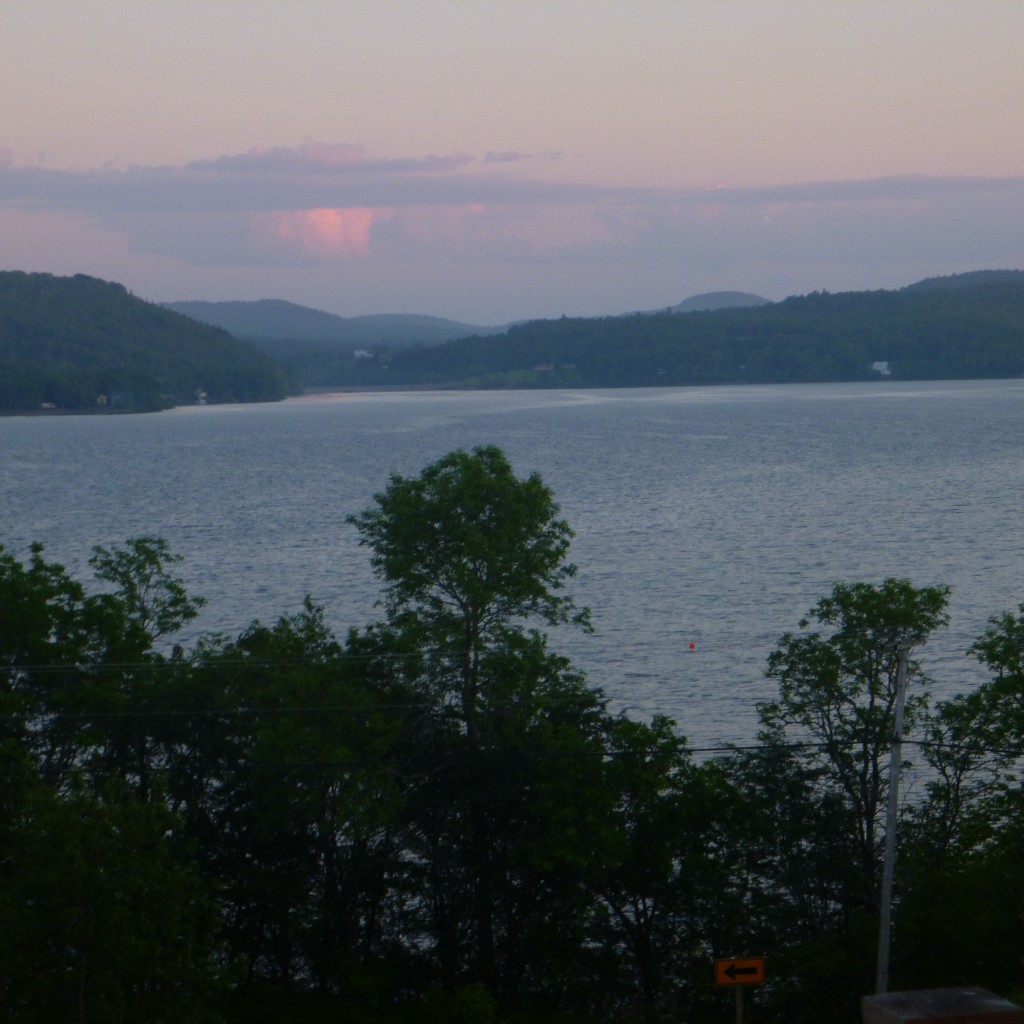 And sometimes like this.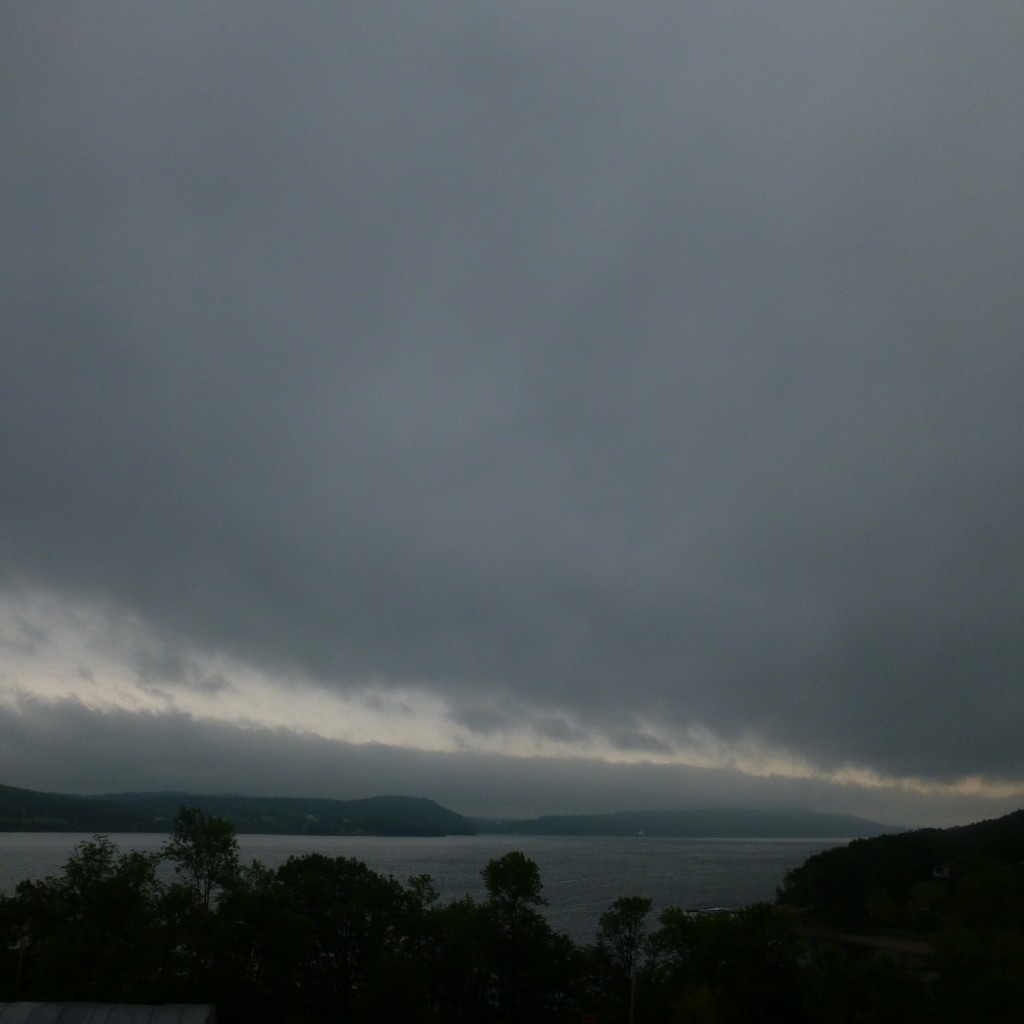 People often ask me if the view distracts me, and the answer is on occasion. But don't your best ideas come to you when you least expect them?
Currently I'm working on the third book in my series, Stolen Hearts. The first book is about an art thief, the second an art forger, and the third book, a jewelry thief. The research for these books is absolutely fascinating. Out of Control is a free novella that introduces some of the recurring characters in the series.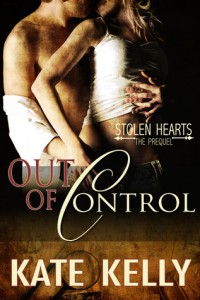 And I'm excited to have a Harlequin Super Romance coming out in September, When Adam Came To Town.
Leave a comment for a chance to win either an e-copy of Sleight of Hand, the first book in the Stolen Hearts series, or a copy of When Adam Came To Town.
Chance Spencer, doesn't steal. Not anymore.

Suddenly suspected of stealing half a million dollars of original paintings, Chance can't afford to have the FBI delve too closely into his covert past. When one agent in particular endeavors to put him behind bars, Chance coerces the real thief's daughter, Sarah O'Sullivan, into helping him flush her wily father out of hiding. Both want him found. Sarah, to warn her father of Chance's intent to turn him over to the FBI. Chance, to hopefully catch the thief red-handed. To succeed in capturing the thief Chance must keep Sarah close to him. But his plan quickly deteriorates when the stakes for his freedom soar. How can he ruthlessly use the woman with whom he's falling in love?

Sarah O'Sullivan is also looking for her father, but for different reasons. With her best friend getting married, Sarah realizes she's alone in the world and needs her family. That would be her father, who has been absent most of her boarding-school life. When Chance arrives in New York to inform her he's going after her father, Sarah follows him to Canada, hoping to warn him before Chance or the FBI find him. But living in close proximity with Chance, Sarah soon starts falling in love with him. She struggles with her divided loyalties as the FBI and the local police close in for an arrest. Someone has to be arrested for the theft. Chance or her father?

Temptation moves in next door

Sylvie Carson has no idea what she's going to do with the rest of her life! Artistically blocked, she hopes a prolonged stay in the seaside village she grew up in will help her get over this hump. But when Adam Hunter moves in next door, things only get more complicated, not less.

The artist in Sylvie is immediately intrigued by her new neighbor—the haunting lines of his face, the natural athleticism of his body. Maybe Adam is the muse she's been looking for…but his shadowed eyes suggest he's just one more person keeping secrets from her. Though Sylvie can't deny that Adam inspires passion in her, the last thing she needs is a romance…right?

 
Thanks for having me, Norah. I love reading this blog and seeing other writers' workspace.
Thank you Kate! And I can't believe I'm seeing your new office for the first time in a photograph! I really need the actual tour. But thank you for joining me and giving us this virtual tour. Your view is stunning, as I'm sure readers will agree. Also, I see When Adam Comes to Town is available for pre-order on Amazon. Woot!
Okay, let the commenting commence. One lucky commenter will receive their choice of either the ebook of Sleight of Hand or a print copy of When Adam Comes to Town, available in September. Good luck!
18 Responses to "Workspace Wednesday welcomes Kate Kelly"