I am beyond thrilled to have fellow Montlake author Laurin Wittig with me today. Her Scottish historicals are the bomb. Also, she's just as lovely as her picture leads you to believe. Welcome, Laurin!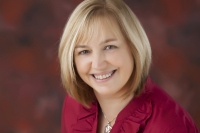 LAURIN WITTIG:  Thanks so much for inviting me to share my lair with your readers, Norah! First off, I have to admit that I'm sharing my current-but-not-for-long office. Both of my children have moved out of the house in the last few months so we're busy repurposing the upstairs. As soon as I get the new office painted I'll be moving out of my office of the last 14 years – the formal living room that is smack in the traffic pattern at the bottom of the stairs with kitchen and family room just steps away – to the upstairs guest room that is completely out of the traffic pattern. I know, I know, the kids are gone, but my husband works from home two days a week and never fails to cut through my office on the way to or from the kitchen or the family room. Plus, our dog can open the French doors of my current office but won't be able to do that upstairs!
It's hard to tell in this picture but the walls are a dark forest green. I just love green. My husband and I found my desk – a 1920s library table – at a local antique store years ago. It's got a perfect foot perch underneath. My ginormous iMac sits in a place of honor and you can see that I use the bottom of the monitor as a handy post-it note place. I'm flanked on either side by matching bookcases (with doors – I hate dusting!). This one holds my craft of writing books, along with copies of my own books and books by my critique partners, awards I've gotten for my books, and a lot of little mementoes from friends, conferences, and my children. Underneath is where I hide a lot of my office supplies.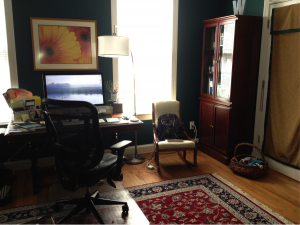 Here you can see the matching bookcase, just behind my grandmother's rocking chair. This bookcase holds my research library. See the basket on the right? That's Anna's basket. She's my miniature Eskie and that's where I pile all the dog toys that mysteriously end up in a ring around my desk chair whenever I sit down to work.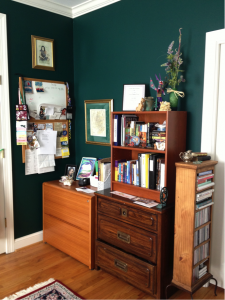 And here is the corner opposite my desk. The bulletin board used to be for plotting, but now it's where I pin up still more memorabilia, notes from friends and my publisher, and conference stuff. I wish you could see it more closely – one of my prize uber-nerdy things is on that board: a "May the force be with you" button that I got at the second showing of the original Star Wars movie back in 1977. I know, I'm a serious nerd and proud of it!
The picture above is a drawing by my good friend and awesome artist Elizabeth Holcombe. It's of Symon MacLachlan, hero of The Devil of Kilmartin, my first book. As you can see, I'm a bit of a clutter-bug, and I love to have a lot of trinkets that remind me of people and events that have been important to me.
And now for the moment of truth: I use this office for the business side of being a writer. I do research, my bookkeeping, pay my bills, check my email/Facebook/Twitter/Pinterest, update my website, write blog posts, etc. etc. etc. in this office. But I rarely write here.
This is my real writing office: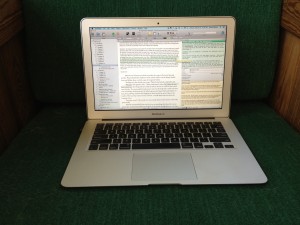 I use an awesome program, Scrivener, that lets me keep all my plot notes, scene notes, research notes, and manuscript in one place so I have almost everything I need to write my current book right there on my laptop. I take my laptop/office to a local coffee shop every morning, Monday through Friday, where I meet two other writers to work. It's the only way I can keep myself focused long enough to actually get my books written.
So that's my office(s)! The book on the laptop is the sequel to my new book that releases on August 6th, Highlander Betrayed. Leave a comment here and I'll randomly choose two commenters to receive an advance reader copy of Highlander Betrayed. And I'm going to copy my fellow Montlake author, Tracy Brogan, and offer another advance reader copy to someone over on my Facebook page – just mention that Norah sent you! I'll choose the winners on Monday since my laptop and I are out of town until then.
Hidden deep in the rugged Scottish Highlands lies the Highland Targe, an ancient relic guarded for centuries by clan MacAlpin. It is said the Targe can shield the heart of the Highlands from invaders and now, as part of his plan to crush the Scottish rebellion, the English king wants the Targe for himself . . . .

Rowan MacGregor, orphaned niece to the chief of the MacAlpins and the rock her family depends upon, is worried. With the dwindling health of her aunt, the Guardian of the Targe, the protections that have kept the clan safe and prosperous are fading, and the new Guardian, one of her cousins, has yet to be chosen. Rowan wants nothing more than to see the clan protected again, but when it seems that will never happen, she despairs—even when a handsome and charming stranger comes to her aid.

Nicholas fitz Hugh is not what he seems. Half-English, half-Scottish, he turned his back on his Scottish heritage early in his life, giving his loyalty to England instead. Now he is a talented and cunning spy charged with finding and stealing the Highland Targe for his king.

But when Nicholas finds himself falling for the bonny Rowan and wanting to protect the family she holds so dear, he is forced to choose between his king's will and his own: Will he betray his king and his mission? Or will he turn his back on the woman he has come to love?
Thanks, Norah, for letting me share my office here!
Bio: Laurin Wittig is an award-winning, bestselling author of enchanting Scottish medieval romances that bring together strong warriors, smart women, and a land that tests those men and women again and again until they ultimately find their happy ever after. Romantic Times says, "She's well on her way to becoming one of the genre's finest storytellers."
Laurin's next book, Highlander Betrayed, book one of her Guardians of the Targe trilogy, will be released on August 6th and is available for preorder now.
You can find Laurin on-line at her web site LaurinWittig.com, as well as on Facebook, Twitter, and Pinterest (links on her web site!).
Thank you so much for that tour, Laurin! And wow, I think I'm going to have to cave and learn Scrivener. I've heard nothing but great things about it.
Okay, let's have some comments! How cool would it be to win an advance reading copy of that book?
Today I welcome a new-to-me author, Wendy Ely, whom I met on some of my Internet travels. Wendy has a new book coming out, so this appearance is timely!
Take it away, Wendy!
WENDY ELI:  Norah, thank you so much for letting me be part of Workplace Wednesday! I'm so excited to share this private part of my life.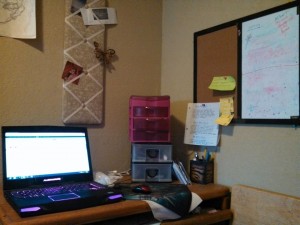 Here is where the words magically flow from my fingertips… or I bang my head on the desk. HA! My actual work area. I'm so proud of that computer. Pink is my favorite color and my honey picked this laptop out for me because the keys glow in whatever color I choose. Also in this picture is my work bulletin board that is half whiteboard (and I always find loving or silly notes added from my family). I use the other board for inspiration. We've recently moved and most of my inspirational items fell off. Right now I have a picture of me with my siblings. I won that board and the animal print pencil container from my local RWA chapter. My desk has an extra pullout shelf for a keyboard. I use a laptop so this extra part of my desk provides extra space to work… usually when I put pen to paper.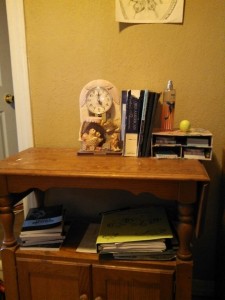 This little table sits next to my desk and adds extra storage to my workspace. My kids bought me that clock many years ago. The drawing (that really needs to be framed) hanging on the wall was done for me from a friend. On this table you'll also notice some essentials such as: Bath and Body Works body spray (Paris), EOS lip balm, and my Post-it note holder. I also keep two books that I always use: The Writer's Thesaurus and The Emotion Thesaurus. The shelf holds extra copies of my books and my cat often sleeps here. What you don't see is the double doors near the bottom. I keep stacks of notebooks here.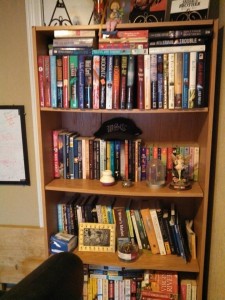 I have been reduced to 1 bookshelf at this house. Sigh. As you can see, I need a few more. My "to be read" books are here, but I keep my writing resource books and autographed books separate. You'll also see a black and white photo of my kids when they were younger.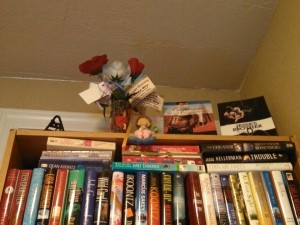 Here is the top of my shelf. My books that are in print are on display here. I also have a little figurine that a former daycare child gave me for my birthday. See that vase of roses? My RWA chapter gives a rose for every book published. I'm so proud of these.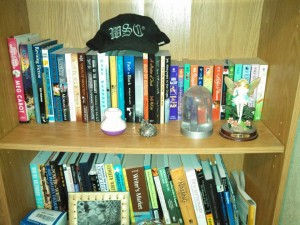 Here is my shelf of autographed books and important things. I love having books autographed by the authors and I'll keep these books forever. You'll also notice a hat sitting on top. A dear friend gave this to me. The back reads, "Thomas." The white container holds my paperclips (usually glitter pretty clips!) and the rest of the figurines were given to me by friends. Can you tell I love fairies?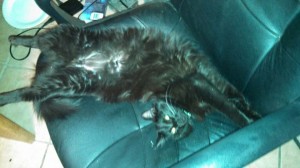 But the best part of my office is my assistant. Kujo follows me everywhere and often lounges in my office while I work. Here she is sprawled out on my chair.  Good thing I looked down before I sat, huh? She used to sleep on my desk, but she doesn't fit anymore.
Thank you for stopping by my workplace! In honor of my post, I'll be giving away an ebook copy of my brand new release Dangerous Flames.
Sometimes heroes are taught to do really bad things…

Mikolas Russo is one hit away from becoming part of the Medini crime family. But is this what he really wants?  Killing people for money is what he has been trained to do even though he'd give anything to trade the nightmares for sweet dreams of the forbidden Gabrielle. Thinking he has the chance to reveal his feelings to her, he arrives at her house to find her brandishing a loaded gun, ready to take control.

During Gabrielle's teen years, she attended a private school in Italy. This is where she learns the meaning of Mafia but believed crime families no longer existed. Now back in Las Vegas and demanding answers to the hard questions, she quickly learns that the Mafia still has a hand in controlling society and her father is the Don of the largest mob in the area.

The Mafia doesn't seem so glamorous any more after a hit is taken out on her father, especially when Gabrielle has reason to believe that her secret love's safety is in jeopardy too.

Will the truth fulfill her desires, or will Mikolas be the one to shatter everything?
You can find Wendy Ely on the Internet in these places:
Amazon (check out her current releases).
Email Wendy: authorwendyely@gmail.com
Thank you for that lovely tour, Wendy! And LOL – I keep my authographed books and special keepers on a different shelf too. They deserve it. ,-)
Okay, my lovelies, you know the drill — comment for a chance to win an ebook copy of Wendy's new release, Dangerous Flames.