This is a very special Workspace Wednesday for me. Kate Kelly is a writing buddy from way back. We basically learned to write together in a small critique group. Kate and I later went on to final in the Romance Writers of America's Golden Heart ® contest in the same year (2001), each with our own manuscript, and each story was a romantic suspense with a cowboy at its center. Kate has since self-published a number of her fabulous romantic suspense stories, and she also writes contemporary romance for Harlequin Superromance. If you haven't read a Kate Kelly novel yet, you should treat yourself. She has an amazing voice!
Take it away, Kate!
KATE KELLY:  Okay, before you come into my closet, er…office, there's something I have to tell you. Like most things in my life, it's a work-in-progress. My real life hero is building our new house around me, and I get to make choices, like do I want my custom-built desk or do I want a door on the bathroom. So, yeah, no doors on the bathroom. <kidding> 
So come on into my office.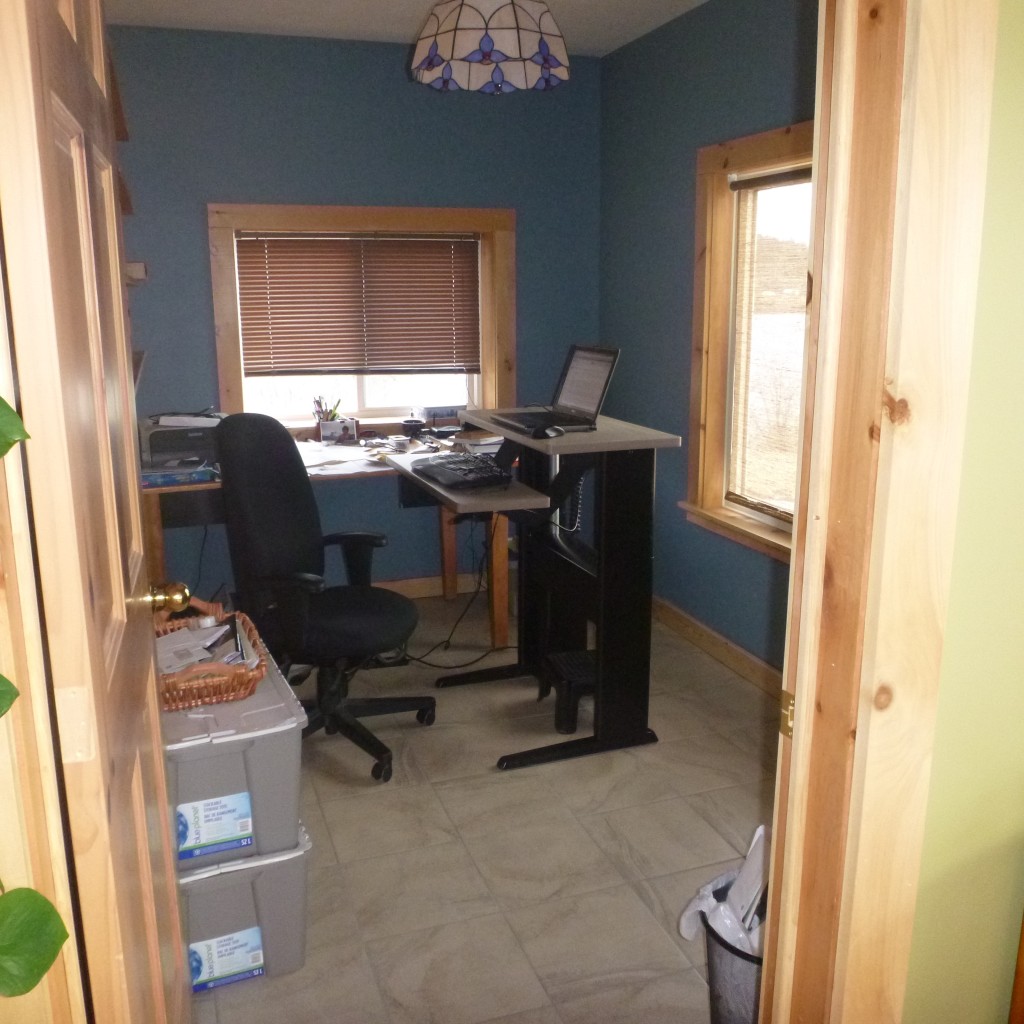 Norah said she didn't want a complete photo album of my office, so you probably can't see the cool stuff on my desk like the tiny Buddha that's no bigger than my smallest fingernail. Or the gorgeous cranberry coloured pottery bowl my daughter-in-law made for me. It's filled with cool rocks and shells. And, ahem, my Daphne du Maurier pewter bookmark I received for placing 1st once upon a time.
Check out how tall my desk is. It might not be pretty, but I love being able to stand up later in the day to work, and I'm told standing is better for you than sitting. The desk has a hydraulic lift, and with one press of the button it can go up, and down, and up, and down. I don't play with it. Much. 
There's more stuff to see in the office but because the room is so small, it's impossible to take a picture that includes everything. Unless Norah lets me send the photo album, of course.
The best feature of my office, and the reason I never feel crowded is the view out my big window. Some days the view looks like this.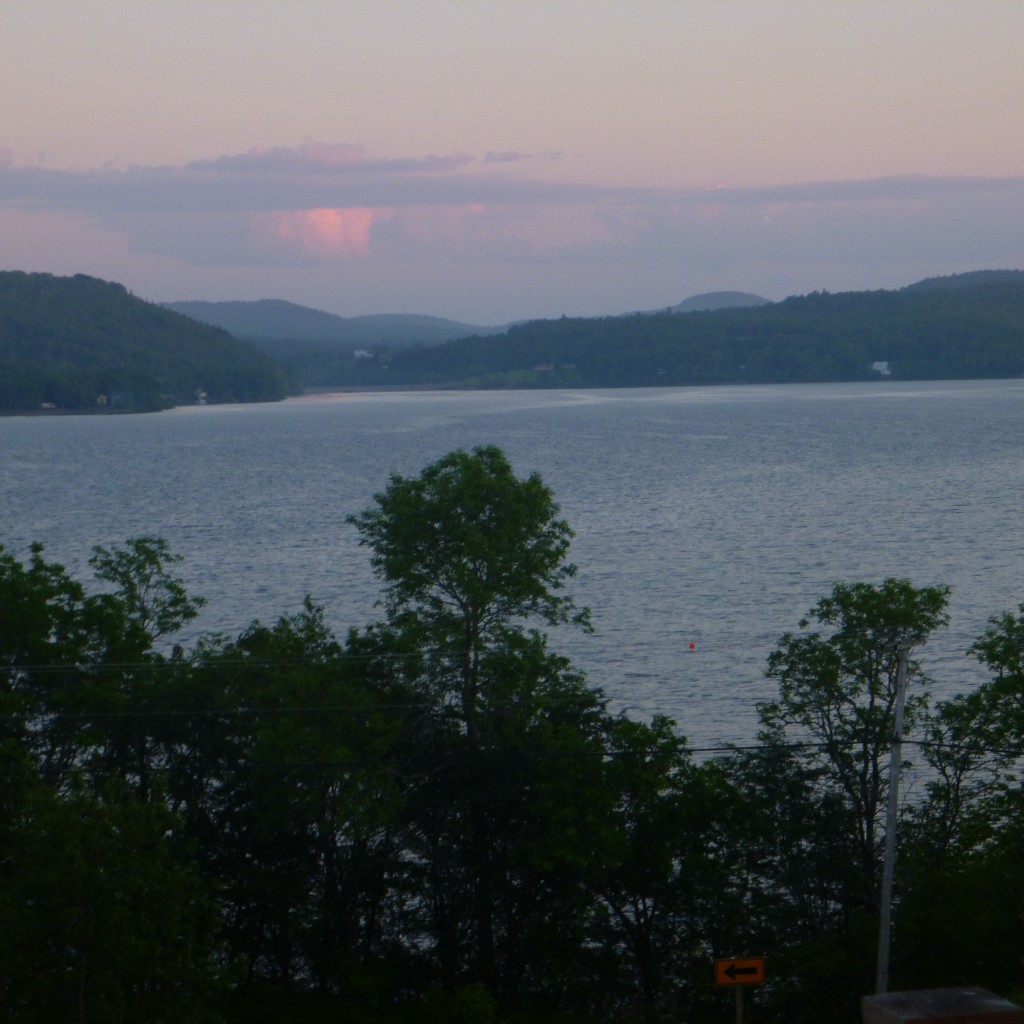 And sometimes like this.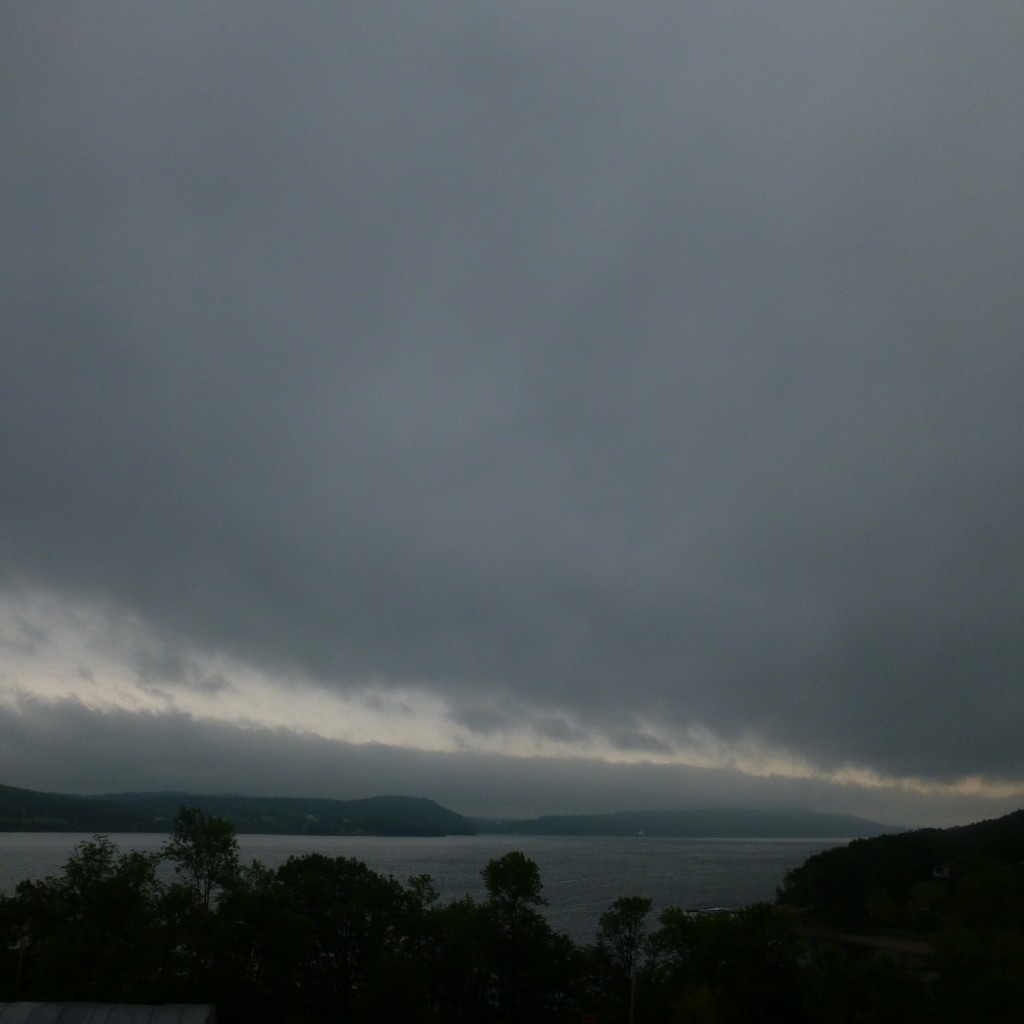 People often ask me if the view distracts me, and the answer is on occasion. But don't your best ideas come to you when you least expect them?
Currently I'm working on the third book in my series, Stolen Hearts. The first book is about an art thief, the second an art forger, and the third book, a jewelry thief. The research for these books is absolutely fascinating. Out of Control is a free novella that introduces some of the recurring characters in the series.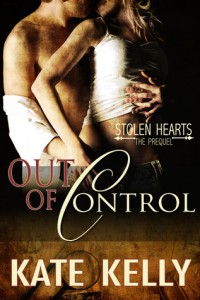 And I'm excited to have a Harlequin Super Romance coming out in September, When Adam Came To Town.
Leave a comment for a chance to win either an e-copy of Sleight of Hand, the first book in the Stolen Hearts series, or a copy of When Adam Came To Town.
Chance Spencer, doesn't steal. Not anymore.

Suddenly suspected of stealing half a million dollars of original paintings, Chance can't afford to have the FBI delve too closely into his covert past. When one agent in particular endeavors to put him behind bars, Chance coerces the real thief's daughter, Sarah O'Sullivan, into helping him flush her wily father out of hiding. Both want him found. Sarah, to warn her father of Chance's intent to turn him over to the FBI. Chance, to hopefully catch the thief red-handed. To succeed in capturing the thief Chance must keep Sarah close to him. But his plan quickly deteriorates when the stakes for his freedom soar. How can he ruthlessly use the woman with whom he's falling in love?

Sarah O'Sullivan is also looking for her father, but for different reasons. With her best friend getting married, Sarah realizes she's alone in the world and needs her family. That would be her father, who has been absent most of her boarding-school life. When Chance arrives in New York to inform her he's going after her father, Sarah follows him to Canada, hoping to warn him before Chance or the FBI find him. But living in close proximity with Chance, Sarah soon starts falling in love with him. She struggles with her divided loyalties as the FBI and the local police close in for an arrest. Someone has to be arrested for the theft. Chance or her father?

Temptation moves in next door

Sylvie Carson has no idea what she's going to do with the rest of her life! Artistically blocked, she hopes a prolonged stay in the seaside village she grew up in will help her get over this hump. But when Adam Hunter moves in next door, things only get more complicated, not less.

The artist in Sylvie is immediately intrigued by her new neighbor—the haunting lines of his face, the natural athleticism of his body. Maybe Adam is the muse she's been looking for…but his shadowed eyes suggest he's just one more person keeping secrets from her. Though Sylvie can't deny that Adam inspires passion in her, the last thing she needs is a romance…right?

 
Thanks for having me, Norah. I love reading this blog and seeing other writers' workspace.
Thank you Kate! And I can't believe I'm seeing your new office for the first time in a photograph! I really need the actual tour. But thank you for joining me and giving us this virtual tour. Your view is stunning, as I'm sure readers will agree. Also, I see When Adam Comes to Town is available for pre-order on Amazon. Woot!
Okay, let the commenting commence. One lucky commenter will receive their choice of either the ebook of Sleight of Hand or a print copy of When Adam Comes to Town, available in September. Good luck!
I am super pumped to have Tracy Brogan on my blog today. Tracy is a fellow-Montlake Romance author who has encountered fantastic success. Her debut romantic comedy, Crazy Little Thing, has been nominated for Best First Book by the Romance Writers of America®, and I'll be there to cheer her on at the awards ceremony in Atlanta next month. Go, Tracy!
TRACY BROGAN: Thanks for inviting me to Work Place Wednesday! If I recall, you invited me once before and I had to cancel because my desk was such a mess that even my computer stopped working! Fortunately I got that snafu worked through and here I am today. The pictures you see are ones taken at various stages. Since I'm currently under a mad-dash deadline, things around here are a little cluttered for my taste. (For those of you who have read my contemporary romantic comedy, Crazy Little Thing, it's no coincidence that the heroine is a professional organizer. I do indeed have labels on my refrigerator shelves, just like she does. And just like in the book, no one pays any attention to them except for me.)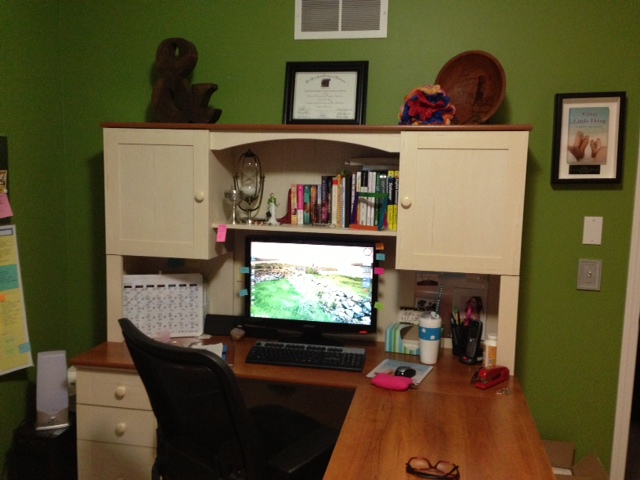 I work best with a clean space. But I'm also the post-it note queen so there you have my constant internal conflict. What I've started doing recently, thanks to a fa-fa-fabulous workshop I took with Cherry Adair, is take post-its with notes pertaining to the scene I'm working on that day, and I stick them all around the edge of my screen. Right now I have notes that say, "Spider, barefoot, and tattoo." They remind me that in this scene, I want to establish how my heroine is afraid of spiders, my hero prefers to be barefoot, and I need to explain the significance of his tattoo because its meaning plays a part later in the book. Sometimes I will also have "theme" or "ARC" notes, too, such as one saying, "She's not ready to commit," or "he's been thinking about the future," things like that. I find this helps me keep my characters on task so they don't go wandering off into the forest and fraternize with mythical creatures or something. Because I don't write about mythical creatures.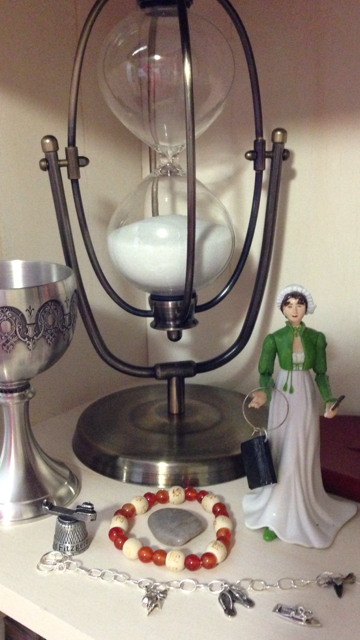 I also have dozens of trinkets. I think I'm constantly on the lookout for that secret talisman that will provide constant inspiration. So far the best I've come up with is intro-venous coffee, but that doesn't stop me from collecting other items. I have a "good karma" bracelet from a critique partner, another bracelet with charms attached to represent each book I've finished, bookends that hold up the books of my wonderful writer friends, a tiny bronze Liberty Bell because the heroine of my latest release (Hold On My Heart) is named Liberty Belle Hamilton, and last but sooo not least, I have pictures of handsome men who have served as stars in the mental casting of my books. There are a few picture of the heroines, too, but I don't pay much attention to them. And those are mostly there so I can say to my husband, "See? I'm working. Not just ogling men."  When it comes to my "casting" though, don't typically tell people who my "heroes" are because I don't want to flavor (or tarnish) a readers vision of what he looks like. I want readers to intuit a vision of their own favorites.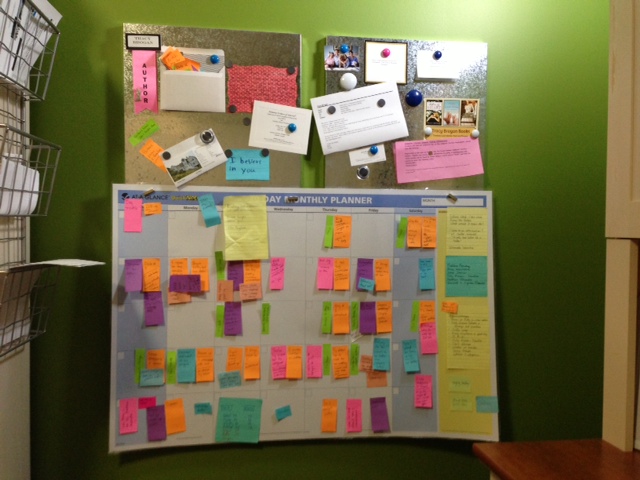 I also have a big white board with a grid. This is another trick from Cherry Adair and her color-scheming madness. I won't go into detail about how her system works but if you're remotely a plotter, you will love her method. And if you're a pantser, you would still probably benefit from seeing how she does it because you could set up your grid after you've written your first draft to see where your plot holes and pacing problems are. It's worth the time.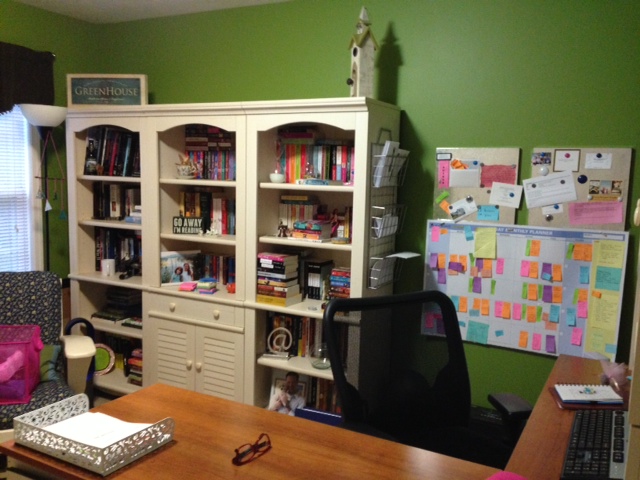 This office is far from perfect. There is no espresso machine, and I can hear every dog in my neighborhood bark all day long, but I'm incredibly grateful that since I've sold my first book, and just signed another 3-book deal, I was able to move out the guest bed, sewing cabinet, and buy some real bookshelves for this room. It's officially MY office. Now if I could just install a lock on the door, I'd be all set.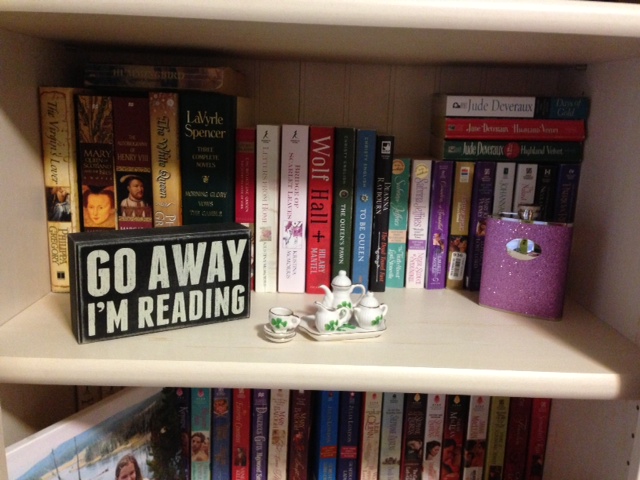 Thanks for having me, Norah. If you don't mind a shameless plug of self-promotion, I have a new book coming on June 25, 2013 called Hold On My Heart. Here is a blurb:
To build a future, sometimes you have to tear down the past…

Chicago event planner Libby Hamilton can turn any bland setting into a dramatic venue – but when she abruptly loses her job, and her fair-weather boyfriend moves to another state, Libby suddenly finds herself back in the tiny town she grew up in. Worse than that, her father wants help transforming an old schoolhouse into a vintage ice cream parlor and Libby must trade in her power suits for power tools.

Widowed restoration specialist Tom Murphy can rebuild just about anything – except the shattered relationship he shares with his teenaged daughter. Hired by Libby's father, Tom isn't interested in sharing the details of his personal life with beautiful, spunky Libby. He just wants to get the job done. But she is tenacious – and sexy – and it doesn't take long before she breaks down his walls, builds up his hope, and gets a hold on his heart that won't let go.
And for a little extra fun, here's the trailer:

I'd love to give away some copies of this book! So three lucky winners will win a free print copy! Just leave a comment on this blog, and three names will be selected at random. Or come on over to my author Facebook page and leave me a note saying Norah sent you. I'll draw another name from that list!  Four winners total!!  Thanks for playing and have a great Wednesday!
Biography:  Past or present, Tracy Brogan loves romance.  She writes funny contemporary stories about ordinary people finding extraordinary love, and stirring historical romance full of political intrigue, damsels causing distress, and the occasional man in a kilt.
She is a best-selling author, a 2013 RWA® RITA Best First Book Finalist for Crazy Little Thing, and a two-time Golden Heart Finalist in both contemporary and historical romance.
Her next contemporary romance, Hold On My Heart, releases June 25, 2013.
Tracy lives in Michigan with her husband, her children and their overly-indulged dogs. Please stop by her website at tracybrogan.com.
Thank you, Tracy! That was a fun tour. I love your space, and I feel like I learned a lot about you. I wish you'd come organize me!
Okay, folks, you heard the lady. Three of you will win her terrific new book just for commenting, and you have a bonus chance if you drop by her Facebook page. Let the commenting begin!
Excerpt from
Death by Cuddle Club
A Dix Dodd Mystery (3)
by
Norah Wilson and Heather Doherty
writing as N.L. Wilson
Copyright © 2012 Norah Wilson and Heather Doherty
Writing as N.L. Wilson
Published by Something Shiny Press
All rights reserved.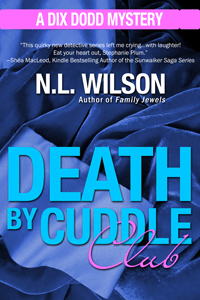 Chapter 1
As a thank you gift, my mother sent me pastries. Isn't that sweet?
Oh, wait, did I say pastries? No. Not pastries. That's what a normal 70-year-old woman might do. Yep, a normal mother would send her culinarily challenged PI daughter yummy treats as a thank you for getting her out of trouble in Florida. For saving the diamond my father gave her (AKA, the family jewels). And—let us not forget—keeping her 70-year-old butt out of jail on a trumped-up murder rap. But Katt Dodd will never be accused of being normal. What she sent me were pasties. Yep, stick-'em-on, twirl-'em-round pasties. (Well, I couldn't get my twirl on, but I could get a pretty good sway thing going.) Bless her skinny-dipping little… heart.
Yes, so, post-Florida, I was now the not-so-proud owner of be-tasseled hot pink pasties. Ah, a wardrobe fit for a queen. A drag queen. Not quite so appropriate for a professional, 40-ish, amazing-yet-modest private detective. Possibly the most amazing private detective in all of Marport City, Ontario.
Okay, so I'm not so modest.
And yeah, maybe not everyone saw it that way, especially not the guys back at Jones and Associates—the good ol' boys club where I used to work. But, hey, they'd bet—openly—that I'd never make it on my own. That I would be out of business within a very few months, and would come back crying on their doorstep when I landed on my ass. Well, I've shed a few tears in these past months, but none over them, and sure as hell none on their cruddy doorstep. I guess they don't know how well-padded that ass of mine is!
Wait, that didn't come out right.
I did mention I'm 40, right? I've got my fair share of padding there.
But what the hell—isn't 40 the new… 40? I wouldn't exactly call me a cougar, though some would. Actually, some do. How I love them all the more for it!
This would probably be a good time to mention Dylan Foreman, PI in training. Smart, sexy as sin—and OMG, so handsome! Tall and lean, but plenty wide at the shoulders and narrow at the hips, just like I like them. (Or high, wide and handsome, as my mother would say.) Thick, dark brown hair, chocolate brown eyes. And all of 28 years old. He'd been my apprentice since shortly after I hung up my shingle in the dilapidated rental office building on the outskirts of town. My friend since day one. And lately, dangerously close to a friend with benefits.
Yes, Dylan had joined me back when I was in that tiny, grungy suite, which was all my budget would stretch to. You know the kind of office building I'm talking about. Worst part of the city, motley characters hanging around the alleys out back. And inside, that faint, what-the-heck-is-that? odor in the stairwell (though you really don't want to know). And the tiny, dusty office itself with the dead aloe vera plant on the window ledge…
And here we were, home again.
Yes, we'd moved back. Go figure. The very same office we'd left behind when the success of the Case of the Flashing Fashion Queen allowed us to move into better digs.
Why were we shuffling back into the old place? Economics, of course.
I'd bought Mother's condo from her. Now that she was living full-time in Florida, I couldn't continue to live there rent-free under the pretext of looking after the place. No more use of the BMW, either, since we'd returned it to her in Florida. All of which meant I was no longer able to afford the cushy office with the thick-piled carpet that seemed to bury your feet up to your ankles when you walked through it. (I have calf muscles of steel now.) I even had to return that tweeting, all-in-one copier/printer/fax machine I so loved (I just nipped in under the grace period to rescind the contract). And the voice-changer? It went back, too. I kept the high-tech coffee pot, however. I mean, c'mon—it ground the coffee beans and delivered frothed milk.
The move back to our old digs couldn't have been better timed, though. Business had been dropping off as of late, no doubt due to the dismal economy. Amazing how blind an eye people could turn to philandering spouses during hard times. Divorce was costly for everyone, and not just emotionally. So we didn't mind the decrease in rent that went with the lower class of accommodation. Maybe in this part of town, people who could afford a divorce might be more comfortable consulting a PI whose offices were a little further removed from their usual spheres. One could only hope.
So yes, Dix Dodd, PI, and Dylan Foreman, PI apprentice, were busy unpacking on this fine, quiet Saturday in October. Unpacking boxes, arranging furniture, blowing up Blow-Up Betty and tucking her into the corner. Amazingly—or perhaps not so amazingly—no other tenant had occupied the office since we'd moved out. I uprighted the aloe vera plant and discovered it was plastic. Huh. It still looked half dead. Now that was realism for you.
We had a couple of mini-bottles of sparkling wine chilling in the mini-fridge (hey, I'm all about class). That had been Dylan's contribution (the fridge, not the wine). I'd bought the bubbly, intending it as a reward for us when we finished the unpacking. Dylan's dark eyes had seemed to grow just a tad darker when he'd seen those little bottles. Probably for the same reason my whole body had flushed hot standing in the liquor store four hours ago when I'd bought them. We'd been dancing around each other since Florida. My logical brain still thought it was a bad idea, but my libido disagreed. So far, Dylan had seemed to be content to let the two Dix's duke it out, but he wasn't above stacking the deck in favor of Lust-Crazed Dix. And he damned well knew which Dix had bought the sparkling wine.
So, as we unpacked that fine Saturday, all was quiet. Even with the sharpened edge of awareness between us, it was fun. All seemed good and right, just as it should be.
When will I ever learn?
Quiet didn't last out the afternoon. Fun escaped out the window (and probably got beat up; I tell you, it's a tough neighborhood). And good and right? Ah, that didn't last out the afternoon either.
Because there came a knock at the door. One that made my intuition tinkle like those little bells they put on the end of pasties tassels— Whoops, sorry. TMI. Let's just say the hair on the back of my neck stood up against my collar.
And then the door opened.
Damn.
~~~~*~~~~
I regarded the tall, slightly rumpled man standing in my doorway with astonishment. I rubbed my eyes and looked again. Still there. "Oh, crap."
He strode into my office, letting the door fall closed behind him. "Nice to see you, too, Dixieland."
You guessed it. It was my nemesis, the very last man I expected to see at my door. Well, minus an arrest warrant and handcuffs. Yep, it was none other than Detective Richard Head, of the Marport City PD, known by the unkind, uncouth, and just plain immature as Dickhead.
"Dickhead?" I said. "What are you doing here?"
He mumbled something unintelligible as he walked through to my office.
Dylan and I followed him into the room. I shot a glance at my desk. Five minutes ago, I'd dumped a box of my personals on my blotter, ready to fire them into the various drawers. I gave a quick scan of the items. No, no tampons. No neatly wrapped maxi pads. What a shame. Dickhead tended to go green around the gills around that kind of stuff.
I turned back to him. "Sorry, I didn't catch what you mumbled. Could you repeat that?"
His jaw worked a minute. Finally, he said, "I need your help." The words were grating, reluctant, and he turned toward my desk, no doubt so he wouldn't have to see the glee in my eyes at his admission.
A quick look at Dylan revealed he was just as astonished as I was. Understandable, considering that it wasn't that long ago that the good detective had been hot and horny to land me in jail for the murder of one of Marport City's rich and famous. I had ultimately solved that case (naturally), saving my ass in the process and causing Detective Head much gnashing of teeth.
Dylan came to stand by me. Was it my imagination, or did he stand a little closer than normal? And was he trying to make himself even taller than his 6′ 4″?
"Detective," Dylan said.
"Foreman," Dickhead acknowledged, but he gave Dylan just the briefest of glances before turning his attention away again.
The masculine pissing contest barely registered. I was too busy savoring Dickhead's earlier words. I need your help.
"What are you grinning for, Dixieshit?"
I let my smile widen. "Ah, the memories."
With a barely suppressed growl, Detective Head sat. Well, sort of sat. We hadn't gotten around yet to bringing the chairs up from the moving van, so he half leaned/half sat on the edge of my desk. He looked down at the assortment of pens, pencils, odds and ends of makeup…
"Wow. Why do you have so many pairs of tweezers?" He turned to me with a close and scrutinizing look.
"PI stuff," I answered hastily, fighting the urge to raise a hand to my upper lip. "Every good PI has at least a couple sets."
"A couple? Looks like you have a half dozen."
"Yeah… well, I'm a damn good PI."
Dylan, I noticed, was looking a little confused, too. Oh God.
"So what brings you here, Dickhead?" There. That should change the subject.
Except it barely got a rise out of him. That snide smile he habitually wore (well, at least in his interactions with me) was gone. And—unless I was badly mistaken—so was a good bit of the confidence he usually carried. "Like I said before, I need your help, Dix."
Dix? He wasn't taking the opportunity to make fun of my name. This had to be serious.
Still, I was suspicious. "My help?"
Okay, I've had a couple high profile cases, but my specialty is trailing cheating spouses. In fact, that's how Dickhead and I had met. I'd been trailing him on his ex-wife's dime. Were they back together, and he was suspicious of her now? No, that hardly seemed likely. She'd taken him to the cleaners. No way were those two living under the same roof again. In fact, Dickhead had been forced back under his mother's roof out of economic necessity, last time I checked. (Did I mention divorce was expensive?) Was he seeing someone else and wondering about her fidelity? Or—oh, wait, hold the phone!—maybe it was his mother! Was the old girl seeing someone? Some old gent who seemed a little too smooth and who needed checking out? (Hey, if you knew my mother, you'd know I'm not even kidding.)
Dickhead rasped a hand over his chin. I couldn't help but notice that it was a strong, attractively stubbled chin. (And no, it didn't do anything for me. But just because I despised the man doesn't mean I'm blind. Objectively speaking, he's not a bad looking guy, if you like 'em muscle-bound and lantern-jawed.)
"It's complicated." He cleared his throat and inserted a finger beneath his collar to loosen his already loose tie. Man, he looked uneasy. Stressed. Which made me feel uneasy and stressed… because it was just killing me not to mock him.
"You want me to tail some—"
"No!" The clipped word cut me off, and yet he was still unwilling to elaborate. What was eating at him so?
Dylan cut in, "You're involved with a gang and you—"
"That ain't it either, Foreman."
Dylan and I glanced at each other. Oh, yeah. It was on. And it was my turn.
"You lost your badge to a hooker and you need us to track her down!"
Dickhead snorted. "Get real."
I shrugged. Seemed like a pretty real possibility to me.
Dylan's turn: "You… you found out you have an illegitimate son, and you want us to find him!"
Damn, that was a good one.
"Jesus, Foreman."
I was up again. "You… you were looking out the window while recovering from a broken leg. And… and you saw your neighbor across the courtyard acting suspiciously. And now his wife is missing and there's a little dog digging up the flowers and—"
It was Dylan who snorted this time. "That's Rear Window, Dix."
Whoops. Hitchcock's best. No wonder it seemed so brilliant.
Dickhead glowered as Dylan and I continued to throw out increasingly ridiculous scenarios at his expense. He clearly wasn't enjoying this as much as we were. In fact, I think it was safe to say he was annoyed. Then again, he wasn't exactly jumping in to enlighten us as to the real reason for his presence, was he now?
And that's when I got it. That's when it really sank in. The guy was here, at my office. He didn't like me any better than I liked him. This was serious. This was—
"Murder," he said suddenly. "I think someone's been murdered."
I blinked. "You suspect a murder?"
His brow furrowed fiercely. "That's what I said, isn't it?"
Testy.
"Why don't you go to the police, then?" Dylan asked, beating me to the punch. "You are a cop, after all."
Dickhead cut Dylan a hard look before turning back to me. "It's complicated," he said again. And judging by that look of consternation on his face, I had no doubt of it. "I don't know there has been a murder. I only suspect there's been one. I have no proof. No evidence. No motive. And no one willing to come forward."
"Not even you?" I didn't have to work hard to inject the words with incredulity. "You suspect a murder may have taken place, but you're not willing to come forward?"
He glared at me. And if looks could kill… well, I'd not have made it past the third grade, but that's not important right now.
Then something remarkable happened. The light of battle went out in his eyes as he reined himself in. At that, I felt a frisson of unease crawl up my back like a spider. What the hell was going on here?
"No, not even me, Dix." Dickhead heaved an in-for-a-penny sigh. "It's a club. An exclusive and private club that I belong to. Members are dying."
"How many?" Dylan asked.
"Two in the last month. The M.E. called it natural causes, but it's just… fishy to me. Feels wrong."
"Did you know the deceased?" I asked.
"Not well. Only by first name and… well, not well. But they seemed healthy enough. Not at all sickly."
"Old?"
"Yeah, old. About your age, Dix."
Mentally, I punched his shoulder. Hard. Oh, and physically, I did the same. Dickhead had been expecting it. Hadn't even flinched in that totally worth it kind of way.
"The point is," he continued, "in both cases, each of these folks was at the club one night, dead the next day. No sign of foul play. But I don't like it."
"Yeah, but without any proof—" Dylan started to say.
"But you feel it in your gut," I interrupted.
It was with serious eyes that Detective Head considered me now. "You know it, Dix. In my gut. I know you do."
He was right. I'd had my share of those niggles and nudges of intuition, and I wasn't foolish enough to imagine I was the only one. Hell, cops were famous for it. Gut instinct, jokes aside.
This was it. This was real. This was a case I'd be taking. And I told Dickhead so.
"You'll need to infiltrate the club," he said.
Here's where I got nervous. "Want to elaborate on what kind of club this is?" I was having visions of needing to wear a neoprene cat suit and leather boots with five-inch heels.
"It's a club. An exclusive… club."
Somehow, I didn't think I'd be at a quilting bee. "Right. A club. So you said."
Dickhead scrubbed a hand down his face. "It's a cuddle club."
"I'm sorry, you had your hand over your mouth. It's a what club?"
"I said cuddle club. It's a cuddle club!"
"Ha!" I snorted. "Good one."
He wasn't laughing.
"I've heard of those," Dylan said.
"Yeah, well, I've heard of the Great Wall of China and that doesn't mean it's real."
Sa-lam!
Oh, wait, did I say Great Wall of China? Er, not so much of a slam, then. How did I screw these things up? I should have said the Tooth Fairy or honor among thieves or monogamous men, but no—
I realized then that both men were just looking at me, obviously waiting for me to say something (preferably something comprehensible this time). I looked at Dickhead then turned back to Dylan. "He's not kidding, is he?"
He wasn't.
Oh boy.
I cringed. Man, did I cringe.
The phone rang in the outer office and Dylan excused himself to go answer it.
I asked Dickhead a few more questions: When did they meet next? Where? What did I need to wear to fit in? I almost choked on his answers, but I took the case anyway.
And I named it Death by Cuddle Club.
Buy Death by Cuddle Club here:
Amazon US | Amazon UK | Amazon CA
Apple | B&N | Kobo | Smashwords
Excerpt from
Family Jewels
A Dix Dodd Mystery (2)
by
Norah Wilson and Heather Doherty
writing as N.L. Wilson
Copyright © 2012 Norah Wilson and Heather Doherty
Writing as N.L. Wilson
Published by Something Shiny Press
All rights reserved.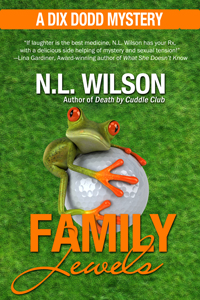 Chapter 1
Things were looking up.
Since solving the case of the Flashing Fashion Queen, business had been booming for this PI. Though I'm not one to rest on my laurels, no matter how enticing laurel-resting may seem, every once in a while I just had to put my feet up on my desk, link my hands behind my head and lean back in my chair to savor the feeling. And I only fell over the first time. Damn chair.
The publicity generated from that infamous case had drawn so much business our way, Dylan Foreman (PI apprentice extraordinaire and hot as hell to boot) and I were extremely busy. Crazy busy. Stagette-with-a-host-bar busy.
True, most of our work still involved digging up dirt on cheating spouses, but we'd been handed some other work in the last few months. We'd found missing relatives and missing poodles. Deadbeat dads and surprised beneficiaries. We'd been hired a few times to do background checks on potential employees for big corporations. Oh, and I got one call from a B-list celebrity client who had us chasing all over Southern Ontario looking for his 19-year-old son who'd gone AWOL with his dad's credit cards. Naturally, the client had wanted the kid found yesterday, but he wanted it done on the QT. Dear old Dad hadn't wanted to involve the police, nor his estranged wife, or her new hubby, or the kid's current girlfriend or last girlfriend, and holy hell, not the last girlfriend's older brother, and especially not the media. So we had to track the son of celebrity down the old fashioned way—knocking on doors, asking the right, carefully-put questions of the right people. And, of course, by tapping into my trusty intuition. (Okay, granted, when chasing a 19-year-old male, maybe hitting the strip clubs didn't exactly take a lot of intuition, but we still had to pick the right clubs.)
Also, Dylan and I had done a fair amount of business locating lost loves for those who still pined away for them. Apparently, in some cases, absence does make the heart grow fonder. Or stupider. Lost loves are lost for a reason, in my humble opinion.
"You're too cynical, Dix," Dylan would tell me whenever one of those lost sweetheart cases came our way and I voiced this sentiment.
Maybe he was right. Maybe I do have a little bit of a chip on my shoulder when it comes to men. Or a big bit of a chip. Or a great big chunk of firewood. But, once burned…
Suffice it to say that while Dylan still had a streak of the hopeless romantic in him, I did not. Nada. And at the agency, I was still the bearer of bad news to the clients on the way in the door, and Dylan was still the sympathetic ear and shoulder to cry on on their way out. But that was one of the things that made us so perfect together.
I mean, so perfect working together.
And the best part of our growing business since the case of the Flashing Fashion Queen—we moved the Dix Dodd PI Agency! Nothing fancy, nothing too pricey—just a step up from the bottom-of-the-barrel rental we had before. Fewer broken bottles in the parking lot. And a few blocks closer to my mother's condo where I lived while she was in Florida. (I still didn't have a condo of my own; things weren't booming quite that well yet.) We were still in Marport City, of course, with no plans to relocate to a bigger center. There was enough under-the-covers action for undercover work in this burg. We were just doing it from a better address now.
We'd bought ourselves some new equipment and furniture. Cozier seats in the waiting room, and my personal favorite, a high-tech honey of a coffee machine. That puppy not only ground the coffee beans and delivered the coffee into an insulated carafe that kept it fresh and hot for hours, but—oh, bliss!—it also delivered frothed milk in 10 seconds flat.
Dylan's indulgence? A voice changer. We spent the better part of an afternoon working the kinks out of that machine—calling people up and saying "Luke, this is your father" in our best Darth Vader voices. But who knows? A voice changer might come in handy some day for more than just freaking out the guy at the comic shop (especially with the caller ID we spoofed!).
We also got newer phones and computer telephone-call recording software, which we run on our newly upgraded computers. And I had to place a whole new order for business cards. The ones that read
Dix Dodd, Private Investigator.
There's power in the truth. Let Dix Dodd empower you.
The business card had been Dylan's design. Dylan's words. I still get a little choked up when I think of it. His pursuit of the perfect motto for the agency had, by turns, driven me crazy and kept me sane during the Flashing Fashion Queen case when it looked like my future might involve stamping out license plates in a federal correctional facility for women. But enough of that.
We also bought a fancy copier/printer/fax machine that sounded like a tweety-bird when a fax came in, replacing a slow-as-death desktop printer, a perpetually moody copier, and an ancient fax machine that squealed like a cat in its death throes. I hated that old fax machine, and no matter where I was in the former office (hell, if I was in the bathroom down the hall) that squealing sound would make me cringe. I'm talking nails-on-a-chalkboard cringe. This new machine was top-of-the-line! It had all the bells and whistles—and a gigantic paper tray I wouldn't have to fill again for six months. Not to mention virtually unlimited fax capability. No more 50-page memory limit.
Not that I'd ever gotten a fax that long. But if such a monster did come in—hell, if ten of them came in—I was now ready for it.
So it was a bit of a thrill when the fax tweeted these days and started punching out the pages faster than the speed of… well, the speed of my old fax machine.
Usually I got that little thrill. But not always.
And definitely not the day I got the fax from Sheriff's Deputy Noel Almond of the Pinellas County Sheriff's Office. I groaned. "What is it this time, Mother? Skinny-dipping in the seniors' pool again? Prank calls to the local radio station saying you're the original Bat Girl?" Probably not the latter; Mom had already done that twice. For Pete's sake, she was seventy-one! Couldn't she knit something? And would it kill her to sit in a rocking chair once in a freakin' while?
I leaned back in my chair, blowing out an exasperated sigh. But as I looked over the pages, I sucked that sigh right back in on a gasp.
My mother, Katt Dodd, was under suspicion in the matter of the theft of stolen jewels. Lots of them. Tens of thousands of dollars' worth. That was bad. But it wasn't the worst of it. That first paragraph was just the opening jab. The second paragraph of Deputy Noel Almond's letter delivered the punch: mother was a person of interest in a man's disappearance.
That was the second time I fell over in my chair.
Which is exactly where I was when Dylan walked into the office—flat on my back, shoes up in the air, eyes pointed toward the ceiling, head sunk to the ears in the plush carpeting.
"Trying a new yoga position, Dix?"
My gaze shifted from the ceiling to Dylan's grinning face.
"No," I said. "I'm trying to figure out just what we should pack for Florida."
I accepted a hand up from Dylan, righted my chair, and handed him the faxed pages I still clutched. And watched his laughing eyes go serious.
Thus began the first time I'd ever pressed my PI skills into service for family. And not just any relative. My mother. My MOTHER!
Of course, I dubbed it the Case of the Family Jewels.
~~~~*~~~~
"What's a seven-letter word for fire-rising bird?" Mrs. Presley asked from the back seat.
"Phoenix, Mrs. P." Dylan answered, not missing a beat.
But I could have gotten that one. Not that it was a competition between Dylan and me. Much. Not that we were keeping score. Out loud.
"OE or EO for phoenix?" asked Mrs. Presley.
"OE," I shouted. That should count for something.
Dylan gave me a grinning sideways glance.
I bit down on a grin of my own.
A few months ago when we worked the Weatherby case, we'd fallen into bed together, literally. Not that we'd had sex. Well, not sex sex. Still, there'd been a little tension between us for a while after that. We were getting back to normal now, though. Well, as normal as it got when your male apprentice-slash-assistant is smart, sexy, tall and handsome, incredibly good-smelling and funny. Oh, and young. Did I mention young? All of 29.
"And a six-letter word for highest point? Fourth letter's an M."
"Climax," I shouted, half turning in the seat and oh-so-proud of myself.
"No," she said. "No, starts with an S…"
"No fair. You didn't say—"
"Summit!" Dylan didn't turn in the seat. Which was good considering he was driving at the moment. He did, however, cast me a wicked grin. "But I like your word, too."
"Try this one." The seat squeaked as Mrs. P shifted her position.
I heard the tapping of the pencil on the seat behind us. This time, I'd be ready. Dylan tightened his hands on the steering wheel beside me.
"Eight letters. Close and often passionate relationship…"
"Cybersex!"
Dylan snorted a laugh. "Could it be intimate, Mrs. P?" he said.
She looked down at the paper. "Why, yes… yes it could be intimate. Thanks, kids. I think I'm good for now."
"Anytime, Mrs. P."
For the record, I liked my answer better.
I sank back in my seat. The moment silence prevailed again, my mind drifted right back to that fateful fax from Deputy Almond that started this odyssey.
The fax had come in late yesterday afternoon, and we'd left early this morning, grabbing a drive-thru breakfast and supersizing our coffees. We'd swung by the office and picked up all the fancy new PI equipment we might need. Then we'd picked up Mrs. Jane Presley.
Of course, driving wasn't my first choice. I'd wanted to jump on the first flight. But Dylan, in that damnable voice of reason of his, had persuaded me we'd be better off driving. Mother wasn't in custody, so we didn't have to be in a hair-on-fire hurry. Plus it would give me the chance to return my mother's BMW, or Bimmer, as she called it. And as I, too, quickly learned to call it. She refused to let me drive the thing until I stopped calling it a Beemer, which apparently is reserved for BMW motorcycles.
Not that I was aching for a chance to lose the luxury ride, which had fallen into my possession the last time mother had been to Marport City. She'd hooked up with Frankie Morrell and decided to return to Florida with him, leaving me the use of the car.
At this point I should say I never liked Frankie. And I liked him even less now. Because Frankie was the one who'd gone missing—the one the police suspected Mother of… um… disappearing. (The letter hadn't said murder, but I could read between the lines.)
Anyway, Dylan had pointed out that: a) we needed our equipment, which would be easier to transport by car; b) we'd need wheels in Florida anyway; and c) we needed the think time.
He'd been right, of course.
So how'd we gather up Mrs. P? All too easily.
I'd swung by the Underhill Motel to ask if Cal or Craig—Mrs. Presley's hulking sons who helped her run the motel—could stop by the condo while I was away, just to check on things. Not that there was a cat to feed or plants to water. Cats didn't like me and only the hardiest of plants could survive my inattention. Hardy being plastic. Preferably self-dusting. But there had been a couple break-ins lately in my neighborhood. Mrs. P was all too happy to offer up her sons to watch the place. Plus I knew that Cal was still seeing Elizabeth Bee, now that she'd broken up with Craig, and I thought maybe they could use some alone time.
"Gee, I've never been to Florida, Dix," Mrs. P had said. "And I haven't had a vacation in years." She pulled a pen from her shirt pocket and a small notepad from the pocket of her skirt, and began making a list.
Leave meat pies for the boys.
Tell Cal none of that spicy pepperoni till I get back.
Pack the sunscreen.
"Well, it's going to be pretty hectic, Mrs. P and—"
She kept writing.
Get new underwear.
Pack the summer pajamas—not the footies.
"I've always wanted to go, but never got the chance. But you know, I might get there someday. Someday someone might do me a favor. You know, like I do favors for other folks. Especially friends in trouble. Not that I'd ever expect anything in return, no matter how much jeopardy I'd put myself in for their sakes."
"Okay, okay," I said. "You had me at 'jeopardy'. Would you like to come to Florida, Mrs. P?"
"Why how nice of you to ask!"
"See you at seven a.m.," I'd said, backing out of the Underhill, pushing the door open with my ass as I did.
"Make it six, Dix. I'm a morning person, you know. I'll be ready."
"Six it is, Mrs. P."
"Oh, and Dix…"
I stopped with one butt cheek out the door. "Yeah?"
"I had you at 'Gee'."
When Dylan and I had pulled in the next morning at quarter to six, Mrs. Presley was standing outside the motel, her long-faced sons at her side, red suitcase at her feet, and tasseled sombrero in hand. She had four big pillows with her, and a blanket—not a bad idea really. Mrs. P liked her comforts. She wore sunglasses that covered half her face, the very same Roberto Cavallis she'd loaned me once for a disguise. Bermuda shorts floated below her knees, and the wildest Hawaiian shirt I'd ever seen covered her top half. And in the front pocket of that shirt, tucked in a pocket protector—pencil-pen-pencil. She always wore that at the front desk of the hotel.
"Thinking of doing some work, Mrs. P?" I'd asked, nodding to the shirt pocket.
She pulled a rolled-up magazine from her armpit and waved it at me. "I love crossword puzzles, Dix. Don't you?"
Actually, I hated crossword puzzles.
Craig looked like he was going to cry as he opened the door for his mother. Cal wasn't far from snuffing back a few wet ones himself. I looked at him.
"Allergies," he said. "Damn lilacs."
"It's October, Craig." I said. "Lilacs are long gone."
"Goddamn super lilacs then… they're the worst."
The boys were 28, but still very much their mother's sons. They were a close-knit family, and in its own way, I thought that was pretty cool.
"Now, you call as soon as you get there," Craig said.
"Yeah, collect," Cal added. "And it doesn't matter how late you get in. You know we'll be waiting up for you."
She kissed them both goodbye, and we loaded up the car.
"Now if either of you two need me to navigate," she offered. "Just say so. I never sleep in a car."
"You know I'm on business, eh, Mrs. Presley?" I'd said as we started on the highway. "Dylan and I are going to be pretty busy with my mother's… er… trouble."
"Ah, Dix, we all got troubles," she said. "But don't worry, you won't even know you've brought me along."
That had been a few hundred miles and a few dozen crossword clues back.
It turned quiet in the back seat, and when I looked back, sombrero over face, head on pillow and blanket pulled up to her chin, Mrs. Presley was sound asleep.
Good. I needed some time to talk this over with Dylan.
It was still Dylan's turn at the wheel, so I put the faxed pages before me to look things over one more time. Not that I needed to look them over again. Pretty hard not to commit the words 'a person of interest in the disappearance of one Francis Morell' to memory, and the whole stealing jewels things didn't exactly escape my mind either.
But no way. No way in hell would my mother do any such thing. Okay, she wasn't a model citizen. But any trouble she'd gotten into had been 'fun trouble' and usually dealt with by a not-so-stiff warning from some cop trying to hide a smile. No one could be all that stern with Mrs. Katt Dodd, 71-year-old resident of the Wildoh Retirement Village, Complex B.
Dylan glanced over at me. "So what do you think?"
"Well, for starters, what I know is that my mother is innocent of all charges."
"And you know this because…?"
"Because she's my mother!" I snapped.
"Good. That's out of the way." Dylan nodded to affirm. "Now, you know she's innocent because…?"
With anyone else, I might have been offended. But with Dylan, not a chance. I knew his legally trained mind was doing just what it should be. Helping me build my case, helping me order my facts.
I sighed. "Well, let's look at this piece by piece, starting with the thefts. Mother's not what you'd call rich, but she's comfortable enough. The condo in Marport City, the Bimmer, the condo in Florida—she owns it all outright."
"Right, and all in use. Would she sell if she had to?"
I thought so. Didn't I? Mother owned the condo I lived in. She insisted on keeping it, wanted me to live there, and wouldn't take a cent of rent. Would she tell me if she needed me to move out so she could sell it? Dammit, Mother.
I dug my fingernails into my palm. "If she was having money trouble, she would come to me or Peaches Marie."
"You sure?"
Was I? My sister, Peaches Marie, was currently vacationing in Europe with her college professor girlfriend. She was certainly closer to Mom. They lived closer to each other and they were more alike. Peaches was just as carefree as Mother, just as irresponsible. I was the steady one. The serious one. Peaches was well-educated, with that coveted PhD in Philosophy, but I was the one doing better in business. I was the take-charge older sister. Surely if Mom was having financial problems, she'd tell me. We weren't close, but were we really so far away?
I must have drifted too long into my thoughts for when Dylan spoke again, he startled me from them.
"What did your mother do, Dix? For a living?"
I shrugged. "She was our mother. Things were different in my day." Yes, as soon as I said the words I caught myself. My day. As if he needed a reminder of the age difference between us. As if I did. I pressed on, before he could dwell on that too much. "When my mother was in her mid-twenties, she married my father, Peter Dodd. He was a musician and toured North America. So she quit her own job and followed him. Until I came along, that is. And Peaches two years later. Then we all followed him on tours when we were very young. I can remember some of it—the lights, the instruments, the other musicians. Me and Peaches running around the tables and playing under them while the band set up in empty clubs, preparing to play gigs that we would never see. But that didn't last. Dad took sick. All those smoky nightclubs finally got to him, and he had to quit touring. But music was all he knew."
"Bummer. How'd your family survive?"
"Dad knew music, and… well, music knew him. Peter Dodd was famous in the club scene in Ontario and parts of Quebec. So if he didn't have the lungs to sing the songs, he still had the mind to write them. Eventually, his work got some attention. I can remember the first time one of his songs played on the radio. Then the first time that one topped the R&B charts. And I remember the first thing Dad did was call the jewelers and order my mother a honking big diamond ring. God, she loved that diamond. Not the most practical expenditure, but Dad always said it was worth it. He was in a wheelchair then, but looked ten feet tall as he put that rock on Mother's hand. Mom saw that too. She dubbed it our lucky diamond. She said that nothing bad would ever happen to us because of that rock. She said it was magic. Things got better then. More secure. More songs on the radio. Big-name stars calling the house. It was pretty wild. Before Dad died, he'd tucked a bit away I know. Probably thinking it would last our mother a lifetime."
"But times changed," Dylan said. "Age isn't what it used to be. Lifetime isn't what it once was."
"No, but I'm sure Mother is doing fine. But even if she were having difficulties, Katt Dodd would not steal." I bit my lip. Of course she wouldn't steal. Not in a million years.
"Dix?"
"Yeah?"
"What did your mother do before she married your dad?"
I looked half hopefully at the approaching sign indicating food, gas and lodging available at the next exit. A fresh coffee sure would be nice. Of course, if we stopped, Mrs. P would wake up and restart our crossword contest. It was a long drive to Florida. Abandoning the idea of coffee, I shifted in my seat. "Mom was an entertainer, too."
"A singer?"
"Ahhh, no. But she did spend a lot of time on stage."
"Oh, you mean she was a dancer. I guess that's where you got those great get-away sticks, huh? Dancer's legs."
Okay, that shut me up. Since when had Dylan Foreman been checking out my legs? And how? I wasn't exactly a high-heels-and-miniskirt kind of girl, although there had been a few times undercover…
I cleared my throat. "No, not quite that kind of an entertainer, either. Mom was more of a… well… more of a show girl, if you know what I mean." When Dylan still looked in the dark, I continued. "She went on stage… skimpy costumes… feather boas… applauding gentlemen…"
I could practically see the wheels spinning in Dylan's mind. Just about there…
"Holy shit!" His eyes saucered wide. "She was a peeler!"
"Dylan!" I clapped a shocked hand to my chest. "That's my mother you're talking about."
"Oh, shit. I'm sorry. But you said—" He relaxed when he saw my 'gotcha' smile. "Okay, you got me. So, what was she?"
"Magician's assistant," I supplied. "And from what I've heard, a damn good one. She worked mainly with this Lazlo Von Hootzeberger fellow. I gather more than a few other magicians tried to lure her away, but she stuck it out with Lazlo. She toured with him all over Europe and North America before she met and married my father."
"Did she ever teach you and your sister any magic tricks?"
I shifted back in my seat. That was a tricky question. And I wanted to answer slowly and get this right. And I really didn't want to try to explain it again. "You have to understand my mother. She doesn't do tricks. She does magic. That's what she always told us."
"Like the Harry Potter stuff?"
"Not quite. But somewhere along the line, she convinced herself that she really had the ability to do magic and not just sleight of hand. Don't get me wrong: she's perfectly sane. But she's…"
"Fun?"
I had to smile. If I ever had the privilege of picking out business cards for Dylan Foreman, they'd read Dylan Foreman—Diplomat.
"That's a nice way to put it," I said dryly. "Mother always told us she despised tricks. But she loved the real magic in the world. We believed her as kids. And you know, I think she believed it too." I shook my head.
In the back seat, Mrs. P snorted in her sleep. (Well, it was loud and ripping so we'll go with 'snort'. I rolled down the window.)
I looked at Dylan, and unfastened my seatbelt. "Now's my chance."
"Dix, what the—"
I turned, leaned over the back of the seat and gently took the magazine from Mrs. Presley's sleep-loosened grip. I plunked myself back down in the seat beside Dylan. "Let's copy all the answers from the back for the next few puzzles." I began flipping through the pages. "That way, when she asks for a clue we can—wait a minute!"
"What?" Dylan flicked a glance at the book on my lap, then back to the road.
"These aren't crosswords." I snapped it closed. "It's a circle-a-word book. Mrs. Presley was just trying to get us to talk dirty."
From the back seat I thought I heard another sound. I turned around quickly to see a sweetly-sleeping, angelic Mrs. Presley.
Buy Family Jewels here:
Amazon US | Amazon UK | Amazon CA
Apple | B&N | Kobo | Smashwords
Excerpt from
The Case of the Flashing Fashion Queen
A Dix Dodd Mystery (1)
by
Norah Wilson and Heather Doherty
writing as N.L. Wilson
Copyright © 2011 Norah Wilson and Heather Doherty
Writing as N.L. Wilson
Published by Something Shiny Press
All rights reserved.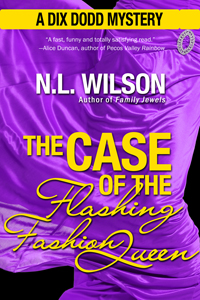 Chapter 1
A lot of people specialize.
If you have a toothache you go to the dentist, not the doctor (unless he's a really hot doctor and then you go there first). If you need a new roof, call the roofer. Groceries? Call the grocer. You wouldn't go to a mechanic for your annual pap smear, nor have your OB-GYN under the hood of your… um… car. Okay, bad analogy. But you see where I'm going, right?
The point is, when you have a special job in mind, you call a specialist. And if you live in Marport City and need someone to get to the truth of a matter—and when the matter is private and dear to your heart—you call me.
You see, I'm a private detective. I'm not so new to the business itself, but new to being out on my own. Six months' new. I worked for years at a private detective company called Jones and Associates. The number one company in Marport City. All professional. All business. All men. And no matter how hard I worked there, how brilliantly I put things together (and that would be damn brilliantly, thank you very much), I was always the 'girl'. The one sent to do the coffee runs. The one who ordered office supplies and hunted down the lost files. I never had a real shot at advancing there, despite my many years of service and their many years of promises. So a few months before my fortieth birthday, I set out on my own. Hung up my own shingle.
The boys at Jones and Associates told me I'd never survive, that I'd be hauling my skirted butt back there within the year. Well, it's been six months, and I'm still hanging onto that shingle. Hanging on by my fingernails, mind you, but hanging on.
These days, I specialize in trailing men who cheat, or who are suspected of cheating. I trail them for wives who are wondering about girlfriends, and girlfriends wondering about wives. Overprotective moms, neurotic dads, and yeah, the occasional jealous ex-girlfriend who just has to know. I find out where, when, with whom and if you're really interested—how. I take pictures. I take notes. I check gas gauges, tire treads and odometers. I follow trails left by credit card receipts and miscellaneous bills. I check out alibis.
As you can imagine, it isn't always pretty. But it's always interesting.
And some cases aren't always as they seem.
Take for example the case of Jennifer Weatherby, or as I like to call it, The Case of the Flashing Fashion Queen. Who would have known that one phone call, that one seemingly ordinary phone call, would turn into such a mess?
But then, death is always messy. Or rather, murder is messy. Especially when I'm caught smack-dab in the middle of it.
~~~~*~~~~
"Hey, Dix. Jennifer Weatherby just phoned to double check our address. I'm guessing her ETA is about two minutes."
Oh, thank God! I glanced up at my assistant. "Thanks, Dylan," I said, as though I'd never doubted she'd show.
Jennifer Weatherby had called me two days ago, on May 30. Called, in fact, just as I was writing out the rent cheque for the landlord, and wincing at how pitifully few dollars remained in my account.
Five thousand dollars. That's what she'd offered me. I'd just about dropped the phone. But Mrs. Weatherby had been clear: five large for a week's worth of work.
But here's the thing—sometimes these hot new clients don't show. Sometimes they call in a fit of anger or jealousy, but when they calm down, they decide they don't need a private detective after all. And often they're too embarrassed to call and cancel. So, yeah, I was more than happy when Dylan told me she was en route.
His message delivered, I expected him to turn and leave. Well, kind of. Dylan Foreman rarely did what was expected.
Good thing he was the best assistant I'd ever had.
Okay, the only assistant I'd ever had. And strictly speaking, he wasn't really an assistant. He was an apprentice. All aspiring private investigators have to complete a period of apprenticeship. I'd done mine with Jones and Associates. When Dylan Foreman knocked on my door just a month after I opened for business and laid his story on the table, I couldn't refuse him.
The man had a law degree, on top of a degree in communications and another in criminology. After passing the bar, he was scooped up by one of the top firms in the city and had been well on his way to making a name for himself in criminal law. But all that changed one day when he got a call from a scared kid.
The kid had been abducted by his father, a client of the law firm and a suspected child abuser. Bastard had picked the boy up at school and driven him five hundred miles to another city. Police were searching for him frantically. Dylan had been working late that night when the call came in from the missing child. The kid had hit re-dial on the phone while his father had left him alone to go out for beer. Scared and crying, he'd told Dylan the things his father had been doing to him.
So Dylan called the police, gave them the number that had come up on the call display and they'd had the kid within the half hour. Found the little boy alone and scared, battered and bruised.
Dylan knew what he'd done. The minute he'd picked up the phone to call the cops, he knew his career was effectively over before it ever really got started. But all he could think about was the fact that the client had called earlier in the day and the senior lawyers had done squat to protect that kid.
Needless to say, he got flack. Then he got fired. Eventually, he got disbarred.
"If you had it to do over, would you do the same thing?" I'd asked him.
"In a fucking heartbeat."
I'd hired him on the spot. He worked hard; and thankfully, he worked cheap.
And omigod, he was handsome! And young—all of twenty-eight. Okay, yeah, I had sort of a crush on him, but nothing serious. Nothing that kept me up at night. He was just… nice to look at.
He was pretty good on the computers, too, up to and including some minor hacking when the situation demanded. He also made a mean cup of coffee (and I liked my coffee mean), and he didn't mind getting his hands dirty when it came to that. Plus, holy hell, my clients loved him. If I had a dollar for every time I'd come out of my office to find a dejected damsel crying on his broad shoulders, the male strippers at The Nuts and Bolts next door would be some happy young men. Except the Canadian mint stopped making dollar bills years ago, and it's damned hard to make a loonie stay inside a G-string unless you tuck it… Well, you get the picture.
Where was I? Ah, yes, Dylan Foreman, and why I tolerated his idiosyncrasies.
Simply put, we were well matched. What I lacked in compassion, Dylan more than made up for. I could deliver the bad-tasting medicine, but it was Dylan who had the bedside manner. He had a sympathetic ear, a compassionate nature, and a way of really listening to women that few men possessed. While I told the women their men were cheating, he told them they deserved so much better than the dogs who cheated on them. They left my office feeling low, and his desk feeling relieved.
"We're in perfect proportion, Dix," he told me once, when I'd remarked on this.
Dylan was handsome in that I'm-not-trying way—chocolate brown eyes, shoulder length brown hair begging to have fingers ran through it. He was built like a basketball player, long, lean and muscular.
And all six foot four of him now stood in my doorway.
Perfect proportion indeed.
"Was there something else you wanted, Dylan?" I fought down the fluster that I was really too old for. Knowing, dammit, that I could always blame it on a hot flash, if need be.
"I was thinking about the business cards." Dylan entered my office and closed the door behind him.
"Oh, no, not again." I leaned back in my chair, coffee cup in hand, and clunked my feet up onto my desk. We'd been making do with those print-it-yourself, perforated thingies, but the time had come to order some real business cards. It was kind of fun, but also kind of becoming a pain in the ass getting them perfect. "I told you, nothing fancy on the cards. Just plain simple: Dix Dodd, Private Detective. Address and phone number."
He frowned. "Boring. We need something people will remember. Something that'll make you stand out. You know… something with flair."
"Such as?"
"Dix Dodd, Private Detective. Call me if you think you're getting screwed, or know you're not."
I groaned.
"Come on, Dix! It's perfect. To the point. Unforgettable."
I shook my head. "And completely not going to happen."
We both heard the footsteps in the hallway and our conversation halted. The door to the outer office opened to admit a female. I could see her silhouette through the frosted glass window of my office as she stood beside Dylan's desk. She tipped a hand to her hair, then back down again. She raised a cigarette to her lips, lit a lighter, but pulled both away before she lit the smoke, and before I needed to run out to remind her of the building's no-smoking policy.
"Don't worry," Dylan said, heading for the door. "I'll think of something else for the business cards."
"Thanks, I just want something—"
Without benefit of a knock, my door flew open. Dylan stepped aside before the doorknob caught him in a place that could do damage. My feet thumped to the floor; my chair tipped forward as I sat up straight.
"Dix Dodd?"
"Yes."
"I'm Jennifer Weatherby."
Beside me, Dylan stood dumbstruck. A first, in my experience.
Of course, I didn't acquit myself much better. I pride myself on my unflappable self-control. Pride myself on my smoothness in dealing with all kinds of clientele. I didn't fidget. I didn't blush. And I didn't stutter out of nervousness. But I have to admit I was a little stunned by Mrs. Weatherby's appearance. It's nothing for women to come into the office a bit overdressed to hide from prying eyes. After all, as much as I may not like to admit it, paranoia often plays a large role in the lives of the women who called upon my services. But this chick had gone just a tad overboard. Like, jumped-off-a-cruise-ship-in-the-middle-of-the-Pacific overboard.
Jennifer Weatherby stood just a few inches short of six feet tall in her modest heels. Modest height, that is. Nothing else about those violet velvet puppies could be called modest. The hem of the purple dress she wore stopped just above the knee. She wore a wide black belt cinched at the waist, and broad shoulder pads that would have made Darth Vader envious. While the neckline of the dress didn't exactly plunge, it didn't need to. The lady was well endowed. If Mr. Weatherby was cheating, he certainly wasn't a boob man. Mrs. Weatherby tipped a well-manicured index finger to the rim of her wide glasses, pushing them back up on the bridge of her nose. Her blond hair was piled high in a feat of engineering that must have required a ton of product. I braced for the reek of hair spray, but all that wafted toward me was perfume. Lavender perfume, of course.
Dylan recovered before I did from this first encounter with the Flashing Fashion Queen.
"Mrs. Weatherby," he said. "Can I get you a coffee?"
I held my own cup protectively close.
"No, thank you," she said. "I… I don't tolerate caffeine well. Makes me jumpy." The last thing I wanted to see was this lady jumping.
"Perhaps a juice, Mrs. Weatherby?" I offered.
"No… thank you," she said shakily. "Nothing for me."
On this cue, Dylan left, closing the door behind him. He'd give us time. Enough time for me to get to the heart of the matter: enough time for an S.O.B. fest, but not enough for a sob fest.
"Please have a seat Mrs. Weatherby."
I could tell she was nervous. She moved to cross her left leg over her right as she sat, then her right over her left. She finally settled on pressing her knees so tightly together I just knew they'd have those little round, red circle things on the inside if and when she ever relaxed them again.
She cleared her throat hoarsely. Man, she must have been crying for days.
"I don't know where to begin."
That was my cue to cut to the chase. "Why do you believe your husband is cheating, Mrs. Weatherby?"
"Jennifer… please call me Jennifer."
I nodded. "Okay, Jennifer. Why do you believe your husband's cheating?"
"Oh, I don't believe my Ned's cheating." She pressed her hands to her impressive chest as she drew a deep breath. "I know he's cheating."
I opened my desk drawer and pulled out the pad and paper. I'd long ago learned that clients do not like tape recorders on the best of days, and I didn't bother suggesting one to Jennifer Weatherby. The Weatherby name was well known in Marport City. Ned Weatherby had positioned himself to make a fortune on personal computer safety before anyone even suspected there was a need for such things. But when the viruses and spyware started to hit, he launched his product to the panicking masses just in time to save the businesses that had become so technology-dependent. He'd been a shrewd businessman, buying out his partners just months before he'd patented and launched the product—convincing them cleverly that the company was doomed. Some said Ned Weatherby had unleashed the viruses himself, but nothing was ever proven. Whatever the cause, the effect remained—the Weatherbys were loaded. And in Marport City, loaded meant life in the proverbial fish bowl. Mrs. Weatherby would want her privacy.
"Tell me about the cheating, Mrs. Weather… I'm sorry, Jennifer." I looked down at my notepad, as always placed upon my lap so the client couldn't see what I was writing. Some people talked more with the eye contact, needing the comforting encouragement to go on. Others, I'd found, talked more without it, needing the smallest pretense of detachment and privacy as they spilled their stories.
"Ned and I have been married for a long time. Almost twenty years. And I… I thought it was a good marriage. I thought he was happy. I know I was. Who wouldn't be happy with a man like my Neddy?"
Good. She was an eyes-averted talker. As long as she kept talking, I'd keep my gaze lowered.
"But you don't think so anymore?"
I heard her pull a tissue from the box strategically placed on my desk.
"He has a mistress. I'm one hundred percent sure he does."
"You've seen her?"
"Oh, yes. Many times." Her words were muffled through the Kleenex she held to her face, but in my job you get used to tissue-speak.
I was beginning to think Jennifer Weatherby needed a divorce lawyer more than she needed a private dick. The vision of the five thousand dollars growing wings and flying away popped into my head. If she was that sure her Ned was cheating, why did she need me to gather the proof? "Do you have a name?"
She looked up at me startled. "Er, I told you, Jennifer Weatherby."
"No, I mean, do you have a name of the other woman."
She sat up straight. "No, no name. But I've seen her many times. She drives by the house all hours of the day and night. Once when I was out in the front garden having my tea, she slowed her car down, and stared back at me."
I was beginning to have real doubts about this client. "That really doesn't mean—"
"And I've seen them coming out of a motel together. The Underhill Motel."
"The Underhill?"
She nodded, anxiously. "Yes, I was out shopping one day and saw Ned leaving there with this… this floozy."
'Floozy'. That word always struck me funny and I bit down on my lip to kill the giggle. I always pictured an intoxicated duck whenever I heard it.
I knew the place. The Underhill Motel was one of the older motels in the city, known for its cheap rooms and its hourly rates. A lot of the call girls work out of it. I made a mental note to check with some of my contacts. But it struck me that whatever Ned Weatherby was up to, and whomever he was up to it with, he apparently wasn't out to impress them—not at the Underhill.
"Is it possible," I asked, "that your husband was employing a prostitute? Maybe this was just a one-time thing? Not a mistress but a—"
"No! Absolutely not! I'm sure she's more than just a prostitute. She loves Ned. She has to love Ned. I mean, who wouldn't love my Neddy-bear."
I looked down on the doodles on the legal pad—tight circles usually grouped in two, and ladders going to nowhere. Something that looked like demonic chicken tracks. No, wait… those were webbed feet. Duck tracks, then, wending crazily around the bottom corner of the page. And one big, block lettered word—NOTACHANCE.
Well, now it was a word.
I had serious doubts about this case. Usually clients wanted proof and confirmations of suspicions. Mrs. Weatherby appeared to have both. The other angle, I knew, would be that she wanted blackmail material. And, okay, though it wasn't my favorite thing to participate in, it did up the ante a bit more. "What is it you're looking for from me then, Mrs. Weatherby? I mean, if you're sure Ned is cheating, what can I do to help you out?"
"I want you to follow Ned for a week. I want his every move documented. His whereabouts recorded.
"Here's what you need." The Flashing Fashion Queen snapped open her purse and dumped its contents onto my desk. Holy Hannah. I could not believe what this woman toted around. Six paper-wrapped tampons (in different sizes, no less), four different shiny tubes of lipstick, foundation, blush… There were packages of bobby pins and even a small can of hair spray. The woman was a walking feminine first-aid kit. Of course, among the jumble was an envelope marked for Dix Dodd. This she handed to me as she began piling the rest back into her purse.
"I've enclosed Ned's itinerary for this week. Or rather what he says he'll be doing this week. And I need you to photograph him everywhere."
"When he's with another woman?"
"Even when he's not."
I looked at her skeptically. Now the winged five thou was flying above my head twittering, 'Catch me if you can!'
"I know my husband, Ms. Dodd. And I love him desperately."
"But if he's—"
She handed me the second envelope—this one pulled from a deep pocket of her purple dress. "That's five thousand dollars. And there'll be five thousand more at the end of the week. That's ten grand for one week's work, Ms. Dodd. Surely, that's worth a few extra rolls of film. And a few less questions."
Surely it was. I picked up the package.
"I just have one question, Jennifer. What does this woman… this other woman, look like?"
She swallowed hard, and wet her lips. "She's… she's about your height. Slender. Blond hair, hazel eyes."
Hazel eyes? How close of a look had Jennifer Weatherby gotten?
"Oh, I forgot to tell you, she's threatened me. Several times she's called the house telling me she wanted me out of the way."
I blinked, then stared at her. "This might be a matter for the police then, Jennifer."
"No, it's a matter for you, Dix. I have faith in you.
Buy The Case of the Flashing Fashion Queen here:
Amazon US | Amazon UK | Amazon CA
Apple | B&N | Kobo | Smashwords
Excerpt from
Nightfall
A Vampire Romance (Book 2)
by
Norah Wilson
Copyright © 2011 Norah Wilson
Published by Norah Wilson
All rights reserved.
Chapter 1
Aiden Afflack hummed to himself as he lifted the brass doorknocker to summon St. Cloud Police Chief Weldon Michaels to the front door of hisCarrington Placeresidence. Rapping twice, he stepped back.
What was that tune running through his head? It had been with him since he'd risen this evening.
Audioslave? Nope.
Queens of the Stone Age? Un-uh.
Collective Soul? Yeah, yeah, that was it. Definitely. He cricked his neck one way, then the other and felt the satisfying crack. Ooh, I'm feeling better now.
The curtain in the bay window twitched, but Aiden feigned obliviousness. From inside, he clearly heard Michaels jam a clip into an automatic weapon. Aiden rolled his eyes. Nobody trusted anyone anymore.
"Who are you and what do you want?"
The voice came through the door. A very cautious man indeed.
"I'm a friend of your wife's," Aiden called. "Well, more a friend of a friend, actually, but I have a personal message for you, from her."
"Nice try. Now move on, before I call the cops."
Aiden thought about knocking the door in. It was solid oak with a good deadbolt on it, but it could have been made from cardboard and paperclips for all the challenge it would present. On the other hand, there was no reason to get messy.
He cleared his throat, did his best to summon a puzzled tone. "Well, hell, I thought you were the cops. Do I have the wrong address? I'm looking for Chief Weldon Michaels. Got a message for him from his wife Lucy. Pretty woman, 'bout an inch over five feet, brown hair and eyes? Oh, and a real cute little daughter. What's her name?Devon? Any of this sounding familiar?"
Silence for a few heartbeats. "What kind of message?"
"She wants to come home, but before she can see her way clear to doing that, we need to have ourselves a talk."
Another pause, then the sound of the deadbolt retracting. The door cracked open, and Weldon Michaels peered out past a security chain.
God save me from fools. Growling, Aiden pushed the door open. The hardware anchoring the security chain tore free from the wall. Before Michaels could cry out, Aiden stepped inside and closed the door behind him. In the next heartbeat, he seized Michaels' right wrist and squeezed until the other man screamed and dropped the pistol he held. It hit the hardwood floor with a clatter but didn't discharge.
"A gun?" Aiden released the other man's hand. "Now I ask you, what kind of a greeting is that?"
Michaels — clearly a slow learner — reached for a second weapon jammed into the waistband at the small of his back. Before he could get to it, Aiden had Michaels face down on the floor with his right hand way closer to his right shoulder blade than God ever intended it to go.
"Jesus, my arm. You're breaking it!"
"Not even close. You develop a feel for these things," he said conversationally. "It's sort of like braking when you're driving on ice. You gotta find the threshold."
"No, my shoulder! It's gonna pop! I swear to God!"
Aiden reefed Michaels arm a half inch higher, eliciting a scream, followed by a stream of curses.
"See? Still plenty of play. It's a feel thing. Now are you gonna behave yourself if I let you up?"
"Christ, yes! I'll do whatever you say."
"Atta boy." Aiden helped the other man to his feet. "Now, let's go plug the code into the alarm, shall we? And don't fuck with me. If the alarm company or the cops call in a minute to ask if everything's okay, things will be very much not okay for you. Understood?"
"Understood."
Aiden "helped" Michaels to the alarm panel, where he keyed in a five-digit number. The winking red light went out.
"Good man. Now we're going to need your handcuffs. I know they can't be far away, since you laid hands on that pistol fast enough. So be a darling and let's go fetch them."
Michaels swore again.
"I know, I know. It's gotta sting, getting cuffed with your own bracelets, but look at it this way: they'll be a helluva lot more comfortable than the alternative if you force me to improvise."
Michaels sagged. "In that drawer."
A minute later, Chief Weldon Michaels sat cuffed in one of his own kitchen chairs, a sturdy-looking oak proposition. Michaels somehow managed to look both scared and pissed at the same time.
Aiden took a seat at the table, placing both guns — one retrieved from beneath the telephone table in the entryway and the other from the small of Michaels' back — on the gleaming wood surface. "Okay, Weldon — may I call you Weldon? — we need to talk."
Michaels glared back. "You're wasting your time. I don't keep anything of value of here, at least nothing portable enough to carry off. And damn you, you've already scored both my guns. I suggest you just let yourself out and get while the getting's good."
"You think I was bullshitting earlier, don't you? You think I was feeding you a line about your wife to get inside?" Aiden leaned back in his chair and kicked his feet up to rest on the table. "That's rich."
Fear flashed in the other man's eyes, which he quickly attempted to hide with bravado. "Look, mister, if you have a message for me, let's get on with it."
"Afflack."
"What's that?"
"If you're gonna call me mister, you might as well make it Mr. Afflack. Or Aiden, if you prefer."
Another flash of fear. Aiden could almost hear the wheels turning in Michaels' head. He's shown me his face, given me his name. There can only be one reason for that….
"Not to worry, Weldy. I think I'll call you Weldy."
Michaels tensed. Testing the cuffs and the strength of the chair's spindles, no doubt.
Aiden sighed. "For Chrissakes, I'm not planning to kill you. I'm just going to spend the night here chatting, much like we are right now."
Michaels blinked. "Spend the night?"
"Forgive me. It's probably horribly uncomfortable with those cuffs on. Let me just deal with these nasty guns. Then I'll take the bracelets off so we can talk all civilized-like."
Aiden picked up the SIG 9mm with his left hand, grasped the barrel with his right. Closing his eyes, he slid his hand up and down the barrel a few times to attune his mind to the metal. Then he bent it effortlessly.
"Jesus Christ!"
Aiden placed the ruined pistol back on the table, picked up the .22 and repeated the process on the gun's short barrel.
"What the … how'd you do that?"
Aiden shrugged. "A parlor trick. You should see what I can do with a dinner fork." He stood and extracted the handcuff key from the pocket of his worn jeans. "Now, about those cuffs…."
Michaels shrank back.
Aiden lifted his eyebrows. "What? You'd prefer to keep them on after all?"
The other man collected himself, embarrassment staining his cheeks. "Of course not. Please remove them."
Aiden obliged.
As soon as his hands were free, Michaels immediately started massaging his sore right shoulder.
"Ah, yes, the shoulder. Sorry about that." Aiden gave him his best aw shucks smile. "But I couldn't have you putting bullet holes in me, could I?"
Michaels said nothing, but the stiffness in his face spoke volumes. Good. Get brave, you miserable little wife-beating worm. Get angry. Give me a reason to hurt you again.
Michaels cleared his throat. "So, this message from my wife?"
"She wants to come back toSt. Cloud. In fact, she'd like to move back into this very house, seeing as she put so much sweat equity into it." Aiden glanced around at the tastefully appointed kitchen. "I must say she did a great job."
"Of course she can come home. That's all I've wanted since she left."
"Ah, but there's a catch, Weldy. You can't stay."
Michaels made a choking sound, but quickly found his voice. "She thinks I'm just going to clear out of town?"
"That would be ideal, but no, I don't think she expects that. It will be sufficient if you leave this house and never darken the door again."
Michaels started to bluster that he owned the goddamned place and no one could put him out of it, yadda, yadda, yadda.
"Save it," Aiden commanded. "You see, I know what you did to her, Weldy."
A pause. "I don't know what she told you, but—"
"You systematically isolated her from her friends and pressured her into quitting work. Then, when you got her where you wanted her, you escalated the abuse. You terrorized her, Weldy. You threatened the life of her child if she tried to leave you. Is any of this sounding familiar? No? Well how about this: you used your position and power to convince her that escape was impossible."
Michaels leapt up, his face wreathed in fury. "You don't know the first fucking thing about my family."
Aiden swung his feet to the floor, but remained in his chair. "Oh, I know quite a bit, Chief Michaels. For instance, I know you've been abusing the police resources at your fingertips to search for her, ensuring she had to stay on the run, unable to stay anywhere for any length of time. I know she's terrified for her life and that of her daughter."
"If she'd just—"
"Shut up, Weldy, and listen. I'm the messenger, and the message is that it's over. She's coming back, and you, my friend, are going to become the most obliging, most accommodating, most respectful ex-husband on the face of the planet. Oh, and you'll relinquish any rights to the child."
"Fuck you." Powered by rage, Michaels gripped the table's edge and overturned it, then bolted for the door.
Grinning, Aiden swept the table away as if it were constructed of matchsticks and gave chase, overtaking his quarry in a blur of speed. By the time Michaels reached the door, Aiden lounged against it, the picture of indolence.
"Going somewhere?"
"Jesus!"
Michaels' face suddenly looked like it was stretched too tightly across the underlying bones. Shock did that to some people. With others, their faces went slack, as though—
"Who are you?" Michaels rasped. "Dear God, what are you?"
Aiden allowed his smile to spread, noting the precise moment when Michaels caught the first glimpse of his grossly elongated cuspids. This time, Michaels' face slackened.
"I'm glad you asked."
# # #
Sam Shea burrowed deeper into her denim jacket and shifted her legs yet again. The August night was soft, and three hours ago she would have called it warm. Now, however, dew was beginning to form on the blades of grass around her. Only the patch beneath her butt and outstretched legs remained dry as she sat propped against the base of a gargoyle statue.
Yes, a frickin' cement gargoyle. Unfortunately, she didn't have a lot of choices about where to pitch her tripod. It was the only spot in the vicinity where she could get far enough away from the ubiquitous streetlights to see even the brightest stars in the sky. Rural shoots were so much easier.
Of course, it was anybody's guess what she was here to capture. It might have nothing to do with celestial bodies. On the other hand, what else could it be?
Well, okay, ninety minutes ago, she'd have laid bets that she was here for an electrical storm. The flashes of lightning had started to the south, illuminating the suburban landscape in an eerie purplish light. Counting the seconds between flash and boom, she tracked the storm from nearly ten miles off. She'd pack up and head for the car when it reached six miles, the safety zone. No photo was worth getting killed for, especially when she could get a decent shot from the relative safety of her rented Acura. But the storm had veered off at the last moment, making a retreat to the car unnecessary.
So if it wasn't a fantabulous light show, what the heck had drawn her here?
For the first time in a very long time, she wondered if her vision had let her down. Right place maybe, but the wrong time? Or maybe there was anotherCarrington PlaceinSt. Cloud, and she'd camped at the wrong one. But what were the chances of that in a city of just over a 100,000 people? Of course, maybe there was anotherCarrington Placein an entirely differentSt. Cloud.
Except she knew she wasn't wrong. She was never wrong. She'd thought so once, six years ago. After five hours of nothing more dramatic than the occasional distant meteor streaking across the night sky, she'd given up her post in disgust and gone back to the dubious comfort of her motel bed. The next morning, she'd found the local coffee shop abuzz about the dishwasher-sized meteorite that had crashed to earth in a pasture eight miles out of town. The same pasture where she'd abandoned her vigil at 4:00 a.m. If she hadn't bailed out, it would have made a hell of a photo.
No, she wasn't wrong. Despite the boredom of the past few hours, the raw energy that had drawn her here still persisted. Something was going to happen here, dammit.
For the umpteenth time tonight, she flicked on her hand held infrared spotlight, lifted her infrared binoculars to her eyes and did a ground-level scan. Two houses down, a skunk made its leisurely way across the front lawn, oblivious of the surveillance. Nothing else stirred. With a sigh, she lowered her binoculars and flicked the light off.
No light show in the sky. Nothing interesting on the ground.
She leaned back again, wriggled her butt into a more comfortable position and glanced up at the leering griffin's massive head. "Don't let me nod off, okay? I'd hate to miss the fireworks. Or whatever we're going to have."
Predictably, the griffin made no reply.
"Okay, be like that," she muttered. "See if I—"
The sound of a door closing — specifically, the door of the two-story house directly across the street — cut short her one-sided conversation with the gargoyle. Automatically, she reached for the floodlight and the binoculars.
There! A man — rendered slightly greenish, thanks to the infrared technology — gliding out the flagstone driveway.
Quickly, she traded the binoculars for the tripod-mounted digital camera, flipping it to NightShot mode. A quick look through the viewfinder confirmed the target was out of range for the camera's infrared illuminator. Dammit. She squeezed the trigger switch on the spotlight again, locked it in the on position, planted its legs in the soft earth and trained it on the adjacent driveway. This time when she found her subject through the viewfinder, her mouth went dry.
Dear God! If she could give the fiercest storm a corporeal human body, this is what it would look like. Beauty and violence, all rolled up in one gorgeous, terrible package.
Zoom, focus.
God, what a face!
Hard zoom, focus, click.
Without conscious thought, habit took over as she snapped picture after picture.
She watched him draw out a cigarette and apply a flame to it. Fascinated, she watched him inhale deeply, remove the cigarette from between sensual lips, then exhale. Then he lifted his lids and looked directly into her camera lens.
Sam pulled back, shrinking closer to the gargoyle's cold cement base. He can't see me. Not from this distance. He's standing in the light and I'm buried in shadow. And he sure as hell can't see my spotlight.
Carefully, she leaned forward again to peer through the viewfinder. And there he was, still staring straight into the camera. And then — holy mother of God — he smiled at her. A knowing, toe-curling, sex-drenched smile.
She jerked back again, but this time, she failed to suppress a gasp. Not that it mattered, because he was gone. Vanished. She searched the sidewalks for his retreating form, but he'd melted away as completely as the smoke from his cigarette had dissipated in the night air.
She exhaled the lungful of air she'd been holding. Whew! That was … interesting.
But even more interesting was the dawning conviction that nothing more was going to happen here. As she sat there bringing her heartbeat under control, she realized that the muted anticipation that kept her rooted to this spot for half the night had dissipated. Interesting, indeed.
Well, no point hanging around now. She got to her knees and packed her gear. Before stowing the camera, she flipped back through the pictures she'd captured to make sure she hadn't imagined the last minutes. She hadn't. There he was. Even frozen in greenish miniature, he emitted an improbable dynamism. She frowned. Could he be the force that had called her here? A shiver lifted the hairs on her arm. It didn't seem very likely. Of course, the alternative to that scenario was that her vision had been just plain wrong, which was even less palatable than the thought that a man might have drawn her here.
Sighing, she shut off the camera and tucked it carefully in the carry tote. With a last glance around the empty streets, she headed for her car. Ten minutes in a hot shower and a few hours sleep on the pillow-top mattress at her hotel would fix her up. She'd figure this thing out in the morning.
# # #
An hour later, she turned on a lamp and crawled out of bed. The dream would just keep coming back if she didn't write it down. She found a pen and hotel stationery and scribbled the words St. Cloud, riverbank under the bridge, tomorrow night. Call and postpone your flight!
There. Maybe now she could sleep.
Three hours later, after a poached egg and a cup of room service coffee, Sam uploaded the images from her camera's flash card onto her photo viewer, a task she would normally have done last night. Backup was critical in this business. But since she hadn't captured anything saleable, she hadn't bothered. Now, she breathed a sigh of relief when she saw confirmation that the upload was successful.
She paged quickly through the first few photos, which she'd taken merely to fine-tune her settings. The house across the street with its foot lighting, the row of streetlights marching west, the retaining wall behind her. Then she reached the first shot of the man.
Ugh. Monochromatic green. NightShot was useful for surreptitiously framing your shot, but you then had to switch modes to get a normal-looking color shot. Of course, that required using a visible flash, which in turn required her to be considerably closer to the subject. It was great for photographing small critters in darkness, but not so great for capturing people. It just wasn't socially acceptable to creep up on a stranger and blast their night vision away with a blinding flash.
Especially this stranger.
She bent closer to the display to inspect her work. She'd zoomed in on the guy, but it was a full body shot rather than tight to the face. He looked taller than she remembered, but the wide shoulders and narrow hips were the same, as was the longish, wavy hair. He wore what appeared to be a leather jacket over a dark shirt and dark pants.
She pulled back, feeling oddly disappointed.
He had the kind of body that would make any woman look twice, no question about it. But she just wasn't feeling that same gut punch she'd felt last night. Guess she could chalk last night's reaction up to jet-lagged giddiness and the late hour.
She toggled up the next photo, and oh, baby, there it was, that thrill low in the belly.
A high forehead pleated in a frown, and a straight nose. Several strands of curly blond hair spilled forward to graze high cheekbones, partially obscuring his eyes. At least, she thought his hair was blond. It was too pale to be otherwise. The light also illuminated lean cheeks, a strong chin and an unsmiling mouth. Beautiful. Stern. Forbidding.
She advanced the next photo, and sucked in her breath on a hiss.
His face was tilted toward her to better reveal a sinfully gorgeous male mouth, but that wasn't what set her heart to pounding. It was his attitude of sharpened senses. She could swear he was scenting the night breeze through those flared nostrils, his head cocked to catch the slightest sound, eyes searching the darkness. She leapt out of her chair, overcome by the sensation that she was about to be discovered.
God, woman, get a grip. She snorted at her own panicked reaction. He couldn't see her. Not now, and not last night, either. At most, he may have suspected he was being watched and played to a possible audience, but standing under the streetlight like that, looking into the deep shadows…. No, there was no way he could have seen her.
She seated herself in front of the viewer again and toggled up the next photo. Despite being prepared this time, her heart still jolted in her chest.
He was looking straight at her!
And oh yeah, he'd known he had an audience. An appreciative audience. Unlikely as it seemed, he must have sensed her. Awareness was written there in his face, in the lift of an eyebrow and that sensual, full-lipped smile.
Sam expelled her breath. "Well, aren't you all that?"
The unknown man smiled back from the photo, his NightShot-glowing eyes maddeningly unreadable.
Magnetic.
The word slid into her mind, making her lips tighten. Last night, she'd allowed herself to contemplate the idea that this man might be the force that drew her here. The idea was no more palatable in daylight than it was in the dark of night. To think she might have delayed her return to Sioux City after the Montreal gallery opening, extending her Canadian trip to come to St. Cloud, New Brunswick, to take a photo of a mere man?
No. No way. It didn't bear thinking about. She'd been mistaken about the time and location, that's all. There was a first time for everything, right? Besides, last night's vision had rectified the mistake. She now had a very clear idea where she needed to be and when.
She toggled the curser, but there were no more images. Sam moved backwards to the final picture, the one where she was sure he knew she watched him, and shivered.
Maybe she'd do a little research, for curiosity's sake, starting with finding out who lived at thatCarrington Placeaddress she'd camped outside of last night. Maybe something would surface to explain why she'd been called there.
Four hours later, she had a fix on the owners, a couple by the name of Weldon and Lucy Michaels. A Local Google search revealed that Weldon was the chief of police here inSt. Cloud, but turned up nothing on Lucy. Well, that let out anything nefarious going on inside that house, him being the chief of police and all.
She pushed thoughts of Michaels and his late night visitor to the back of her mind and turned her attention to preparing for tonight's stakeout. After studying maps at the library, she drove unerringly to the downtown, parked in a parking garage, and set out on foot with her camera bag slung over her shoulder. A four-minute walk connected her with the riverfront walking trail, and another ten minutes put her practically in the shadow of the bridge. The grass was tall here, with a couple of distinct trails leading down the embankment toward the river. This was it. This was the place. She fished her digital out her bag and took a couple of shots.
The sound of crunching gravel alerted Sam to the presence of another pedestrian. She glanced up to see a young man approaching from the west. As he neared, she noted industrial facial piercings and a faux-hawk.
She lifted a hand. "Excuse me, could I—"
"Sorry," he said, side-stepping her. "I don't pose for tourists."
As if. Before she could correct his assumption, he'd walked on. She jogged to catch up.
"Hey, if I wanted to take your picture, I wouldn't want to do it here. I'd want to do it in a studio, or at least with the proper lighting equipment to do you justice. But that's not why I stopped you. I just have a question."
He slowed. Apparently flattery worked. "Whatcha wanna know?"
"Those paths back there, the ones leading down to the river. What's that all about?"
He shifted the bag he was carrying from one tattooed shoulder to the other. "Homeless."
Sam felt the truth resonate inside. Yes, that fit with the feeling the dream had left her with. "Is anyone down there now?"
Judging by the look he gave her, she expected him to say, What am I? Kreskin?, but what actually emerged was, "Dunno. Maybe. Or maybe they'd be out hustling for handouts this time of day."
Sam chewed the inside of her lip. "The police don't object to them living down there?"
"The cops?" He snorted. "Don't imagine they give a rat's ass where they sleep at night, long as they're outta sight. All they really care about is keepin' the panhandlin' under control." He glanced up the trail, obviously wanting to be on his way.
"Thanks for your help."
"No problem." He hiked his bag up and walked off.
She lifted her camera and took a few shots before crossing the neatly mown green to the taller grasses. She picked the closest path, which also happened to be the most well-worn, and descended the embankment, pausing occasionally to take more pictures. Passing through a thin belt of trees, she emerged to find a hard-packed footpath paralleling the river's edge.
The smell assailed her immediately. There was the usual pungent river smell that made you think of mud and fish and silt and organic rot, but underlying it was the unmistakable odor of human urine. Ugh. She snapped another picture.
She turned west and walked toward the bridge. Before she got twenty yards, she spotted the first makeshift shelters. Made from a mishmash of plywood, corrugated cardboard and blue plastic tarpaulins, the flimsy structures huddled just inside a thin belt of trees she'd just come through. No wonder none of this was visible from the walking path. For that matter, it probably wasn't terribly visible from above either, save perhaps for a few flashes of blue through the canopy of leaves.
Briefly, she thought about following the path all the way to the bridge and out the other side of the copse of tree. The riverbank appeared to be deserted, but she couldn't bring herself to go further. Deserted or not, there was something invasive and ugly about wandering past these squalid refuges like a sightseer, camera in hand. Plus, frankly she was scared. These people couldn't or wouldn't be integrated into normal society, often due to chronic mental illness. It was the same in cities all overNorth America. Bursting at the seams, psychiatric hospitals everywhere disgorged their long-term residents into their streets to make do the best they could.
She retraced her steps and continued west along the trail until she found another path in the tall grass. As she expected, it led down to the river, then back toward the treed area that concealed the tent community. Again, she ventured only far enough down the path to spy where flashes of blue tarp began to reappear. Though less plentiful on this side, she counted six structures, some of them no more than lean-tos.
She turned and looked west. Less than a mile away, tall condominium buildings and a handful of old brick office buildings rose up against the skyline. Sighing, she retraced her steps up the incline, through the tall grasses to the manicured green bisected by the graveled walking trail. Just like that, she was back in the shiny cleanSt. Cloudof the tourist brochures.
She turned back eastward and followed the trail for a hundred yards or so before veering off toward the concealing ribbon of brush and trees that shielded the shelters. A handy thing, that little green belt. It kept the homeless out of sight and out of mind for the tax-paying, job-holding, upstanding citizens ofSt. Cloud. That same invisibility kept the ire of the police off the backs of the vagrants.
She followed the tree line with difficulty. The grass here was knee deep, and without benefit of a beaten path, it conspired to trip her with every step. But just the other side of the bridge, she found what she was looking for — the perfect vantage point for surveilling the area later tonight.
Tucked just inside the tree line, it afforded enough cover for her, and offered the best view she was likely to get of the encampment below. Also ideal was the positioning of the streetlights on the four-lane bridge above and the towering light standard that illuminated the walking trail behind her. With any luck, there should be sufficient light to monitor goings on without having to constantly sweep the area with her infrared equipment. Likewise, it was close enough that she could step out of the tree line quickly if the commotion tonight turned out to be a light show in the sky.
Satisfied, she trekked the short distance back to her car. Just one more task and she could go back to her hotel and catch a few hours sleep. Stashing her equipment in the trunk of the rental, she walked half a block toQueen Streetand found a payphone. She located the general number for the St. Cloud Police Department, plugged a quarter into the phone and dialed it.
When the receptionist answered, Sam instructed the woman to put her through to Chief Michaels, employing the tone she'd learned in her first year in business-for-self. The trick to obtaining cooperation was not to demand it, but rather to simply take that cooperation for granted. Faced with such easy, inherent authority, most people gave her exactly what she expected. The St. Cloud PD receptionist was no exception.
The phone rang twice in Michaels' office before it was answered. "Chief Michaels," a voice clipped. "Who am I talking to?"
"Good afternoon, Chief. I'm a reporter for—"
"Whoa. You can stop right there, lady. We have a communications officer who handles press inquiries. Call the switchboard again and they'll route you—"
"You had a visitor last night. Is that right, Chief Michaels?"
A pause. "I'm going to transfer you to my personal line. Please hang on."
She heard him make the transfer. Before his personal phone could manage a full ringburst, he'd picked it up.
"Dammit, what more do you people want from me?"
You people?
"I'm sorry," he said, rushing to fill the silence. "I'm just a little tense. The moving company is there right now, packing up my belongings. I'll be out by nightfall, just like I said."
Sam blinked, listening to his ragged breathing. What the devil was he talking about? Channeling that voice of authority again, she went fishing:  "Very good. And the rest?"
"I won't hurt her again, I swear it. I won't even make contact. She can move back tomorrow. I'll give her a divorce, full custody ofDevon, the house … whatever she wants."
Holy crap! What had she stumbled into?
"Hello? Hello?" The chief's voice rose on a note of panic. "Are you still there?"
"Relax, Chief. I'm still listening."
"You have to believe me! I'll never lay a hand on Lucy again. On either of them. God, I won't even breathe in their direction. You'll see. You can watch me as closely as you like."
He'd been abusing his family? Bastard. "You can bet we'll be watching," she said in her silkiest voice. "Need I tell you what we think of recidivists?"
"No, ma'am. I'm sorry. Jesus … my ulcer. I have to go. I'm sorry."
The line went dead. Slowly, Sam hung up the receiver. Well, well, wasn't that interesting? Chief Michaels' late-night visitor had been a friend of Mrs. Michaels. And a very persuasive one, by all appearances. What could he possibly have said or done to reduce the chief of police to the jabbering wreck she'd just talked to?
She thought about the photos back in her hotel room and the peculiar energy that had emanated from Michaels' caller, and decided he was probably quite capable of decimating stronger men.
No matter. It was none of her concern. Michaels was still alive and well, and presumably newly embarked on the straight and narrow.
But who was the mystery caller? The estranged wife's new boyfriend? Hired muscle? Some vigilante out to avenge victims of violence? Random whack-job?
Well, she wasn't going to solve that mystery here, standing in a phone booth.
Correction — she wasn't going to solve that mystery at all.
Stepping out of the phone booth, she headed for her rental and the promise of a nap back at her hotel room. She had to be fresh, had to focus on tonight. Whatever the reason she'd been called toSt. Cloud, it would all become clear tonight.
Buy Nightfall here:
Amazon US | Amazon UK | Amazon CA
Apple | B&N | Kobo | AllRomanceEbooks  |  Smashwords
Excerpt from
The Merzetti Effect
A Vampire Romance (Book 1)
by
Norah Wilson
Copyright © 2011 Norah Wilson
Published by Norah Wilson
All rights reserved.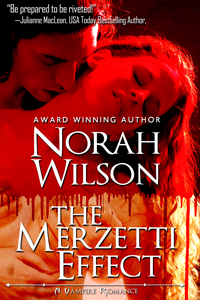 Chapter 1
AINSLEY CRAWFORD STEERED her 1993 Crown Vic to the empty curb, wincing at the ugly crunching sounds her power steering made as she cranked the wheel. Great. Fluid must be leaking again. She needed another repair bill like she needed a bladder infection.
What she should do is dump the old boat and get something smaller, something easier on gas and maybe with a bit of warranty left so she wouldn't have to pour money into it so regularly. Of course, if she ever wanted a new car, she was going to have to learn to keep her mouth shut.
Right. Like that was gonna happen. She'd pretty much sabotaged her prospects when she'd reported that handsome anesthetist who was dipping into the anesthetic agent, shortchanging patients in the process. Although the situation was dealt with promptly and appropriately, it turned out no one liked a whistleblower.
Well, at least she had a lead on a new job. A better paying one, even, and God knew she needed the money. Lucy and Devon were depending on her, maybe for their very lives.
Which was why she was here. Except here looked pretty creepy. She glanced around, reluctant to kill her engine or release her door locks.
Okay, not creepy, exactly. It was a respectable enough commercial zone; not a slum by any stretch of the imagination. And she'd lived here in St. Cloud, New Brunswick, long enough to know she was less than three or four blocks from the club district, which would be hopping even on a Wednesday night, so it wasn't like she was in the middle of nowhere. But the quiet buildings gave off a different vibe once they were abandoned for the night. Beneath the streetlights, the empty avenue shone after the warm August rain.
Ainsley turned off the ignition and the engine stuttered and coughed to a stop. The tic-tic-tic of her cooling motor sounded overly loud in the ensuing silence. Then the rain started up again, drowning out other sounds. Raindrops pattered on the car's roof and smeared her view of the urban landscape, intensifying her sense of isolation.
Before the cast of her thoughts could get gloomier, she grabbed her umbrella from the passenger seat and shouldered her door open. She fumbled with the umbrella a moment to get it open, then stepped out into the night. Closing the Crown Vic's door, she peered around. Not a soul moved on the street. Though lights burned in the office building windows, she knew they were deserted.
Well, mostly deserted. Her prospective employer, Dr. Delano Bowen, waited for her in one of them.
She'd balked when he'd asked for an evening interview, and his warm-whiskey voice had cooled over the telephone line. He had a conference to attend in San Francisco, he'd informed her, and he intended to fill the position before he left, one way or another. Desperate as she was for the job, she'd agreed to the nighttime interview.
Of course, that hadn't stopped her from checking him out. If the research sponsor, a major bio-medical company, hadn't confirmed his claims, she'd have cancelled. But he had checked out. According to Bio-Sys Genomix, he was analyzing the DNA of individuals afflicted with a particular blood disorder in the hopes of unlocking a cure.
What he needed, he'd said, was a cross between a phlebotomist to draw blood, a research assistant to help with his investigations, and a secretary to deal with the paperwork.
She stood there a moment, rain spattering up on her legs as she contemplated her utter lack of experience in the foregoing areas. But dammit, eight years as an OR nurse in a Level 1 Trauma Center had to count for something.
She pulled the folded piece of paper out of her purse and checked the address again — 420 St-Laurent Street — compared it with the number on the closest building, then headed west. Shouldn't be more than a half a block.
As it turned out, it was more like a block and a half, which carried her closer to the club district than she'd expected. The rain fell harder and she picked up her pace, cursing. Her low-heeled leather pumps were going to be ruined. She dashed up the walkway to the building's front door and tried to yank it open, but it didn't give. Another tug. Locked.
Great. She glanced around for a buzzer, but instead found a note taped to the glass door from the inside.
Ms. Crawford. My apologies. Please use the entrance at the back of the building.
Freaking wonderful.
She backtracked to the sidewalk and dashed westward, stopping at the alley running between Dr. Bowen's building and the next building. The lane was narrow, barely wide enough for a single vehicle to pass. It was also liberally spotted with puddles. Her shoes would be ruined for sure if she slogged through that.
Maybe she'd be risking more than her shoes.
The thought sent a jitter of uneasiness through her. She glanced around quickly. Nothing moved on St-Laurent. She looked back down the alley. At the midway point, a single security light mounted on the brick facing of the adjacent building cast enough light to show the alley was empty. No nooks or crannies for an assailant to jump out of; no doorways, no garbage bins for them to hide behind.
So why were the hairs on the back of her neck lifting?
She chewed her lip a moment, then made her decision. She had Dr. Bowen's phone number on the paper in her purse. She'd dash to the nearest bar and use a payphone to call him. If he still wanted to do the interview, he could damned well meet her at the mouth of the alley to escort her into the building. Or better still, in whatever warm, dry pub she found from which to make the call.
She turned to continue up St-Laurent, but a blur of motion caught her eye. She swiveled toward it.
A man, black clothing and a white blur for a face. Where had he come from? Before she could so much as gasp her surprise he was on her, pushing her into the alley.
She brought the umbrella down, intending to defend herself with it, but he was too fast. He squeezed her wrist in a grip that shot paralyzing pain up to her elbow. She dropped the umbrella. And then he was driving her deeper into the alley, bearing her along as though her resistance presented no more challenge than a feather.
Crackhead. Had to be. No ordinary man had that kind of strength. Fear surged as she remembered the one she'd seen in the ER last month. Out of his mind on a dose of crystal meth that should have killed him, he'd shaken off three cops like they weighed no more than dandruff on his shoulders.
She gathered her breath to scream, but again he was too quick. He clamped a hand over her mouth and slammed her against the unyielding brick wall. Tears leapt to her eyes, blurring her vision.
Think.
Resistance was likely to get her killed.
Reasoning was out of the question.
Cooperation… He probably just wanted money. For these guys, it was all about feeding the habit, buying more gack to snort up his nose or shoot into his veins.
Her right hand dropped to her purse, which was still slung over her shoulder. She pushed it toward him. "Take it." She mumbled the words out against his palm, hoping he'd understand. "Money. Take it."
His lips curved with real amusement, which stirred a far deeper fear than had his physical attack. For the first time, she looked closely at his face. His eyes gleamed an eerie yellow-gold under the security light. They were most definitely not the eyes of a hopped-up junkie.
"It's not your money I want."
Oh, God. She was going to be raped in a rainy alley while everyone huddled indoors where it was warm and dry. Where they wouldn't hear her cries.
"No, sweetheart, I don't want that, either."
His lips parted on a smile and her gaze dropped to his bared teeth. As soon as she saw his incisors, she knew what he did want. Her rational mind rebelled against the truth, but her blood knew. Her pulse leapt into overdrive.
"No!"
The word was smothered against his hand. He angled her neck and sank his teeth deep into her throat. She felt the pierce of his grossly elongated incisors like the hot stab of IV needles. Adrenaline arced through her, lending her strength as she fought him, but she might as well have tried to knock down the brick wall at her back.
On and on she struggled, but he clung to her, oblivious of her efforts. But he didn't seem to be doing much more than just hanging on. Why wasn't he sucking or otherwise working the wound? Wasn't that what vampires did? Or did they tear throats out and lap the blood?
She shivered. God, she was so cold…
Cold. Blood loss. Shock!
Oh, shit, she was going into shock.
Goddammit, he'd pierced her carotid artery. He was letting her own thundering heart pump the lifeblood out of her. A bubble of hysterical laughter rose in her chest at the irony.
Seconds later, she sagged against the building, mirth — and strength — gone. Only his weight against her held her upright.
A violent tremor shook her. Cold. She was going to die here in this alley.
And her shoes were ruined.
Then, miraculously, he released her. She crumpled to the wet asphalt. Dear God, she was so cold. Was she dead?
No, not yet. If she were dead, she wouldn't feel the cold rain or the hot abrasion of the asphalt on her hands and knees.
So why had he left her?
She managed to lift her head to peer through the driving rain, searching for her assailant. There, deeper in the alley. And dear God, he was locked in combat with another man! A man who must have pulled the creature off her.
She wanted to shout, to warn her would-be savior that he wasn't dealing with your average thug, but her vision wobbled. Feeling oddly detached, she put a hand to her throat and it came away red. The rain quickly washed her hand clean, but a downward glance confirmed she was still bleeding. Her tan trench coat was streaked with red.
Oh, man, she was tired. More than anything, she wanted to lie down. She wanted to just curl into herself and let the hovering blackness take her. But the man who'd tried to save her … the Good Samaritan … if she didn't get help, he'd die.
She pushed herself to her feet and stumbled toward the mouth of the alley, one hand pressed to her neck to try to stem her bleeding and the other pressed against the building's wall to keep herself upright. She'd lost one shoe, so she kicked the other one off. Almost there.
Then the world started to swim. She blinked and blinked, but the blurriness refused to clear. She found herself on the ground again, felt the asphalt burn her already scraped knees. Then the same abrasive surface kissed her cheek as she pitched face-first onto the street.
Too late, Ainsley. As usual. You're nobody's savior.
Delano Bowen watched the beaten vampire's retreat long enough to be certain the creature was really leaving. He expelled his breath. Thank God. It had been close. For a moment, he'd thought he was going to have to destroy it. Black-hearted devil hadn't wanted to give up his kill.
Well, they'd soon see who killed whom.
And speaking of dying, he'd better see to the woman before she succumbed to shock. He strode to the mouth of the alley where she lay crumpled on the wet asphalt. Kneeling, he rolled her over, bent close and deftly arrested her bleeding. He drew away from her to find that her eyes had fluttered open.
"It's okay," he said. "I've got you. You're going to be all right."
The assurance seemed good enough for her, for she slipped back into unconsciousness. He gathered her into his arms and stood.
"Come on, Ainsley Crawford. We have work to do."
Hot sex.
No, not just hot sex. Incredibly erotic, deliciously forbidden stranger sex.
Ainsley knew it was a dream. Knew it wasn't really happening. But dear God, it was good. And it felt so damned real. She could almost smell him, musky and male and incredibly arousing…
A small sound tugged at her awareness, but she clung to sleep. She wanted to stay in the dream, wanted the stranger to keep on stroking and licking and sucking her as her hands clenched in his hair. She wanted him to keep his mouth on her intimate flesh, his hands on her body. Just a few minutes more…
Then the sound came again. A beeping. Familiar but wrong. Out of place in the dream. What the hell was it? It sounded like a … oh, hell, a monitor alarm!
She came awake with a start.
The first thing she saw was the bedrail on the left side. Then the IV pole with the suspended bag of deep red fluid. She glanced down to see an IV line disappearing into her arm.
Holy shit. She was in hospital. And the beeping was a monitor. It blinked at her from its position right beside the IV pole.
Glancing at her hand, she saw the pulse oximeter had slipped off her finger. She slid the clothespin-like device back on and the beeping stopped. A quick glance at the monitor showed her oxygen saturation was okay.
Oh, man, she was really in hospital? Being transfused?
She pressed her legs together beneath the blankets, and the last traces of arousal from her sex dream withered. Urinary catheter. Ugh. She was definitely being transfused. But why?
Omigod, the alley! Heart suddenly hammering, she struggled to sit up.
"Ah, you're awake. That's good."
She yelped, more at the unexpected hand on her shoulder urging her back against the pillows than at the masculine voice from the right side of her bed.
"Easy. You're safe now. I'm a doctor."
Her gaze locked on him and she let out a gasp.
It was him. The man she'd been imagining, the stranger/lover.
Okay, she was still dreaming. She must be. How else could she have conjured him to look exactly like the man in her dream?
Then another thought struck her: maybe she was dead.
Maybe she never escaped the alley after all. Maybe her lifeless body lay there still in a blood-darkened puddle, and this vision, this whole hospital room encounter, was just the result of her oxygen-starved brain dying.
She closed her eyes for a second and reopened them. The man beside her remained unchanged. Shoulder-length black hair, glossy under the lights, sprang back from a widow's peak. Behind the lenses of Italian designer frames, dark brown eyes glowed like banked coals under heavy, slashing eyebrows. Dark, intense, sexy.
She started to lift a hand, thinking to touch his face to test if he were flesh and bone, but — ow, ow, ow — was quickly reminded that her arm had been harpooned with an IV catheter.
Okay, so it looked like she hadn't dreamed him, she wasn't dead, and she really was being transfused. So she had to be in hospital. But oh, baby, if this was the ER, this guy was new to the rotation.
"Where am I?"
"You're under my care, and you're currently being treated for blood loss and shock."
Blood loss.
She shivered convulsively. The alley. A creature straight out of her nightmares had attacked her, driven his teeth deep into her neck and —
No!
Her mind shied away from the memory. Better to stick with the rational, the world she knew. Medicine.
Her gaze flicked back to the IV pole. "Whole blood?"
"Yes."
"How much have I had?"
"We're coming up on 2000 mls."
She felt her face go slack. "So much?"
"By my estimate, you'd lost almost forty percent of your blood, Miss Crawford."
Holy Hannah. Her gaze leapt back to the unit of blood suspended from the IV pole, her brain ticking at a hundred miles an hour. "Then you wouldn't have had time to crossmatch the blood…"
"It's perfectly crossmatched."
She blinked. How'd he manage that feat? With this kind of blood loss, they usually started pushing the O-neg while they waited for typing and crossmatching, switching to the precise match as soon as they had the info. In any case, if they'd pushed that much blood, her coagulation factors would almost certainly be out of whack…
She lifted her right hand — carefully this time — to her neck, only to find her puncture wounds covered by a dressing. She clapped her gaze back on the hunky doctor who sat so quietly at her bedside. The doctor who in her dreams had blazed a trail of kisses down her body…
She blinked the image away, cleared her throat and asked, "What about the possibility of a bleed?"
He lifted a dark eyebrow. "You know your transfusion medicine."
"I should. I'm an OR nurse."
"Indeed." The corner of his mouth lifted in what might have been a smile, but he obligingly ran down the numbers — hemoglobin, platelet count and the rest. "Based on what I'm seeing, I don't think we'll have to worry, but we'll keep monitoring the situation."
Okay, so she seemed to be out of immediate peril. Time to tackle the hard stuff.
"How'd I get here?"
One beat, two, three, as though he were weighing how much to tell her.
"I brought you."
"You brought me?"
"Yes. I was there, in the alley. I saw the attack."
"No." The denial emerged on an exhalation. She wasn't even sure what she was denying.
"Yes. I witnessed it. I saw that creature attack you."
Her heart started banging again. A man fiercely grappling with her attacker. A black-haired man.
"You were there." A statement, not a question. She remembered now. And she remembered something else.
His was the face she'd seen when she'd surfaced from that cold hell she thought was death. Then she remembered what had wakened her from that icy place — his mouth, hot on her bare throat, like a lover's.
No. No way. It hadn't happened. It couldn't have. Just a dream, like the other one.
She wet her lips. "Where are we?" Lifting her head, she scanned the room. No nurses came and went. Nothing fit her experience with various wards at the hospital. "This isn't the Regional."
"You are in my home. But I assure you it is as well equipped as your hospital to deal with your particular emergency. Better equipped, in fact."
This was his home? It looked more like a trauma treatment room. And how freaky was it that he'd brought her here to treat her? Scary-freaky. Fear warred with anger. By the slimmest margin, the latter won.
"I can see for myself that you're well equipped. My question would be, why? And while we're at it, why didn't you call an ambulance to take me to the emergency room? That would be the logical response."
Those glowing eyes narrowed to dark slits. "And what would you have told them at your ER, Nurse Crawford?"
She lifted her chin. "That I'd been attacked by…"
"A vampire?" he finished.
"Yes! You know I'm telling the truth. You were there. You saw it."
He didn't move so much as a muscle, but for all his stillness, he emitted an odd leashed energy. It poured off him in waves so potent, she could almost imagine she saw an aura of energy surrounding him.
"Indeed I did witness it. But the ER staff who would have attended you weren't there. They didn't see it."
"You could have hung around and explained."
His lips turned up at the corners in a flash of amusement that was gone so quickly she wondered if she imagined it. "Yes, I suppose I could have given them the Readers' Digest version of events, but I rather value my professional reputation."
"Okay, yes, they'd be skeptical in the extreme, until they'd seen this." She lifted a hand to her throat, where she could still feel the pain of her wounds beneath the bandage.
"Remove the dressing."
She blinked. "What?"
He opened the drawer on her bedside table and extracted a hand mirror, which he offered to her. "Remove the dressing and have a look."
Panic flared. Did she really want to view those puncture marks? She knew the attack had happened. She remembered it in horrifying detail. But to look on her wounds would make the proof of it incontrovertible. If she looked in the mirror, she couldn't then decide she'd dreamed it. She couldn't then conclude, for the sake of preserving her own sanity, that she'd had some kind of psychotic break.
"Not up to it? I see." He started to return the mirror to the drawer.
"Give it to me."
"Are you sure?"
Her answer was to peel the adhesive dressing away with one swift motion.
"So be it."
She accepted the mirror from him, angling it to get a look at the puncture marks. Once again, her pulse skyrocketed. The skin of her throat was smooth and unbroken, with nothing but some faint bruising and some redness from the adhesive removal to suggest any kind of trauma.
Impossible.
She put a hand to her throat, running her fingers over the area to confirm what her eyes had already told her. Sweet Jesus.
"You see why the medical staff at the hospital might question your story?"
"But how? I was bitten… I can still feel the burn. Where did the puncture marks go?"
Behind the lenses of his glasses, his eyes seemed to blaze even stronger than before. "These creatures cover their tracks by infusing their victims with a substance that promotes coagulation. It's similar to the MPH beads you might use in surgery to stem a bad bleed, but it also promotes ultra-rapid healing of the wound."
She laughed, a choked sound that bordered on weeping, which God knew was closer to what she felt like doing.
"You're telling me vampires walk around with Bleed-X in their pockets, ready to sprinkle it on their victims' wounds afterward?"
"They secrete the substance at will." He pried the mirror out of her hand and put it back in the drawer. "Of course, the victim of an attack like this typically expires from shock shortly after the evidence fades."
"Well, that must give the Coroner's Office fits on cause of death." She heard her own words and marveled at how reassuringly sarcastic they sounded. Was she really having this conversation with this stranger about vampires?
He shrugged. "Occasionally. Though many victims are street people — drug addicts, prostitutes, vagrants, runaways. No one investigates too closely when one of them turns up dead."
The truth of the latter statement was undeniable. She'd seen for herself the ease with which street deaths were accepted. She'd even protested it. Until the business with Lucy. Until she decided she couldn't afford to make waves over something she wasn't going to be able to change anyway.
She forced her numb mind to work. "I still don't understand why you brought me here. Why not call an ambulance and let someone else worry about it?"
"Because, as you must be coming to appreciate, I have a special expertise in these matters that conventional medicine lacks. Indeed, I think it's safe to say I'm alone in my field."
Well, there was something she had no trouble believing.
"Besides," he added, "had you not been coming to meet with me, you would not have suffered the attack. For that, I feel a burden of guilt."
Going to meet him? Then he must be… "My God."
A smile ghosted over his lips. "No, not God, Ms. Crawford. Though on occasion, I have been accused of harboring a God complex." He offered his hand. "Dr. Delano Bowen."
Buy The Merzetti Effect here:
Amazon US | Amazon UK | Amazon CA
Apple | B&N | Kobo | AllRomanceEbooks   |   Smashwords
Excerpt from
Needing Nita
a free Novella in the
Serve and Protect Series
by
Norah Wilson
Copyright © 2010 Norah Wilson
Published by Norah Wilson
All rights reserved.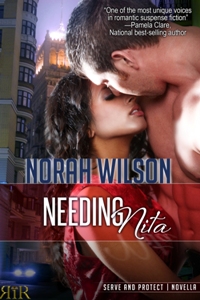 Chapter 1
"So, what's the story?"
Nita Reynolds glanced up at her law partner, Brad Knopfler, who stood framed in her doorway, without really seeing him.
Brain tumor. A couple of bad headaches, and now they said she had a tumor in her head. Just like her father. God, she'd only had that MRI because her mother had hounded her within an inch of her life to ask for it. Neuro-imaging was not the medical community's usual first response to a complaint of migraine with aura, and she'd felt like a major hypochondriac even asking her doctor about it.
"Nita?"
She blinked. Shit. "Sorry, Brad, what was that?"
Taking her question as an invitation, he crossed the plush carpet to settle in one of the leather armchairs opposite her desk. "Your meeting with the Crown Prosecutor this morning," he prompted, loosening his tie and lounging back in the chair. "How'd it go?"
Better than the visit with my doctor right after that.
"Good." When that came out as little more than a croak, she cleared her throat. "It was good. I talked her down from indictable to summary offence."
Brad lifted an eyebrow. "Good job. That'll save your guy four or five years, if he's convicted."
"Yeah, and there's a pretty good chance he will be."
"Hey, are you okay, Nita? You look a little … I don't know. Wiped."
Wiped? Try dying.
She bit back on a bubble of laughter that threatened to erupt. Gawd, if she laughed now, she'd start crying.
"You know what? I am tired." She closed the file she'd been staring at for the past half hour. "I think I'm gonna play hooky and go home."
"Nita, Nita, Nita." Brad shook his head sadly. "It's four o'clock in the afternoon. That hardly qualifies. Hooky is when you call the office whilst tangled with your lover who is nibbling you in places that make your voice go husky, thereby lending you some credibility when you plead swine flu or bubonic plague or something."
At his words, a mental image sprang to life. Specifically, the image of Detective Craig Walker's hulking length sprawled on her five-hundred-dollar Egyptian cotton sheets, and her own body sprawled atop his….
Suddenly, her heart beat faster. And not at the mental image alone. She'd conjured it too often in these past few months for it to have that dramatic an effect. No, her heart beat faster at the idea taking root in her mind. The mind that could be lost to her all too soon, like her father's was after his first surgery. But it wasn't lost yet. She still had full mental capacity, full motor function. Full control of her life, at least for the immediate future.
Time to put it to good use.
She stood, smiling for the first time since leaving Dr. Woodbridge's office. "You know what? You're right again, Brad. You're absolutely right."
Grabbing her purse, she strode out.
***
Detective Craig Walker massaged his forehead as he listened to his aunt's friend's mother rant about the graffiti artist who'd been tagging abandoned buildings in her neighborhood in the decaying west end of Fredericton.
"I'll ask patrol to look into that, ma'am," he interjected, when it appeared she was winding down. Unfortunately, that only served to rev her up, as she interpreted his response to mean the police department did not concern itself with vandalism. He switched the receiver to the other ear and slouched back in his chair, resigned to listening a while longer.
Frankly, he'd driven through that neighborhood the other day and thought the graffiti was an improvement. And for once, he could actually approve the messages, which were clearly the work of environmental activists rather than the usual gang-related crap. Vegan environmental activists, judging by the two-buildings-wide Stop feeding cows; start feeding people message. But his favorite was the one with the beautiful, amazingly detailed rendition of the earth with the caption beneath: Earth. Pass it on.
"I understand your concern, Mrs. Brewer," he said when she paused again for breath. "But I'm assigned to Major Crimes, and my Sergeant would kick my butt if I took time away for something like this. I've had two serious new cases just today, and dozens more getting colder by the minute. The best I can do in the circumstances is pass your concerns along to patrol, who will look into it. If Aunt Gena herself called me, I'd have to give her the same answer."
That wasn't strictly true. He couldn't think of much he wouldn't do for Aunt Gena, if she asked him. But the rest of it was true, including the grinding workload. And with the fiscal belt tightening undertaken by the newly-elected mayor, the manpower additions they'd been counting on weren't likely to materialize.
After a few more assurances, he managed to get Mrs. Brewer off the line. A quick call to patrol/community policing, and the whole thing was someone else's problem.
Too bad he couldn't slough off his personal irritations so easily. Ray Morgan, a colleague in Major Crimes, was trying to set him up with his wife's friend from the newspaper. Or rather, Ray's wife Grace was trying to set him up. What was so hard to grasp about 'not interested in a relationship'? These people who were so damned happy were a pain in the ass.
And on the other side of the spectrum, he kept having to stave off Denis Dallaire. Newly divorced, Dallaire was hitting the bars again, and couldn't seem to grasp that every single guy didn't want to be out there chasing skirts every freaking night. The thing was, Craig had caught his share. Now, it just seemed more trouble than it was worth, which depressed the hell out of him. He was only 34, for chrissakes. A healthy 34-year-old man should want to be out there, shouldn't he? It was almost enough to make him take Denis up on the challenge.
But nah. Too much effort. Not so much in the chase, but in the extrication afterward.
And yeah, the vague emptiness it left him with. Not that he'd ever admit to it. At least not anywhere within earshot of Ray Morgan. There'd be no stopping Grace's matchmaking.
He'd just gotten back into the flow of his arrest report when his phone rang again. "Walker."
"Detective, it's Nita Reynolds."
He'd straightened in his chair even before she identified herself. He'd have recognized that voice anywhere. Confident, controlled, self-contained, but with an underlying hint of heat that was all the sexier for its subtlety. Much the way she looked.
"Ah, Ms. Reynolds," he said, pushing down the jumbled mixture of feelings she always managed to evoke. "Let me guess. You're representing the enterprising Edward Rayburn, who set out to find a buyer for his girlfriend's daughter while said child's meth-addicted mother sits out a jail term."
"I think you mean he stands accused of trying to sell the child," she corrected. "But no, I don't represent him. I was calling—"
"Of course! Gordon Bohner. I wondered who he'd find to represent him." The thought of what Bohner had done to his own mother to extract enough money for his next fix hardened his voice. "Your mother must be proud of you, Nita."
She snorted. "I don't think she ever got over her disappointment when I left Highpriced & Pompous to do Legal Aid work. And I'm not even going to ask what Mr. Bohner did."
He grinned at her use of the nickname for the multi-province mega-firm Hightower Ponder. "Don't you mean you won't ask what Mr. Bohner stands accused of doing?"
She made a sound, but he couldn't tell whether it was an exasperated sigh or a stifled laugh.
"God, I must be crazy," she said.
This time, he definitely detected laughter in her voice. And in that moment, he knew she wasn't calling about anyone's case. The realization sent a bolt straight to his groin. He glanced up at fellow detective Sean Casey, who sat two desks over in the detective's bullpen. Casey appeared to be engrossed in reading a file, but Craig angled his chair away from his colleague.
"I wouldn't say that," he said. "You had the good judgment to call me, after all."
"Good judgment?" She laughed again. "That remains to be seen."
He waited. Pointedly. He could have waded in there, helped her out, but dammit, why should he? He'd done the asking last time. Two times, actually. The first time, he got a polite turndown. He would never have asked again, except all the signals were still there, in flashing neon. When she turned him down the second time, she'd made it clear she didn't date cops. Period.
"I was wondering if you'd like to go to dinner with me tonight. My treat. I thought maybe Soloman's."
Soloman's. Pricey, but they had the best steak and seafood in town. They also had a relaxed enough atmosphere and dress code to attract regular Joes like him once in a while. And more significantly, Soloman's was a two-, maybe three-block walk from Nita Reynolds' downtown condo apartment. The thought sent another jolt below the belt. Settle down, boy.
"To be completely clear, are we talking about a date here?"
"Yes." One word, but it managed to sound strangled.
He leaned back his chair, feeling in control. A strange sensation indeed when it came to this woman. And probably short-lived, so he should enjoy it.
Apparently, he must have enjoyed it a little too long, because her voice was a little testier when she spoke again. "What? Have I stunned you into silence? Shocked you with my forwardness, maybe?"
"Nah, I was just searching for the weather report from hell. I'm guessing it must have frozen over down there."
"Very funny."
"What about your no cops rule?"
"Some rules are meant to be broken, Detective. I know you of all people would subscribe to that notion."
"Given how often I land myself in hot water with the brass, you mean?"
She made no reply.
"No comment?" he prodded.
"Sorry," she said politely, "I was letting the record speak."
He laughed. "Okay, it's a date. I'll meet you there." After a few beats of silence, he added, "What time?"
"Seven?"
"Perfect."
"One last thing, Detective…."
"What's that?"
"Come prepared."
He heard her disconnect, but still he sat there with the receiver in hand, her words echoing in his mind. Come prepared. The dial tone kicked in, and he hung up.
Jesus. He was sitting in the middle of the bullpen with a hard-on. Suddenly, he didn't feel so in control.
***
Nita resisted the urge to pull her compact out of her purse and check her lipstick. It was perfect when she'd applied it, and it was still perfect. For what she'd paid for it, it wouldn't dare smudge. And dammit, she looked good in her new DKNY tank dress, cute denim jacket and with calf-hugging leather boots. Hot without being too over-the-top, man-hunting slutty.
Or was it? Maybe the boots were too much.
Argh! Stupid to be nervous. It would be better when he actually got here.
Not that he was late. She'd come early to get away from her silent apartment, hoping that the buzz of conversation and the discreet bustle of the wait staff would distract her. Plus she'd wanted to be in place first to establish some kind of … what? — ownership? — control? … of this piece of recklessness she was about to embark on.
Drink. Now.
She picked up her wine, but instead of gulping it nervously, she forced herself to slow down and appreciate it. She swirled it in its glass, admiring its legginess a moment before inhaling its bouquet. Lovely. She'd bypassed the subtle sophistication of her usual French favorite and picked a lively Australian Shiraz. Lush and peppery, it was perfect for her mood. She took a sip, savoring the dominant blackberry flavor and the feel of the tannins in her mouth.
"Am I late?"
Dammit. She'd wanted to see his entrance, watch him cross the room. She glanced up and smiled. "Not at all." Their gazes collided, and her pulse leapt like she'd touched a live wire. Oh, Christmas! What had she invited? He was so big, so raw, so masculine. "Have a seat."
He did, and the hovering waiter moved in on him immediately. He glanced at her wine, then ordered a beer.
"You look beautiful," he said when the waiter left. The frank appreciation in his ridiculously blue eyes echoed the sentiment.
"Thank you." She inclined her head in acknowledgement. "You look pretty good yourself."
That was the understatement of the year. Their previous encounters had pretty much been confined to the courtroom or the stationhouse, so she knew he cut an imposing, if slightly incongruous, figure in a suit. But tonight he wore a tan-colored ultrasuede sport coat over an oatmeal colored sweater with a very fine looking pair of denims in a shade of blue almost as piercing as his eyes. Her hands itched already for the tactile sensation of those fabrics. And as for what lay beneath….
She didn't realize how hungrily she was staring until her eyes completed the journey up his chest, past his strong neck to the brutally hard planes of his face and met his gaze. Oh, yikes!
"Are you hungry?" she asked.
He lifted an eyebrow. "For what's on the menu, you mean?"
"Yes."
"Depends. Is there something else on offer?"
She felt a blush climbing her neck, but held his gaze. "Most definitely."
He stood abruptly, jarring the table and nearly toppling her wine. Flagging down a passing waiter, he said, "The lady's not feeling well." He pulled out his wallet and pressed some bills into the waiter's hand. "For the drinks."
She stood and he was at her side instantly with a solicitous hand at her back. As they wended their way among the tables to the exit, she felt the burn of that touch through her clothes. Come to that, she felt his body heat reaching out to her. God, he was a blast furnace. She couldn't wait to get her hands on him.
"Your car or mine?" he asked when they hit the street.
"My place is just a few blocks away. Why don't we walk it?"
"Okay, but first I have to do this." He pulled her into the alley between the restaurant and the art gallery next door, pushed her up against the cool brick of the building and kissed her.
It was not a searching, tentative kiss. It was urgent and fiercely demanding, as were the hands that skimmed down her shoulders to her hips. Her blood leapt in response, and she met his mouth with demands of her own. Her hands found their way under his jacket, then under his sweater. His skin was just as hot as she knew it would be, but the muscle beneath was so much more solid than she'd imagined. Like no man she'd ever touched.
She slid her arms around him, and he made an approving sound against her mouth. And when she slid her hands down to test his butt through the denim of his jeans, he surged against her thrillingly, once. Then he pulled back, the cool of the August evening replacing his warmth.
"Baby, we gotta get this off the streets. C'mon." He tugged her back onto the sidewalk and wrapped one arm around her shoulders. "Lead the way."
Needing Nita, a 15,000 word novella, is free on all platforms. Please help yourself at the online bookstore of your choice.
Excerpt from
Protecting Paige
Book 3 in the Serve and Protect Series
by
Norah Wilson
Copyright © 2010 Norah Wilson
Published by Norah Wilson
All rights reserved.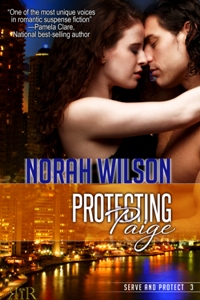 Prologue
Derek Weaver ran a hand across his shaved head as he waited for the weekly call. His hand came away wet.
His eyes darted to the clock on the wall of his Union Street apartment — the nicest address he'd managed since being released from prison two years ago — then back to the silent satellite phone lying on the coffee table. He wished he could spark up another doobie, but the Big Guy would hear it in his voice. Bastard knew everything.
Cursing, he wiped away a fresh sheen of sweat before it could trickle down his face.
The phone rang. He lunged for it.
"Hello."
"Good evening, Mr. Weaver. I trust you have a promising report for me?"
The Big Guy was always polite. Formal, even. But Derek was no fool. He'd never met his boss, but he recognized the ruthlessness which underlay those soft, foreign-accented tones.
Derek closed his eyes. "I lost him."
A chilling pause.
"I think perhaps you'd better explain."
"He won't do it."
"Ah, but that's where you are wrong, my young friend."
"But he's a straight arrow, sir. I'm not making a lotta headway with the usual tools." Again, Derek cursed his luck. Trust him to run up against the only 18-year-old in the western world who wasn't eager to be seduced with mega-doses of sex, drugs and rock-n-roll.
"Of course he's of sterling character. If just anyone could do the job, I'd simply have you do it."
"But I can't cross the border. Even if I could hide my convictions, they'd take one look at me and tear my car apart  —"
"Precisely. Which is why you'll have to bring our young man around to our way of thinking."
"But I told you, he ain't having no part of it."
"Then you'll just have to adopt new tactics, won't you?"
"New tactics?" Distaste, the kind he'd thought he was long past feeling, rose in his throat like bile. "What kind of tactics?"
"Why, whatever tactics are required, of course. We have just three weeks left and no time to recruit a new candidate of such impeccable quality. There must be no — how do you say? — foul-ups. Are we clear, Mr. Weaver?"
Derek dug the fingers of his free hand into his knee. Hard. "Perfectly, sir."
The line went dead. Derek closed the phone and hurled it to the other end of the sofa. Goddamn raghead! Piece-of-shit camel-jockey. By the time he exhausted his considerable lexicon of derogatory insults, his rage had passed and fear seeped in to take its place.
Shit. How'd he get himself into this mess?
He should run, dammit, and to hell with the mysterious boss he'd never laid eyes on.
But what would he do if he gave up this gig? All he knew was crime, and with his record, if he made one more appearance before Her Majesty, the judge would lock him up for a good long stretch. And Derek had good reason to want to avoid prison. Several of them, in fact. He'd gotten on the bus, sold out some cell-mates to shorten and sweeten his own stint. If he got sent up again, he just might find himself bunking down with a roommate who'd stick him with the sharpened point of a toothbrush first chance he got.
No, he couldn't give this job up. It was his ticket out of here. All he had to do was stick to it long enough to see the big payday, then he could clear the hell out of town. Get right out of the country.
But how was he going to secure the kid's cooperation?
He reached for the fattest of the joints lined up like little soldiers on the table's glass surface. The answer would come to him. And if it didn't, at least he'd be too stoned to be as scared as he knew he should be.
Chapter 1
Constable Tommy Godsoe's blood sang.
His breath rasped harshly in his ears as he pelted along the concrete sidewalk, but he wasn't winded. Not yet. Not even close. Max, the four-year-old Belgian Malinois straining at the business end of the thirty-foot lead, lent Tommy extra speed. Even now, backup was falling further and further behind, but Tommy couldn't check Max's momentum or the dog would think he was being corrected.
Suddenly, at the mouth of an alleyway, Max slowed. Without conscious thought, Tommy took up the slack in the lead even as he studied the dog nosing the asphalt. The dog wheeled in a tight semi-circle, then turned away from the alley and shot off again down the sidewalk. Tommy fixed the location in his mind. Max had eliminated the alleyway as a direction of travel. Always had to remember the last negative sign. If they lost the trail further on up ahead, they could come back to this spot, so Max could pick up the scent again.
At the next alleyway, Max did the same check, but this time he bounded off down the narrow passageway. Tommy raced after him, his heart rate kicking up another notch.
Fence!
Max cleared it in one leap, and Tommy vaulted over it right behind him. Over the sound of his own breathing, he heard backup in the mouth of the alley now. Good. No need to radio his location. He could save his breath for —
Ding-dong.
What the hell?
Tommy jerked awake, struggling up into a sitting position. The sheets, cool with sweat, pooled in his lap, and his heart pounded against his ribs as though he'd run a marathon.
Ah, Jesus wept. A dream. It was just a dream. He wasn't a cop anymore. He wasn't a dog handler. Bitterness, familiar as the pain in his hip, curdled his stomach.
A light tapping at his door.
"All right, all right, keep your shirt on."
Throwing off the sheet, he swung his legs gingerly over the edge of the bed. He thought about scooping up the blue sweat pants from the floor and hauling them on over his boxers, but another peal of the doorbell dissuaded him. Grabbing his cane, he lurched to his feet and hobbled toward the living room, grimacing with every step.
Ding-dong.
Cripes, that's what his doorbell sounded like? Something from a 50s Avon commercial? He'd lived here four years and couldn't remember ever hearing his own doorbell. No doubt the 'Beware of Dog' sign had something to do with that. He and Max never stayed indoors when they could be outside, and they sure as hell never waited around for life to come to them.
Until now.
The doorbell sounded again, and he wished he still had his service weapon. He'd happily put a round into that little speaker by the front door.
Reaching the door at last, he tore it open. "What?"
***
Paige Harmer took an instinctive step backward.
When she'd moved into this duplex last month, the other side had been vacant. The landlady'd said its occupant was in hospital recovering from surgery. But even after her neighbor had come home nearly two weeks ago, the unit next door had been unnaturally quiet. No visitors came or went, and no music thrummed through those walls. If it weren't for the small bag of garbage that materialized at the curb beside hers every Tuesday morning, and the occasional muted sound of a television deep in the night, she'd have sworn the other apartment was deserted. Now, her neighbor stood framed in the doorway, wearing a pair of white boxers and a thunderous expression.
And oh, Christmas, he was most gorgeous thing she'd clapped eyes on in years, outside of a Calvin Klein ad.
Despite their current storminess, his eyes were blue as the July sky. Black hair, a startling contrast to his pale complexion, stood up in all directions, all the sexier for its dishevelment. Thick, black eyebrows slanted over those killer eyes. More dark hair crowned his chest in a liberal thatch, tapering to a thin line that arrowed out of sight beneath his boxers.
Runner, she thought. Endurance athlete. Just a hair over average height, with a leanness that shaded toward too thin. Yet the conformation of arms and chest disclosed enough wiry muscle to give the impression of power.
"Can I help you?"
Mister, if you can't, there's no help for me.
The thought barely had a chance to form before her internal censor roared to life. He was way too young for her to be ogling, for goodness sake. Hardly much older than Dillon, by the look of him.
There, that did it. Though he was clearly nowhere near as young as her son, the mental association was enough to clamp a firm leash on her imagination.
Unfortunately, the extra seconds it took to channel her thoughts in more pure directions didn't go unnoticed. One thick eyebrow arched inquiringly, reminding her she hadn't yet stated her purpose.
She felt a flush begin to climb her neck. No chance he'd miss that, either. Her skin was almost translucent, at least the stuff between the freckles. She lifted the foil-wrapped plate she held. "I thought you might like some dinner."
He looked at the plate. "Thanks, but I'm not a big eater."
"I can see that," she said, injecting her tone with the same censorious note she might use with her son when he ignored his body's nutritional needs. He shifted, and she finally noticed the cane, which he appeared to be leaning on pretty heavily. "Don't worry. It'll freeze nicely if you can't handle it all right now."
"Look, lady, that's real nice of you, but  —"
"I'll just put it in the refrigerator for you, shall I?"
She angled sideways and slipped right past him before he could finish brushing her off. No way was she going back to her lonely unit to worry about Dillon. Not tonight.
"That way, I presume?" She indicated the direction the kitchen must be, if the place were laid out in the mirror image of hers.
"Uh … yeah."
Seconds later, Paige stood in front of a white dinosaur of a refrigerator, a twin to the one that rattled and hummed in her own kitchen, right beside the commercial refrigeration unit she'd installed for her business. That's where the similarity ended, she discovered, as she opened the refrigerator's door.
Five bottles of beer, domestic. Some Chinese takeout cartons that bulged ominously as though approaching an explosive state. A drying chunk of cheddar cheese, circa 2008. A few bottles of condiments. No eggs, no dairy, no vegetables, no fruit.
Hearing him arrive at the kitchen door — the thumping of the cane on the linoleum-covered floor announced his progress — she glanced over at him.
"Is this the part where you tell me you're really one of the undead and have no need of sustenance beyond human blood?"
He didn't smile. If anything, he scowled more fiercely. "I've been meaning to get to the grocery store."
"It must be hard."
He followed the drift of her gaze. She could tell by the way his hand tightened on the cane's handle.
His jaw hardened even further, if possible. "I manage."
"Are you hungry? The food's still hot." She waggled the foil-wrapped plate temptingly. "Stuffed pork chops with mashed potatoes, glazed carrots and gingered parsnips."
"It's okay," he said, after a split-second hesitation. "You can just put it in the fridge."
Fat chance. She'd caught the fleeting look of indecision in his eye as she'd described what was under the foil. He was hungry, all right. "Aw, come on, sit down and eat. I need the distraction."
Those cigar-thick eyebrows soared. "You want to stay and watch me eat?"
"Relax, fella. Nothing kinky. I just don't want to go back over there yet. I've done two loads of laundry, vacuumed the carpet within an inch of its life, baked three cheese cakes and seven pies. I have nowhere to put any more baking and nothing left to clean. So if I go home now, I've got nothing left to do but worry about Dillon."
"Who's Dillon?"
Ah! A question. And she hadn't even dragged it out of him. That was an improvement. "My son."
"Where is he?"
She blew out her breath, lifting a strand of auburn hair off her face. "If I knew that, I wouldn't be worried, would I? Or maybe I would, at that," she amended, thinking about the hard-looking young man Dillon had been hanging with lately.
"He's missing?"
The sharpness of his tone drew her glance to his face. His eyebrows were drawn together again in a frown.
She shrugged. "He's seventeen, almost eighteen. I can hardly describe him as missing every time he slams out of the house in a foul mood."
That surprised him. She could see him doing the mental arithmetic, calculating her minimum age. That's right, son. Old enough to be your mother, even if I don't look it.
Okay, that was an exaggeration. A huge exaggeration. But older than him by quite a few years, she'd wager.
"Sit." She pulled a tea towel off the oven door handle where it had been hung to dry after its last use and flopped it on the table as an impromptu place mat, then plunked the plate down on it. "I nuked the ceramic plate before dishing up the food so it would stay nice and warm."
"I don't even know your name."
Way to go, Paige. Barge in and take over the man's life without an introduction.
"Sorry." She wiped her right hand on her jeans and extended it. "Paige Harmer. Your new neighbor."
She regretted her gesture immediately, as he had to lurch forward to grasp her hand. He didn't grimace, but she could feel the tension in his grip. Pain.
"Tom Godsoe."
"I know." At his enquiring look, she hastened to add, "Mrs. Graham mentioned your name."
Paige had been impressed at how close-mouthed her landlady had been about her tenant's private life. As a prospective new tenant, all Paige had needed to know was that her neighbor wasn't a creepazoid. She'd found her landlady's discretion commendable at the time, but now she couldn't help but wish the other woman had been a little less discreet. For instance, what did Tom Godsoe do for a living? How had he sustained the injury that made crossing a room the grueling ordeal it appeared to be?
"Okay," he said at last, "if I'm going to have an audience, I think I'd better get dressed."
Not on my account.
Before something like that escaped her mouth, she averted her eyes from those square shoulders and lightly-muscled expanse of chest. "Take your time. I think I spotted some coffee beans and a grinder. I'll just brew us a pot of java."
"Be my guest," he drawled, then turned and thumped away.
A smile tugging at her lips, Paige reached for the gourmet coffee beans.
***
A film of perspiration slicked Tommy's brow before he'd made it halfway to his bedroom. Damned useless leg. He paused by the couch and leaned on the back of the hulking piece of furniture for a few seconds. Gritting his teeth against the white-hot shards of pain he knew would explode in his hip and lower back with each step, he resumed the trek to the bedroom.
Why hadn't he given that crazy, wild-haired woman the boot? He wasn't that hungry. He still had waffles in the freezer, and dry Fruit Loops were a perfectly adequate source of nutrition.
Yeah, right. The hospital food he'd subsisted on for so long was better than anything he had left in the cupboards. A pork chop and actual vegetables sounded like heaven. He only hoped the price of dinner wouldn't be too high. She had the look of a hard customer to move along, if she wasn't of a mind to go.
Of course, she'd never experienced Tommy's post-injury brand of hospitality. He'd managed to chase off friends and fellow officers — no, make that ex fellow officers — even before he'd checked out early from the rehab center. Getting rid of one slip of a woman shouldn't be too hard.
When he reached his bedroom, he sank down on the edge of the bed and cursed his trembling leg. Weak as a damn baby. It took another few minutes to drag the sweat pants on. By the time he'd located a t-shirt and pulled it over his head, his whole body was slicked with sweat. Pitiful. Completely done in by a twenty-foot walk.
He grabbed the pill bottle off the night stand, dumped two tablets into his palm and dry-swallowed them. His hip was gonna kill him tonight, for all this activity. Already, he pictured himself lying on the mattress in the dead of night, going quietly crazy while the pain radiated down to the soles of his feet.
Kitchen, he reminded himself. If he was going to sell his soul, or at least his privacy, for a home-cooked meal, he'd better get there before the food fossilized on the plate.
By the time he made it back to the kitchen, the crazy woman — Paige? — not only had a pot of coffee brewed, but she'd cleaned out his refrigerator as evidenced by the armload of inedible stuff she was dumping in the garbage can when he hobbled in.
She glanced up at him. "I hope you weren't too attached to any of that stuff."
"You cleaned my refrigerator?"
She grinned. "Couple more days, that stuff would have walked off on its own, anyway."
As he lowered himself onto a chair, a laborious proposition in itself, she washed her hands under the tap and dried them on a clean towel she must have found in a drawer. Then she zoomed in on him again, removed the foil covering from his meal and rotated the plate so the meat was within easy reach. The delicious aroma that rose up from the hot meal was almost enough to take the edge off his irritation at her hovering solicitousness.
Almost.
"I swear to God, if you pick up those utensils to cut my meat for me, I won't be responsible for my actions."
She started at his tone, and although she didn't evacuate the physical space she occupied by his left shoulder, he felt her take a mental step backward. And she looked at him, really looked, which she'd managed not to do since she'd inventoried him in the doorway earlier. He met her gaze, keeping his expression flat. Best way to discourage sympathy, he'd found.
"I'm sorry," she said.
He picked up his fork. "If I detect the merest whiff of pity from you, you'll be taking that coffee to go, good deeds notwithstanding. Understood?"
"Pity?"
She blinked at him in what appeared to be genuine disbelief. Her eyes were green, he noticed. Not the improbable green of those tinted contacts women wore, but a soft, mossy green.
"Mr. Godsoe, I assure you it hadn't occurred to me to pity you. It was just the mother in me coming out."
He stabbed a parsnip. "I don't need a mother."
"That's going around, I guess. Neither does Dillon."
She turned away to grab a mug, but not before he caught a glimpse of the worry lines creasing her forehead.
He went back to eating as she fixed her coffee. By the time she plunked down opposite him at the small pedestal table, her brow was smooth once more. He'd also devoured half the pork chop.
"This is wonderful," he said around his food. "Where'd you learn to cook like this?"
"My fourth and final foster home. I finally figured out you had to bring value-added if you wanted to stay put."
His question had been rhetorical; he certainly hadn't expected an answer, let alone one like that. With her wide, inviting face, freckled complexion and burnished hair, she looked like apple pie and picket fences, not the product of an underfunded and overburdened child protection system.
Dammit. It was no concern of his who she was and where she came from. He had more than enough of his own problems to worry about. Instead of uttering one of the half-dozen questions that sprang to mind, he nodded and went back to his meal.
"Actually, I make my living cooking," she said. "Desserts, specifically, for some of the nicer restaurants around town. Cheesecakes, pies, flans, tarts, you name it. Speaking of which, would you like a piece of lemon meringue pie? I could run home and get you one."
Homemade lemon pie sounded great, but he wouldn't send her out for it. "No, this is good."
"Coffee?"
He felt her gaze on him as he used the last morsel of meat to mop up any lingering traces of juice from his plate.
"Please." God, it felt good to have a hot meal inside him. He could almost forget the insistent throb of pain that was his constant companion.
Once again, almost.
She put a mug of steaming black coffee before him, along with a half-pint of cream and the bowl of lumpy sugar she must have found in his cupboard.
He shot her a look. "Where'd the cream come from?"
"I ran home and got it while you were changing. Eggs, too, and whole-wheat bread. Some dry cereal. A couple of bananas. Wish I'd thought of the pie."
It was his turn to blink in disbelief. Until twenty minutes ago, he'd never laid eyes on her. Since then, she'd pushed her way into his home, fed him, cleaned his kitchen and done her level best to restock his cupboards.
"Okay, this must be the part where you smile disarmingly and tell me you're some kind of Pacific Heights-type psycho and I'm never gonna get you to leave."
A smile lifted the corner of her lips, making a dimple flash on the right side of her mouth. "I guess this wouldn't be the time to confess that I really loved Michael Keaton's tenant-from-hell character in that movie?"
Irritated with himself for noticing her mouth, he grated, "Dammit, I told you, I don't want your pity, or your groceries. I let you in the door, and now you're making yourself at home, digging through my cupboards —"
"Look, Tom — can I call you Tom? Tommy?" Without bothering to wait for a reply, she forged on. "I can see you don't get around very well, whereas I do. Your cupboards were bare. Mine aren't. No biggie. Heck, you can replace the groceries, if you feel that strongly about it."
He scowled at her reasonable tone. "I just don't want anyone feeling sorry for me. I'm doing fine, dammit."
"I didn't mean to imply you weren't." Her green eyes narrowed. "Do you have some tragic story I should know about?"
"Hardly." He said it without hesitation, and just to prove how tragedy-free he was feeling, he lifted his coffee cup to his lips and took a sip.
"Good, because now wouldn't be a good time to talk about it. It'd just ruin your digestion. Let's talk about me instead."
He choked on his coffee.
She turned those big eyes on him. "What? I thought we'd established you don't want to talk about your accident or your surgery or whatever, so why not me? Or my suddenly difficult son."
Why talk at all? He could plead a bone-deep agony in his hip and leg, which would be no lie. The pain pills hadn't kicked in yet. Then he remembered the look on her face when she'd first mentioned her son.
"Dillon, right?"
She brightened. "Yes, Dillon."
"What's his problem?"
She shrugged, but it wasn't the same nonchalant gesture she'd displayed before. This shrug spoke of helplessness.
"I wish I knew. We used to be really close, but now … his moods are so … changeable."
"He's eighteen."
"Not for another couple of weeks."
"My point is, being surly and uncommunicative is par for the course."
"I know. But he's always been such a sweet kid."
He watched her absently stroke her coffee mug. "Boys grow up."
She shook her head. "That's part of it, for sure. Maybe even the biggest part of it," she allowed. "But he really didn't want to make this move, or at least not as fast as we did. Consciously or not, he's punishing me for disrupting our lives." She chewed the inside of her lip a moment. "Maybe I should have postponed the move. But I'd already held off until he finished high school, and he'd have had to move somewhere in the fall anyway, for university, so I figured why not here, right?"
He realized she was looking at him as though she expected some kind of reaction. "UNB's a good school. He'll like it."
She looked down into the depths of her coffee mug again. "Besides, I'd won a major contract that pretty much required me to relocate here. Not that he had to pick this university just because I was coming here. He'd been accepted by three different schools, and we could have stretched the budget to pay for residence, but this one really does have the best computer science program."
What was he supposed to say? "I've heard very good things about it."
"I know it was a wrench to leave his friends so soon after graduation, but I figured he could use the time to get to know the city, make a few friends here."
Man, she'd obviously been over this ground a few times, rationalizing, regretting, second-guessing. He knew all about that. "His father around?"
Another shake of the head. "Not since Dillon was little."
"Maybe he needs to connect with his dad."
As soon as the words were out of his mouth, he recognized that he'd slipped into problem-solving mode. Dammit, he wasn't a cop anymore. And he sure as hell wasn't a social worker.
"That's not in the cards."
He pushed back his own too-raw emotions. She clearly needed to talk to someone, and he'd been elected. What had she said? Oh, yeah. The kid's dad was out of the picture. "Dead? Dillon's father, I mean."
"Deadbeat," she corrected, lifting her gaze from her mug.
"What about Big Brothers?" He found himself looking away. "It's a good program. A lot of kids from single-parent families benefit from the influence of a male role —"
She held up a hand to stop him. "You're preaching to the converted, here. We were in the program for four years, until Dillon's Big Brother moved to Halifax. Now, he thinks he's too old for that kind of stuff."
Tommy gingerly shifted in his chair. "Again, he's nearly eighteen. It's natural for him to look to his peers rather than an adult."
"I think he found something else to fill the void."
Of course. "Girl, eh?"
She grimaced. "I wish."
Whoops. "I see."
"Oh, no! It's not like that. Dillon dates girls. There's just no one special."
"You know, a lot of mothers might be glad there was no one special. I seem to remember my mother getting uneasy when I was that age and stuck on a girl."
That drew a weak smile from her.
"Afraid one of those sweet young things was going to whisk her son off to the altar, was she?"
Shotgun marriage? There'd never been much chance of that. Not that an accidental pregnancy had been out of the question. He'd just been far too immature and self-involved for marriage, as had the girls he'd run with. His father would have just pulled out his checkbook. Of course, his father also would have given him a hearty thump on the back as though he'd finally done something praiseworthy. Well, at least this proves you're not a queer.
"Something like that," he muttered, taking a sip of his coffee. Lord, even her coffee was incredible. "So, if it's not a girl, he must be hanging with a bad crowd."
Her hand tightened on the handle of her mug. "Bingo."
"It's probably not that bad," he offered. "Kids that age talk a good line of trash, but they're not nearly as bad as they'd have the world believe. I've seen 'em fold pretty quick when —" Damn. Talking like a cop again. "What I mean is, it's usually just posturing. He'll grow out of it."
She slanted him a look. "You don't have kids, do you?"
"No, I don't."
"Adults." She sighed and pushed back in her chair.
"Huh?"
"He's hanging around with adults. I only got a good look at one of them. He was relatively young, I suppose, but still a lot older than Dillon. Mid-twenties, probably, and way, way harder than my son, from the look of him."
Tommy frowned. That kind of age differential usually spelled bad news. He could too easily picture unscrupulous adults feeding a troubled kid's ego and thirst for attention until the kid was ripe for exploitation. Drug-dealing, auto theft, pornography, prostitution…. All the ugly possibilities flashed through his mind.
"And you think they're up to … what?"
"No good," she said darkly. "Although since I haven't had an actual conversation with any of these men, I have to admit I'm basing that judgment entirely on prejudice and stereotypes. Which makes me feel like a total hypocrite, since it's exactly the kind of thing I've tried to teach Dillon not to do."
"Let me guess — shaved heads, baggy pants, shirts buttoned at the neck and open at the bottom, tattoos?"
"Not to mention the cold eyes. Oh, yes, and the chopped pick-up with the tinted windows, and the kind of stereo that sets off minor earthquakes with the bass notes when it drives by."
The cynic in him said she'd probably nailed the demographic accurately, but he stayed silent.
"So?" She looked at him expectantly.
"So, what?" He shifted again, just a few millimeters, to ease the ache in his leg. The relief was exquisite. Unfortunately, it lasted about a tenth of a second, then started throbbing again.
"So, are you going to pat me on the head and tell me I'm being a paranoid, over-protective mother?"
"No," he said. "No, I won't do that."
She sagged. "Damn. I was hoping you would. Hoping even harder that you could make me believe it."
"Sorry."
Their gazes locked for a few seconds, and Tommy felt an unexpected surge of sexual awareness rocket through him.
His first reaction was relief; he'd begun to think of his libido as KIA. Then the inappropriateness struck him. This was a distraught woman, a worried mother. A mother whose son, technically speaking, was old enough to make her a grandmother.
She jumped up and carried her cup to the sink, where she rinsed it and set it on the draining board. "Look," she said, turning back to him. "I can see you're in pain. You probably need to lie down or something. I'll get out of your hair."
"The leg's gonna hurt no matter what. You don't have to rush off, if you don't want to."
Christ, was that him talking? Had he just invited the original Velcro woman to stay?
Her green gaze caught and held his again. "Really?"
"Really," he heard himself say. Oh, Lord, he must have taken too many of those pain pills.
"That's very generous of you, especially after I pushed my way in here."
"You did feed me."
She tilted her head in an attitude of listening. "Looks like you're off the hook. That must be Dillon now."
He heard it too, the sound of a car's engine. At the end of this cul-de-sac, just barely inside the city limits, they didn't get much drive-by traffic. Good. The kid was home where he belonged, and now he could have his solitude back.
"Thanks for holding my hand," she said, turning to pick up her plate. "No offense, but I hope it'll be the last time."
The latter was delivered with a wide smile, but he could see the tension and worry beneath it.
"Look, do you want me to talk to him or something?"
Oh, hell, where had that come from? She looked just as stunned by the offer as he was about making it.
"Thanks, but I don't think so. I know my son. If I just spring you on him, it'll be worse than if I just leave it alone."
"Well, if you change your mind…."
She smiled at him again, and he was struck once more by a pang of desire, this one even stronger than the last.
"Thanks, Tommy."
She let herself out, and the sound of the door closing echoed behind her. For a split second, her absence felt like a hollowness, in his house and in his chest.
Damned lust. Now that the relief had passed, he almost wished he'd stayed dead that way. Didn't he have enough aches without adding another?
Pulling himself to his feet, mainly by dint of his upper-body strength, he picked up his cane and clumped toward the bedroom. He'd almost reached his customary resting spot by the sofa when he heard the scream, shrill, female and clearly terrified.
Paige.
Adrenaline ripped through his system like a shot of juice from a live electrical wire. He covered the distance to the door in a flash, with no sensation of pain. Endorphins. He'd pay for it later. Tearing the door open, he lurched out onto the step.
"Paige?"
***
A hand still clamped to her mouth to stifle the scream she'd been unable to suppress, she swiveled her head toward Tommy's voice. He stood on the steps outside his unit, looking like he was ready, willing and able to use his cane as a weapon, if need be.
"What it is? What's the matter?"
She pointed to her doorstep.
"Jesus. What's that?"
"I don't know." Her stomach did a sick little flip, but her voice was surprisingly steady. "But it's dead and it seems to be minus its fur."
He swore, then hobbled a few feet closer. "I take it that the car we heard wasn't Dillon coming home?"
"Dillon's car's not home," she replied, choosing her words carefully. These days, she couldn't rule out anything where her son was concerned, even his participation in something as ugly as this. He'd closed himself off so completely from her. Not that she thought he'd lead something as gruesome as this, but he might go along for the ride, especially if he didn't know in advance what the plan was.
"You're welcome to call it in from my place," he said, gesturing toward his unit. "Phone's on the wall just inside the kitchen."
Call the police? Without talking to Dillon?
"Ah, that's okay." She took a step backward, closer to her own doorstep. "Thanks for the offer, but I think I'll just deal with this myself."
"You're making a mistake, Paige."
His tone was quiet, without any detectable inflection, but it arrested her retreat in a way a forceful command might not have.
"What do you mean?"
"By not reporting this. You think you're protecting your son, but if his new friends did this, with or without his involvement, you'd do better to tackle it head on. He needs to know that his choices have repercussions."
He was right and she knew it, but it wasn't that simple. Dillon was her son. He was all she had, and getting further away from her every day. She didn't know how to guide him toward a better path without driving him to worse rebellion. Her frustration boiled up into anger.
"Who said I thought this has anything to do with Dillon?"
"So, you think it was what? Random sicko? Or maybe a customer who didn't like your Tiramisu?"
She glared at him. "There's no need for sarcasm."
He sighed. "Okay, let's say it has nothing to do with your son. All the more reason to call the cops right now. They might be able to get impressions from the car's tires. Presuming somebody carried it to your doorstep, there could be footprint evidence. But that stuff is transitory. You have to act fast."
She snorted. "You sound like a cop."
"That's because I am."
Oh, shit.
Buy Protecting Paige here:
Amazon US | Amazon UK | Amazon CA
Apple | B&N | Kobo | AllRomanceEbooks  |  Smashwords
Excerpt from
Saving Grace
Book 2 in the Serve and Protect Series
by
Norah Wilson
Copyright © 2010 Norah Wilson
Published by Norah Wilson
All rights reserved.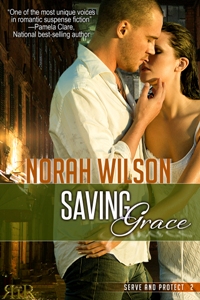 Chapter 1
Being drunk slowed Ray Morgan's reaction time. The telephone managed a full ring before he snatched the receiver.
"Grace?" To his own ears, his voice sounded like someone else's.
A second's silence, then a man's voice. "That you, Razor?"
Ray sagged back into the depths of the couch. John Quigley, from the station.
Not Grace after all. Never again Grace.
"Yeah, it's me." Ray dragged a hand over his face. "'Fraid I'm no good to you tonight, though, Quigg."
Another pause. "You okay, Ray?"
"Sure. Been keeping company with Jim Beam, is all." Ray's lips twisted at his own wit. Okay, so maybe he wasn't that witty, but it was either laugh or cry. "S'okay, though. I'm not catching tonight anyway. Hallett is."
"Just a sec, Ray."
Quigg must have covered the mouthpiece, because Ray could hear muffled conversation in the background.
"Okay, I'm back," Quigley said.
"I was sayin' to call Gord Hallett. He's your man tonight."
"I don't need a detective, Ray. I was looking for you."
"Huh? You're looking for me at, what…?" He squinted across the room at the glow of the VCR's digital clock. Grace's VCR. She hadn't slowed down long enough to take anything.
What had he been saying? Oh, yeah, the time. "…eleven o'clock at night?"
"It's Grace."
At the mention of his wife's name, Ray felt the hollowness in his gut open up again, wide and bottomless as ever. Guess the bourbon hadn't filled it after all.
Leave it to Grace to get stopped on her way out of town, in her red Mustang the boys in Patrol had come to know so well. Had she explained why her foot was so heavy tonight? His grip on the phone tightened. Had she told the uniform — a guy Ray would have to face every day for the next ten years — that she was rushing off to meet her lover and couldn't spare the horses?
Her lover.
"You got her downtown?" he asked evenly.
"Downtown? Hell, no. They took her to —"
"'Cause you can keep her. You hear me, Quigg? I don't care."
"Dammit, Ray, listen to me. She's been in an accident."
Ray shot to his feet, dragging the telephone off the table. It hit the floor with a crash, but the connection survived. "What happened?"
"She missed a bend on Route 7, rolled her vehicle."
He felt his stomach squeeze. "Is she hurt bad?"
"Hard to say. By the time I got there, they were already loading her into the bus. But she didn't look too bad, considering she rolled that puppy like the Marlboro man rolls a cigarette. Paramedic said he thought she might have lost consciousness for a bit, but she seemed pretty with-it to me."
Wait a minute, Quigg was off duty. Why'd they call Quigg?
Unless Grace was hurt so bad they thought his best friend should break the news.
Ray gripped the receiver so hard now his fingers hurt. "Why'd they call you?"
"Nobody called me. Suz and I were on our way home from visiting friends when we came on the scene. I stopped to see if our Mountie friends could use a hand. When I saw it was Grace, I offered to make the call."
Okay, relax, man. Breathe. Maybe it wasn't that bad. But she'd rolled the car.
Pressing a thumb and forefinger to his closed eyelids, he pushed back the images from every bad wreck he'd seen in his twelve years on the force.
"They taking her to the Regional?"
"She's probably there already."
"I'll be there in —" Ah, hell, the booze. Morgan, you idiot. "Quigg, I'm in no shape to drive. Can you send a car?"
"Way ahead of you, buddy. Stevie B will be there in about four minutes."
***
Four hours later, Ray sat across the desk from Dr. Lawrence Greenfield, the neurologist who'd just finished Grace's workup.
The six cups of coffee he'd downed had sobered him up, but his stomach lining felt like he'd been drinking battery acid.
"So she's going to be okay?" Ray had been through such a wild range of emotions in the five hours since Grace had dropped her bombshell, he didn't know how he felt about this news. Christ, he didn't even know how he was supposed to feel. He eyed the doctor, who looked way too young to be fooling around with anyone's grey matter. "She'll walk away with no real injury?"
"I wouldn't go that far. At least not yet. She did suffer a Grade Three concussion." Dr. Greenfield leaned forward in his chair, steepling his hands. "Brain injury is more of a process than an event, Detective. It can escalate over as much as seventy-two hours, so we'll have to wait and watch for the next little while. What I can tell you is she has no focal injury we can pinpoint with conventional imaging."
"Focal injury?"
"No concentrated damage in any one area. The scans were clean. On the other hand, any time a patient loses consciousness, we have to be suspicious."
"What do you mean, suspicious?"
"She could have a diffuse injury, where the pathology is spread throughout the brain, rather than focused in a specific spot. We'll have to follow her for a while to rule out more subtle brain injury."
Ray slouched back in his chair, kicking a leg out carelessly. "She's conscious now?"
"Yes. And anxious to see you."
Ray rubbed a hand over the back of his neck. "Then I think I'd go back and look at those scans again, Doc."
"I'm sorry?"
"She can't possibly want to see me." He congratulated himself on how matter-of-fact he sounded. "She left me tonight. She was on her way to join her lover when she had her accident."
Dr. Greenfield blinked. "She told me she was coming home from an interview with a man who raises miniature horses, and that you'd be worried that she was late."
The pony interview? "Doc, that interview was a week ago. The story ran on Monday."
"I see." Dr. Greenfield leaned back. "Well, this puts things in rather a different light."
"What are you saying?"
"I'm saying we could be looking at a retrograde amnesia."
Amnesia? Oh, Christ, he was in a bad novel now. "But you said she'd escaped injury."
"Amnesia can accompany any loss of consciousness, however brief, although I thought we'd ruled it out." Greenfield removed his glasses and polished them. "She identified the date and day."
"Couldn't she have picked that up from the EMTs or the hospital staff?"
"Absolutely. Amnesia victims can be very good at deducing such things from clues gleaned after the accident. But she correctly answered a whole host of other questions for me, including the results of Tuesday's municipal election."
Ray digested this information. "Is it possible she remembers some things, but not others?"
"Oh, yes. In fact, it's quite probable." Dr. Greenfield replaced his glasses. "Amnesia can leave holes in the memory, with no predicting where those holes will appear. The location of the gaps can be as random as the holes in Swiss cheese. In fact, we call it Swiss cheese memory."
Terrific. Freaking wonderful. "So she might remember the election results, but not the fact that she's taken a lover?"
"I suppose it's possible."
To his credit, Greenfield's gaze remained steady, but Ray could read his eyes. Faint embarrassment, carefully masked empathy for the cuckolded husband.
"Or she may not have forgotten Romeo at all, right, Doc?" he rasped. "Just the fact that she told me about him."
"That's also a possibility," the neurologist conceded. "Whatever the case, Detective, I can vouch for the fact that she seems genuinely anxious to see you. She's very much in need of some sympathy and support."
Ray made no comment, keeping his face carefully blank.
"I should add that new memories are especially vulnerable, since it takes a few days for your brain to move them into permanent memory." Dr. Greenfield hunched forward again. "Do you use a computer, Mr. Morgan?"
Ray struggled to follow. "Of course I do. Who doesn't?"
"Well, to make a very crude analogy, fresh events, whatever might have happened in the last couple of days, are to your brain what random access memory, or RAM, is to your computer. If the computer unexpectedly loses power before a bit of data gets stored on the hard drive, it's lost. You can boot up again, but whatever was in the RAM has been wiped out. Thus, with any loss of consciousness, it's possible to lose memories that were in transition."
Great. She'd probably forgotten she'd dumped him.
Ray stood. "Well, no time like the present, is there, Doc? Let's go see my darling wife."
Dr. Greenfield's eyes widened. "Surely you don't plan to tell her … I mean, you won't —"
"Won't what? Suggest she call her boyfriend so she can cry on his shoulder instead?" Ray drew himself up, growing in height and girth, and let his expression go flat in the way he knew inspired fear. Bad cop to badder cop. "Why shouldn't I? She chose him."
Dr. Greenfield looked singularly unintimidated, no doubt because he'd already seen the raw edge of Ray's anguish.
Damn you, Grace, how could you do this to me?
"The fact remains that she seems to need you right now. She's quite distraught. The last thing she needs is to be upset any further. If a diagnosis of retrograde amnesia is confirmed, I'd like to give her a chance to recover her memories on her own." Dr. Greenfield's intense gaze bored into Ray. "Can I have your cooperation on that point?"
Ray stared back at the doctor, unblinking. "I hear you, Doc. Now, take me to her."
***
Grace Morgan felt like a dog's breakfast.
Despite the painkillers the nurse had given her, everything she owned seemed to hurt, albeit in a distant way, and her head ached with a dull persistence. But she hadn't cried.
In fact, she seemed unable to cry. Instead of tears, there was just a hot, heavy misery in her chest. If only Ray would come. If he were here with her, she could cry rivers.
She'd cry for her beloved Mustang, shockingly crumpled now, a red husk of twisted metal they'd had to open like a sardine can. How had she come out of it alive?
She'd cry for her carelessness.
She'd cry for scaring Ray, and for scaring herself.
Ray. He would gather her close and soothe her while the pain seeped out, soaking his shirt. He would lend her his strength, his toughness. He'd kiss her so carefully and sweetly….
She could almost cry, just thinking about it. Almost.
Ray, where are you?
On cue, the door swung open to admit her husband. Her heart lightened at the sight of him, so strong, so solid. His shoulders seemed to fill even this institutional-size doorway.
If she felt bad, he looked worse. Haggard. And for the first time she could remember in the six years she'd known him, he looked positively rumpled, and his face was shadowed with stubble as though he'd missed his second shave of the day.
Poor pet. He must have been so worried.
"Ray." Her right arm hindered by IV lines, she reached across her body with her left arm. He took her hand, but there was something wrong. He looked … funny. Guarded. Wrong.
Oh, Lord, was she dying after all? Was her brain irrevocably damaged and nobody wanted to tell her? She could be hemorrhaging right now, her brain swelling out of control. Maybe that's why her head hurt. Maybe….
Then he touched her forehead, brushing aside the fringe of hair peeping out from under the bandage, his gentleness dispelling her crazy impression.
"You all right?"
She would be now. "Yeah, I'm all right. Unless you know something I don't."
That look was back on his face again. "What do you mean?"
"They didn't send you in here to tell me they mixed up the charts, by any chance? That my brain is Jell-O after all?"
He smiled, but it didn't reach his eyes. "No, your head is fine, as far as they can tell."
She drew his hand to her cheek, pressing it there with her own palm. Some of the pain abated. "That's what they told me, too, but you'd never know it from the way I feel."
"Do you remember what happened?"
She swallowed hard, her throat tight with the need to cry. "I rolled the Mustang."
"Like a cowboy's cigarette, to quote Quigg." Another ghost of a smile curved his lips. Lips he hadn't yet pressed to hers.
She smiled tremulously. "I guess I'm lucky, huh?"
"Very lucky."
The tears welled, scalding, ready to spill. "I really loved that car."
"Something tells me you could love another one."
Again that twisting of his lips. It wasn't humor that lit his eyes. What? A vague, formless anxiety rose in her breast.
"A newer model, with fewer miles on the odometer. Or maybe something faster, flashier."
She wasn't imagining things. His tone was … off. What was it she was hearing? Accusation? Grace blinked. "Are you very angry? About the car, I mean?"
He seemed to swallow with difficulty, and his hand tightened on her chin. "Grace, I don't give a damn about the car."
For the first time since he entered the room, she finally saw what she expected to see in his face. To hell with the car. You're okay. You're safe, his eyes said. Her sense of strangeness dissipated.
"I was so scared."
He pulled her into his arms. The dam broke and her tears spilled over at last.
***
They kept Grace overnight for observation.
Ray stayed, planting himself in the single chair by her bed. Once he dozed off, waking when the night nurse came in for yet another check. At eight o'clock, he left Grace to her breakfast and went down to the lobby to find a pay phone.
He was a fool, plain and simple. He knew it, but knowing didn't seem to help. He was going to take her home anyway.
Of course, it wasn't like he had a helluva lot of alternatives. He couldn't send her home to her mother, that frozen excuse for a human being, even supposing Elizabeth Dempsey would take her daughter in. Grace's father had died two years ago, completing the retreat from an imperious wife which Ray figured must have begun minutes after Grace's conception.
No, there was no place for Grace to go. Not in her current condition.
Ray dropped his quarter and punched in the number, kneading the tense muscles at the back of his neck as he waited for his Sergeant to answer. It was likely to be a short-lived arrangement anyway, having Grace back home. When she didn't show up for her rendezvous, no doubt lover boy would come looking —
"Quigley."
"Quigg, it's me."
"About time you checked in. How's it going?"
"Grace is good. Concussed and sore as hell, but okay."
"Yeah, I've been getting regular updates. But that's not what I meant."
Ray bit back a sigh. "Is this where I'm supposed to ask what you did mean?"
"Last night you were ready to let her rot in the lockup."
"What's wrong with that?" Pain shot up to the base of his skull, and Ray massaged his neck again. "Biggest favor I could do for the motoring public, with that lead foot of hers."
"Except you don't know how to be mean to Grace. Leastways, not before yesterday."
"Yeah, well." Ray rubbed at a scuff on the tiled floor with the toe of his Nikes. There was a pause at the other end of the line, no doubt so Quigg could digest that pithy comment.
"I think you should take some time off," Quigg said at last.
"That's actually why I'm calling. I'll need a day or so to get Grace settled."
"I was thinking more in terms of weeks."
"Weeks?" The idea of spending days at home with Grace as she recovered her mobility — and her memory — filled him with cold dread. Not that it would take long. Even if nature didn't cooperate, Grace's paramour was bound to show up to hurry the process. Ray had been counting on putting in long days on the job, both before and after Grace's veil of forgetfulness fell — or was ripped — away.
"I can't take time off. You'll be short-staffed."
"Not for long. Woods is three days away from rotating in."
"He'll need orientation…."
"He's been here before," Quigg said. "Couple of days, it'll be like he's never been gone."
"But what about Landis?"
"I'm pretty sure our small-town bad guy will be here when you get back."
"There's nothing small-town about that bastard, and you know it." Ray knew he was letting the simmering fury of his domestic disaster leech into his voice, but he didn't care. That puke Viktor Landis was a worthy target for it. "He's got his fingers into every dirty deal that goes down in this town."
"And some day you'll catch him at it, but not this week. And not next week." Quigg's agreeable tone turned hard. "Compassionate leave, Razor. Two weeks, starting now. The work'll be here when you get back. It's not going anywhere."
"But I only need a few days, not weeks."
"Take 'em anyway."
A definite command. Ray gripped the receiver tightly. Dammit, how could his friend do this to him? He needed to work.
"Get away from the station house," Quigg said, his voice softer now. "Spend some time with Grace. Chrissakes, Ray, you haven't taken a real break since your honeymoon."
Quigg's words stopped the retort on Ray's tongue. Had it been that long since he'd taken a vacation? He was passionate about his job, but four years? Why hadn't Grace said something?
"What do you say, buddy? You gonna take the time or do I have to suspend you?"
Before his promotion last year, Quigg had worked right alongside Ray in the detective bureau. Hell, he was the best friend Ray had in the world. But it wasn't going to make any difference here. Quigg meant business.
Ray put his hand on the phone's switch hook, ready to break the connection. "A week."
"Two." Another command. "And Ray? I know you're not in the market for unsolicited advice, but I'm gonna give you some anyway. Whatever you need to do to get straight with Grace, do it. She's a keeper."
"You're right."
"Of course I'm right. She's a good —"
"I meant about the unsolicited advice." With that, he replaced the receiver.
He stood staring at the telephone for a few minutes. Then, feeling like a man condemned, he turned on his heel and went in search of the doctor to see about Grace's discharge.
***
Six days later, Grace sat in her bedroom, battling tears.
Her headaches had receded, and her bruises were resolving nicely. The total body agony she'd come home with had faded to mere muscle pain, easily tamed by a couple of Ibuprofen. In fact, she had everything a recuperating patient could wish for.
Ray had taken time off to nurse her. He'd fixed her meals, bought her medication, ferried her to and from the doctor's office, and generally anticipated whatever she needed before she asked for it.
In those first days, he'd massaged her sore muscles and changed the bedding regularly. He'd helped her in and out of the bath until her soreness abated enough for her to manage by herself.
He rented videos for her, most of which they watched together.
He talked to her, too. Did she remember the bird-watching trip they'd taken to the Tantramar Marshes last year? The Christmas they spent in their first apartment, before they'd bought this house? He even pulled out the photo albums she'd lovingly constructed over the years, and which he'd largely ignored, and got her to narrate each snapshot.
Yes, her husband was the perfect companion.
And she was thoroughly, completely miserable.
Oh, he was the soul of kindness, but his kindness was platonic, his touch devoid of anything remotely sexual. Even with their heads bent together over the photo album, she hadn't managed to strike a spark off him. And she'd tried. Somewhere along the way, she seemed to have gained a care-giver and lost her lover. He even slept on the couch at night, claiming he didn't want to jar her sore body.
That last thought had her knuckling her eyes like a kid.
Oh, grow up. He just doesn't want to hurt you. It's up to you to show him you're better, that you're ready to be treated like a woman again, not an invalid.
Though she thought she'd been pretty eloquent on the subject last night when he'd given her the back rub she'd requested. Or at least as eloquent as she could be in a non-verbal way. She squirmed as she recalled the way she'd purred and stretched under his hands, but none of her signals had slowed his firm, clinical strokes or brought that fierce light to his brown eyes.
Why, oh why, couldn't he see how desperately she needed this connection with him, the reassurance of physical closeness?
She chewed at her lip. Maybe men really did need things spelled out. They were always complaining women expected them to read their mind. Maybe she had to be more direct about it.
Except he'd never had any trouble reading her body language before the accident. She'd never had to ask for that. The very idea made her face flame.
She'd come to Ray a shy virgin, and while he'd carefully and skillfully relieved her of that state, he'd seemed content for her to keep her demureness. More than content, she suspected. He'd grown up with a mother who prized ladylike decorum above all else. Grace grimaced, thinking how often her own nature fell short of that saintly mark, at least in thought if not in actual deed.
But in the five years they'd been married, Ray had never avoided their bed before. His disinterest had to stem from the accident, and his reaction to her injuries.
Her spirits revived as she warmed to the idea. Really, it made perfect sense. He'd always treated her gently, so careful not to frighten or hurt her. So much so that she sometimes wanted to scream. Obviously, he needed her to affirm her return to health more forcefully.
She'd do it, she decided. She'd do it tonight.
***
This was sheer, unmitigated hell.
Ray leaned against the cupboard as he waited for the kettle to boil. He'd been in some tight spots in his time. Hell, in the four years he'd put in on the Metropolitan Toronto force before coming to Fredericton, he'd seen some truly bad shit. But nothing had tested him quite like this.
Six days, and still she acted like everything was normal.
As far as he could tell, Grace's recall was perfect, except for the last day or two before the crash. Which meant she must remember the fact of her lover's existence. Much as he'd like to, he couldn't believe those random Swiss cheese 'memory holes' Dr. Greenfield alluded to could excise the bastard so neatly.
Clearly, though, she had no memory of telling him.
And equally clearly, she was in the mood for sex.
Sex.
The word brought down the cascade of visuals he alternately tortured himself with and ruthlessly suppressed. His wife, another man. Grace welcoming another man, opening her arms for him, parting her legs —
The shrill scream of the kettle dragged him back from the edge of madness. Cursing, he shut the burner off, forcing the images back into the dark place from which they'd escaped.
Back to the problem at hand. What to do about Grace's amorous urges? He threw two tea bags in the pot and added boiling water. He sure as hell wasn't going to oblige her. Thank God for that puritanical streak her mother had instilled in her. She wouldn't ask him to make love to her, at least not in so many words. As for her non-verbal invitations, he'd continue to let them sail over his head.
How long would it take for her memory to return? Greenfield had urged him not to force the matter, allowing Grace to remember by herself. But there was a limit to how much a man could take, a limit Ray feared he was rapidly approaching.
And where was this jerk? It'd been six days. What kind of man wouldn't come looking for a woman like Grace when she failed to show up?
The smart kind. The kind who fears the righteous wrath of a man who carries a gun for a living.
With a fierce oath, he drove the violent fantasy from his mind. Satisfying as it was, it was only fantasy. If Grace wanted to walk out that door with another man, he wouldn't detain her.
Grimly, he put the teapot on the tray, along with the weekly rag containing the story he knew she was going to hate. Willing his face blank, he lifted the tray and headed to the bedroom.
***
Where was he? She'd heard the kettle whistle minutes ago.
Grace lay on the bed pretending to read, wearing nothing but one of Ray's good white shirts.
Well, okay, Ray's shirt and a pair of bikini panties. She wasn't brave enough to dispense with that bit of covering. But it was literally a bit, a barely-there scrap of lace.
She flicked back her hair, lustrous from the oil treatment she'd used on it earlier. Smooth and touchable as silk, straight as a waterfall, it was her one vanity. She tossed it back again and drew one knee up, striving for a sexy pose.
Striving and failing. Shoot. She was far too jittery to pull this off. Ridiculous to get so twisted out of shape over the prospect of seducing her own husband. It's just that he'd been so … distant. While he accepted her touch, she sometimes got the soul-shriveling impression he had to fight himself not to shake her off. And he sure as heck hadn't initiated any touching of his own, at least nothing that wasn't related to her care. Now that she was so much better, he hardly touched her at all.
Oh, God, what if his distance sprang from more than concern about her injuries? What if he didn't want her? What if he found her efforts at seduction crass? What if he turned her down?
Grace pressed a hand to her stomach. It felt like she'd swallowed a dozen Mexican jumping beans, like the ones her father had given her when she was six. Jumping beans her mother had discarded with the trash despite Grace's protests that the caterpillars inside would perish before they could emerge as butterflies.
She groaned. Way to go, Gracie. When he comes in, you can be wearing that whipped puppy look you get when you think about Mama. That'd be real seductive.
No, she needed to think positive thoughts. She needed to show Ray she was a well woman. Strong. Lustful.
Very lustful.
Abandoning the magazine, she rolled onto her back. Closing her eyes, she imagined Ray approaching the bed, looking down at her with those smoldering, hooded eyes. He'd bend down to kiss her with exquisite delicacy, and his hand would go to her waist, careful not to rush her. Then, as she grew ardent beneath him, he'd lift his hands to her breasts.
Her breathing grew short. With one hand, she cupped a tingling breast, using her other hand to skim her thigh where the hem of Ray's shirt left off. Next, he'd slowly unbutton the shirt —
Something — not noise, for Ray always moved soundlessly as a cat — made her open her eyes. He stood in the doorway, a tray clutched in his hands, looking like he'd been turned to stone.
Which, I guess, would make me the Medusa head.
Grace shook the dismal thought away. At least she'd captured his attention. Even as a blush warmed her face, she drew herself up on her elbows.
"There you are." Her shallow respirations made her sound breathless as a schoolgirl, but she couldn't help it. "I was going to come looking for you in another minute."
Her words had the effect of unfreezing him. His movements jerky, he approached the bed, putting the tray down on the night table.
"I brought you the weekly paper." Keeping his eyes firmly fixed on the tray, he poured the tea. "You better read it."
Grace's shaky confidence took a plunge. He hadn't even spared her a sideways look after that first eyeful. To counter her flagging assurance, she reminded herself how much he loved seeing her in his shirts. He'd said so dozens of times, proved it dozens of times.
She took a deep breath, drew herself up on her knees. "I can think of things I want more than the Tribune," she said, running her index finger along his bare forearm.
Ray sloshed the tea he was pouring. With a muffled oath, he put the teapot down and snatched the newspaper up before it could become totally saturated. Grace shrank back as he shook droplets off the newspaper.
"Here," he said gruffly, thrusting the paper at her while he mopped the tea up with a napkin. "Front page, bottom right."
Her face burning, she took the paper, more as a physical shield to hide her humiliation than anything else, but the photo at the bottom of the page drew her eye. The sight of her crumpled Mustang, its roof peeled back grotesquely, struck her hard. Without warning, her mind lurched backward.
She was in her car, hurtling through the night, the road black, unwinding in her headlights like a shiny snake. Her hands gripped the wheel, and her heart was heavy with misery. Oncoming cars, their headlights brilliant blobs through the prism of her tears. Tires catching the graveled shoulder. That sick feeling when she started to lose it. Then … nothing.
"You okay?"
Grace lifted a hand to her head.
"It's not like you didn't expect this, right?" Ray swiped the bottom of her teacup with a cloth napkin and handed it to her. She accepted it automatically. "It's one thing for your own paper to give the story a pass, but you had to know this other rag would run with it."
She looked up at him, seeing black road, headlights. "My accident — what time was it?"
His gaze slid away. "Ten thirty. Ten forty-five."
Almost eleven o'clock! That couldn't be right. She'd been coming home from an interview with the horse guy. Garnet Soles.
The idea seemed somehow both right and wrong. She'd started home from that interview well before five o'clock. It just didn't add up. And what was she doing out that late?
"Ray, where was I going?"
He lifted his gaze to meet hers, his expression guarded. "I don't know."
She searched his face for long moments. He spoke the truth, she decided at last. But he also lied. If he didn't know where she was going, he most certainly knew why.
"I wasn't coming back from the horse interview."
She swallowed when he shook his head.
"I've forgotten something important, haven't I?"
He nodded.
"That's why Dr. Greenfield kept asking me those questions."
"Yes."
Her stomach took a plunge. That's why Ray had pored over the photo albums with her. Testing her memory, not reminiscing.
Ask him. Ask him why you were flying down that rain-wet highway after dark.
No! Whatever it was, she wasn't ready to hear it.
Something scalded her thigh. She looked down to find she'd spilled most of her tea on herself.
Ray swore, taking the china cup from her trembling hands.
"Your best shirt," she said.
He cursed. "It's my fault."
"It's the one I bought you for your birthday last year."
"Forget the shirt." He strode to the bathroom. She heard the splash of water, then he was back, wet cloth in hand.
"Egyptian cotton." She examined the brown splotch. She'd bought it at a men's luxury store, spending the better part of a paycheck on it. Ray appreciated a really fine shirt.
"Here, put this on your thigh."
Suddenly, it seemed imperative that she save the shirt. If she didn't deal with the stain immediately, it would set, and she couldn't use bleach on the fine fibers. "I'll wash it now."
Her fingers fumbled with the buttons, but he brushed her hands away.
"Forget the shirt, dammit. Just lie down and let me put this cold cloth on that burn."
She lay back. He was right; it was just a shirt.
Ray perched beside her on the edge of the bed and gently applied the cold cloth to the red flesh at the top of her thigh.
As he bent over his task, Grace studied his lean face, so infinitely dear to her. Deep grooves bracketed a sensual mouth, and sandy brown hair sprang back from a high, smooth forehead. His downcast lashes lay sooty against his dark skin, shielding warm brown eyes.
Oh, God, why did it feel like she was losing him? It made no sense. Nothing made sense.
He glanced up. "Better?"
"I'm scared."
A muscle leapt in his jaw and he lowered his gaze again. "It'll be okay," he said, his voice gruff as he flipped the cloth to the other, cooler side.
Would it really? Something terrifying loomed at the edge of memory, just beyond her grasp. Would it ever be okay again? A shudder racked her.
"Hold me, Ray." The words were out before she knew she was going to say them. His head came up again and she met his eyes, realizing with a shock that they were as pain-filled as hers must be. Her fear took another leap. "Please."
He groaned, pulling her into his arms. She pressed herself against him, seeking to obliterate the fear bleeding into her soul from that dark, shrouded corner in her mind. Love me, she begged silently, her hands roaming his back.
He crushed her against his chest, trapping her arms and burying her face against his neck. Oh, Lord, he was going to rock her like a baby. He planned to comfort her in that same sexless way he'd treated her all week.
No! She wouldn't let him do this. Her arms might be pinned by his embrace, but she still had options. She opened her mouth on his neck, tasting him with her lips and tongue.
"Grace."
Her name on his lips was a growl, a warning she was past heeding. She needed this, needed him. Wriggling on his lap, she inched higher, kissing the underside of his clenched jaw, inhaling the clean scent of the lemongrass soap he used.
"No, Grace." He grasped her upper arms. "Your leg."
"It's fine. I'm fine. I have been for days."
He eased her away, holding her at arm's length. A few days ago — shoot, maybe a few minutes ago — she'd have let him put her aside. But not now. She couldn't let him retreat to that place he'd been these past days.
She dipped her head as though giving up, and he slackened his grip. The instant he did, she leaned into him, using her full weight. Had he anticipated such a move, she never could have budged him, but as it was, she overbalanced him easily. The next instant she sprawled atop him. The look of astonishment on his face would have been funny, under other circumstances.
Oh, my God, I'm on top! What now?
Quickly, before he could recover his wits, or maybe before she recovered her own, she bent and kissed his slack mouth.
For a few heartbeats, he lay there, unresponsive. Fueled by equal parts of fear and need, she kissed him with renewed desperation. Then, just as she began to despair, she felt him catch fire beneath her. In a single heartbeat, he was right there with her. Trapping her head, tangling his fingers in her hair, he kissed her back.
Giddy, she slid her hands over him, glorying in the way he arched up into her. Could she take him like this, claim him as thoroughly as he'd claimed her so many times? The idea sent bolts of excitement zinging jaggedly along her nerve endings. Did she dare try?
Deciding she had nothing to lose, she broke the kiss and sat up so she could tackle his belt.
He groaned and pulled her back down. Wrapping an arm around her, he rolled her swiftly onto her back, pinning her beneath him. She wanted to protest, but then he was kissing her again, deep and hot and insistent, and she couldn't think of one single thing to complain about.
Besides, it was probably best this way. She needed him to take her with an authority that left no room for doubt.
"Love me, Ray," she urged against his ear. "Love me like you've never loved me before."
His body stilled. Cursing, he levered himself off her and strode out of the bedroom.
Grace was still trying to process what had happened when she heard the front door slam. A few seconds later, Ray's truck roared to life, reversed out of the driveway and accelerated off. As she listened to the sound of his engine growing fainter, she realized she'd felt this same black despair before.
At the wheel of her car as she sped away from her husband on a ribbon of wet blacktop.
Buy Saving Grace here:
Amazon US   |   Amazon UK   |   Amazon CA
Apple   |   B&N   |   Kobo   |   AllRomanceEbooks  |  Smashwords