Posts Tagged 'Montlake Romance'
With the launch of my newest Montlake romantic suspense FATAL HEARTS just a few days away, I thought I'd post an excerpt. Since you can read the first pages at Amazon with the Look Inside feature, I'm going to post something from a little further on in the book. If you've read the blurb, you'll know that Toronto Police Detective Boyd McBride has come to Fredericton, New Brunswick, to look into the death of his identical twin Josh, who was conducting his own investigation into their birth parents. Although this is a single title book and not part of my Serve and Protect series, it is set square in the middle of that Serve and Protect world, complete with roles, large and small, from characters you'll remember from that series, if you've read it.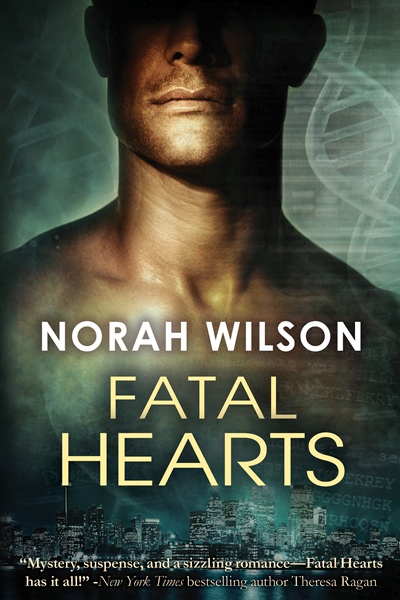 C h a p t e r  2
Boyd signed in at police HQ almost two hours later. It had taken an hour to get the slim medical file from the records department, which he counted as a minor miracle. That kind of request often took days, if not longer. Twenty minutes for lunch while he took an unrewarding cruise through the hospital records, which were very minimal, and another half hour to get out of the busy hospital parking lot and downtown. Ten minutes after that, Detective Ray Morgan strode across the police station lobby toward him.
If Boyd hadn't met the guy already, he wouldn't have pegged him for a cop. He'd probably have figured him for a lawyer, given the setting. For starters, that custom tailored suit looked like it belonged on a model, as did that hundred-dollar haircut. Morgan  was early to midthirties by Boyd's estimation, but it was hard to say with guys like that. The first time they'd met, Boyd had been ready to write him off as a dandified lightweight. But that was before the guy got close enough for him to get a look at his eyes and the deep grooves on either side of his mouth. That and the handshake convinced him there was a real cop under the elegant packaging after all.
"Detective McBride," he said, his voice as smooth and perfectly pitched as the rest of him. "Sorry to keep you waiting. Took me a while to get off the phone."
"Morgan." Boyd stood and grasped the other man's outstretched hand. "Thanks for agreeing to meet with me."
Morgan led him back to the detectives' bull pen. This was Boyd's second visit, but it struck him again how small it was. A mind-blowing thought, considering that this detective squad was the sum total for the whole city. Of course, there were more citizens in the city of Toronto than in the whole province of New Brunswick. A whole hell of a lot more. So it made sense that it would be small.
For his brother's sake, he hoped small didn't translate into ill equipped. Or, worse, incompetent.
They passed several desks, some manned, some empty, but all stacked high with paper and files and sticky notes and colored phone messages. The organized chaos made him feel right at home. A detective with a phone pressed to his ear nodded at them as they passed without missing a beat of his conversation. When they reached Morgan's desk, Boyd sat in the chair Morgan indicated.
"Coffee?" Morgan offered.
"No, thanks. I'm good.
Morgan gave a wry smile. "Good decision," he conceded. After taking his suit jacket off and carefully draping it over the back of an empty chair, he took a seat. Then he reached into a drawer of his desk and withdrew a folder, which Boyd assumed to be Josh's.
Boyd's gaze fell on the file on the desk between them. "So, what can you tell me about my brother's death?"
"Since we last talked on the phone? Very little more. I told you the coroner found no obvious problems with your brother's heart?"
"You did. And if I understand what you told me, that's not common, but it's not unheard of either. What was the stat you gave me? Up to five percent of sudden cardiac arrest victims display no discernible anatomic problems on autopsy?"
"Correct. The forensic toxicology report is probably still weeks away."
Boyd raised an eyebrow. "Weeks?"
"You know the drill, McBride. They test for probably three hundred substances. And you know there are new experimental drugs being introduced all the time and new designer crap hitting the streets. It takes time to test for all that stuff. And then if they find something, the result has to be replicated independently. If we find there was foul play, this shit has to hold up in court."
"I know. I'm just . . . anxious."
"We do have the hospital's standard tox screen, as I've already reported, so the really obvious ones—alcohol, cocaine, yada yada—can probably be safely eliminated."
Boyd wanted to say the illegal stuff could be eliminated without the benefit of testing, because this was Josh they were talking about, dammit. The man barely even took the occasional Advil. But he knew all too well that drugs sometimes wound up in a vic's system through no conscious choice of their own. Just ask all the roofied girls he'd talked to in ERs while a forensic nurse prepared to give them a sexual assault kit. Boyd drew a deep breath and exhaled slowly.
"We're also waiting for the genetic tests the coroner's office ordered." Morgan's eyes were sympathetic. "Maybe those results will shed more light."
"Right." He dragged a hand over his face. "So, what kind of wait are we talking about for the genetics? Weeks? Months?"
"Months would be my guess. The backlog is hellish."
Boyd nodded his understanding. He'd had to explain similar delays to many a bereaved mother or father or wife who'd just wanted to understand what had happened to their loved one.
"Maybe my results will come back first."
"You had genetic testing done on yourself?"
"After what happened with Josh, I had everything done. I've been imaged, had ECGs, EEGs, cardiac ultrasound, stress tests. I've worn a Holter monitor for forty-eight hours. They couldn't find even a whiff of abnormality, with the electrical system or otherwise."
"Interesting." Morgan scribbled a note and put it in the folder.
Boyd gestured to the file. "Any chance I can get a copy of that?"
"The file?" Morgan snorted. "You're welcome to look at it, but I can't be giving out copies. Which I think you knew before you asked. But I'll keep you abreast of developments. Like I said on the phone, I'm happy to do another sit-down with you further down the line, if it seems like it would be useful."
"I guess that'll have to be good enough."
The other detective's handsome features hardened. "I've already assured you that when I get toxicology back, you'll know about it. When I have the genetics report, you'll hear from me. Short of deputizing you and handing you the case, I don't know what more I can do."
"Sorry." Boyd held up his hands in a conciliatory gesture. The man was right. And the last thing Boyd wanted to do was piss off best window into Josh's case. "I know you're bending over backwards here. I didn't mean to imply otherwise. I'm just—"
"I know." Some of the ice went out of Morgan's eyes. "Don't sweat it."
Boyd cleared his throat. "Look, I know you told me a lot of this stuff on the phone, and I appreciate that. I really do. But can walk me through the timeline again? I just need to understand what happened."
Something stirred in Morgan's eyes now. Pity, he realized. Ordinarily, that would sting. Nobody pitied Boyd McBride. But under the circumstances, he'd take it. Take it and exploit it if he could.
Anything to find out the truth about Josh's death.
You can pre-order Fatal Hearts, or wait to snag it when it releases on August 19.
I'm happy to say I now have a cover for my upcoming (08/19/14 – Montlake Romance) romantic suspense, Fatal Hearts. What do you think?
The book is available for pre-order on Amazon.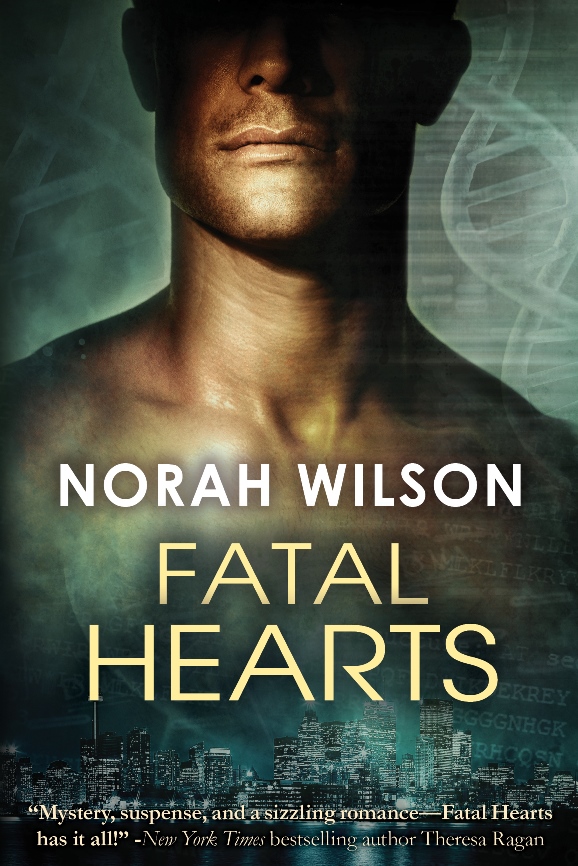 And here's the back cover copy:
The reports stated Josh McBride's death was from sudden cardiac arrest, but homicide detective Boyd McBride can't shake the idea that his identical twin brother's death was somehow connected to his search for the adopted boys' birth parents. Josh must have been close to the truth … and it cost him his life.

When Boyd comes to medical resident Hayden Walsh's ER looking for answers, she agrees to help with his investigation because Josh was a friend. As unnerved as she is by her attraction to the detective, she knows it will be impossible to avoid romantic entanglement … and the mess that comes with it.

The investigation uncovers dangerous secrets, and Boyd and Hayden's passion ignites. Only they can keep each other safe from a threat that lurks inside a life-long mystery.
I am beyond thrilled to have fellow Montlake author Laurin Wittig with me today. Her Scottish historicals are the bomb. Also, she's just as lovely as her picture leads you to believe. Welcome, Laurin!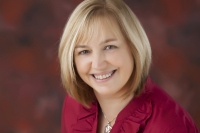 LAURIN WITTIG:  Thanks so much for inviting me to share my lair with your readers, Norah! First off, I have to admit that I'm sharing my current-but-not-for-long office. Both of my children have moved out of the house in the last few months so we're busy repurposing the upstairs. As soon as I get the new office painted I'll be moving out of my office of the last 14 years – the formal living room that is smack in the traffic pattern at the bottom of the stairs with kitchen and family room just steps away – to the upstairs guest room that is completely out of the traffic pattern. I know, I know, the kids are gone, but my husband works from home two days a week and never fails to cut through my office on the way to or from the kitchen or the family room. Plus, our dog can open the French doors of my current office but won't be able to do that upstairs!
It's hard to tell in this picture but the walls are a dark forest green. I just love green. My husband and I found my desk – a 1920s library table – at a local antique store years ago. It's got a perfect foot perch underneath. My ginormous iMac sits in a place of honor and you can see that I use the bottom of the monitor as a handy post-it note place. I'm flanked on either side by matching bookcases (with doors – I hate dusting!). This one holds my craft of writing books, along with copies of my own books and books by my critique partners, awards I've gotten for my books, and a lot of little mementoes from friends, conferences, and my children. Underneath is where I hide a lot of my office supplies.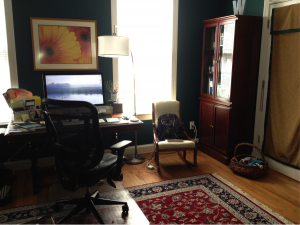 Here you can see the matching bookcase, just behind my grandmother's rocking chair. This bookcase holds my research library. See the basket on the right? That's Anna's basket. She's my miniature Eskie and that's where I pile all the dog toys that mysteriously end up in a ring around my desk chair whenever I sit down to work.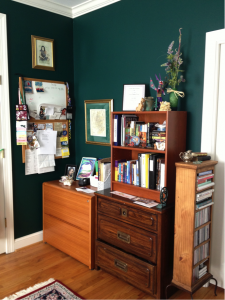 And here is the corner opposite my desk. The bulletin board used to be for plotting, but now it's where I pin up still more memorabilia, notes from friends and my publisher, and conference stuff. I wish you could see it more closely – one of my prize uber-nerdy things is on that board: a "May the force be with you" button that I got at the second showing of the original Star Wars movie back in 1977. I know, I'm a serious nerd and proud of it!
The picture above is a drawing by my good friend and awesome artist Elizabeth Holcombe. It's of Symon MacLachlan, hero of The Devil of Kilmartin, my first book. As you can see, I'm a bit of a clutter-bug, and I love to have a lot of trinkets that remind me of people and events that have been important to me.
And now for the moment of truth: I use this office for the business side of being a writer. I do research, my bookkeeping, pay my bills, check my email/Facebook/Twitter/Pinterest, update my website, write blog posts, etc. etc. etc. in this office. But I rarely write here.
This is my real writing office: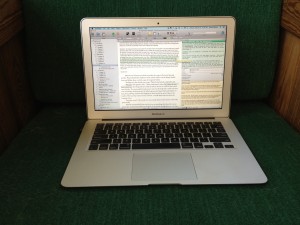 I use an awesome program, Scrivener, that lets me keep all my plot notes, scene notes, research notes, and manuscript in one place so I have almost everything I need to write my current book right there on my laptop. I take my laptop/office to a local coffee shop every morning, Monday through Friday, where I meet two other writers to work. It's the only way I can keep myself focused long enough to actually get my books written.
So that's my office(s)! The book on the laptop is the sequel to my new book that releases on August 6th, Highlander Betrayed. Leave a comment here and I'll randomly choose two commenters to receive an advance reader copy of Highlander Betrayed. And I'm going to copy my fellow Montlake author, Tracy Brogan, and offer another advance reader copy to someone over on my Facebook page – just mention that Norah sent you! I'll choose the winners on Monday since my laptop and I are out of town until then.
Hidden deep in the rugged Scottish Highlands lies the Highland Targe, an ancient relic guarded for centuries by clan MacAlpin. It is said the Targe can shield the heart of the Highlands from invaders and now, as part of his plan to crush the Scottish rebellion, the English king wants the Targe for himself . . . .

Rowan MacGregor, orphaned niece to the chief of the MacAlpins and the rock her family depends upon, is worried. With the dwindling health of her aunt, the Guardian of the Targe, the protections that have kept the clan safe and prosperous are fading, and the new Guardian, one of her cousins, has yet to be chosen. Rowan wants nothing more than to see the clan protected again, but when it seems that will never happen, she despairs—even when a handsome and charming stranger comes to her aid.

Nicholas fitz Hugh is not what he seems. Half-English, half-Scottish, he turned his back on his Scottish heritage early in his life, giving his loyalty to England instead. Now he is a talented and cunning spy charged with finding and stealing the Highland Targe for his king.

But when Nicholas finds himself falling for the bonny Rowan and wanting to protect the family she holds so dear, he is forced to choose between his king's will and his own: Will he betray his king and his mission? Or will he turn his back on the woman he has come to love?
Thanks, Norah, for letting me share my office here!
Bio: Laurin Wittig is an award-winning, bestselling author of enchanting Scottish medieval romances that bring together strong warriors, smart women, and a land that tests those men and women again and again until they ultimately find their happy ever after. Romantic Times says, "She's well on her way to becoming one of the genre's finest storytellers."
Laurin's next book, Highlander Betrayed, book one of her Guardians of the Targe trilogy, will be released on August 6th and is available for preorder now.
You can find Laurin on-line at her web site LaurinWittig.com, as well as on Facebook, Twitter, and Pinterest (links on her web site!).
Thank you so much for that tour, Laurin! And wow, I think I'm going to have to cave and learn Scrivener. I've heard nothing but great things about it.
Okay, let's have some comments! How cool would it be to win an advance reading copy of that book?
I am super pumped to have Tracy Brogan on my blog today. Tracy is a fellow-Montlake Romance author who has encountered fantastic success. Her debut romantic comedy, Crazy Little Thing, has been nominated for Best First Book by the Romance Writers of America®, and I'll be there to cheer her on at the awards ceremony in Atlanta next month. Go, Tracy!
TRACY BROGAN: Thanks for inviting me to Work Place Wednesday! If I recall, you invited me once before and I had to cancel because my desk was such a mess that even my computer stopped working! Fortunately I got that snafu worked through and here I am today. The pictures you see are ones taken at various stages. Since I'm currently under a mad-dash deadline, things around here are a little cluttered for my taste. (For those of you who have read my contemporary romantic comedy, Crazy Little Thing, it's no coincidence that the heroine is a professional organizer. I do indeed have labels on my refrigerator shelves, just like she does. And just like in the book, no one pays any attention to them except for me.)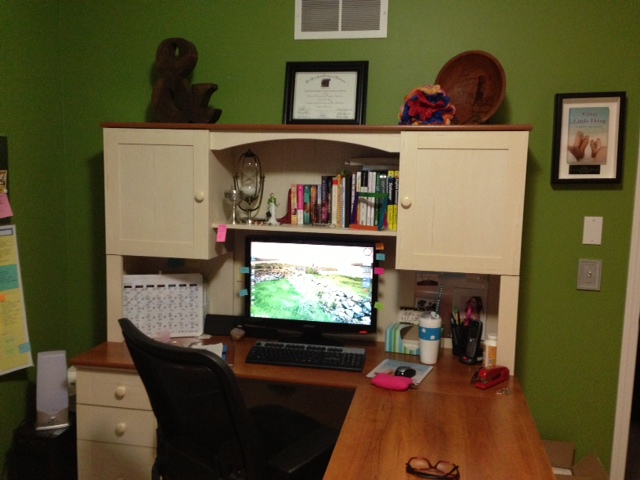 I work best with a clean space. But I'm also the post-it note queen so there you have my constant internal conflict. What I've started doing recently, thanks to a fa-fa-fabulous workshop I took with Cherry Adair, is take post-its with notes pertaining to the scene I'm working on that day, and I stick them all around the edge of my screen. Right now I have notes that say, "Spider, barefoot, and tattoo." They remind me that in this scene, I want to establish how my heroine is afraid of spiders, my hero prefers to be barefoot, and I need to explain the significance of his tattoo because its meaning plays a part later in the book. Sometimes I will also have "theme" or "ARC" notes, too, such as one saying, "She's not ready to commit," or "he's been thinking about the future," things like that. I find this helps me keep my characters on task so they don't go wandering off into the forest and fraternize with mythical creatures or something. Because I don't write about mythical creatures.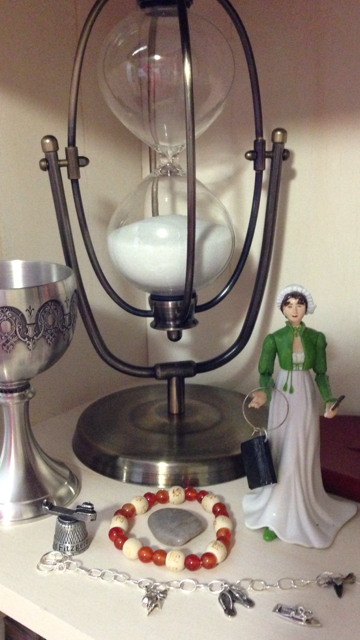 I also have dozens of trinkets. I think I'm constantly on the lookout for that secret talisman that will provide constant inspiration. So far the best I've come up with is intro-venous coffee, but that doesn't stop me from collecting other items. I have a "good karma" bracelet from a critique partner, another bracelet with charms attached to represent each book I've finished, bookends that hold up the books of my wonderful writer friends, a tiny bronze Liberty Bell because the heroine of my latest release (Hold On My Heart) is named Liberty Belle Hamilton, and last but sooo not least, I have pictures of handsome men who have served as stars in the mental casting of my books. There are a few picture of the heroines, too, but I don't pay much attention to them. And those are mostly there so I can say to my husband, "See? I'm working. Not just ogling men."  When it comes to my "casting" though, don't typically tell people who my "heroes" are because I don't want to flavor (or tarnish) a readers vision of what he looks like. I want readers to intuit a vision of their own favorites.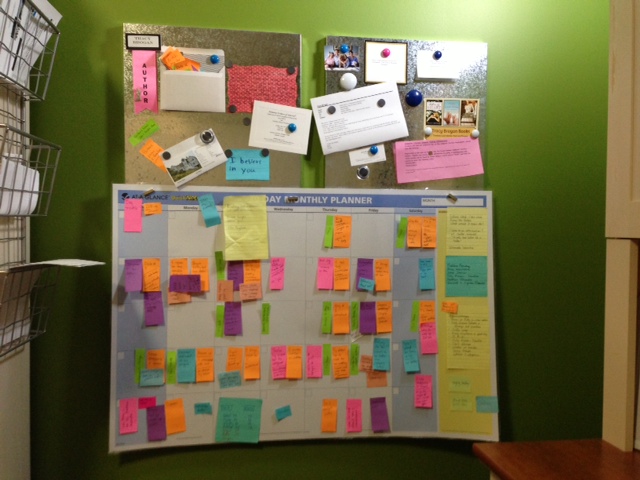 I also have a big white board with a grid. This is another trick from Cherry Adair and her color-scheming madness. I won't go into detail about how her system works but if you're remotely a plotter, you will love her method. And if you're a pantser, you would still probably benefit from seeing how she does it because you could set up your grid after you've written your first draft to see where your plot holes and pacing problems are. It's worth the time.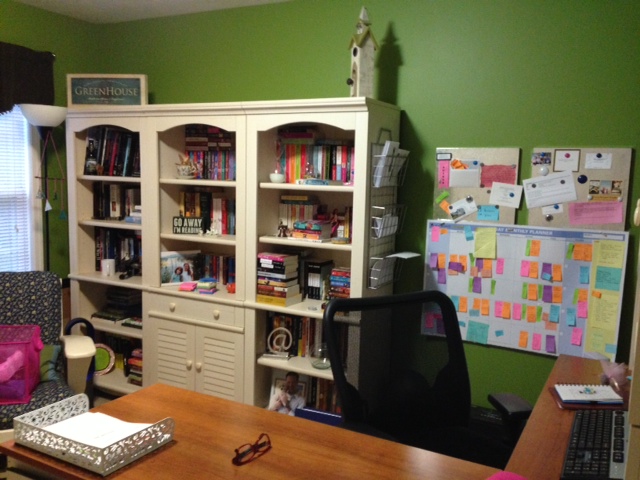 This office is far from perfect. There is no espresso machine, and I can hear every dog in my neighborhood bark all day long, but I'm incredibly grateful that since I've sold my first book, and just signed another 3-book deal, I was able to move out the guest bed, sewing cabinet, and buy some real bookshelves for this room. It's officially MY office. Now if I could just install a lock on the door, I'd be all set.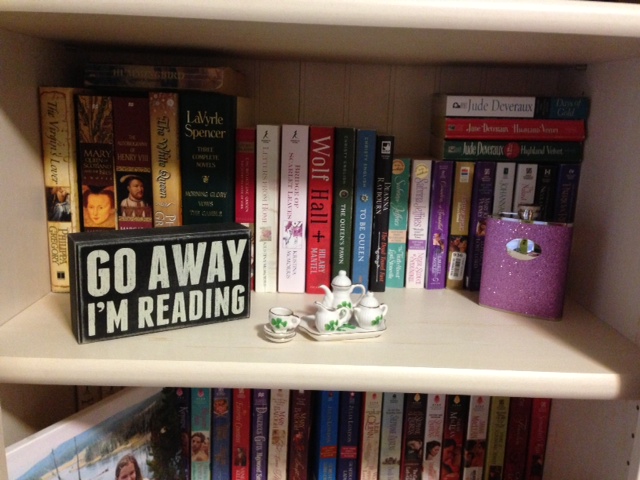 Thanks for having me, Norah. If you don't mind a shameless plug of self-promotion, I have a new book coming on June 25, 2013 called Hold On My Heart. Here is a blurb:
To build a future, sometimes you have to tear down the past…

Chicago event planner Libby Hamilton can turn any bland setting into a dramatic venue – but when she abruptly loses her job, and her fair-weather boyfriend moves to another state, Libby suddenly finds herself back in the tiny town she grew up in. Worse than that, her father wants help transforming an old schoolhouse into a vintage ice cream parlor and Libby must trade in her power suits for power tools.

Widowed restoration specialist Tom Murphy can rebuild just about anything – except the shattered relationship he shares with his teenaged daughter. Hired by Libby's father, Tom isn't interested in sharing the details of his personal life with beautiful, spunky Libby. He just wants to get the job done. But she is tenacious – and sexy – and it doesn't take long before she breaks down his walls, builds up his hope, and gets a hold on his heart that won't let go.
And for a little extra fun, here's the trailer:

I'd love to give away some copies of this book! So three lucky winners will win a free print copy! Just leave a comment on this blog, and three names will be selected at random. Or come on over to my author Facebook page and leave me a note saying Norah sent you. I'll draw another name from that list!  Four winners total!!  Thanks for playing and have a great Wednesday!
Biography:  Past or present, Tracy Brogan loves romance.  She writes funny contemporary stories about ordinary people finding extraordinary love, and stirring historical romance full of political intrigue, damsels causing distress, and the occasional man in a kilt.
She is a best-selling author, a 2013 RWA® RITA Best First Book Finalist for Crazy Little Thing, and a two-time Golden Heart Finalist in both contemporary and historical romance.
Her next contemporary romance, Hold On My Heart, releases June 25, 2013.
Tracy lives in Michigan with her husband, her children and their overly-indulged dogs. Please stop by her website at tracybrogan.com.
Thank you, Tracy! That was a fun tour. I love your space, and I feel like I learned a lot about you. I wish you'd come organize me!
Okay, folks, you heard the lady. Three of you will win her terrific new book just for commenting, and you have a bonus chance if you drop by her Facebook page. Let the commenting begin!
I am excited today to introduce you to award-winning author Deborah MacGillivray, whom I have known online since the days of my publication with Dorchester Romance a decade ago. I well remember the fire she speaks of which destroyed her home a few years ago. The other thing that has always stuck in my mind about Deborah is her selfless service to a now deceased friend and fellow-writer, Dawn Thompson, who faced a number of daunting physical challenges.  Even now, if you visit Deborah's website, you'll see that she keeps Dawn's legacy alive, not just as a memorial but for the benefit of Dawn's heirs. Quite apart from her considerable and recognized talent as a writer, that makes Deborah a winner in my books. Deborah is now a fellow Montlake author, after Amazon acquired a number of her back list books from the now defunct Dorchester Publishing. Welcome, Deborah!
Deborah:  Thank you to Norah for asking me to drop by and share my corner of the world. Had she asked me that in 2009, my pictures would have been much different. I had a wonderful, handmade cherry desk, oak file cabinets and built in bookshelves, with knotty pine paneling on the walls. Today, my office is completely different, and not just a decorating choice. My home burnt to the ground at the start of 2010, and I very nearly died in the fire. Once healing was begun, I had to find a new home. From there, I knew I wanted to make my office a haven, something special. So what you are viewing is still a work-in-progress.
To start, I had to have a knock-out desk, something fit for an author (LOL). And boy did I get one! I found a Powell Hunt Desk. A beautiful carved mahogany, semi-circle desk, with glass inlays.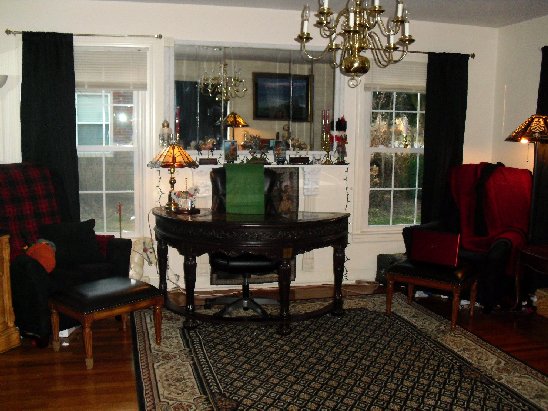 Once I had that focal point, then I set out to make the room a reflection of my tastes, my loves, and see it provided a tranquil place to create. The room is 18' x 17' so plenty of space to fill with items to speak to what I love. In two corners, flanking the desk, I placed two, matching black suede chairs, with wood and leather footstools.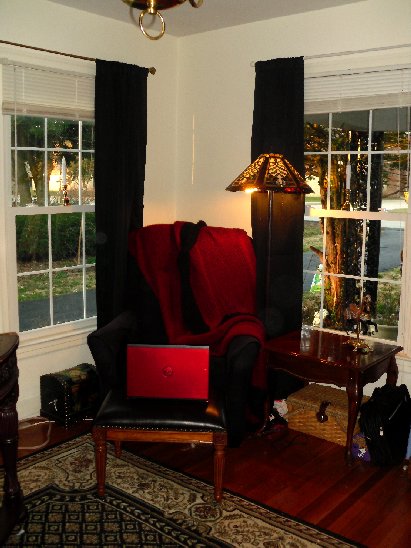 I learnt long ago, I cannot write on a PC for long. It caused tendonitis of my neck and right wrist. In my agony, I discovered I could work all day on a laptop and not suffer these problems. So while I had my desk to work at when I need space, generally I am found with my legs up and me oh so comfortable in one of the black chairs.
I also have a lovely Victorian settee, which I share with my dolly, made by Candy Thompson (sister of the late author Dawn Thompson). Candy, as well, crocheted me a huge red and black afghan (seen in the second picture)― perfect for my black and dark red office theme.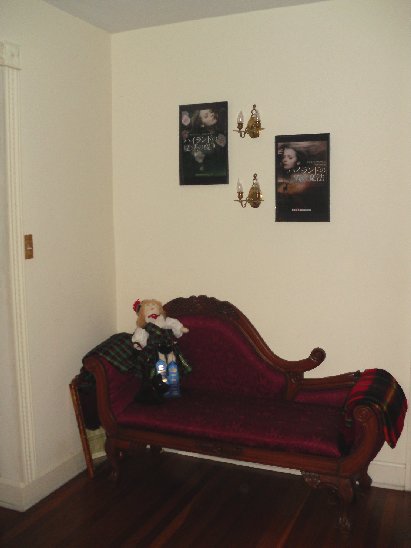 I also have a constant companion with my new kitty, Miss Mouthy― "Mouse" for short. She mostly sits on the small table by my chair, or on the arm of the chair while I work. I have a gorgeous Tudor birdbath outside one window, so we take breaks to watch the "pool parties".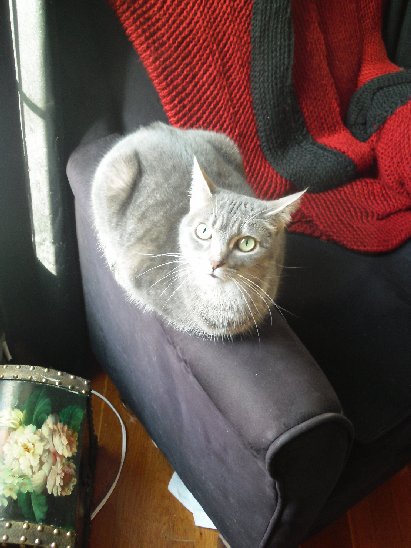 I love going antiquing, and we have a marvelous store just down the road. I have found some great items there. A new acquisition ― a second desk ― a roll-top oak is in one corner. I am not sure it's going to stay in the room permanently. I am considering putting a full-size carousel horse there. All about the room, I have several glass carousel horses with medieval style. On one wall behind my desk, I designed a wonderful display with a tapestry of Edmund Blair Leighton's "The Accolade", that my marvelous contractor Joe Crabtree brought into being.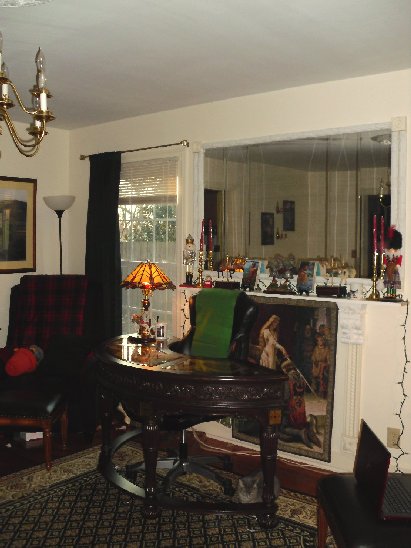 He also helped me hang a wall frieze of two knights battling on a small space between two windows. It's not quite finished yet, but coming along nicely. I have large framed posters of Scotland ― Kilchurn Castle and Duncarloway Broch. I am far from done, but I think my study is beginning to reflect my new beginning in a new home, and speak of my love for medieval times and Scotland.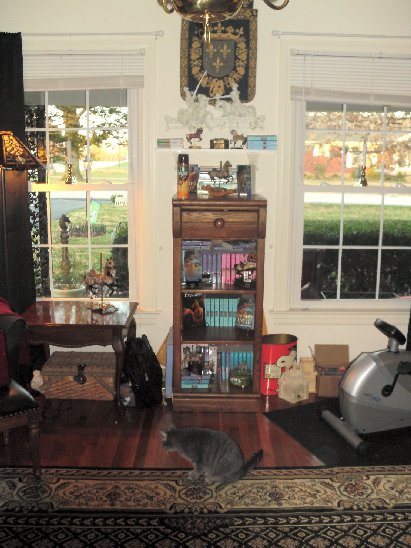 Mouse and I must be able to see out into the world. Plenty of light comes into the room as we have a large door way to the living room, and two very large windows on two walls. We get some bird-watching (and squirrel-watching) in on our breaks.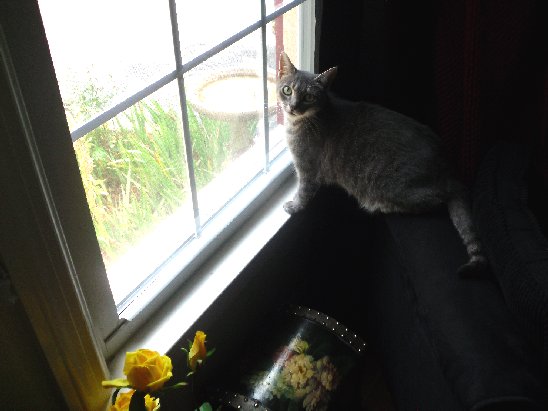 In one corner I have a recumbent bike. I think it vital for an author to get up and move around. It's good for the body and mind to get the blood pumping. I can take a break and do twenty minutes of pedaling, and suddenly I am awake and refreshed. I also have near perfect blood pressure now. Thank you, bike! All phone calls can be answered on my Vintage Snoopy Phone!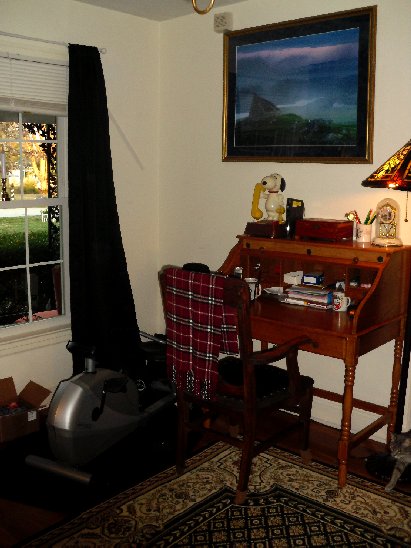 It's eclectic style, a bit functional, a dash of whimsy and a wee dram of Scottish Medieval― perfect for me to get lost in tales of dashing Challon lads!
My latest addition is the carousel horse. Not sure where I will put him permanently, but I absolutely had to have him!!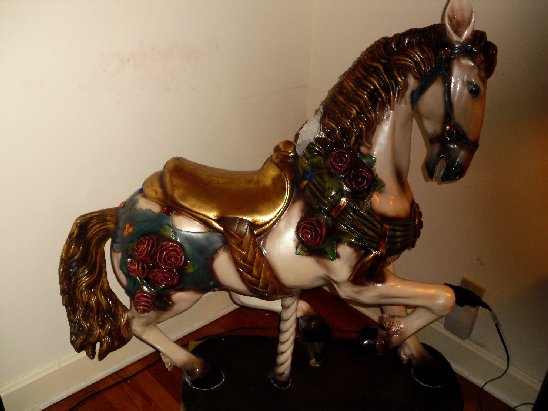 However, there are days, that the outside calls. I have a veranda that covers the whole front of my home. I decorated with rockers and loveseats, so I will take my laptop out there and often work. I rock in the glider, while using my Next Up Text Aloud to read back my writing to me. I find the Text Aloud a grand way to hear my words, feel the flow of the prose. So I can keep working, yet enjoy the outdoors as well.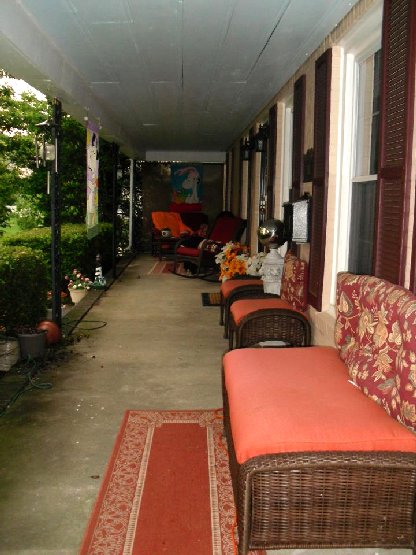 Thank you, Deborah! That was a fascinating tour! I love your study! What an extraordinary home you've created for yourself after the devastation of the fire. In fact, I think this might be one of the most unique spaces I've profiled thus far here on Workspace Wednesday.
Folks, Deborah has two fantastic giveaways. As always, winners will be drawn randomly from among the comments on this post.
Giveaway#1 – A set of The Dragons of Challon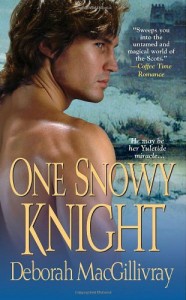 One Last Hope. . .
Lady Skena MacIain has seen much hardship this year, and she fears worse is to come. For a bloody battle in Dunbar has left her a young widow, and her Scottish fortress without protectors. She wishes she could be as hopeful as her babes, who believe the Cailleach, the Lady of Winter, will send them a miracle in time for Christmas. But life has taught her that things can never be so easy. . .
One True Love?
Until a mysterious warrior is found amid a blinding snowstorm, sick with fever. As Skena nurses the handsome knight back to health, even she begins to believe he might bring salvation to her little keep–and passion to her life, as his body awakens a long sleeping desire within her. . .a desire her touch stirs in him as well. But his wounds speak of danger, and Skena will soon learn, his past carries a secret that could shake her home–and her heart–to their very core. . .
Look Inside at Amazon
Giveaway #2 – 1 set of The Sisters of Colford Hall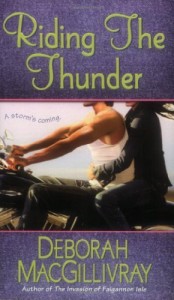 It was all part of the plan. While his brother was in Scotland dethroning the Lady of Falgannon, Jago Mershan was headed to Kentucky. There he would do his share in avenging his father on the Montgomeries. Only, there was a monkey wrench in the works
Just looking at his alleged enemy's granddaughter made Jago think of his classic black '67 Harley Electra Glide, a motorcycle with clean lines and sleek curves that promised the ride of a man's life. Asha was all woman― and the only woman for him. He'd bet she could go from zero to one hundred in the blink of an eye…and not even her claims of paranormal happenings in the diner she ran could put him off. He knew magic: He had a special name for the sights, the sounds, the tastes and smells of that perfect ride. There might be a storm coming, but it was one of passion, and together he and Asha would be… RIDING THE THUNDER
Look Inside at Amazon
Through the end of March, three romance authors are combining to not only bring readers an easy opportunity for a chance to win a 7" Kindle Fire HD, but also the chance to discover a new and exciting way to read books!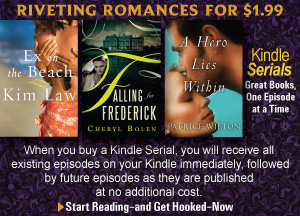 Have you heard of Kindle Serials? It's a blast from the past, where books are released in episodes in the same vein as in Charles Dickens' day. Only, instead of getting each episode in a magazine or newspaper, you'll get them on your Kindle or Kindle app. It's kind of like your favorite television shows. The ones that leave you hanging each week, anxious to get to the next episode and know more!
Cheryl Bolen, Kim Law, and Patrice Wilton each have a Kindle serial releasing, and are hoping you'll give them a try! In return, they're giving away a 7" Kindle Fire HD on April 1st, and will give away three $20 Amazon gift cards along the way. All you have to do to enter is go to one of their websites and answer a simple question about their serial. Want to enter three times? Go to each website and answer a question about each serial.
Additionally, after reading each episode, join the fun by chatting with other readers on the Kindle forums, and discussing how you think the next episode will play out! Links to the forums are found on each book's Amazon page.
Falling for Frederick, by Cheryl Bolen – Laden with mystery and suspense, Falling for Frederick is a fast-paced romance that takes place in contemporary England. Aided by the lord of the manor, a lovely doctoral student seeks a priceless medieval artifact – just a step ahead of those who've already murdered to get it.
Ex on the Beach, by Kim Law – Andie Shayne is getting ready to host the wedding of the summer at her resort on Turtle Island. As the guests arrive she's taken aback to learn that her ex–who left her at the altar–is the best man. What he did was unforgiveable, and now he's back with an agenda for her affection.
A Hero Lies Within, by Patrice Wilton – Old secrets linger and two reunited lovers are faced with more deception and mistrust. Can their love survive a second time around? Jake Harrington left her once when her life was falling apart, and now he's back, and so are all the emotions she fought hard to expel. Can she forget his bitter betrayal, and will he forgive hers when to save her career she must betray his trust?
$20 Amazon Gift Card giveaways:
February 28th – Winner pulled from all entries from Cheryl's contest page.
March 14th – Winner pulled from all entries from Kim's contest page.
March 28th – Winner pulled from all entries from Patrice's contest page.
7" Kindle Fire HD giveaway:
April 1 – Kindle Fire HD winner will be drawn from all entries gathered from the contest pages of Cheryl, Kim and Patrice. Enter up to 3 times to win!
Subscribe to the Montlake Delivers newsletter
CONTEST FINE PRINT:
By submitting your entry you agree to share your information with and sign up for Cheryl, Kim and Patrice's newsletters. They agree not to share your information with anyone else. You may unsubscribe at any time.
One entry per person per contest page. (Up to three entries possible, one at each contest page.)
You must be 18 years old to enter.
You must be a US resident to enter.
Giveaway ends at midnight EST, Sunday, March 31, 2013.
One winner will be chosen at random from all entrants for the 7" Kindle Fire HD.
One winner will be chosen at random for each of the Amazon gift cards.
Winner selections are at the sole discretion of Cheryl Bolen, Kim Law and Patrice Wilton. All decisions are final.
Winner will be notified via email.
Winner agrees for their name to be used in newsletters, on websites, twitter, and on the Facebook pages of Cheryl Bolen, Kim Law, and Patrice Wilton.
Giveaway is sponsored by Cheryl Bolen, Kim Law, and Patrice Wilton. No purchase necessary. Cheryl Bolen, Kim Law, and Patrice Wilton are not responsible for transmission failures, computer glitches or lost, late, damaged or returned mail.
My run of awesome Montlake Romance authors continues! This week it is my pleasure to welcome Barbara Longley. Barbara writes contemporary and paranormal romance. Her latest Montlake book, a contemporary romance titled Far From Perfect, sounded so delicious, I snagged it for my Kindle. I hoped to have read it by now, but life sort of got in the way.   Welcome, Barbara!
Barbara Longley: First of all, I have to apologize because I'm a lousy photographer. I did try several shots, and this is the best. Sad. I know. This is where I work. I don't own a desk. I have a laptop and an ottoman. Everything I need is close by, including my reference books.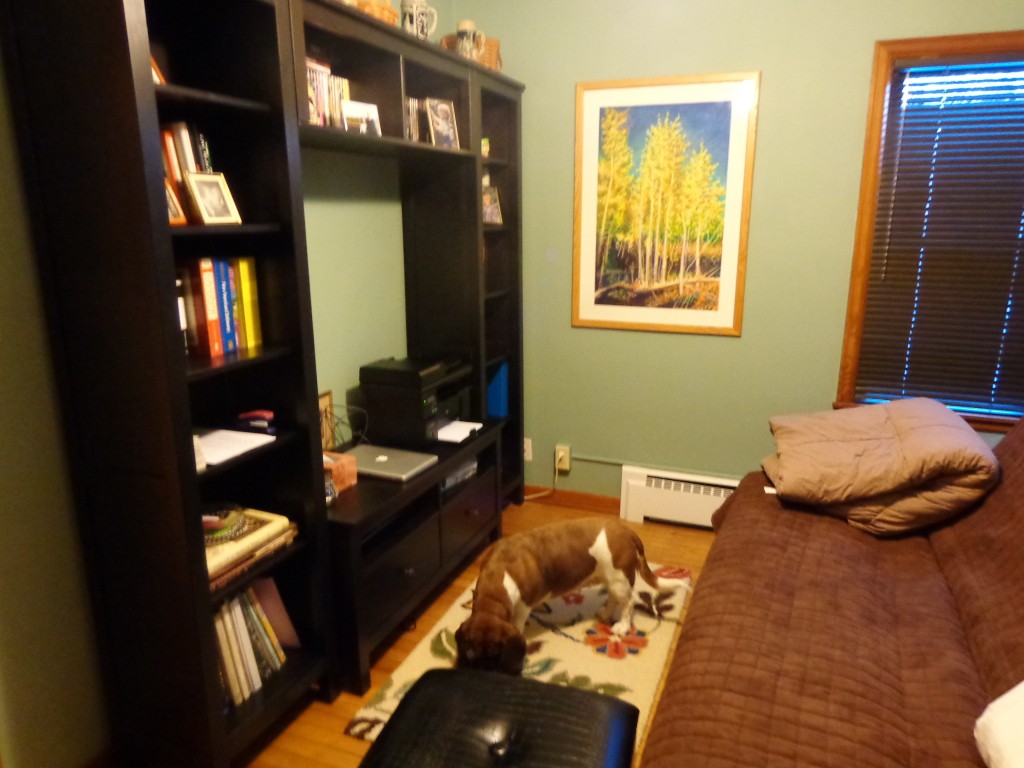 Having an office is a relatively recent development for me, and all of the furniture is new except the futon. Yep. My office does occasionally turn back into a guest bedroom, which is what it has  been since my two children flew the coop. Now that I'm writing under contract, and I have deadlines, I figured I'd better get more professional about my writing. It is really nice to have everything in once place. I feel so much more organized. I work a full time day job, so I really need to be organized. That's my challenge this year—learning to manage the demands of my day job with the demands of my writing career. I've made my deadlines for both, so I'm getting it down. I do run into the occasional wall of overwhelmedness, though. And that's when I take my little dog for a long walk, or watch a cheesy movie on the Hallmark channel.  
I've included a picture of my writing buddy, Sophie, a basset hound/cocker spaniel mix. If she's not snuggled up on the couch next to me, she's gazing up at me as I write. I also have a cat named Fred. He also likes to keep my lap warm, which is tricky when I'm trying to write.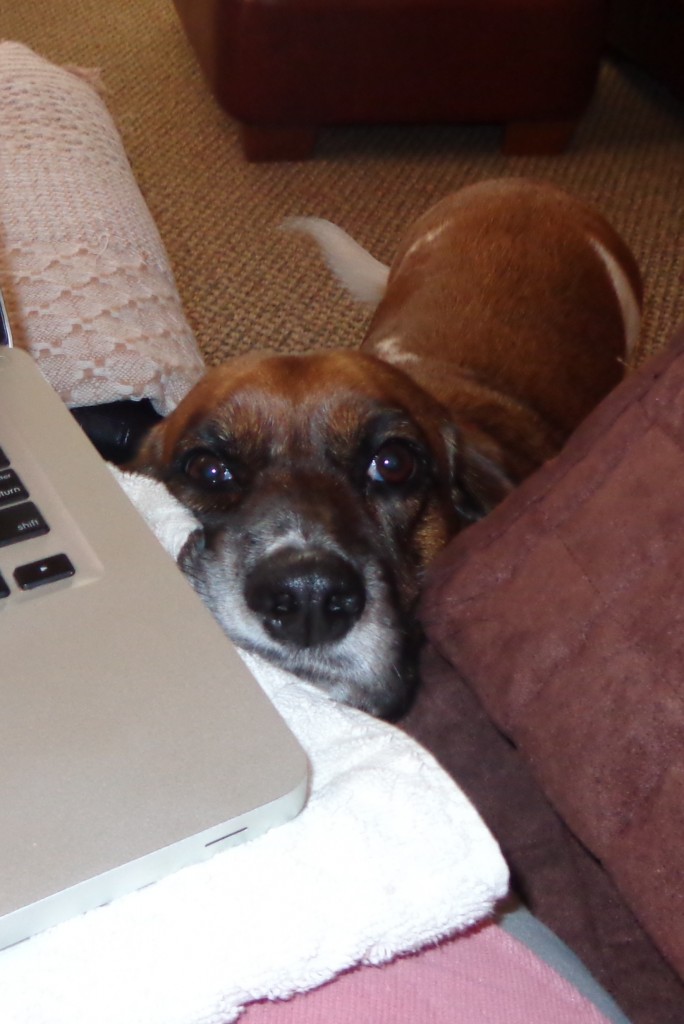 My October release with Montlake is a small town contemporary romance with military elements. Here's the blurb:
FAR FROM PERFECT  – Noah Langford narrowly survived the roadside bombing in Iraq that killed five of his men and took his leg, leaving him haunted by flashbacks and riddled with guilt. When his stepbrother Matt dies in a car accident, the loss feels like the final blow to Noah's shattered soul. But then he learns about the girlfriend and baby Matt abandoned years earlier, and suddenly Noah has a new mission… Ceejay Lovejoy was nineteen and pregnant when her boyfriend walked out, disappearing from her life just like her parents did. Since that day, Ceejay has devoted herself to giving her daughter a better life, avoiding any man who could threaten that security—until the day Noah Langford shows up on her doorstep. His gentle spirit has an unexpected effect on Ceejay's guarded heart, tempting her to take one last chance on love. But when a painful secret comes to light, it threatens to break the fragile bond growing between them…and to destroy a love powerful enough to heal them both.
The second book in the trilogy, THE DIFFERENCE A DAY MAKES, is coming out April 23rd.   Once lucky commenter will win a $10 gift card for Amazon, which will be delivered electronically. Thank you so much for stopping by.
Thank you, Barbara. That is one sweet dog. Sophie, I mean! The one on your cover is a different matter. That's a whole lotta dog! Can't wait to read the book. I love dogs in books.
Readers, you can learn more about Barbara at her website. You can also follow her on Twitter and friend her on Facebook.
Now, let the commenting begin!
I have the pleasure today of welcoming Coreene Callahan, a fellow Montlake author, to my blog for Workspace Wednesday. Coreene is one of the many people I hope to meet in person when I go to the RWA National conference in Atlanta this summer, after getting to know her on line. She's just so incredibly poised and charming and cute on any video interview she's ever done. And her books are awesome. (Hello? Dragons!)
Take it away, Coreene!
COREENE CALLAHAN: Hi Norah! Thanks so much for inviting me to visit your blog for Workplace Wednesday! It's a great topic, one I never would have thought to talk about, because…heck, I spend every day here. It never occurred to me that people might be curious about where I create alternative worlds and write about the characters that make my stories come alive.
You might be surprised to find out that my office is not only the smallest room in the house (a tiny 9 by 10 foot room), but also nestled under the curve of my basement stairs. Literally. I'm not kidding. It doesn't have a window. Isn't fancy or light-filled. It's only claim to fame is that houses the sump pump in one corner of the room and the water heater in the other (both hidden behind closet doors, thank goodness!).
Although, it doesn't sound like much, I love it here. Humble meets homey, it's like a beautifully appointed cave. And when I turn the corner into my office each morning, my imagination takes flight and stories come alive in the space.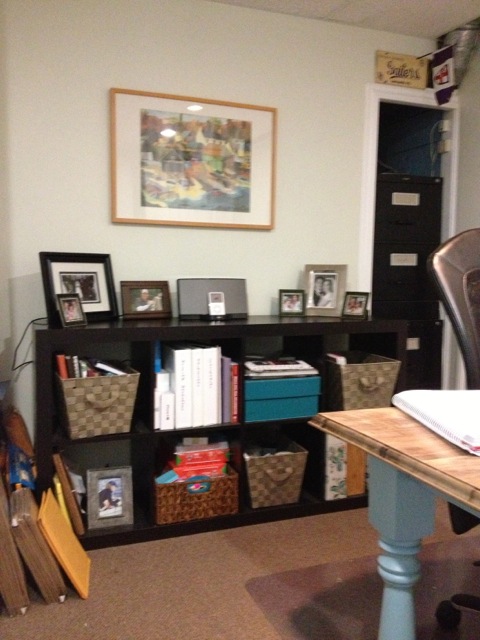 I surround myself with the things I love. Books. Candles. Framed postcards that remind me of home. The picture behind my desk is a water scape. I grew up in a small town right on the water and spent a lot time on boats as a child. So the picture of the all boats in the harbor and pulled up on the beach is one of my favorites scenes.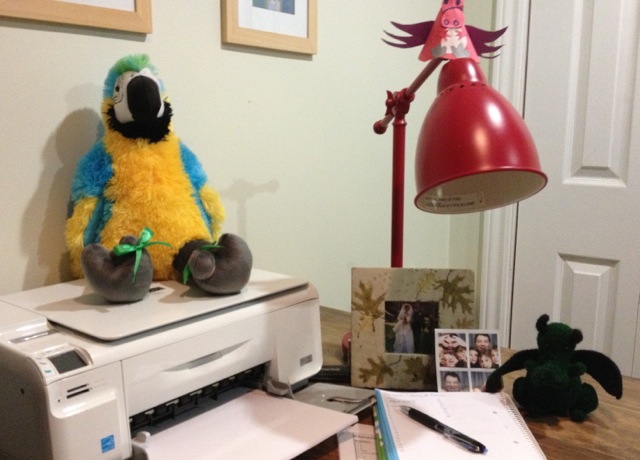 I couldn't resist including a picture of Carmen. He's my parrot. All right, so he isn't real, but…hey, he keeps me company every day. And for that I am hopelessly devoted to him!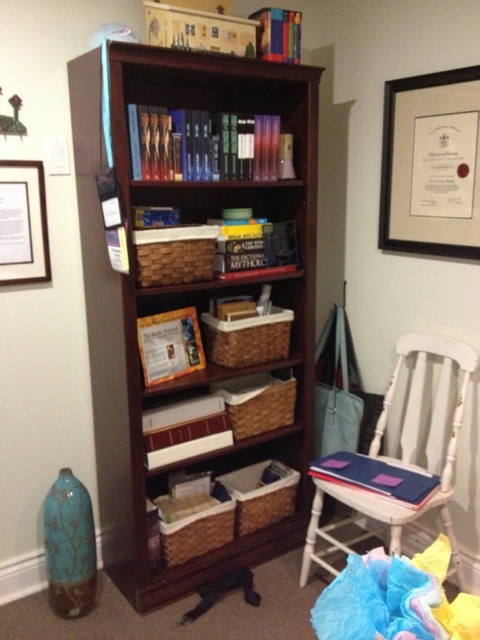 As you've probably guessed by now, my favorite color is turquoise. No matter the hue (bold and beautiful or soft and sophisticated) I surround myself with it. Maybe because it reminds me of the water and the place grew up. I'm not sure of the why exactly, but I can't get enough of it. No room feels right to me unless there is turquoise in it.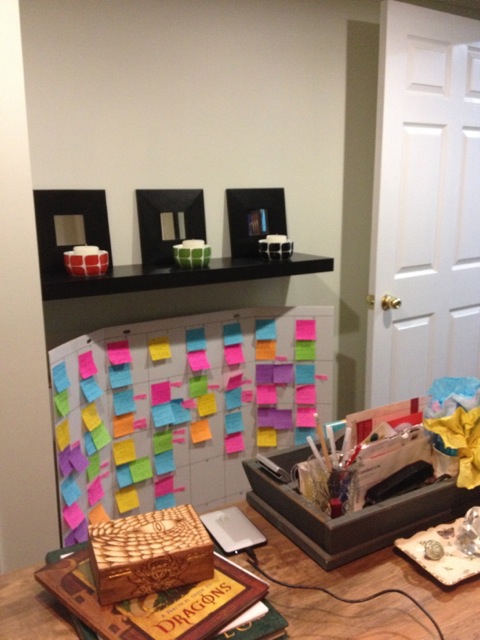 Here's the view I see every morning while sitting at my desk. As you can see, my love of all things dragons is never far. I have a myriad of books about dragons and dragon myth. The wooden dragon box was a gift from my publisher upon releasing my debut novel, Fury of Fire (Dragonfury series, book 1). And beyond the edge of my desk? My plotting board. Each colorful Post-it represents a character and each square on the grid a chapter in the book I'm currently working on. It's vague way to outline. One that affords me the luxury of allowing the story to evolve organically while giving me just enough direction to make sure I stay on track.
So there you have it…my humble, but pretty little office.
Thanks again for inviting me to be here today. I had a blast and hope you enjoyed a glimpse into my writing space. For more about the Dragonfury novels and Circle of Seven series, please visit my website www.CoreeneCallahan.com or visit me on my Facebook Author Page to keep up with all the latest news. I'm always glad to here from you!
Thanks for the tour, Coreene! Your space may be small, but it's fabulous! And clearly it is blessed by the muse!
In addition to the Facebook and website contacts, you can also follow Coreene on Twitter and on Goodreads.
Okay, Coreene has a great giveaway for us today. She has two prizes, so we'll award them to two different winners. They are: 1) a signed copy of Fury of Fire (Dragonfury Series, #1) and 2) a signed copy of Knight Awakened (Circle of Seven series). All you have to do to qualify for the draw is comment on this post. Say hey to Coreene. Let us know if you've read and loved one of her books, or just comment on her cozy writing space. Good luck to you all!
A clandestine race of half-dragon, half-humans known as dragon-shifters lives among us. Bastian, leader of the Nightfury dragon clan, is sworn to protect humankind at all costs. For him, honor and duty always come first. When the clan dictates he take a human mate to sire a son, he falters, aware that for a human to birth a dragon-shifter she must die. Myst, the woman given into his care, is the most extraordinary he's ever met, and though he can't bear the thought of harming her he is bound by duty.

Myst loves her life in the human world, but Bastian has captured her heart in an instant of electric connection. But Bastian and his warriors are in the middle of a deadly battle with the Razorback dragon-shifters, intent on killing every Nightfury clan member—and the humans they protect—the fate of their world and ours hangs in the balance.

An extraordinary blend of action, fantasy, and steamy romance, Fury of Fire brings to life a dangerous new world intertwined with the survival of humanity, all while exploring the meaning of honor and the nature of true love.

 _________________

In AD 1331, warlord Vladimir Barbu seizes control of Transylvania. But in spite of his bloody triumph, his claim to the throne remains out of reach. The king of Hungary opposes his rule, the Transylvanian people despise his brutal ways, and the high priestess needed to crown him has vanished without a trace. But Barbu hasn't come this far only to be thwarted by a woman. He unleashes his best hunters to track her down and bring her to him—dead or alive.

For Xavian Ramir, killing is the only life he has ever known. Torn from his family when he was a child, he was trained from an early age to be an elite assassin. But now he longs for something more, vowing to start anew after one last job. The bounty on his target's head is enough to set him up for good—if he can resist the long-dead conscience that stirs to life when he meets his beautiful mark.

Afina Lazar never wanted to become high priestess, but the brutal murders of her beloved mother and sister leave her no choice. Now she is running for her life, desperate to protect the magical amulet entrusted to her care. But when Barbu's assassin comes for her, she realizes her only chance of stopping the warlord's rise to power is to convince this enigmatic—and handsome—hunter that she is more valuable alive than dead.

Dramatic and fast-paced, Knight Awakened is a stirring love story between two people searching for a second chance in a magical world of assassins, warlords, unearthly beasts, and nonstop adventure.
I am honored to welcome Leigh Michaels on this edition of Workspace Wednesday. Leigh is the best-selling author of more than 100 books, including historical romance, contemporary romance, non-fiction about writing, and local history. A fellow Montlake Romance author, her new Montlake release is The Birthday Scandal, a historical set in the Regency period and featuring the intertwining romances of two sisters and a brother. She's also just released a self-published sweet contemporary romance, Return to Amberley.
Take it away, Leigh!
LEIGH: Thank you for inviting me to Workplace Wednesday, Norah. I've enjoyed (and envied) seeing all the various offices, and the photos have given me all kinds of ideas for whenever I get around to working on mine again. My working space has gone through a whole lot of changes in the 29 years since I was first published, so I've had a bit of a trip down memory lane!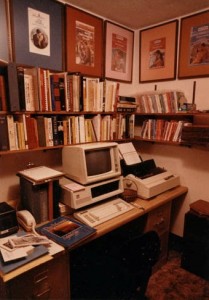 In 1988, my office was located in the smallest bedroom of our American Foursquare house – a space that was hardly big enough for a twin bed and a dresser. Here's a photo I saved for nostalgia's sake – and also to prove that yes, I really did write more than a dozen books in this room. That's an IBM PC with a 10-megabyte hard drive and a 14-inch green-screen monitor – and believe me, that was a big step up from my first computer! Off to the right is the state-of-the-art printer which tapped out each letter with a rotating ball, just like those old electric typewriters. I'd start a chapter printing and have to leave the room because of the echo.
The photos at ceiling level are the covers of my first few Harlequin Romances and Presents, and the two shelves at the right of the photo hold what I grandly called the Collected Works – one copy of each edition.
My office was right at the top of the stairs, so all the household sounds resonated and I was much too easy to find. If I closed the door so I could concentrate, I soon ran out of oxygen. 🙂
Those are only some of the reasons that we moved into a new house not long after the photo was taken.
This is my office today.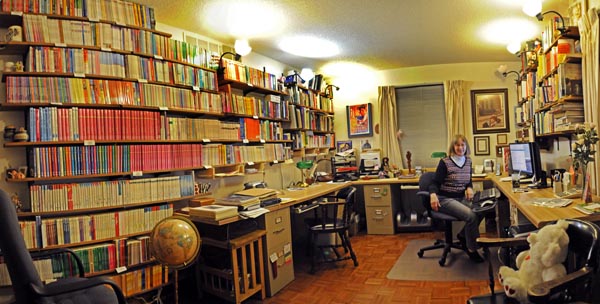 The Collected Works (one copy of each of the editions of my 83 romance novels and 20 non-fiction books) now occupy the shelves at left – that's 62 feet of bookshelves, if you're counting. The framed photos have moved to the hallway which leads to my office, where they're limited to one cover from each language – though we had to stop doing even that when we ran out of wall. A few years ago my husband and I ripped up the carpet and laid the parquet floor. (That's the sort of job which makes you eager go to back to writing.) And as time has gone on, I've added the extra filing cabinets and counters so I can spread out with my various projects.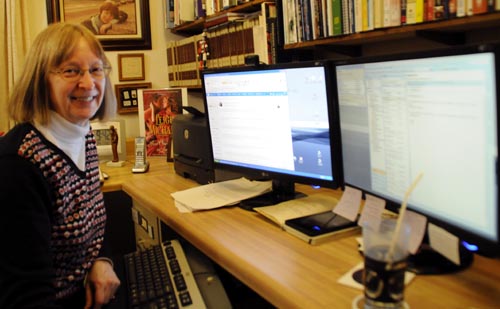 I now rely on dual 24-inch monitors and a laser printer. I think some of those same reference books are still hanging around, though.
Because I also teach (at Gotham Writers Workshop where I offer online classes in romance writing) and I edit books for our small publishing firm (PBL Limited which specializes in local history books and niche-market non-fiction), I use every inch of the practical desk space. Those piles on the counter are non-fiction book projects and source material, waiting to come together so they're ready to publish.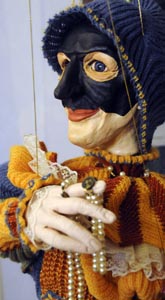 Though I've moved on from my original publisher – as well as switching from contemporary romance to historical, and from sweet stories to spicy ones – I'm grateful to Harlequin Books for a lengthy and rewarding career. That's why the one-of-a-kind Harlequin marionette is still a prized feature in my office. He watches over me as I work.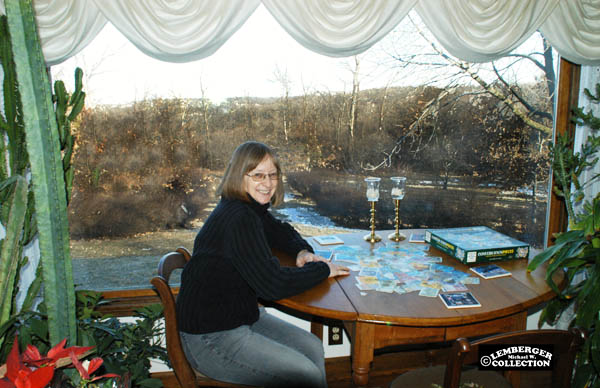 I haven't included a photo of my sitting room, where I leave my laptop set up – it's another book-lined room, and I retreat there when I need to fall into a story and not be bothered by phone calls or email. I do better at knocking out words when it's not so easy to page back to edit and fix and continually revise – and that's made much less tempting when I'm working on a smaller screen.
Sometimes I write in other spots – like the bay window in my living room, where I can watch the white-tailed deer and wild turkeys wandering across the acre of back yard that we refer to as The Garden of Weedin'.
Thanks go to my husband, photographer Michael W. Lemberger, for providing all the photos.
The Birthday Scandal – The wealthy Duke of Weybridge knows that everyone loves a good surprise…and a good scandal. He has bounteous amounts of both for the guests—particularly for his nieces and nephew, Emily, Isabel, and Lucien—at his extravagant seventieth birthday ball. They think his promise to improve their lives means a generous stipend. But he's got different gifts in mind: finding them the perfect matches. His task won't be easy, because the Arden siblings have given up on love.

Bachelor Lucien spends more time merrymaking than looking for a proper wife. His sister Emily, broken-hearted when her betrothal ended in disgrace, committed herself to an early spinsterhood. And Isabel's marriage has been troubled from the moment it began—with a terrible betrayal on her wedding night.

Though witty and strong-willed, the siblings are no match for their uncle's wily machinations. And as the celebration approaches, his romantic scheming ignites illicit liaisons and irresistible temptations, sparking enough rumors to keep the ton abuzz until his next birthday.

Return to Amberley – When her girlhood crush blossomed into marriage, Andie believed in a rosy future with the man of her dreams – until Todd's betrayal sent her from the beauty of Minnesota's winters to Atlanta to begin anew. But just a few months later, Todd walks back into Andie's life – asking for her help. The stone quarry they jointly inherited is for sale, and a good price would secure the future for both of them, paying Andie's tuition and buying freedom for Todd to concentrate on his sculpture. They need to sell now, but the prospective buyer believes he can pick up the quarry at a discount while Todd and Andie fight through a divorce. Todd wants Andie to rejoin him at the family home, Amberley, and put a false face on their failing marriage to convince the buyer and sell the quarry. But is Andie risking her heart if she returns to Amberley?
To learn more about Leigh, you can check her out here:
Thank you for that tour, Leigh! I loved the shot of your old office. I can remember learning to use my first computer which had a whopping 10 mg hard drive. I felt so sophisticated when I graduated to one with a 40 mg drive. LOL!
Okay, folks, Leigh has a nice giveaway for us today. She  is offering an autographed copy of the ARC of The Birthday Scandal or a print copy of Return to Amberley, reader's choice. All you need do is leave us a comment. I'm anticipating there might be a few about the 62 running feet of bookshelves. Holy cow!