I am honored to welcome Leigh Michaels on this edition of Workspace Wednesday. Leigh is the best-selling author of more than 100 books, including historical romance, contemporary romance, non-fiction about writing, and local history. A fellow Montlake Romance author, her new Montlake release is The Birthday Scandal, a historical set in the Regency period and featuring the intertwining romances of two sisters and a brother. She's also just released a self-published sweet contemporary romance, Return to Amberley.
Take it away, Leigh!
LEIGH: Thank you for inviting me to Workplace Wednesday, Norah. I've enjoyed (and envied) seeing all the various offices, and the photos have given me all kinds of ideas for whenever I get around to working on mine again. My working space has gone through a whole lot of changes in the 29 years since I was first published, so I've had a bit of a trip down memory lane!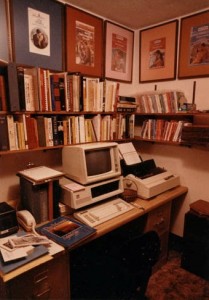 In 1988, my office was located in the smallest bedroom of our American Foursquare house – a space that was hardly big enough for a twin bed and a dresser. Here's a photo I saved for nostalgia's sake – and also to prove that yes, I really did write more than a dozen books in this room. That's an IBM PC with a 10-megabyte hard drive and a 14-inch green-screen monitor – and believe me, that was a big step up from my first computer! Off to the right is the state-of-the-art printer which tapped out each letter with a rotating ball, just like those old electric typewriters. I'd start a chapter printing and have to leave the room because of the echo.
The photos at ceiling level are the covers of my first few Harlequin Romances and Presents, and the two shelves at the right of the photo hold what I grandly called the Collected Works – one copy of each edition.
My office was right at the top of the stairs, so all the household sounds resonated and I was much too easy to find. If I closed the door so I could concentrate, I soon ran out of oxygen. 🙂
Those are only some of the reasons that we moved into a new house not long after the photo was taken.
This is my office today.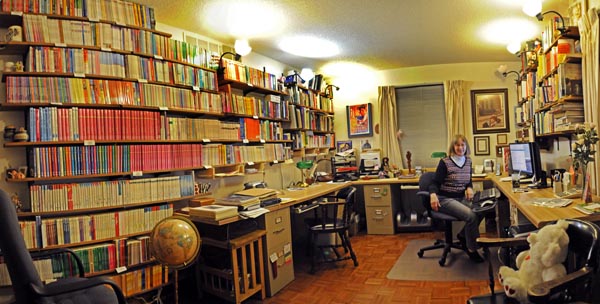 The Collected Works (one copy of each of the editions of my 83 romance novels and 20 non-fiction books) now occupy the shelves at left – that's 62 feet of bookshelves, if you're counting. The framed photos have moved to the hallway which leads to my office, where they're limited to one cover from each language – though we had to stop doing even that when we ran out of wall. A few years ago my husband and I ripped up the carpet and laid the parquet floor. (That's the sort of job which makes you eager go to back to writing.) And as time has gone on, I've added the extra filing cabinets and counters so I can spread out with my various projects.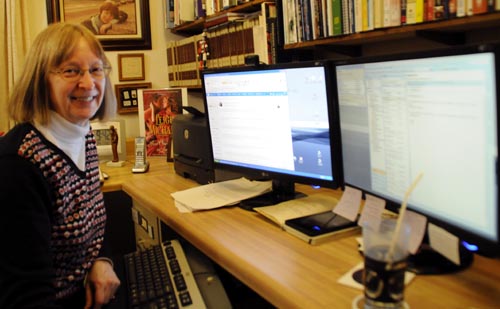 I now rely on dual 24-inch monitors and a laser printer. I think some of those same reference books are still hanging around, though.
Because I also teach (at Gotham Writers Workshop where I offer online classes in romance writing) and I edit books for our small publishing firm (PBL Limited which specializes in local history books and niche-market non-fiction), I use every inch of the practical desk space. Those piles on the counter are non-fiction book projects and source material, waiting to come together so they're ready to publish.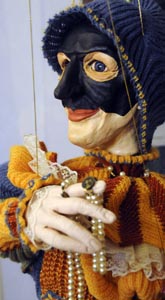 Though I've moved on from my original publisher – as well as switching from contemporary romance to historical, and from sweet stories to spicy ones – I'm grateful to Harlequin Books for a lengthy and rewarding career. That's why the one-of-a-kind Harlequin marionette is still a prized feature in my office. He watches over me as I work.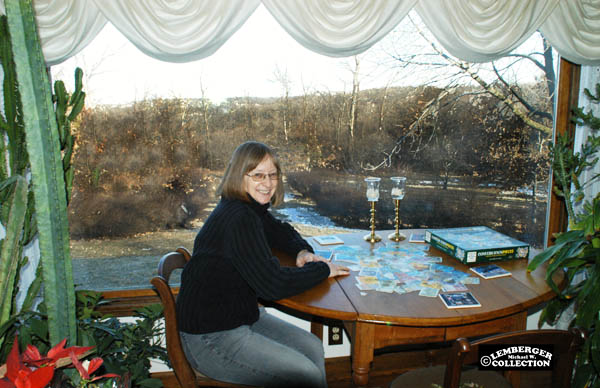 I haven't included a photo of my sitting room, where I leave my laptop set up – it's another book-lined room, and I retreat there when I need to fall into a story and not be bothered by phone calls or email. I do better at knocking out words when it's not so easy to page back to edit and fix and continually revise – and that's made much less tempting when I'm working on a smaller screen.
Sometimes I write in other spots – like the bay window in my living room, where I can watch the white-tailed deer and wild turkeys wandering across the acre of back yard that we refer to as The Garden of Weedin'.
Thanks go to my husband, photographer Michael W. Lemberger, for providing all the photos.
The Birthday Scandal – The wealthy Duke of Weybridge knows that everyone loves a good surprise…and a good scandal. He has bounteous amounts of both for the guests—particularly for his nieces and nephew, Emily, Isabel, and Lucien—at his extravagant seventieth birthday ball. They think his promise to improve their lives means a generous stipend. But he's got different gifts in mind: finding them the perfect matches. His task won't be easy, because the Arden siblings have given up on love.

Bachelor Lucien spends more time merrymaking than looking for a proper wife. His sister Emily, broken-hearted when her betrothal ended in disgrace, committed herself to an early spinsterhood. And Isabel's marriage has been troubled from the moment it began—with a terrible betrayal on her wedding night.

Though witty and strong-willed, the siblings are no match for their uncle's wily machinations. And as the celebration approaches, his romantic scheming ignites illicit liaisons and irresistible temptations, sparking enough rumors to keep the ton abuzz until his next birthday.

Return to Amberley – When her girlhood crush blossomed into marriage, Andie believed in a rosy future with the man of her dreams – until Todd's betrayal sent her from the beauty of Minnesota's winters to Atlanta to begin anew. But just a few months later, Todd walks back into Andie's life – asking for her help. The stone quarry they jointly inherited is for sale, and a good price would secure the future for both of them, paying Andie's tuition and buying freedom for Todd to concentrate on his sculpture. They need to sell now, but the prospective buyer believes he can pick up the quarry at a discount while Todd and Andie fight through a divorce. Todd wants Andie to rejoin him at the family home, Amberley, and put a false face on their failing marriage to convince the buyer and sell the quarry. But is Andie risking her heart if she returns to Amberley?
To learn more about Leigh, you can check her out here:
Thank you for that tour, Leigh! I loved the shot of your old office. I can remember learning to use my first computer which had a whopping 10 mg hard drive. I felt so sophisticated when I graduated to one with a 40 mg drive. LOL!
Okay, folks, Leigh has a nice giveaway for us today. She  is offering an autographed copy of the ARC of The Birthday Scandal or a print copy of Return to Amberley, reader's choice. All you need do is leave us a comment. I'm anticipating there might be a few about the 62 running feet of bookshelves. Holy cow!
44 Responses to "Workspace Wednesday welcomes Leigh Michaels"