Archive for the 'In real life' Category
My friend and writing buddy Kate Kelly has a book in the Kindle Scout program. It's hot and trending right now, but it could use your votes to stay there. The way Kindle Scout works is that you have a chance to read an excerpt, then nominate it if you'd like to see the book published by Amazon. If the book "wins" in this reader-driven selection process, you will automatically receive a free copy of it when it comes out, as a thank you for your sharp scouting skills. If anyone's writing deserves it, it's Kate's. She is a USA Today bestselling author. The two of us, who were critique partners at the time, actually finalled together in RWA's prestigious Golden Heart®  contest once back in 2001, both in the same category, and both with cowboy books. These days, she self-publishes romantic suspense stories and writes awesome Superromances for Harlequin. I'll post the link to read her entry below, but first, to whet your appetite, here's an excerpt.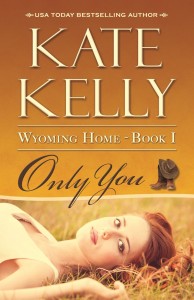 Story Description:

Finally free of her cheating husband, Maggie Kennedy is searching for a "real man" to be a sperm donor for the baby she desperately wants, and figures cowboy country is the place to find one. She's set her sights on JD Cooper, who fits the bill to a T.

A famous architect, JD retreated to his brother's ranch three years ago when personal tragedy struck. He doesn't want a child. He doesn't want to fall in love. And he most definitely doesn't want to be part of Maggie's Next Great Idea.
Excerpt from ONLY YOU, by Kate Kelly (Copyright Kate Kelly 2015):
To set up the scene, Maggie Kennedy has propositioned JD Cooper to one night of hot sex, and he's trying to do the right thing by suggesting going to dinner instead. Poor guy. He doesn't have a chance! She wants a baby, and he wants her. He doesn't learn until later that she's picked him as the father of her child. This is the build-up to the first time they make love. Maggie and JD have a rough emotional ride in this story. Thank goodness for happy endings!
Excerpt:
JD pulled his cowboy hat lower on his head as he settled into the low-slung seat beside Maggie. He was in for a lot of ribbing once they arrived in Cooper Creek. He hadn't grown up in the small village that sat a few miles east of Jackson Hole, but over the years he'd met most of the town folk, and if there was one thing he knew about the locals, they liked a good laugh. Especially at someone else's expense. Seeing him folded into this ridiculous pink car would give them fodder for months to come.
"Nice car," he said as he maneuvered his legs in the cramped space in front of him. His knees practically came up to his chin. Wasn't he the biggest goddamn fool who ever lived? He swore if Maggie had said Jump over the moon, he'd try his best to please her.
He glanced at her profile. He'd never met anyone like her before. As far as he could understand, she wanted to have sex with him. Not a relationship. Just sex. Was that some kind of cosmic joke? A beautiful, vibrant woman strolled into his house with a chocolate cake and said she wanted to have sex with him. She'd given him an instant hard-on, and it had been years since that had happened. Not the hard-on, but the immediacy. The urgency. He was starting to get hard right now, imagining those incredible long legs wrapped around him.
What was he doing taking her to Arnie's, for chrissakes?
"You're awfully quiet." Maggie glanced over at him.
"I'm rethinking my options."
"Meaning?"
"Meaning I think we should go back to my place."
She stomped on the brake, and the car skidded to a stop. "Right now?"
"Yeah." His nerves jangled so much, he wondered if he was glowing in the dark. "No. Damn it. Hang on a sec."
He reached for her and pulled her toward him. His breathing eased when he pressed his mouth against hers. She tasted sweet and mysterious at the same time. He slid his tongue along her lips and inhaled her breath. He'd inhale her if he could. Her lips were so soft. And eager. As greedy as his. It had been so long. He'd dated women since his divorce, had even tried to take the relationships to the next level, but no one had come close to making him feel like this.
If he didn't take her right now, he'd explode.
He pulled away. Welcomed the cool night air that washed over him. She'd pulled his shirt out of his jeans, and he sucked in a breath as her hands explored his stomach.
"We can't—"
"Yes, we can." She tried climbing over the stick shift to get to him.
He laughed and caught her hands. "No, baby. Not here in the middle of town. Let's go home."
Home. She really was driving him crazy. He'd never called the house home before. It had always been "the house."
"You're right. I guess." She pulled her hands through her hair and looked around and laughed. She started the engine and turned the car around and gunned it back to his house. "Talk to me. Talk to me about anything but sex, or I swear we won't make it back."
He put his hand on the back of her neck. He needed to feel her warm skin under his fingers. Needed to feel her pulse throbbing with excitement. To get her out of her clothes and lay her on his mattress. He didn't even have a proper bed, for God's sake. Just a thousand dollar mattress on the floor. What was wrong with him? He was squatting in his own home.
"Why is the car pink?" He pulled the question out of the air. He didn't want to think about why he lived the way he did. All he wanted was Maggie's warm, silken skin against him. He wanted to be inside her. Deep inside her. Over and over again.
"My ex wanted the car as part of the divorce settlement. I bought it for him as a wedding present."
"And?"
She shrugged. "He's cheap, and I knew if I painted the car pink and made the seats and everything inside pink, he'd never spend the money to change it back."
"He must have hurt you a lot."
She downshifted as they flew up the last grade. "He got what I wanted the most, so I thought it only fair that I got something he wanted."
"What is it you wanted?" He knew he shouldn't ask. It was far too personal and didn't have anything to do with him and Maggie. He wanted to keep things light with her. Not get too involved. Maggie wasn't going to be here for long. He might not be, either, but then again, he might.
She parked the car and smiled sadly at him as they sat in the dark listening to the ticking of the engine cooling. "It doesn't matter anymore. What does matter is whether I'm going to get what I want tonight."
"That I can deliver on."
Whew. :::Fans self:::
If you enjoyed that as much as I did, you can read more and nominate the entry here.
During this Breast Cancer Awareness Week, I bring you the story of a breast cancer heroine, Kate Kelly.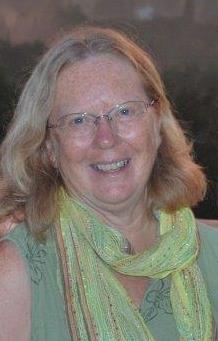 Kate is a member of a critique group of local authors which goes back well over a decade. (And by well over, I mean approaching two decades!) We basically all learned to write together. In fact, Kate and I both finalled in RWA's Golden Heart contest together in 2001, both with cowboy stories. We celebrated each other's victories and commiserated with each other over every rejection. And when Kate was diagnosed with breast cancer somewhere along that journey, it rocked our tight little critique group. It was also the first time the disease had struck someone in my closest circle. I soon learned how quickly and thoroughly it hijacks a person's life.
The most important thing I did for myself is put together my own health team. If you do nothing else, consult a nutritionist. I also had a naturopathic doctor help guide me through recovery. During treatment, doctors and nurses take over your life, and it's such an unfamiliar world, it's hard to understand what's right for you. Actively working to regain my health made me feel like I'd taken back control of my life. For me that meant stop putting toxins into my body and eliminating the toxins already there. I had to examine every aspect of my life. Did it pay off? Absolutely! Every day is a bonus for me, and I never forget it.
Happily, Kate is healthy now. She's back to writing and enjoying the grandchildren who've since come along. She frequently escapes the frigid Canadian winters to sail in much warmer seas with her husband. She's also sold three books to Harlequin Superromance, and self-published another five romantic suspenses. See all her books on her Amazon page.

But another friend, USA Today bestselling author Pamela Clare, is now in the midst of her own battle. She was diagnosed with breast cancer six months ago, and the ensuing treatments, combined with her inability to write and publish new material and thus bolster her income, have wiped out her finances. In our desire to help Pamela, a number of authors have contributed a work of fiction to a box set anthology for a short term run, with all proceeds to go to Pamela's medical fund. The result is Last Hero Standing. Priced at just $0.99, the box set, featuring New York Times and USA Today bestselling authors, is currently available for pre-order, and will be live on all major platforms for the month of November only. Please consider buying it to help Pamela win her fight.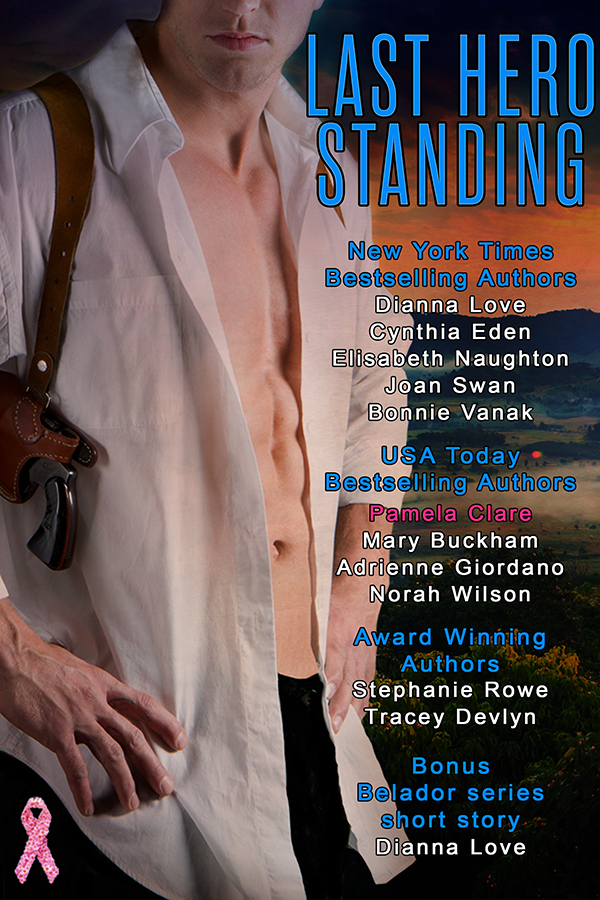 Buy Links for Last Hero Standing:
If if you'd like to read more about Pamela Clare's breast cancer journey, you can check out her blog.
During the month of October, the authors of Last Hero Standing will be posting their own Breast Cancer Heroine stories on Facebook. Look for them!
In the meantime, feel free to share your personal breast cancer heroines in the comment section below.
Today I welcome a genuine rock star of the indie author world. I've known Theresa Ragan (who also writes as T.R. Ragan) since we finalled in the RWA Golden Heart contest in 2003, along with dozens of other talented authors. That group of authors called themselves The Wet Noodle Posse, and we'll be celebrating our 10-year anniversary at the RWA National Conference in Atlanta in July. As fellow-Noodlers, we've cheered each other on, celebrated each other's successes, commiserated over disappointments, and grieved over losses. Several Noodlers have given us a great deal to cheer about, and Theresa is foremost among them. Her perseverance is truly inspiring, as is her phenomenal success! She is now a Yew York Times and USA Today bestselling author. I would urge you to go read this Amazon article "Overnight Success, 20 Years in the Making".
With that, I'll turn you over to Theresa.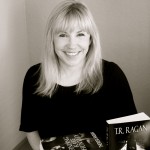 THERESA RAGAN:  Hi, Norah! I love Workspace Wednesday and I can't thank you enough for inviting me to blog about my work space, since I finally have one.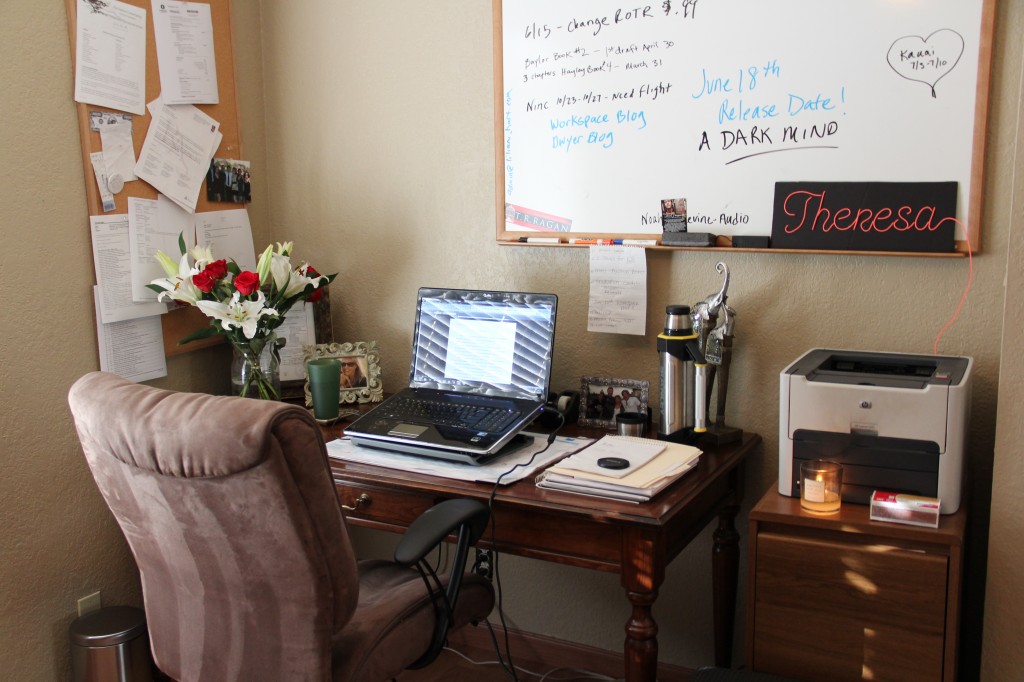 My office is a small, ten-by-twelve room, and I love it! I finally have my own workspace. The reason I am so grateful to have a room to myself where I can actually lock the door is because for the last twenty years I wrote in the car while waiting for kids, in bed, at the dining room table, and on a tiny desk squished into the corner of my bedroom.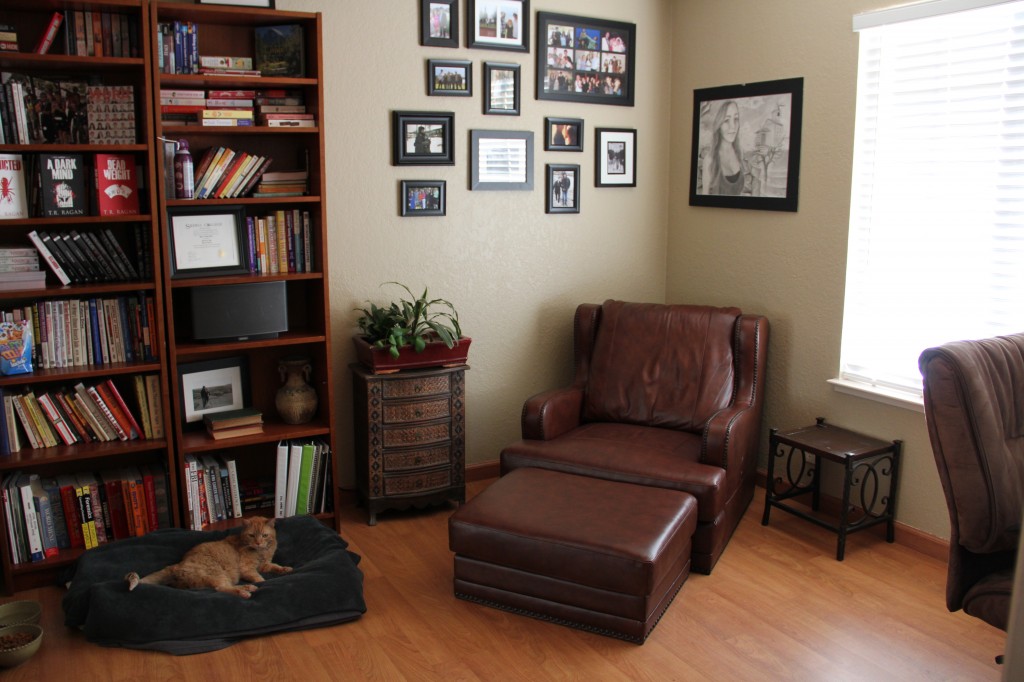 You name it, I've written in it or on it.
Most writers know that where there's a will, there's a way. If you want to be a writer, you need to sit down somewhere, anywhere, and write.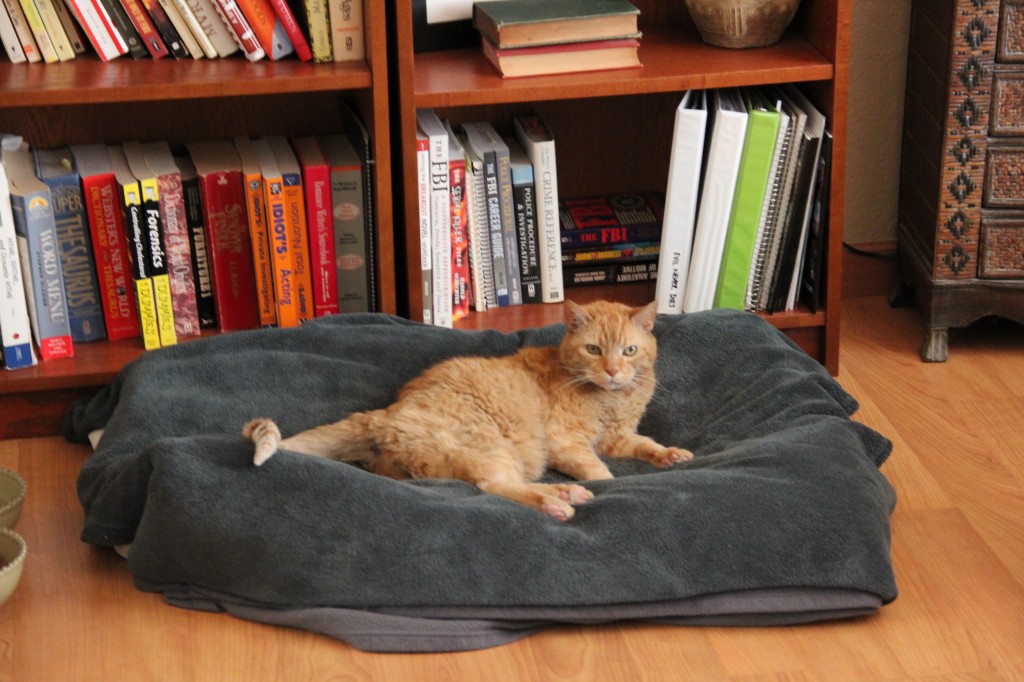 I had a Chihuahua, Sadie that kept me company for eighteen years during my writer's journey. Now I have a tomcat named Lisa to watch over me. We had a Bart and Maggie at the time and the kids thought we needed a Lisa.
With six of us living in a small house, I had to make it work, so that's exactly what I did. To block out noise, I always turn on a fan. I like white noise in the background while I write. Now that most of the kids have grown and moved away, I don't really need the fan as much, but I've grown used to the noise, so I keep it on all day.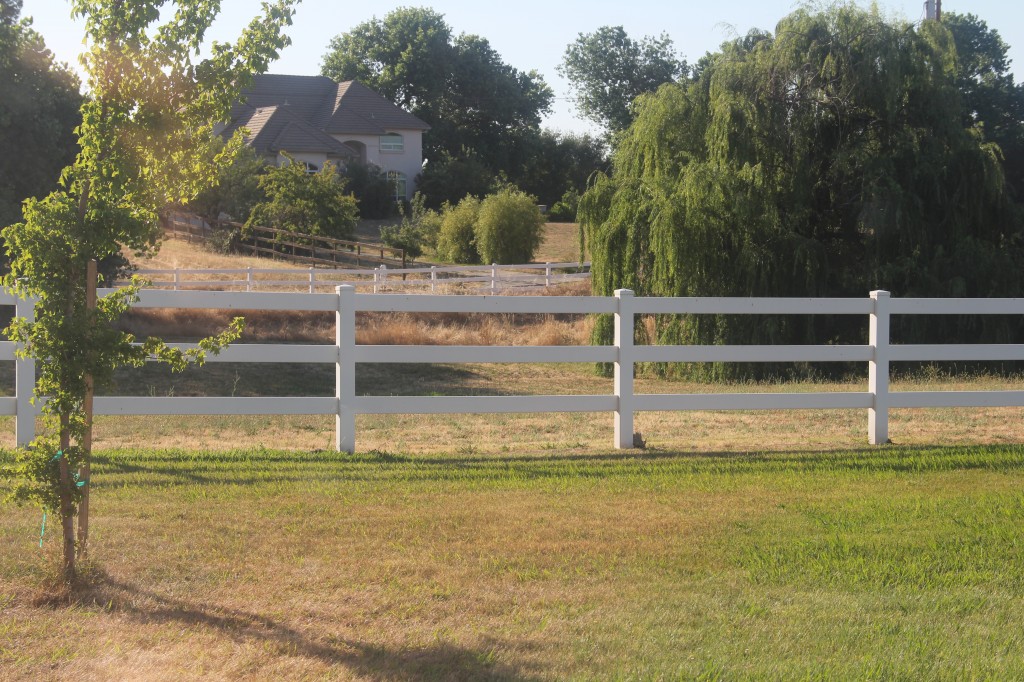 I've only had my office for a few months, so I'm still excited. When the sun isn't too bright, I open the window and see wild turkey and rabbits and a beautiful willow tree that I planted myself.
Well, that's it for now. Thanks for having me, Norah.
Book three of Theresa's bestselling Lizzy Gardner Series A Dark Mind by T.R. Ragan is available for pre-order now and will be released on June 18, 2013. You can visit Theresa at:
COMING JUNE 18, 2013 – AVAILABLE FOR PREORDER! A serial killer is terrorizing Sacramento, preying on happily married couples and unleashing unspeakable cruelties upon his victims. The ordeal rekindles disturbing memories for private investigator Lizzy Gardner, who barely escaped a serial killer's clutches only years ago. But while most Sacramento residents are hiding in the shadows, paralyzed by fear, Lizzy is compelled to go after the Lovebird Killer.

So it's no surprise that, when a routine workers' compensation case suddenly leads her and her two young assistants onto the killer's trail, she welcomes the chase, determined to bring him to justice before he can claim another victim. She never imagines he could be two steps ahead, watching her every move and plotting his bloodiest, most triumphant conquest of all.

COMING JUNE 18, 2013! Samantha Johnston, a tabloid reporter for The LA Beat, flies to New York to get the scoop on Dominic DeMarco, one of the sexiest celebrities in America. Nothing is going to stop her from being the first to find out who the mystery bride is, but instead of getting the story, Sam ends up being the story.
Thank you so much for visiting with me today, Theresa, and for sharing your hard-won writing space.  I absolutely LOVE that leather chair and ottoman, with that handy occasional table right there. With a cup of tea steaming on that table, I could put my feet up and write there for hours. It makes me happy knowing you've finally carved out this space for yourself. I'd say it's more than overdue!
Okay, it's on to the giveaway! Two lucky commenters will receive an e-copy of A Dark Mind, Theresa's newest T.R. Ragan title. To call her Lizzy Gardner stories thrillers is almost an understatement. I tend to check the locks on my doors and windows when I hunker down to read one, which I'll be doing soon as soon as my preordered copy arrives. 🙂
Okay, let's have some comments! Are you working on your own "overnight" success that's taken decades? Do you shoehorn bits of time or space into your demanding day to follow a passion? Have you ever had to surrender a dream, only to have an ever better one manifest? What's your story of perseverance?
We have a winner for Goodreads giveaway of the unabridged audiobook version of Every Breath She Takes, my romantic suspense from Montlake, on Goodreads. The prize went to Jeremy McDermott. Hope you enjoy, Jeremy!
[sourcecode language="css"]

[/sourcecode]
I'm very happy to welcome fellow-Noodler (aka RWA Golden Heart® finalist, class of 2003) Lee McKenzie. Lee is a fellow Canadian and a truly strong and fascinating woman. She lives with her artist/teacher husband on an island in the Pacific Northwest, and writes smart, wonderful, heartwarming stories for Harlequin American. Lee has lots of pictures for us, so let's get right to it!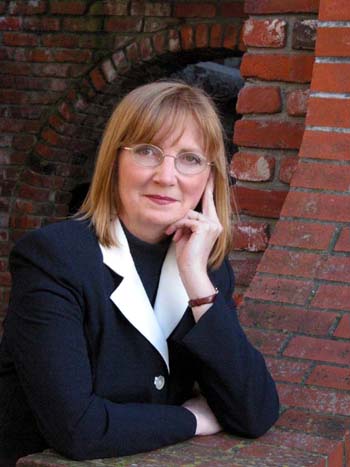 Thank you, Norah, for hosting me on Workspace Wednesday, and welcome everyone to my office. Yes, I tidied up for you. I always tidy up before guests arrive, and you are no exception. When I'm on deadline or busy with other things, my space tends to get a bit disorganized. Okay, a lot. But every once in a while I need to spend a day getting reorganized because the mess drives me crazy.
My office hasn't always looked like this, but I'm too embarrassed to show the "before" photos. Trust me, though, it was bad, because five years ago I had surgery for recurrent melanoma followed by a year of chemo. Pretty much everything, including writing, was put on hold. My office became a dumping ground for all the stuff I didn't have time and energy to deal with, and that was made worse by towering floor-to-ceiling shelves, overstuffed filing cabinets, boxes of junk and…well, I'm sure you get the picture.
Last year it was still an overwhelming mess, so I bit the bullet and hired Chaos to Calm, a home organizing company owned by sisters Jess and Jen. And let me tell you, those two gals are worth their weight in gold.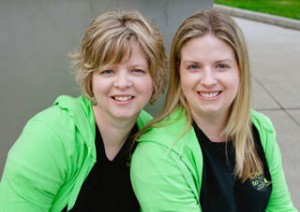 And here's what my office looks like now.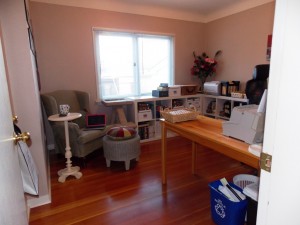 The too-tall shelves that overwhelmed the space…and me…have been replaced by nice low ones. It turns out that I'm a piler, not a filer, but I don't like piles so I've opted for labelled storage boxes instead.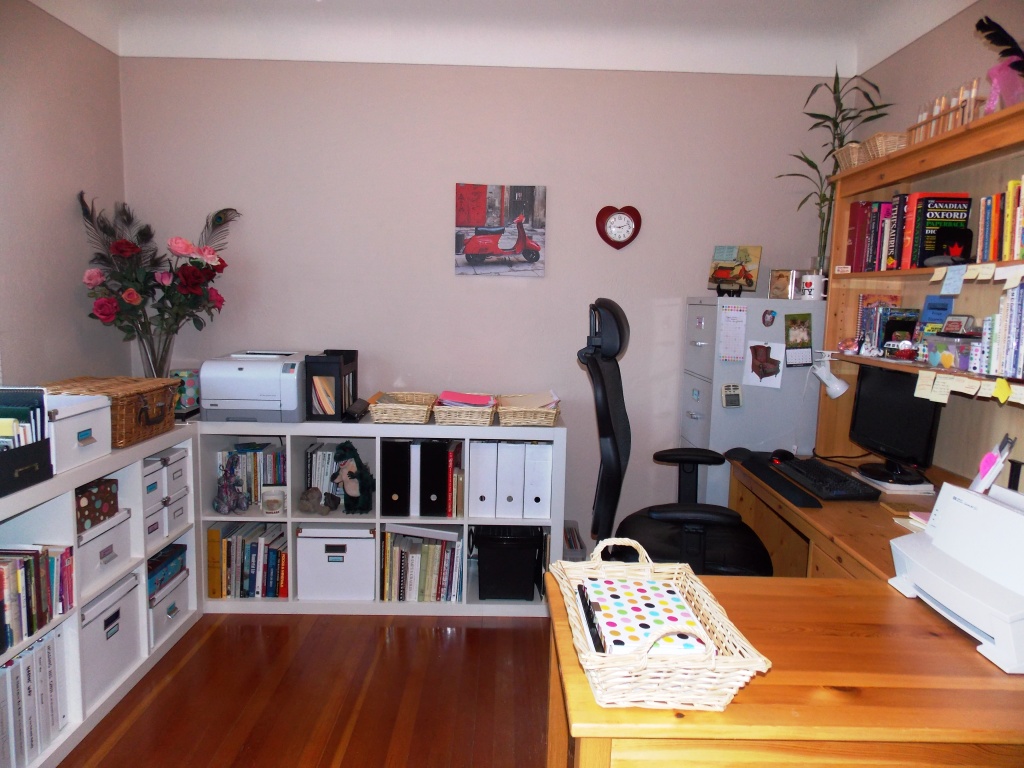 Organizing my office and trying to keep it tidy lets me enjoy the things that are really special to me. My two RWA chapters authors give a silk rose every time they sell a book, and I love my bouquet! Yes, those are dinosaurs on one of the shelves, and the red Vespa in the print on the wall is just like the one the heroine in The Wedding Bargain rode.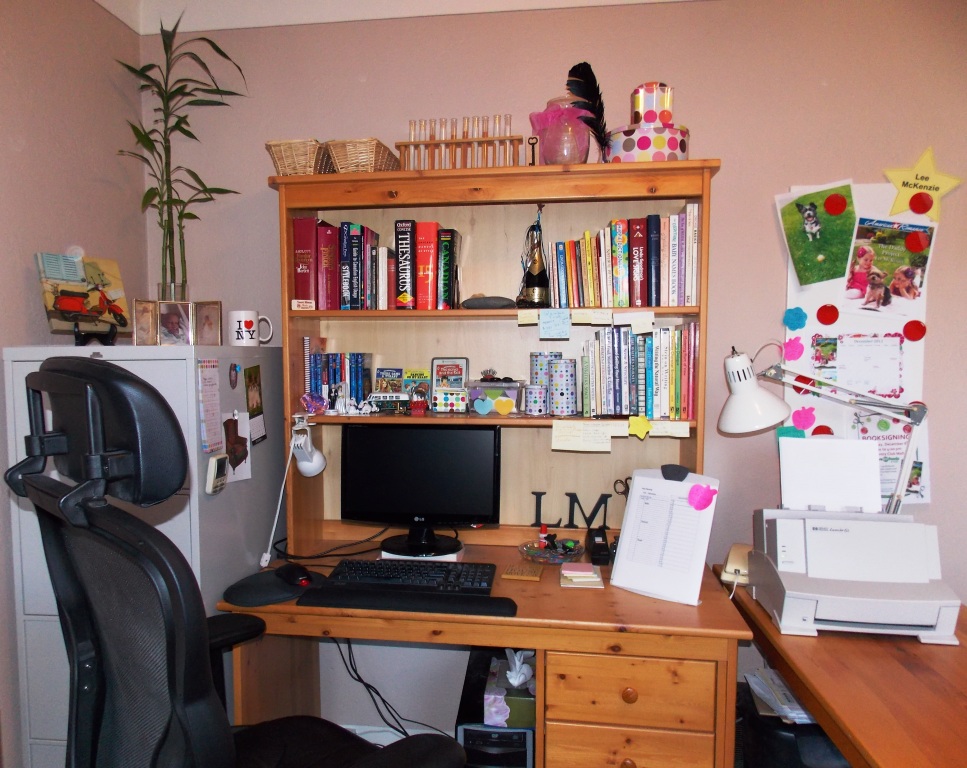 I don't write at this desk but I do use the computer for email, printing manuscripts, etc. This is also a handy place to keep other special mementos, like the little (now empty!) bottle of bubbly on the top shelf. I bought it the day I got "the call."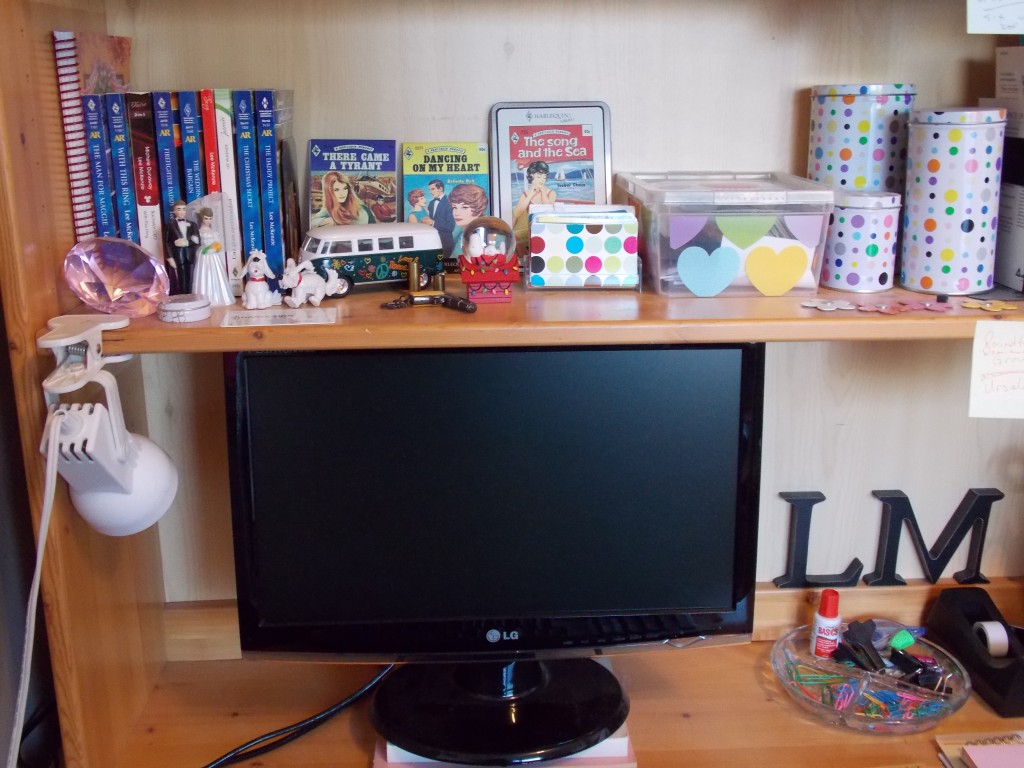 This desk is also home to my "inspiration shelf" where I keep copies of my books and other little odds and ends that tie in to the stories I've written. And of course there are polka dots. I love polka dots!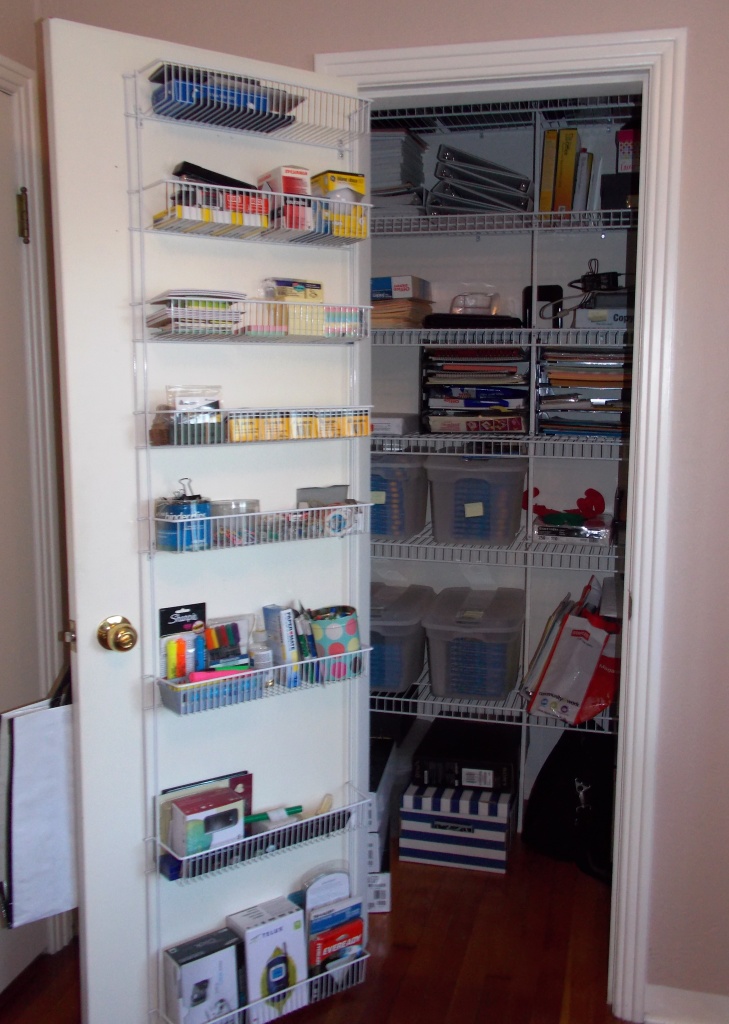 My office used to be a bedroom, so I have the luxury of a generously sized storage closet.  A very handy place to store office supplies and bins of author copies.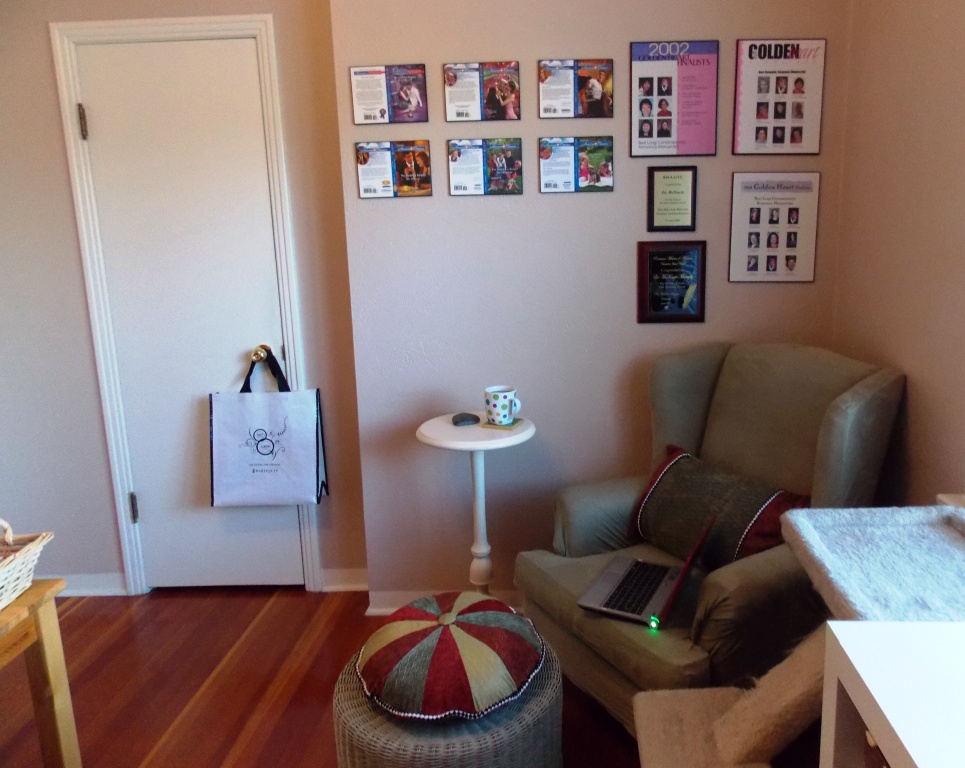 My writing corner is my favorite part of the room, and as you can see by the scratching post, I share it with my two cats. All of my writing is done on my laptop, and the armchair makes a nice cozy writing space.
My inspiration was this green Harlequin Wing Chair from McKenzie-Childs.
Sadly, it didn't fit in my budget…and trust me, I crunched the numbers!
So I created my own.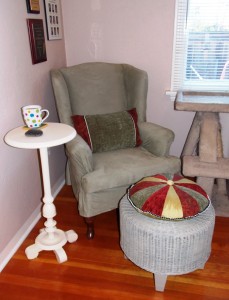 The old wingback chair was given to me and I slip-covered it in a nice, calming sage green. The ottoman and side table were thrift-store finds, and I made the cushions (McCall's 4410) from fabric remnants. It can't compete with my dream chair, but it works, and at a fraction of the cost.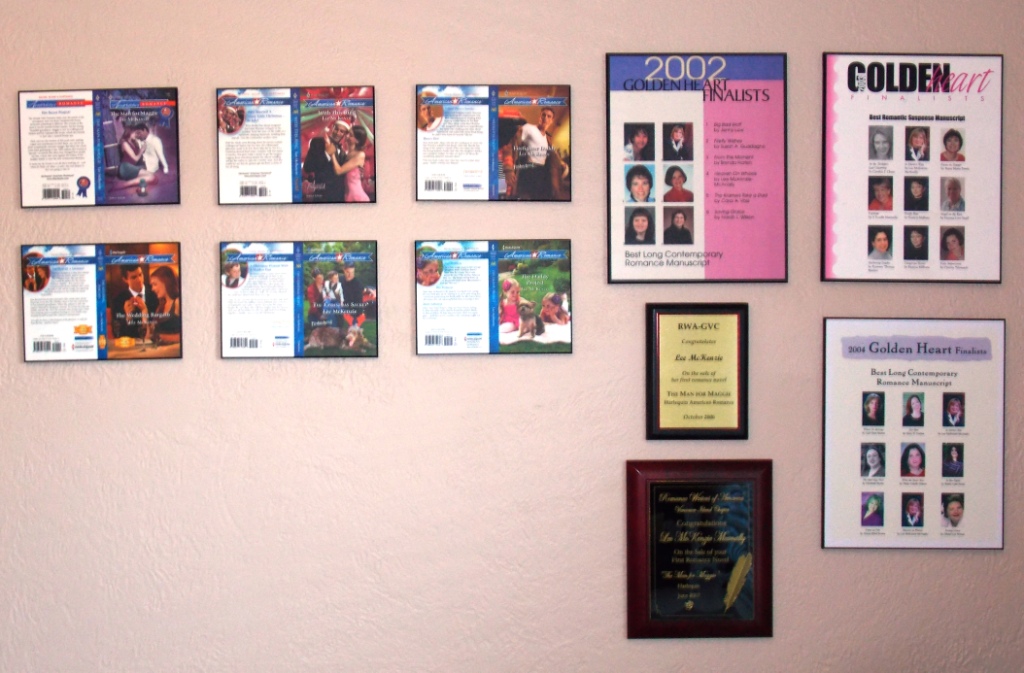 On the wall next to my writing chair I've created my own little "wall of fame." My book covers and posters from the three years when I was a Golden Heart finalist are block-mounted, and I've also added the "first sale" plaques presented to me by my two RWA chapters. Yes, I know this makes me look like a total egomaniac! But I'm usually the only person who sees it, and it inspires me.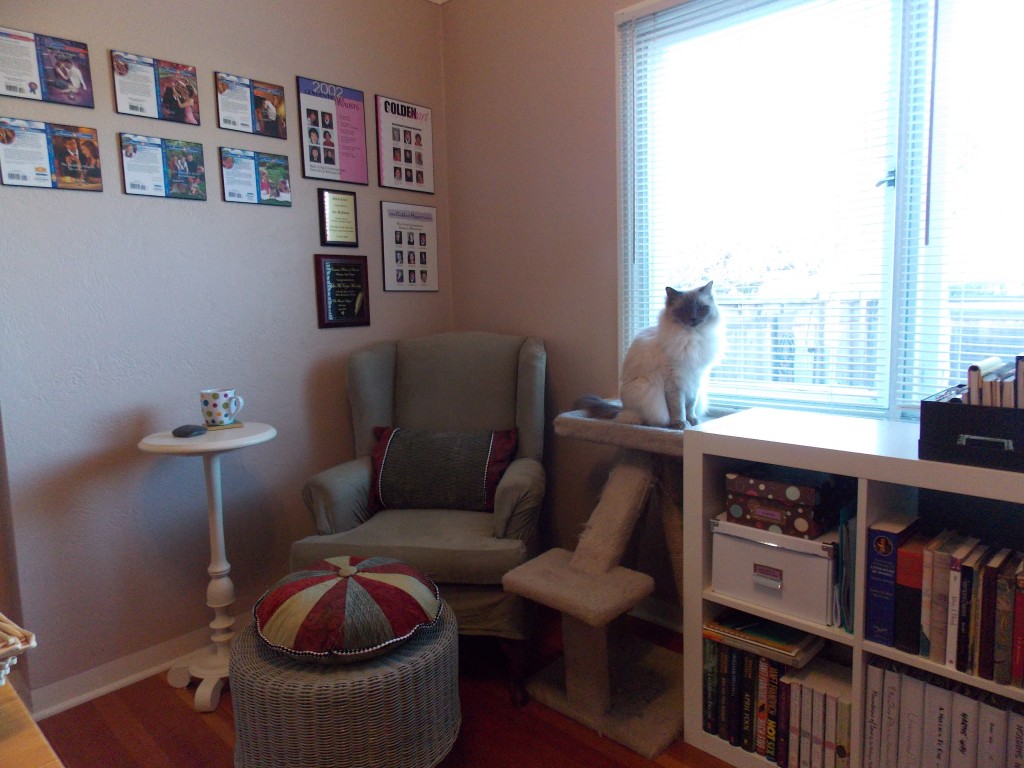 Thank you so much for stopping by to visit my workspace, which, I'm happy to say, is now a lovely place to work. I'm not sure where my other cat is, but Lucy and I hope you enjoyed the tour.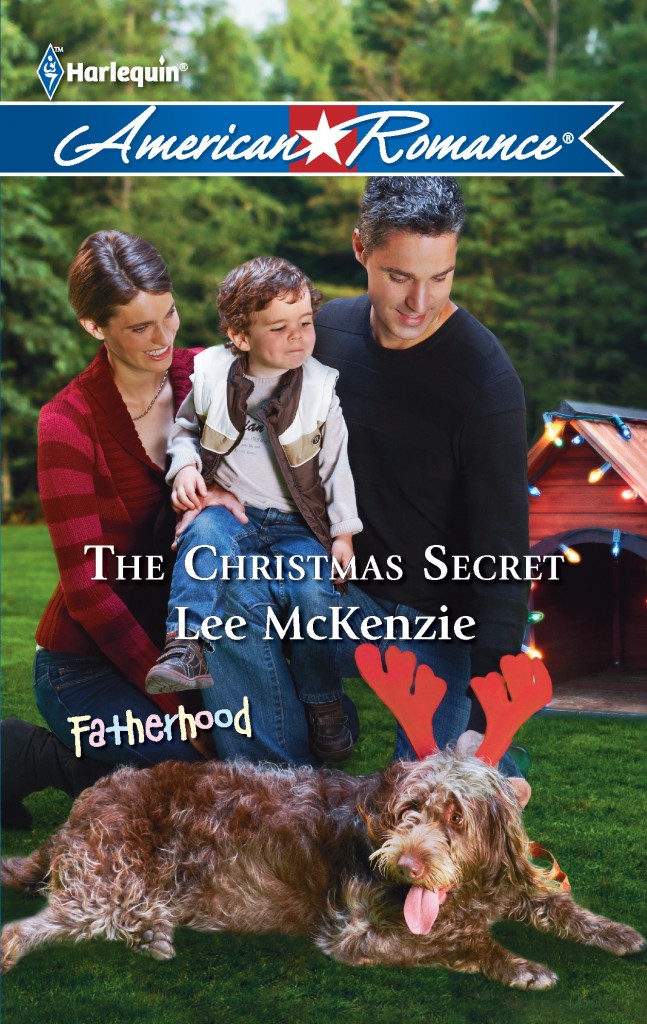 Today I'm giving away a signed copy of the first book in my Seattle-set Ready Set Sold series about three women who run a real estate business that renovates, stages and sells homes. Samantha, the company's carpenter and all-round handywoman, is the heroine in The Christmas Secret (Harlequin American Romance, November 2011).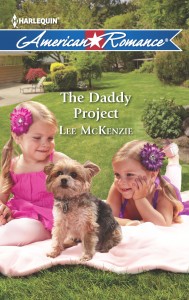 The Daddy Project is Kristi's story. She's the company's interior decorator, and this book is on shelves now!
Claire is the company's Realtor and her story, Daddy, Unexpectedly, is a May 2013 release and now available for pre-order.
I'm thrilled that Maggie's Way (Harlequin Heartwarming) will also be out in May 2013.
Leave a comment to be eligible for win a copy of The Christmas Secret, a secret baby story with a twist. And for a little extra incentive, if you go to my website and sign up for my monthly eNewsletter, your name will be entered twice!
Thank you, Norah! Merry Christmas to you all, and happy reading!
Thank you, Lee! That was an awesome tour. And as always, you are an inspiration!
If you'd like to read more about Lee, she's actually interviewed today at Get Lost in a Story.
But before you go, don't forget to leave a comment for your chance to win a signed copy of The Christmas Secret.
Some days, I can't help but think I have the best job in the world, and not just because I get to make up stories! I also get to meet some very cool people. One of those awesome people is Vanessa Kelly. I got to know Vanessa when I was invited to join Rock*It Reads, of which she is a founding member. I can't tell you how much respect and affection I have developed for her in the short time I've been with RIR. Take it away, Vanessa!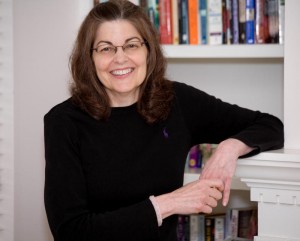 Hi, Norah!  Thanks so much for having me on Workspace Wednesday.  The first thing I did, naturally, was go on and look at some of the swell spaces you've highlighted.  Gave me some great organizing ideas!  For me, organization is critical because I work out of two offices.  Most of the year I live in a condo in Ottawa with my hubby, but I'm lucky enough to spend the winter in Florida, in a bungalow on a small but very beautiful lake.
Not surprisingly, my Ottawa office is the best supplied and holds most of my books and writing resources, because that's where I spend most of the year.  Here's a picture of the custom-designed bookcase for all my research books and materials.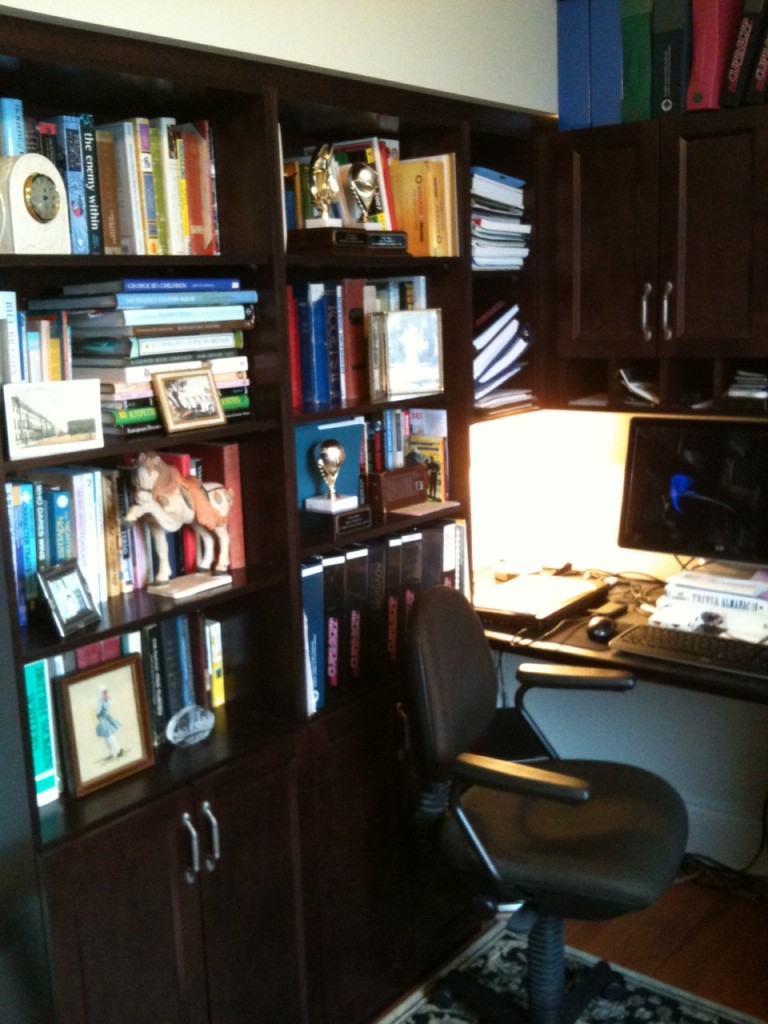 The desk that you see in that photo, however, is not mine.  It's my husband Randy's workspace.  He's my co-writer for my VK Sykes contemporary romance books.  If you want to see how closely we work together, check out this picture.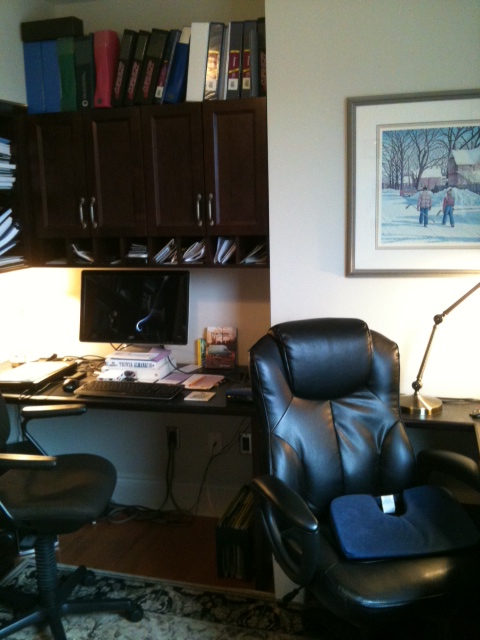 That's my desk chair on the right.  Pretty darn close, I'd say!  In fact, we bump into each other on a regular basis.  Because we live in a condo with limited space, we had to put a lot of time into thinking about how the office would work.  Now here's a picture of my desk.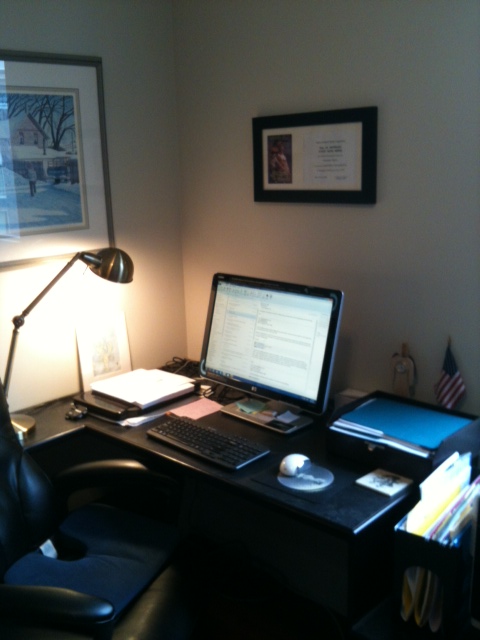 Notice the Obus form cushion on my chair—like many writers, my back can often give me problems, so a really good chair and good posture is essential.  But on bad back days I usually move out to a big leather armchair in the living room.  I plop my Alphasmart on my little lap desk and write away.  It's a good break from sitting at the desk and often seems to fuel my creativity.  It's amazing how changing one's environment, even just a little bit, can help the muse break out of her box.
Here's the final picture from my Ottawa office, showing more of our custom built cabinets and bookshelves.  I've also got some awards posted on the wall, and you can also see that this corner is where I stack author copies, manuscripts, and other supplies I need within reach.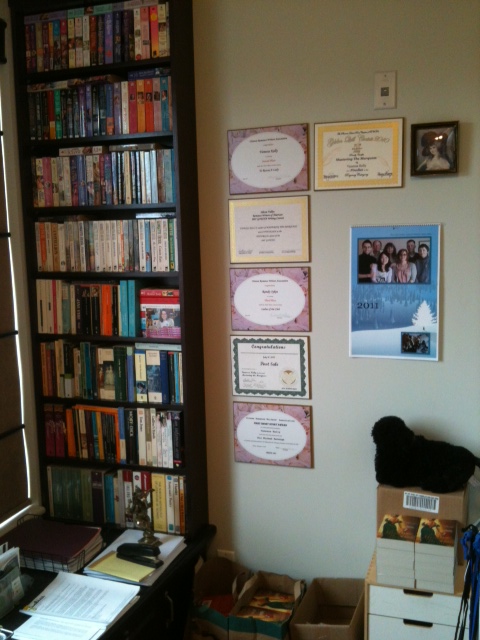 As you can see, my Ottawa office is pretty tight but I think it's well designed and very functional.  As much as I love spending winters in Florida, I do miss my office while we're gone.  But Florida has its compensations too, starting with this view out my back door.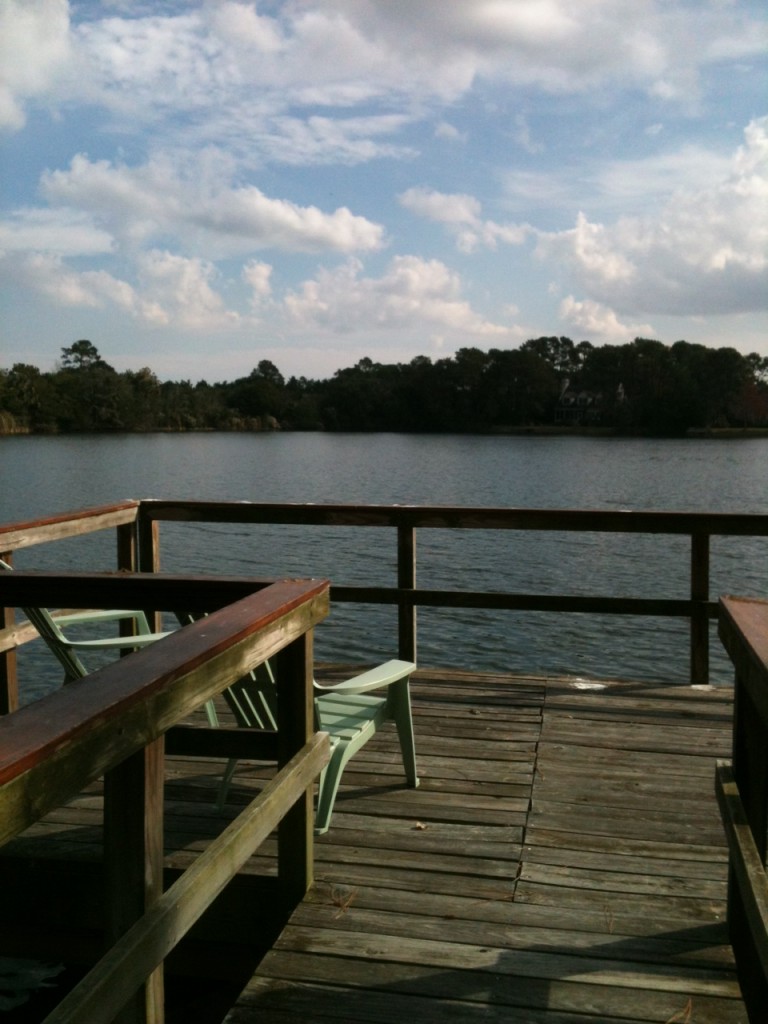 The real advantage of my Florida office space is that I have more room to spread out, which is kind of funny because I don't have nearly as much stuff here as I do in Ottawa.  But it's still a pleasure to have the extra space.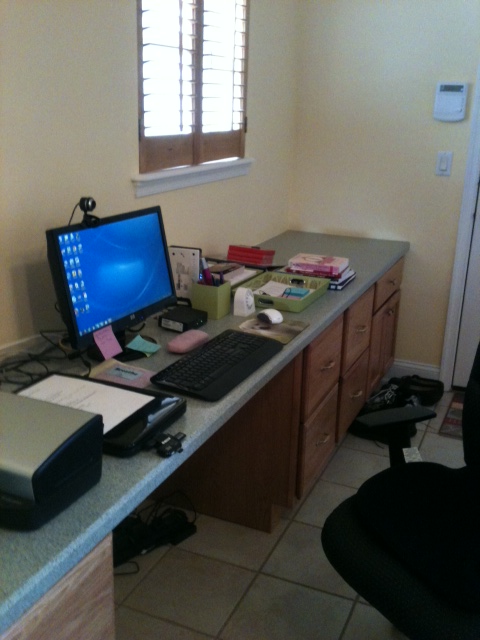 Notice the swell built-in drawers and cabinets from the previous owner of the house.  That is a very handy feature for someone who has a lot of crap to organize!
Here's a close up of my workspace.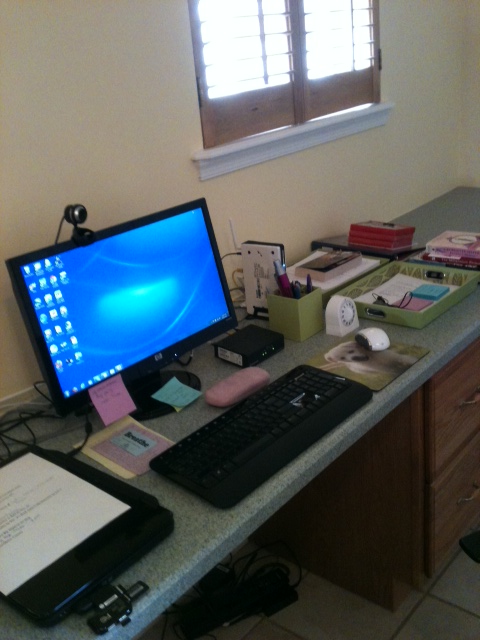 See that white kitchen timer by my keyboard?  I set that at fifteen minute intervals to remind myself to get up and walk around.  Bad back, remember?
One of the things I also appreciate about my Florida office is where it's located—the kitchen.  I love being in the kitchen.  It's warm and cozy, and it only takes a second to get up and make myself a cup of tea and coffee.  Of course, it also means I'm way too close to all the food and the fridge, so I have to exercise some much-needed restraint.
And, no, I'm not going to post a picture of my kitchen, because I still haven't done the breakfast dishes!
Vanessa Kelly was named by Booklist, the review journal of the American Library Association, as one of the "New Stars of Historical Romance."  Her Regency-set historical romances have been nominated for awards in a number of contests, and her second book, Sex and The Single Earl, won the prestigious Maggie Medallion for Best Historical Romance.  Vanessa also writes contemporary romance with her husband under the name of V.K. Sykes.  You can find her on the web at www.vanessakellyauthor.com or at www.vksykes.com.
Thank you, Vanessa. That was awesome. And I'm so jealous! I'd like to try to write on that dock. 🙂
If you want to know more about Vanessa, visit her at one of these sites:
Check out her current books: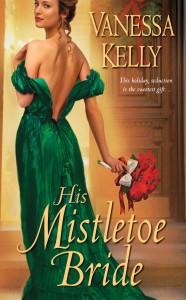 His Mistletoe Bride
When Major Lucas Stanton inherited his earldom, he never dreamed his property would include the previous earl's granddaughter. Phoebe Linville is a sparkling American beauty, yes, but with a talent for getting into trouble. Witness the compromising position that forced them into wedlock. Whisked away to Mistletoe Manor, his country estate, it isn't long before she is challenging his rules—and surprising him in and out of bed…
Phoebe has no intention of bowing to Lucas's stubbornness even though he offers all that she wants. His kisses and unexpected warmth are enticing, but Phoebe is determined to show the Earl of Merritt what real love is all about. And if that takes twelve nights of delicious seduction by a roaring fire, she's more than willing to reveal her gifts very slowly…
Buy links:  Amazon  Barnes & Noble  Books A Million
Bigger Than Beckham, by VK Sykes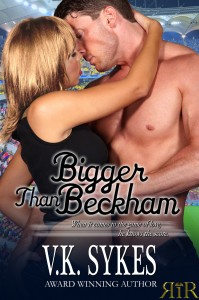 Sports journalist Martha Winston loves her career, but her life goes sideways when she inherits a pro soccer team from her father.  The team is almost bankrupt and on the skids, but Martha has vowed to save her beloved father's legacy.  But she needs to get a financial infusion fast, or else lose the team to the wolves baying at her door.
Former British soccer hero Tony Branch wants to add Martha's team to his growing sports empire.  But he wants it strictly on his terms—full control, not a partnership.   When Martha turns him down flat, he's determined to change her mind by any means necessary.  If that includes using the sexual heat flaring between them, Tony is more than willing to play a game of seduction.
Buy links:  Kindle  Nook  Kobo  Smashwords
Okay, that brings us to the fun stuff – the giveaway! Leave a comment for Vanessa for a chance to win one of two prizes. She'll be giving away a signed copy of His Mistletoe Bride to one winner, and an ebook copy of Bigger than Beckham to another.
I am so happy to have Diane Gaston as my guest today on Workspace Wednesday. Diane is a fellow Noodler, aka a member of the Wet Noodle Posse, aka the RWA Golden Heart® finalists of 2003. I met her in person for the first time in 2004 when I attended my first RWA National Conference in Dallas, Texas. The largest conference I'd attended prior to that was the New England chapter's event. There were more romance writers in that Dallas hotel that week than live in the New Brunswick parish where I grew up. I'd just had my first novel published and met my editor for the first time. To say I was a little overwhelmed and feeling out of my depth is an understatement. Of course, Diane was incredibly kind and gracious. making me feel less conspicuously awkward. And in the intervening years since then, I've seen her do it countless times again, for all kinds of people, in person and in electronic forums. She is a truly lovely person. She is also an extremely talented, RITA-winning writer, and her historical romances are a very special treat.
With that introduction, I'll turn you over to Diane.
DIANE GASTON:  Before writing this, I looked back at previous Workspace Wednesday blogs. Oh dear….Just as I feared. Almost everybody showed these beautiful office spaces, perfectly organized, creatively decorated with lots of Feng Shui. This is so not my workspace.
The truth is, my workspace is wherever I want it to be.
I realized long ago that I enjoy writing the best when I am not shut away in an office. I like being in the thick of things so that I can see, hear, and respond to what is going on. It is the way I adapted so that writing did not take me away from my family, so I could always know when someone needed or wanted my attention.
Lately I've been writing in our den. My dh who works at home two days a week, works in the same room. That can be nice or distracting, depending on my powers of focus. The den is in the middle of everything. Anyone who comes in the house passes through the den.
I write on an MacBook Air, which I LOVE, and sit on a recliner loveseat using the foot rest as a desk sometimes. My research books sit next to me. Occasionally I also have a cat sitting next to me. Or on me. Behind me is a printer in a nook that is more "office" than den and deserves to be hidden from view.
I like writing in our den because it looks out onto our deck to the woods beyond. I live in the Washington, DC, suburbs, the epitome of suburbia, but the patch of woods behind my house gives the illusion of wilderness–except in late fall and winter when the townhouses behind peek through. There is a bird feeder on our deck that brings lots of visitors. Red cardinals. Blue Jays. Chickadees. Even woodpeckers, who peck on our chimney in the spring, sounding like machine guns. We also have squirrels, chipmunks, foxes, opossums, deer and raccoons. In suburbia.
From where I sit in the den, I also have in view my most valued writing awards. If that isn't inspiration, I don't know what is! From left to right is a RITA, a Golden Quill, a National Readers Choice Award. The crystal in front is my Washington Romance Writers Nancy Richards-Akers Mentoring Award, one I particularly treasure.
Hanging beneath the award shelf is an antique ink drawing I bought that I swear is Lord Byron, another treasure, another writing inspiration.
Sometimes I need a change of scenery when I write. So I move into the living room. This is perhaps my favorite room in the house. It has furniture and decor from my family and my husband's and is filled with beautiful memories. Here's the view from my writing chair in the living room. The figurines on each end belonged to my mother, the clock to my aunt, and the others were ones I purchased.
Besides my very comfortable working spaces in the den and living room, I also have a "Book Room." I can't call it an office because there is no place to work in there, but it is where I keep my ever growing collection of research books and other writing-related stuff. I have over 700 research books on the shelves and keep my backlist books in plastic bins. When I am in the throes of writing, this space looks like I belong on an episode of Hoarders.
Please believe me, the rest of my house looks adequately neat and clean. This room never gets as neat as other parts of the house, but it usually looks better. Like this.
At least you can see the carpet and I can reach my books without climbing over stuff.
The brown box on top of the plastic bins contains my latest book, Born To Scandal, in bookstores now and due to be released as an ebook December 1. Born to Scandal is my homage to Charlotte Bronte's Jane Eyre. It is the story of a governess and a lord, complete with secrets and betrayal.
Lord Brentmore–half Irish peasant, half English aristocrat–grew up under a cloud of scandal. Even money and a title aren't enough to stay the wagging tongues of the Ton. But he's vowed that his children will never experience the same stigma.

After the death of their infamous mother they need a reputable governess. Anna Hill is too passionate, too alluring, but she fills Brentmore Hall with light and laughter again–and its master with feelings he'd forgotten.

But a lord marrying a governess would be the biggest scandal of all!
Learn more at my website.
To celebrate the release of Born to Scandal, I'm giving away a signed copy to one lucky commenter here. Just be sure to leave your email address.
Now it's time to 'fess up. Do you have a room or closet that sometimes looks like you belong on Hoarders? (Or am I the only one….?)
I haven't known Nancy Naigle long; I met her when she became a fellow Montlake Romance author. But frankly,  it didn't take long, even though the "getting to know you" stuff was all electronic. She's very warm, funny and interesting. Just like her books! Since I've mentioned the Montlake connection, here's Nancy's current Montlake title, Sweet Tea and Secrets, which is charting very nicely in Romance > Series and Romance > Contemporary. Go, Nancy!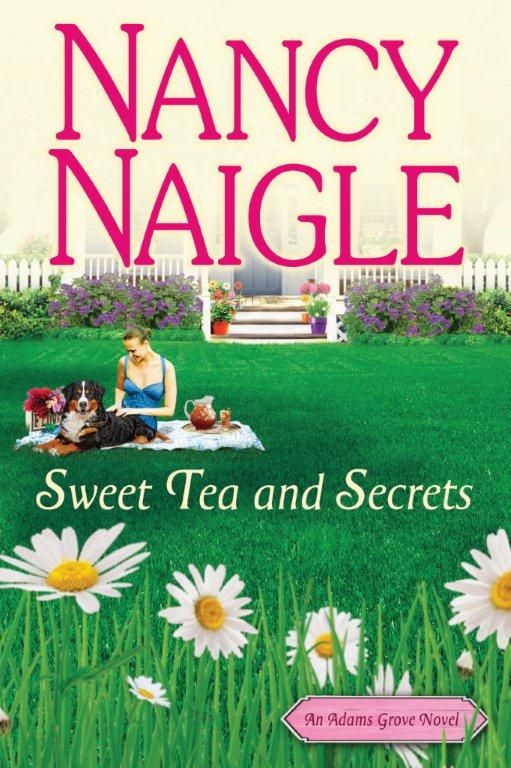 With that intro, here's Nancy!
NANCY NAIGLE:  Hey y'all, when Norah invited me to drop in and share my writing space I was so excited. Then, as I fell in love with each space Wednesday after Wednesday, I realized everyone else is way more organized (and neater) than I am!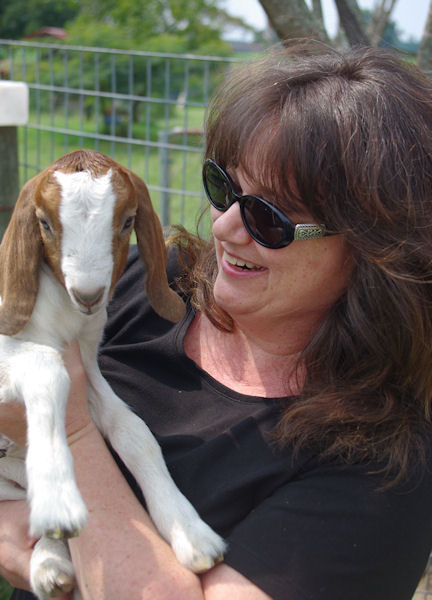 I live in southern Virginia on a goat farm with my husband and two labs, so it's probably no surprise that I write love stories from the crossroad of small town and suspense.
My office is kind of like me – all over the place, and I learned a couple funny things about myself in looking at my office through these pictures. You'll see what I mean here in a second.
For example, I never noticed until I took these pictures that it's pretty darn clear that I'm right-handed. Notice the piles of stuff on the right end of my desk? Good thing I don't work on a boat, I'd tip over for sure!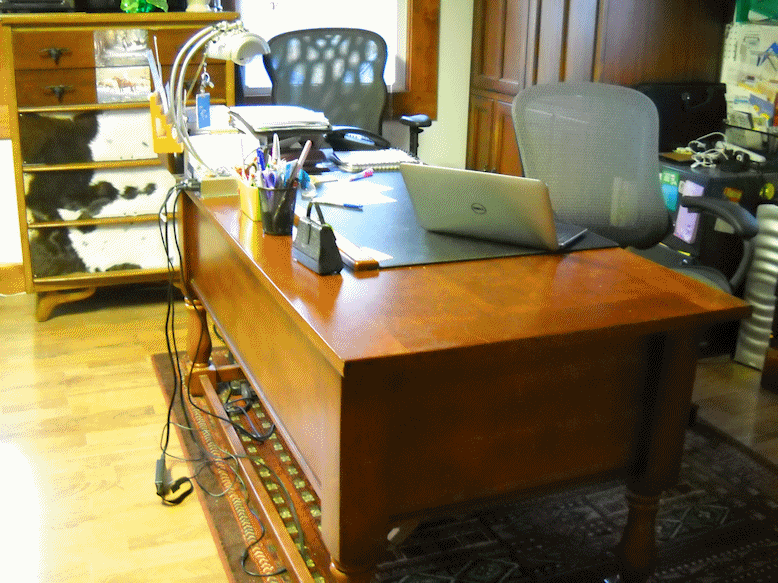 The dresser in the background is a white mahogany dresser that was my granddaddy's. I couldn't bear to part with it so I stained it to match my desk and cowboyed it up so it would fit in nicely with my décor. It's filled with marketing stuff for my books. Giveaways, and tear sheets, you name it. And YES, that is goat hide on the bottom three drawers of that chest of drawers. I also used my dremel to carve brands into the sides of it. It was a really fun project.
I treated myself to the Pottery Barn desk six years ago and I love it today as much as the day I realized I had to have it. The huge desk top gives me lot of room for stuff, and I usually have lots of notes and lists all around me.
The funny thing is I never realized how close to the edge, even hanging off my desk, I work until I took these pictures. I guess maybe that desk isn't quite as big as I'd really like it to be. And yes, the little stool under the desk is so my feet have somewhere to land. I'm a shorty-girl.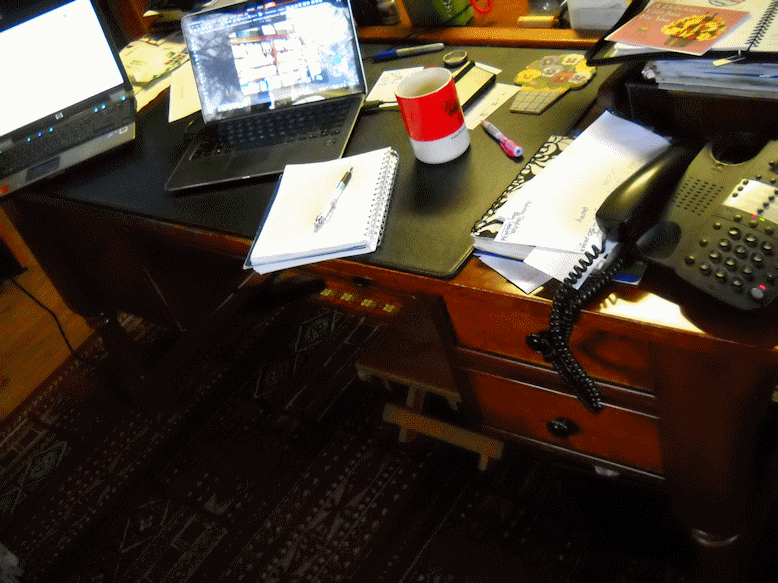 A cool tool: Earlier this year I discovered these adorable cherry bleachers at Levenger.com. It's one of my favorite websites to window shop. As you can see, it gives me a chance to scribble notes on cards and pop them into the bleachers to help keep myself on track as I work on my book.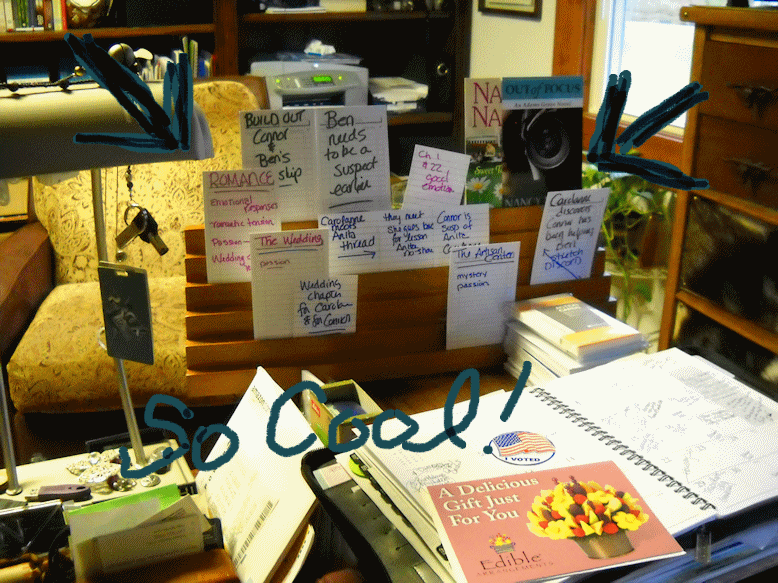 These Kathy Ireland bookshelves neatened up my act considerably earlier this year. It's been great to have twelve running feet to store all my favorites (see Mary Alice Monroe's book face out on the top left shelf) and craft books.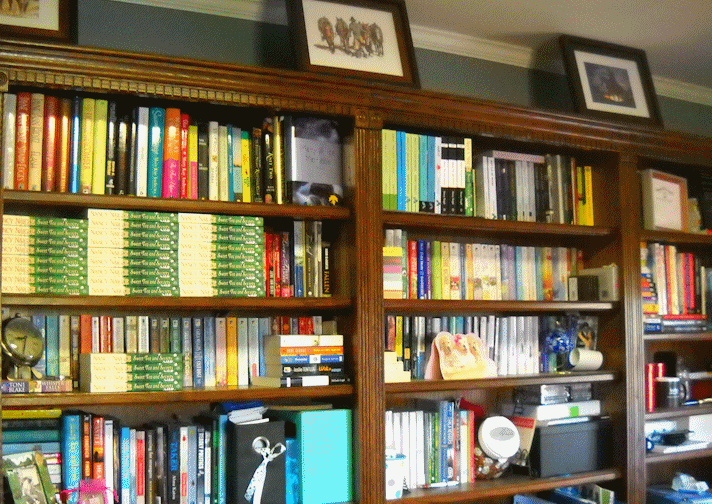 But there are some days when I really need to get down to work. When the words just aren't coming, I swivel my office chair toward the window, kick it into recline position, and write with my laptop in my lap. Those always end up being super productive days. It must be a feng-shui thing because it doesn't work unless I turn the chair toward the window.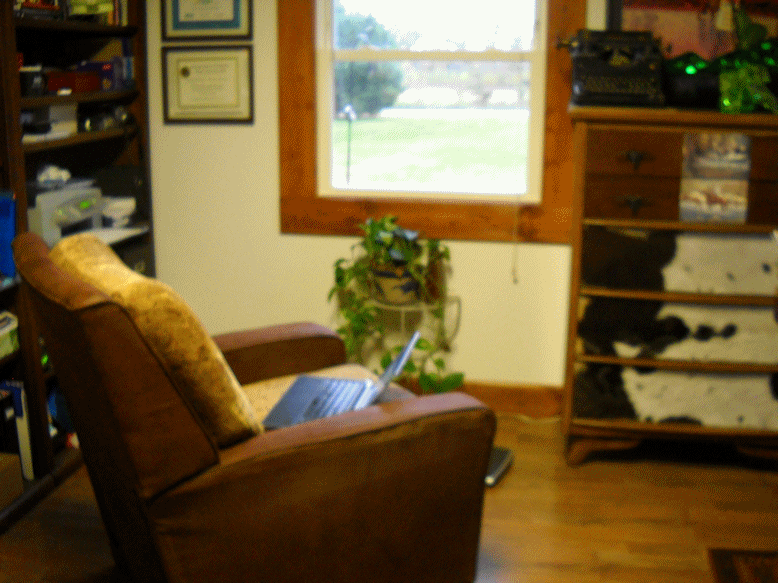 The bottom line is as long as I have my laptop I can make it happen. I really like that flexibility.
I have two giveaways for readers. Just leave a comment below for a chance to win either:
A $10 Amazon gift card; or

A set of autographed Keeper Kase™ Cards. Don't know what Keeper Kase™ cards are? Lordy goodness, check this out.

http://www.nancynaigle.com/efans.htm
Good luck! 
Thank you, Nancy, for that fun tour! I think you might win the prize for the most original piece of furniture with that "cowboyed up" dresser!
I also wanted to mention Nancy's next Adams Grove Novel Out of Focus, coming in August 2013.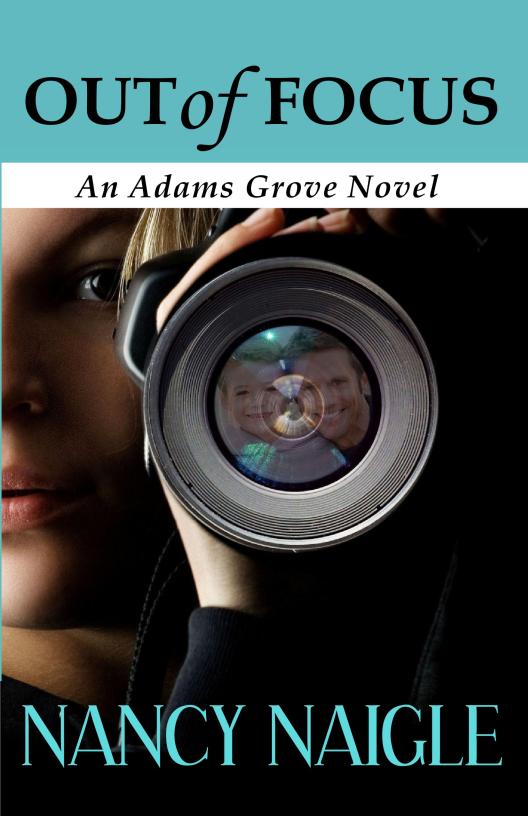 Okay, folks, you heard the lady. Let's have some comments!
It's happened before. I wake up to find my little bungalow occupied by 4-6 strangers. My 23-year-old daughter is a big music fan and supporter of local live music. Several years ago, she used to be active promoting all-age shows in our city. Back then, we found ourselves hosting touring bands with fair regularity. As  she's gotten older, she's moved away from the all-ages shows, but still supports the  music scene. Last night she supported it by inviting two bands home.
Of course, my bungalow is so tiny, it would only accommodate one band (A Sight for Sewn Eyes). The other band (Exalt) slept in their big new van parked outside my house.
This is what the influx of that many extra adults in a house looks like: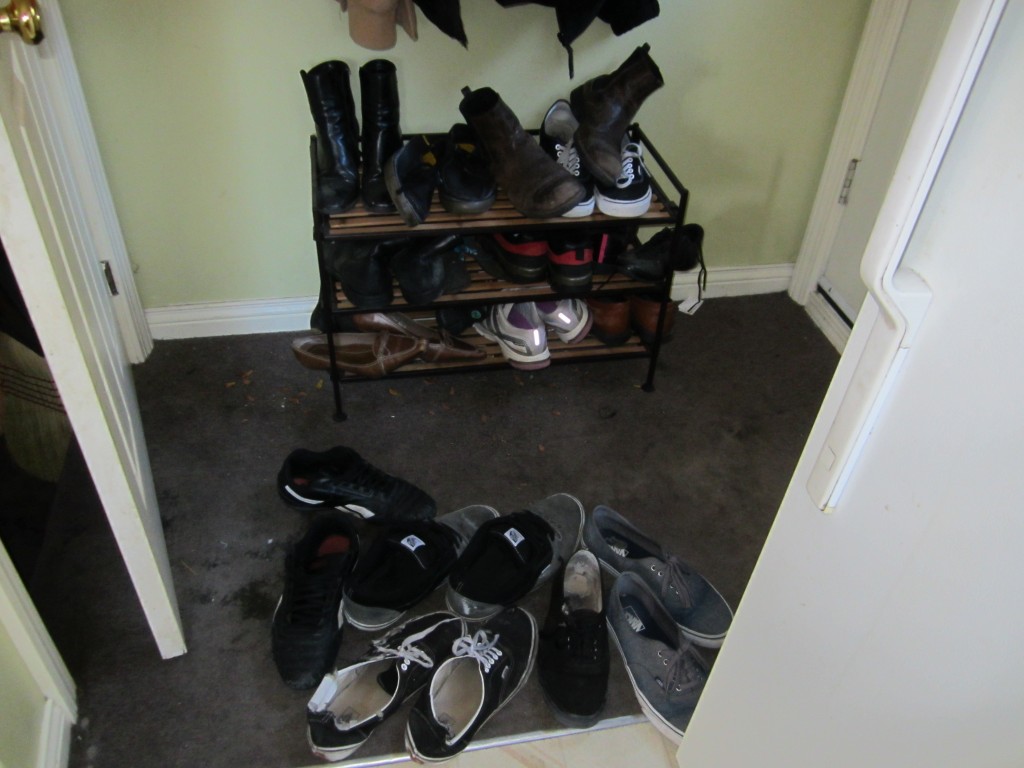 So guess what I did this morning? Cooked. Two pots of coffee, a jug of OJ, 20 eggs (scrambled), a pound of bacon, some veggie bacon for the vegetarian (and my vegan daughter), and a loaf of bread. I wish I'd taken a picture of the ten of them in my tiny TV room watching spoofs of music videos and howling with laughter. It was actually nice having them. Brought back memories. And as a bonus, they carted away the remains of my Halloween candy so I won't have to eat it. (Yes!)
I did take this picture of them just before they left. Well, most of them. One guy is missing (he's sleeping in the van). My dog Chloe loves house guests, especially when they throw the Frisbee for her in the back yard. She's in the picture too, getting a hug. And now she's sleeping as soundly as dirt. The pretty blonde wearing the Cancer Bats t-shirt? That's my daughter Lindsay. 🙂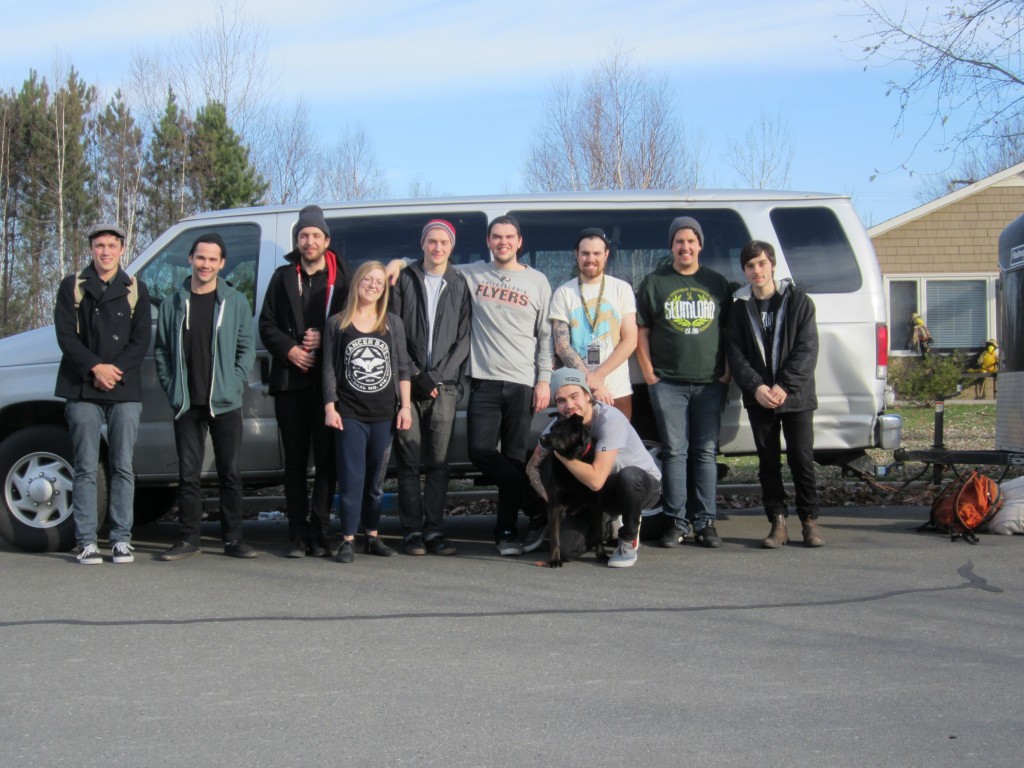 Safe travels, guys.
I am very pleased and honored to have Cynthia Eden as my Workspace Wednesday guest. Cynthia is a USA Today best-selling author of sexy paranormal romance, dark romantic suspense and young adult paranormal. (I'm trying not to go all fan-girl here, but having just finished Bleed for Me, a novella in the Loved by Gods series, it's kinda hard!)
Take it away, Cynthia.
CYNTHIA EDEN:  Happy Wednesday, everyone! And a big thanks to the wonderful Norah for having me over—I'm excited to share my workspace with you. 😉
Some authors have truly fabulous offices. They are so well organized.  So clean and perfect.  Yes, ahem, I am not one of those authors.  Though I did try to clean up my nook a bit for the picture.  Here you go: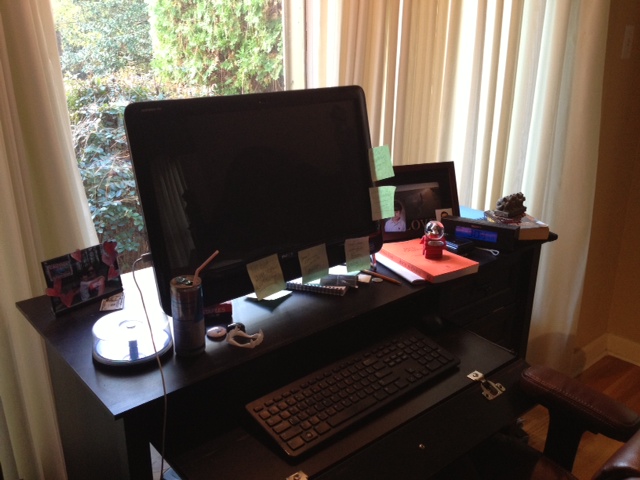 This is my main writing area.  A computer and a view—that's all I truly need. When I'm working on a tough scene, I'll pause and let my gaze drift out of the window. I can get lost staring out of that window, then, when the scene clicks, my gaze snaps back to that computer, and it's time for me to get back to work.
Do you see the lovely green decorations (AKA sticky notes) on my computer? That's my method for keeping track of things that I MUST do—like, yesterday.  Scenes that I need to add, posts that I need to write, dental appointments that I shouldn't miss. See, I told you that I wasn't one of those uber organized authors.
But I have my methods.
I like to keep things close by that make me smile—like Snoopy and my gargoyles.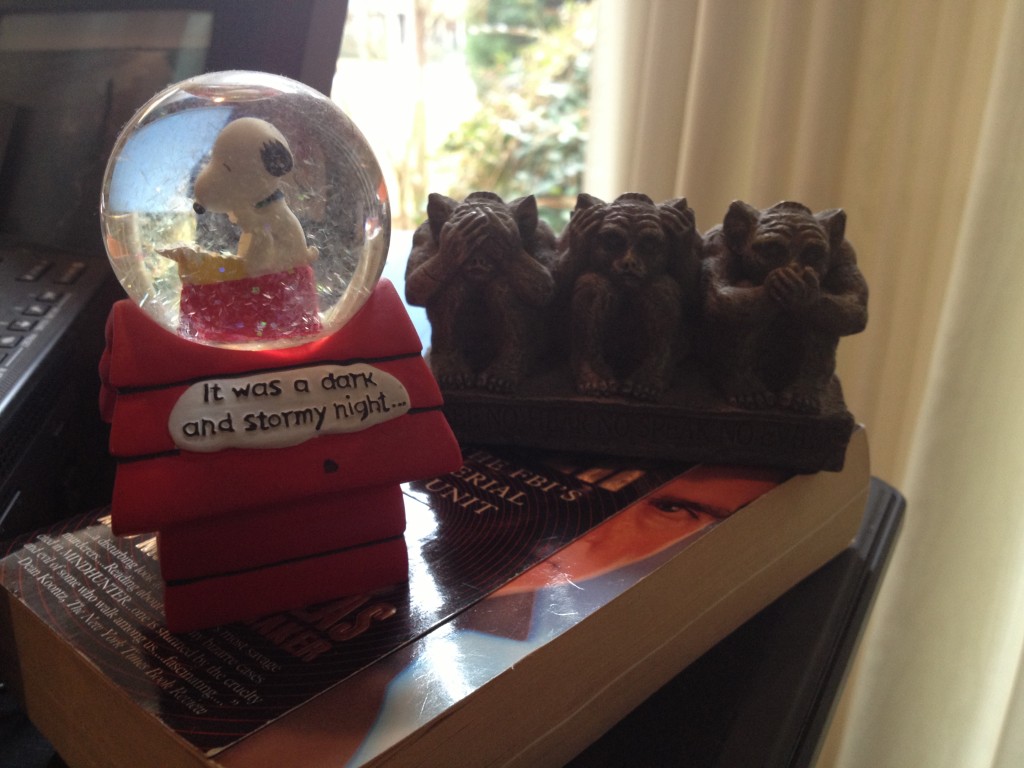 Snoopy is a writer, too, so he understands how easy it is to get stuck in a scene… "It was a dark and stormy night…" When I look at Snoopy, he makes me smile. My gargoyles (See no evil, Hear no evil, and Speak no evil) also inspire me during the day.  It's the little things that can truly make me happy—and these guys make me feel comforted as I write.
Of course, what writing space is complete without books? And I've got lots of books…lots and lots of them.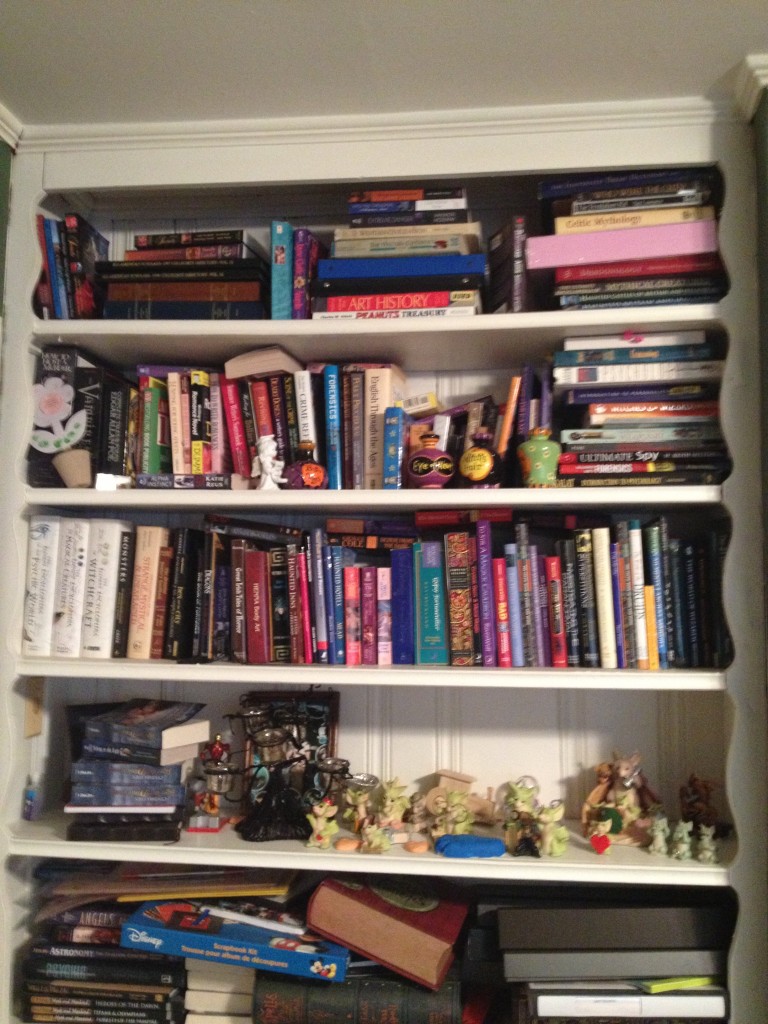 My shelves overflow, but I think that's a good thing.
I have research books, pleasure reading books, books for contests—I have all kinds of books on my shelves.  You never know when you'll need to research vampires or serial killers, so I believe in being well-stocked.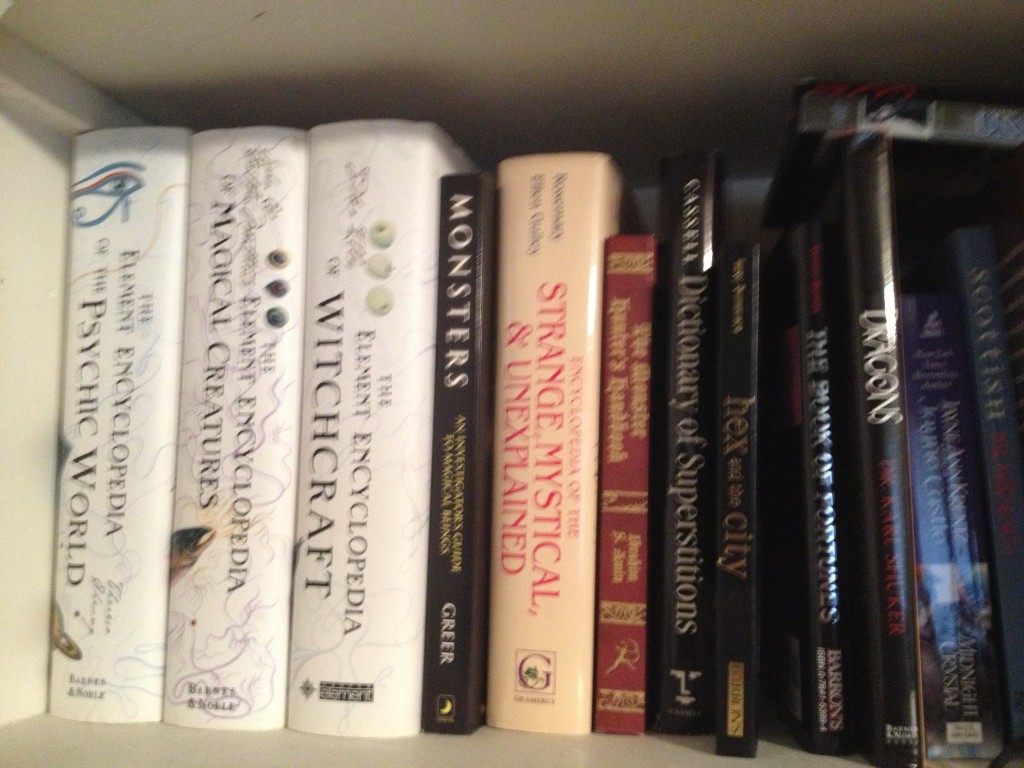 I also believe in keeping some fun adornments on my shelves.  Spooky decorations aren't just for Halloween at my house—I write about paranormal monsters and killers, so yes, those spooky decorations are on display year round.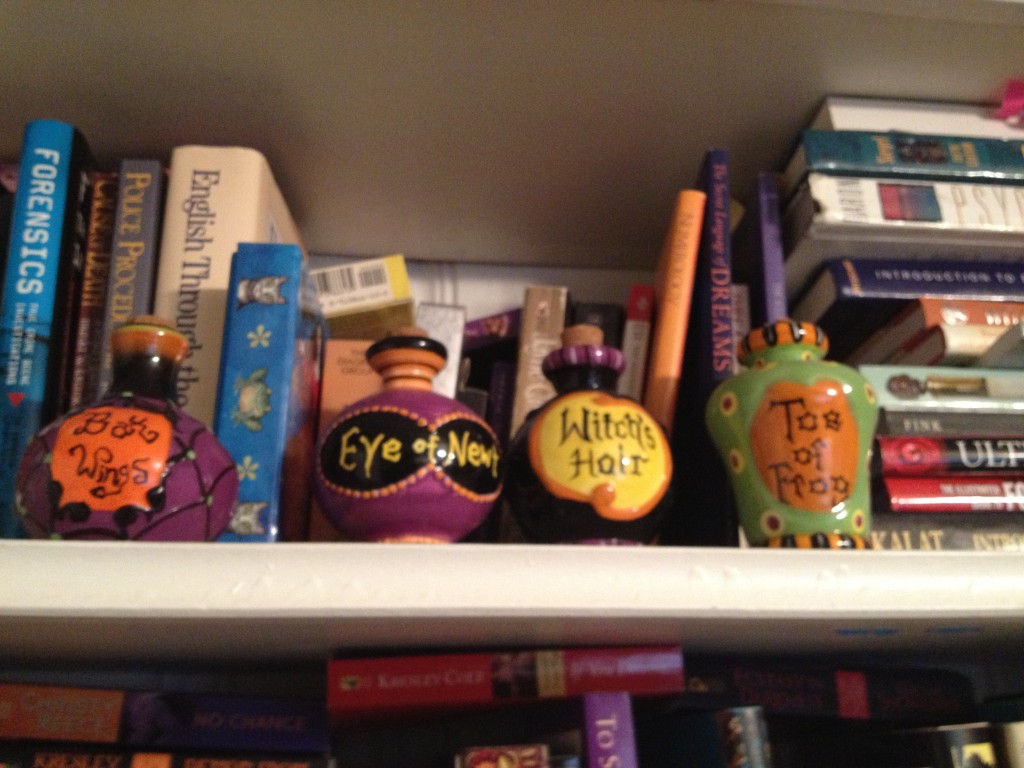 And that's it. My space. Where the writing magic happens (or at least—where I want that writing magic to happen!).  Thank you for taking a look at my space. I hope you enjoyed the photos.
And, as a thank you for coming by, I'd like to give one commenter a $10 Amazon.com gift card. Just tell me…what books are on *your* shelves?  One random commenter will be selected as the winner.
Thank you, Cynthia! I love your space, and adore that it isn't perfectly tidy. Predictably, I love the built-in bookcase. I always love the built-in bookcase. Actually, after having seen so many romance authors' writing caves, I'm beginning to think that the built in bookcase – preferably in white or antique white – is astonishingly universal. (Note to self:  Explore significance of the prevalence of white bookcases in a future blog…)
Okay, before turning it over to comments, I wanted to share some contact information for Cynthia.
Cynthia's Official Fan Page on Facebook
Cynthia's Twitter
For other social media, or to check Cynthia out more closely, visit her blog.
Cynthia has a brand new book out — her first young adult paranormal. The Better to Bite is available for Kindle for the awesome price of $2.99. (Got mine.)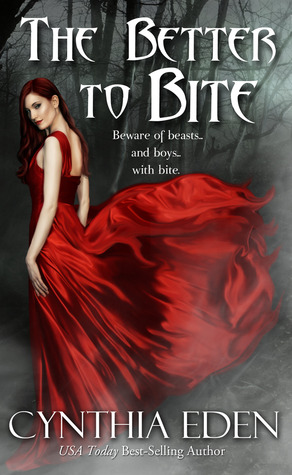 Adult paranormal more your thing? The newest installment in her Kensington Brava The Fallen series Angel in Chains is due out 11/27/12. Watch for it!