Posts Tagged 'Kindle Scout'
My friend and writing buddy Kate Kelly has a book in the Kindle Scout program. It's hot and trending right now, but it could use your votes to stay there. The way Kindle Scout works is that you have a chance to read an excerpt, then nominate it if you'd like to see the book published by Amazon. If the book "wins" in this reader-driven selection process, you will automatically receive a free copy of it when it comes out, as a thank you for your sharp scouting skills. If anyone's writing deserves it, it's Kate's. She is a USA Today bestselling author. The two of us, who were critique partners at the time, actually finalled together in RWA's prestigious Golden Heart®  contest once back in 2001, both in the same category, and both with cowboy books. These days, she self-publishes romantic suspense stories and writes awesome Superromances for Harlequin. I'll post the link to read her entry below, but first, to whet your appetite, here's an excerpt.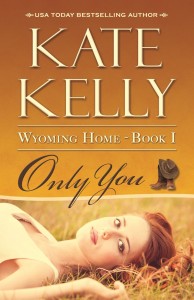 Story Description:

Finally free of her cheating husband, Maggie Kennedy is searching for a "real man" to be a sperm donor for the baby she desperately wants, and figures cowboy country is the place to find one. She's set her sights on JD Cooper, who fits the bill to a T.

A famous architect, JD retreated to his brother's ranch three years ago when personal tragedy struck. He doesn't want a child. He doesn't want to fall in love. And he most definitely doesn't want to be part of Maggie's Next Great Idea.
Excerpt from ONLY YOU, by Kate Kelly (Copyright Kate Kelly 2015):
To set up the scene, Maggie Kennedy has propositioned JD Cooper to one night of hot sex, and he's trying to do the right thing by suggesting going to dinner instead. Poor guy. He doesn't have a chance! She wants a baby, and he wants her. He doesn't learn until later that she's picked him as the father of her child. This is the build-up to the first time they make love. Maggie and JD have a rough emotional ride in this story. Thank goodness for happy endings!
Excerpt:
JD pulled his cowboy hat lower on his head as he settled into the low-slung seat beside Maggie. He was in for a lot of ribbing once they arrived in Cooper Creek. He hadn't grown up in the small village that sat a few miles east of Jackson Hole, but over the years he'd met most of the town folk, and if there was one thing he knew about the locals, they liked a good laugh. Especially at someone else's expense. Seeing him folded into this ridiculous pink car would give them fodder for months to come.
"Nice car," he said as he maneuvered his legs in the cramped space in front of him. His knees practically came up to his chin. Wasn't he the biggest goddamn fool who ever lived? He swore if Maggie had said Jump over the moon, he'd try his best to please her.
He glanced at her profile. He'd never met anyone like her before. As far as he could understand, she wanted to have sex with him. Not a relationship. Just sex. Was that some kind of cosmic joke? A beautiful, vibrant woman strolled into his house with a chocolate cake and said she wanted to have sex with him. She'd given him an instant hard-on, and it had been years since that had happened. Not the hard-on, but the immediacy. The urgency. He was starting to get hard right now, imagining those incredible long legs wrapped around him.
What was he doing taking her to Arnie's, for chrissakes?
"You're awfully quiet." Maggie glanced over at him.
"I'm rethinking my options."
"Meaning?"
"Meaning I think we should go back to my place."
She stomped on the brake, and the car skidded to a stop. "Right now?"
"Yeah." His nerves jangled so much, he wondered if he was glowing in the dark. "No. Damn it. Hang on a sec."
He reached for her and pulled her toward him. His breathing eased when he pressed his mouth against hers. She tasted sweet and mysterious at the same time. He slid his tongue along her lips and inhaled her breath. He'd inhale her if he could. Her lips were so soft. And eager. As greedy as his. It had been so long. He'd dated women since his divorce, had even tried to take the relationships to the next level, but no one had come close to making him feel like this.
If he didn't take her right now, he'd explode.
He pulled away. Welcomed the cool night air that washed over him. She'd pulled his shirt out of his jeans, and he sucked in a breath as her hands explored his stomach.
"We can't—"
"Yes, we can." She tried climbing over the stick shift to get to him.
He laughed and caught her hands. "No, baby. Not here in the middle of town. Let's go home."
Home. She really was driving him crazy. He'd never called the house home before. It had always been "the house."
"You're right. I guess." She pulled her hands through her hair and looked around and laughed. She started the engine and turned the car around and gunned it back to his house. "Talk to me. Talk to me about anything but sex, or I swear we won't make it back."
He put his hand on the back of her neck. He needed to feel her warm skin under his fingers. Needed to feel her pulse throbbing with excitement. To get her out of her clothes and lay her on his mattress. He didn't even have a proper bed, for God's sake. Just a thousand dollar mattress on the floor. What was wrong with him? He was squatting in his own home.
"Why is the car pink?" He pulled the question out of the air. He didn't want to think about why he lived the way he did. All he wanted was Maggie's warm, silken skin against him. He wanted to be inside her. Deep inside her. Over and over again.
"My ex wanted the car as part of the divorce settlement. I bought it for him as a wedding present."
"And?"
She shrugged. "He's cheap, and I knew if I painted the car pink and made the seats and everything inside pink, he'd never spend the money to change it back."
"He must have hurt you a lot."
She downshifted as they flew up the last grade. "He got what I wanted the most, so I thought it only fair that I got something he wanted."
"What is it you wanted?" He knew he shouldn't ask. It was far too personal and didn't have anything to do with him and Maggie. He wanted to keep things light with her. Not get too involved. Maggie wasn't going to be here for long. He might not be, either, but then again, he might.
She parked the car and smiled sadly at him as they sat in the dark listening to the ticking of the engine cooling. "It doesn't matter anymore. What does matter is whether I'm going to get what I want tonight."
"That I can deliver on."
Whew. :::Fans self:::
If you enjoyed that as much as I did, you can read more and nominate the entry here.