I am both a writer and a lifelong reader. In both capacities, I've always been fascinated to see writers' workspaces. (And don't get me started on notebooks and colored gel pens and…well, any kind of stationery. It's like writers' porn!)
The more I love an author's work, the more intensely interested I am in seeing the place or places where they create their art. (I also want to know if they have a pet and what kind, but that's for another post.) Some authors have self-contained, dedicated offices while others work their magic from workspaces shoehorned into other areas of their homes, while still others are nomadic types who can – and do – write anywhere.
Over the next months, I plan to feature fellow authors – some of whom are close friends and some of whom I just admire – about their workspaces. There will be pictures. Lots and lots of lovely pictures! (Tents hands like Montgomery Burns.) In fact, this feature will start tomorrow when I bring you the workspace of award-winning author Lina Gardiner. I am both a fan and a friend of Lina's, and I've actually seen her office.  
In the meantime, here's a look at my new office. To mark my transition to full time writing, I've turned my seldom-used living room into an office.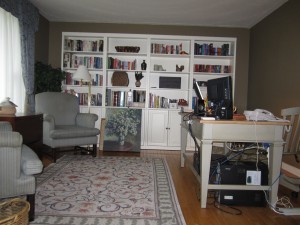 My desk is a joy. My son set up the dual monitor thing so I can keep an eye on my tweeps while I work. I'm loving it!
But the real feature piece of this room are the built-in bookshelves/cabinets. I bought four separate birch shelf units and door kits at Kent Building Supplies, and my sisters primed and painted them this lovely, creamy antique white. Of course, I couldn't have done this so cost effectively without my brother-in-law, the carpenter, who assembled the cabinets, then screwed them together, anchored them to the wall and hung the doors. This is not an easy DIY project!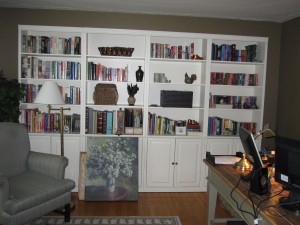 The biggest bargain during this reno is my west wall with its window treatment and the conversation area. The drapes, complete with header and sheers, as well as the two arm chairs and the two brass lamps came from a liquidation sale of furniture removed from the Delta Fredericton Hotel as it updates all its bedrooms. Discounting the labor (it's good to have sisters!), this cost me a whopping $160, of which $40 was for the extra traverse rod for the sheers. Draperies laundered and upholstery shampooed, they look great in my office, don't you think? And this gives me a great space to meet with my partner on a number of writing projects, Heather Doherty.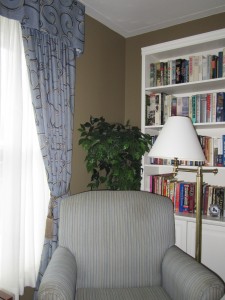 And what office would be complete without a place for the pet? Here's Chloe's Corner: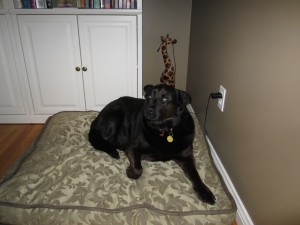 The walls are still noticeably naked, but only momentarily. As soon as my sisters are available, we'll hang the artwork. (By which I mean they will do it. We all have our talents, and mine is not decorating!)
So, what do you think? What's your favorite element?
41 Responses to "Workspace Wednesday"