Posts Tagged 'In Harm's Way'
Trish Milburn, MJ Fredrick and I are pleased to announce that we've collaborated to bring you three romantic suspense novels in one multi-author box set. The idea behind the collaboration was to try to achieve some cross-pollination. If you're familiar with my books, perhaps it will be an introduction to Trish and MJ, and vice versa.  Each of us is an award-winning author. Each of us has finalled multiple times in the Romance Writers of America's Golden Heart Contest. And each of us has other romantic suspense/adventure stories for you to discover, if you like what you read in this collection.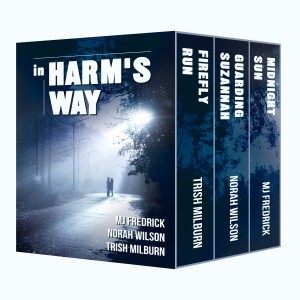 Here's a description of the three stories:
Midnight Sun by MJ Fredrick:
This wasn't the adventure she'd signed up for…
A sexy boss, a rough crossing, and pirates—all Brylie Winston wanted was a job to help her earn money to buy her own restaurant. She hopes to earn it by working as a chef on a cruise to Antarctica. But she's slept with her boss, which throws her off-balance even more than the rough seas and warnings of pirates in the area. And he's determined to have a repeat performance.Bad boy former snowboarder Marcus Devlin is running from his reputation, sent to learn the family business after decking a senator's son and making the papers. So maybe he indulged in a last-minute fling before boarding his family's cruise ship to Antarctica. Perhaps Fate is showing him that wasn't so bad—the gorgeous redhead who snuck out of his bed is on the cruise. She'll be a lovely distraction during his exile.But when modern-day pirates take over the ship, his instinct is to protect her and the other passengers. But what does a spoiled rich boy know about saving people's lives?

Guarding Suzannah by Norah Wilson:
Criminal defense attorney Suzannah Phelps is the bane of the Fredericton police department (they call her She-Rex for her habit of shredding cops in the witness box). She is currently being stalked, but is reluctant to report it to the police, whom she half suspects of being the perpetrators. But when Detective John (Quigg) Quigley learns of it, he's determined to protect her, at considerable risk to his career. They've struck sparks off each other in the courtroom, and he's burning to do the same in the bedroom. When the danger escalates, he has the perfect excuse to pose as her boyfriend, but the closer they get, the more the lines between pretense and reality blur.

Firefly Run by Trish Milburn
Shelly Myers has finally rebuilt her life two years after her new husband, a Dallas police detective, was gunned down on the church steps minutes after they'd said, "I do." She returned to her beloved Smoky Mountains in Tennessee to help her parents run their cabin rental and river rafting business — and to heal. Now, the murderer she helped send to death row has been released because of bungled evidence, and Troy's partner, Detective Reed Tanner, has arrived on her doorstep to protect her from Eddie Victor, who has sworn to kill them both. Reed is determined to protect Shelly like he didn't protect Troy. But Reed isn't prepared for the attraction he feels toward Shelly or the fact that she obviously feels the same way toward him.
For a limited time, you can buy IN HARM'S WAY for just $2.99 at these vendors:
Amazon   |   B&N   |   Apple   |   Kobo   |  Smashwords