Posts Tagged 'sweet western historicals'
I am so happy to have with me today RWA Golden Heart® winner Caroline Fyffe. I first met Caroline on a indie author loop, where I was impressed by how pleasant, professional and talented she was. I was not a bit surprised when Montlake Romance acquired her wonderful historical western romances, making her a Montlake sister. Take it away, Caroline!
Hi! Happy Workspace Wednesday! Thanks, Norah, for having me here. I'm excited to share my world with you and your followers.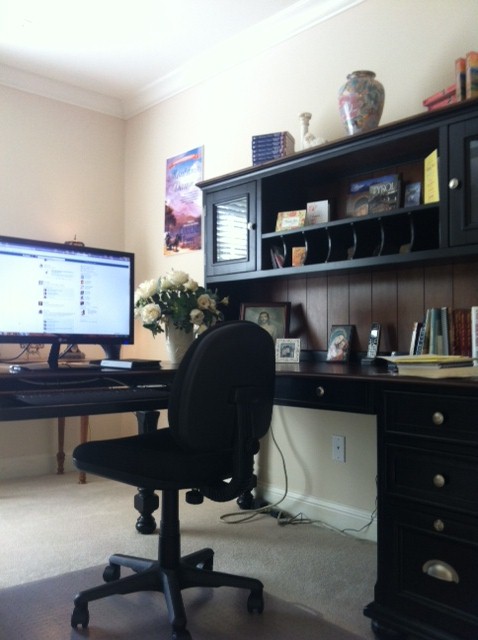 First, my desk, where I begin around 7 am, break for lunch and run on the treadmill, then resuming until 5 pm  Don't let the photo fool you! Usually, it's pretty darn messy, but I did take some time today to straighten it up. What is cool, but I failed to get into the picture, is a big window in front of the desk. I have an awe-inspiring view of a forested area across the street.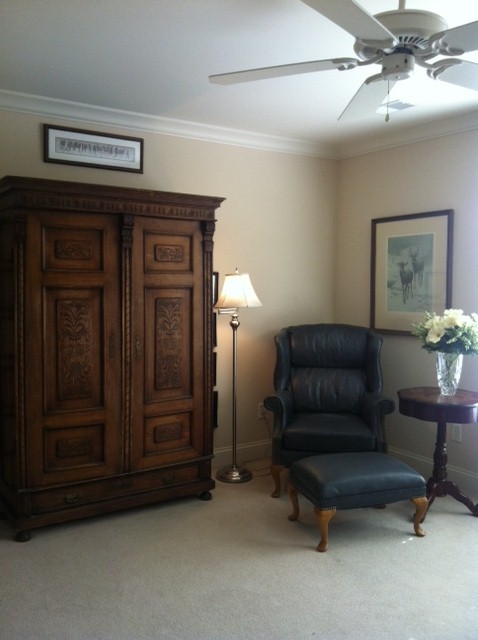 Here you have Caroline's Corner—as my husband likes to call it—where I go to read, meditate or plot. Sometimes my hubby sits here when I have something troubling me with my WIP and we brainstorm. I call him my 'plotmeister'. He comes up with some unbelievably creative stuff and has given me several of my secondary storylines! It may look neat now, but I wished I'd opened the armoire to take a photo of the insides. It's crammed full of writing books, craft manuals, signed novels from my author friends, whatnots and gizmos t' boot. I love it and couldn't live without it! It holds the mess that used to live on the floor, desktop, etc.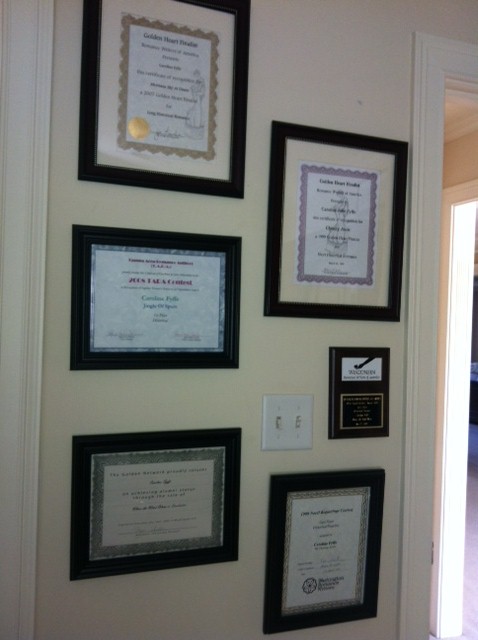 Some awards that keep me motivated. Whenever I'm in doubt, sure my story is the lamest thing going, I glance over at the wall to bolster my confidence.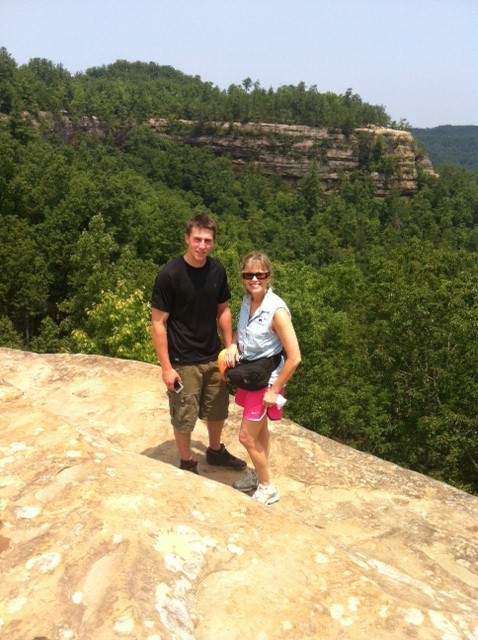 When I need a mega dose of inspiration I try to get out and do something fun, different, challenging. Here I am with my 22-year-old son, spending the day at Natural Bridge. If you haven't been there yet, be sure to visit sometime. It's beautiful and looks just like the scenery in The Last of the Mohicans! (I love that movie!)
Thanks for letting me visit with you and your readers today, Norah! Love the idea of seeing authors in their workspace, as they create. Before I go, I'd like to ask a quick question. If money were no object, what is the one thing you'd most like to incorporate into your office? I'll offer a $10 Starbucks Gift Card to one lucky commenter as a 'Thank you' for stopping by! For me, I'd love to have a floor to ceiling book shelf, the kind that needs a ladder to reach the top shelf!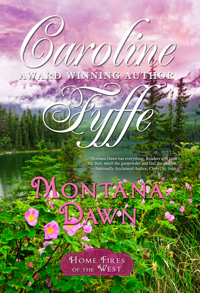 Montana Dawn – Book One in The McCutcheon Family Series 
Montana Territory, August 1883 – When Luke McCutcheon finds Faith Brown about to give birth in her rickety wagon, his first instincts are to ride for help. Instead, he stays and delivers a beautiful baby girl. Unable to leave the pretty young widow and her little son and newborn unprotected in the Montana wilderness, he brings them along on his family's cattle drive, to the absolute delight of the other friendly cowboys.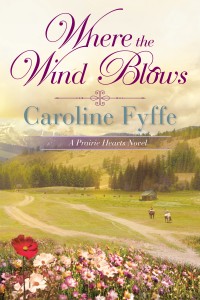 Where the Wind Blows – A Prairie Hearts Novel
In the free and untamed Wild West, love might blossom in the most unexpected place…
When the man from the orphanage mistakes Chase Logan for Jessie Strong's husband, the least Chase can do is help Jessie adopt the child she so desperately wants, the little girl who will be Jessie's only family in the Wyoming wilderness. Three days are all she asks. Three days pretending to love a woman who is unlike any he has ever known…
Jessie knows it's chivalry, plain and simple, that spurs Chase Logan to come to her rescue the day little Sarah arrives at her door. A man like him isn't made for settling down; he is as wild as the land he roams. She should know better than to let down her guard, to allow herself to long for a family and a life with someone she hardly knows. And yet she dares to hope that maybe, just maybe, Chase Logan is the man destined to make all of her dreams come true.
Caroline can be found on the web here:
Thank you, Caroline! I loved the tour of your office, but I especially love the shot of you at your desk. Gorgeous! You could use that as a publicity photo!
As for your question, I'll play – What I'd love to see in my office is an assistant. LOL!
Okay, folks, let's hear your answer to Caroline's question. From you comments, we will randomly choose a winner for the covered $10 Starbucks Gift Certificate.