I am delighted to welcome Nancy Herkness as my guest for this edition of Workspace Wednesday. Nancy is another Montlake Romance sister. She writes both contemporary romance and romantic suspense.  Her current Montlake Romance release Take Me Home is the first in the Whisper Horse series.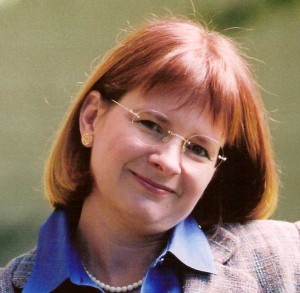 Nancy is a member of Romance Writers of America, New Jersey Romance Writers and Novelists, Inc., and has won numerous awards for her work, including the Golden Leaf, the Write Touch Readers' Award and the Aspen Gold.  Nancy graduated from Princeton University with a degree in English literature and creative writing. A native of West Virginia, she now lives in New Jersey with her husband and two mismatched dogs.
With that intro, I'll turn it over to Nancy.
Norah, it's so intriguing to get a peek into my fellow writers' workspaces.  Thanks so much for inviting me to join the fun!
I write in a garret, the room at the top of the house right under the roof.  Artists are famous for starving in their garrets, but I make sure to keep plenty of chocolate stashed in mine.  The nice thing about being up so high is that I have a great view from my office window: tree tops and sky and the occasional bird or two.  It's refreshing but not too distracting.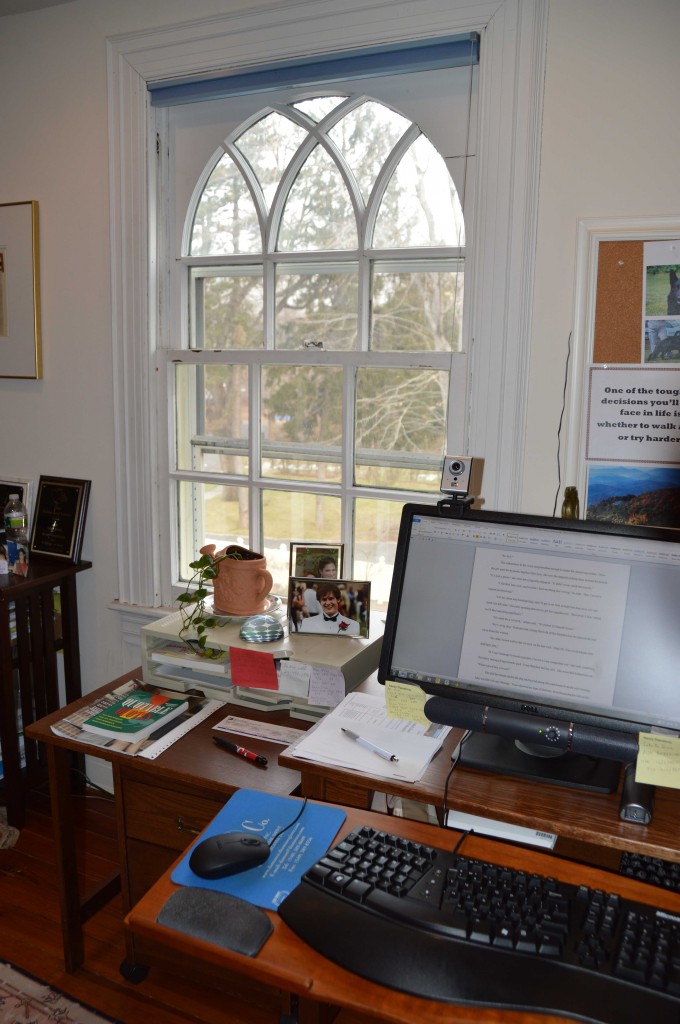 The other great thing about being up two flights of stairs is that no one interrupts me unless they REALLY want to talk to me.
For those desperate enough for my company I do offer a seat or two.  Notice the pile of dog toys under the pretty chair: those are for Brodie, my Golden Retriever, who visits often.  It's rare that my Yorkie Rocky makes it all the way to the top of the house.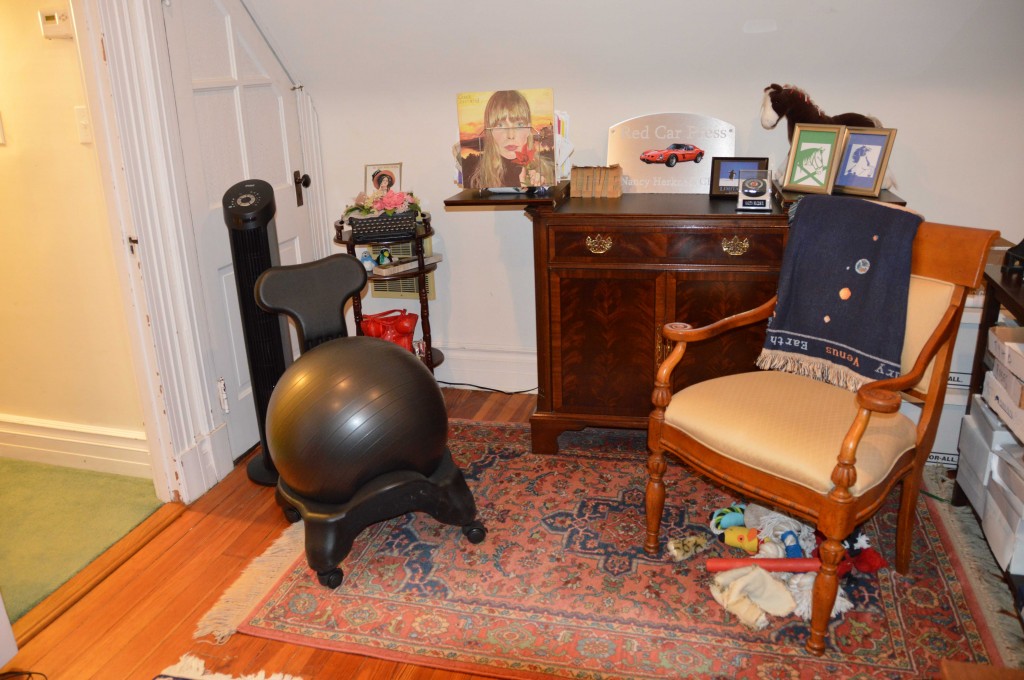 If you're wondering about the funky-looking black chair, that's for when my back starts to bother me.  Balancing on the ball keeps my back muscles moving all the time.  It's good for writing marathons when a deadline looms.  "Red Car Press" is the publisher name I used to self-publish my backlist titles; my wonderful husband had the snazzy sign made for me.  It's going outside my office door as soon as the painters finish in the hallway.
Along with chocolate, there are certain items I cannot survive without.  This artistic (snort!) still life captures their essence.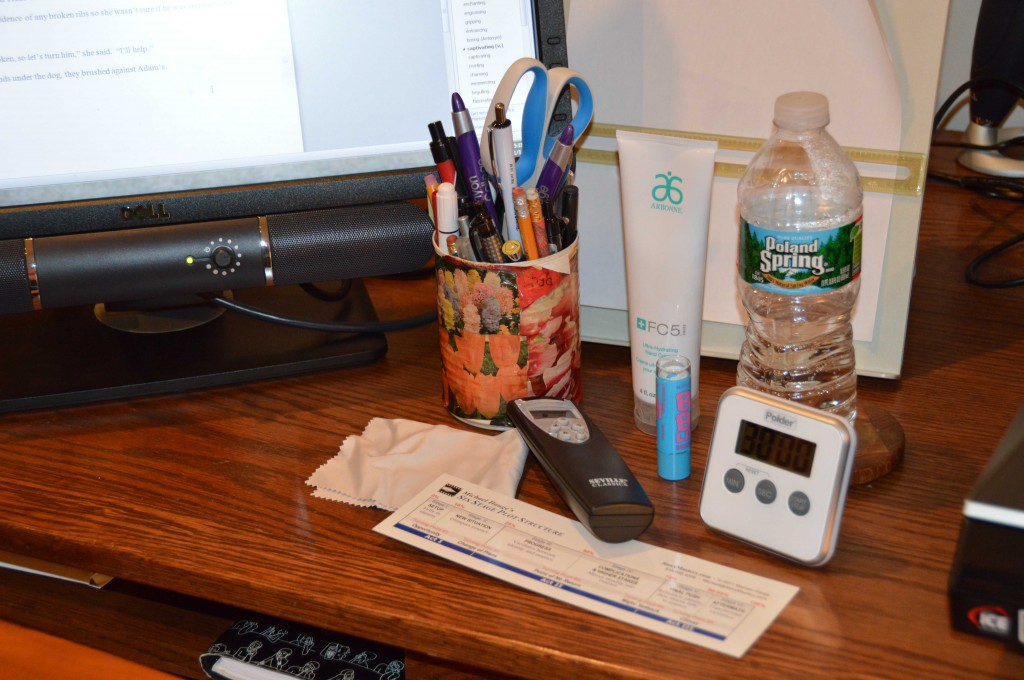 The cloth is for cleaning my glasses which somehow get smudged during the creative process.  The timer is set for 30 minutes.  Depending how the writing is going, this reminds me either to: 1) focus on writing until I hear beeping; or 2) get up from the chair and move around for a few minutes to work the kinks out of my back.  Some days I need Reminder 1; some days (the good ones) I need Reminder 2.
The remote control turns on the column fan (you can see it behind the ball chair in Picture 2) when a hot flash hits.  Yes, it might kill me to get up and turn it on myself.  The bookmark is from Michael Hauge's amazing Story Mastery workshop; it summarizes his plotting genius on one small piece of laminated cardboard.
Next is the messy angle on my desk.  As you can see by the clock on the wall, I am a New Jersey Devils fan.  (The hockey lock-out has been killing me!)  The hulking gray thing (to the right) with sticky notes all over it is the world's oldest laser printer, a veritable tank that spits out pages at high speed despite its obsolescence.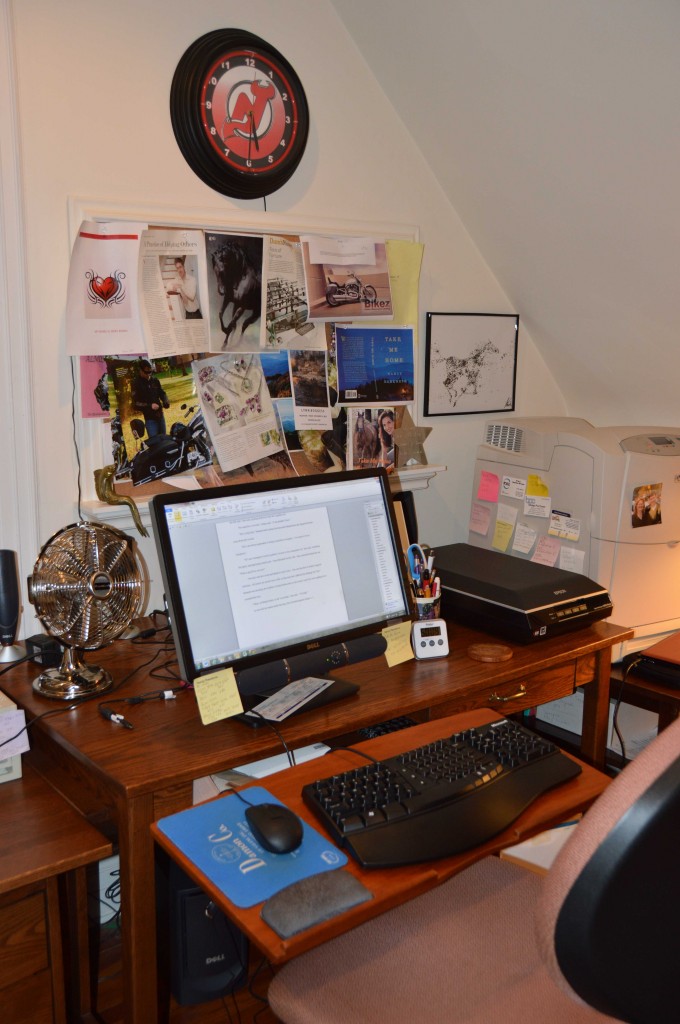 Above it is my attempt at collaging, a useful creative tool.  Author Jenny Crusie makes collages that are works of art.  Me, I tack pictures, sayings, and artifacts up willy-nilly on the bulletin board over my desk, layering them as the book progresses until it looks like a rat's nest.
Here's a close-up of the "collage."  (Perhaps "mess-age" would be a better name.)  This collection was for COUNTRY ROADS, the book I handed into my editor just before Christmas.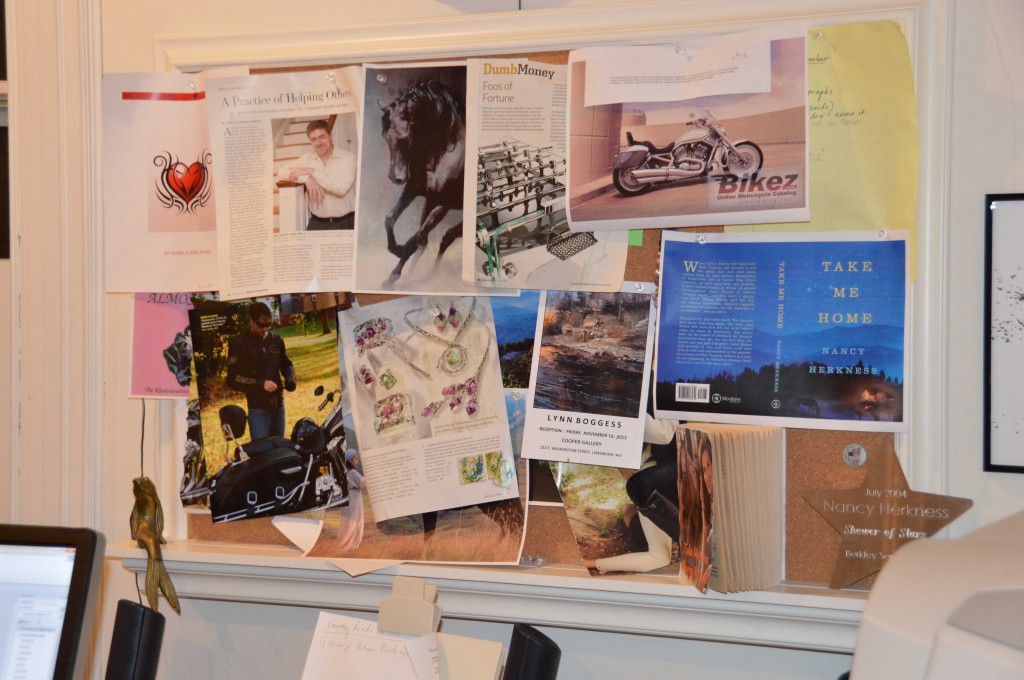 Can you tell from the collage that the hero is a sexy lawyer who rides a motorcycle and plays foosball and the heroine is an artist whose whisper horse is a scary black stallion?  If so, you're good!  (In case you're wondering why I have the cover flat for TAKE ME HOME posted so prominently, it's to prove to myself that yes, I am capable of finishing a book on time.  I tend to despair of that as my deadline nears.)
Since other folks on this blog admitted to having a "brag shelf", I am including mine below.  Between the two bridge bookends are all the editions of my books. I'll be adding TAKE ME HOME in French and Dutch soon, my first translations.  Anyone for book-signings in Paris and Amsterdam?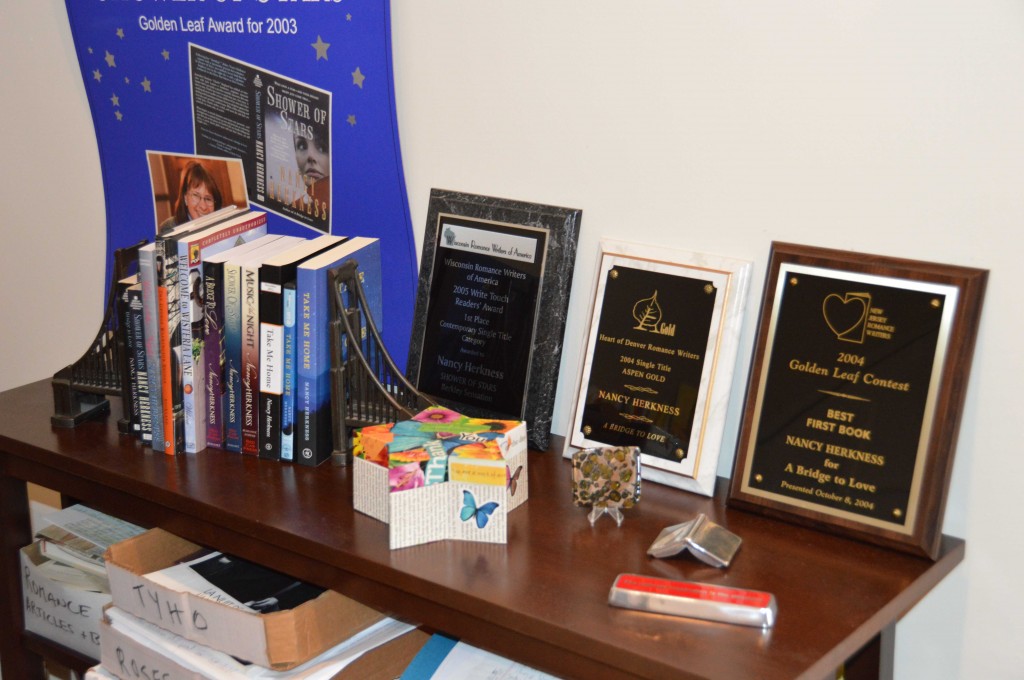 There's one book there I didn't write.  It's titled THE GEORGE WASHINGTON BRIDGE: POETRY IN STEEL by Michael Aaron Rockland, a non-fiction work discussing all aspects of the famous bridge including its appearances in literature.  I was tickled to find that Mr. Rockland spent nearly two pages discussing my first novel A BRIDGE TO LOVE.  He makes the typical snarky comments about the romance genre but admits that I "obviously did some research" on the G.W.B.  He even quotes from the climactic scene of my book which takes place on the bridge itself.
I have to share the sign on the door to my writing office because my darling daughter made it after I sold my Whisper Horse series to Montlake Romance.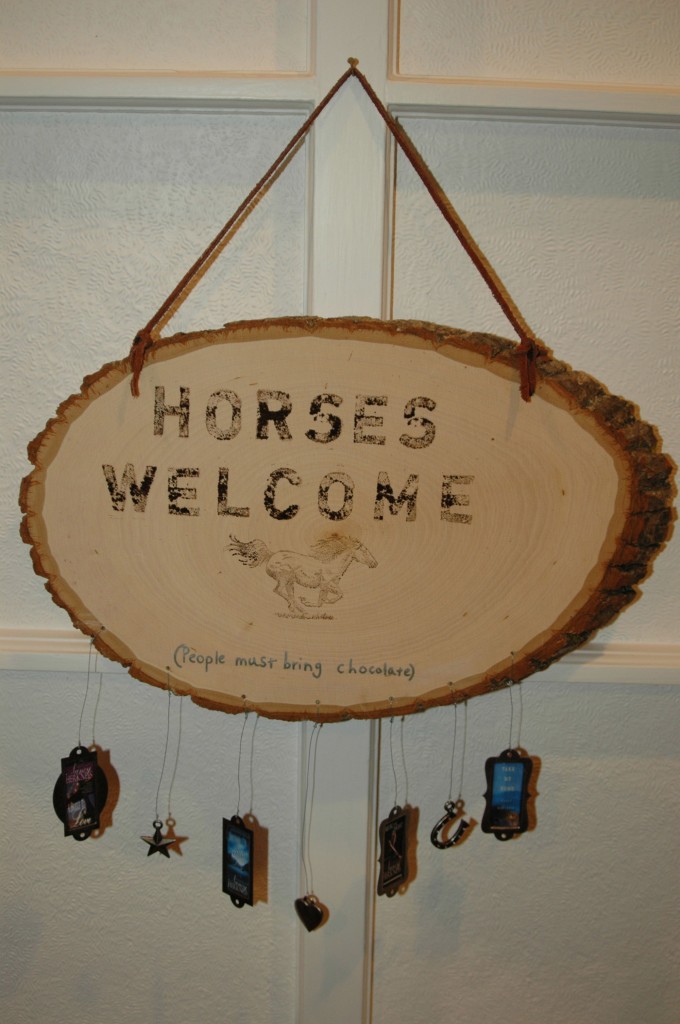 She knows me so well.
True confession: After enjoying a glimpse everyone else's fabulous offices on this blog, I've realized mine needs some serious revamping.  So I better get to work on another book….
To find out more, visit www.NancyHerkness.com or www.facebook.com/nancyherkness
And please check out her current release from Montlake Romance. TAKE ME HOME, the first book in the Whisper Horse Series.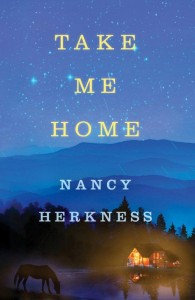 When Claire Parker left Sanctuary, West Virginia, she thought it was for good. But now she's back, reeling from an ugly divorce. Readjusting to small-town life is harder than Claire expected, so she's surprised, and grateful, to find companionship in Willow, an abused Thoroughbred mare. Willow is Claire's "whisper horse," and they share a special, rare bond. Except Willow isn't the only one helping Claire heal; Willow's ruggedly handsome veterinarian, Dr. Tim Arbuckle, is soothing…and secretive.

Devastated by his wife's death, Tim thought he'd never find love again. The stoic, sexy doctor was sure he'd left his heart behind when he came to Sanctuary. But Claire stirs up emotions he thought he'd buried long ago. For the first time, the doctor can see past his grief…until Willow falls gravely ill. Tim and Claire must save Willow's life and, surrounded by the expansive mountains of West Virginia, find a love so encompassing and intense, their lives will never be the same again.

"Like slipping into a warm bath, Herkness eases readers into her story.  She's spot-on when it comes to tugging at the heartstrings, and the vibrant setting of the West Virginia mountains is perfect for characters who will haunt readers long after the last page is turned.  Animal lovers will be especially delighted."

                –Jaime A. Geraldi, RT Book Reviews
Thank you for that lovely tour, Nancy. I love your garret office!
Now on to the giveaway. Nancy is offering an autographed copy of any one of her three backlist books: A Bridge to Love, Shower of Stars, or Music of the Night, winner's choice. All you need do for a chance to win is leave a comment for Nancy below.
74 Responses to "Workspace Wednesday welcomes Nancy Herkness"