Posts Tagged 'Bluestone Homecoming'
Today, I am delighted to have MJ Fredrick as my guest for Workspace Wednesday. MJ is another member of my Wet Noodle Posse (writers who finaled in RWA's Golden Heart® contest in 2003, and who have hung together ever since).
Here's the thing – every time I read one of MJ's books, I think, "Damn, I wish I'd written that!" She writes the kind of fast-paced, sexy romantic suspense/adventure that really floats my boat. The kind I try to write. She can also write a straight contemporary (like Bluestone Homecoming) with the best of them, a skill I envy.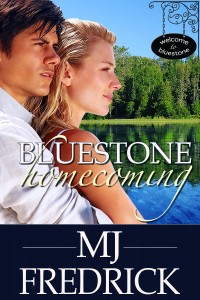 She is also one of the few bloggers I follow religiously. I think I learned everything I know about blogging/social media best practice from watching MJ. I don't do it as well as she does, but she embodies what we all should be doing. She shows us all the facets of her life, not just her writing. Besides being a damned fine writer, she's a teacher, an avid reader, a wife, a mother, a cat-lover, a talented crafter, a Supernatural fan, a TV and movie aficionado, etc. Basically, she's the kind of all around awesome person you want to feel connected to. I recommend you check out her blog and subscribe to her newsletter so you don't miss anything.
Okay, now that I've spilled all that syrupy lurve all over the place, I'll turn you over to MJ while I clean up the joint.
MJ FREDRICK:  I tried, really I did, to have an office. When I first started writing on a computer, I had one, the third bedroom in our old house, with an old XT my uncle had put together, with an amber monochromatic screen. After my son was in bed, I'd go in there and write for a couple of hours while my husband watched TV in the living room. I eventually finished my first book, but it took me months.
We replaced the XT with an old PowerBook we got for $300, with a modem that screeched. No more writing in the bedroom next to where my son was sleeping, so I started writing and surfing in the living room in front of the TV. We replaced the PowerBook with the first generation of iMacs, and it was also in the living room. So I got in the habit of writing with lots going on around me.
BUT I didn't feel guilty, because I was still a part of what was going on, if you get me.
We moved into this house, a four-bedroom, 13 years ago. I tried several spaces as my "office," the bedroom off the kitchen, the mud room area next to that, which looked out on my backyard, the middle bedroom (which has since become Craft Central). NONE of those worked for me. I'd get up a million times to go see what was going on in other parts of the house. Eventually, we parked the iMac in the living room and that was my workspace.
And then…I got a laptop. Oh, the freedom I had with a laptop! I wrote outside, I wrote in my big comfy chair, I wrote EVERYWHERE!
Now, I live in Texas, and the past two summers have been crazy hot, even early in the morning, so I don't write on the patio. But this house is blessed with a sun room, and that is my favorite room in the house, especially since my baby brother helped me rearrange it a couple of years ago.
I have a big comfy couch and a big comfy chair that we bought when we moved in. They're a little worse for wear, but did I mention comfy? (Also, excuse the cat hair. I AM the Crazy Cat Lady, but getting cat hair off chenille is a PAIN!)
In the morning, as soon as I finish eating, I unplug the laptop and curl up on the couch in the sun room. (This is what it looks like in the summer. When I'm teaching, it's dark dark dark, with only the light from the screen.) Note the Diet Coke–a staple in the early mornings.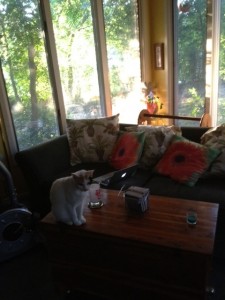 I usually get a cat or two curled up with me, no matter what time of day. Here you see YaYa beside me and Stormy on the floor.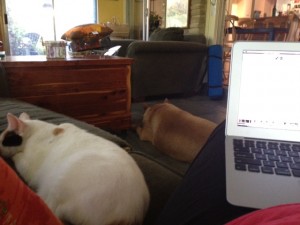 My exercise bike is right there, taunting me. This summer I've had to leave my little area when the boy wants to exercise, which would make me mad if he wasn't moving out this week.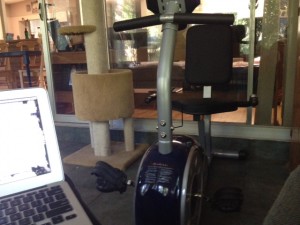 I prefer this view, though because of the drought, there's not a lot to see.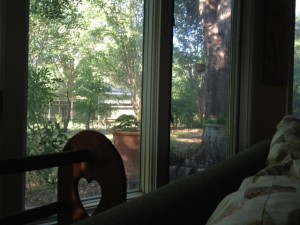 In the evenings, I join the family in front of the TV, but I'm usually still working on SOMETHING. This is my corner, complete with a blanket, because the AC works pretty well.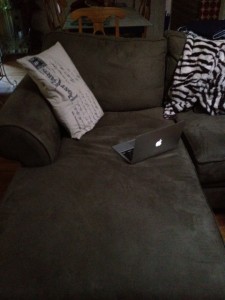 The bonus is, my baby kitty thinks it's his mama.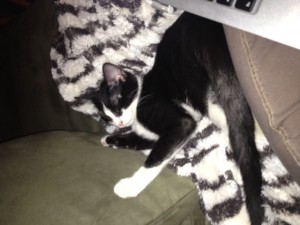 So I don't stay in one spot and I clearly like to be comfortable. Also, I like green chairs and cats.
Thank you, MJ! Loved the tour of your space! I am so in awe of anyone who can work with a laptop primarily. After all these years in admin support, I'm a desktop kind of gal.
MJ Fredrick is the author of 17 books, including this one, Guarded Hearts, published by Lyrical Press.
Now it's your turn. Do you remember modems that screeched? Did you ever have an XT? Ever meet an author who didn't even pretend to maintain an office, whilst she wrote in various spots around the house? Have you read one or more or MJ's books? You know the drill – a comment will earn you a chance to win today's prize, which you're going to want. It's a $10 gift certificate from either Amazon or B&N, at the winner's call.