Posts Tagged 'Deborah Hale'
Today I welcome Deborah Hale to Workspace Wednesday. Deborah was one of the first published romance authors I'd ever met, and from the beginning, she gave unstintingly of her knowledge of both writing craft and the romance publishing industry. A Golden Heart® winner herself, Deborah encouraged me to enter that prestigious contest. While I never won one of those coveted necklaces, I did final a number of times. I am grateful to this day for her encouragement.
I am also a huge fan of Deborah's writing. If you were to zoom in on my shelves (3rd shelf from top, right end of cabinets), you would see quite an extensive collection of her books. Deborah is the author of over 20 historical romances and two other-world fantasies. I am thrilled to have her here.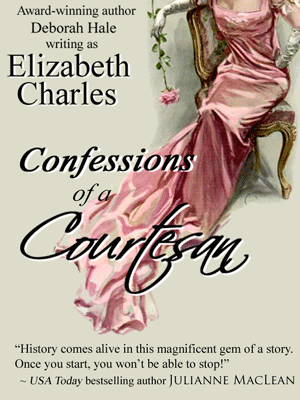 Take it away, Deborah.
DEBORAH:  The first thing visitors usually notice when they enter my writing space is Deskzilla – the monster three-sided desk with shelves and a file drawer that takes up most of my office. I've had a bit of a love/hate relationship with Deskzilla over the years. At first I loved it passionately and produced over fifteen books while nestled in its solid embrace. But over the years it became the place I checked email, updated my website, did hours of historical research, played spider solitaire…almost everything except writing. Now I often write my first drafts longhand on yellow foolscap pads in the café overlooking my local grocery store. But Deskzilla waits faithfully for me to come home, type in my day's work and revise it.
In addition to Deskzilla, my office is also home to the Closet of Author Copies. The boxes of books seem to proliferate faster than I can give them away, so take pity and enter my giveaways wherever you see them!
Beside the Closet of Author Copies are the Bookcases of International Editions. I used to have one shelf for copies of my books from all the different countries where they've been published. Then the collection grew to a whole bookcase. Now it's about to outgrow two! I think the next step is to go vertical. Whenever I stop and really look at the Bookcases of International Editions, it feels more than a little surreal that my characters have traveled to so many places I probably never will.
In the opposite corner of my office stand the Massive Shelves of Researchy Goodness. My family will tell you I write books to support my research habit. Because I've dabbled in so many different time periods, there are books here about 17th-18th century ballroom dancing, the Peninsular War, medieval life and Highland country estates. There is a whole shelf devoted to research for Confessions of a Courtesan. When I first considered self-publishing that book, it was an effort to recoup the money I'd spent on research materials. I'm happy to report I have succeeded!
No tour of my office would be complete without a picture of my writing companion, Button. She has two spots under Deskzilla where she likes to curl up while I'm working. No matter how soundly she seems to be snoozing, the moment I stir from my chair, she's up and alert, ready to follow me wherever I go.
In the interests of full disclosure, I must admit this tour of my writing space hasn't dwelt upon the piles of books and papers that seem to grow from my floor like stalagmites when I'm closing in on a deadline. I've also chosen to ignore my family's junk that migrates in here and takes up residence. What can I say? I'm a Mom and a writer and neither of those is a tidy profession!
Thank you, Deborah! I love Deskzilla! That might be the most interesting tag I've ever put on a post!
Deborah's Links:
Deborah Hale website
Elizabeth Charles page
Confessions of a Courtesan
Deborah's Author Page on Amazon
Deborah's Facebook Page
Okay, over to comments. What do you think? What's your favorite element of Deborah's space? Does the space match up with your expectations of a writer's office? What, if anything, surprised you about it? (For me, it was the closet of author copies. I know Deborah's prolific, but I never stopped to think how that would translate into so many boxes of books!)
BTW, Deborah has a number of fabulous give-aways. We'll do a random drawing to determine who the lucky winners will be. Second and third place winners will receive a digital copy of Deborah's Confessions of a Courtesan, in the e-format of their choice. The grand prize winner will receive the print set of her Gentlemen of Fortune series (Harlequin Historical).