My new cat, a stray that my daughter (aptly) named Ruckus, has taken to spending time on my desk when I'm the only one in the house. Much of the time, she just lies beside my monitor, out of the way. Sort of. But when she wants attention, she moves directly in front of me. Like this: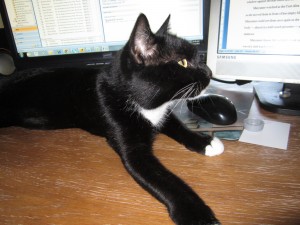 Or this: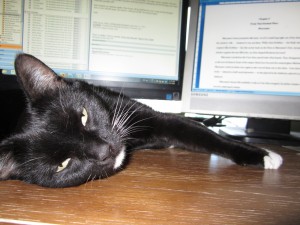 But last night, she stood on the edge of my desk, leapt her front paws onto my shoulder and rubbed her face up and down my face. She then leapt right onto my right shoulder, went around behind my neck and hopped back onto the desk from the other side. I think she was claiming me.
She then started rolling around on my desk – back and forth, back and forth, until the inevitable happened. And I captured it on film.
Sorry to have to send you to YouTube to see it. WordPress keeps telling me the file is too big to upload. And oh, how I wish I'd been filming that from another angle so I could have seen the expression on her face! A face that reminds me of Snowball II, the kitty from The Simpsons. Also Snowball V, who looked exactly like Snowball II. LOL. We've only had Ruckus a few weeks, but she makes me laugh every day.
What's the funniest thing your cat (or dog or hamster) has ever done?