Back in December, I had the pleasure of being interviewed at Theresa Ragan's blog. I thought it would be fun to turn Theresa's own questions back on her, and she agreed.
By way of introduction, Theresa is an amazingly talented and incredibly hot-selling author in multiple genres (her tag line: 3 genres, 2 names, 1 author). She was a Legal Secretary for fifteen years before she penned her first novel and discovered her passion for writing. She is a member of The Golden Network and the Sacramento Chapter of RWA. Theresa has garnered six Golden Heart nominations in Romance Writers of America's prestigious Golden Heart Competition for her work. She lives with her husband, Joe, and the youngest of her four children in Sacramento, California.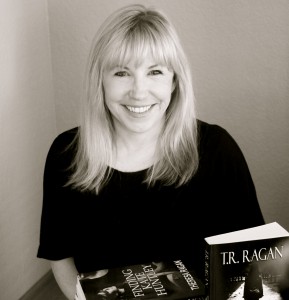 Welcome, Theresa! Please tell us about yourself and your books in 100 words or less.
It took me five years to write my first book. What a learning experience! I wrote for 19 years with the goal of selling a book to a big 6 publisher. I wrote every day and I signed with two agents. No sale. Not until 2011 after I went indie. Everything has changed since then. Now when I write, I know my story will be read. More than ever, I want to write the best book I can. I want to bring smiles to readers' faces. I want to make readers cringe, squirm, laugh, and cry. I am having the time of my life!
Did you ever want to quit writing? Why or why not?
Yes! I knew from the start that my writing journey might be a difficult one. I had read every how-to book on the planet and they all mentioned that rejection was part of the deal. Despite the warnings, never in a million years, did I think getting published would be THIS difficult. I was doing everything right: writing, learning, growing, putting my work out there. I tried to quit and I lasted six months. During that time, I felt agitated and moody. I was not happy when I wasn't writing. I also went through a bitter stage. Inside, I felt as if I knew I would publish someday and when I did I was going to shout "It's about time!" Following the bitter stage, I finally became enlightened. I believe that was in 2007. I knew that I needed to let the bitterness go and find joy in the writing and that's exactly what I did. It's all about attitude. You can train yourself to be a positive person. I let go of the negative thoughts and became grateful for everything good in my life. I've never looked back and I've never again entertained the idea of quitting.
What are your writing career goals? (i.e. to write 2 books a year? To hit the NY Bestsellers List? To sell 100 books a month?)
My goal is to write an amazing story…the kind of story that will make people laugh and cry and think. I have no idea what story that will be or what genre, but that's my goal. I want to inspire others to never give up on their dreams. I want to hit the NY Times Bestseller List. I could go on and on, but I'll stop there.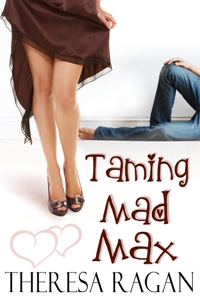 Have you truly mastered grammar and sentence structure? Do you feel 100% confident about every comma in your book?
I feel 50% confident in my abilities. I've taken so many classes, but there are too many exceptions to the rules. If I ask 20 people whether or not I need a comma, 10 say no and the other 10 say yes.
How many pages do you think you could write in one day if you had zero interruptions from 8 AM to 8 PM?
30 pages. I love getting a day with no interruptions. It happens about once a month now that my kids are grown up!
How do you think (take a guess) writers like Nora Roberts write so many books in a year?
I am guessing she wakes up, grabs her coffee and goes STRAIGHT to her laptop. She pulls up her WIP and starts writing. She doesn't look at email or Facebook. She doesn't tweet or spend time searching the internet for fun tidbits. She writes. Maybe she does some of the other stuff later once she finishes her 50 pages for the day, but I doubt it. 🙂
What would be easier for you to write, a sex scene or a murder scene?
A murder scene by far. I think it's because when I read I tend to skip sex scenes in books unless the scene is funny or really ads to the story somehow. Sex is great, but murder is just plain fun to write! Ha. Okay, now I sound sick and twisted. What a horrible question to ask!
LOL, Theresa! May I remind you that was YOUR question. Okay, if you were allowed to have only ONE book (of yours) for sale on Amazon and B&N, which book would you select? Why do you think readers might enjoy it?
I would pick Abducted because when I was writing that book, I had thrown caution to the wind. I started writing that book during the bitter stage I talked about earlier. I was angry and my characters were going to pay with their lives. And they did. That book allowed me to let go of my anger and bitterness with where my career was going at the time (or NOT going). Writing Abducted was definitely therapeutic and I am grateful for that book and for that time in my life. Readers might enjoy Abducted because it's fast-paced and entertaining.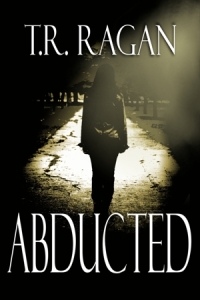 What made you decide to become a writer? 
I was pregnant and on a leave of absence from work. I was tired of watching Young and the Restless, so I read my very first romance. The escapism was exactly what I needed. I laughed and cried and I knew the minute I finished the book that I wanted to provide that same sort of escapism for women just like me.
Do you remember the first time you sat down and started writing your first novel? Did you start with notes or did you start with Chapter One and go from there?
I thought I was writing a book, but I ended up with a 50 page outline. That's why the first book I wrote took me so long. Now I write Chapter One in the heading and go from there. No outline needed.
Any advice for new writers just getting started?
Write the book that YOU want to write. Don't write the book your mother or sister wants you to write. Don't write the book that you think will sell to a publisher. Don't write a vampire book just because they're all the rage. Write the book that speaks to YOU. The sort of book you would want to read. If that means your hero is a one-legged pirate with a stutter, then go for it! Believe in yourself. Write your FIRST draft with abandon. No critiquing. Just let the story out. Have fun. Let it flow. When you get to the end, start revising. The great writing is in the revising.
Thanks for inspiring me to self-publish, Norah, and for having me on your blog!
Thank you for joining me, Theresa. It's always a pleasure. And thank you for inspiring us all with your amazing success story. You are a shining example of what can happen when talent and perseverance meet opportunity!
Theresa loves to hear from readers. Connect with her online at:
32 Responses to "Meet Theresa Ragan!"