Archive for the 'Uncategorized' Category

I have to confess I am not a basketball fan, so that's not what my March Madness blog is about. What I am is stuck up here in the Great White North where March Madness has totally different connotations. For me, March signifies that winter's back has been broken. Oh, it'll probably take one or two more swipes at us before the vernal equinox on March 20—St. Patrick's Day snow storm, anyone?—but we're almost there!
For the second year in a row, I am preparing to take a two-week April holiday in the Caribbean.  As I prepare to slough off the winter clothes in favor of beachwear, the "madness" part of March takes over. Must lose weight! Must try to tone up a little bit! Must start using that artificial tanner so I don't gleam fish-belly white under my 30 SPF sunscreen!
Then there's the search for just the right books to read on holiday. I probably have 400 books on my Kindle that I have yet to read, but I'll need to acquire that special one or maybe two titles that I've been dying to read but somehow summoned enough discipline not to buy and devour.
What about you? What does "March Madness" mean for you? Is it all about the basketball? Is it about indulging in something just for you while your spouse is absorbed with basketball? Something else? Please tell me in the comment section below, and your name will be entered in a draw to win one of two prizes:
$10 gift certificate from the online bookstore of your choice (e.g., Amazon, B&N, iTunes);
Your choice of either Guarding Suzannah (the first book in my Serve and Protect romantic suspense series) or The Merzetti Effect (the first book in my Vampire Romance series), in the electronic version of your choice.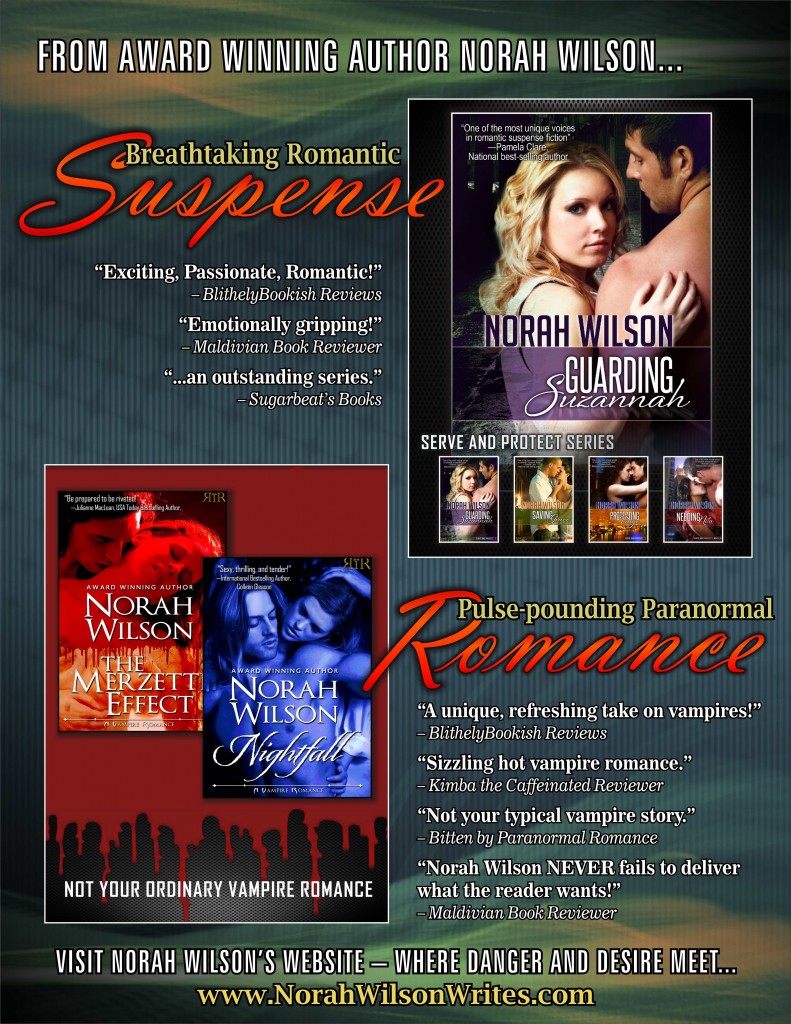 Thanks for stopping by. When you've commented to enter my draw, please make your way back to the Linky List on the March Madness Hop host site to keep hopping, and also to enter the fabulous grand prizes.
Good luck to you!
I met Toni Anderson when I joined the Montlake Romance authors loop. It gave me a chuckle to learn that after a career in marine biology that took her all over the world, she settled in the Canadian prairies about as far from an ocean as you can get. (Of course, the topography of the prairie is about as flat as the ocean, and maybe when the winter wind carves "waves" into the frozen snow, it probably looks like one…)
Toni also got my attention for another reason. She writes in my favorite genre – romantic suspense, and her books look awesome. Several of them are on my Kindle, in fact, waiting for me to stop fooling with the Interwebs and start reading. Her Montlake title, DANGEROUS WATERS, comes out very soon – specifically, Tuesday, November 20.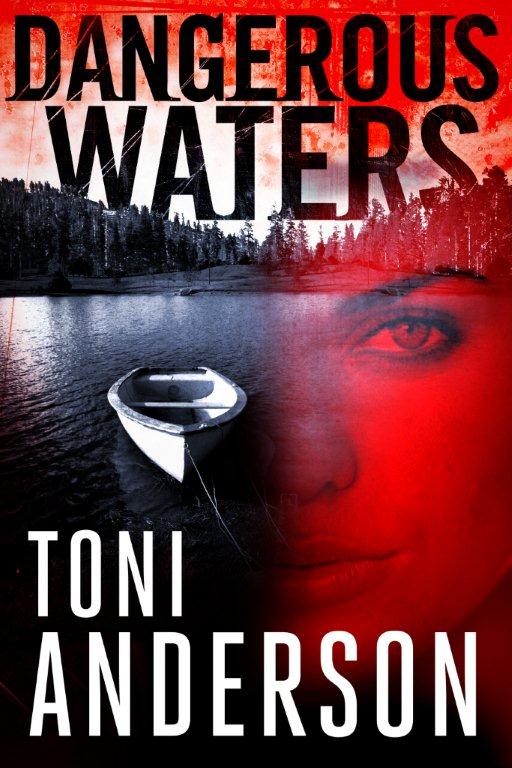 With that intro, I'll turn you over to Toni.
TONI ANDERSON:  Until the beginning of September, I worked in a cupboard. It was a nice piece of furniture but there was no desk space and I had to raise my chair so high I couldn't touch the floor—so I dangled my feet for 8 years. Nightmare. Finally I found a desk from Ikea that has adjustable legs and my hubby picked it up from Minneapolis when he drove to a conference down in the States. Ikea opens here on Nov 28th!!  (Yes, I'm excited LOL). Suddenly I have all this space AND my feet are planted firmly on the floor.
My office is a weird little open-plan room that attaches to the kitchen and what used to be the playroom and is now the 'piano' room (mainly because the only thing in there is a piano J). When the kids were small, open-plan was great. Now I'm thinking 'doors'!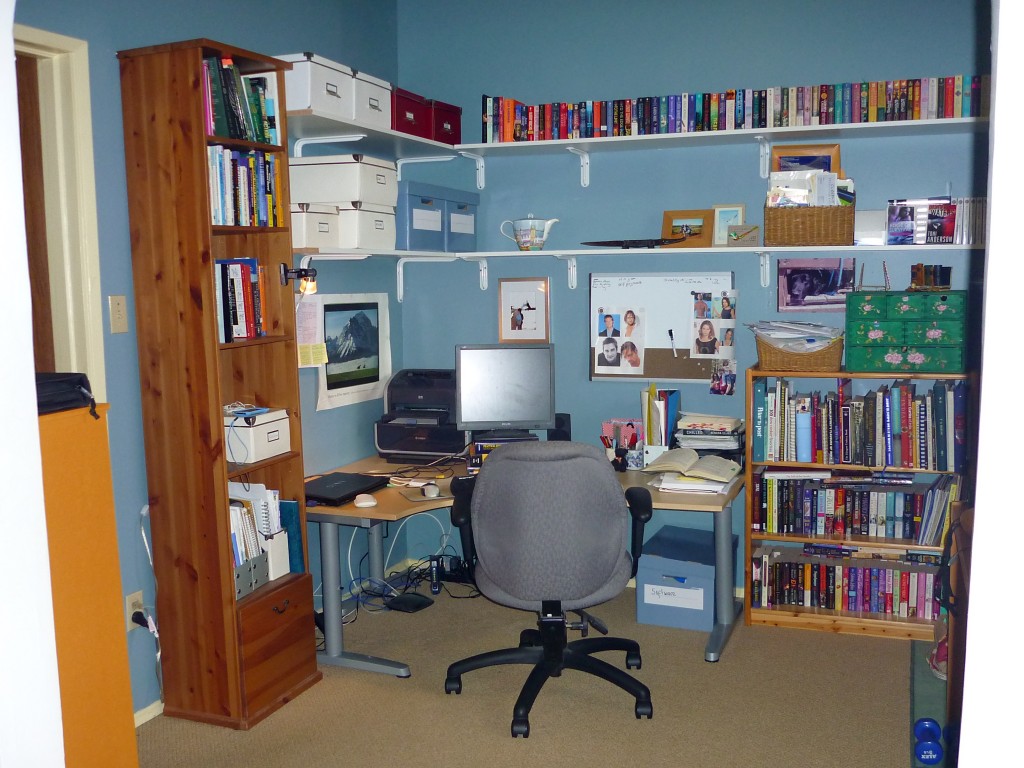 I've surrounded myself with books (fiction, non-fiction), tools of the trade (computer and printers etc, and, yes, I need a proper monitor stand J), magazines and images of my heroes and heroines on corkboards because I'm a very visual person. There's a picture of me and hubby kissing at a recent wedding, and the kids with the Eiffel Tower in the background. And there's a poster of a couple of cowboys in the Alberta mountains, given to me by a friend, Rich Brown, back when we worked together at the University of Waterloo. And a teapot my in-laws gave us which DH broke. It's too beautiful to throw out though.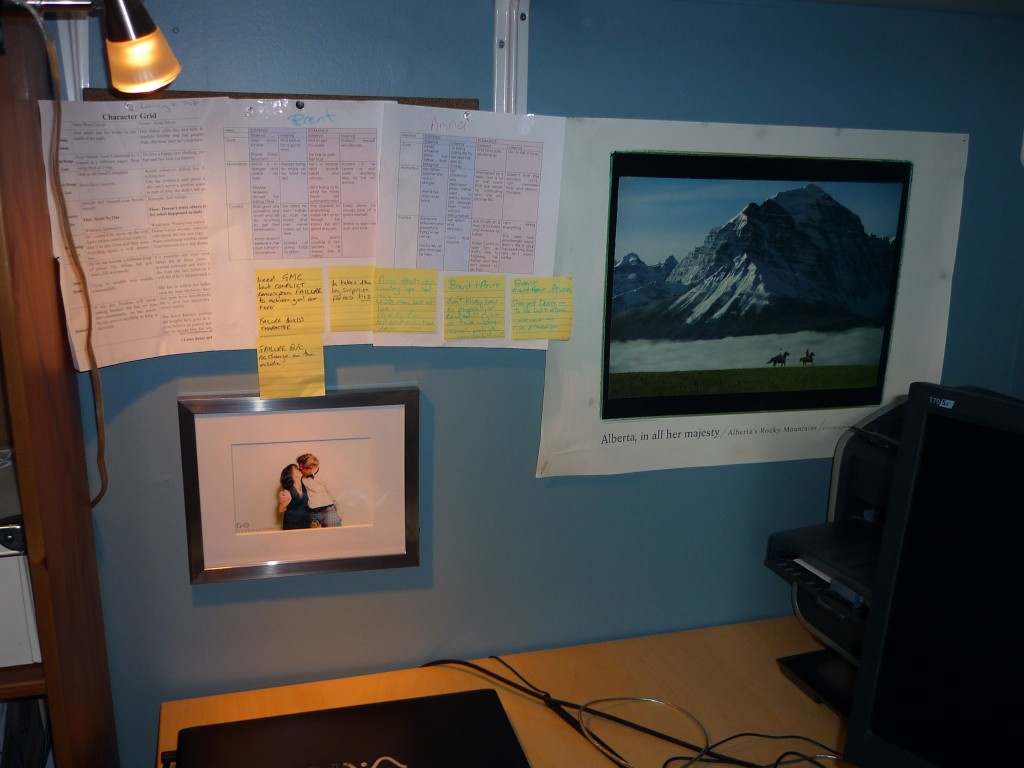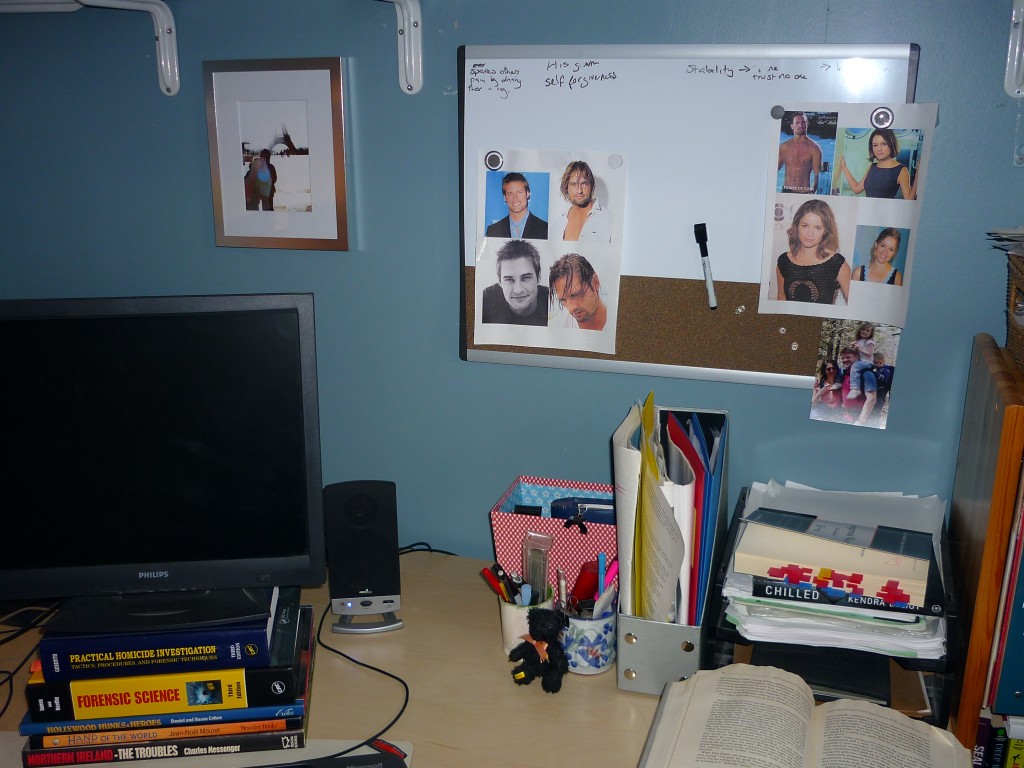 The boxes are full of research material. Each story or linked group of stories get their own box. Some are almost empty and some are full to the gunnels. I store all my notes in the box so when I want to work on a specific story, the information I need is easy to find.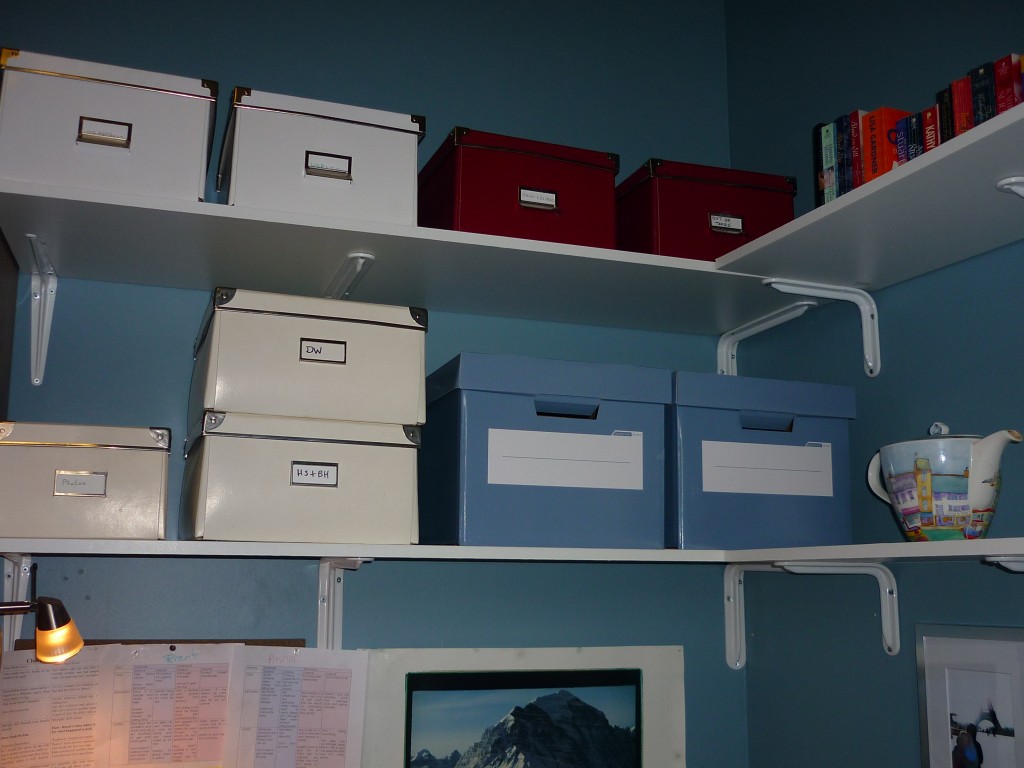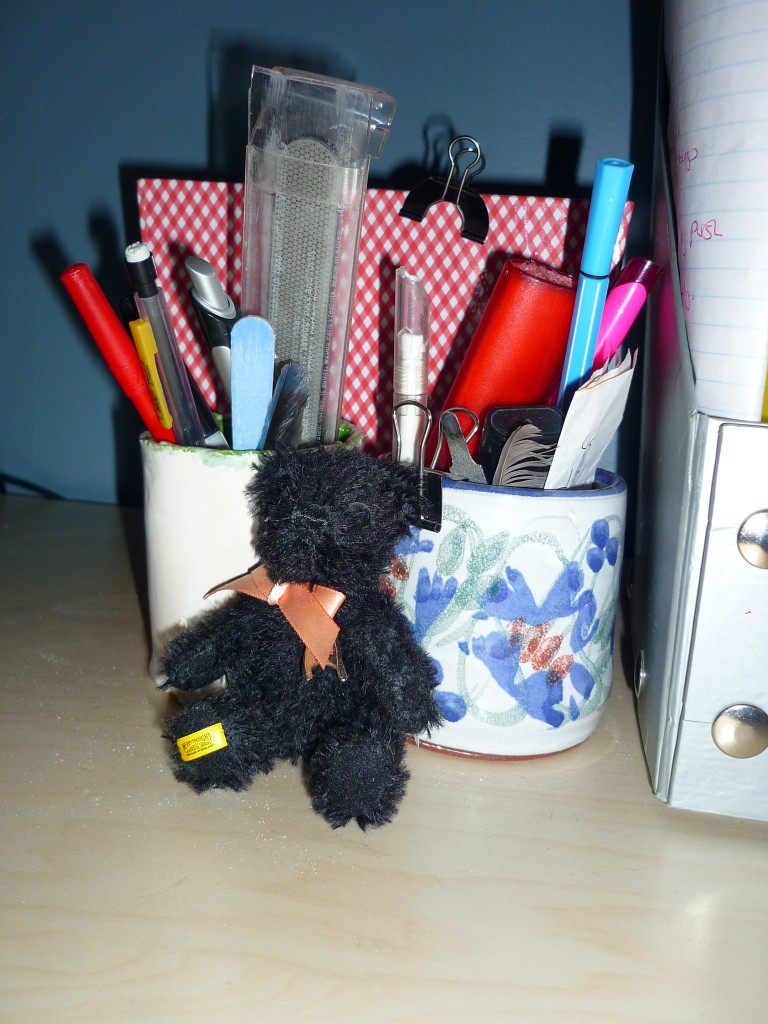 And here's my little Merrythought bear that my mom sent me (we both used to work in the Merrythought shop in Shropshire, years ago), and my other companion, Holly, who's a little mad because I'm taking photographs rather than walking her. She gets the spot closest to the radiator!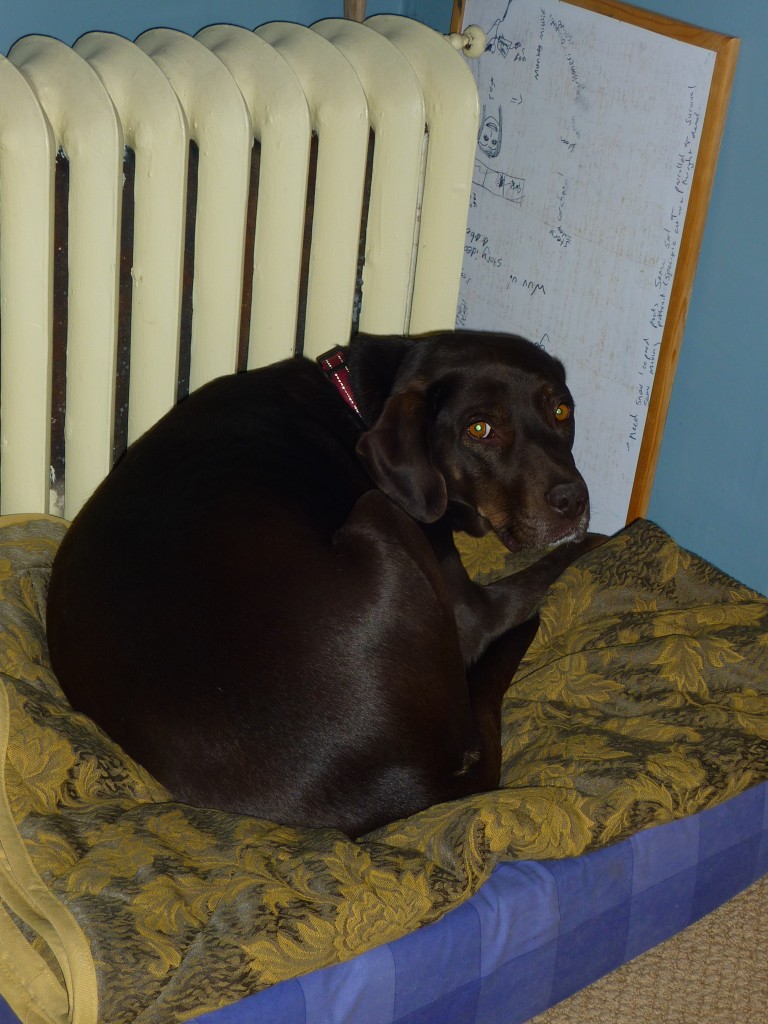 Thanks for having me today, Norah J. I'll gift a copy of SEA OF SUSPICION from my backlist to one lucky commenter.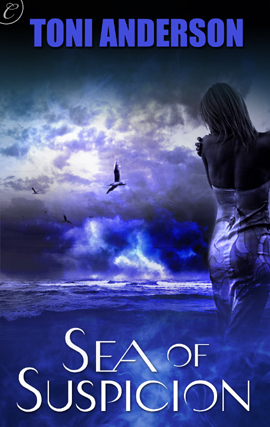 Check out Toni's website and Amazon Author Page for a list of current titles.
Thank you, Toni! That was an awesome tour. And LOL on your excitement to get an Ikea. I'm envious! I doubt we'll ever have the critical mass down east to get one of our own.
Okay, let the commenting begin!
I'm loving Wednesdays more and more! Today it's my privilege and pleasure to have as my Workspace Wednesday guest the lovely and talented Elisabeth Naughton. I've never met Elisabeth in person, but I've gotten to know her a bit from our cyber-paths crossing. Her online persona is just as warm, lovely and gracious as you might guess from her photo.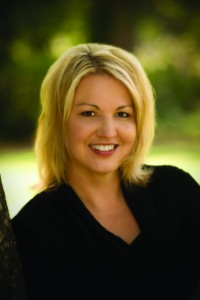 Okay, over to Elisabeth.
ELISABETH: I guess you could say I'm more concerned with how productive I am when I write than where I write.  Over the years I've discovered two things about my productivity: 1) I can't work on a desktop. I need a laptop to be productive, and 2) I can edit just about anywhere, but when it comes to new writing, I can only be productive somewhere soft.
Below is a picture of my desk. Gorgeous, huh? I love it. Love how it's built into a bay window, love the natural light from the window and the view. Unfortunately, it's not soft. Which means I can do just about everything here—answer emails, do promo, even edit—but I can't write here. Since I've developed neck issues from hunching over my laptop, my doctor (who is a D.O.) and I go around and around about this. But alas…gorgeous desk space, zero writing.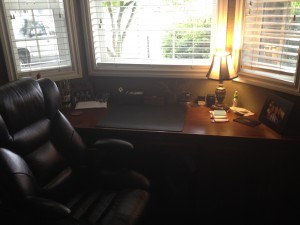 To the right is my bookshelf. Built-ins are awesome. We originally had this office designed for my hubby but I've since taken it over. I have lots of great places for my books, for my research materials, and plenty of storage space for all those office supplies so they're tucked away from view. And when I'm working in here (on promo or marketing or mail-outs or emails or general office work), I'm highly productive. But again…no writing gets done here.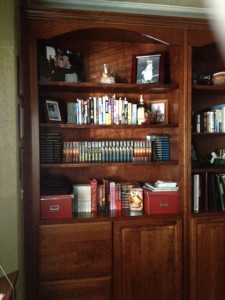 Where do I write then? Here, of course: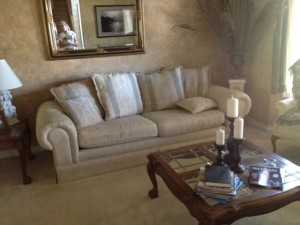 Yep, that's my living room. I usually sit cross-legged on the couch with my laptop on my lap. Hence, the neck issues as I hunch over. If I can't be productive in the living room, then I move here (yes, I'm nomadic):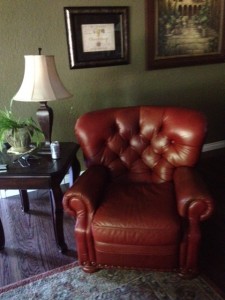 This is my Lazy Boy recliner in our great room. I can only really work here when the house is silent, otherwise people are around me watching TV and generally just being noisy. (Notice the can of Diet Coke on the end table. Can't write without that either.)
But, because I have three Gremlins (er, kids), if they're in the house, I usually have to leave, which means searching for a coffeehouse that has…yep, you guessed it…couches or comfy chairs. Easier said than done. I think I've been to every coffeehouse in my area and have found only a couple spots that will work. But because I like to get up and down when writing and can't sit for long periods of time, these aren't always great solutions either. There's also the issue of food. Why do coffeehouses ONLY serve pastries and coffee?
At the moment, I can't wait until Panera Bread opens near my house in January. I'm hoping that will become my new office. Comfy chairs, wifi, QUIET, and yummy food. We'll see how long it lasts.
If ONLY I could write at my desk!
Bio
A former junior high science teacher, Bestselling Author Elisabeth Naughton traded in her red pen and test tube set for a laptop and research books. She now writes sexy romantic adventures and hot paranormal novels full time from her home in western Oregon where she lives with her husband and three children. Her work has been nominated for numerous awards, including the prestigious RITA awards by Romance Writers of America, the Australian Romance Reader Awards, the Golden Leaf and the Golden Heart. When not writing, Elisabeth can be found running, hanging out at the ballpark, or dreaming up new and exciting adventures. Visit her on the web at www.ElisabethNaughton.com.
Thank you for that tour, Elisabeth. And oh my, I do love that red chair! But I totally fell in love with that desk in the bay window. I think I could make it work for me! LOL.
Okay, before we get to the giveaways (yes, plural!), I just want to put a plug in for Elisabeth's wonderful books.
I so need to read her Eternal Guardians series from the beginning. Here's the tagline for ENSLAVED (#5), the cover for which appears below:
GRYPHON—Honorable, loyal, dependable…tainted. He was the ultimate warrior before imprisonment in the Underworld changed him in ways he can't ignore.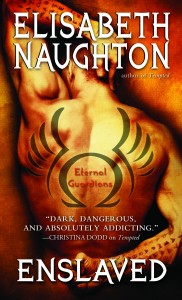 Prefer a Gladiator? All I had to read from the blurb for SLAVE TO PASSION (Firebrand #2) when it released last week was "Kill them all…", and I clicked that One Click button. I have a feeling I'm going to be picturing the amazing  and much-missed Andy Whitfield as I read this one.
Okay, we promised a giveaway. Elisabeth is offering two prizes: FIRST PRIZE – an Advance Reading Copy of ENSLAVED,  which releases on November 6, 2012; and SECOND PRIZE – an ebook copy of SLAVE TO PASSION, Book 2 in Firebrand series, which is newly released.
For a chance to win, all you have to do is comment. Tell me what you liked best about Elisabeth's workspace. Tell us your best advice for laptop-induced neck pain. Tell us what you love about Elisabeth and/or her stories. I will use Random.Org to generate the winners from the comments received.
I am completely honored to have as my guest today Pamela Clare. Pamela is both an award-winning journalist and a Rita-nominated author. These days, she writes romantic fiction full time, shifting effortlessly – or so it appears! – between her fabulous Colonial historicals and her thrilling contemporary romantic suspenses (I-Team novels). But whatever genre she's writing in, you can count on a powerful, sensual, gritty story that will put her characters through the wringer to earn their happily ever after, leaving you sighing as you close the book. Tissues are often required, which for me is pretty remarkable. As a writer reading the work of other writers, consciousness of craft can get in the way of the experience. Too often I think, "Wow, that was really well done! I could almost cry." But when I live through Pamela's characters' big black moments, I flat out cry.
With that introduction, I give you Pamela Clare.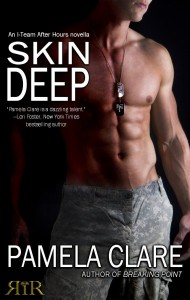 Pamela:  When I first started writing fiction, my desk was tucked away in my bedroom. I didn't get much time to write — I was newly divorced and had two boys ages 9 and 6 — so that small space, just a nook in a little apartment, worked just fine. My little Mac Centris fit perfectly, and my boxes of index cards, which held the results of my research sat off to the side.
By the time I finished that book (7 years later), revised it (1 year), found an agent and got it published (9 months), I was living in a house. I had no real office space, but I turned the kitchen table into a make-shift office. It felt like there were always four people at dinner—me, my two boys, and my computer.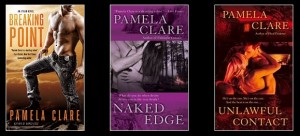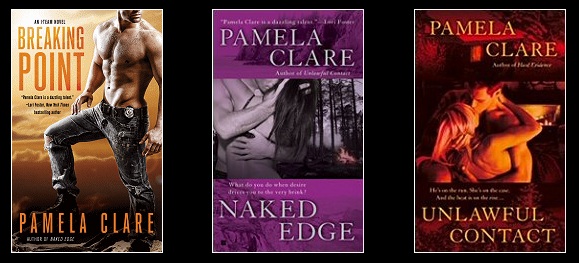 But that didn't work for long. I needed a filing cabinet for my growing body of research, as well as for contracts, and I had begun having difficulty sitting that included a strange numbness in my legs. So I did something radical.
I got rid of my living room furniture and took over that space as an office. I added bookshelves, supply shelves, a filing cabinet, inspiring art, a real desk, and a new computer. Then I went shopping for what I thought was the most important piece of office furniture — my office chair.
I've been through probably five chairs now—a $300 office chair, two zero-grav recliners, a ball, and the enormous adjustable $1,300 ergonomic chair I have now. And none of them helped. In fact, the problem grew worse, with excruciating leg pain that woke me up and made my life unbearable.
It turns out that the numbness in my legs, which I feel for some reason more when I sit, wasn't caused by the placement of my posterior or the surface upon which it sat, but rather a badly impinged cervical spine brought about by a broken neck, the result of an accident. It had degenerated over many long years to the point where my spine was completely compressed.
After having spinal surgery to remove two vertebrae and replace them with implants in 2010, the horrible pain in my legs is largely gone, and I sleep at night again. However, the numbness isn't. I have almost no normal feeling in my lower legs, and I still find sitting very uncomfortable. I go back and forth from my desk to a recliner, elevating my legs as often as I can. My neurologist has no idea why sitting provokes the neuropathy, but it does.
Moral of that story? An author's true work space is her mind/body. Anything that interferes with the functioning of her mind/body — pain, illness, stress, lack of sleep, addiction, fear — is going to make it harder to write. So taking care of one's body is paramount when one is an author.
But here in this photo of my office, you can see my desk, which has a number of personal keepsakes and good-luck charms on it. The baskets and shelves to the left of my desk hold mailing supplies — I do a lot of mailing — and the built-in filing cabinet, together with the new cabinet I got from my parents, hold my manuscripts, contracts, royalty statements, and so on.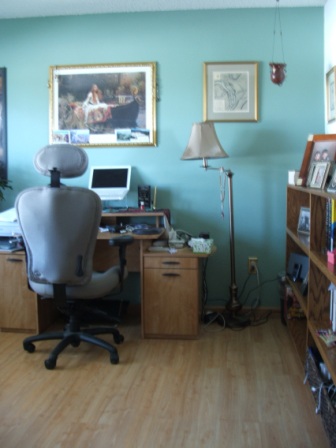 On the walls you can see my Lady of Shalott print by John William Waterhouse, a favorite. To the right of that, is a historic map of Fort Edward and Rogers Island, featured in my MacKinnon's Rangers series. To the far left on the wall perpendicular to that one, is a map of the Lake George-Lake Champlain area, also featured in the MacKinnon's Rangers series. I bought both at the Rogers Island Visitor Center on Rogers Island, which I call Ranger Island in the book. So they're almost artifacts in a way and very special to me.
Speaking of MacKinnon's Rangers, I've got two rosaries, one made of plain wood for Morgan and one of pearl and crystal for Amalie, hanging from the lamp. I held them or wrapped them around my wrist while I was writing Untamed.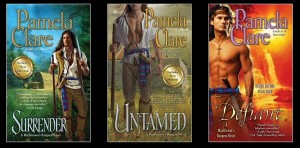 The big bookshelves were a gift from my parents. Behind them, you can see a motley collection of things that are significant to me, including the bright blue RITA finalist flag for Surrender. On that ledge I also have my National Journalism Award, sand from my recent trip to San Diego in an enamel box and from the bottom of Lake George (the large pill bottle), a vial of dirt from Rogers Island, and a dried out ear of corn from one of my many trips to the Navajo reservation.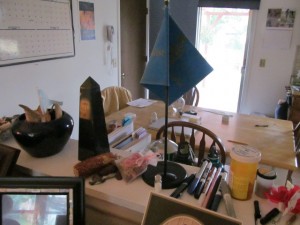 The top shelf holds my old dictionary, along with family photos. The group of shelves on the left holds my books, including the foreign translations of my titles, while the shelves to the right hold all the books I've purchased over the years for research, along with sweet gifts from readers. As you can see, the shelves are crammed!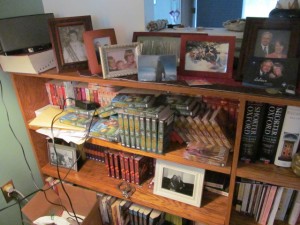 In the winter, I often take my laptop downstairs and write in front of my fireplace, where I the crackling of the wood makes for a very cozy, writerly feeling.  
Thanks for taking this little tour with me!  
Thank you for being here, Pamela! That was awesome.
Here are some places where you can learn more about Pamela or interact with her:
Pamela Author Page on Facebook
Her newest release is Defiant, the final MacKinnon brother in the MacKinnon's Ranger series. And yes, it was amazing! You can find it at Amazon, B&N, or pretty much anywhere books are sold.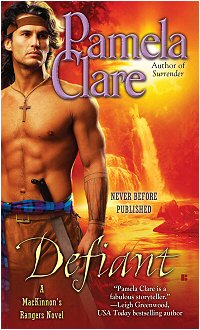 Okay, it's your turn. What did you think of Pamela's office? What's your favorite element? Or just post to say hi to Pamela (she has the BEST fans!).
And here's the thing – posting a comment will get you in on the draw to win a signed print copy of the MacKinnon's Ranger trilogy! We have a second prize, too – a coupon for the free download of an electronic copy of Skin Deep (a novella in the I-Team series).
Okay, it's finally up! The new cover for Every Breath She Takes is live at Amazon. But I'm going to post it here in larger format so you can have a real good look.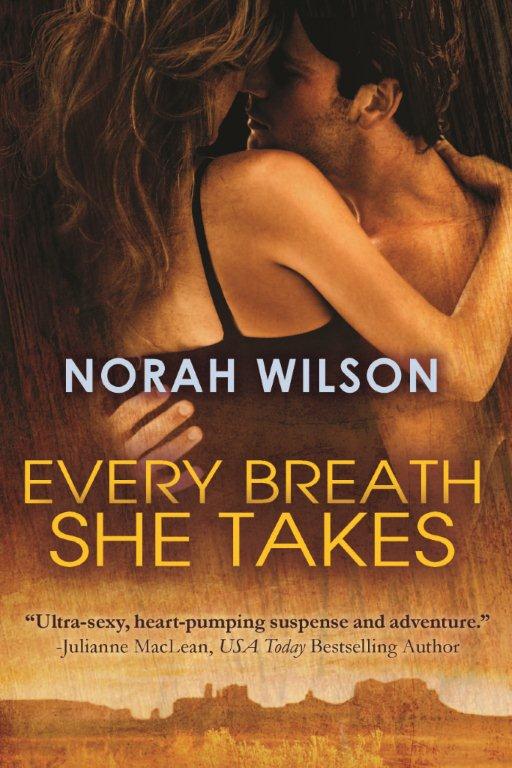 I'm very happy with it, and anxious for release day (September 4, 2012)  to arrive. It's actually available for preorder. The price for the Kindle version is $3.99, which I think all my American friends can see. But for readers in Canada viewing it on Amazon.com, it's still showing up at the placeholder price of $7.99. I've asked the Montlake team to investigate.
Also, to celebrate its release, I'm going to be teaming up with Trish McCallan, my Montlake release day buddy,  for a very special giveaway. Stay tuned!
I am very excited today to have Colleen Gleason join me for Workspace Wednesday. I met Colleen in 2003 when we both finaled in the Romance Writers of America's Golden Heart® Contest. I had finaled the two previous years, and each time a Yahoo Group would spring up so that the excited finalists could network and talk about photos and gowns for the gala award ceremony and all that other fun stuff. And each year, after the curtain dropped, the groups lost their steam. But for some reason, the Class of 2003 – which we named the Wet Noodle Posse – really bonded. Next year we will celebrate our 10th year of Noodly goodness at the RWA National Conference in Atlanta.
Colleen also happens to be a talented, prolific and extremely successful writer. She is the author of the very popular historical vampire series the Gardella Vampire Chronicles, as well as the delicious Regency Draculia Series.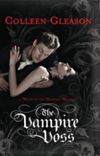 But so prolific is Colleen, she needed another name under which to publish her fabulous post-apocalyptic paranormal romances. Enter Joss Ware.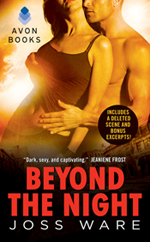 But whether she's Colleen or Joss, she is a warm, energetic, lovely, magnetic woman. She is also a great deal of fun to hang with if you ever get the chance!
Okay, with that long-winded introduction, I'll turn it over to Colleen:
COLLEEN:  So fun to be here, Norah! And back at you about the fun, warm, energy that you spread too. It's too bad we don't see each other more than once every two or three years!
I love this idea of sharing writers' workspaces, and I have to admit, I was delighted when you asked me to share pictures of mine. I used to have an office that was out of control messy and disorganized. But last November, my mom took pity on me (talk about the Ultra-Organizer) and came over. We spent the better part of the day rearranging and cleaning and organizing my office. And I'm proud to say that I've kept it in shape ever since then.
So, without further ado…here's the place where it all (well, at least some of it) happens!
To start the tour, we would have to climb the staircase to my office. And this is what you would see – many of my foreign book covers, framed and hanging on the wall.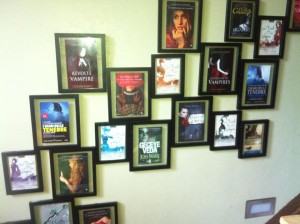 This next shot is the view of my office as you enter it from the staircase. My office is actually a loft, which means I DON'T HAVE A DOOR!!! and I only have a half-wall on one side which overlooks the staircase. Which means I have to wear earplugs and headphones if I want to write while my children (two teens and one 11 year old) are around.
I have to confess that I took these pictures in November 2011, just after I'd reorganized and cleaned my office. But, honest!!, my office is still neat and clean like this–I was just too lazy to dig out the camera and take new pictures. The only thing different is my huge jade plant is outside for the summer. (Having a neat and clean office is a huge accomplishment for me, and I am proud that it's almost been a year and I've kept it up.)
The huge window is lovely except for the first part of the day, when the sun blazes in and causes a glare on my computer screen. I pull the curtains over and put a small room divider on top of the glass desk in front of the window, and it keeps the glare away until the sun has gone over the house.
The chair you see in the forefront is my napping chair. 🙂 I often sit there with my laptop or a research book and work until it's nap time. Then I curl up and doze for about 30-45 minutes. My little dog, Ranger, often shares the spot with me. It is the most comfy chair in the world! It's big enough for a person and a half, and when I broke my leg (Jan. 2009) and had to have surgery and spent a lot of time recovering, I practically lived in this chair for almost two weeks.
In the back, you can see two of my book covers (books I write as Joss Ware) plus, with a glare on it, a poster for the Sherlock Holmes movie starring Robert Downey Jr. Anyone who visits my Facebook page or gets to know me knows I have a thing for both Sherlock and RDJ. 🙂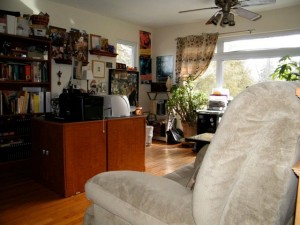 Here is the back side of my desk. You can see my Mac on the top, and get a glimpse of my view out the window. To the right is the staircase, which, yes, is open to the floor below. The glass desk in front of the window I use as more of a project area; I never write there.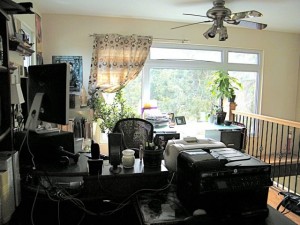 Here is the view of my bookshelves. My husband, aka MusicMan, built those for me our first year in this house–fifteen years ago. I absolutely love them, partly because they were such a labor of love. Every single shelf is thick and sturdy and adjustable to any height–I think he spent more time making the holes for the shelf holders than he did anything else. They are an inch apart. As you can see, the shelves are chock full of books–mostly research books and ones I've read or intend to read. 🙂 Someday.
You can also see my comfy nap chair, and right behind it is the stairs where you enter into this den of creativity!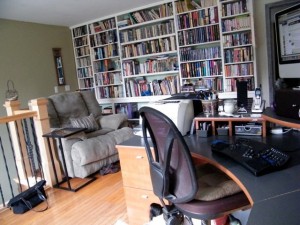 Here is the best view of my desk and workspace. As you can see, there are a bunch of interesting things designed to keep my creative juices flowing. Beneath the window is a framed collage I made for my first book/series, The Gardella Vampire Chronicles. It's in a shadow box because I take it with me when I do talks, especially at schools.
To the left of it is a photograph of a tree in a cemetery that one of my readers sent me because she thought it looked like something I'd enjoy. I love it. The tree is in full fall colors and is absolutely gorgeous. (She sent it framed, even!). Above the collage to the left is a small photo of a frog also given to me by a photographer friend (the woman who did my recent headshots). She knows how much I love frogs. 🙂
On the shelf above the frog picture is a vampire hunting stake, a copy of a vintage Count of Monte Cristo comic bookand a "voodoo love god" from New Orleans brought back to me by two of my writing friends who went to a conference there.
As you can see, my office is filled with thoughtful gifts and remembrances. I also have a small vampire bat button given to me by author Anne Mallory and a special wooden ink pen I used to sign my first contract with–a gift from authors Jana DeLeon, Diana Peterfreund, and Wendy Roberts. Above the computer screen is a collage I made for my new steampunk teen series, complete with pictures and decor. And although you can't see it on the shelf, there is a lovely angel-like fairy statue that was given to me by a big fan when I visited Italy (my Gardella books are very popular there).
On the bookshelves to the left of my computer are copies of my books, except on the two middle shelves where I have more research books. And note my little space heater beneath the desk for my tootsies…which are always cold. 🙂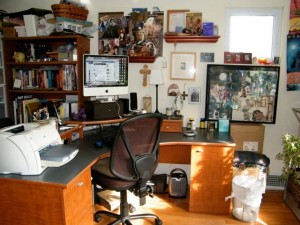 And here is a picture of little Ranger, dozing in my chair while I work. 🙂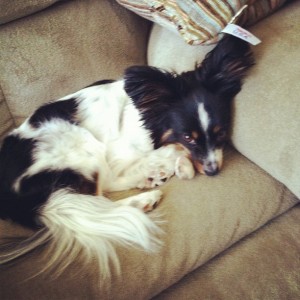 Thank you for that tour, Colleen! Those bookshelves are AWESOME! I have bookshelf envy. Again! (Lina Gardiner's built in shelves gave me my first case. LOL!) But I think I love most the final view of your desk where we can see your collages and all the other personal stuff.
If you'd like to know more about Colleen, you can visit her at her Website, follow her on Twitter or Like her Author Page on Facebook.
Check out the newest book in Joss Ware's Envy Chronicles (post-apocalyptic paranormal romance).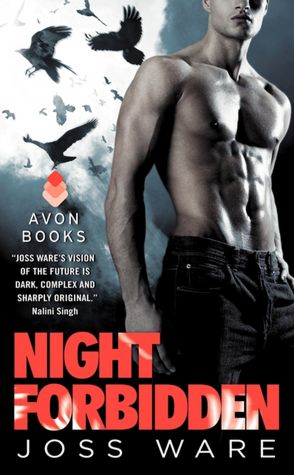 Okay, readers, it's your turn. What did you think of Colleen's office? Is that a workspace you'd kill for or what? Okay, maybe not kill. But what element would you pinky wrestle Colleen for?
I should mention that there is a giveaway! We will pick a winner randomly from among the comments. Colleen has graciously agreed to gift the winner with the ebook of their choice from her body of work (frontlist or backlist), in the format of their choice. Woot!
I am both a writer and a lifelong reader. In both capacities, I've always been fascinated to see writers' workspaces. (And don't get me started on notebooks and colored gel pens and…well, any kind of stationery. It's like writers' porn!)
The more I love an author's work, the more intensely interested I am in seeing the place or places where they create their art. (I also want to know if they have a pet and what kind, but that's for another post.) Some authors have self-contained, dedicated offices while others work their magic from workspaces shoehorned into other areas of their homes, while still others are nomadic types who can – and do – write anywhere.
Over the next months, I plan to feature fellow authors – some of whom are close friends and some of whom I just admire – about their workspaces. There will be pictures. Lots and lots of lovely pictures! (Tents hands like Montgomery Burns.) In fact, this feature will start tomorrow when I bring you the workspace of award-winning author Lina Gardiner. I am both a fan and a friend of Lina's, and I've actually seen her office.  
In the meantime, here's a look at my new office. To mark my transition to full time writing, I've turned my seldom-used living room into an office.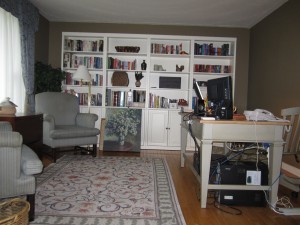 My desk is a joy. My son set up the dual monitor thing so I can keep an eye on my tweeps while I work. I'm loving it!
But the real feature piece of this room are the built-in bookshelves/cabinets. I bought four separate birch shelf units and door kits at Kent Building Supplies, and my sisters primed and painted them this lovely, creamy antique white. Of course, I couldn't have done this so cost effectively without my brother-in-law, the carpenter, who assembled the cabinets, then screwed them together, anchored them to the wall and hung the doors. This is not an easy DIY project!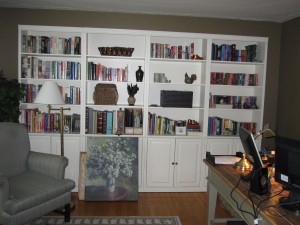 The biggest bargain during this reno is my west wall with its window treatment and the conversation area. The drapes, complete with header and sheers, as well as the two arm chairs and the two brass lamps came from a liquidation sale of furniture removed from the Delta Fredericton Hotel as it updates all its bedrooms. Discounting the labor (it's good to have sisters!), this cost me a whopping $160, of which $40 was for the extra traverse rod for the sheers. Draperies laundered and upholstery shampooed, they look great in my office, don't you think? And this gives me a great space to meet with my partner on a number of writing projects, Heather Doherty.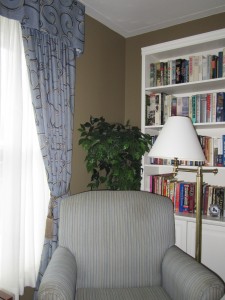 And what office would be complete without a place for the pet? Here's Chloe's Corner: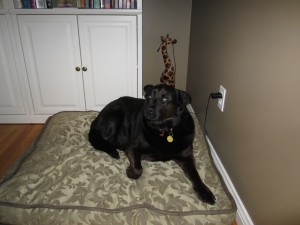 The walls are still noticeably naked, but only momentarily. As soon as my sisters are available, we'll hang the artwork. (By which I mean they will do it. We all have our talents, and mine is not decorating!)
So, what do you think? What's your favorite element?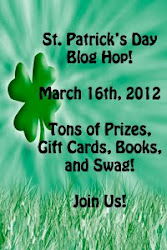 Haven't you heard? Everyone's Irish on St. Patrick's Day! Or so it seems, judging by that sea of green clothing as everyone gets into the act.
Here in my city (Fredericton, New Brunswick, Canada), the preferred place to be on March 17 is the Lunar Rogue Pub. It has everything you could possibly want in a pub. Over 200 whiskies, an excellent selection of wines, and just about anything you could want on tap. And on St. Patrick's Day, it has Celtic music and green beer! Yes, it's the place to be. For everyone but me. LOL! It tends to be a little too busy (okay, jammed!) for my tastes on the big day.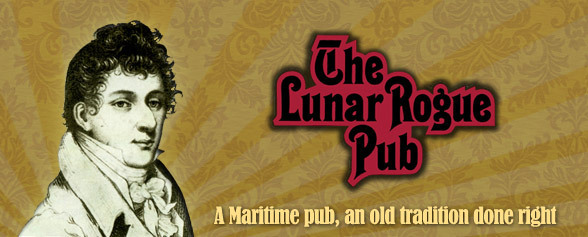 But any day of the year, the Lunar Rogue is my absolute favorite pub in the world. They have the best nachos anywhere, and the peeps are great. Special shout out to Michelle and Marianne! You guys are the shiz!
Speaking of Fredericton, I've actually written a series of romantic suspense books – my Serve and Protect series – set right here. Here's a blurb for the first book in that series, Guarding Suzannah:
Criminal defense attorney Suzannah Phelps is the bane of the Fredericton police department (they call her She-Rex for her habit of shredding cops in the witness box). She is currently being stalked, but is reluctant to report it to the police, whom she half suspects of being the perpetrators. But when Detective John (Quigg) Quigley learns of it, he's determined to protect her, at considerable risk to his career. They've struck sparks off each other in the courtroom, and he's burning to do the same in the bedroom. When the danger escalates, he has the perfect excuse to pose as her boyfriend, but the closer they get, the more the lines between pretense and reality blur.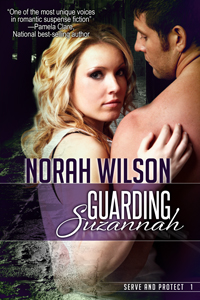 In honor of this St. Patrick's Day blog hop, I am giving away an electronic copy of Guarding Suzannah to a winner to be drawn from those who comment on this blog. In addition to the book (in the ebook format of the winner's choice), the winner will also receive a $10-gift certificate to the online bookstore of their choice.
And here's the best part — your comment on this blog (and every other stop on this blog hop) — gives you a crack at two grand prizes. One winner will receive his or her choice of a Kindle Fire or a Nook Color! A second winner will score a $90-gift certificate  from his or her choice of Amazon or B&N. The more stops on the blog hop you make (leaving a comment at each, of course!), the more chances you have to win. Up to 120 of them!
So … have at it! Leave a comment. Tell me what you do on St. Patrick's Day, or tell me about your favorite pub (Irish or otherwise), or just say, "Hey, I'd really love to win your book and snag that gift certificate!" On St. Patrick's Day, it's all good.
Last but not least, here is the list of other sites on the Blog Hop. Have fun and good luck!
Phew! I feel like I've just completed a marathon. Sadly, it didn't involve any physical activity, which I really, really need to focus on. Rather, it involved still more hours in a chair as I browsed stock photo sites and conferred with my cover artist (the talented and very cool Kim Killion, of Hot Damn Designs).
Are the covers perfect representations of my characters from each of those three stories (and the novella)? No. In my experience, a cover is never perfect. Her hair is a little too wavy/straight/long/short, he's a little more/less muscular than I intended him, etc. But what they do do, I think, is capture the tone/mood of the series collectively. Individually, I think they each reflect something true about the relationship between the hero and heroine. And I'm thrilled with them! Here they are for your viewing pleasure.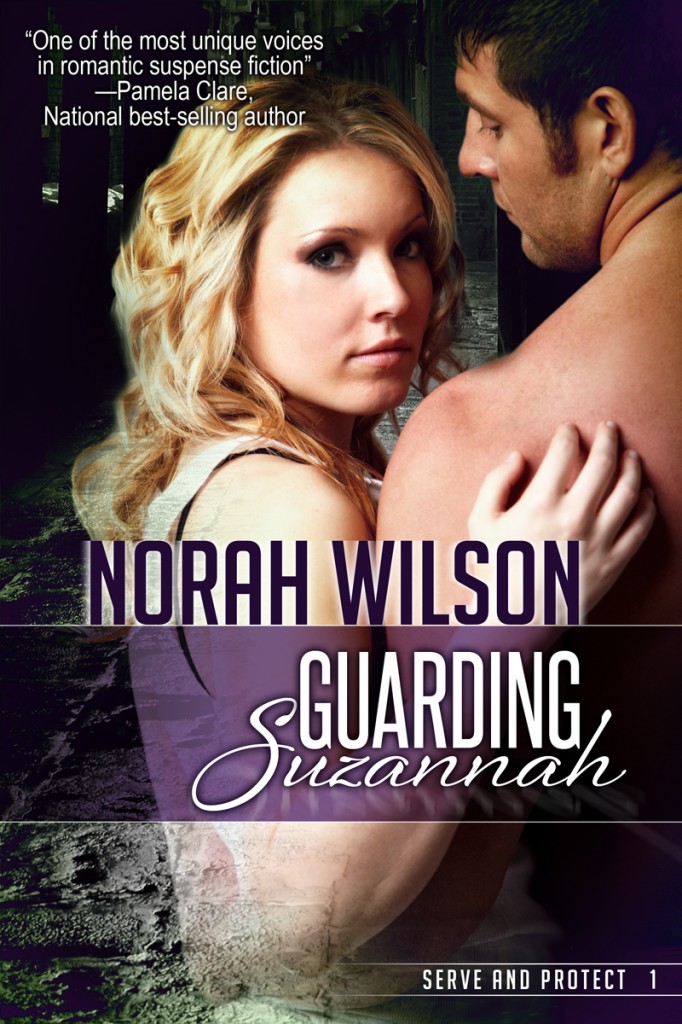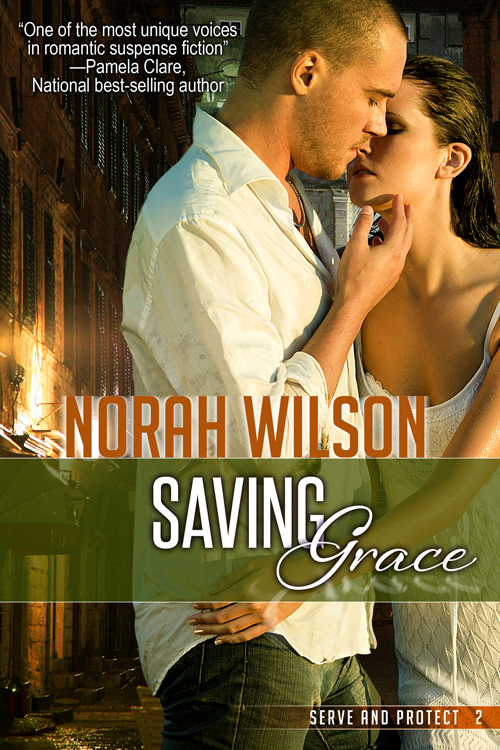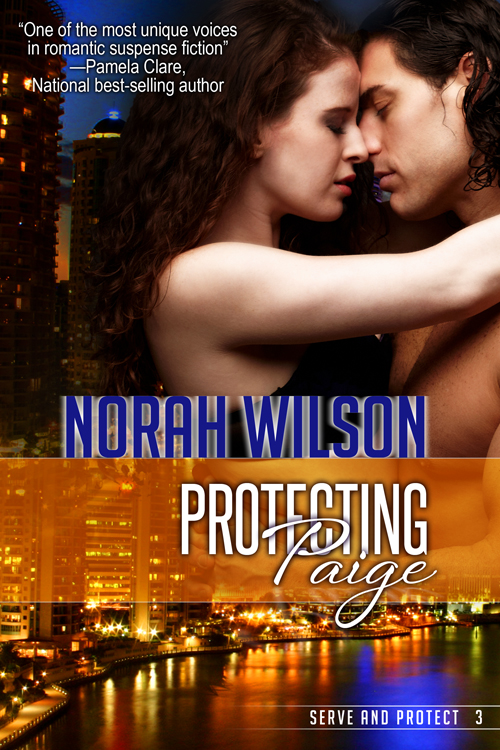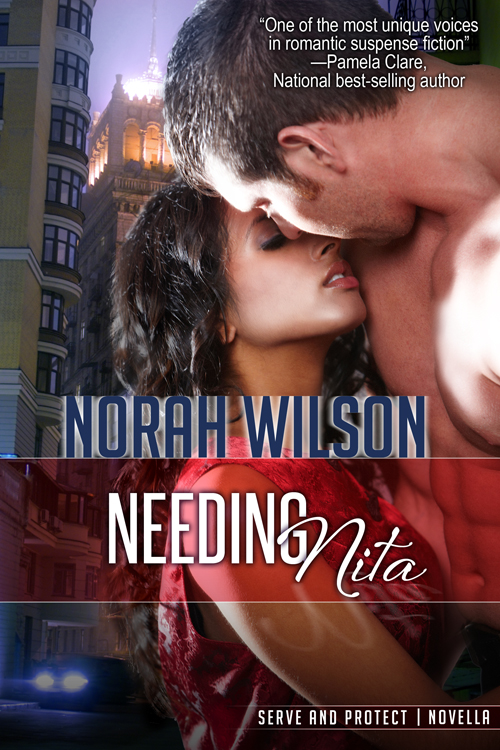 So what do you think? Do you have a favorite? Have you read any of these books? And if so, how does your experience of the book line up with the new covers? I'd love to know!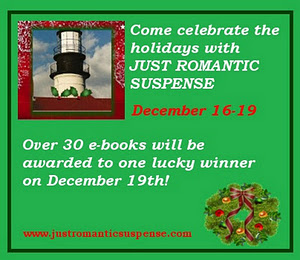 With the spirit of giving in the air, over 30 Romantic Suspense authors have pitched in to create a single awesome prize! ONE lucky individual will win all the marbles … I mean, e-books!
Contest begins December 16 and the winner's name will be drawn the evening of December 19.
Although we're talking ebooks here, every author contributing to this fantastic prize is multi-published and has been traditionally published in romantic suspense.
My contribution is GUARDING SUZANNAH, Book 1 in my Serve and Protect Series. But there are some huge names here! I am honored to be in their company. For instructions on how to enter – and to get a gander at the participating authors/prizes – visit the Just Romantic Suspense website.
Good luck!