My run of awesome Montlake Romance authors continues! This week it is my pleasure to welcome Barbara Longley. Barbara writes contemporary and paranormal romance. Her latest Montlake book, a contemporary romance titled Far From Perfect, sounded so delicious, I snagged it for my Kindle. I hoped to have read it by now, but life sort of got in the way.   Welcome, Barbara!
Barbara Longley: First of all, I have to apologize because I'm a lousy photographer. I did try several shots, and this is the best. Sad. I know. This is where I work. I don't own a desk. I have a laptop and an ottoman. Everything I need is close by, including my reference books.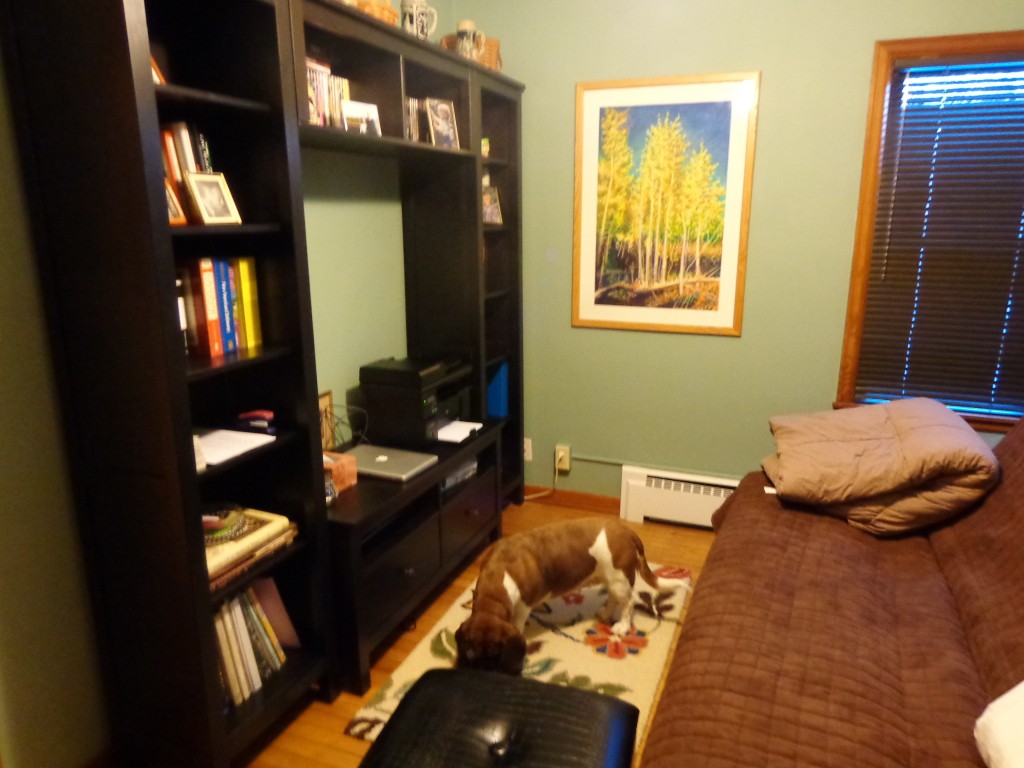 Having an office is a relatively recent development for me, and all of the furniture is new except the futon. Yep. My office does occasionally turn back into a guest bedroom, which is what it has  been since my two children flew the coop. Now that I'm writing under contract, and I have deadlines, I figured I'd better get more professional about my writing. It is really nice to have everything in once place. I feel so much more organized. I work a full time day job, so I really need to be organized. That's my challenge this year—learning to manage the demands of my day job with the demands of my writing career. I've made my deadlines for both, so I'm getting it down. I do run into the occasional wall of overwhelmedness, though. And that's when I take my little dog for a long walk, or watch a cheesy movie on the Hallmark channel.  
I've included a picture of my writing buddy, Sophie, a basset hound/cocker spaniel mix. If she's not snuggled up on the couch next to me, she's gazing up at me as I write. I also have a cat named Fred. He also likes to keep my lap warm, which is tricky when I'm trying to write.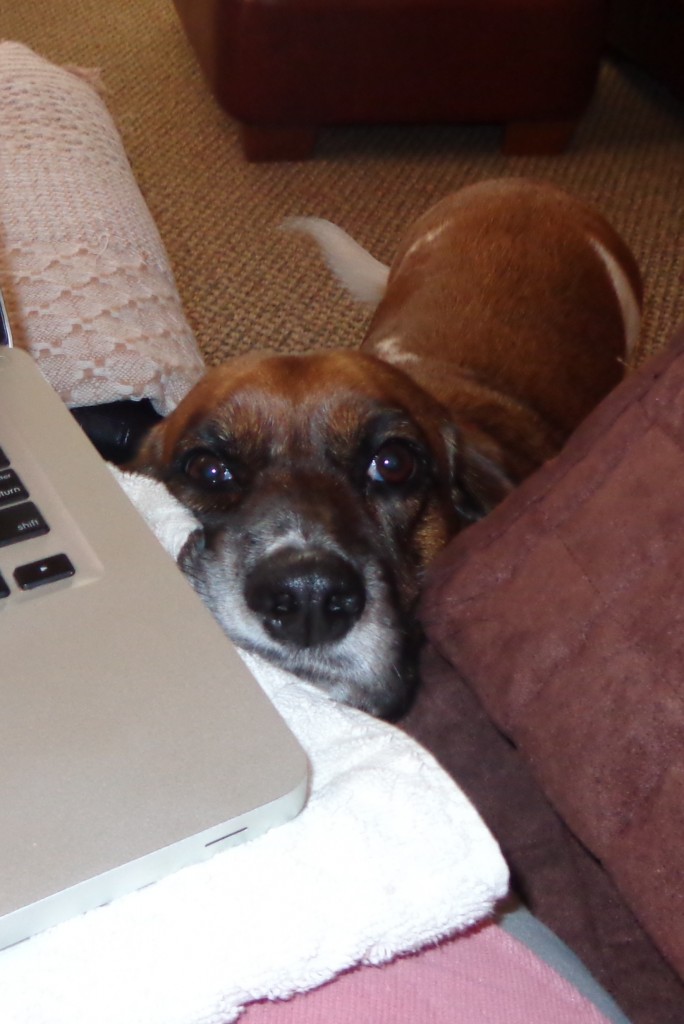 My October release with Montlake is a small town contemporary romance with military elements. Here's the blurb:
FAR FROM PERFECT  – Noah Langford narrowly survived the roadside bombing in Iraq that killed five of his men and took his leg, leaving him haunted by flashbacks and riddled with guilt. When his stepbrother Matt dies in a car accident, the loss feels like the final blow to Noah's shattered soul. But then he learns about the girlfriend and baby Matt abandoned years earlier, and suddenly Noah has a new mission… Ceejay Lovejoy was nineteen and pregnant when her boyfriend walked out, disappearing from her life just like her parents did. Since that day, Ceejay has devoted herself to giving her daughter a better life, avoiding any man who could threaten that security—until the day Noah Langford shows up on her doorstep. His gentle spirit has an unexpected effect on Ceejay's guarded heart, tempting her to take one last chance on love. But when a painful secret comes to light, it threatens to break the fragile bond growing between them…and to destroy a love powerful enough to heal them both.
The second book in the trilogy, THE DIFFERENCE A DAY MAKES, is coming out April 23rd.   Once lucky commenter will win a $10 gift card for Amazon, which will be delivered electronically. Thank you so much for stopping by.
Thank you, Barbara. That is one sweet dog. Sophie, I mean! The one on your cover is a different matter. That's a whole lotta dog! Can't wait to read the book. I love dogs in books.
Readers, you can learn more about Barbara at her website. You can also follow her on Twitter and friend her on Facebook.
Now, let the commenting begin!
35 Responses to "Workspace Wednesday welcomes Barbara Longley"