I'm delighted to welcome fellow Canadian Cindy Procter-King to Workspace Wednesday. Cindy is a dynamo and one of those personalities you gravitate to. I could write a lovely bio telling you how funny she is, but I think posting this little excerpt from her website bio will tell you more than I possibly could!
A Kindle Contemporary Romance bestseller and Romance Writers of America Golden Heart® nominee, Cindy's mission in life is to see her surname spelled properly—with an E. So take heed. That's P-r-o-c-t-E-r. Not, no, never, under any flippin' circumstances should you spell it with two O's. Cindy lives in Canada with her husband, their two amazing sons, a tortoiseshell cat obsessed with dripping tap water, and Allie McBeagle.
Welcome, Cindy!
CINDY PROCTER-KING: Thanks to Norah for welcoming me to her blog! I'm excited to be here.
I love my office. It's a huge space, a 10×14 room that used to be our bedroom. Even so, I've managed to fill it up!
We live in a circa-1960 house, and the location of my office has changed three times over the 22 years since we moved in. I searched for a photo of the bedroom before we renovated to show you what my office used to look like, but I accidentally gave birth a week after we moved in (the baby came 6 weeks early) so I didn't get around to taking pictures of the interior. I was too busy corralling a 2-year-old and our huge dog at the time, a Malamute, and unpacking boxes, and then caring for a newborn preemie.
That's my excuse, and I think it's decent.
While my children were little, my "office" was a corner of the living room. My husband gave me a roll-top desk for our first anniversary, and it sat in one corner of the living room. The computer desk sat in the opposite corner. I have always had two desks because I use the computer to draft but the roll-top to hand-edit and revise. When our oldest child turned 13, we put on an addition, which meant there were two empty bedrooms for a couple of years. I moved my office into one of the old bedrooms, but it was very crowded and super-hot. My ankles would swell in there (this was before we had air-conditioning).
A couple of years after the major addition of two bedrooms and a bathroom for the kids, we remodeled the "master wing," creating one bedroom out of the two kids' rooms, turning the tiny bathroom into an en suite bathroom for the new master bedroom, changing the old hallway to the bathroom into a walk-in closet, and the icing on the cake—turning our old master bedroom into my office!! First, I'll show you a photo of what the office looks like now, and then I'm going to tell a little story….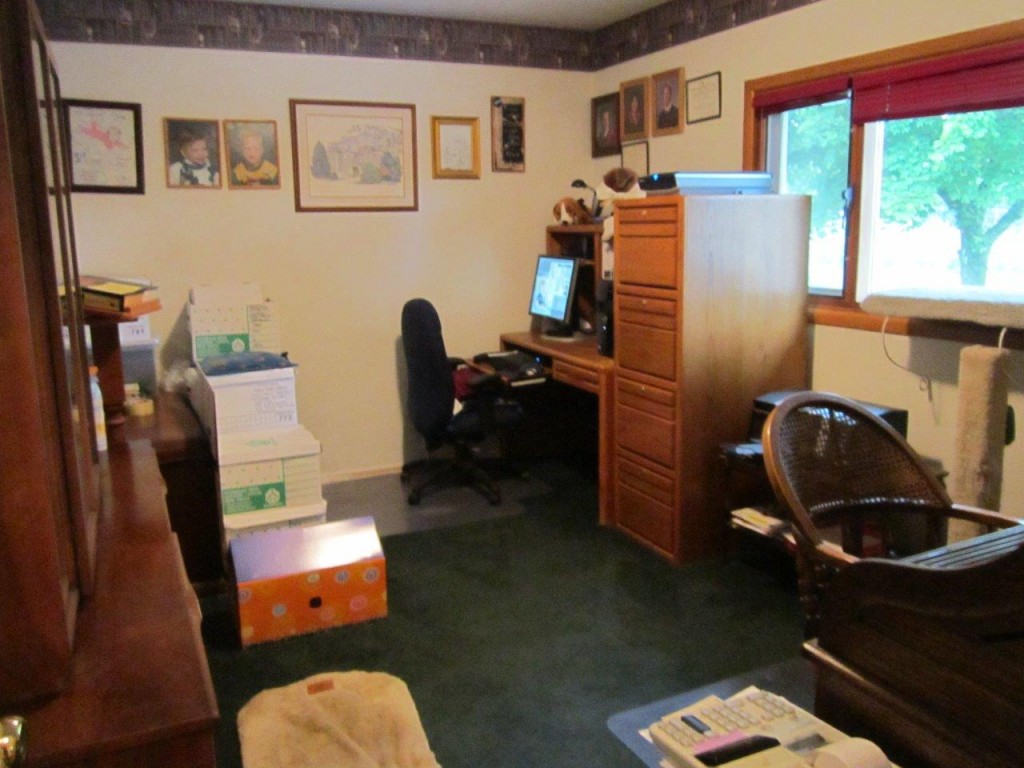 You can see the computer desk in one corner, my roll-top desk in the lower right, and a view outside the window (which looks onto an orchard). I took this picture a few months ago after thoroughly cleaning the house, so you'll have to excuse me if it looks a little tidy…aside from the numerous file boxes stacked up near the far wall.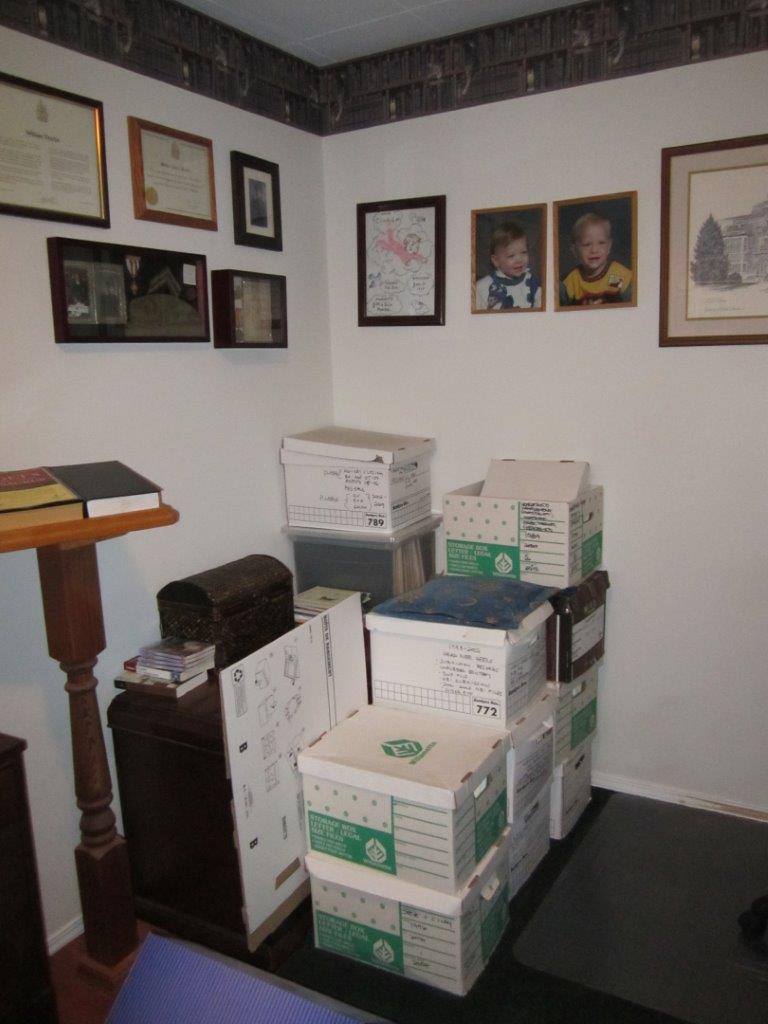 This isn't my promised story; this is a sideline explanation of the file boxes. Two years ago, I needed to find a file box in the crawlspace, and I discovered all these other file boxes that needed to be sorted and shredded. There were originally 11 boxes. I shredded two before the shredder died. There are now 7 files boxes remaining. I went through two more at Xmas. At this rate, I'll be finished my sorting/shredding in 2019. Oh, well.
Behind the file boxes is a memory trunk that my husband gave me for a milestone birthday. You can see a dictionary and a thesaurus (which I rarely use now thanks to website dictionaries) on a stand that he built me one Christmas. The framed certificates and shadow boxes are in honor of my grandfather, who lived to 106 and was the last British Columbian to have served Canada in The Great War (he was the third last Great War vet to die in Canada overall). Pictures of my sons (now adults) are also on the walls. I love being surrounded by memories of family as I craft my novels.
Here's my roll-top desk, where I do my editing and revising by hand (and a bunch of "biz of writing" stuff):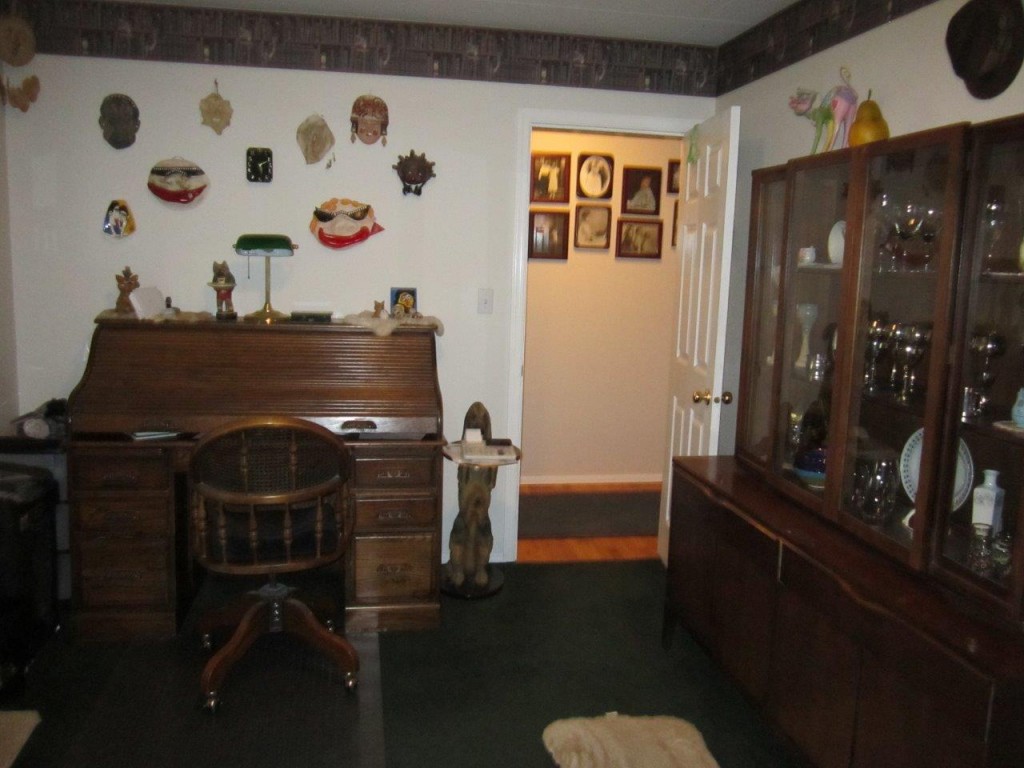 I collect face masks, and the china cabinet to the right belonged to my grandmother. This china cabinet remained in my office until recently, when we rearranged the living room and could finally put it close to the 'dining table' (which is in the country kitchen). Now, in place of the china cabinet, is my husband's grandmother's buffet. I don't have a picture of that right now, because we are in the midst of getting some repainting done.
My roll-top looks very tidy with the cover down. In reality, it usually looks more like this (but messier – I did some cleaning and filing while the painter was here last week):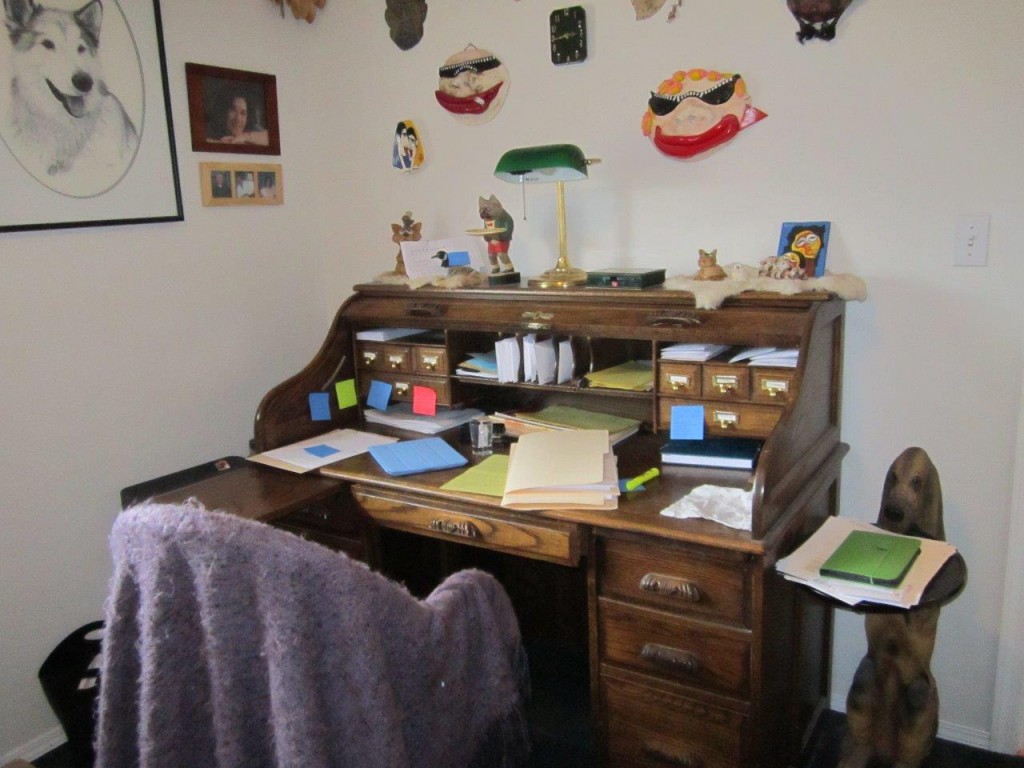 All those sticky notes are my to-do lists. Hawthorne (the dog statue) holds my mail. The blanket is for cold March days. The drawing of the dog is our old (dead) Malamute. We now have a beagle and a cat, but neither would move off the bed in the other room to cooperate with photographs.
As you can see, the walls are drywall now. When we first moved into the house, the then-bedroom had a lino floor and pine on the walls. When we took the pictures off the walls ten years later during our first set of renovations, the pine behind the pictures had faded to the point that we had to take off all the pine. Underneath was ugly stuff with ridges in it that I call wallboard. So we decided to remove the wallboard and put up drywall in this room. Now, here comes the story I mentioned earlier. The big surprise was that we discovered, on those old wallboards, dozens, and I mean dozens, of hearts with the initials of the old couple from whom we'd bought the house over a decade earlier. When we bought, they were moving because she had Alzheimer's and he could not keep up the massive yard without her help. We think he put up the pine paneling to help sell the place because it looked very new when we moved in. However, first this kindhearted gentleman drew his love for his wife all over their bedroom walls! That were then our bedroom walls.
Ever since we moved into the house, I had felt a ("woo-woo") sort of presence. I usually felt it in the old hallway. The wife had passed away shortly after they moved. I don't know if I was sensing her or something else, but when we discovered the dozens of hearts drawn all over the walls (I must have taken a picture but I've looked and can't find it), I felt like it was her presence or their love somehow remaining in our house…in our master bedroom, which is now my office and where I write about undying love. The last time I felt her presence, after the wallboard was off and only studs remained, I thanked her for allowing us to raise our family in her house. I have not felt the presence since.
We have done more renovations over the years, and every time we do we put something in the walls or ceilings for someone else to find in the future, just like we found the hearts. There are Batman figurines in the hallway walls from my sons, and a ping-pong table used for sub-floor under where our dining table currently resides. I could go on, but you get the idea.
And that's my office!
Have you ever done renovations and discovered "gifts" or "memories" from the previous occupants?
She never wants to go home again.

For Jess Morgan, Destiny Falls holds too many painful memories. Nine years ago, a logging accident near the remote timber town killed her dad and her high school sweetheart. To make matters worse, her mother quickly sought comfort with another man. That choice tore Jess apart and drove her to seek a life far away. But now fate steps in, and family obligations force her return home. Before long, she's convinced that persuading her mom to live with her in Toronto will repair their shattered bond. However, she doesn't count on a long-ago friend re-entering her life and challenging her convictions.

Rugged forester Adam Wright believes in family, roots, and not running from heartache. Now, all he wants is to help Jess break down the walls of the lonely sanctuary she's built for herself and heal her past hurts. It's not until she rejects his plans for their future that he realizes his persistence has pushed her away—not at all what he intended.

Has he lost his chance? Or can he convince Jess that where she truly belongs is with him…forever?

 

One tiny lie can cause a whole lot of trouble…

Magee Sinclair has had it up to her sassy short hairdo with the recent blunders pushing her family's advertising agency to the brink. How can she accept the promotion her father plans when she keeps making costly mistakes? She needs to bring in more business however she can. So when new client Justin Kane asks her to role-play as his girlfriend for a weekend in exchange for a lucrative campaign, she jumps at the chance.

Justin's goal to expand his chain of bike stores hinges on a distribution deal with a manufacturer. First, he needs to impress the man at a mountain resort while they bike trails with their significant others. But Justin's girlfriend dumps him, forcing him to find a quick replacement. Magee—pretty, clever, and a skilled cyclist—is the perfect choice to masquerade as his "lover."

Or so Justin thinks.

Because Magee is in major trouble. She knows no more about mountain biking than Justin does about demi-bras. Before long, an irate ex pops up, fake identities abound, and a whole lot of doors slam in the middle of the night. Yet, through the chaos, Magee and Justin discover what it really means to fall head over heels….
Thanks for that great tour, Cindy. I loved your story about the hidden hearts. I can well imagine the wonderful echo that room must retain! 
Okay, folks, Cindy is giving away two prizes:
An electronic copy of her book

Where She Belongs

(MOBI format); and
An electronic copy of her book

Head Over Heels

(MOBI or EPUB format).
All you have to do to qualify is comment below, answering Cindy's question. I'm going to love reading these answers! I know I've seen some interesting things that came out of old walls!
18 Responses to "Workspace Wednesday welcomes Cindy Procter-King"