Posts Tagged 'Advance Reading Copy'
My romantic suspense from Montlake Romance – Every Breath She Takes – is going to be released September 4, 2012. But if you comment below, you might win an advance reading copy (ARC) and beat everyone to the punch. ,-)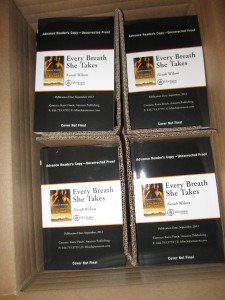 I should mention this book was previously pubished as Lauren's Eyes, the same book that won me Dorchester Publishing's New Voice in Romance award. It has been updated and revised and is ready for a whole new audience of romantic suspense lovers.
Here's the book description from Amazon:
"Ultra-sexy, heart-pumping suspense and adventure." – Julianne MacLean, USA Todaybest-selling author
"Sexy, gritty and thrilling." – Joss Ware, award-winning author of Night Forbidden
Veterinarian Lauren Townsend has good reason for hiding her psychic ability. Not only did her "freakishness" earn her pariah status in the small town where she grew up, it cost her a fiancé and her faith in love. When Lauren foresees a murder—through the killer's eyes—she traces the victim to a sprawling ranch, never guessing what waits for her…
Cal Taggart's rugged ranch life doesn't need any more complications. His stubborn determination cost him his marriage, and now may cost him his livelihood. But then beautiful Lauren enters his corral…with danger close behind. And Cal wants nothing more than to protect her. They can't deny their intense attraction. Nor do they want to. What begins as a fling with no strings becomes a fight for survival—and for true love.
For a chance to win, leave a comment about the romantic suspense genre. Tell me what themes or tropes you like in your RS (cops, bodyguards, women in jeopardy, etc.). Or tell me which romantic supense authors or stories you absolutely love.  A winner will be drawn randomly from among the comments. Good luck!
For those who want to skip the chance at the uncorrected proof in favor of ordering the official version (which, by the way, will have a different cover than the one depicted here), it's available for pre-order at Amazon.com.