Posts Tagged 'amnesia trope'
Posting the excerpt from Guarding Suzannah last week was so much fun, I'm going to do it again for Book 2 in the series, Saving Grace.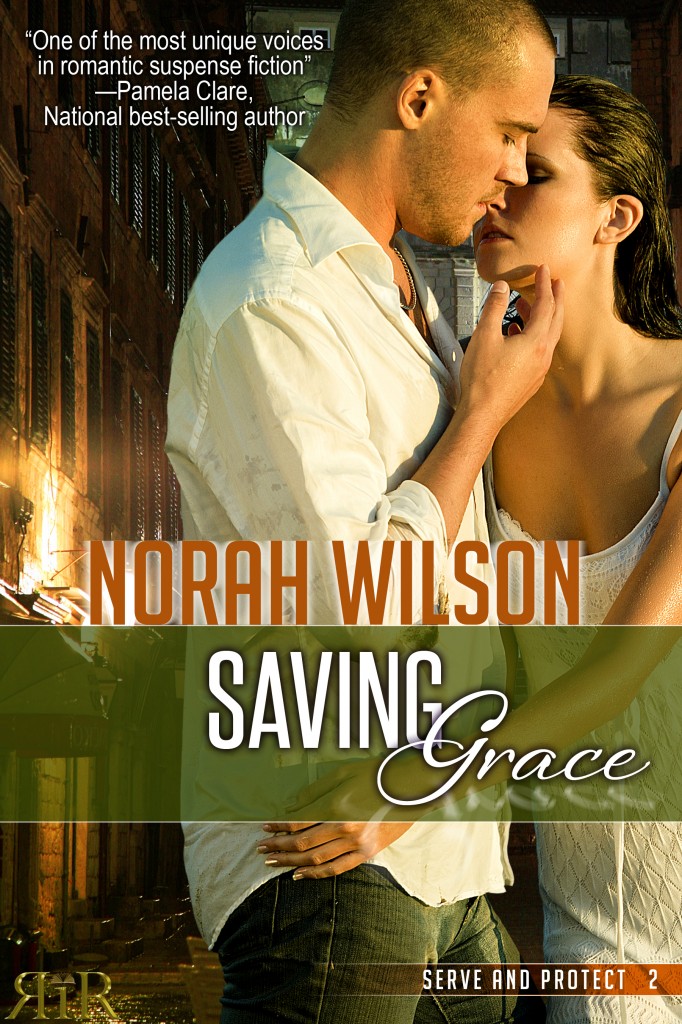 To set the scene, Fredericton Police Detective Ray Morgan has been forced to take the wife he believes has been unfaithful on the lam with him while he tries to figure out who is trying to kill them. She'd shocked him to the core  a week ago when she'd announced she was leaving him to go join some unnamed other man, but she'd wound up crashing her car on the way out of town and no longer remembers anything. Not the name of the guy, not even the fact that she was having an affair. Her neurologist says the memories may come back, but she needs time and peace and rest. That plan goes out the window when bullets start flying and Ray gets jammed up by an internal investigation he fears is a frame job. He has to keep them safe until he can unravel the mystery and safely go back to his life. What he doesn't count on is falling in love with his wife of five years, for real this time.
Ray was right, Grace thought, as she clutched the towel around her shoulders. Her hair had always been her "thing". A full, rich sable, it fell perfectly straight with the lightest encouragement with a brush and blow dryer. Everything else about her might be forgettable, but people noticed her hair.

It seemed only right somehow that she should sacrifice it.

"Okay, give me some guidance, here."

Poor Ray. He'd dodged bullets back there in that parking lot without breaking a sweat, but his hands were shaking now. She pretended not to notice.

"Just comb out a small section, then pull it tight between your fingers."

"Like this?"

"Closer."

"Forget it, Grace. I'm not cutting it that short. There'd be nothing left for the hairdresser to fix."

"But that's hardly short enough to make any difference."

They compromised, agreeing on a mid-length.

"Okay, what now?"

"Just angle your fingers like so." She used her own fingers to demonstrate.

"Like this?"

"Perfect. Now snip away."

He muttered something that sounded like "Hail Mary," and snipped.

The coppery lock fell onto her denim-covered knee. No going back now. For a moment, panic assailed her.

"Grace?"

She cleared her throat. "That's good. Keep going."

The second lock fell, this one hitting the newspapers, joining Ray's impossibly blond hairs. She blinked rapidly. It was just hair. An external manifestation of her stupid vanity. She would not cry.

Besides, her old precision haircut was fine for the woman she'd been before this nightmare started. The new Grace needed something different. It was going to take all the courage she could scrape together to get through this. Just as her smooth coif had given her poise and polish, maybe a sassier color and a rough-and-ready cut would lend her the edge she needed.

Image was everything, right? Fake it until you can make it.

"What do I do with the front?"

She glanced up at Ray. His mouth was set in that way that made his jawbones stand out, the grooves bracketing his mouth deeper than ever. He looked like a man completely out of his depth and hating it.

"Leave it fairly long, about so." She indicated a spot at the level of her cheekbone.

"Christ, I'm probably making a mess of this."

"Don't worry about it," she assured him. "With all the mousse and hair spray I bought at that drug store, I could probably make it look like the CN Tower, if I wanted to."

That earned a laugh, but when he made the next snip, his jaw had again taken on that grim line. The chair wasn't high enough, she noticed. He had to bend to do the job, which must be killing his back.

And that's not all she noticed, now that her panic had passed. His hands were clumsy in her hair, compared to the brisk competence of her stylist. But they were gentler, too. He separated the next section delicately, easing the comb through a snarl. She shivered.

"Sorry."

"It's okay. It doesn't hurt."

But it did hurt. Quite suddenly, it hurt a lot. It hurt that this was the first time he'd voluntarily touched her for so long, apart from that display they put on for the clerk.

And, oh, that scene in the office! She dropped her eyelids, her face heating at the memory. The way he'd touched her….

She clamped down on the warmth flooding her belly. Nothing had changed. Their performance had been necessary to divert the clerk's attention.

Still, awareness shimmered through her when he pushed his fingers through her hair again.

"Almost done. Then you can get that cold towel off your shoulders," he said, obviously mistaking her shiver.

True to his word, he was soon finished. Grace didn't know whether to be relieved or disappointed when he pronounced her done. Removing the towel from around her neck, she strode to the closet-sized bathroom to inspect her new appearance. She flipped the switch for the overhead light and froze.

Yikes! Was that really her? Her eyes looked huge, her chin more pointed. Lord, it even seemed to lift her cheekbones.

Ray's reflection appeared behind her in the mirror. "What's the verdict?"

"Wow."

"Sorry," he said gruffly. "I told you it was a mistake."

"No, it's good. You did a better job on me than I did on you."

"Yeah, right."

"Really. A little mousse and a blow dryer and it'll kick butt."

He just regarded her in the mirror, unspeaking, a yellow-haired stranger.

She pushed a tendril of hair behind her ear and sighed. "I suppose I should style it now, so we can hit the road."

"No, let's get a few hours sleep first. We can finish our transformations in the morning."

She met his gaze in the mirror. "I thought we were going to sneak away under cover of night?"

He shook his head. "Better to blend in with rush hour traffic tomorrow morning than travel tonight. I just wanted to pay for the room in advance so we wouldn't have to show ourselves to the clerk after we'd morphed."

"We actually get to grab some sleep?"

The corners of his mouth turned up at her obvious relief, his eyes crinkling the way she loved. She smiled back into the mirror. For a few seconds, despite their altered appearances, they were the old Ray and Grace, but then his face sobered again.

"You take the bed; I'll sleep in the chair."

He turned and left the bathroom, leaving her staring into the mirror at the empty spot where he'd stood. She drew a deep breath, then followed him.

"That's not going to work, Ray. You'll insist on driving tomorrow, which is fine, but that means you're the one who needs the rest. I'll take the chair tonight, then doze in the car tomorrow."

"I can sleep anywhere, Grace. It's part of the training. You, on the other hand, would sit awake all night, and we can't have that. We're both gonna have to be sharp."

And you'd rather wake up with a cricked neck, a sore back and a killer headache than share that bed with me.

She felt like crying again, which was really stupid. He'd slept on the couch every night since she'd come home from the hospital. Why should it hurt that he sleep elsewhere again?

She shrugged and turned away. "Suit yourself," she said, picking up a t-shirt and disappearing back into the bathroom.