Posting the excerpt from Guarding Suzannah last week was so much fun, I'm going to do it again for Book 2 in the series, Saving Grace.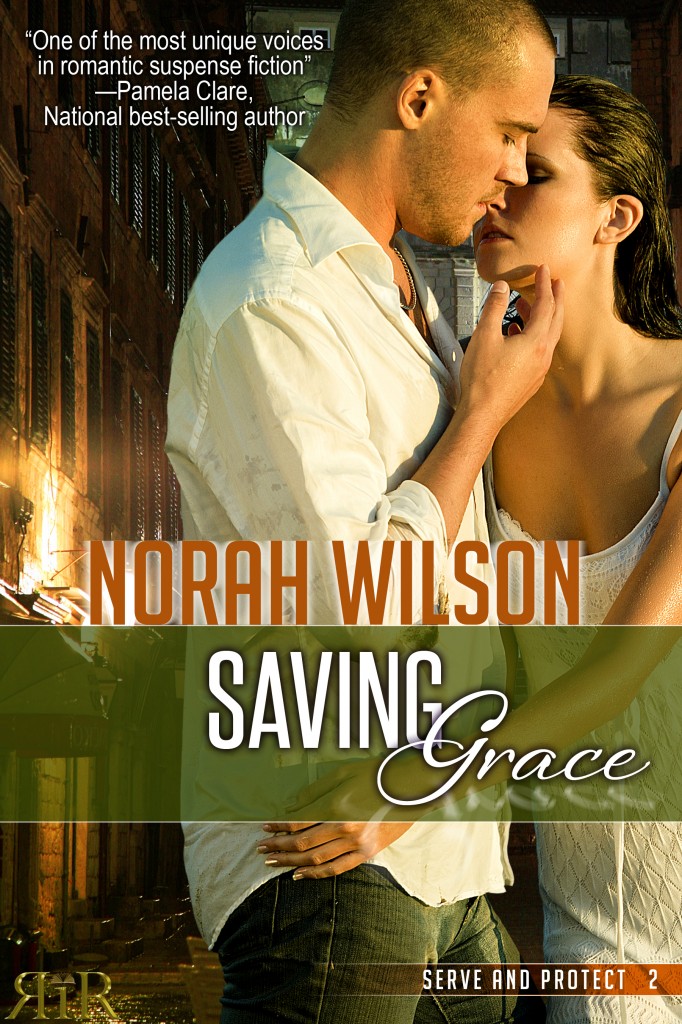 To set the scene, Fredericton Police Detective Ray Morgan has been forced to take the wife he believes has been unfaithful on the lam with him while he tries to figure out who is trying to kill them. She'd shocked him to the core  a week ago when she'd announced she was leaving him to go join some unnamed other man, but she'd wound up crashing her car on the way out of town and no longer remembers anything. Not the name of the guy, not even the fact that she was having an affair. Her neurologist says the memories may come back, but she needs time and peace and rest. That plan goes out the window when bullets start flying and Ray gets jammed up by an internal investigation he fears is a frame job. He has to keep them safe until he can unravel the mystery and safely go back to his life. What he doesn't count on is falling in love with his wife of five years, for real this time.
Ray was right, Grace thought, as she clutched the towel around her shoulders. Her hair had always been her "thing". A full, rich sable, it fell perfectly straight with the lightest encouragement with a brush and blow dryer. Everything else about her might be forgettable, but people noticed her hair.

It seemed only right somehow that she should sacrifice it.

"Okay, give me some guidance, here."

Poor Ray. He'd dodged bullets back there in that parking lot without breaking a sweat, but his hands were shaking now. She pretended not to notice.

"Just comb out a small section, then pull it tight between your fingers."

"Like this?"

"Closer."

"Forget it, Grace. I'm not cutting it that short. There'd be nothing left for the hairdresser to fix."

"But that's hardly short enough to make any difference."

They compromised, agreeing on a mid-length.

"Okay, what now?"

"Just angle your fingers like so." She used her own fingers to demonstrate.

"Like this?"

"Perfect. Now snip away."

He muttered something that sounded like "Hail Mary," and snipped.

The coppery lock fell onto her denim-covered knee. No going back now. For a moment, panic assailed her.

"Grace?"

She cleared her throat. "That's good. Keep going."

The second lock fell, this one hitting the newspapers, joining Ray's impossibly blond hairs. She blinked rapidly. It was just hair. An external manifestation of her stupid vanity. She would not cry.

Besides, her old precision haircut was fine for the woman she'd been before this nightmare started. The new Grace needed something different. It was going to take all the courage she could scrape together to get through this. Just as her smooth coif had given her poise and polish, maybe a sassier color and a rough-and-ready cut would lend her the edge she needed.

Image was everything, right? Fake it until you can make it.

"What do I do with the front?"

She glanced up at Ray. His mouth was set in that way that made his jawbones stand out, the grooves bracketing his mouth deeper than ever. He looked like a man completely out of his depth and hating it.

"Leave it fairly long, about so." She indicated a spot at the level of her cheekbone.

"Christ, I'm probably making a mess of this."

"Don't worry about it," she assured him. "With all the mousse and hair spray I bought at that drug store, I could probably make it look like the CN Tower, if I wanted to."

That earned a laugh, but when he made the next snip, his jaw had again taken on that grim line. The chair wasn't high enough, she noticed. He had to bend to do the job, which must be killing his back.

And that's not all she noticed, now that her panic had passed. His hands were clumsy in her hair, compared to the brisk competence of her stylist. But they were gentler, too. He separated the next section delicately, easing the comb through a snarl. She shivered.

"Sorry."

"It's okay. It doesn't hurt."

But it did hurt. Quite suddenly, it hurt a lot. It hurt that this was the first time he'd voluntarily touched her for so long, apart from that display they put on for the clerk.

And, oh, that scene in the office! She dropped her eyelids, her face heating at the memory. The way he'd touched her….

She clamped down on the warmth flooding her belly. Nothing had changed. Their performance had been necessary to divert the clerk's attention.

Still, awareness shimmered through her when he pushed his fingers through her hair again.

"Almost done. Then you can get that cold towel off your shoulders," he said, obviously mistaking her shiver.

True to his word, he was soon finished. Grace didn't know whether to be relieved or disappointed when he pronounced her done. Removing the towel from around her neck, she strode to the closet-sized bathroom to inspect her new appearance. She flipped the switch for the overhead light and froze.

Yikes! Was that really her? Her eyes looked huge, her chin more pointed. Lord, it even seemed to lift her cheekbones.

Ray's reflection appeared behind her in the mirror. "What's the verdict?"

"Wow."

"Sorry," he said gruffly. "I told you it was a mistake."

"No, it's good. You did a better job on me than I did on you."

"Yeah, right."

"Really. A little mousse and a blow dryer and it'll kick butt."

He just regarded her in the mirror, unspeaking, a yellow-haired stranger.

She pushed a tendril of hair behind her ear and sighed. "I suppose I should style it now, so we can hit the road."

"No, let's get a few hours sleep first. We can finish our transformations in the morning."

She met his gaze in the mirror. "I thought we were going to sneak away under cover of night?"

He shook his head. "Better to blend in with rush hour traffic tomorrow morning than travel tonight. I just wanted to pay for the room in advance so we wouldn't have to show ourselves to the clerk after we'd morphed."

"We actually get to grab some sleep?"

The corners of his mouth turned up at her obvious relief, his eyes crinkling the way she loved. She smiled back into the mirror. For a few seconds, despite their altered appearances, they were the old Ray and Grace, but then his face sobered again.

"You take the bed; I'll sleep in the chair."

He turned and left the bathroom, leaving her staring into the mirror at the empty spot where he'd stood. She drew a deep breath, then followed him.

"That's not going to work, Ray. You'll insist on driving tomorrow, which is fine, but that means you're the one who needs the rest. I'll take the chair tonight, then doze in the car tomorrow."

"I can sleep anywhere, Grace. It's part of the training. You, on the other hand, would sit awake all night, and we can't have that. We're both gonna have to be sharp."

And you'd rather wake up with a cricked neck, a sore back and a killer headache than share that bed with me.

She felt like crying again, which was really stupid. He'd slept on the couch every night since she'd come home from the hospital. Why should it hurt that he sleep elsewhere again?

She shrugged and turned away. "Suit yourself," she said, picking up a t-shirt and disappearing back into the bathroom.
Just for fun, here's an excerpt from Guarding Suzannah, Book 1 in my Serve and Protect Series. The books are available singly, or you can get them all at once in the box set.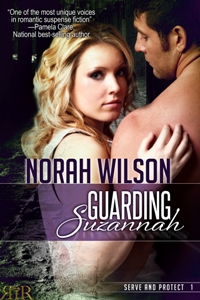 "Rise and shine, sweetheart."

Suzannah groaned and tried to burrow deeper into the pillows, grasping at the threads of her lovely dream. Hard masculine hands on her body, gravel-voiced words of praise in her ear, hot mouth blazing over her skin….

"Come on, Suzannah. I got a dog at home whose gonna pee on my brand new speakers if I don't get home and let him out."

Her eyes flew open. John Quigley. He'd stayed last night, and now he was in her bedroom. She jackknifed up, the twisted sheets pooling in her lap. "Of course. Go. Yes. By all means." Oh, Lord, she was stammering.

"It's early yet, barely dawn. I'd stay longer, but the dog…."

"The speakers. Right." She pushed her hair back from her face and glanced at the digital alarm. Not yet five a.m. She glanced back at John to find his face had changed, sharpened with an edgy, dark intensity.

Oh, hell! Her nipples thrust sharply against her thin cotton tank, thanks to that dream. A dream in which the man standing by her bed, mere inches away, had played a starring role. For a wild, terrifying second, she visualized herself reaching out to touch him as she might have in the dream, her caress bold, sexual, deliberate. There wasn't a shred of doubt in her mind that he'd answer her need with gratifying urgency.

The idea was scary, dizzying, thrilling, incredibly powerful. Then sanity returned.

She sank back down onto her pillows, pulling the covers up to her chin and burrowing back into her pillow as though to go back to sleep. "Okay," she mumbled through the sheets. "Thanks for letting me know."

"Whoa, whoa. Don't go back to sleep just yet. I need you to throw the deadbolt behind me. It's getting lighter by the minute, but I'd feel better if the bolt were thrown."

Damn. "Okay." She sat up again, this time with the sheets modestly clamped to her chest. "Give me a sec. I'll drag on a robe and meet you down there."

His eyes said eloquently that he wished she wouldn't bother with the robe, but he merely nodded and withdrew.

The moment she heard his tread on the stairs, she leapt out of bed. Damn it, damn it, damn it! She strode into her walk-in closet and yanked a silk robe off a hanger with less care than the garment deserved. Of all the men in her world for her to fixate on, why this one? He was arrogant, pushy, exasperating in the extreme. Too tough, too forceful, too … yang.

And he was a cop.

So why did her body light up for him as it did for no other?

Chemistry. Random, unreasoning, unfortunate chemistry.

She pulled the robe on, wrapping it around her. Well, she never had been very good at chemistry back in school. And she'd get along very well without it fogging her brain again, thank you. On that thought, she cinched the belt of her robe tightly around her waist and marched downstairs to lock Detective John Quigley out of her house, and with any luck, out of her life.
I'm getting closer to getting NIGHTFALL ready to publish. Today, I thought I'd post the first scene for anyone who wants to try it out on this lazy Sunday.
Chapter 1
Aiden  Afflack hummed to himself as he lifted the brass doorknocker to summon St. Cloud Police Chief Weldon Michaels to the front door of his Carrington Place residence. Rapping twice, he stepped back.
What was that tune running through his head? It had been with him since he'd risen this evening.
Audioslave? Nope.
Queens of the Stone Age? Un-uh.
Collective Soul? Yeah. Yeah, that was it. Definitely. He cricked his neck one way, then the other and felt the satisfying crack. Ooh, I'm feeling better now.
The curtain in the bay window twitched, but Aiden feigned obliviousness. From inside, he clearly heard Michaels jam a clip into a pistol. Aiden rolled his eyes. Nobody trusted anyone anymore.
"Who are you and what do you want?"
The voice came through the door. A very cautious man indeed.
"I'm a friend of your wife's," Aiden called. "Well, more a friend of a friend, actually, but I have a personal message for you, from her."
"Nice try. Now move on, before I call the cops."
Aiden thought about knocking the door in. It was solid oak with a good deadbolt on it, but it could have been made from cardboard and paperclips for all the challenge it would present. On the other hand, there was no reason to get messy.
He cleared his throat, did his best to summon a puzzled tone. "Well, hell, I thought you were the cops. Do I have the wrong address? I'm looking for Chief Weldon Michaels. Got a message for him from his wife Lucy. Pretty woman, 'bout an inch over five feet, brown hair and eyes? Oh, and a real cute little daughter. What's her name? Devon? Any of this sounding familiar?"
Silence for a few heartbeats. "What kind of message?"
"She wants to come home, but before she can see her way clear to doing that, we need to have ourselves a talk."
Another pause, then the sound of the deadbolt retracting. The door cracked open, and Weldon Michaels peered out past a security chain.
God save me from fools. Aiden pushed the door open. The hardware anchoring the security chain tore free from the wall. Before Michaels could cry out, Aiden stepped inside and closed the door behind him. In the next heartbeat, he seized Michaels' right wrist and squeezed until the other man screamed and dropped the pistol he held. It hit the hardwood floor with a clatter but didn't discharge.
"A gun?" Aiden released the other man's hand. "Now I ask you, what kind of a greeting is that?"
Michaels — clearly a slow learner — reached for a second weapon jammed into the waistband at the small of his back. Before he could get to it, Aiden had Michaels face down on the floor with his right hand way closer to his right shoulder blade than God ever intended it to go.
"Jesus, my arm. You're breaking it!"
"Not even close. You develop a feel for these things," he said conversationally. "It's sort of like braking when you're driving on ice. You gotta find the threshold."
"No, my shoulder! It's gonna pop! I swear to God!"
Aiden reefed Michaels arm a half inch higher, eliciting a scream, followed by a stream of curses.
"See? Still plenty of play. It's a feel thing. Now are you gonna behave yourself if I let you up?"
"Yes! I'll do whatever you say."
"Atta boy." Aiden helped the other man to his feet. "Now, let's go plug the code into the alarm, shall we? And don't fuck with me. If the alarm company or the cops call in a minute to ask if everything's okay, things will be very much not okay for you. Understood?"
"Understood."
Aiden "helped" Michaels to the alarm panel, where he keyed in a five-digit number. The winking red light went out.
"Good man. Now we're going to need your handcuffs. I know they can't be far away, since you laid hands on that pistol fast enough. So be a darling and let's go fetch them."
Michaels swore again.
"I know, I know. It's gotta sting, getting cuffed with your own bracelets, but look at it this way: they'll be a helluva lot more comfortable than the alternative if you force me to improvise."
Michaels sagged. "In that drawer."
A minute later, Chief Weldon Michaels sat cuffed in one of his own kitchen chairs, a sturdy-looking oak proposition. Michaels somehow managed to look both scared and pissed at the same time.
Aiden took a seat at the table, placing both guns — one retrieved from beneath the telephone table in the entryway and the other from the small of Michaels' back — on the gleaming wood surface. "Okay, Weldon — may I call you Weldon? — we need to talk."
Michaels glared back. "You're wasting your time. I don't keep anything of value of here, at least nothing portable enough to carry off. And damn you, you've already scored both my guns. I suggest you just let yourself out and get while the getting's good."
"You think I was bullshitting earlier, don't you? You think I was feeding you a line about your wife to get inside?" Aiden leaned back in his chair and kicked his feet up to rest on the table. "That's rich."
Fear flashed in the other man's eyes, which he quickly attempted to hide with bravado. "Look, mister, if you have a message for me, let's get on with it."
"Afflack."
"What's that?"
"If you're gonna call me mister, you might as well make it Mr. Afflack. Or Aiden, if you prefer."
Another flash of fear. Aiden could almost hear the wheels turning in Michaels' head. He's shown me his face, given me his name. There can only be one reason for that….
"Not to worry, Weldy. I think I'll call you Weldy."
Michaels tensed. Testing the cuffs and the strength of the chair's spindles, no doubt.
Aiden sighed. "For Chrissakes, I'm not planning to kill you. I'm just going to spend the night here chatting, much like we are right now."
Michaels blinked. "Spend the night?"
"Forgive me. It's probably horribly uncomfortable with those cuffs on. Let me just deal with these nasty guns. Then I'll take the bracelets off so we can talk all civilized-like."
Aiden picked up the SIG 9mm with his left hand, grasped the barrel with his right. Closing his eyes, he slid his hand up and down the barrel a few times to attune his mind to the metal. Then he bent it effortlessly.
"Jesus Christ!"
 Aiden placed the ruined pistol back on the table, picked up the .22 and repeated the process on the gun's short barrel.
"What the … how'd you do that?"
Aiden shrugged. "A parlor trick. You should see what I can do with a dinner fork." He stood and extracted the handcuff key from the pocket of his worn jeans. "Now, about those cuffs…."
Michaels shrank back.
Aiden lifted his eyebrows. "What? You'd prefer to keep them on after all?"
The other man collected himself, embarrassment staining his cheeks. "Of course not. Please remove them."
Aiden obliged.
As soon as his hands were free, Michaels immediately started massaging his sore right shoulder.
"Ah, yes, the shoulder. Sorry about that." Aiden gave him his best aw shucks smile. "But I couldn't have you putting bullet holes in me, could I?"
Michaels said nothing, but the stiffness in his face spoke volumes. Good. Get brave, you miserable little wife-beating worm. Get angry. Give me a reason to hurt you again.
Michaels cleared his throat. "So, this message from my wife?"
"She wants to come back to St. Cloud. In fact, she'd like to move back into this very house, seeing as she put so much sweat equity into it." Aiden glanced around at the tastefully appointed kitchen. "I must say she did a great job."
"Of course she can come home. That's all I've wanted since she left."
"Ah, but there's a catch, Weldy. You can't stay."
Michaels made a choking sound, but quickly found his voice. "She thinks I'm just going to clear out of town?"
"That would be ideal, but no, I don't think she expects that. It will be sufficient if you leave this house and never darken the door again."
Michaels started to bluster that he owned the goddamned place and no one could put him out of it, yadda, yadda, yadda.
"Save it," Aiden commanded. "You see, I know what you did to her, Weldy."
A pause. "I don't know what she told you, but—"
"You systematically isolated her from her friends and pressured her into quitting work. Then, when you got her where you wanted her, you escalated the abuse. You terrorized her, Weldy. You threatened the life of her child if she tried to leave you. Is any of this sounding familiar? No? Well how about this: you used your position and power to convince her that escape was impossible."
Michaels leapt up, his face wreathed in fury. "You don't know the first fucking thing about my family."
Aiden swung his feet to the floor, but remained in his chair. "Oh, I know quite a bit, Chief Michaels. For instance, I know you've been abusing the police resources at your fingertips to search for her, ensuring she had to stay on the run, unable to stay anywhere for any length of time. I know she's terrified for her life and that of her daughter."
"If she'd just—"
"Shut up, Weldy, and listen. I'm the messenger, and the message is that it's over. She's coming back, and you, my friend, are going to become the most obliging, most accommodating, most respectful ex-husband on the face of the planet. Oh, and you'll relinquish any rights to the child."
"Fuck you." Powered by rage, Michaels gripped the table's edge and overturned it, then bolted for the door.
Grinning, Aiden swept the table away as if it were constructed of matchsticks and gave chase, overtaking his quarry in a blur of speed. By the time Michaels reached the door, Aiden lounged against it, the picture of indolence.
"Jesus!" Michaels' face suddenly looked like it was stretched too tightly across the underlying bones. Shock did that to some people. With others, their faces went slack, as though—  
"Who are you?" Michaels rasped. "Dear God, what are you?"
Aiden allowed his smile to spread, noting the precise moment when Michaels caught the first glimpse of his grossly elongated cuspids. This time, Michaels' face slackened.
"I'm glad you asked."
# # #
So, whaddya think? Would you read on?
I love reading other people's six-sentence writing samples on Twitter. It's a great way to get an idea of a writer's voice, or at least their character's voice. Today, I'm joining in the fun by posting the first six sentences from a new book I just published. It's a little different (okay, a lot different) from my usual offering, so I've gone with the name N.L. Wilson instead of Norah Wilson, to try to signal to readers that this is definitely not serious romantic suspense. Rather, it's very light, funny mystery, featuring a female sleuth. This series, like it's protagonist Dix Dodd, private investigator, will never be accused of taking itself too seriously!
Okay, without further ado, the six sentences:
If you have a toothache you go to the dentist, not the doctor (unless he's a really hot doctor and then you go there first). If you need a new roof, call the roofer. You wouldn't go to a mechanic for your annual pap smear, nor have your OB-GYN under the hood of your … um … car. Okay, bad analogy, but you see where I'm going, right?
The point is, when you have a special job in mind, you call a specialist. And if you live in Marport City and need someone to get to the truth of a matter – and when the matter is private and dear to your heart – you call me.
The book is called The Case of The Flashing Fashion Queen: A Dix Dodd Mystery, and it's available now on Smashwords (and will be available momentarily at Amazon's Kindle Store) for the introductory price of just $0.99.