Posts Tagged 'romantic suspense'
I'm totally tickled to bring you Zoe Dawson for this installment of Workspace Wednesday. Zoe is the alter ego of Karen Anders, award winning, multi-published author. Her writing journey started with poetry and branched out into fiction. With a couple of college English courses under her belt, she penned a historical, then moved on to contemporary romance fiction.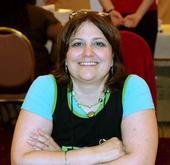 She is the author of the very cool Going to the Dogs Series (Leashed, Groomed for Murder). She also has a six-book police procedural series (The Misfit Squad Series) featuring a group of troubled homicide detectives who have landed in the "last chance" squad. Watch for it from Entangled Publishing in 2013.
Zoe is a woman after my own heart. Not only does she write romantic suspense and romantic mystery, she'll soon be publishing paranormal and urban fantasy novels. I love all those genres, and as a writer, I totally get the urge (need?) to be spinning stories in multiple genres.
Okay, Zoe, take it away!
ZOE DAWSON:   Thank you, Norah, for having me on your blog and sharing my workspace with you.  When I first started writing seriously, I lived in Virginia and my workspace was literally in a walk in closet.  Great cosmic writing power/itty bitty writing space.  The bedroom had two walk in closets so I could fit both my clothes and my writing passion into one room.  It was a tight confined space that only accommodated my desk and chair.  But it was perfect.  I could close my bedroom door, then the door to my small space and cut out all the noise from the household.  I loved that space.
When I moved to North Carolina, I lived in a two bedroom apartment with my daughter and I wrote in my bedroom again.  But this time I had to put the clothes in the only walk in closet.  Not as conducive to writing, but then I was developing ideas and had no contracts at the time.
I then moved to a three bedroom single family home where I had a dedicated office to work out of and it was huge, but with the change in the economy, I moved into a townhouse where I now currently write.  As you can see, the view is simply wonderful at all times of the year.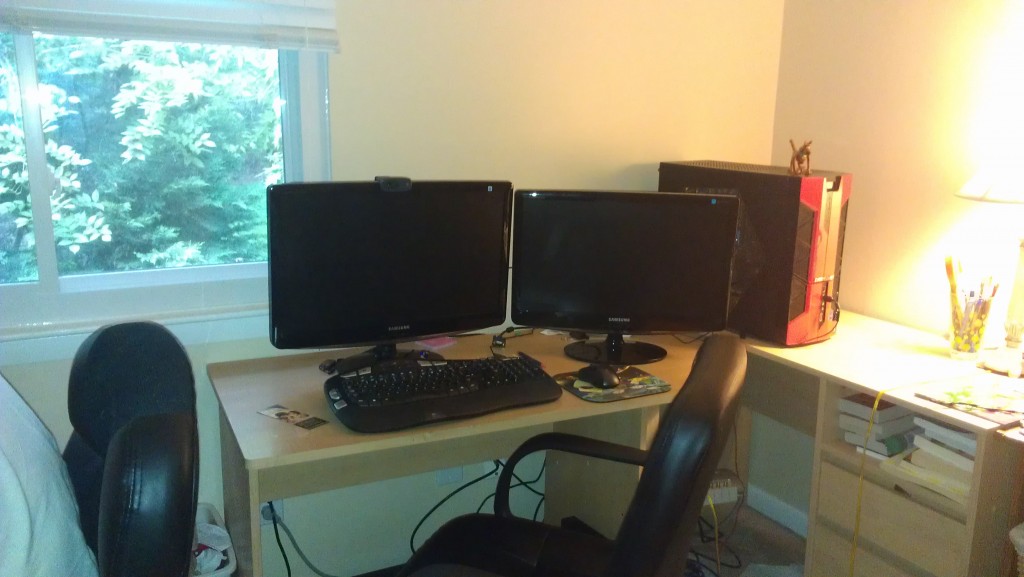 Even though we live right off a busy road, you wouldn't know it by looking out the window.  Looks like we live out in the country.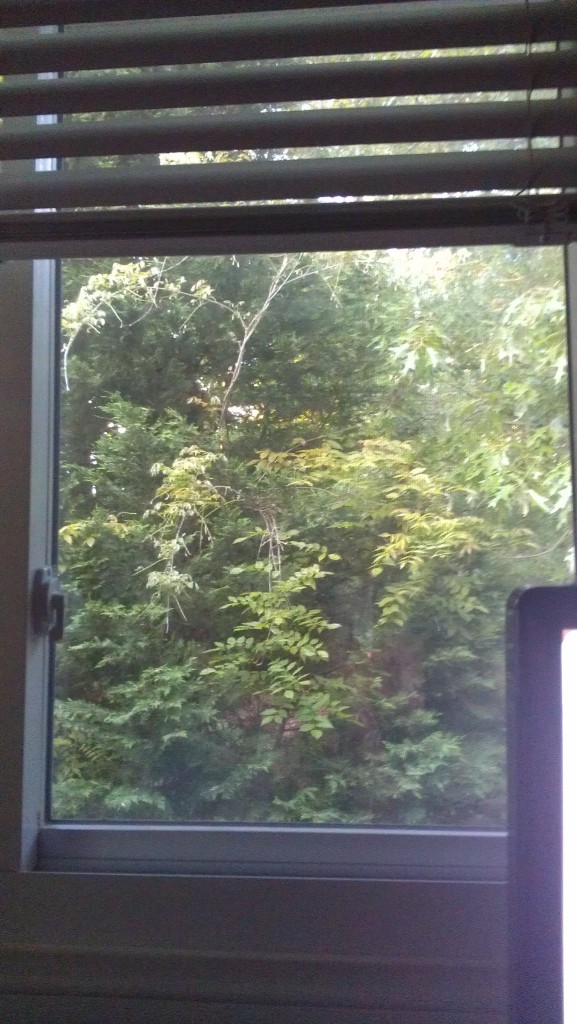 I share the room with my daughter and when I need some quiet time, I take my laptop into my bedroom and produce away.
I have written seven books in this space and expect to produce a lot more as I have now diversified into self-publishing.
Thank you for that tour, Zoe. I'm so impressed by how clean your desktop is! And don't you love having dual monitors? And is that a dog on top of your CPU?  :)
Okay folks, it's your turn. Leave us a comment for a chance to win one of two electronic copies of Leashed.
And they call it puppy love!

When Jack falls head-over-paws for cute and cuddly Jill next door — that creamy coat, those soft brown eyes, and, yowza, those long legs, he simply cannot help himself.  Bing, bang, boom, a few weeks later, Jack has some 'splaining to do when that cute female is with puppies.  Jack's going to be a father, trouble is his lady love's owner and his owner need a little shove into love.  Being a large and in-charge Great Dane, that's no problem for Jack.  With a little cooperation and a little matchmaking, some nudging, whining and puppy dog eyes, hopefully, everyone will live happily ever after together.

Can a dog have a bad hair day?

Brooke Palmer owns Pawlish, an exclusive doggie spa and grooming business in upper Manhattan, but when a client's champion poodle gets a bad poodle cut and has to undergo therapy to recover, the client sues.  The lawyer they send is drop dead gorgeous, but Brooke won't be wooed by a corporate shark in a sharp suit.

Corporate lawyer Drew Hudson has better things to do then take on this ridiculous lawsuit, but since he works for the client's husband, he has no choice.  After meeting the beautiful, sweet-tempered owner, he can't keep his mind on the silly case.  But when the client turns up dog gone dead, Brooke may be a conflict of interest when she's charged with the murder.  All Drew wants to do is prove that this sexy entrepreneur is not dangerous, except to his heart.

Can she take a chance on him?
I am so pleased to have one of my local buddies, Gail MacMillan, join me today for Workspace Wednesday. And when I say "local", that's relative. Gail lives on New Brunswick's north shore, while I'm way down here in Fredericton. But we're fellow NBers, fellow romantic suspense authors and fellow dog lovers.
Gail's Bio:  A three-time recipient of the prestigious Maxwell Medal, Gail MacMillan is author of twenty-two books. A graduate of Queen's University with post graduate work in Expository and Narrative Writing at the University of Western Ontario, Gail has had numerous short stories and articles published in Canada, the United States, and Europe, several of which have won awards. Her three books about Nova Scotia Duck Tolling Retrievers (the first co-authored with Alison Strang) have met with excellent reviews and are selling well worldwide. Two of her canine books, Biography of a Beagle and Ceilidh's Quest have won Maxwell Medals from the Dog Writers' Association of America in NYC as the Best Dog Books in their category in 2002 and 2007 respectively. Gail also writes romantic suspense.
Welcome, Gail! Take it away!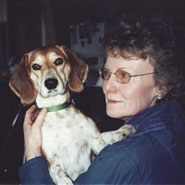 GAIL MacMILLAN: Thank you, Norah!
When Norah invited me to be her guest on one of her Workplace Wednesday's spots I was delighted.  Then, as I read more and more about her celebrated guests' workplaces and saw more and more of their well-appointed and even glamorous writing areas, I began to panic.  I have no such designated place. In fact, I'm more than slightly nomadic in the locations where I choose to write. So, after giving the matter consideration, I decided that honesty is the best policy.  This is my workplace story.
I've always written from the time I could first form letters into words so I'd have to say my first workspace was my bed where I sat huddled against my pillows in the glow of a small lamp scribbling in secret long after lights out.  These tales I hid under my bed, afraid to admit to anyone that I dared to attempt to emulate actual authors.  Authors, I believed, were next to the gods on Mount Olympus with their gifts of conjuring stories out of thin air in an absolutely enthralling fashion. I had no right to try to attempt to enter their exalted realm.
But I continued to be a closet (or under the bed one) writer for years.  When I married my husband Ron he discovered my secret addiction and insisted I join a writer's group.  That did it.  Spurred on by that enthusiastic gathering, I wrote at every possible moment, my favorite spot being the front steps of the two room shack we called our camp in Tabusintac.   I filled notebooks and every scrap of available paper with stories and even short novels.   I bought a second hand manual typewriter and began to write boldly, openly at the kitchen table where any passing neighbor might come upon me.  Third page headlines in the Moncton Times after my first book was published dubbed me the kitchen table novelist.
Later, in attempt to find a quiet place to write, I set up shop on a wobbly-legged card table in a corner of our unfinished basement.  When the kids were finally all in school, I moved my shaky writing centre upstairs to our bedroom.  There I wrote two more books and a bunch of short stories for religious (now called Christian, I believe) magazines.  And just before I moved again, I began to write the dog stories that would take me in a whole new direction.
Two years later we finished our basement.   This remodeling included a small office for me behind the furnace and the room where we were to store our winter's supply of fire wood.  Thus isolated, I felt I'd be undisturbed to write and write and write.  My husband, bless him, in support of my elusive dream, even built me a beautiful roll top desk that took him an entire winter to complete.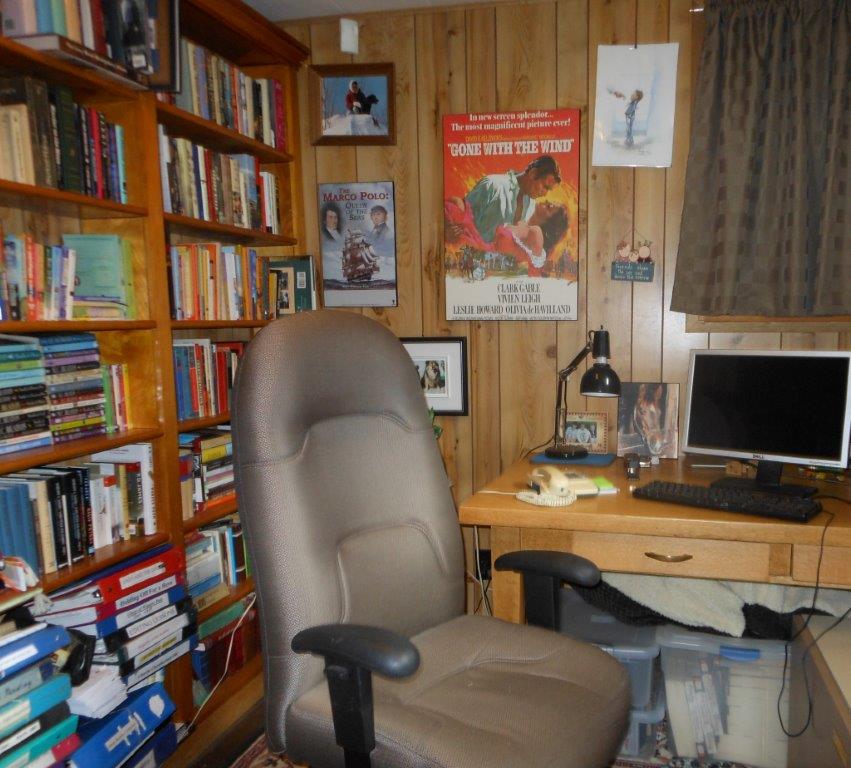 It didn't work out.  I soon discovered my imagination couldn't flare locked away below ground level behind several cords of hardwood with only one small window.  I found myself holding a tablet or notebook on my knee in various brighter, more convivial locations.  Later I'd force myself into that cube in the basement where, thanks to a modest inheritance, I now had a miracle machine…a self correcting typewriter…to transcribe my stories.
These days, a laptop accommodates my moods and fancies.  Summers at our cottage in Tabusintac, I set up in the gazebo out back where I have a lovely view of fields and trees, birds and squirrels, and the occasional fox.  When the chill of late October drives me indoors, I once again become a kitchen table novelist.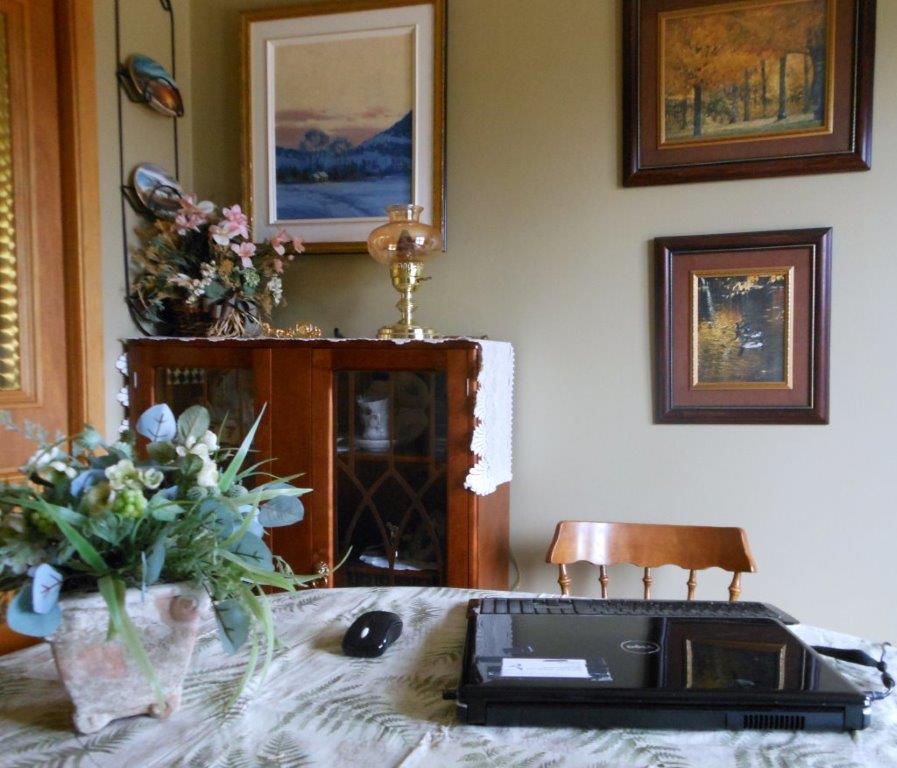 Winters in Bathurst I mostly write at the dining room table (apparently you can take the table away from the girl but you can't get the girl away from the table).  From my vantage point I have a lovely view of both my backyard and the street in front of the house.  My dogs are my associate editors, always ready to tell me when it's break time, waiting patiently when it isn't.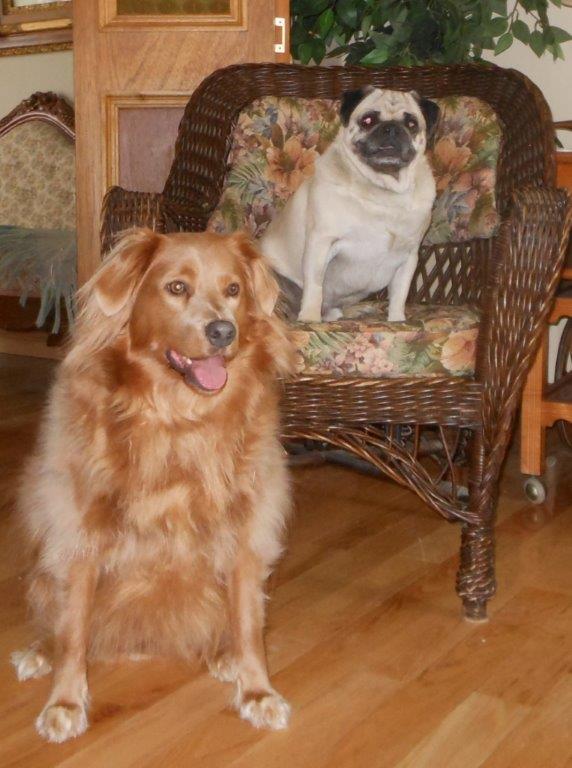 My office sits alone and uninhabited except for floor-to-ceiling, well-filled book shelves, filing cabinets, and bulletin boards.  We've moved the beautiful roll top desk upstairs to Ron's office.  The expensive typing chair my doctor insisted I needed to keep arms and shoulders pain-free sits gathering dust in front of my old desk top (which still comes into play whenever the laptop is ailing).  I really should be sitting in that chair, in the book-lined office, isolated from the rest of the house and neighborhood, working like a rented mule, but I just can't seem to get the hang of it.  Instead, I sit at the dining room table, then sometimes in my grandmother's rocking chair in the living room and dream up handsome heroes and unstoppable heroines, often in pj's and slippers.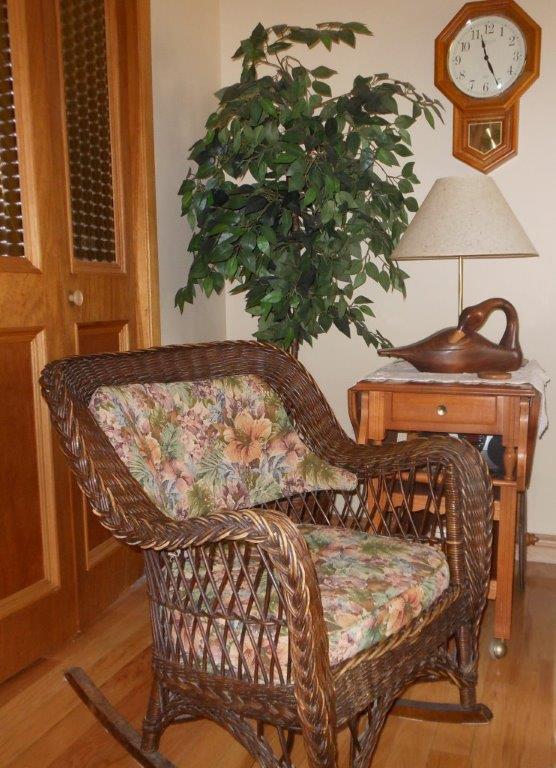 I admire the other authors who have been Norah's guests.  How organized, how professional, how in control they all are.  Maybe someday when we finally build that sunroom we've been talking about for years, I, too, will settle down in a single location.  But until then, like the Littlest Hobo, I'll just keep movin' on.
Thank you, Gail! My favorite thing? That sweet pug. Is he the star on the cover of Holding Off for a Hero by any chance?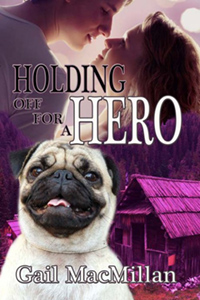 Here's another of Gail's romances, set in the wilds of northern New Brunswick.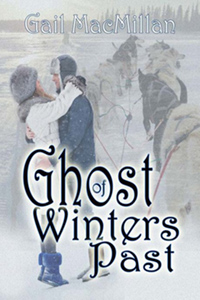 She also has some wonderful, award-winning non-fiction books about dogs, like this one: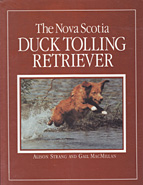 Okay, now it's your turn. Please leave us a comment for a chance to win an ebook copy of Holding Off for a Hero.
It's a special pleasure to have Barbara Phinney here today. Barbara is one of my very first writing friends. She and I, along with a handful of other aspiring romance writers from the area, were long time critique partners and basically taught each other to write. And we're still sharing, but these days it's more industry news, indie wisdom and promotional tips.
Welcome, Barbara!
BARBARA PHINNEY: Thank you, Norah!
There's something dangerous in my office. Take a look at this picture. Yes, it's cluttered. Yes, it looks like a very normal writer's office. But in actuality there's something very dangerous in it. No, I'm not talking about the fact that I write suspense, or the fact I like to murder a few characters every once in a while.
No I'm talking about that chair. The brown one, with the blue seat and the owl cushion. The one that just invites you to sit down on it, stretch your legs out and start talking to me.
That's where the murder comes in. So many times I have been deep in a story, running with an idea and surfing on the wave of momentum, only to have my dear husband wander in, plunk himself down in that chair, and say, "I want you to  Google something for me."
Slowly, I turn and look at him, lethally. "I'm busy."
"It'll only take a minute."
That's when the murder starts.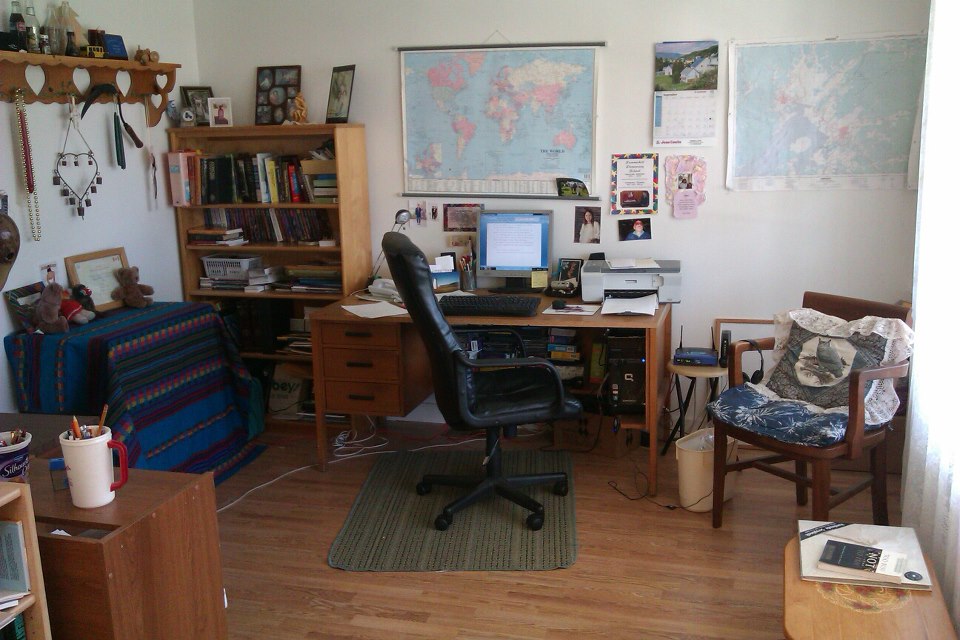 Now in reality, this man who so brazenly enters my office has his own computer as seen below.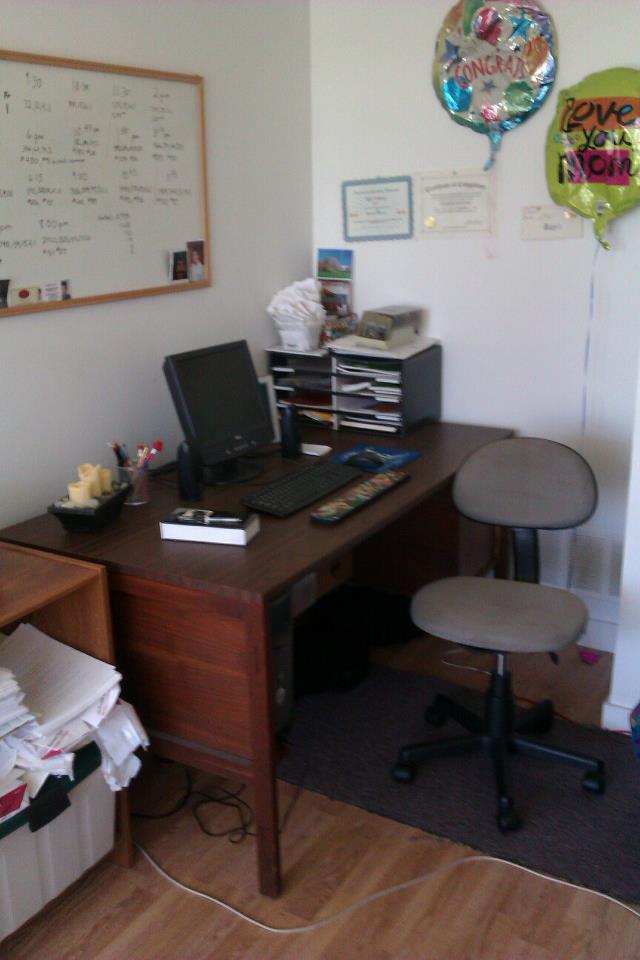 Take a look at that. Isn't that nice? A clean desk, a little water fountain and a brand-new notepad, even some fun little balloons I've received over the years. (Ignore the wire. I have a son who runs his Xbox from it.) What more could a husband, who doesn't go on the computer very much, want? (We all know it's my incredible generosity that allows him to have his own little corner of my office.)
So, no jury in the country would convict me of anything nasty when he has this nice little corner.
Moving on, I believe offices should reflect their users. They should be places filled with inspiring pictures, maps to dream over, knickknacks and collectibles that are precious only to that person, such as you see in this picture below.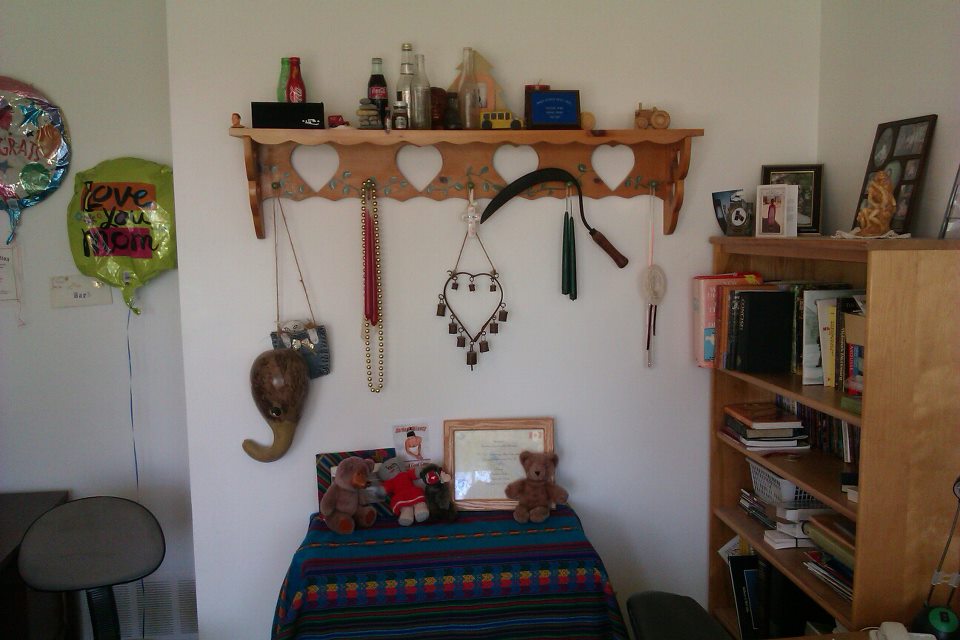 You'll find gift bells, empty and full bottles I've collected over the years, even the gourdhead birdhouse and childhood teddies. Under that Bolivian blanket is an ugly filing cabinet, frequented by my husband, hence his computer desk being so close to it.
There are very few things I would toss. Come to think of it, I would only dispose of that very dangerous chair but I won't. After all, suspense writers need little incentive now and then, don't they?
Barbara Phinney writes suspense, Christian (despite her murderous plots) romance and historicals, one of which is coming out in March, entitled Bound to the Warrior. She writes sci-fi and paranormal under the pen name of Georgina Lee, including a new Sherlock Holmes tale, Dead on her Feet.
You can find all of Barbara Phinney's books here:  Amazon | B&N
Georgina Lee's books are here:  Amazon | B&N
Her latest book is a fun and lively twist on the Sherlock Holmes novellas, found here.
Thank you, Barbara! That was such fun! I got such a kick out of you DH asking you to stop what you're doing to Google something, instead of going to his own work station. Because, you know, it would take TIME to fire up that other computer. HIS time. LOL! I think you're right — no jury would convict! Not if there were any authors on it.
Okay, it's comment time. And as an incentive, Barbara will give away a copy of her awesomely atmospheric romantic suspense, Hard Target, to one lucky winner, in the electronic format of their choice. So bring it with the comments!
Hard Target

Sgt. Dawna Atkinson has worked hard for her South American embassy posting. She'd also taken the blame for a shared indiscretion with her instructor, Tay Hastings. But when her embassy is bombed, she comes under the microscope all the more. Worse still, her unit sends Tay to search for any mistakes she's making.

Things go from bad to worse when a sniper tries to eliminate both Dawna and Tay within hours of Tay's arrival. As the investigation heats up, and danger lurks around every crowded corner, Dawna and Tay find their relationship is also heating up. And with a killer who can create bombs, use a sniper rifle, and poison the embassy staff, Dawna must set aside her hurt or risk many lives. And Tay must set aside the distrust deep within him.

What Dawna and Tay can't set aside is their growing attraction. And that may just get them both killed.
We have a winner for Goodreads giveaway of the unabridged audiobook version of Every Breath She Takes, my romantic suspense from Montlake, on Goodreads. The prize went to Jeremy McDermott. Hope you enjoy, Jeremy!
[sourcecode language="css"]

[/sourcecode]
I met Toni Anderson when I joined the Montlake Romance authors loop. It gave me a chuckle to learn that after a career in marine biology that took her all over the world, she settled in the Canadian prairies about as far from an ocean as you can get. (Of course, the topography of the prairie is about as flat as the ocean, and maybe when the winter wind carves "waves" into the frozen snow, it probably looks like one…)
Toni also got my attention for another reason. She writes in my favorite genre – romantic suspense, and her books look awesome. Several of them are on my Kindle, in fact, waiting for me to stop fooling with the Interwebs and start reading. Her Montlake title, DANGEROUS WATERS, comes out very soon – specifically, Tuesday, November 20.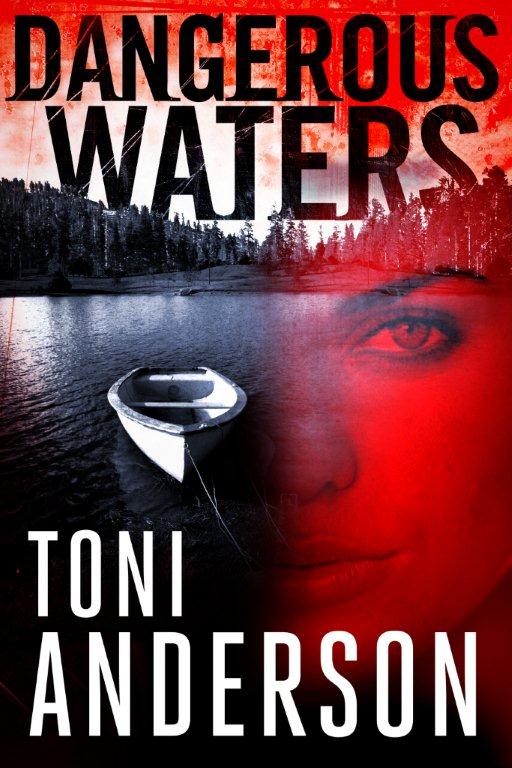 With that intro, I'll turn you over to Toni.
TONI ANDERSON:  Until the beginning of September, I worked in a cupboard. It was a nice piece of furniture but there was no desk space and I had to raise my chair so high I couldn't touch the floor—so I dangled my feet for 8 years. Nightmare. Finally I found a desk from Ikea that has adjustable legs and my hubby picked it up from Minneapolis when he drove to a conference down in the States. Ikea opens here on Nov 28th!!  (Yes, I'm excited LOL). Suddenly I have all this space AND my feet are planted firmly on the floor.
My office is a weird little open-plan room that attaches to the kitchen and what used to be the playroom and is now the 'piano' room (mainly because the only thing in there is a piano J). When the kids were small, open-plan was great. Now I'm thinking 'doors'!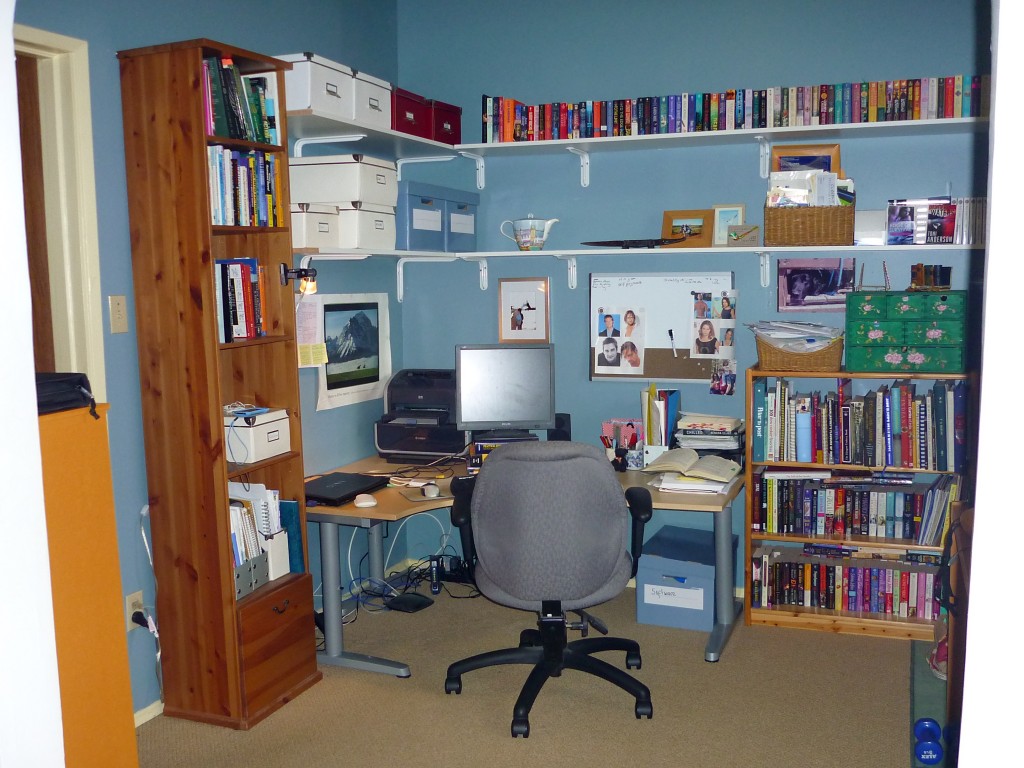 I've surrounded myself with books (fiction, non-fiction), tools of the trade (computer and printers etc, and, yes, I need a proper monitor stand J), magazines and images of my heroes and heroines on corkboards because I'm a very visual person. There's a picture of me and hubby kissing at a recent wedding, and the kids with the Eiffel Tower in the background. And there's a poster of a couple of cowboys in the Alberta mountains, given to me by a friend, Rich Brown, back when we worked together at the University of Waterloo. And a teapot my in-laws gave us which DH broke. It's too beautiful to throw out though.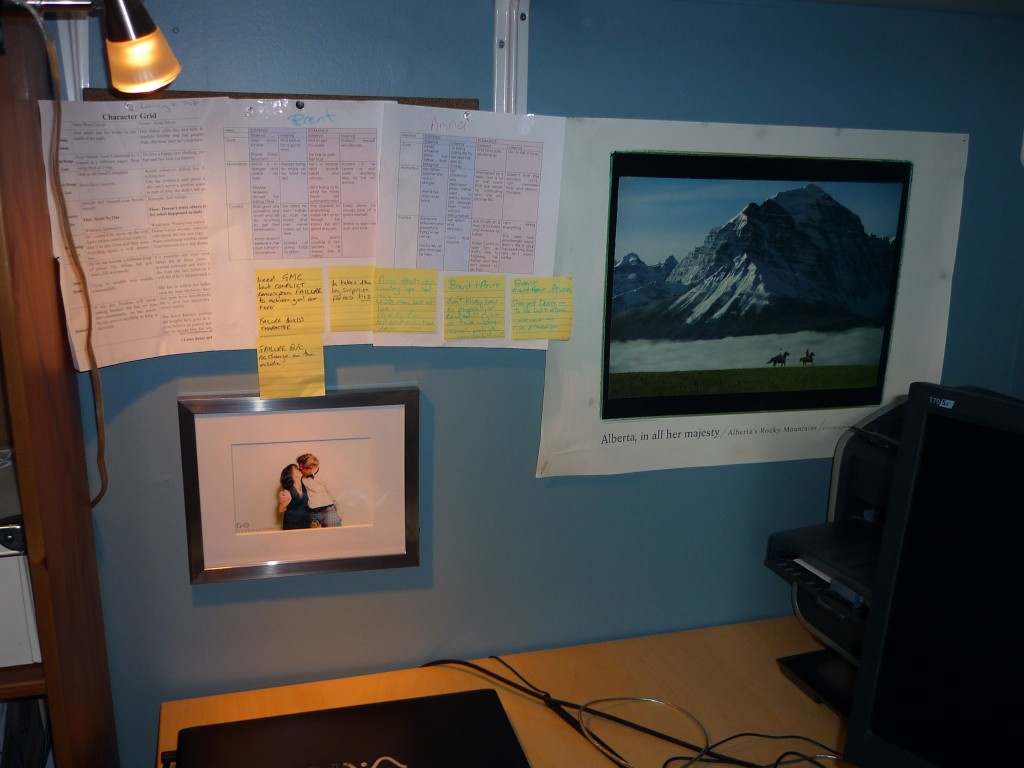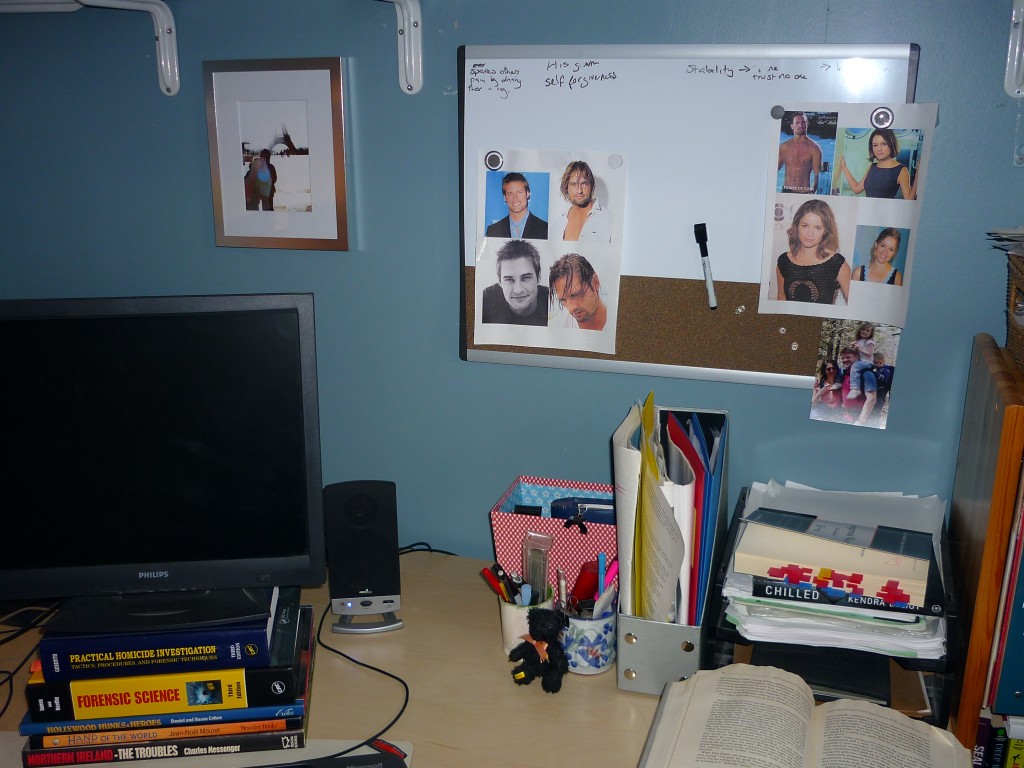 The boxes are full of research material. Each story or linked group of stories get their own box. Some are almost empty and some are full to the gunnels. I store all my notes in the box so when I want to work on a specific story, the information I need is easy to find.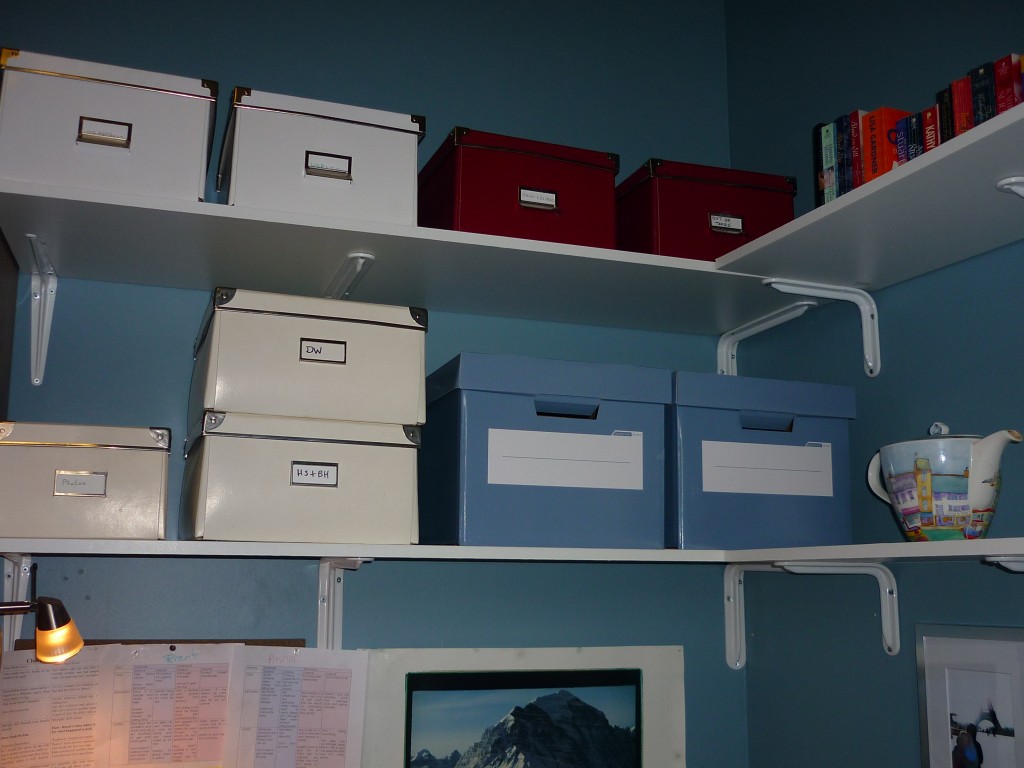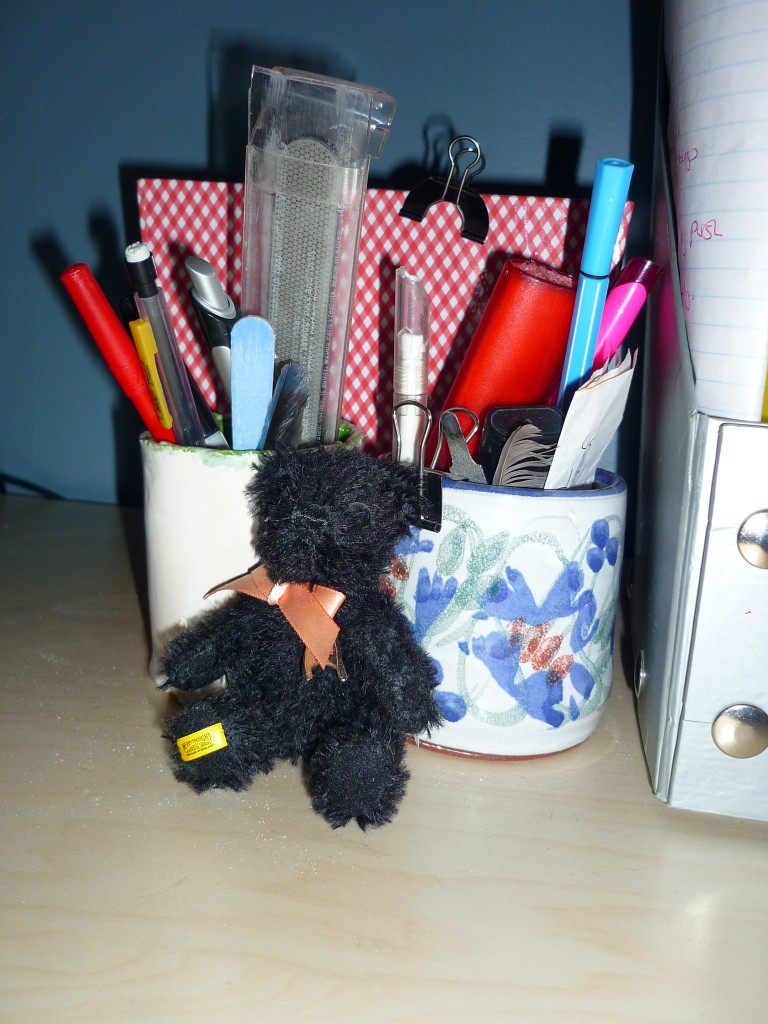 And here's my little Merrythought bear that my mom sent me (we both used to work in the Merrythought shop in Shropshire, years ago), and my other companion, Holly, who's a little mad because I'm taking photographs rather than walking her. She gets the spot closest to the radiator!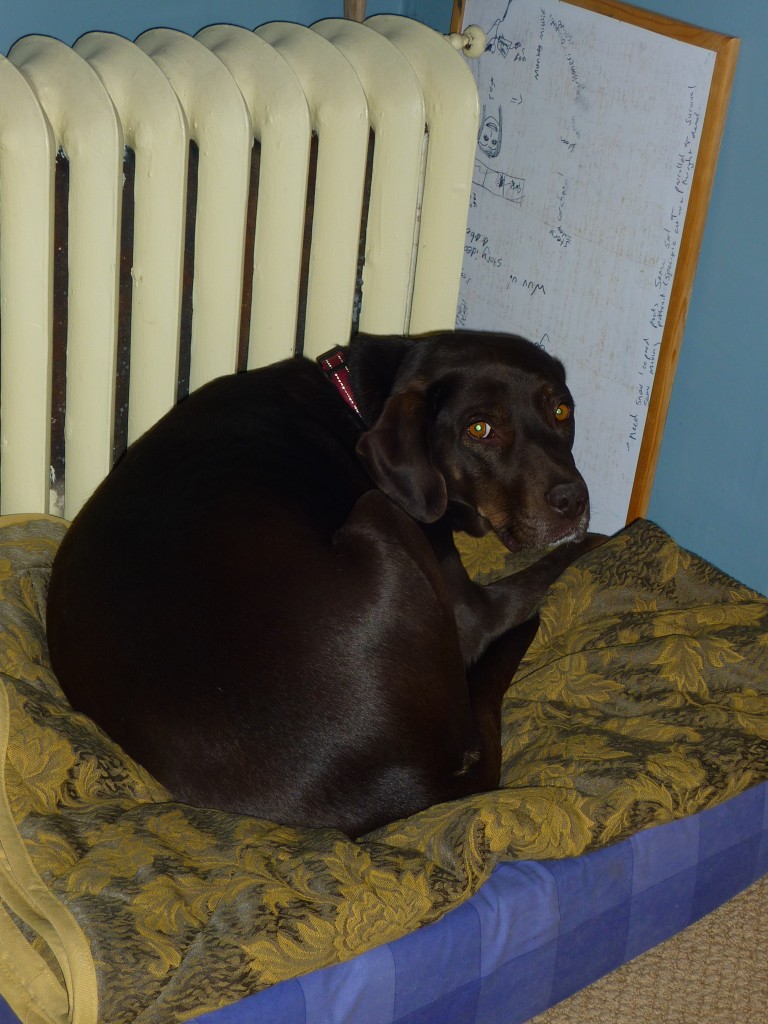 Thanks for having me today, Norah J. I'll gift a copy of SEA OF SUSPICION from my backlist to one lucky commenter.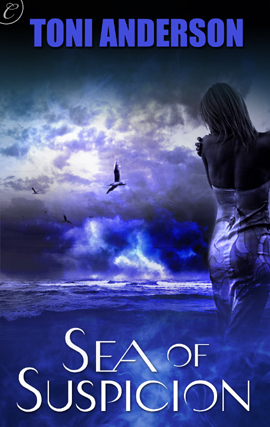 Check out Toni's website and Amazon Author Page for a list of current titles.
Thank you, Toni! That was an awesome tour. And LOL on your excitement to get an Ikea. I'm envious! I doubt we'll ever have the critical mass down east to get one of our own.
Okay, let the commenting begin!
Posting the excerpt from Guarding Suzannah last week was so much fun, I'm going to do it again for Book 2 in the series, Saving Grace.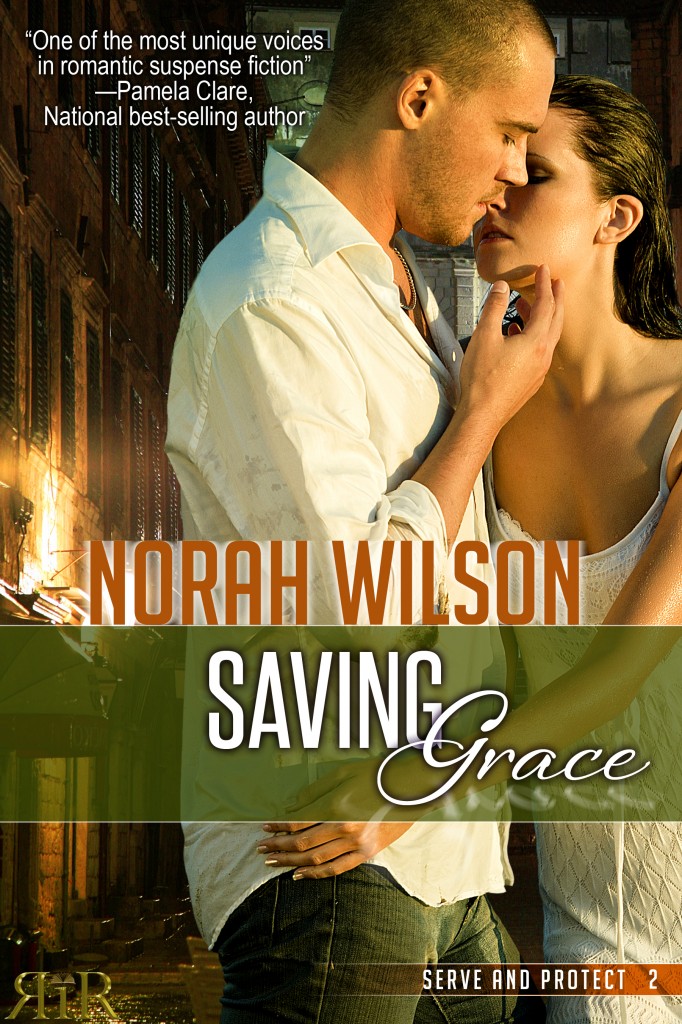 To set the scene, Fredericton Police Detective Ray Morgan has been forced to take the wife he believes has been unfaithful on the lam with him while he tries to figure out who is trying to kill them. She'd shocked him to the core  a week ago when she'd announced she was leaving him to go join some unnamed other man, but she'd wound up crashing her car on the way out of town and no longer remembers anything. Not the name of the guy, not even the fact that she was having an affair. Her neurologist says the memories may come back, but she needs time and peace and rest. That plan goes out the window when bullets start flying and Ray gets jammed up by an internal investigation he fears is a frame job. He has to keep them safe until he can unravel the mystery and safely go back to his life. What he doesn't count on is falling in love with his wife of five years, for real this time.
Ray was right, Grace thought, as she clutched the towel around her shoulders. Her hair had always been her "thing". A full, rich sable, it fell perfectly straight with the lightest encouragement with a brush and blow dryer. Everything else about her might be forgettable, but people noticed her hair.

It seemed only right somehow that she should sacrifice it.

"Okay, give me some guidance, here."

Poor Ray. He'd dodged bullets back there in that parking lot without breaking a sweat, but his hands were shaking now. She pretended not to notice.

"Just comb out a small section, then pull it tight between your fingers."

"Like this?"

"Closer."

"Forget it, Grace. I'm not cutting it that short. There'd be nothing left for the hairdresser to fix."

"But that's hardly short enough to make any difference."

They compromised, agreeing on a mid-length.

"Okay, what now?"

"Just angle your fingers like so." She used her own fingers to demonstrate.

"Like this?"

"Perfect. Now snip away."

He muttered something that sounded like "Hail Mary," and snipped.

The coppery lock fell onto her denim-covered knee. No going back now. For a moment, panic assailed her.

"Grace?"

She cleared her throat. "That's good. Keep going."

The second lock fell, this one hitting the newspapers, joining Ray's impossibly blond hairs. She blinked rapidly. It was just hair. An external manifestation of her stupid vanity. She would not cry.

Besides, her old precision haircut was fine for the woman she'd been before this nightmare started. The new Grace needed something different. It was going to take all the courage she could scrape together to get through this. Just as her smooth coif had given her poise and polish, maybe a sassier color and a rough-and-ready cut would lend her the edge she needed.

Image was everything, right? Fake it until you can make it.

"What do I do with the front?"

She glanced up at Ray. His mouth was set in that way that made his jawbones stand out, the grooves bracketing his mouth deeper than ever. He looked like a man completely out of his depth and hating it.

"Leave it fairly long, about so." She indicated a spot at the level of her cheekbone.

"Christ, I'm probably making a mess of this."

"Don't worry about it," she assured him. "With all the mousse and hair spray I bought at that drug store, I could probably make it look like the CN Tower, if I wanted to."

That earned a laugh, but when he made the next snip, his jaw had again taken on that grim line. The chair wasn't high enough, she noticed. He had to bend to do the job, which must be killing his back.

And that's not all she noticed, now that her panic had passed. His hands were clumsy in her hair, compared to the brisk competence of her stylist. But they were gentler, too. He separated the next section delicately, easing the comb through a snarl. She shivered.

"Sorry."

"It's okay. It doesn't hurt."

But it did hurt. Quite suddenly, it hurt a lot. It hurt that this was the first time he'd voluntarily touched her for so long, apart from that display they put on for the clerk.

And, oh, that scene in the office! She dropped her eyelids, her face heating at the memory. The way he'd touched her….

She clamped down on the warmth flooding her belly. Nothing had changed. Their performance had been necessary to divert the clerk's attention.

Still, awareness shimmered through her when he pushed his fingers through her hair again.

"Almost done. Then you can get that cold towel off your shoulders," he said, obviously mistaking her shiver.

True to his word, he was soon finished. Grace didn't know whether to be relieved or disappointed when he pronounced her done. Removing the towel from around her neck, she strode to the closet-sized bathroom to inspect her new appearance. She flipped the switch for the overhead light and froze.

Yikes! Was that really her? Her eyes looked huge, her chin more pointed. Lord, it even seemed to lift her cheekbones.

Ray's reflection appeared behind her in the mirror. "What's the verdict?"

"Wow."

"Sorry," he said gruffly. "I told you it was a mistake."

"No, it's good. You did a better job on me than I did on you."

"Yeah, right."

"Really. A little mousse and a blow dryer and it'll kick butt."

He just regarded her in the mirror, unspeaking, a yellow-haired stranger.

She pushed a tendril of hair behind her ear and sighed. "I suppose I should style it now, so we can hit the road."

"No, let's get a few hours sleep first. We can finish our transformations in the morning."

She met his gaze in the mirror. "I thought we were going to sneak away under cover of night?"

He shook his head. "Better to blend in with rush hour traffic tomorrow morning than travel tonight. I just wanted to pay for the room in advance so we wouldn't have to show ourselves to the clerk after we'd morphed."

"We actually get to grab some sleep?"

The corners of his mouth turned up at her obvious relief, his eyes crinkling the way she loved. She smiled back into the mirror. For a few seconds, despite their altered appearances, they were the old Ray and Grace, but then his face sobered again.

"You take the bed; I'll sleep in the chair."

He turned and left the bathroom, leaving her staring into the mirror at the empty spot where he'd stood. She drew a deep breath, then followed him.

"That's not going to work, Ray. You'll insist on driving tomorrow, which is fine, but that means you're the one who needs the rest. I'll take the chair tonight, then doze in the car tomorrow."

"I can sleep anywhere, Grace. It's part of the training. You, on the other hand, would sit awake all night, and we can't have that. We're both gonna have to be sharp."

And you'd rather wake up with a cricked neck, a sore back and a killer headache than share that bed with me.

She felt like crying again, which was really stupid. He'd slept on the couch every night since she'd come home from the hospital. Why should it hurt that he sleep elsewhere again?

She shrugged and turned away. "Suit yourself," she said, picking up a t-shirt and disappearing back into the bathroom.
Just for fun, here's an excerpt from Guarding Suzannah, Book 1 in my Serve and Protect Series. The books are available singly, or you can get them all at once in the box set.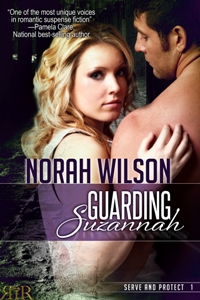 "Rise and shine, sweetheart."

Suzannah groaned and tried to burrow deeper into the pillows, grasping at the threads of her lovely dream. Hard masculine hands on her body, gravel-voiced words of praise in her ear, hot mouth blazing over her skin….

"Come on, Suzannah. I got a dog at home whose gonna pee on my brand new speakers if I don't get home and let him out."

Her eyes flew open. John Quigley. He'd stayed last night, and now he was in her bedroom. She jackknifed up, the twisted sheets pooling in her lap. "Of course. Go. Yes. By all means." Oh, Lord, she was stammering.

"It's early yet, barely dawn. I'd stay longer, but the dog…."

"The speakers. Right." She pushed her hair back from her face and glanced at the digital alarm. Not yet five a.m. She glanced back at John to find his face had changed, sharpened with an edgy, dark intensity.

Oh, hell! Her nipples thrust sharply against her thin cotton tank, thanks to that dream. A dream in which the man standing by her bed, mere inches away, had played a starring role. For a wild, terrifying second, she visualized herself reaching out to touch him as she might have in the dream, her caress bold, sexual, deliberate. There wasn't a shred of doubt in her mind that he'd answer her need with gratifying urgency.

The idea was scary, dizzying, thrilling, incredibly powerful. Then sanity returned.

She sank back down onto her pillows, pulling the covers up to her chin and burrowing back into her pillow as though to go back to sleep. "Okay," she mumbled through the sheets. "Thanks for letting me know."

"Whoa, whoa. Don't go back to sleep just yet. I need you to throw the deadbolt behind me. It's getting lighter by the minute, but I'd feel better if the bolt were thrown."

Damn. "Okay." She sat up again, this time with the sheets modestly clamped to her chest. "Give me a sec. I'll drag on a robe and meet you down there."

His eyes said eloquently that he wished she wouldn't bother with the robe, but he merely nodded and withdrew.

The moment she heard his tread on the stairs, she leapt out of bed. Damn it, damn it, damn it! She strode into her walk-in closet and yanked a silk robe off a hanger with less care than the garment deserved. Of all the men in her world for her to fixate on, why this one? He was arrogant, pushy, exasperating in the extreme. Too tough, too forceful, too … yang.

And he was a cop.

So why did her body light up for him as it did for no other?

Chemistry. Random, unreasoning, unfortunate chemistry.

She pulled the robe on, wrapping it around her. Well, she never had been very good at chemistry back in school. And she'd get along very well without it fogging her brain again, thank you. On that thought, she cinched the belt of her robe tightly around her waist and marched downstairs to lock Detective John Quigley out of her house, and with any luck, out of her life.
I am delighted to have as my guest today Joyce Lamb, award-winning author of romantic suspense novels. Joyce is also the curator of USA Today's Happy Ever After blog, which is must-read material for romance novel lovers everywhere.
I met Joyce at the Romance Writers of America national conference in New York City in 2011. She was celebrating after just having won the prestigious Daphne du Maurier Award for her book True Vision. My first impression was that she was extremely quick-witted, funny, warm, grounded and interesting. She also seemed to be genuinely interested in the people around her. Of course, at the time I didn't realize that Joyce Lamb the author was also Joyce Lamb, intrepid reporter. She comes by that interest/curiosity naturally, I guess! I'm happy to say my initial impressions of Joyce proved true, and then some!
With that intro, here's Joyce.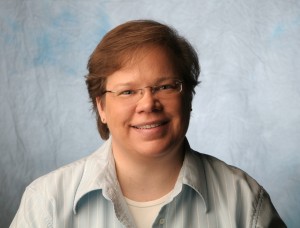 JOYCE:  Thanks for having me, Norah! I'm thrilled to be here. : )
Exploring my workspaces for this post was eye-opening. I had no idea that I actually work all over the place!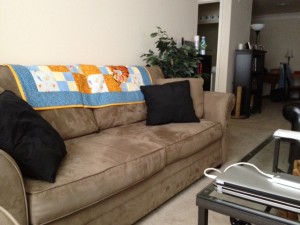 The sofa is where I do a lot of my writing, but while I am indeed sitting right in front of the TV, it's not on when I'm writing. Too distracting! Especially if a show on The Animal Planet about cute puppies or kittens comes on. Instead, I have my iPod Touch docked and cycling through four seasons' worth of Battlestar Galactica soundtracks (the version revived in 2004, not the one from the late '70s). Composer Bear McCreary is a master at creating tension, and the tone of the music is perfect for writing romantic suspense.
As you can see from the quilt draped over the back of the sofa, I'm helped along by Tigger from Winnie the Pooh. I love Tigger! The wonderful thing about Tigger …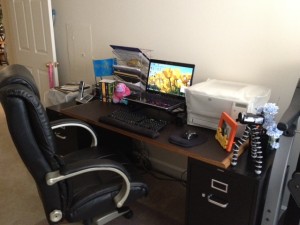 I also have a home office, for when I'm feeling the need to behave like a professional writer. Best desk chair ever! I feel very "executive" when I'm sitting in it – just not nearly as rich. And it's perfect for one of my kitties, Maddy, who likes to perch on the back. She's only fallen onto the back of my neck twice.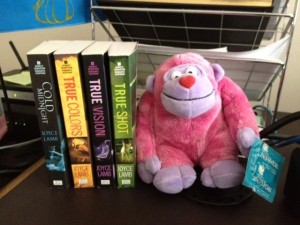 Sitting on my desk is my pink Safe Sex Monkey. (And, yes, that is indeed a shameful plug for my books sitting right next to SSM.) The story behind SSM: Fellow writer friend Diane Amos, author of the fabulously funny Getting Personal (a $2.99 e-book!), has spent much time teasing me about the "wild monkey sex" in my books. Several years ago, she sent me the pink monkey with condom in paw as a joke (which my mother quite enjoyed when I opened the package while she was visiting). Now, SSM sits on my desk to remind me to make sure my characters always have safe sex. : )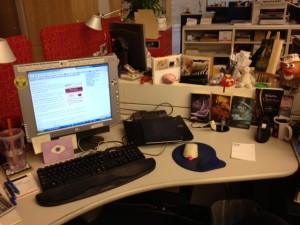 I also have workspace at USA Today, where I work on the Happy Ever After blog devoted to all things romance novels (happyeverafter.usatoday.com). As you can tell, I have some toys on my desk – I wouldn't be a real copy editor if I didn't. So I enjoy my Mr. Potato Head (at right) as well as my Tickle Me Elmo key chain, which giggles REALLY loudly, much to the consternation of some of my co-workers. What you can't see on my desk is that to the right, there's a TV. Yes, it's true. I have a TV on my desk at work. It's rarely on, but it's actually quite necessary at those times when breaking news is happening. The last time it was on was during the Super Bowl in February, because USA Today does a huge thing about the ads that play during the Big Game. So I got paid to watch TV during the Super Bowl. Kinda cool!
You might also think from what you can see of the background in this photo that the USA Today newsroom looks as though it was decorated by IKEA. And you would be right.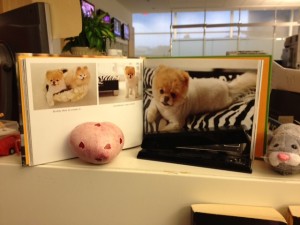 One of the favorite things on my desk at work is a book called Boo: The Life of the World's Cutest Dog. I prop the book open to different pages, but this one here is my favorite, because it looks as though Boo is lounging on a chaise lounge in a very "come hither" pose. Very romantic! When things at work get stressful – and they do often, considering it's the news business – I have Boo to turn to to make me smile. Boo never fails me!
Do you have any toys or stress relievers on your desk at home or at work?
A commenter here will win a signed collection of my True trilogy, which includes 2011 Daphne winner True Vision and 2012 RITA finalists True Colors and True Shot. (International commenters eligible, too!)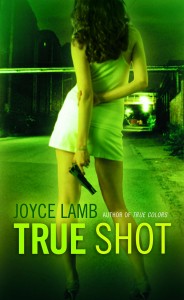 Thank you for that tour, Joyce. Why am I not surprised that I had a smile on my face all the way through it? Oh, and my stress reliever is a tiny bottle of essential oils (bergamot, grapefruit, orange and ginger) that I keep on my desk. When I think about it, I pop the cover off and and inhale.
Okay, before I turn it over to comments (and holy smokes, GREAT prize!), let me just pimp Flash Heat for you. It's my current read on my Kindle.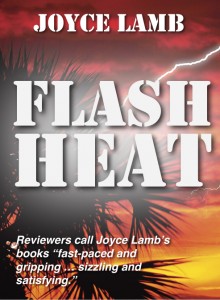 You can connect with Joyce as follows:
Okay, let the commenting begin! Joyce's question for you was, "Do you keep any toys or stress relievers on your desk at home or at work?"
Today, I am delighted to have MJ Fredrick as my guest for Workspace Wednesday. MJ is another member of my Wet Noodle Posse (writers who finaled in RWA's Golden Heart® contest in 2003, and who have hung together ever since).
Here's the thing – every time I read one of MJ's books, I think, "Damn, I wish I'd written that!" She writes the kind of fast-paced, sexy romantic suspense/adventure that really floats my boat. The kind I try to write. She can also write a straight contemporary (like Bluestone Homecoming) with the best of them, a skill I envy.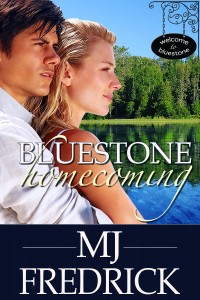 She is also one of the few bloggers I follow religiously. I think I learned everything I know about blogging/social media best practice from watching MJ. I don't do it as well as she does, but she embodies what we all should be doing. She shows us all the facets of her life, not just her writing. Besides being a damned fine writer, she's a teacher, an avid reader, a wife, a mother, a cat-lover, a talented crafter, a Supernatural fan, a TV and movie aficionado, etc. Basically, she's the kind of all around awesome person you want to feel connected to. I recommend you check out her blog and subscribe to her newsletter so you don't miss anything.
Okay, now that I've spilled all that syrupy lurve all over the place, I'll turn you over to MJ while I clean up the joint.
MJ FREDRICK:  I tried, really I did, to have an office. When I first started writing on a computer, I had one, the third bedroom in our old house, with an old XT my uncle had put together, with an amber monochromatic screen. After my son was in bed, I'd go in there and write for a couple of hours while my husband watched TV in the living room. I eventually finished my first book, but it took me months.
We replaced the XT with an old PowerBook we got for $300, with a modem that screeched. No more writing in the bedroom next to where my son was sleeping, so I started writing and surfing in the living room in front of the TV. We replaced the PowerBook with the first generation of iMacs, and it was also in the living room. So I got in the habit of writing with lots going on around me.
BUT I didn't feel guilty, because I was still a part of what was going on, if you get me.
We moved into this house, a four-bedroom, 13 years ago. I tried several spaces as my "office," the bedroom off the kitchen, the mud room area next to that, which looked out on my backyard, the middle bedroom (which has since become Craft Central). NONE of those worked for me. I'd get up a million times to go see what was going on in other parts of the house. Eventually, we parked the iMac in the living room and that was my workspace.
And then…I got a laptop. Oh, the freedom I had with a laptop! I wrote outside, I wrote in my big comfy chair, I wrote EVERYWHERE!
Now, I live in Texas, and the past two summers have been crazy hot, even early in the morning, so I don't write on the patio. But this house is blessed with a sun room, and that is my favorite room in the house, especially since my baby brother helped me rearrange it a couple of years ago.
I have a big comfy couch and a big comfy chair that we bought when we moved in. They're a little worse for wear, but did I mention comfy? (Also, excuse the cat hair. I AM the Crazy Cat Lady, but getting cat hair off chenille is a PAIN!)
In the morning, as soon as I finish eating, I unplug the laptop and curl up on the couch in the sun room. (This is what it looks like in the summer. When I'm teaching, it's dark dark dark, with only the light from the screen.) Note the Diet Coke–a staple in the early mornings.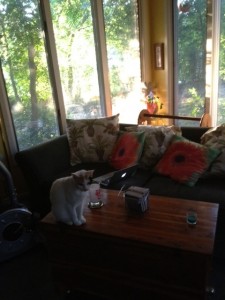 I usually get a cat or two curled up with me, no matter what time of day. Here you see YaYa beside me and Stormy on the floor.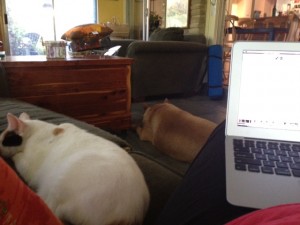 My exercise bike is right there, taunting me. This summer I've had to leave my little area when the boy wants to exercise, which would make me mad if he wasn't moving out this week.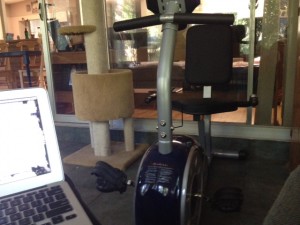 I prefer this view, though because of the drought, there's not a lot to see.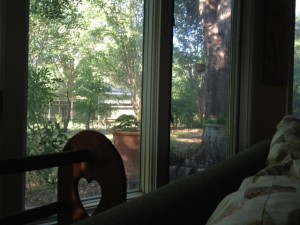 In the evenings, I join the family in front of the TV, but I'm usually still working on SOMETHING. This is my corner, complete with a blanket, because the AC works pretty well.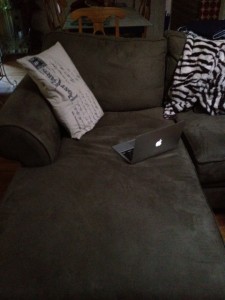 The bonus is, my baby kitty thinks it's his mama.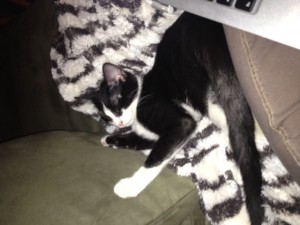 So I don't stay in one spot and I clearly like to be comfortable. Also, I like green chairs and cats.
Thank you, MJ! Loved the tour of your space! I am so in awe of anyone who can work with a laptop primarily. After all these years in admin support, I'm a desktop kind of gal.
MJ Fredrick is the author of 17 books, including this one, Guarded Hearts, published by Lyrical Press.
Now it's your turn. Do you remember modems that screeched? Did you ever have an XT? Ever meet an author who didn't even pretend to maintain an office, whilst she wrote in various spots around the house? Have you read one or more or MJ's books? You know the drill – a comment will earn you a chance to win today's prize, which you're going to want. It's a $10 gift certificate from either Amazon or B&N, at the winner's call.
My romantic suspense from Montlake Romance – Every Breath She Takes - is going to be released September 4, 2012. But if you comment below, you might win an advance reading copy (ARC) and beat everyone to the punch. ,-)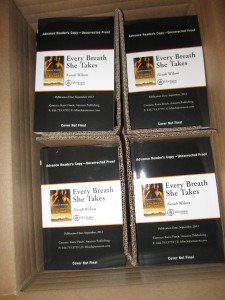 I should mention this book was previously pubished as Lauren's Eyes, the same book that won me Dorchester Publishing's New Voice in Romance award. It has been updated and revised and is ready for a whole new audience of romantic suspense lovers.
Here's the book description from Amazon:
"Ultra-sexy, heart-pumping suspense and adventure." – Julianne MacLean, USA Todaybest-selling author
"Sexy, gritty and thrilling." – Joss Ware, award-winning author of Night Forbidden
Veterinarian Lauren Townsend has good reason for hiding her psychic ability. Not only did her "freakishness" earn her pariah status in the small town where she grew up, it cost her a fiancé and her faith in love. When Lauren foresees a murder—through the killer's eyes—she traces the victim to a sprawling ranch, never guessing what waits for her…
Cal Taggart's rugged ranch life doesn't need any more complications. His stubborn determination cost him his marriage, and now may cost him his livelihood. But then beautiful Lauren enters his corral…with danger close behind. And Cal wants nothing more than to protect her. They can't deny their intense attraction. Nor do they want to. What begins as a fling with no strings becomes a fight for survival—and for true love.
For a chance to win, leave a comment about the romantic suspense genre. Tell me what themes or tropes you like in your RS (cops, bodyguards, women in jeopardy, etc.). Or tell me which romantic supense authors or stories you absolutely love.  A winner will be drawn randomly from among the comments. Good luck!
For those who want to skip the chance at the uncorrected proof in favor of ordering the official version (which, by the way, will have a different cover than the one depicted here), it's available for pre-order at Amazon.com.