Archive for the 'In real life' Category
I am so happy to have Bonnie Vanak as my Workspace Wednesday guest today. I've long been a fan of Bonnie's, and not just of her Khamsin Warriors of the Wind or her Draicon Wolves. Her work in aid of the poor in some of the poorest countries in the Western hemisphere has earned my undying respect. Such work is not easy, and we owe a debt of gratitude to those people who do it. Thank you, Bonnie! And thank you for the amazing books, too!
With that introduction, I'll turn you over to Bonnie.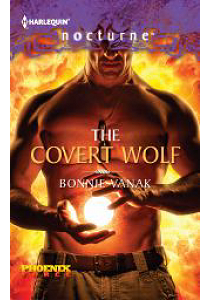 BONNIE: It's hard to write with a Shih Tzu on your lap.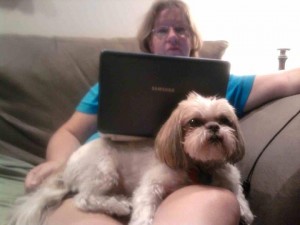 As the owner of three rescue Shih Tzu dogs, I've learned to share my "office" while writing books. Because I work at a day job and I'm tied to a computer all day long, I prefer a laptop while writing my paranormal romance novels.
While my husband sits on the couch repairing model trains in his extensive collection or watching television, I write. But just because I have the laptop opened, it doesn't mean the space is mine.
I've lost count of how many times the dogs have decided my lap is "their" space and have either walked over my computer to lick my face (Hey, pay attention to me!) or they have stubbornly climbed into my lap and refused to relinquish said space.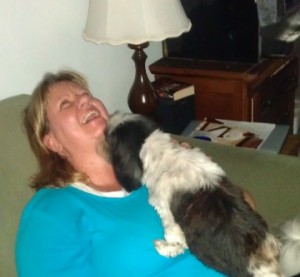 Prime real estate, they seem to say. We were here first. That machine must go.
Recently I was writing a steamy love scene for The Phantom Wolf, the next book in The Phoenix Force, a mini-series about Navy SEALS with paranormal powers. There I was, typing:
Kelly made a humming noise of pleasure deep in her throat and slid her hands around the thick muscles of his neck. He muttered something against her mouth and pulled her tight. She played with the fine strands of his hair, enjoying the silk slipping through her fingers… lost in the sensation of his mouth and …
Holly chose that moment to jump onto the couch, and park her butt firmly on the computer keyboard.  The love scene ended up looking like this:  dkfjkdjafdkajdfkdjfc.,xm vc
I have an office at home. It has a nice desk, a computer and it is organized and holds all my files. The dogs took that over, too. Every time I am in the office, they follow me and look up with pleading, big doggie eyes. So in order to work, I put them on the bed.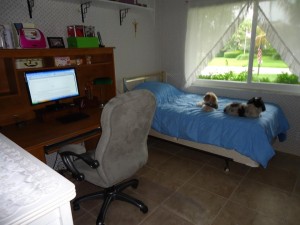 Not only do I work full-time, but my job also requires traveling to developing countries. After getting published in 2002, I learned to be flexible and make my office wherever they stamped my passport.
In Haiti, it was often the Hotel Montana (pictured here), where I always stayed while traveling for work. After spending a day in the field, interviewing poor people, I'd retire to the hotel and immerse myself into a world rich with Egyptian sheikhs or fierce werewolves protecting their mates.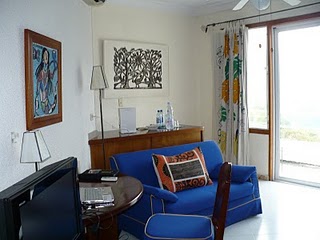 Then came the horrific tragedy of the 2010 earthquake inHaiti, which destroyed the hotel and killed 200 guests. The months following the earthquake were spent in a frenzy of work at the day job, and trying to reconcile with the fact that the Haiti I had known was forever gone.
If not for a scheduling conflict, I would have been staying at the hotel during its collapse. That sobering realization changed my outlook on writing books when I travel to Haiti. Now I don't open the laptop and become immersed in stories. There's always a sense of tension that prohibits free-flowing creativity. I keep my shoes, clothing and emergency supplies like a flashlight and a bottle of water handy, just in case.
Because of the day job, the dogs and distractions, it's nice to get out of town to focus on the book. I enjoy traveling to destinations where I can write in a mad frenzy. Just me, the laptop and my imagination.
My office becomes a kitchen table, a chair on a quiet porch overlooking the mountains, or the deck of a cabin in rural Tennessee.
Or a sofa in a ski lodge during the Christmas season (pictured here), where I wrote part of The Empath, my first paranormal romance for Harlequin. The inn became my inspiration for the lodge where Nicolas takes Maggie to join his pack.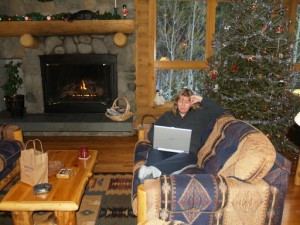 The Covert Wolf, my new Nocturne about a Navy SEAL who is a werewolf, was partly written while renting a cabin in Colorado, immersed in how Matt and Sienna hunt for a magick orb they need to find before demons use it to destroy the world.
But no matter where in the world, I make my workspace, my primary office will always my home. It's there where my husband is ready to support my writing, just as he did 12 years ago when he gave me a "magic wishing star" pendant to encourage me to follow my dream of becoming a published author. Home is where my heart is, where my imagination truly takes flight as my fingers fly over the keyboard to create worlds where brave Navy SEALS risk all for the women they love.
Home is my real workspace, be it the office, the couch, or the Florida room. When I travel, it's always wonderful to return home.
And when I get there, I know the dogs will be waiting… to reclaim the lap again.
Thank you, Bonnie, for sharing your various writing spaces – and your furry "helpers" – with us!
In my introduction, I failed to mention Bonnie has one of the most amazing imaginations I have ever encountered. Try one of her Draicon wolves books and see if you don't agree.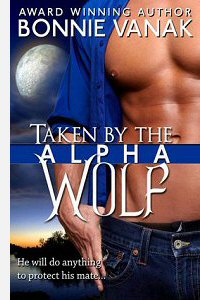 You can read more about Bonnie at her website. She's tons of fun on her blog, on Facebook, and on Twitter.
Now, it's giveaway time! Bonnie is offering two signed copies of The Empath, the first book in her fascinating Draicon wolf series, for two lucky winners. All you need to do is comment on this post for a chance to win.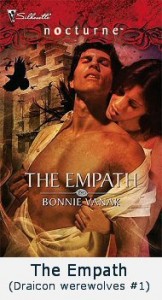 I'm loving Wednesdays more and more! Today it's my privilege and pleasure to have as my Workspace Wednesday guest the lovely and talented Elisabeth Naughton. I've never met Elisabeth in person, but I've gotten to know her a bit from our cyber-paths crossing. Her online persona is just as warm, lovely and gracious as you might guess from her photo.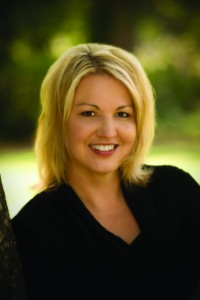 Okay, over to Elisabeth.
ELISABETH: I guess you could say I'm more concerned with how productive I am when I write than where I write.  Over the years I've discovered two things about my productivity: 1) I can't work on a desktop. I need a laptop to be productive, and 2) I can edit just about anywhere, but when it comes to new writing, I can only be productive somewhere soft.
Below is a picture of my desk. Gorgeous, huh? I love it. Love how it's built into a bay window, love the natural light from the window and the view. Unfortunately, it's not soft. Which means I can do just about everything here—answer emails, do promo, even edit—but I can't write here. Since I've developed neck issues from hunching over my laptop, my doctor (who is a D.O.) and I go around and around about this. But alas…gorgeous desk space, zero writing.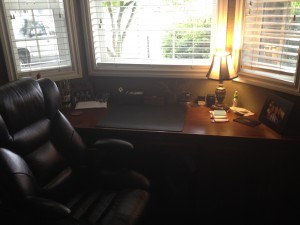 To the right is my bookshelf. Built-ins are awesome. We originally had this office designed for my hubby but I've since taken it over. I have lots of great places for my books, for my research materials, and plenty of storage space for all those office supplies so they're tucked away from view. And when I'm working in here (on promo or marketing or mail-outs or emails or general office work), I'm highly productive. But again…no writing gets done here.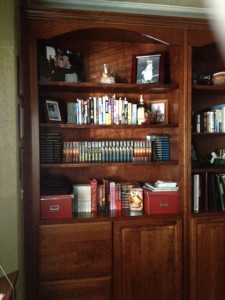 Where do I write then? Here, of course: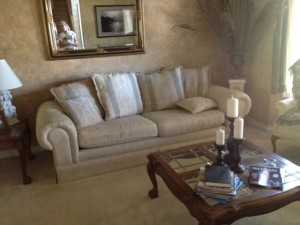 Yep, that's my living room. I usually sit cross-legged on the couch with my laptop on my lap. Hence, the neck issues as I hunch over. If I can't be productive in the living room, then I move here (yes, I'm nomadic):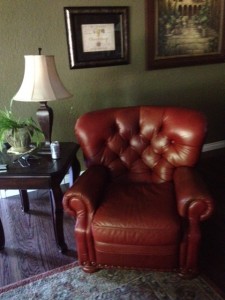 This is my Lazy Boy recliner in our great room. I can only really work here when the house is silent, otherwise people are around me watching TV and generally just being noisy. (Notice the can of Diet Coke on the end table. Can't write without that either.)
But, because I have three Gremlins (er, kids), if they're in the house, I usually have to leave, which means searching for a coffeehouse that has…yep, you guessed it…couches or comfy chairs. Easier said than done. I think I've been to every coffeehouse in my area and have found only a couple spots that will work. But because I like to get up and down when writing and can't sit for long periods of time, these aren't always great solutions either. There's also the issue of food. Why do coffeehouses ONLY serve pastries and coffee?
At the moment, I can't wait until Panera Bread opens near my house in January. I'm hoping that will become my new office. Comfy chairs, wifi, QUIET, and yummy food. We'll see how long it lasts.
If ONLY I could write at my desk!
Bio
A former junior high science teacher, Bestselling Author Elisabeth Naughton traded in her red pen and test tube set for a laptop and research books. She now writes sexy romantic adventures and hot paranormal novels full time from her home in western Oregon where she lives with her husband and three children. Her work has been nominated for numerous awards, including the prestigious RITA awards by Romance Writers of America, the Australian Romance Reader Awards, the Golden Leaf and the Golden Heart. When not writing, Elisabeth can be found running, hanging out at the ballpark, or dreaming up new and exciting adventures. Visit her on the web at www.ElisabethNaughton.com.
Thank you for that tour, Elisabeth. And oh my, I do love that red chair! But I totally fell in love with that desk in the bay window. I think I could make it work for me! LOL.
Okay, before we get to the giveaways (yes, plural!), I just want to put a plug in for Elisabeth's wonderful books.
I so need to read her Eternal Guardians series from the beginning. Here's the tagline for ENSLAVED (#5), the cover for which appears below:
GRYPHON—Honorable, loyal, dependable…tainted. He was the ultimate warrior before imprisonment in the Underworld changed him in ways he can't ignore.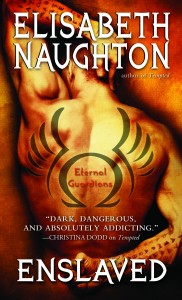 Prefer a Gladiator? All I had to read from the blurb for SLAVE TO PASSION (Firebrand #2) when it released last week was "Kill them all…", and I clicked that One Click button. I have a feeling I'm going to be picturing the amazing  and much-missed Andy Whitfield as I read this one.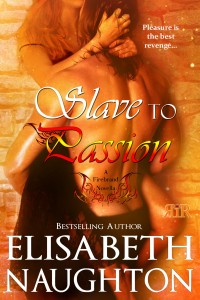 Okay, we promised a giveaway. Elisabeth is offering two prizes: FIRST PRIZE – an Advance Reading Copy of ENSLAVED,  which releases on November 6, 2012; and SECOND PRIZE – an ebook copy of SLAVE TO PASSION, Book 2 in Firebrand series, which is newly released.
For a chance to win, all you have to do is comment. Tell me what you liked best about Elisabeth's workspace. Tell us your best advice for laptop-induced neck pain. Tell us what you love about Elisabeth and/or her stories. I will use Random.Org to generate the winners from the comments received.
Trish McCallan and I recently teamed up for a really big giveaway in celebration of the September release by Montlake Romance of our respective romantic suspense novels. Our prize was a brand spanking new 64 GB Wi-Fi capable Apple iPad2! On September 29, at midnight Pacific time, we drew our winner by random number generation.
Congratulations to Julianne Keller! Enjoy that iPad! Maybe you can use it to comment on this post!
Thank you to everyone who entered our draw and helped us celebrate the release of our books.
I am completely honored to have as my guest today Pamela Clare. Pamela is both an award-winning journalist and a Rita-nominated author. These days, she writes romantic fiction full time, shifting effortlessly – or so it appears! – between her fabulous Colonial historicals and her thrilling contemporary romantic suspenses (I-Team novels). But whatever genre she's writing in, you can count on a powerful, sensual, gritty story that will put her characters through the wringer to earn their happily ever after, leaving you sighing as you close the book. Tissues are often required, which for me is pretty remarkable. As a writer reading the work of other writers, consciousness of craft can get in the way of the experience. Too often I think, "Wow, that was really well done! I could almost cry." But when I live through Pamela's characters' big black moments, I flat out cry.
With that introduction, I give you Pamela Clare.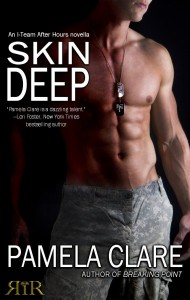 Pamela:  When I first started writing fiction, my desk was tucked away in my bedroom. I didn't get much time to write — I was newly divorced and had two boys ages 9 and 6 — so that small space, just a nook in a little apartment, worked just fine. My little Mac Centris fit perfectly, and my boxes of index cards, which held the results of my research sat off to the side.
By the time I finished that book (7 years later), revised it (1 year), found an agent and got it published (9 months), I was living in a house. I had no real office space, but I turned the kitchen table into a make-shift office. It felt like there were always four people at dinner—me, my two boys, and my computer.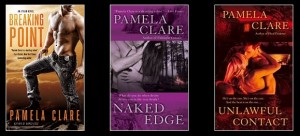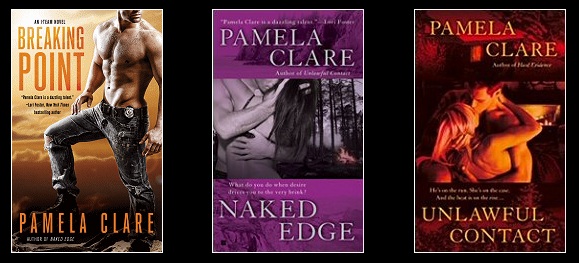 But that didn't work for long. I needed a filing cabinet for my growing body of research, as well as for contracts, and I had begun having difficulty sitting that included a strange numbness in my legs. So I did something radical.
I got rid of my living room furniture and took over that space as an office. I added bookshelves, supply shelves, a filing cabinet, inspiring art, a real desk, and a new computer. Then I went shopping for what I thought was the most important piece of office furniture — my office chair.
I've been through probably five chairs now—a $300 office chair, two zero-grav recliners, a ball, and the enormous adjustable $1,300 ergonomic chair I have now. And none of them helped. In fact, the problem grew worse, with excruciating leg pain that woke me up and made my life unbearable.
It turns out that the numbness in my legs, which I feel for some reason more when I sit, wasn't caused by the placement of my posterior or the surface upon which it sat, but rather a badly impinged cervical spine brought about by a broken neck, the result of an accident. It had degenerated over many long years to the point where my spine was completely compressed.
After having spinal surgery to remove two vertebrae and replace them with implants in 2010, the horrible pain in my legs is largely gone, and I sleep at night again. However, the numbness isn't. I have almost no normal feeling in my lower legs, and I still find sitting very uncomfortable. I go back and forth from my desk to a recliner, elevating my legs as often as I can. My neurologist has no idea why sitting provokes the neuropathy, but it does.
Moral of that story? An author's true work space is her mind/body. Anything that interferes with the functioning of her mind/body — pain, illness, stress, lack of sleep, addiction, fear — is going to make it harder to write. So taking care of one's body is paramount when one is an author.
But here in this photo of my office, you can see my desk, which has a number of personal keepsakes and good-luck charms on it. The baskets and shelves to the left of my desk hold mailing supplies — I do a lot of mailing — and the built-in filing cabinet, together with the new cabinet I got from my parents, hold my manuscripts, contracts, royalty statements, and so on.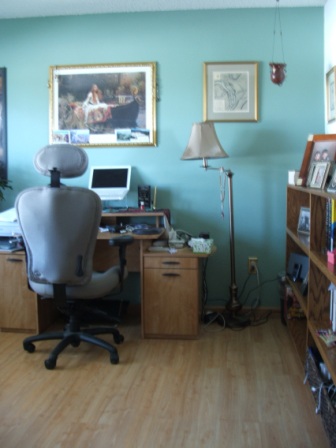 On the walls you can see my Lady of Shalott print by John William Waterhouse, a favorite. To the right of that, is a historic map of Fort Edward and Rogers Island, featured in my MacKinnon's Rangers series. To the far left on the wall perpendicular to that one, is a map of the Lake George-Lake Champlain area, also featured in the MacKinnon's Rangers series. I bought both at the Rogers Island Visitor Center on Rogers Island, which I call Ranger Island in the book. So they're almost artifacts in a way and very special to me.
Speaking of MacKinnon's Rangers, I've got two rosaries, one made of plain wood for Morgan and one of pearl and crystal for Amalie, hanging from the lamp. I held them or wrapped them around my wrist while I was writing Untamed.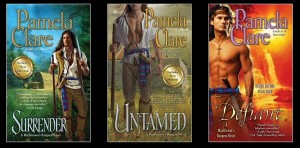 The big bookshelves were a gift from my parents. Behind them, you can see a motley collection of things that are significant to me, including the bright blue RITA finalist flag for Surrender. On that ledge I also have my National Journalism Award, sand from my recent trip to San Diego in an enamel box and from the bottom of Lake George (the large pill bottle), a vial of dirt from Rogers Island, and a dried out ear of corn from one of my many trips to the Navajo reservation.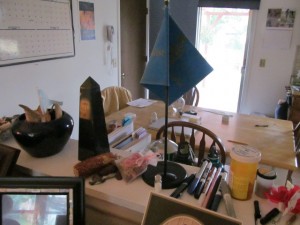 The top shelf holds my old dictionary, along with family photos. The group of shelves on the left holds my books, including the foreign translations of my titles, while the shelves to the right hold all the books I've purchased over the years for research, along with sweet gifts from readers. As you can see, the shelves are crammed!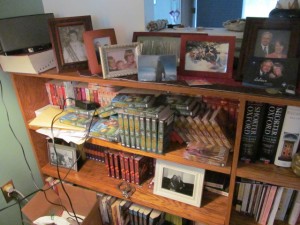 In the winter, I often take my laptop downstairs and write in front of my fireplace, where I the crackling of the wood makes for a very cozy, writerly feeling.  
Thanks for taking this little tour with me!  
Thank you for being here, Pamela! That was awesome.
Here are some places where you can learn more about Pamela or interact with her:
Pamela Author Page on Facebook
Her newest release is Defiant, the final MacKinnon brother in the MacKinnon's Ranger series. And yes, it was amazing! You can find it at Amazon, B&N, or pretty much anywhere books are sold.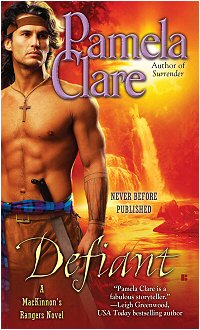 Okay, it's your turn. What did you think of Pamela's office? What's your favorite element? Or just post to say hi to Pamela (she has the BEST fans!).
And here's the thing – posting a comment will get you in on the draw to win a signed print copy of the MacKinnon's Ranger trilogy! We have a second prize, too – a coupon for the free download of an electronic copy of Skin Deep (a novella in the I-Team series).
On my walk this morning, i saw this fabulous spider web. If you click on the image to enlarge it, you'll see the gorgous beads of dew it's collected.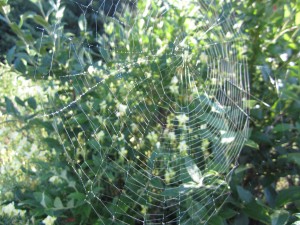 It instantly reminded me of a verse from a wonderful John Hiatt song called "Listening to Old Voices". Here are the lyrics to the key verse:
There's a spider at my window

And she spins a web of truth

More beautiful than all these memories

And she surely is God's artist

As she's caught the morning dew

It's a simple prayer that brings me to my knees
I wanted to send you to see a video or at least hear him sing the song, but I couldn't find a link. For you Hiatt fans out there, I know you're hearing it in your heads. For those of you who are not yet Hiatt fans, go find some of his music and you will be. 🙂
Today, I am delighted to have MJ Fredrick as my guest for Workspace Wednesday. MJ is another member of my Wet Noodle Posse (writers who finaled in RWA's Golden Heart® contest in 2003, and who have hung together ever since).
Here's the thing – every time I read one of MJ's books, I think, "Damn, I wish I'd written that!" She writes the kind of fast-paced, sexy romantic suspense/adventure that really floats my boat. The kind I try to write. She can also write a straight contemporary (like Bluestone Homecoming) with the best of them, a skill I envy.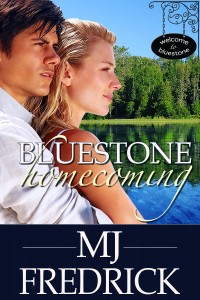 She is also one of the few bloggers I follow religiously. I think I learned everything I know about blogging/social media best practice from watching MJ. I don't do it as well as she does, but she embodies what we all should be doing. She shows us all the facets of her life, not just her writing. Besides being a damned fine writer, she's a teacher, an avid reader, a wife, a mother, a cat-lover, a talented crafter, a Supernatural fan, a TV and movie aficionado, etc. Basically, she's the kind of all around awesome person you want to feel connected to. I recommend you check out her blog and subscribe to her newsletter so you don't miss anything.
Okay, now that I've spilled all that syrupy lurve all over the place, I'll turn you over to MJ while I clean up the joint.
MJ FREDRICK:  I tried, really I did, to have an office. When I first started writing on a computer, I had one, the third bedroom in our old house, with an old XT my uncle had put together, with an amber monochromatic screen. After my son was in bed, I'd go in there and write for a couple of hours while my husband watched TV in the living room. I eventually finished my first book, but it took me months.
We replaced the XT with an old PowerBook we got for $300, with a modem that screeched. No more writing in the bedroom next to where my son was sleeping, so I started writing and surfing in the living room in front of the TV. We replaced the PowerBook with the first generation of iMacs, and it was also in the living room. So I got in the habit of writing with lots going on around me.
BUT I didn't feel guilty, because I was still a part of what was going on, if you get me.
We moved into this house, a four-bedroom, 13 years ago. I tried several spaces as my "office," the bedroom off the kitchen, the mud room area next to that, which looked out on my backyard, the middle bedroom (which has since become Craft Central). NONE of those worked for me. I'd get up a million times to go see what was going on in other parts of the house. Eventually, we parked the iMac in the living room and that was my workspace.
And then…I got a laptop. Oh, the freedom I had with a laptop! I wrote outside, I wrote in my big comfy chair, I wrote EVERYWHERE!
Now, I live in Texas, and the past two summers have been crazy hot, even early in the morning, so I don't write on the patio. But this house is blessed with a sun room, and that is my favorite room in the house, especially since my baby brother helped me rearrange it a couple of years ago.
I have a big comfy couch and a big comfy chair that we bought when we moved in. They're a little worse for wear, but did I mention comfy? (Also, excuse the cat hair. I AM the Crazy Cat Lady, but getting cat hair off chenille is a PAIN!)
In the morning, as soon as I finish eating, I unplug the laptop and curl up on the couch in the sun room. (This is what it looks like in the summer. When I'm teaching, it's dark dark dark, with only the light from the screen.) Note the Diet Coke–a staple in the early mornings.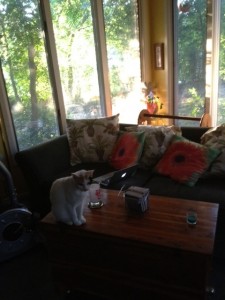 I usually get a cat or two curled up with me, no matter what time of day. Here you see YaYa beside me and Stormy on the floor.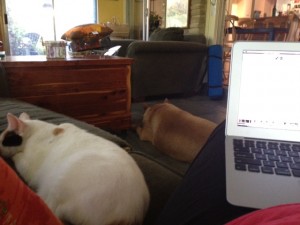 My exercise bike is right there, taunting me. This summer I've had to leave my little area when the boy wants to exercise, which would make me mad if he wasn't moving out this week.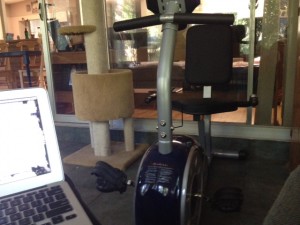 I prefer this view, though because of the drought, there's not a lot to see.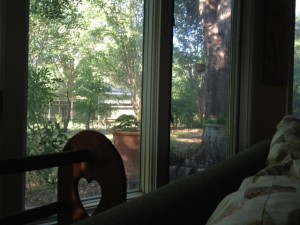 In the evenings, I join the family in front of the TV, but I'm usually still working on SOMETHING. This is my corner, complete with a blanket, because the AC works pretty well.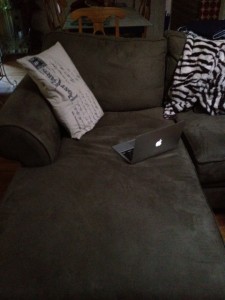 The bonus is, my baby kitty thinks it's his mama.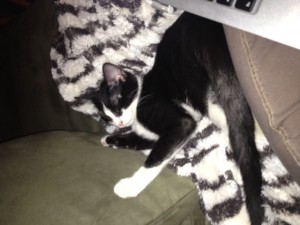 So I don't stay in one spot and I clearly like to be comfortable. Also, I like green chairs and cats.
Thank you, MJ! Loved the tour of your space! I am so in awe of anyone who can work with a laptop primarily. After all these years in admin support, I'm a desktop kind of gal.
MJ Fredrick is the author of 17 books, including this one, Guarded Hearts, published by Lyrical Press.
Now it's your turn. Do you remember modems that screeched? Did you ever have an XT? Ever meet an author who didn't even pretend to maintain an office, whilst she wrote in various spots around the house? Have you read one or more or MJ's books? You know the drill – a comment will earn you a chance to win today's prize, which you're going to want. It's a $10 gift certificate from either Amazon or B&N, at the winner's call.
How does a black dog get a nose this brown? (To say nothing of that mouthful of dirt.)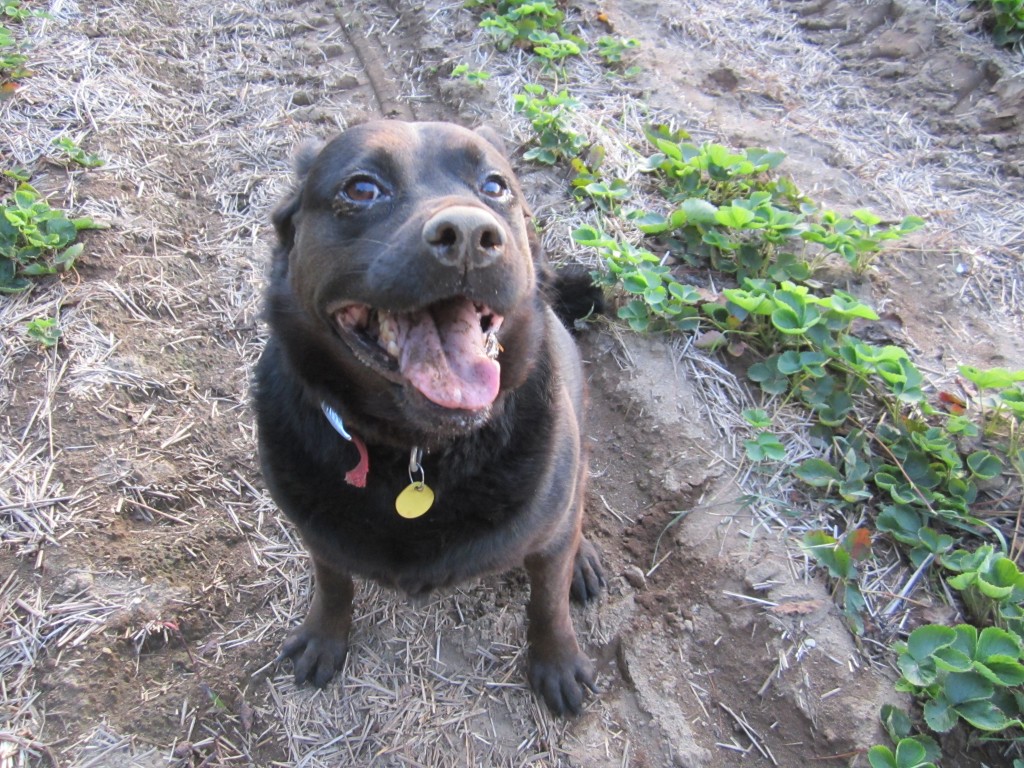 Here's how: (Sorry. I have to send you to YouTube to see the video clip, as apparently 18 seconds is too long to upload directly.)
My romantic suspense from Montlake Romance – Every Breath She Takes – is going to be released September 4, 2012. But if you comment below, you might win an advance reading copy (ARC) and beat everyone to the punch. ,-)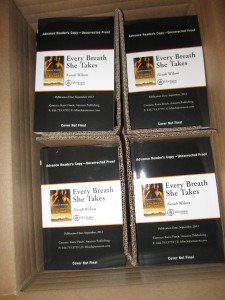 I should mention this book was previously pubished as Lauren's Eyes, the same book that won me Dorchester Publishing's New Voice in Romance award. It has been updated and revised and is ready for a whole new audience of romantic suspense lovers.
Here's the book description from Amazon:
"Ultra-sexy, heart-pumping suspense and adventure." – Julianne MacLean, USA Todaybest-selling author
"Sexy, gritty and thrilling." – Joss Ware, award-winning author of Night Forbidden
Veterinarian Lauren Townsend has good reason for hiding her psychic ability. Not only did her "freakishness" earn her pariah status in the small town where she grew up, it cost her a fiancé and her faith in love. When Lauren foresees a murder—through the killer's eyes—she traces the victim to a sprawling ranch, never guessing what waits for her…
Cal Taggart's rugged ranch life doesn't need any more complications. His stubborn determination cost him his marriage, and now may cost him his livelihood. But then beautiful Lauren enters his corral…with danger close behind. And Cal wants nothing more than to protect her. They can't deny their intense attraction. Nor do they want to. What begins as a fling with no strings becomes a fight for survival—and for true love.
For a chance to win, leave a comment about the romantic suspense genre. Tell me what themes or tropes you like in your RS (cops, bodyguards, women in jeopardy, etc.). Or tell me which romantic supense authors or stories you absolutely love.  A winner will be drawn randomly from among the comments. Good luck!
For those who want to skip the chance at the uncorrected proof in favor of ordering the official version (which, by the way, will have a different cover than the one depicted here), it's available for pre-order at Amazon.com.
Today I welcome Deborah Hale to Workspace Wednesday. Deborah was one of the first published romance authors I'd ever met, and from the beginning, she gave unstintingly of her knowledge of both writing craft and the romance publishing industry. A Golden Heart® winner herself, Deborah encouraged me to enter that prestigious contest. While I never won one of those coveted necklaces, I did final a number of times. I am grateful to this day for her encouragement.
I am also a huge fan of Deborah's writing. If you were to zoom in on my shelves (3rd shelf from top, right end of cabinets), you would see quite an extensive collection of her books. Deborah is the author of over 20 historical romances and two other-world fantasies. I am thrilled to have her here.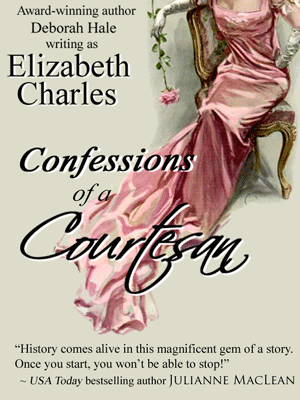 Take it away, Deborah.
DEBORAH:  The first thing visitors usually notice when they enter my writing space is Deskzilla – the monster three-sided desk with shelves and a file drawer that takes up most of my office. I've had a bit of a love/hate relationship with Deskzilla over the years. At first I loved it passionately and produced over fifteen books while nestled in its solid embrace. But over the years it became the place I checked email, updated my website, did hours of historical research, played spider solitaire…almost everything except writing. Now I often write my first drafts longhand on yellow foolscap pads in the café overlooking my local grocery store. But Deskzilla waits faithfully for me to come home, type in my day's work and revise it.
In addition to Deskzilla, my office is also home to the Closet of Author Copies. The boxes of books seem to proliferate faster than I can give them away, so take pity and enter my giveaways wherever you see them!
Beside the Closet of Author Copies are the Bookcases of International Editions. I used to have one shelf for copies of my books from all the different countries where they've been published. Then the collection grew to a whole bookcase. Now it's about to outgrow two! I think the next step is to go vertical. Whenever I stop and really look at the Bookcases of International Editions, it feels more than a little surreal that my characters have traveled to so many places I probably never will.
In the opposite corner of my office stand the Massive Shelves of Researchy Goodness. My family will tell you I write books to support my research habit. Because I've dabbled in so many different time periods, there are books here about 17th-18th century ballroom dancing, the Peninsular War, medieval life and Highland country estates. There is a whole shelf devoted to research for Confessions of a Courtesan. When I first considered self-publishing that book, it was an effort to recoup the money I'd spent on research materials. I'm happy to report I have succeeded!
No tour of my office would be complete without a picture of my writing companion, Button. She has two spots under Deskzilla where she likes to curl up while I'm working. No matter how soundly she seems to be snoozing, the moment I stir from my chair, she's up and alert, ready to follow me wherever I go.
In the interests of full disclosure, I must admit this tour of my writing space hasn't dwelt upon the piles of books and papers that seem to grow from my floor like stalagmites when I'm closing in on a deadline. I've also chosen to ignore my family's junk that migrates in here and takes up residence. What can I say? I'm a Mom and a writer and neither of those is a tidy profession!
Thank you, Deborah! I love Deskzilla! That might be the most interesting tag I've ever put on a post!
Deborah's Links:
Deborah Hale website
Elizabeth Charles page
Confessions of a Courtesan
Deborah's Author Page on Amazon
Deborah's Facebook Page
Okay, over to comments. What do you think? What's your favorite element of Deborah's space? Does the space match up with your expectations of a writer's office? What, if anything, surprised you about it? (For me, it was the closet of author copies. I know Deborah's prolific, but I never stopped to think how that would translate into so many boxes of books!)
BTW, Deborah has a number of fabulous give-aways. We'll do a random drawing to determine who the lucky winners will be. Second and third place winners will receive a digital copy of Deborah's Confessions of a Courtesan, in the e-format of their choice. The grand prize winner will receive the print set of her Gentlemen of Fortune series (Harlequin Historical).
Please help me welcome USA Today Bestselling Author Julianne MacLean to Workspace Wednesday. Julianne is a fellow Canadian, a wonderful, supportive friend, a savvy colleague, and an extremely talented author. Lest you think that's my bias talking, Julianne is a 3-time RITA finalist and has won numerous awards, including the Booksellers' Best Award, the Book Buyers Best Award, and a Reviewers' Choice Award from Romantic Times. Her newest release – Married By Midnight (A Pembroke Palace Novella) – is now available. Without further delay, I give you Julianne MacLean.
JULIANNE: That's it.  I can't hide it anymore!  I've been living a lie and it's time to come clean.
Last year when I launched my new website, I invited readers on a virtual tour of my office.  My husband videotaped a short segment where I displayed my bookcases, my tidy desktop and computer, and some lovely inspirational framed photos of Johnny Depp and Gerard Butler.
You can view it HERE.
I now confess that that video has become pure fantasy, because under normal circumstances, my office never looks like that. While endeavoring to create a glamorous image of my romance writing life for my website, I was dishonest, for in reality, it looks like this: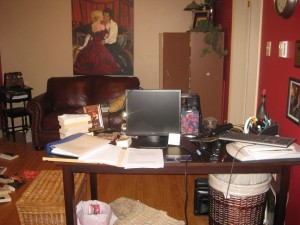 Notice there are open books strewn about, papers to be filed, a few dirty coffee mugs hanging around creating cup stains on the desk.  And here's the kicker: I don't even write down there anymore.  I used to (in fact, I believe I was still writing there when the original video was shot), but now I prefer to be on the main floor instead of down in the basement.
So the disaster area has moved up to my formal dining room where the situation is no better.  I only clean off the table for a giant family dinner when all my relatives are expected to arrive.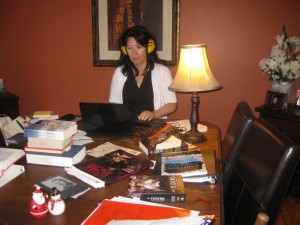 And no, I am not listening to music in this picture.  Those are sound-reduction headphones so I can shut out the world while still keeping an eye on the teenagers in my family room (I can see them through the French door).
I love my sound-reduction headphones.  When I place them over my ears, it's as if I just dunked my head under water, and it's GAME ON for writing.  Every writer should own a pair.
Notice also that I am working on a crappy laptop.  I use it only to revise or transpose new material, which I write longhand in a coiled notebook.
Here is where I often write longhand in the afternoons. That's where I wrote most of Married by Midnight.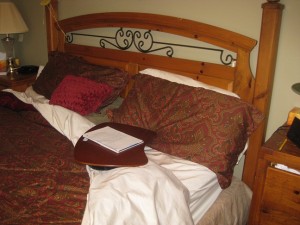 I also like to write in the big comfy chair in my living room. I have one of those lap desks, which was money well spent.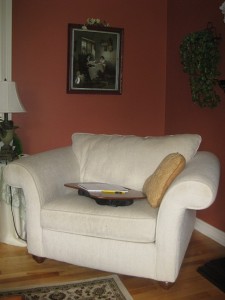 So there you have it, the truth revealed.  My office is just for storage.
Thank you for sharing that with us, Julianne! Though your basement office is lovely, I can see why you prefer that upstairs dining room. It really puts the "home" in home office. And I think I could write very happily in that comfy chair, but I'd have my laptop on that lap desk.
Okay, folks, now that Julianne has … er … come clean, so to speak, about the true state of her workspace, have you anything to say to her?
I should add that we will do a draw from among the commenters, the winner of which will receive the first three books in the Pembroke Palace series. If the winner is in North American, she may choose to receive the books in either electronic or print form. If the winner is international, however, the only option will be electronic, due to prohibitive shipping costs.