Archive for the 'In real life' Category
I met Toni Anderson when I joined the Montlake Romance authors loop. It gave me a chuckle to learn that after a career in marine biology that took her all over the world, she settled in the Canadian prairies about as far from an ocean as you can get. (Of course, the topography of the prairie is about as flat as the ocean, and maybe when the winter wind carves "waves" into the frozen snow, it probably looks like one…)
Toni also got my attention for another reason. She writes in my favorite genre – romantic suspense, and her books look awesome. Several of them are on my Kindle, in fact, waiting for me to stop fooling with the Interwebs and start reading. Her Montlake title, DANGEROUS WATERS, comes out very soon – specifically, Tuesday, November 20.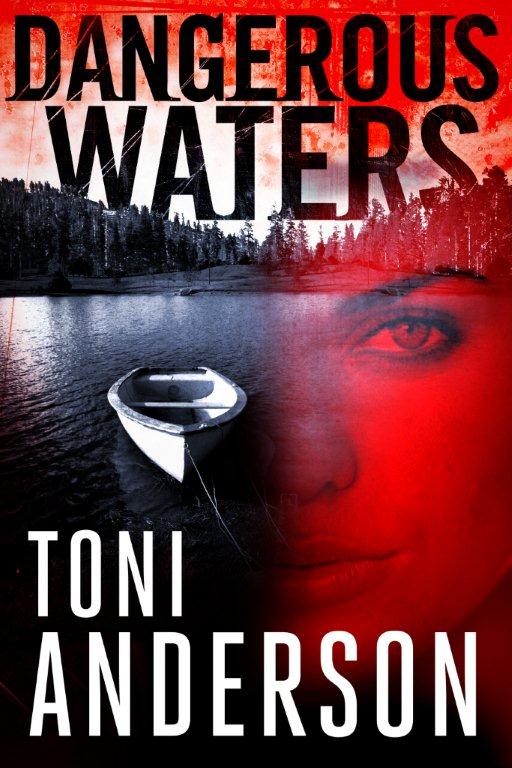 With that intro, I'll turn you over to Toni.
TONI ANDERSON:  Until the beginning of September, I worked in a cupboard. It was a nice piece of furniture but there was no desk space and I had to raise my chair so high I couldn't touch the floor—so I dangled my feet for 8 years. Nightmare. Finally I found a desk from Ikea that has adjustable legs and my hubby picked it up from Minneapolis when he drove to a conference down in the States. Ikea opens here on Nov 28th!!  (Yes, I'm excited LOL). Suddenly I have all this space AND my feet are planted firmly on the floor.
My office is a weird little open-plan room that attaches to the kitchen and what used to be the playroom and is now the 'piano' room (mainly because the only thing in there is a piano J). When the kids were small, open-plan was great. Now I'm thinking 'doors'!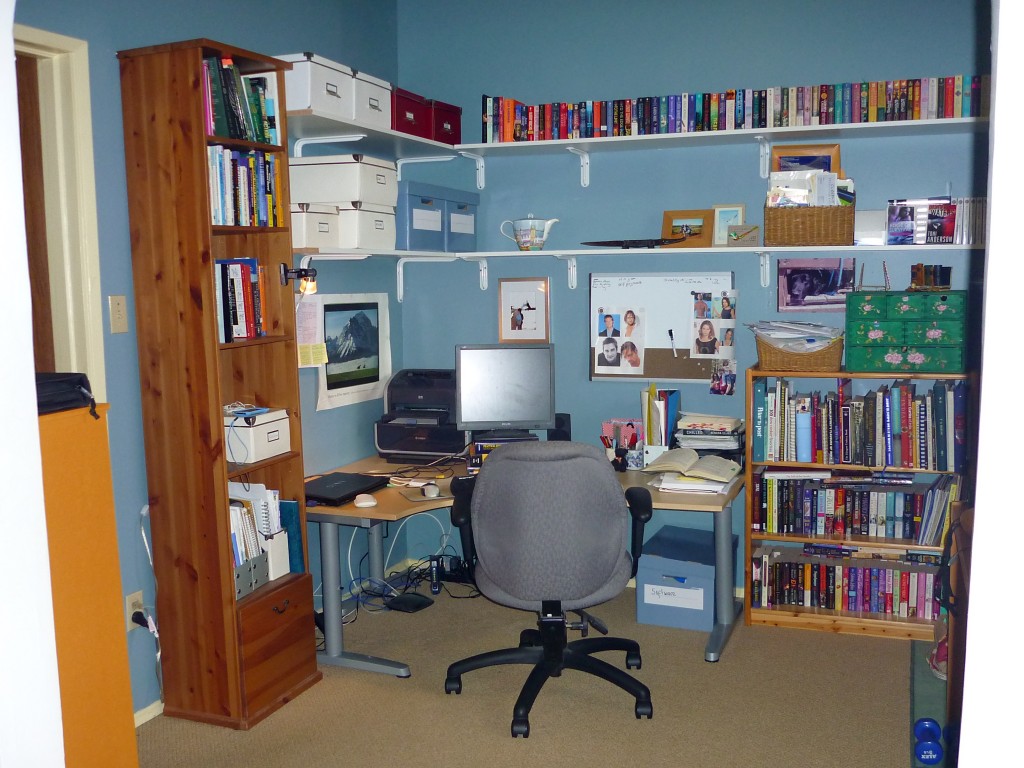 I've surrounded myself with books (fiction, non-fiction), tools of the trade (computer and printers etc, and, yes, I need a proper monitor stand J), magazines and images of my heroes and heroines on corkboards because I'm a very visual person. There's a picture of me and hubby kissing at a recent wedding, and the kids with the Eiffel Tower in the background. And there's a poster of a couple of cowboys in the Alberta mountains, given to me by a friend, Rich Brown, back when we worked together at the University of Waterloo. And a teapot my in-laws gave us which DH broke. It's too beautiful to throw out though.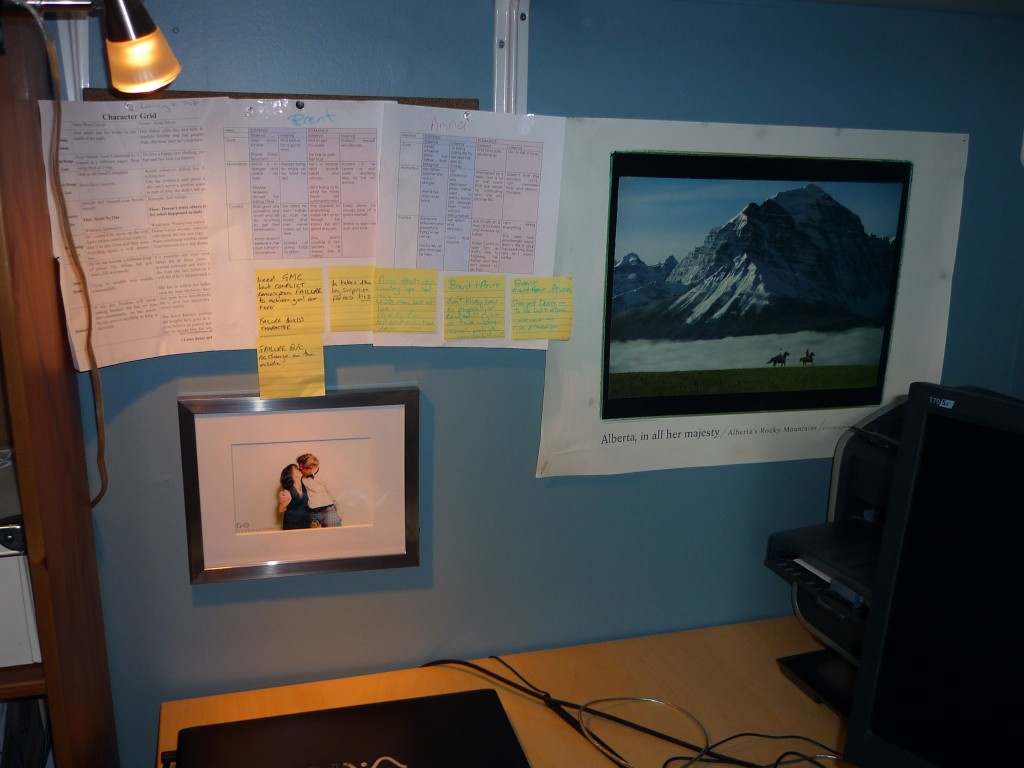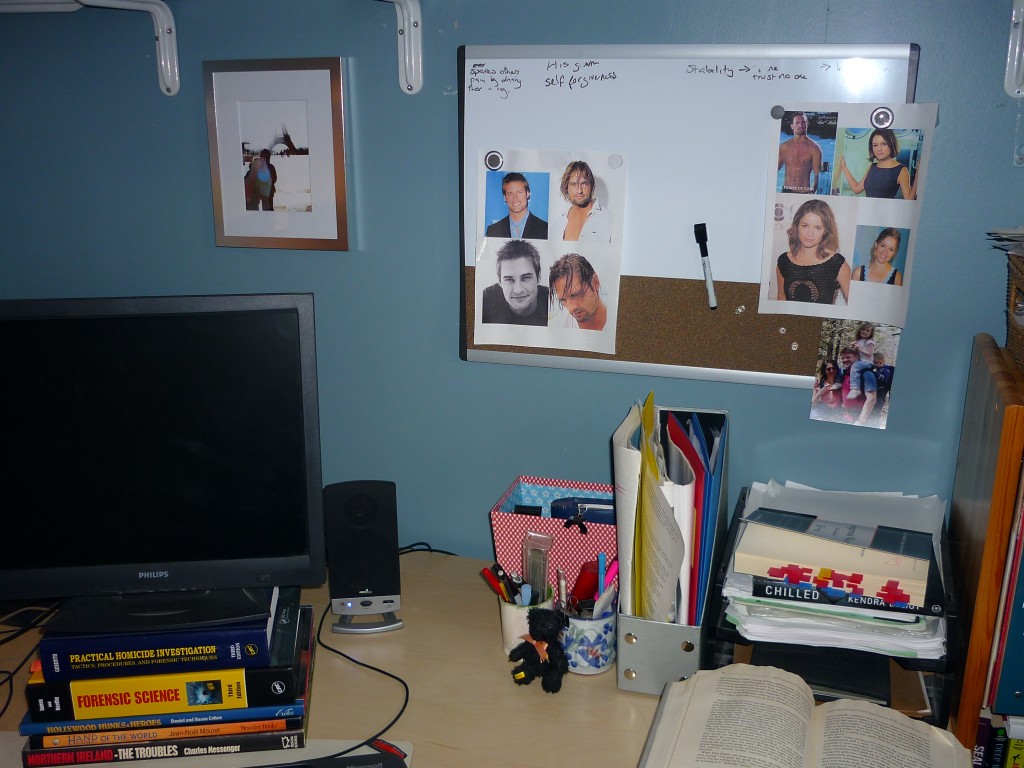 The boxes are full of research material. Each story or linked group of stories get their own box. Some are almost empty and some are full to the gunnels. I store all my notes in the box so when I want to work on a specific story, the information I need is easy to find.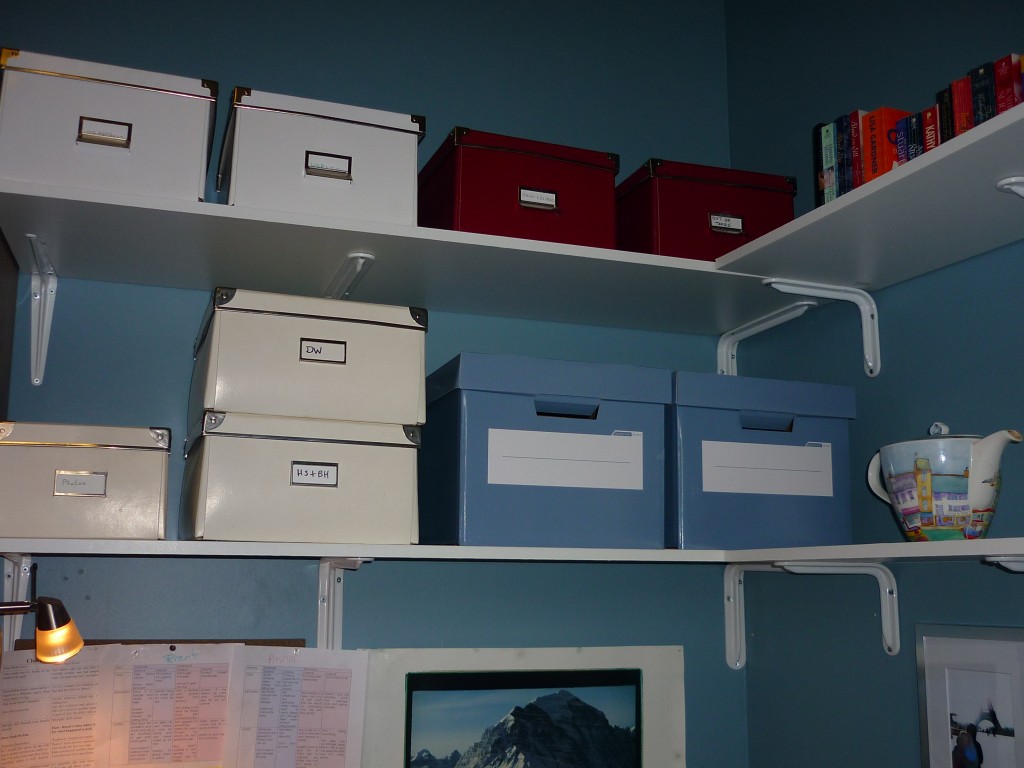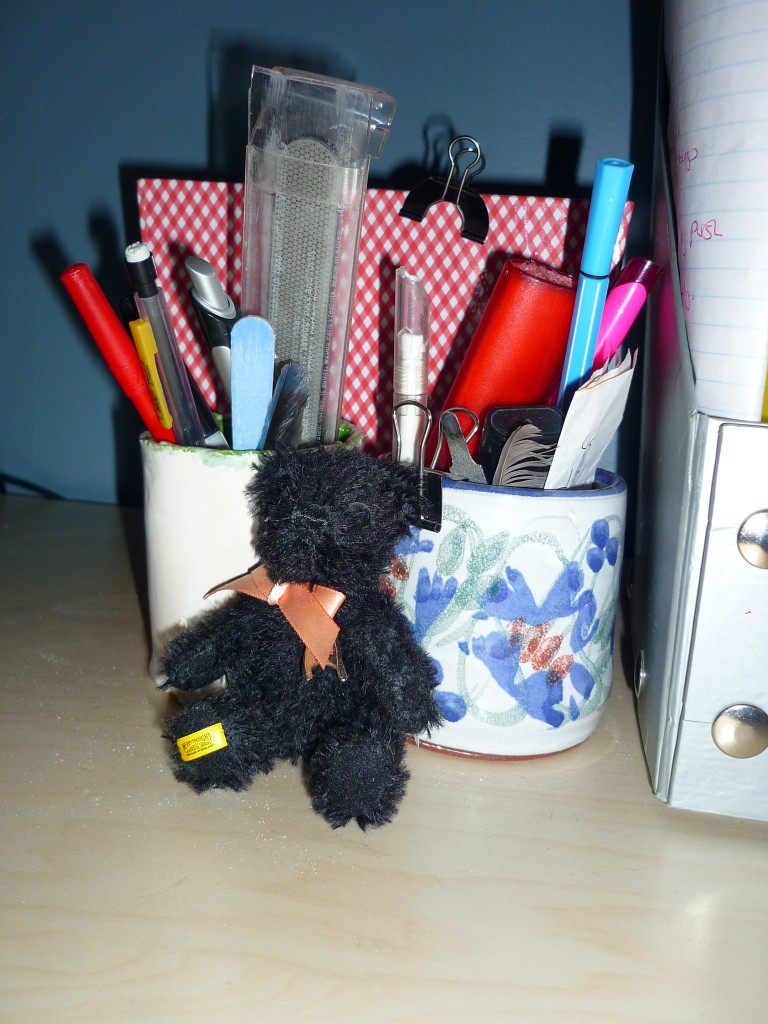 And here's my little Merrythought bear that my mom sent me (we both used to work in the Merrythought shop in Shropshire, years ago), and my other companion, Holly, who's a little mad because I'm taking photographs rather than walking her. She gets the spot closest to the radiator!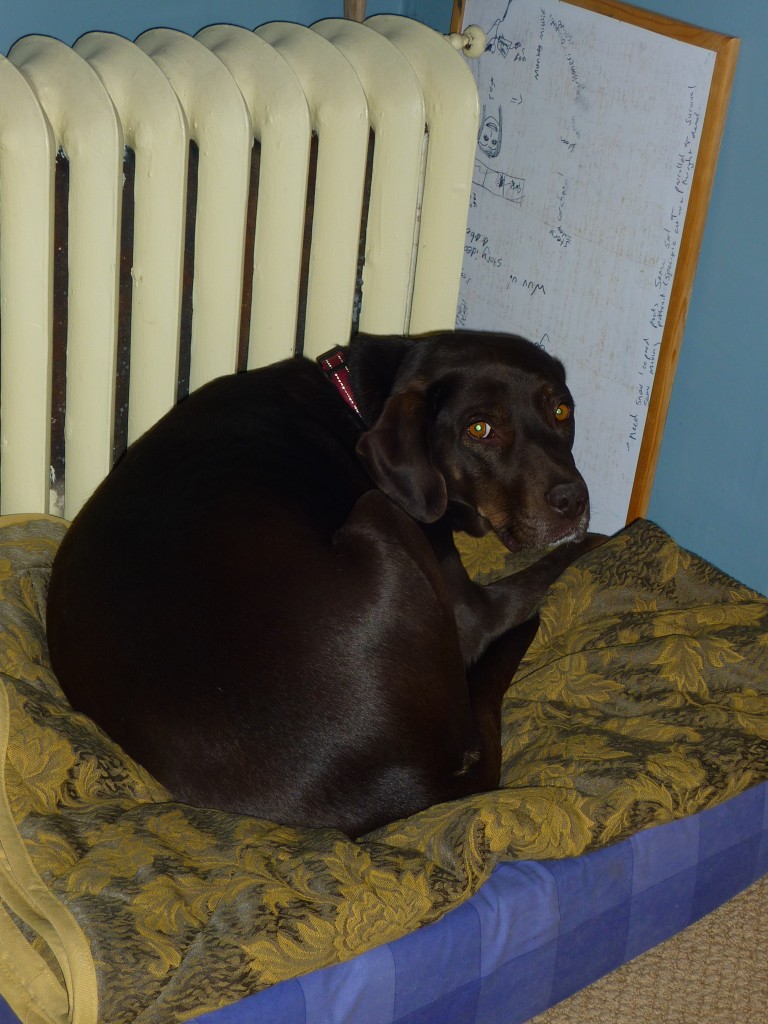 Thanks for having me today, Norah J. I'll gift a copy of SEA OF SUSPICION from my backlist to one lucky commenter.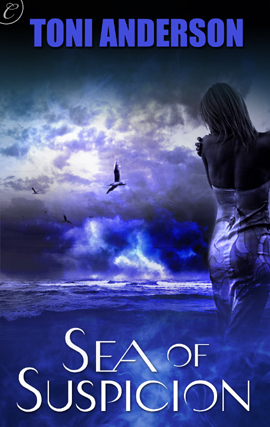 Check out Toni's website and Amazon Author Page for a list of current titles.
Thank you, Toni! That was an awesome tour. And LOL on your excitement to get an Ikea. I'm envious! I doubt we'll ever have the critical mass down east to get one of our own.
Okay, let the commenting begin!
When we recently acquired a cat (a stray we've named Ruckus), I started feeding it dry kibble because I feed my dog dry kibble. Then it occurred to me to go online and research cat diets. As it turns out, dry kibble is NOT a great diet for cats. Generally, it's too high in carbohydrate and contributes to obesity, but more importantly, cats don't have a high thirst drive. On a dry diet, they really ought to be drinking a lot more than they probably are, which can lead to kidney and all manner of other problems. So I started buying commercial canned cat food for my cat.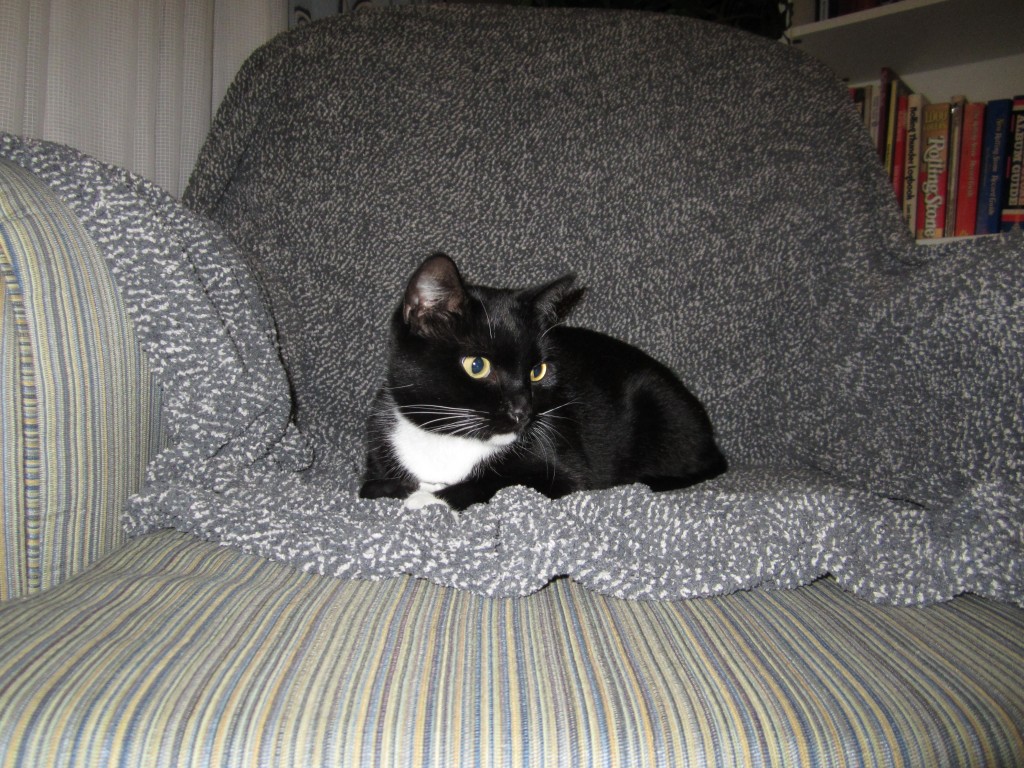 While I was online researching  cat diets, I checked out dog diets, expecting to find confirmation that I was doing the right thing, feeding my dog a high quality, meat-first dry kibble. Whoops. Turns out the only good argument for dry kibble is my convenience.
I actually used to cook for my beloved dog Bandicoot (below with my daughter)  in his geriatric years, after he had most of his teeth extracted, so cooking for a dog is not a foreign concept.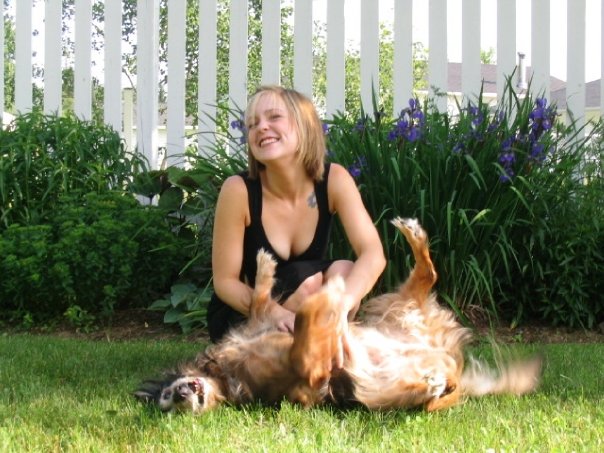 But after we lost Bandy and acquired a youthful Rotti/Lab cross, I went back to feeding dry kibble. I had always heard dry food was better for your pet's teeth. After all of Bandy's tooth trouble, I wanted to do everything I could for Chloe. Um…turns out that that's a complete myth. Dry dog food does nothing to clean their teeth anymore than eating biscotti is going to clean yours. Also, what I read suggested it often contains too much corn and wheat and soy and other filler, is cooked at high heat which destroys a lot of nutrient, and is jam-packed with preservatives. The collective wisdom seemed to be to either feed canned food (which doesn't need all that preservative) or prepare my own. After pricing good quality commercial canned food for a 38 kg dog, making my own was a no brainer.
From what I gather, the recipe should be 50% meat, 30% carb (ie, rice, potato or pasta) and 20% vegetable. The vegetables have to be pretty much pureed to improve digestion. There are ways to supplement the food to ensure it meets all your dogs vitamin and mineral requirements (e.g., adding dulse powder, crushed egg shells, etc.), but I bought a liquid supplement that I just toss on Chloe's morning meal. I also give her two capsules of fish oil with her nightly meal and sometimes toss on a few sardines. You can also give them a dollop of plain live-culture yogurt.
I make the dog food with either a whole chicken, stewed, de-boned and chopped up, or ground beef. I sometimes use whole wheat pasta for the carb just to change things up for Chloe, but I'm really not that keen on feeding wheat. Thus the carb source is almost always brown rice.  The recipe pictured below uses ground beef, brown rice (I throw a clove or garlic into the rice for the last 20 minutes), sweet potato and broccoli.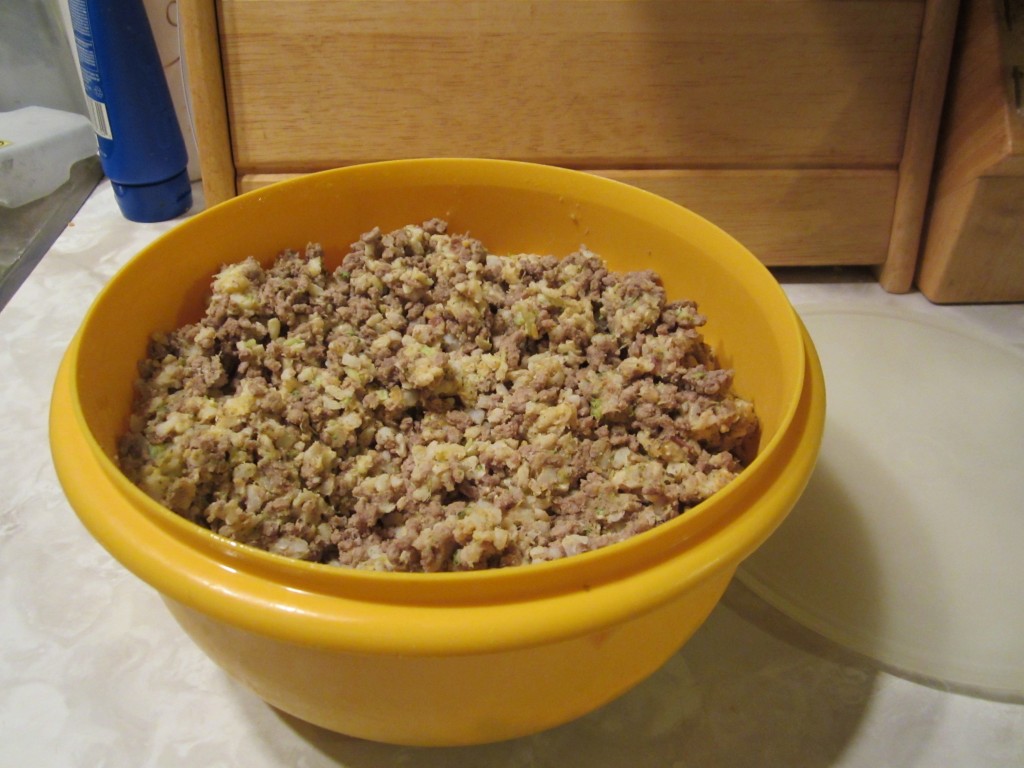 Chloe loves her new diet. And I'm hoping it will help her shed a few pounds, by cutting out all that corn and soy and other stuff that's not good for her.
I'm also making her walk longer. It helps that I feed her first. We used to walk before breakfast and supper, and I think that's one of the reasons she always wanted to turn around and go home before the walk was done! Here's Chloe dressed up for our ramble in the woods and fields. (Wardrobe by Remington.)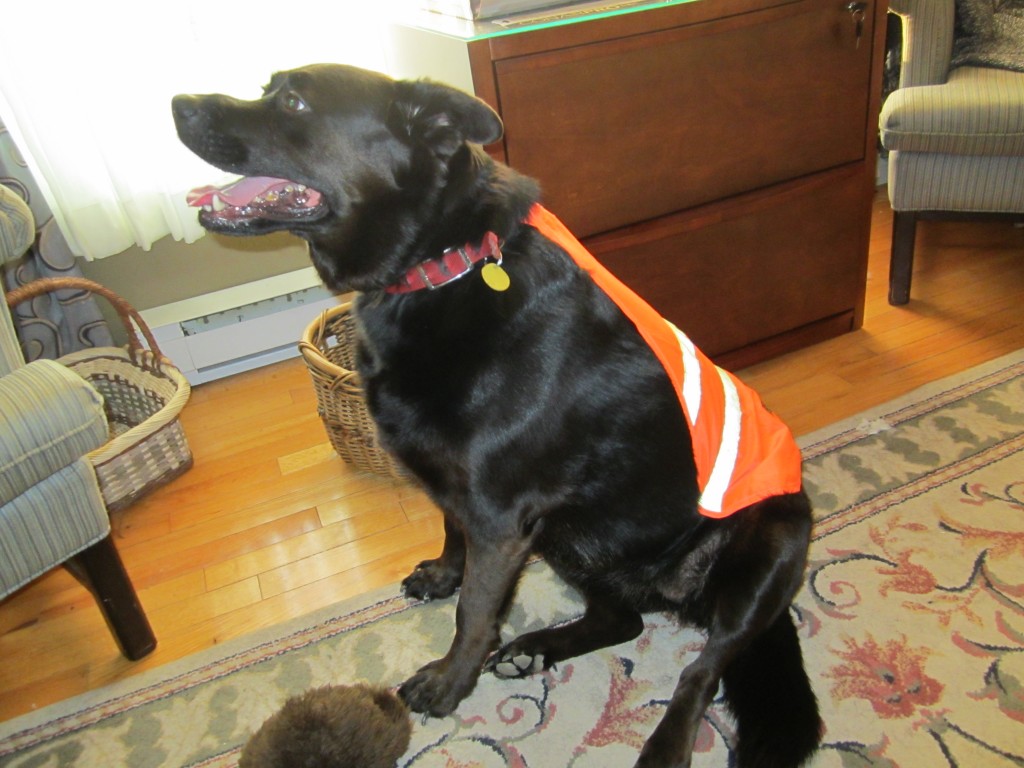 A caution: if you're going to cook for your pet, I urge you to educate yourself. There are quite a few things you must NOT feed your dog (onions, grapes, fruit with pips or seeds still in them, raisins, excessive amounts of broccoli, walnuts, chocolate, etc.).
So, anyone else out there cooking for a pet? Got a favorite recipe you'd like to share? I'm all ears!
I'm especially delighted to have Trish Milburn as my guest today. Trish is a fellow member of the Wet Noodle Posse (or Noodlers, if you prefer), otherwise known as the RWA Golden Heart® finalling class of 2003. In fact, the WNP will be celebrating 10 years of noodly goodness when we all converge at the Romance Writers of America's National Convention in Atlanta this year, and I cannot wait!
Trish is a gifted, prolific and versatile author. She writes emotional, heart-warming Harlequin Americans, as well as single title small town romances, romantic suspense, women's fiction, and possibly my favorite – awesome YA. (Like this one below. Magick is the third book in Trish's Coven trilogy from Bell Bridge Books.) She is also a huge Joss Whedon fan-girl and a Supernatural fanatic. In other words, she is made of sheer awesomeness.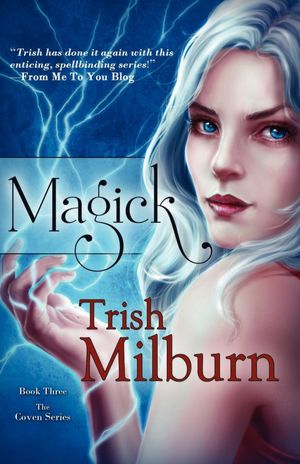 Take it away, Trish.
TRISH MILBURN: Thanks for having me here today, Norah. I'm loving this series on workspaces because I enjoy seeing where other writers work, the things with which they surround themselves for inspiration. So here's a peek at my office.
It's one of the two bedrooms that face the street and gets a lot of afternoon sun. That means that it gets hot in the summer and I usually have a fan going in addition to the AC, but it's nice in the winter because I'm such a cold-natured person and I need heat and sun. As you walk into the room from the hallway, you see my desk and main computer straight in front of you. I've added a small, secondary desk behind where I sit to hold file folders and my fax/copier.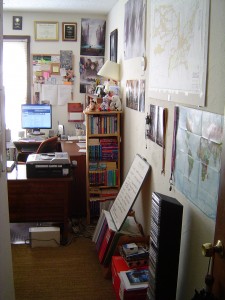 But before you get to the desk, both walls as you enter the room are filled with maps. I love maps, and I collect ones from all of the National Park units that I visit. The long one on the left as you enter is of the Appalachian Trail. I have this dream of hiking the trail someday. Also on that wall is one of Yellowstone National Park, where my sister worked for a year. It's such a surreal and gorgeous place, and I've only been able to visit a tiny fraction of all it has to offer. The final map on that wall is of all the National Park Service units. I have a goal of visiting all 300+ of them. The two framed photos are from my honeymoon almost 20 years ago. The waterfall is in Chimney Rock Park in North Carolina, where they filmed one of my favorite movies, Last of the Mohicans. The other is of Myrtle Beach at sunrise.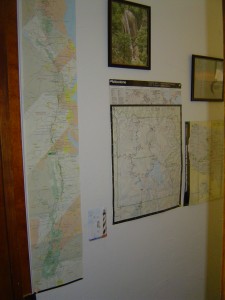 On the opposite wall are a map of the world and my giant map of the United States with all the counties in every state outlined. The ones highlighted in yellow are ones I've been in. Eventual goal is to visit them all. Yes, I'm a road trip kind of girl, how did you guess? 🙂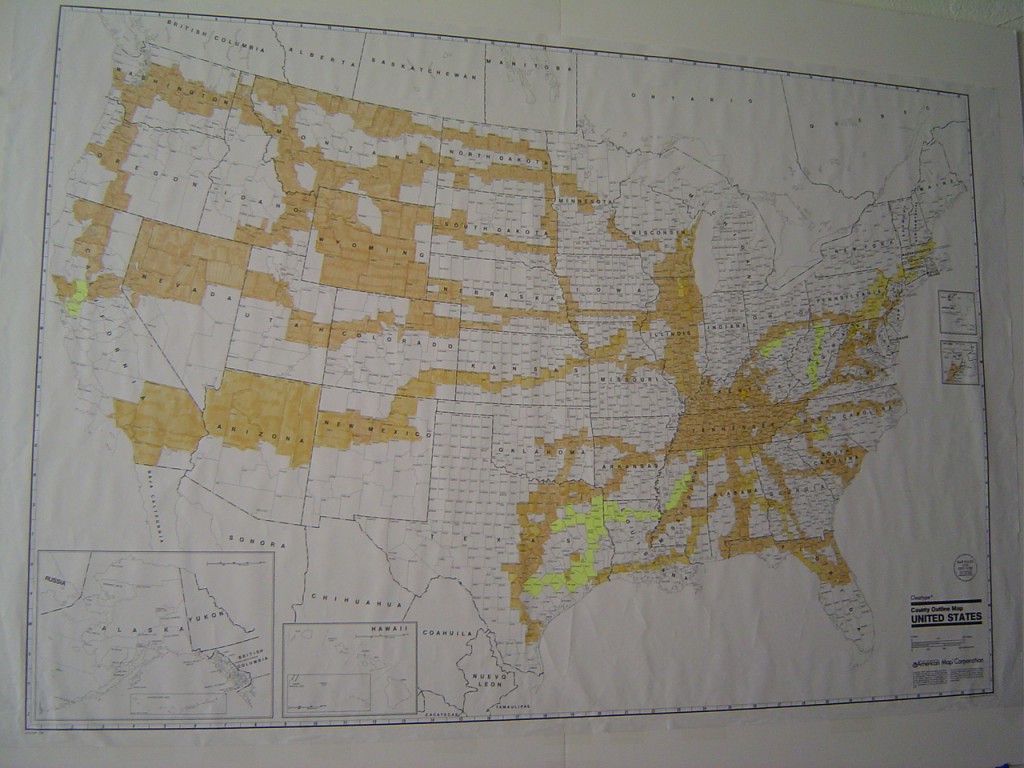 Also against this wall is my deadline schedule. This is for major deadlines for books and freelance articles.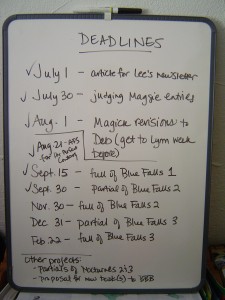 My office is filled with things that make me happy. I think part of this is because I spend so much time in there, and partly because I never had my own room. I went from sharing with my sister to sharing a dorm room to getting married to the wonderful hubby. So my office is my space filled with my personality and interests. You can see that by the posters on the wall – Game of Thrones, Pirates of the Caribbean, Lord of the Rings and Supernatural.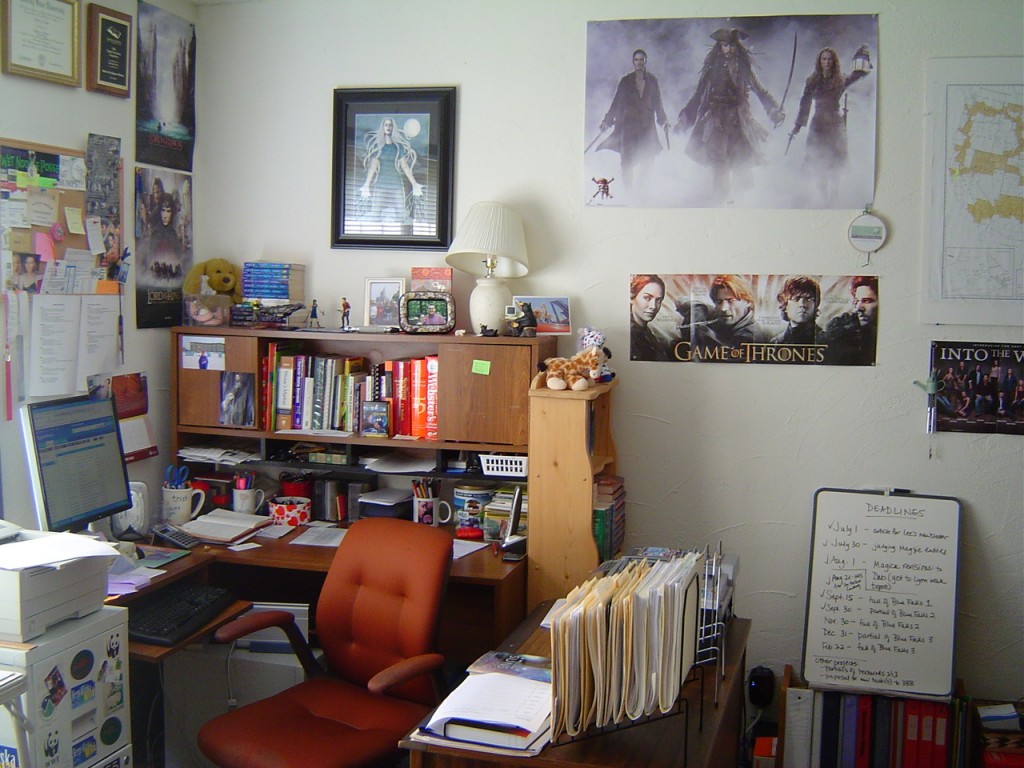 A closer look shows a stack of the books I've had published, my Firefly figurines, my Doctor Who sonic screwdriver (Are you getting the geek-girl theme yet?), and a photo of me with my editor, agent and another Harlequin employee at Walt Disney World. Just out of this shot are my bear figurines, a picture of me with my husband, and my baby shoes that I brought home last year after my father passed away.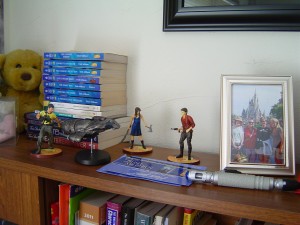 Above my desk is the framed piece of artwork by Rebecca Sinz that my husband commissioned for me. It depicts Jax, the main character in my Coven young adult series. I did mention my hubby was awesome, didn't I? 🙂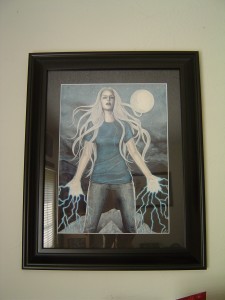 In the other front corner of the room are some of my huge collection of books, my little TV, DVD player and the TiVo I bought myself when I sold my first book. I'm a big TV and movie fan, but sometimes deadlines are pressing and I can't stop to watch my favorites when they're on. I'd love to kiss whoever invented TiVo.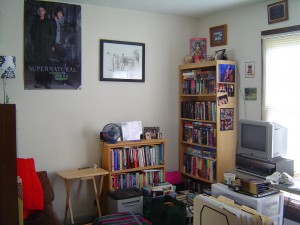 And finally, this is where the magic happens. LOL. While I spend a lot of time at my desktop computer doing e-mail, social networking, freelance articles, and work for my part-time job, I actually write books on my laptop, a lot of that writing happening in this old but comfy piece of a section couch. The truth is that I tend to do a combo of writing and watching TV. For whatever reason, it works to help me actually produce more pages. I write X amount of pages, then I get to watch a segment of a recorded program in between commercials. Then I have to write X more pages before I get to watch more. It's the reward-for-good-behavior method of writing. J You'll might also notice my little Winnie the Pooh and Eeyore from Disney World sitting atop the filing cabinet. I love Disney World, and Pooh is one of my all-time favorite characters.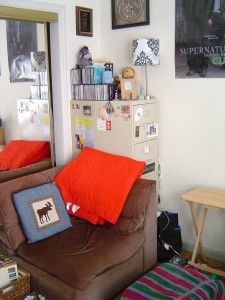 When it's nice, I've been known to take my netbook out to a nearby park by the lake and write at a picnic table, and when it's cold in the winter, I sometimes write in bed with my feet and legs under the covers because, quite frankly, I'm a total wimp when it comes to cold weather. I get cold in November and often don't thaw until April.
Thanks again for having me here today. I look forward to reading more of your Workplace Wednesday posts.
Thank you for that tour, Trish! I'm blown away by your workspace. Love it! And omigosh, that map! You are one well-traveled gal.
Okay, folks, it's giveaway time! All you have to do for a chance to win is to comment on this post. To be won is a complete set of Trish's American Romance "Teagues of Texas" trilogy. Ain't it purdy?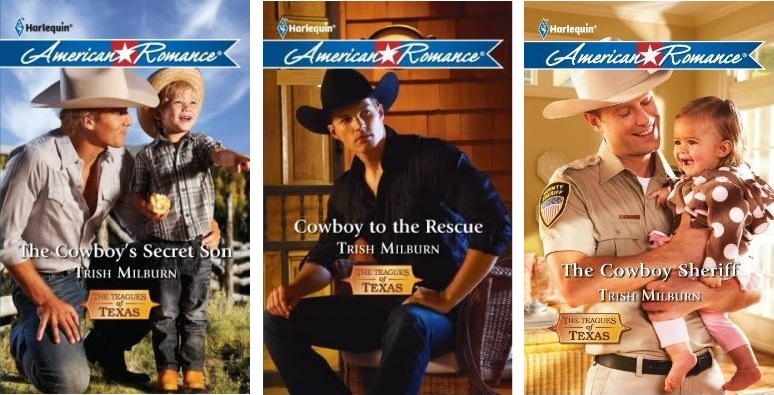 Just for fun, here's an excerpt from Guarding Suzannah, Book 1 in my Serve and Protect Series. The books are available singly, or you can get them all at once in the box set.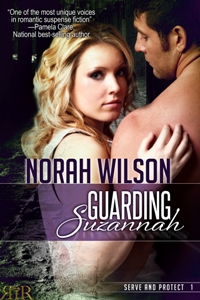 "Rise and shine, sweetheart."

Suzannah groaned and tried to burrow deeper into the pillows, grasping at the threads of her lovely dream. Hard masculine hands on her body, gravel-voiced words of praise in her ear, hot mouth blazing over her skin….

"Come on, Suzannah. I got a dog at home whose gonna pee on my brand new speakers if I don't get home and let him out."

Her eyes flew open. John Quigley. He'd stayed last night, and now he was in her bedroom. She jackknifed up, the twisted sheets pooling in her lap. "Of course. Go. Yes. By all means." Oh, Lord, she was stammering.

"It's early yet, barely dawn. I'd stay longer, but the dog…."

"The speakers. Right." She pushed her hair back from her face and glanced at the digital alarm. Not yet five a.m. She glanced back at John to find his face had changed, sharpened with an edgy, dark intensity.

Oh, hell! Her nipples thrust sharply against her thin cotton tank, thanks to that dream. A dream in which the man standing by her bed, mere inches away, had played a starring role. For a wild, terrifying second, she visualized herself reaching out to touch him as she might have in the dream, her caress bold, sexual, deliberate. There wasn't a shred of doubt in her mind that he'd answer her need with gratifying urgency.

The idea was scary, dizzying, thrilling, incredibly powerful. Then sanity returned.

She sank back down onto her pillows, pulling the covers up to her chin and burrowing back into her pillow as though to go back to sleep. "Okay," she mumbled through the sheets. "Thanks for letting me know."

"Whoa, whoa. Don't go back to sleep just yet. I need you to throw the deadbolt behind me. It's getting lighter by the minute, but I'd feel better if the bolt were thrown."

Damn. "Okay." She sat up again, this time with the sheets modestly clamped to her chest. "Give me a sec. I'll drag on a robe and meet you down there."

His eyes said eloquently that he wished she wouldn't bother with the robe, but he merely nodded and withdrew.

The moment she heard his tread on the stairs, she leapt out of bed. Damn it, damn it, damn it! She strode into her walk-in closet and yanked a silk robe off a hanger with less care than the garment deserved. Of all the men in her world for her to fixate on, why this one? He was arrogant, pushy, exasperating in the extreme. Too tough, too forceful, too … yang.

And he was a cop.

So why did her body light up for him as it did for no other?

Chemistry. Random, unreasoning, unfortunate chemistry.

She pulled the robe on, wrapping it around her. Well, she never had been very good at chemistry back in school. And she'd get along very well without it fogging her brain again, thank you. On that thought, she cinched the belt of her robe tightly around her waist and marched downstairs to lock Detective John Quigley out of her house, and with any luck, out of her life.
I have over 400 books on my Kindle. That's 40 pages, with 10 titles per page. Kind of overwhelming! I know I need to do more reading, but I was flummoxed about where to start. Since I've been using Random.org to pick winners on my blog, I decided to use it to pick  my next five reads.
Actually, I picked six reads, but as it turns out, I didn't enjoy one of them enough to finish it. I won't mention the title or author. Indies have a hard enough go of it to build an audience, and I am acutely aware that just because a book doesn't work for me doesn't mean it won't work for someone else.
Okay, so here's a mini-roundup/review of the five I did finish and enjoy.
That was so much fun, I think I'll choose six more randomly, if only to see if the approval rate is so high with the next batch.
Anyone else game to try it?
I am so happy to welcome Alice Gaines to my blog today. As it happens, I have two amazing Alices in my life, and they are both on the same discussion loop. To differentiate her from the other Alice (Alice Duncan), I'm accustomed to calling her "Dr. A".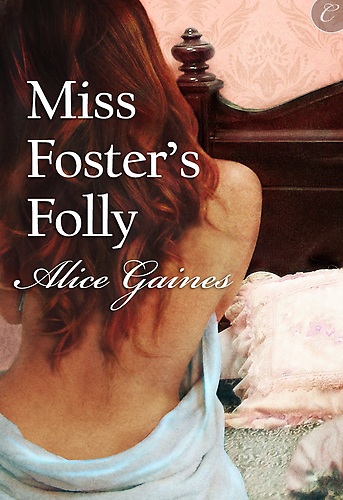 Alice has a Ph.D. in psychology from the University of California at Berkeley (hence the moniker). She is also a fantastic writer of sensual historical romance, romantic fantasy and contemporary romance. I fell in love with her writing when I picked up a Red Sage "Secrets" anthology volume some years ago that contained one of her stories, and have been a fan ever since. I am also a big personal fan of Alice, who is a truly passionate, interesting, non-cookie-cutter person.
With that introduction, I'll turn you over to Alice.
ALICE GAINES:  Two bedroom/one bath. Yard.
That's pretty much what the ad said when my husband and I were looking for a house to rent. The rental market in Oakland was highly competitive, so we campaigned hard to get the house even though we'd hardly looked at it.  Once the old tenants were gone and I could check the place out, I discovered a huge, old rose in the back yard and told Hal we'd done a Good Thing deciding to move into this relatively bad neighborhood in what's known as a dangerous city.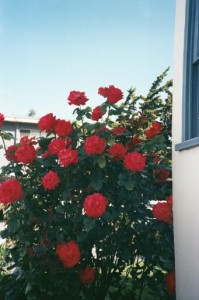 A few years later, the landlords sold us the house. A few years after that, Hal died, and the yard became totally mine (at least when I finish paying off the bank). The yard became my writing place during good weather.
You have to realize that in California it doesn't rain a drop from June pretty much through October. In fact, as I write this it'll likely get to 86 today, and this weather is forecast to go through the whole week into next weekend.
I come from a family of gardeners and horticulturalists. My mother wrote books on gardening and for a while was the New England editor of Flower and Garden. When we moved in, I had a yard, and I could get my hands dirty. I planted a lemon tree. I put two avocado pits into the ground, and the trees are now taller than the house. I bought lots of Earthboxes so I could put vegetables in containers. During the summer, I now have an endless supply of the most delicious food on Earth — homegrown tomatoes.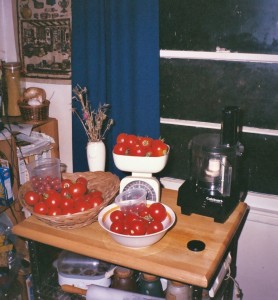 I used to take long walks in the Oakland hills for exercise. I discovered wildflowers that you'd never notice driving by. I found two kinds of clarkias, and then one day, I came across a real treasure — a third species.  One little plant of clarkia unguiculata, or elegant clarkia, was a scrawny thing hiding out in the underbrush. I took one seedpod off it, leaving the others for the next generation in the wild. When I put those seeds into nice potting soil and gave it water, I got this. I grew another species along the side of the house, and they soared to waist high.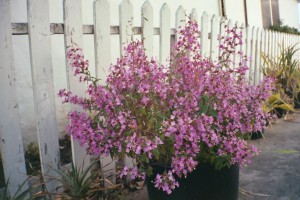 Every writing day, when I don't have to go to my J-0-B, I take my AlphaSmart outside and listen to the sounds of birdcalls mingling with the occasional screech of tires. I am in a city, after all. The cat that moved into the yard when I had the bad sense to feed her sits under my chair and generally gets underfoot. She's very pretty but has a howl that can carry to the next zip code (which actually is just across the street in San Leandro), and she has a nasty disposition. She bit me once, so I call her Cat-Hole.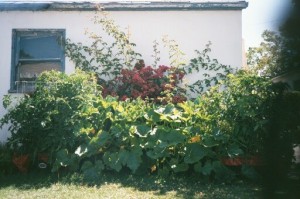 Cat-Hole and I sit outside for hours while I pound away on the AlphaSmart.  If I finish my pages on time, I get to spend the late afternoon drinking a microbrew while I work on the hymn I'm writing for my church.
Whoa? Church? A lady who writes super-hot, even erotic, romance sits drinking a beer while writing a hymn? I'm Episcopalian. We're a non-judgmental bunch. My rector's wife reads my books. I'm kind of hoping she doesn't share them with him.
Thank you, Alice! That was so much fun! You are so lucky to be able to write outside so much of the year! And have I stumbled onto the secret of your amazing productivity – using the Alphasmart to keep your forward momentum. Smart!
To learn more about Alice, you can check out her website or her page on Fresh Fiction, or you can follow her on Twitter.
On to our giveaway, and it's a nice one! Alice is giving away a print set of her Cabin Fever series from Avon Impulse (erotic novellas). The set includes Heat Rises, Storm Bound and Mating Season.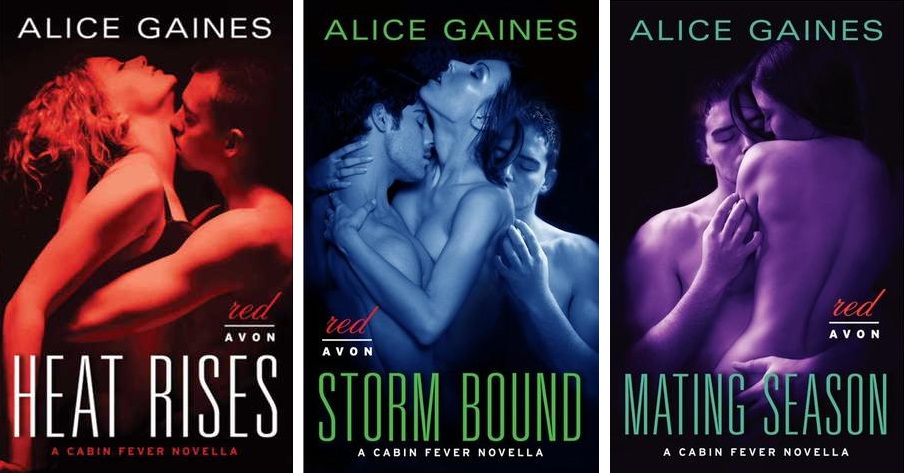 Okay, readers, you know the drill – comment for a chance to win the prize. Do you have a back yard oasis to escape to? If you're a writer, do you write there? And if you're not a writer, do you still take your laptop or Kindle or iPad out there to work or read in the midst of it?
Look what the courier brought me!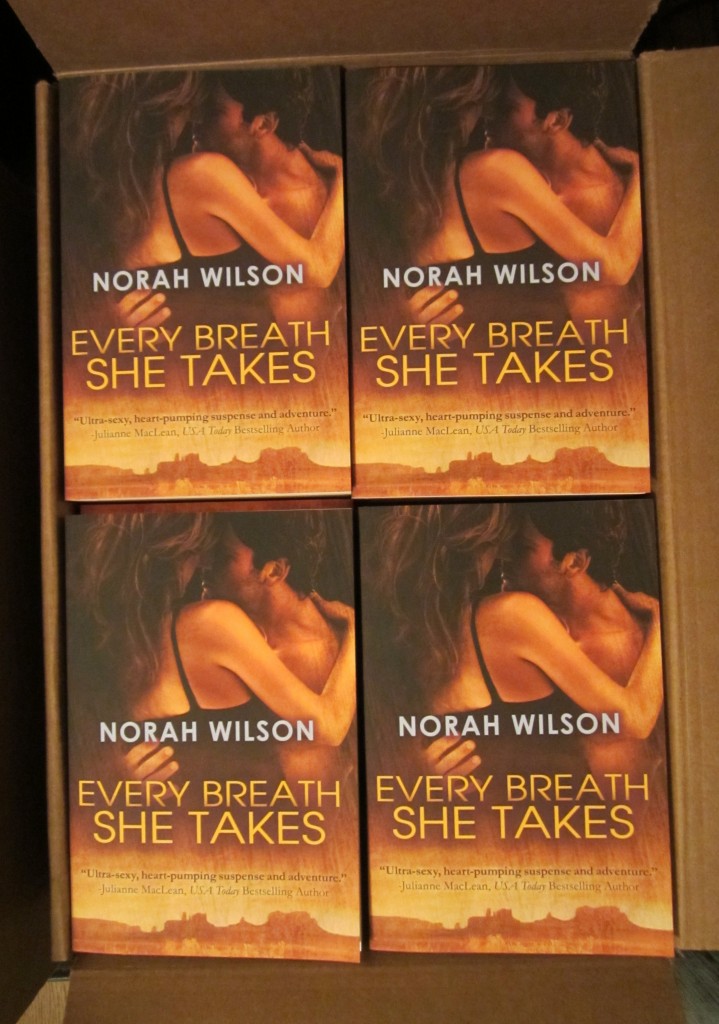 Aren't they gorgeous?
I had taken delivery of five boxes of self-published titles last week, which was extremely satisfying. But in that case, I'd already seen proofs of all but one of the books. With the Montlake title, I got my first look at these puppies when I tore the box open. There's nothing cooler! Well, apart from being presented with your actual baby. 🙂
Speaking of those self-published titles, here are the pics I took last week.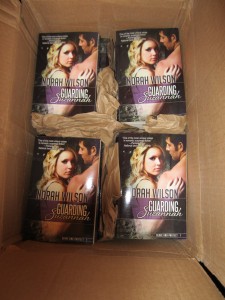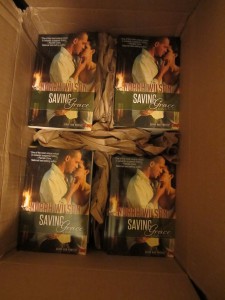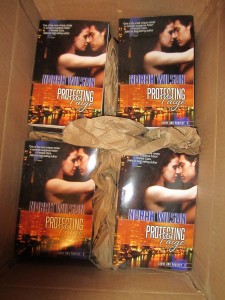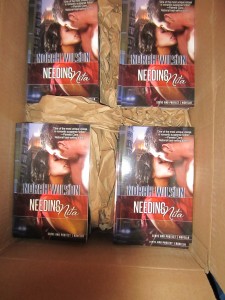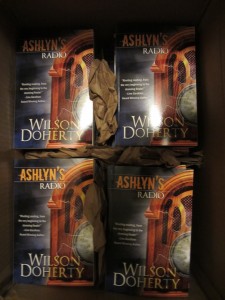 I am feeling very rich of books, if lighter of purse.
Today I'm pleased to have Aithne Jaretta as my guest, sharing her workspace. I met Aithne through Indie Romance Ink, a terrific Yahoo Groups information exchange loop for indie authors. In a group of over 1200 people, it can be easy to be invisible, but Aithne has the kind of quirkiness I gravitate to.
BIO:  Once upon a time Aithne Jarretta tripped upon a ley line. Actually it had happened before, but she didn't realize the ramifications until later. She brushed the incident aside and climbed into her car. Real life was the important factor at the moment. However, those RL moments wove into meeting new friends–the kind most people never see and definitely don't chat much about. Those friends came with persistent voices. Eventually Aithne brought them out of the closet and politely called them Muses. They became her virtual traveling companions and still journey with her today.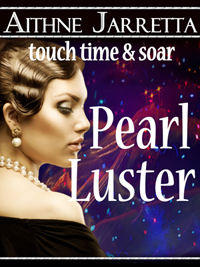 Take it away, Aithne.
AITHNE: Thank you, Norah for inviting me to post on your blog about my writing workspace. 😉
First, I should mention that when I moved into this room last spring everything remained bare minimum for several months. That's because I wanted to grow into my new workspace and let it evolve around me.
In the beginning I was comfortable with that. 😉 The more time that I spent here made the space mine and finally one day I brought my first extra item in and placed it on my desk.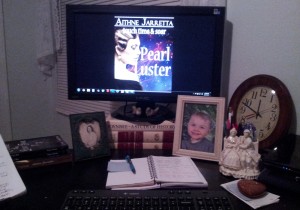 The picture of my youthful mother (small frame on left) has always fascinated my heart because it was taken before her children were born. I'm the youngest of five so it was a long time after that picture was taken before I came into this world.
Another reason that particular picture made it here is my avid interest in the lives of mothers and daughters. You could say that my mother is a 'plot bunny' because I've used the unspoken life experiences between m & d as part of my story building.
If you move attention slightly to your right and notice the books under my monitor, you'll discover two very old dictionaries and a history book by Dr. Arnold Toynbee. Perhaps all that wisdom and knowledge will seep into my computer? Lol … I can only hope. I do wonder what Dr. Toynbee, a noted historian, 1889-1975, would think about being a pedestal for a modern day computer monitor. (Less strain on the neck having it so high = better brain flow… here I come, Toynbee!)
Next, is the boss at my desk. My grandson Chace inspires my heart with his gentle face and sweet smile. I live far away from him and only see him once a year. I guess that's one of the reasons I've surrounded myself with family items.
The pencil holder was my mom's. I inherited it in 1998 and like to think it's a one of a kind artifact. (Someday it'll work its way into a story line.)
Although I've had these items for years, the computer monitor and my whole set up comes from my son Jeremy. It's only recently that I learned to make a folder of my book covers, store them on Dropbox, and attach them to my monitor so that I have a slideshow of my work. It's a cool element for those times I sit and write story ideas and lines longhand. Inspiration swishing by. (That's my latest release on the monitor.)
Last but not least you can see the small paperweight on the right. It's a heart shaped goldstone. It's there next to my keyboard and mouse because in my current wip it plays an important magical role.
Speaking of magical roles…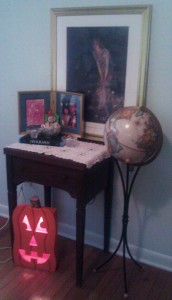 The picture Midsummer Eve (Edward Robert Hughes) has always inspired me with its faeries and youthful redheaded girl. If this workspace was meant for an author focusing on magical and paranormal elements this image had to be added. So, I took it down from the dining room and brought it in. lol There's still a bare wall in the other room.
The other gold frame is another important bit of family history. On the left is a faded picture of my Great Granny Goode and her daughter, Granny S. (Another mother & daughter connection.)
Somewhere in here we needed a father and daughter. Naturally, that's my dad and I Christmas 1983.
The great pumpkin grins with delight. My oldest son Bryan and his wife Amanda made the pumpkin last year. Do I need to admit that it doesn't live in storage the rest of the year? I didn't think so.
I've saved the sewing machine for last because it's a prime example of using what we have and writing what you know. This sewing machine (the one doing an imitation of a console table in the picture above) made an important story element come to life in Enchanted Ravensong: Charmed Evermore. When the plot line called for a special security combination several personal items came into play and the pedal that makes the machine run was the key. It was so much fun to write!
Having little bits of my family around me while I work gives my workspace a feeling of comfort that feeds the imagination. Since writers spend so much time in front of their computers, we should each focus on our individual things we believe are important.
Thank you again, Norah. Hope you have a magical week!
That was very cool, Aithne! Thank you!
If you want to learn more about Aithne, you can check her out here:
Okay, after looking at all those lovely heirlooms Aithne surrounds herself with, our contest question presented itself. Tell us what your favorite family heirloom is and you'll be entered for a chance to win Aithne's Enchanted Ravensong. But everyone's a winner today, because Aithne has also made Pearl Luster, a short story in her Touch Time & Soar mini-series, free on Amazon.com for the day.
So let the commenting begin! What is your favorite family heirloom?
My new cat, a stray that my daughter (aptly) named Ruckus, has taken to spending time on my desk when I'm the only one in the house. Much of the time, she just lies beside my monitor, out of the way. Sort of. But when she wants attention, she moves directly in front of me. Like this: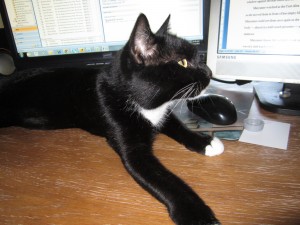 Or this: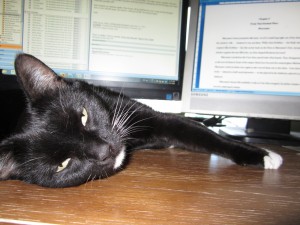 But last night, she stood on the edge of my desk, leapt her front paws onto my shoulder and rubbed her face up and down my face. She then leapt right onto my right shoulder, went around behind my neck and hopped back onto the desk from the other side. I think she was claiming me.
She then started rolling around on my desk – back and forth, back and forth, until the inevitable happened. And I captured it on film.
Sorry to have to send you to YouTube to see it. WordPress keeps telling me the file is too big to upload. And oh, how I wish I'd been filming that from another angle so I could have seen the expression on her face! A face that reminds me of Snowball II, the kitty from The Simpsons. Also Snowball V, who looked exactly like Snowball II. LOL. We've only had Ruckus a few weeks, but she makes me laugh every day.
What's the funniest thing your cat (or dog or hamster) has ever done?
I am delighted to have as my guest today Joyce Lamb, award-winning author of romantic suspense novels. Joyce is also the curator of USA Today's Happy Ever After blog, which is must-read material for romance novel lovers everywhere.
I met Joyce at the Romance Writers of America national conference in New York City in 2011. She was celebrating after just having won the prestigious Daphne du Maurier Award for her book True Vision. My first impression was that she was extremely quick-witted, funny, warm, grounded and interesting. She also seemed to be genuinely interested in the people around her. Of course, at the time I didn't realize that Joyce Lamb the author was also Joyce Lamb, intrepid reporter. She comes by that interest/curiosity naturally, I guess! I'm happy to say my initial impressions of Joyce proved true, and then some!
With that intro, here's Joyce.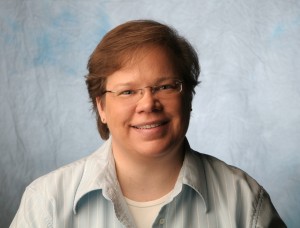 JOYCE:  Thanks for having me, Norah! I'm thrilled to be here. : )
Exploring my workspaces for this post was eye-opening. I had no idea that I actually work all over the place!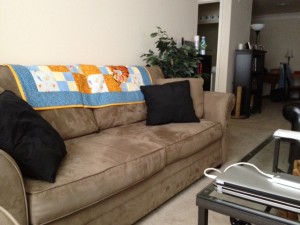 The sofa is where I do a lot of my writing, but while I am indeed sitting right in front of the TV, it's not on when I'm writing. Too distracting! Especially if a show on The Animal Planet about cute puppies or kittens comes on. Instead, I have my iPod Touch docked and cycling through four seasons' worth of Battlestar Galactica soundtracks (the version revived in 2004, not the one from the late '70s). Composer Bear McCreary is a master at creating tension, and the tone of the music is perfect for writing romantic suspense.
As you can see from the quilt draped over the back of the sofa, I'm helped along by Tigger from Winnie the Pooh. I love Tigger! The wonderful thing about Tigger …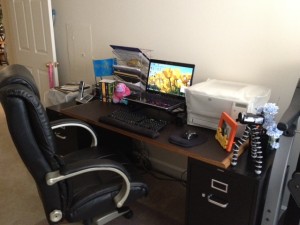 I also have a home office, for when I'm feeling the need to behave like a professional writer. Best desk chair ever! I feel very "executive" when I'm sitting in it – just not nearly as rich. And it's perfect for one of my kitties, Maddy, who likes to perch on the back. She's only fallen onto the back of my neck twice.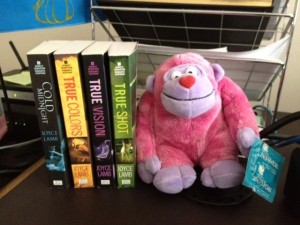 Sitting on my desk is my pink Safe Sex Monkey. (And, yes, that is indeed a shameful plug for my books sitting right next to SSM.) The story behind SSM: Fellow writer friend Diane Amos, author of the fabulously funny Getting Personal (a $2.99 e-book!), has spent much time teasing me about the "wild monkey sex" in my books. Several years ago, she sent me the pink monkey with condom in paw as a joke (which my mother quite enjoyed when I opened the package while she was visiting). Now, SSM sits on my desk to remind me to make sure my characters always have safe sex. : )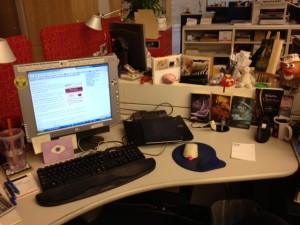 I also have workspace at USA Today, where I work on the Happy Ever After blog devoted to all things romance novels (happyeverafter.usatoday.com). As you can tell, I have some toys on my desk – I wouldn't be a real copy editor if I didn't. So I enjoy my Mr. Potato Head (at right) as well as my Tickle Me Elmo key chain, which giggles REALLY loudly, much to the consternation of some of my co-workers. What you can't see on my desk is that to the right, there's a TV. Yes, it's true. I have a TV on my desk at work. It's rarely on, but it's actually quite necessary at those times when breaking news is happening. The last time it was on was during the Super Bowl in February, because USA Today does a huge thing about the ads that play during the Big Game. So I got paid to watch TV during the Super Bowl. Kinda cool!
You might also think from what you can see of the background in this photo that the USA Today newsroom looks as though it was decorated by IKEA. And you would be right.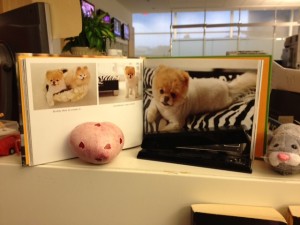 One of the favorite things on my desk at work is a book called Boo: The Life of the World's Cutest Dog. I prop the book open to different pages, but this one here is my favorite, because it looks as though Boo is lounging on a chaise lounge in a very "come hither" pose. Very romantic! When things at work get stressful – and they do often, considering it's the news business – I have Boo to turn to to make me smile. Boo never fails me!
Do you have any toys or stress relievers on your desk at home or at work?
A commenter here will win a signed collection of my True trilogy, which includes 2011 Daphne winner True Vision and 2012 RITA finalists True Colors and True Shot. (International commenters eligible, too!)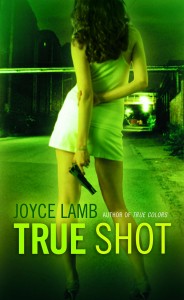 Thank you for that tour, Joyce. Why am I not surprised that I had a smile on my face all the way through it? Oh, and my stress reliever is a tiny bottle of essential oils (bergamot, grapefruit, orange and ginger) that I keep on my desk. When I think about it, I pop the cover off and and inhale.
Okay, before I turn it over to comments (and holy smokes, GREAT prize!), let me just pimp Flash Heat for you. It's my current read on my Kindle.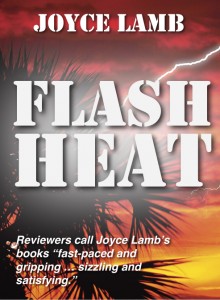 You can connect with Joyce as follows:
Okay, let the commenting begin! Joyce's question for you was, "Do you keep any toys or stress relievers on your desk at home or at work?"